This article has links to products and services we love, which we may make commission from.

Visit Vermont — and specifically Stowe in the fall — for all the colorful trees, festivals, and outdoor fun that make this such a popular New England destination.
Stowe is one of the best places to visit in the state in every season, but autumn offers a special crispness and excitement to the fresh air!
From the mountaintops to the taprooms, Vermonters certainly know how to enjoy the season.
If you like hiking, fall is an ideal time to hit the trails more comfortably after the summer heat dwindles.
If you're into the Halloween season, then you'll be overwhelmed with options for pumpkin patches, apple picking, corn mazes, and spooky stuff.
Want to make a bigger trip of it?
Check out these fun spots in New England in the fall or plan a road trip through the region to maximize your time.
Or stay right here for all the fall fun in VT, including stunning scenery and an awesome food & drink scene.
Best Things to Do in Stowe VT in the Fall
Celebrate Oktoberfest with the Von Trapps
A favorite of the many Stowe fall activities is the beer, food, and music of Oktoberfest, and who better to celebrate with than the famous von Trapp family?
Yes, that von Trapp family that you recognize from The Sound of Music!
The Trapp Family Lodge (700 Trapp Hill Rd) is a local favorite you'll want to book while visiting.
You also might want to do some pushups ahead of Oktoberfest to prepare for the masskrugstemmen – aka a Stein-holding contest!
The von Trapp Brewing Company (1333 Luce Hill Rd) partners with the US Steinholding Association to see who can hold a 1-liter glass stein of beer at arm's length the longest.
Prizes are up for grabs of course.
Stowe Foliage Arts Festival
For 3 days in October each year, the beauty of autumn meets the skill of artists and artisans at the Stowe Foliage Arts Festival (3420 Mountain Road).
There are demonstrations of master craftsmanship, food and spirits, and lots of fine arts and crafts to purchase.
From home decor to jewelry to clothing and much more, you're bound to find something to take home – and support an artist in the process!
Drive the Toll Road up Mount Mansfield
A great way to view peak foliage in Stowe VT is from the heights of Vermont's tallest mountain.
Mount Mansfield rises 4,395 feet above the Green Mountains and affords stunning views of Lake Champlain and the wider Appalachian Mountain Range as it extends into New York and New Hampshire.
The Auto Toll Road is a 4.5-mile drive to the top and was originally created in 1870 to allow horse-drawn carriages to get to the summit.
The road is open through October 16th.
Mount Mansfield is one of our favorite hikes near Stowe VT for the summer or fall season!
Escape the Great Vermont Corn Maze
If you're up for a bit of a drive, it's worth the hour-long journey to Danville for one of the best things to do near Stowe in the fall.
The Great Vermont Corn Maze (1404 Wheelock Rd, Danville) is actually the largest corn maze in all of New England!
In addition to the big maze, there's a smaller scenic maze for shorter attention spans.
If you're into the spooky season, check out the Halloween event called Dead North: Farmland of Terror.
It happens the first two weekends in October and tickets sell out fast, so reserve early if you dare!
Note that pets are not allowed in the maze and it is not, unfortunately, wheelchair accessible at all.
The big maze takes around 2.5 hours to walk, so pack some snacks and plan for an epic day out.
The scenic maze is about 45-60 minutes, depending on how frequently you stop for photos.
Follow their Instagram for genuinely entertaining content and fun updates all season long!
Apples, Apples, Apples!
Your Stowe autumn adventure isn't complete without an apple excursion!
There are a variety of orchards in the area to welcome you.
But the #1 can't-miss spot is the famed Cold Hollow Cider Mill for donuts, cider, and more.
This is not your standard apple-picking orchard experience; the folks at Cold Hollow are devoted to their community and the environment.
They epitomize what it means to be a Vermonter!
Go check them out and enjoy breakfast or lunch with a super local vibe.
Be sure to sample their hard ciders in the taproom before you leave.
Visit a Pumpkin Patch
Bring the family to a pumpkin patch to pick out a favorite pumpkin for jack-o-lantern carving, fall décor, or carving up for pie.
One nearby option is Chamberlin's Farm (100 River Road, Underhill).
Starting in September each year, you can stop by to pick a pumpkin or even try out their sorghum maze!
Go on a Covered Bridge Drive
Foliage drives are one of the best things to do near Stowe VT in fall, so why not grab your camera and combine a day of Stowe leaf peeping with a day of covered bridge viewing?
Vermont has quite a few beautiful covered bridges, which are quintessential remnants of New England's past.
Across the state, these charming, elegant bridges stretch gracefully over rivers and streams.
Of particular interest for a Halloween drive is Emily's Bridge, said to be Vermont's haunted bridge!
Book this quaint cabin for an atmospheric stay after your drive.
Ride in a Hot Air Balloon
There are many ways to take in the Stowe fall foliage, but from a balloon high above the trees with Above Reality Hot Air Balloon Rides (70 Essex Way, Essex Junction) is one of the most memorable ways of all.
As you float in your basket in the clouds, you will see the Green Mountains, Lake Champlain, and the Adirondacks to the west.
Each flight ends with a delicious chocolate treat and champagne, cider, or juice for a celebratory toast.
Definitely one of the most special things to do around Stowe in the fall!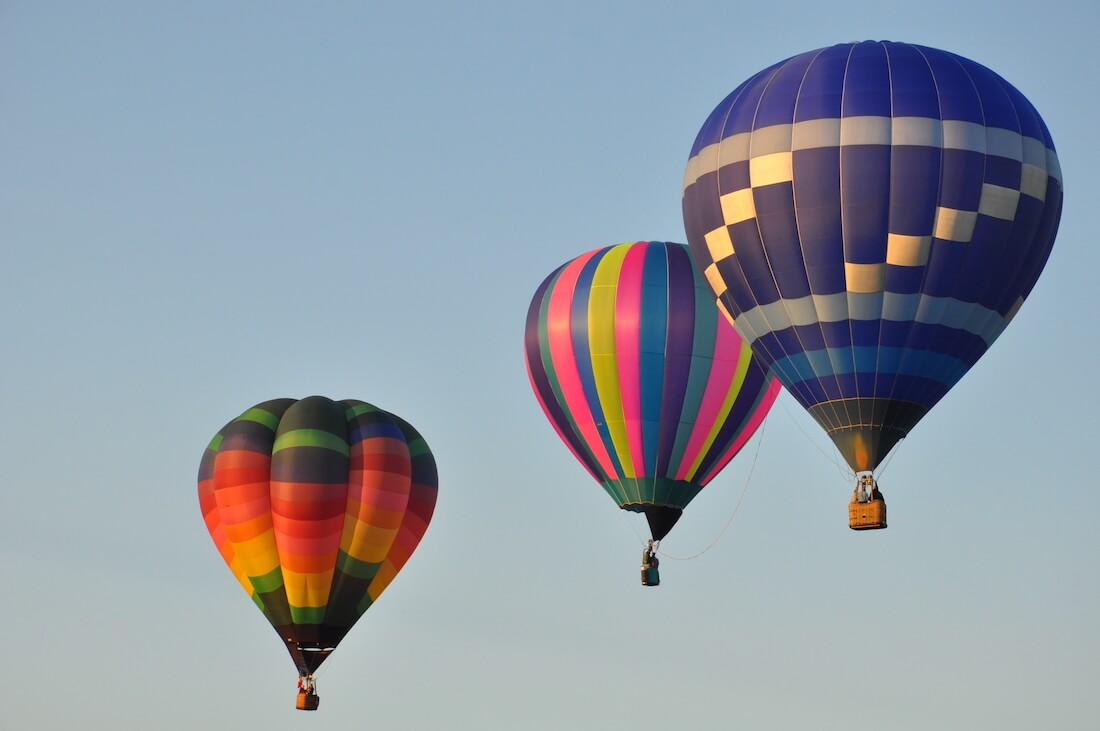 Stowe Gondola SkyRide
Continuing with the above-the-trees theme, there's something truly magical about a gondola ride!
The SkyRide (7416 Mountain Rd) is one of the best Stowe Mountain Resort fall activities, letting you take the leisurely route up Mount Mansfield from the comfort of a gondola.
While at the Resort, you can also enjoy a meal at the Cliff House Restaurant, rock climb at the new Stowe Rocks facility in the Adventure Center, explore hiking trails, or shop at the resort's retail shops.
The SkyRide operates through mid-October.
Hike in Smuggler's Notch
To really enjoy fall in Stowe, lace up your hiking boots and head for Smuggler's Notch!
Once used as a pass for stealthy trade into Canada, it's now a beautiful place to enjoy the great Vermont outdoors.
There are a variety of hikes for all skill and mobility levels, from the accessible boardwalk to the famous Long Trail, the oldest long-distance trail in the US.
At the end of the day, there are campgrounds for those who like to rest their weary bones around the campfire after a good hike.
Find a Waterfall
Finding a Stowe waterfall might seem like an activity for a hot summer day, but the beauty of a crisp clear cascade against the vibrant colors of fall is a refreshing treat for the senses.
Moss Glen Falls is a good choice for a short hike as it only takes 20-30 minutes to reach the falls and is only a 5-minute drive from Stowe.
Other short hikes include Bingham Falls and Sterling Falls Gorge.
Hop on a Bike
Biking is another way to see Stowe in the fall from a different vantage point as you whisk past the kaleidoscope of changing leaves.
From a leisurely ride on the Stowe Recreation Path to a grueling climb on hillside mountain bike trails, there is something for anyone eager to hit the road or trail.
The Stowe area has great options for rugged mountain bike trails, gradual gravel, and paved paths for traditional bikes, and don't forget about e-bikes!
Zip Through the Trees
Looking for something a little more adrenaline-fueled?
Opt to whisk past the colorful trees by literally zipping among them!
If you have a strong stomach for speed and heights, a zip-line adventure is for you.
There are a number of zipline experiences to choose from in the Stowe area, including Arbortrek.
Book your tickets in advance to avoid missing out.
Get Out Onto the Water
Paddlers are spoiled for choice in the Stowe area.
Grab a kayak, canoe, or paddleboard and experience the fall colors in Stowe VT in a slower, more peaceful way.
If you don't own a boat of your own, that's no problem – you can rent one!
Experienced paddlers can set out on their own, and beginners can hire a certified guide.
Some of the best paddling can be found at the Green River Reservoir, the Winooski River, the Lamoille River, or at Lake Elmore.
Vermont Canoe and Kayak offers some wonderful options with their rental and guide services, including Kayaks and Cocktails, S'mores Tours, and Paddleboard Yoga.
Take a Village Stroll
It's hard to beat an autumnal stroll through a New England village, and for Stowe Vermont, fall is an especially noteworthy time to visit.
Grab a hot drink and enjoy the historic charm of Main Street, quaint country shops, interesting boutiques, and diverse restaurant choices.
For a beautiful place to stay after your day in the village, check out the charming Green Mountain Inn.
Enjoy Some Retail Therapy!
Whether you're shopping for yourself or getting a start on Christmas shopping, the shopping scene in Stowe has lots to offer.
You'll find outdoor shops if name-brand gear is what you're after, as well as quirky one-of-a-kind shops, toy galleries, and craft stores.
Shaw's General Store is a classic old-fashioned general store and an essential stop for gifts and general needs.
For a sweet treat, don't miss Laughing Moon Chocolates, a decadent destination for handmade confections.
Visit Stowe's website for a full list of shopping options.
Visit a Brewery
Stowe has a great craft beer and cider scene, with a variety of brewers to sample including Cold Hollow Cider Mill (mentioned above for apples!), the Alchemist Brewery, and Von Trapp Brewing Company (mentioned for Oktoberfest).
If you can't choose just one, why not go on this half-day brewery tour to multiple stops?
Grab a Slice at Piecasso
For 50 years and 3 generations, one Vermont family has been using the same recipe for pizza in Stowe, and generations of customers have raved about it!
The owner's Sicilian heritage and desire to provide a unique, artisan pizza experience have kept pizza lovers returning for more.
Head to Piecasso (1899 Mountain Rd) and grab a New York-style slice to go, or eat in and enjoy the arcade games.
This isn't a strictly fall activity in Stowe…it's a must year-round!
Take a Guided Photography Tour
If you're a shutterbug hoping for dramatic snaps of the pretty Stowe foliage, chances are you would benefit from a guided tour!
With a local photographer to guide you, you can get the insider scoop on the best angles and viewpoints, as well as tips and tricks to improve your photography.
Professional skills paired with local geographical knowledge make for a winning combination with Vermont Photo Tours.
Do the Ben & Jerry's Factory Tour
Who says ice cream is only for hot weather?
In Vermont, every day is a Ben & Jerry's day.
Ben & Jerry's welcomes visitors year-round to tour their factory and sample their creations.
Visit the flavor graveyard of retired flavors for an entirely non-spooky yet still seasonally-appropriate experience.
Final Words
Ready to head to Stowe for a fall getaway? We certainly are!!
Let us know your favorite spots in the comments below.
Vermont Destinations