This article has links to products and services we love, which we may make commission from.

New England in the spring can include anything from late-season skiing to maple tapping to flower-filled gardens. This changing season starts to bring about longer days and summer vibes, but those who love snow-covered slopes can eke out their final days for the season.
It's a season when northern New England differs greatly from the southern coast and islands…so take advantage of that variability and get out there to explore more!
You might also like our other seasonal guides to enjoy New England in the winter or in the fall.
We also recommend you take this awesome fall road trip in New England!
Things to Do in New England in the Spring
This guide covers our favorite things to do in the spring in New England, starting in Maine and heading south.
You can check out our individual state guides if you want to dive deeper into a specific area:
Spring Things to Do in Maine
Maine Maple Sunday
Maine Maple Sunday, a statewide event hosted by the Maine Maple Producers Association, is a cool way to get New Englanders excited about maple season in late March.
Visit Maine's sugarhouses across the state, try maple samples, and tour the sugarbush, the sugar maple tree stands where the sugar houses extract sap.
You can't miss this activity in springtime in New England.
Coastal Maine Botanical Garden
New England in spring is bursting with flowers, and the Coastal Maine Botanical Gardens (105 Botanical Gardens Dr) feature more than 300 acres of gardens and natural spaces filled with blooms.
Explore the gardens when they open in May and enjoy spring bulb flowers, bright rhododendrons, and other flowering plants.
Migratory Birds in Acadia National Park
Be sure to visit Acadia National Park (25 Visitor Center Rd) during this New England spring to spot migratory birds returning to the area after winter.
While the park is a migration hotspot, you can also spot other kinds of wildlife and spring flowers along the trails.
Plus, Acadia only starts to get really busy in the summer, so you'll avoid crowds.
Acadia is one of our favorite spots in Maine, featuring as one of our top vacation spots in Maine and even one of the best places to visit in New England.
It's also on our list of the best East Coast hikes; when the trails are ready in late spring, you can beat the crowds and peak summer temperatures by getting there early!
Don't miss out on a self-guided Acadia adventure tour while you're in the park.
Reggae Festival at SugarLoaf
Sugarloaf Mountain (5092 Sugarloaf Access Rd) is an amazing New England spring getaway, thanks to its annual Reggae Festival in early April.
Spring skiing is always fun, and you'll get to see the East Coast's biggest spring skiing festival at the same time!
You'll find hours of live music as well as entertainment on the slopes and inside the lodges.
For more activities in Maine this spring, read through our guide!
Things to Do in New Hampshire in Spring
Lupines, Sugar Hill
Sugar Hill in New Hampshire is a perfect place to see spring flowers in New England.
Lupines are a purple-pink wildflower found in mountainous regions, and they are known to overtake entire fields with their bright blooms.
Head to the town to partake in events and markets, or just take a self-guided tour by downloading the Sugar Hill lupine map.
Trout Fishing in the White Mountains
If you like fishing, you'll fall in love with the spring season in New Hampshire.
Trout fishing season opens on the fourth Saturday in April, but make sure you visit a qualifying designated trout pond on Opening Day.
You can't go out without a fishing license, but you can get a daily or season license at the NH Fish and Game website.
Waterfalls Across New Hampshire
If your kids are adventurous and love the outdoors, take them to the waterfalls in New Hampshire for spring vacation in New England.
There are several amazing cascades you can visit throughout the state of New Hampshire, and going to any of them makes for a perfect spring break in New England.
Check out the visitor pages of the Flume Gorge, the Silver Cascades, the Lower Falls, and the Dixville Flume to plan your trip and view relevant hiking maps.
Spring is the best time to see waterfalls because the snow melting from winter causes a surge in water flowing down mountains, making the falls especially powerful.
Lilac Festival at the Wentworth-Coolidge Mansion
The lilac is the official state flower of New Hampshire.
The free Lilac Festival at the Wentworth-Coolidge Mansion (375 Little Harbor Rd) is a perfect way to celebrate these sweet spring flowers in New England.
You'll be able to find original art, children's programming, and tours around the mansion and gardens at the festival.
You can also participate in the annual silent auction, a fundraiser to maintain the oldest lilacs in America.
Find even more things to do in New Hampshire in spring in our total guide!
Things to Do in Vermont this Spring
Quechee Hot Air Balloon Festival, Quechee
The Quechee Hot Air Balloon Festival (70 Village Green Circle) in mid-June is the oldest hot air balloon festival in New England.
Up to 20 hot air balloons soar through the air during this festival, making it a truly unique New England spring activity.
You'll also be able to enjoy live music, vendors selling art, activities for kids, and more.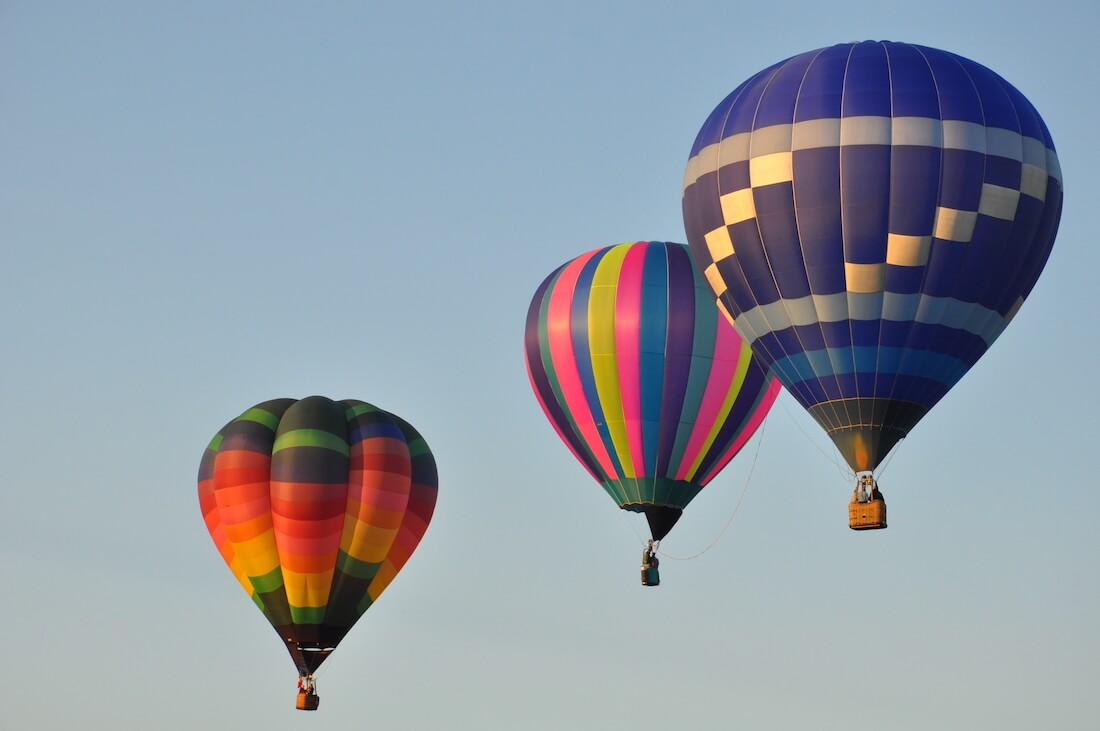 Burlington Farmers' Market
Visit the iconic Burlington Farmers' Market (345 Pine St) in early May for the best local produce and specialty foods.
The farmers' market has been a staple in the city for decades.
Besides delicious food, you can also wander through the artist market, try samples from local distilleries, and enjoy live music.
Waking Windows, Winooski
Waking Windows Festival is an annual indie music festival featuring local and national musicians and artists.
Besides great music, you can also explore the city by checking out open art studios, local artist exhibitions, comedy shows, and tons of food vendors.
Grab your tickets for the early May festival, check out the lineup, and plan your visit on their website.
Bird Monitoring Walk
The Birds of Vermont Museum (900 Sherman Hollow Rd) is a slice of heaven for budding naturalists and a perfect thing to do when you visit New England in spring.
The museum features art and science exhibits, forest trails, a treehouse, and gardens to explore all the signs of spring.
You can also head out on their guided monitoring walks in the spring to learn about the return of migratory birds.
There are tons of other things to do in Vermont in spring, which you can check out in our guide.
Things to Do in Massachusetts in Spring
Boston Red Sox Opening Day
Boston is one of the best places to visit in New England in spring, thanks to the annual Red Sox Opening Day at Fenway Park (4 Jersey St).
Opening Day is usually in late March or early April and is always an exciting game to celebrate the long season ahead.
If you can't make Opening Day, there are tons of other games this spring you can grab some tickets for and root for the home team!
Get a tour of Fenway Park while you're there for even more history of the team and the stadium.
Arnold Arboretum Lilac Sunday
The Arnold Arboretum (125 Arborway) is one of the best places to visit in New England in spring, thanks to the 400 lilac bushes that burst into bloom in May.
You can enjoy these lilacs during Lilac Sunday, the only day you can bring a picnic into the Arboretum.
You can also wander through all the other spring gardens, take a tour with an arbor expert, and participate in programming for kids.
Woodcock Walk in Broad Meadow Brook, Worcester
Broad Meadow Brook Conservation Center (414 Massasoit Rd) hosts a nature walk to teach you about a special spring bird.
In early spring, American woodcocks take part in a wild mating display; as the sun begins to set, males make their iconic peent calls and then fly in a wide spiral overhead before seemingly careening back toward Earth out of control.
These small birds are typically bouncing along on the ground, so this display tends to pique the interest of any bird lovers!
Learn about all the different complicated parts of their yearly mating ritual from the local experts from the Mass Audubon Society.
Check their schedule to register for an iconic woodcock walk.
Nantucket Daffodil Festival, Nantucket
If your favorite spring flower is the daffodil, you need to go to the Nantucket Daffodil Festival.
At the end of April, you can visit Nantucket and check out the incredible official Daffodil Flower Show.
You can also enjoy other parts of the festival, like the Antique Car Parade and the Daffy's Events for children.
You'll find other amazing things to do in Massachusetts in spring in our guide.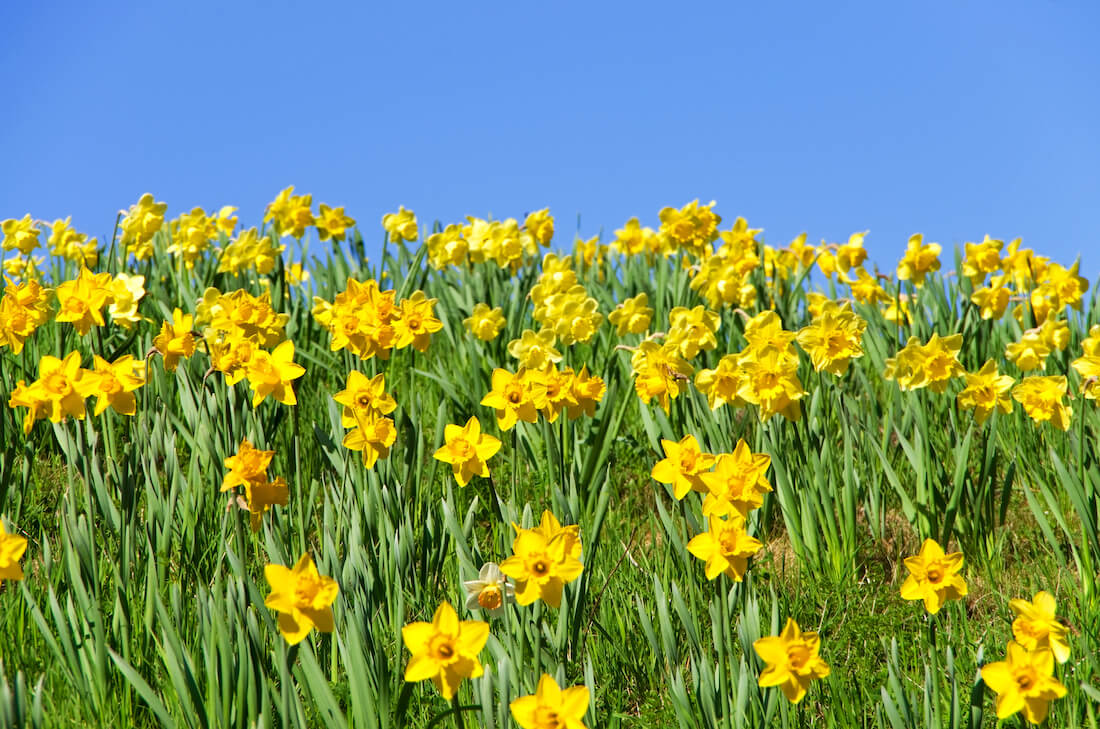 Spring Things to Do in Rhode Island
WaterFire, Providence
WaterFire in Providence is a fun and free event that takes place over the course of many months, beginning in April.
You'll see fire dancing performances, torch-passing ceremonies, and fire shows along the iconic Providence River.
Daffodil Days, Bristol, Newport, and Blithewold Mansion
Rhode Island is one of the best New England spring weekend getaways because they take spring flowers very seriously.
From Newport in Bloom to the Blithewold Mansion Daffodil Days (101 Ferry Rd, Bristol), there are so many places to enjoy large fields of daffodils across the state.
There are programs, events, giveaways, and daffodil-watching maps on both websites, so be sure to check them out this spring.
If you fall in love with Newport, you should take a cruise tour of Narragansett Bay!
Wicked Tulips Flower Farm, Exeter
Visiting Wicked Tulips Flower Farm (400 Hog House Hill Rd) is a fun activity this spring if you'd like to pick your own flowers!
This tulip farm is one of the biggest of its kind, and it features more than a million tulips of different colors, sizes, and shapes.
From mid-April to mid-May, you'll be able to wander through the fields, take beautiful pictures, and bring home a bouquet of freshly picked blooms!
Things to Do in Connecticut in Spring
Elizabeth Park, Hartford
Elizabeth Park in Hartford (1561 Asylum Ave) is a one-hundred-acre park filled with gardens and other natural spaces.
Visit between March and June to experience incredible displays of irises, tulips, roses, and daffodils.
Elizabeth Park is a special garden, marked on the National Register of Historic Places and a strong example of conservation in Connecticut.
May Market at Hill-Stead Museum, Farmington
The May Market at the Hill-Stead Museum (35 Mountain Rd) is a special annual fundraiser to support the maintenance of the mansion and more than 150 acres of gardens and forested trails.
At the May Market, you can tour the estate and shop the booths of dozens of artists, jewelers, florists, and food vendors.
You can also visit the museum beginning in June for their From the Porch programming, a live music series you can enjoy from the expansive front lawn.
East Rock Park, New Haven
East Rock Park (41 Cold Spring St) is a favorite spot for birdwatchers, who congregate every spring to find one of the biggest concentrations of migratory songbirds in the northeast.
The Audubon Society named East Rock Park a High Conservation Priority because of its importance to migrating birds.
You can probably find 200 species of birds during peak migration, so don't miss the opportunity to visit this spring.
There are tons of other things to do in Connecticut in spring, so be sure to check out our complete guide.
Wooster Square Park, New Haven
Visit Wooster Square Park in New Haven to catch the beautiful cherry blossoms as they reach peak bloom in the spring.
While the dates vary each year, sometime in late April is usually a safe bet.
The trees planted in the park are Yoshino cherry blossoms, which were planted here back in 1973.
New England Spring Weather
Spring weather in New England varies greatly, but you can expect a mix of weather events, including overcast days, rainstorms, and the occasional snowstorm in March.
Of course, you can also start planning for longer days and plenty of sunshine, especially in late spring!
From temperatures in the low 40s to the low 70s, be sure to bring clothes and layers for any possible weather conditions.
Final Words
We hope this guide helped you plan your New England spring activities and fun! Share your favorite seasonal things to do in the comments below.