This article has links to products and services we love, which we may make commission from.

Massachusetts in the spring means melted snow and longer, warmer days to enjoy outdoors. Everyone gets excited to see the greenery return to the beautiful parks and the flowers bloom in gardens across the state.
It's an idyllic season after a long winter!
As the weather warms up, events start heading outdoors.
Enjoy Maple weekend, St Patrick's Day, and the Red Sox home opener in March.
In April, the Boston Marathon takes over and you won't want to miss it!
And all spring long, you'll find beautiful gardens across the state hosting events for special blooms or just to welcome back the colorful array of flowers.
You might also like our other spring guides to Maine and Vermont for more New England adventures.
And don't miss our specific guide to Boston in the spring to enjoy all the events the city has to offer.
Things to Do in Massachusetts in the Spring
Our guide to the best things to do in Massachusetts in spring covers all regions of the state, starting in Boston and its surrounding area, then going to the North Shore, Cape Cod, Central Mass, and out to Western Mass.
Wherever you live or plan to visit, you'll find plenty of beautiful spaces to enjoy and fun things to do this spring in MA!
Boston Spring Activities You Can't Skip
Boston Red Sox Opening Day, Boston
In late March, the Red Sox open their baseball season at home in Fenway Park, and you'll need tickets if you're going to visit Massachusetts in spring.
Check the schedule for the rest of the games this season and pick up a pair of tickets to celebrate spring with Boston's baseball team.
You can even take a guided tour through the historic Fenway stadium!
Boston Public Garden, Boston
The Boston Public Garden (4 Charles St) is beautiful all year round, but in spring, almost 60 garden beds are planted with tens of thousands of bulbs, making it one of the best places to visit in Massachusetts in spring.
Tulips, daffodils, and more are popping up in early spring in the Garden.
Be sure to check out the first American public botanical garden as soon as you can!
Arnold Arboretum Lilac Sunday, Boston
Visit the Arnold Arboretum (125 Arborway) in mid-May to celebrate Lilac Sunday, a day to experience almost 400 lilac bushes in full bloom.
Besides checking out the blooms, you can also take a tour with an expert or take part in the children's activities and programming.
The Arboretum is always free to enter, but on this day only, you can bring a picnic to enjoy in the gardens.
St Patrick's Day in Boston
One of the best places to go in Massachusetts in spring has to be Boston for St Patrick's Day.
From enjoying the oldest St Patrick's Day parade in the US, to pub crawls, to rich historical events on the Irish Heritage Trail, you won't run out of things to do this weekend in spring.
If you need a place to park to enjoy the festivities, check out our complete Boston parking guide.
The Boston Marathon
Marathon Monday happens during April vacation in Massachusetts — it's actually a holiday called Patriots' Day here in the city.
Patriots' Day honors the early battles of the American Revolutionary War at Lexington, Concord, and Menotomy — all battles that were fought here in MA.
The holiday is always on the third Monday in April, which is perhaps more commonly known as Marathon Monday.
The Boston Marathon is the world's oldest annual marathon, having started in 1897.
Stand along the race route that stretches from Hopkinton to Boylston Street in Boston and cheer on runners in one of the World Marathon Majors.
You'll witness extraordinary athleticism, perseverance, and sheer heart.
Many of these runners are running for charity, raising a jaw-dropping $15 million annually; everything about the event is extraordinary.
If you're lucky, you'll enjoy lovely weather while you're cheering everyone on, too!
Spring Activities in Greater Boston
Get out of the city to enjoy the start of a fresh new year!
Note that you'll want a car to most easily explore these spots.
Walden Pond, Concord
Springtime in Massachusetts is captured perfectly by the serenity of Walden Pond (915 Walden St).
Besides enjoying the beautiful pond as you hike around its perimeter, be sure to navigate to Heywood's Meadow and Wyman Meadow to enjoy spring wildflowers.
Check out our list of the best things to do in Concord MA for even more ideas.
We also have a complete guide to Massachusetts state parks, so be sure to check it out for even more ideas.
Wellesley College Botanic Gardens, Wellesley
For even more floral enjoyment in Massachusetts in spring, be sure to visit the Wellesley College Botanic Gardens (106 Central St).
More than 22 acres of outdoor gardens, several greenhouses, and educational programming make this botanic garden a sweet getaway in spring.
deCordova Sculpture Park and Museum, Lincoln
If you're looking to visit some unique Massachusetts attractions in spring, then you can't miss the deCordova Sculpture Park and Museum (51 Sandy Pond Rd), New England's largest sculpture park of its kind.
Check out the Museum's spring programming, where you'll find clay sculpture classes, guided tours of the Sculpture Park, performances, yoga classes, and so much more.
Spring Things to Do on the North Shore
Head north from Boston to explore the beautiful coastal towns of the North Shore.
As winter recedes and spring arrives, whale watching along this coastline is at its peak — don't miss out!
You might also like our guides to Rockport and Salem for things to do in each of these pretty North Shore towns.
For a wider variety, check out our guide to the best things to do on the North Shore.
Berry Picking in Russel Orchards, Ipswich
This Massachusetts spring activity is so iconic that you'll want to keep coming back all season long!
Russel Orchards (143 Argilla Rd) strawberry picking starts in early June and is fun for the whole family.
Spring is a generally quiet season for the orchard, which means you can skip the lines and avoid the summer crowds by coming in this season.
Cape Ann Whale Watch, Gloucester
If you're looking for an adventure to go on during the Massachusetts April vacation when the kids are out of school, take them out on a Cape Ann Whale Watch (415 Main St) in Gloucester.
Their first week of the season typically lines up with the tail end of spring break in Massachusetts, so you won't want to miss out on this exciting opportunity out on the sea.
This whale watch takes you out to one of the top 5 whale watching destinations, according to the World Wildlife Fund!
If you prefer to stick closer to Boston, you might prefer this whale watch right off the city's coast for extra convenience.
Parker River National Wildlife Refuge, Newburyport
Spring on the North Shore means welcoming back all the birds that migrated for the winter.
The Parker River National Wildlife Refuge (6 Plum Island Turnpike) is where to go in Massachusetts in spring to see the returning birds.
Piping plovers return in March, purple martins in April, and lots of raptor species can be seen in the area starting in May.
Check out our guide to things to do in Newburyport all year round for tons of ideas while you're there.
Cape Cod Spring Activities
Before the summer tourist crowds descend on the Cape, get there to enjoy the warmer weather and quiet beaches!
You'll also have plenty of options for beautiful gardens and natural spaces to enjoy.
Heritage Gardens and Museums, Sandwich
Opening in mid-April for their Regular Season, the Heritage Gardens and Museums (67 Grove St) are another perfect family-friendly place to visit during the MA April vacation.
The museum also opens a new exhibit in mid-April every year that honors the art and history of the region, so be sure to check the website for upcoming openings.
Come check out some of the newest and rarest varieties of hydrangea this spring, some of which can only be found at the Heritage Gardens.
Cape Cod Lavender Farm, Harwich
The beautiful and iconic Cape Cod Lavender Farm (Off Weston Woods Rd) opens for the season in March.
It's a great spot to visit, explore, and enjoy spring flowers.
The official lavender harvest begins just after spring ends in late June, but you can still enjoy the flowers starting to bloom and hike through more than 75 acres of woods and conservation area.
Nantucket Daffodil Festival, Nantucket
Taking place at the end of April every year, the Nantucket Daffodil Festival is a spectacular display of bright yellow flowers to celebrate the coming of spring.
From the official Daffodil Flower Show to the Antique Car Parade, to the Daffy Children's Events, you'll find something fun to do in Nantucket for the whole family.
Check out our guide to the best beaches on Nantucket while you're there.
Love the islands?
Check out our guide to the best Martha's Vineyard things to do and learn more about the different towns on MV.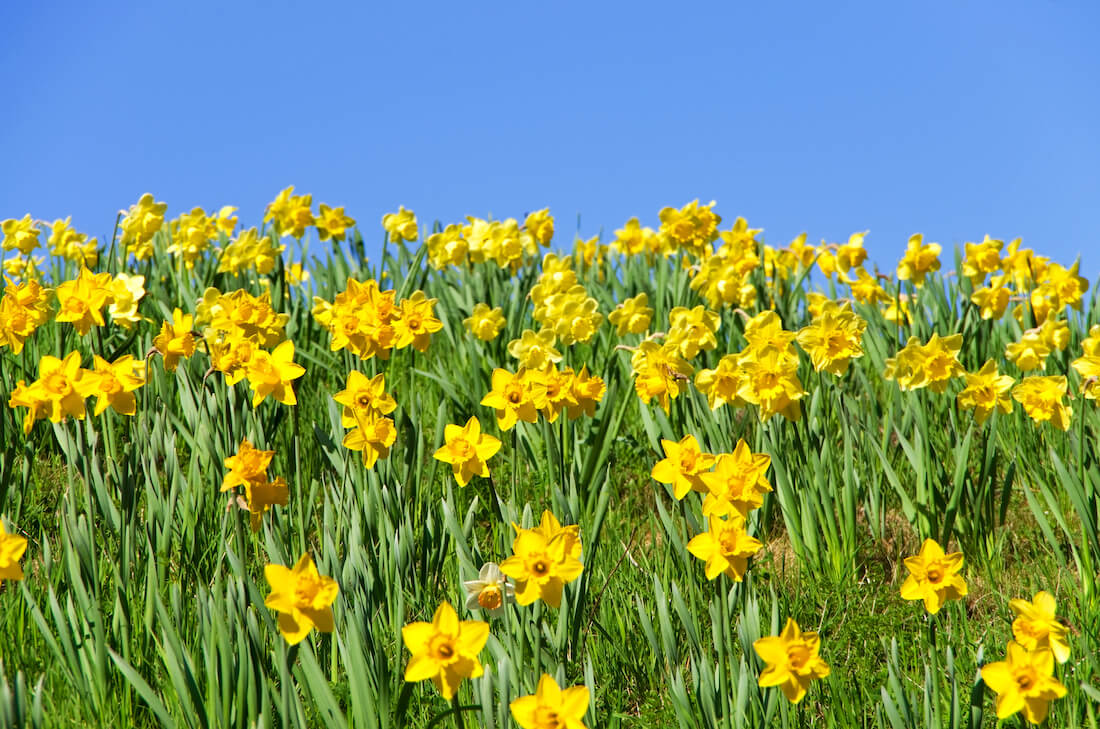 Spring Things in Worcester County/Central Mass
Heading into Central Mass, you'll start seeing more green spaces and some hilly terrain.
It's a perfect area for hiking, exploring gardens, and more!
You may want to check out fun things to do in Worcester– with activities available almost any time of the year!
New England Botanic Garden at Tower Hill, Boylston
With free admission on Thursdays starting in June, the New England Botanic Garden at Tower Hill (11 French Dr) is one of the best places to see in Massachusetts in spring.
The gardens are filled with amazing spring flowers, and there are tons of seasonal events taking place, including yoga in the garden, garden design workshops, art events, and more.
Woodcock Walk in Broad Meadow Brook, Worcester
In early spring, American woodcocks take part in a wild mating display, and the Broad Meadow Brook Conservation Center hosts a nature walk to teach you about this bird.
Along with a tour of the wildlife sanctuary, you'll learn about all the different complicated parts of their yearly mating ritual at dusk.
Check their schedule for more information and to register.
Spend Spring in Western Mass/The Berkshires
Head to Western Mass for rural areas, quirky towns, and the beautiful Berkshires.
Check out our guides to Northampton and Amherst for more fun recommendations.
Traveling with your partner? You might also like our guide to romantic things to do in the Berkshires.
Maple Weekend
March is Maple Month in New England, and Massachusetts celebrates with Maple Weekend.
Check out the Massachusetts Maple Producers Association directory for sugarhouses that are participating in the weekend with tours, samples, events, and even a weekend buffet!
There aren't lots of locations for maple syrup in Massachusetts, especially in comparison to Vermont or Maine.
But you can still enjoy a taste of the end of winter all across the state — always ask for real maple syrup for your pancakes!
Brimfield Antique Flea Market, Brimfield
Taking place in mid-May, the Brimfield Antique Flea Market features more than a dozen show fields filled with unique and fascinating antique goods.
For almost a week, you'll be able to explore the oldest outdoor flea market in the country, hunting for cool items and meeting seriously experienced antique shoppers!
Very Hungry Caterpillar Day, Amherst
If you're wondering what to do in Massachusetts in spring with small kids, take them to the Eric Carle Museum of Picture Book Art (125 West Bay Rd) to celebrate Very Hungry Caterpillar Day on March 20.
The museum is amazing on its own, with 8,500 illustrations from more than 100 years of picture books.
The Very Hungry Caterpillar events at the museum include storytelling, activities, art projects, and snacks for all ages.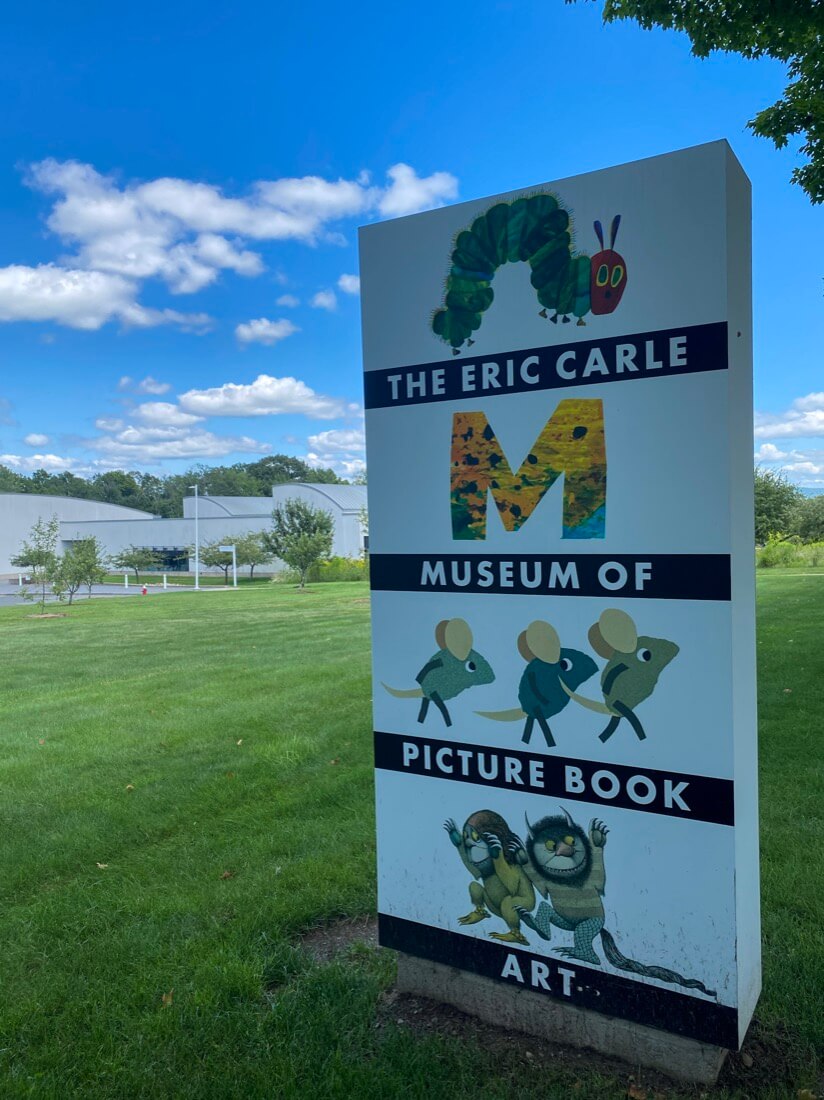 Amherst Daffodil Fun Run, Amherst
For a fun, sporty thing to do this spring in Massachusetts, sign up for the Amherst Daffodil Fun Run (Amherst Town Common).
The 5k/10k is a fundraiser for Big Brothers Big Sisters and helps support this amazing mentoring service.
Register online and read more information about the race before you sign up!
Thunderbolt Mountain Coaster, Charlemont
Opening every year in May, the Thunderbolt Mountain Coaster at Berkshire East (66 Thunder Mountain Rd) is one of the best Massachusetts places to visit in spring.
Thousands of feet of track allow you to soar down the mountain with twists and turns and huge drops.
This is true fun for the whole family, so book your rides today!
Zoar Outdoor, Charlemont
If you're feeling especially adventurous, check out the trips and activities at Zoar Outdoor (7 Main St).
River rafting, paddlesports clinics, and a zip line canopy tour are some of the activities you can do with the adventure company.
Check out the website for more information and to book your adventure!
Naumkeag Daffodil and Tulip Festival, Stockbridge
If you're looking for where to go in Massachusetts in spring, look no further than the Naumkeag Daffodil and Tulip Festival (5 Prospect Hill Rd).
More than 75,000 flowers in bloom spread across 8 acres, stunning views of the Berkshires, and an opportunity to explore the first floor of the historic Naumkeag house make this an incredible trip.
Tickets sell out fast, so grab them early while they're available!
Massachusetts Spring Weather
You can expect temperatures to rise from the low 40s to the low 70s in the spring in Massachusetts.
There is a pretty good chance of overcast weather, and usually about a 30% chance of rain.
Plan to wear layers until later in the spring when you can more reliably trust a forecast to start and stay warm.
Final Words
Massachusetts in the spring is lovely — let us know if you add it to your bucket list!
Share your favorite springtime events and activities in the comments below.