This article has links to products and services we love, which we may make commission from.

There are so many romantic things to do on Cape Cod during a getaway — or if you're local! These date ideas are perfect for couples of all types, from fun first dates to special occasion locations for long-term partners.
Enjoy a romantic adventure together in the peak of summer when the beaches are idyllic and the sunsets are stunning.
Or cozy up in the off-season when the Cape is quiet after the tourists have gone home.
Whatever your style, this guide will help you plan the perfect date!
Looking for more ideas? Check out all the best things to do on Cape Cod.
You might also like our recommended things to do on the Cape in the winter or explore all our favorite Provincetown activities and attractions.
You might also like our guide to romantic things to do in Boston.
Romantic Cape Cod: Ideas for Your Next Date
Cape Cod Lavender Farm
One of the most romantic outdoor date ideas on Cape Cod, visiting the Cape Cod Lavender Farm (Weston Woods Rd, Harwich) is a sweet activity to do with your loved one.
Stroll around the 11-acre farm among 7,000 plants in late June and early July, or strike out into the surrounding 75 woodland acres with walking trails for a longer adventure together.
Bring home a beautiful bouquet of lavender and dry it to remind you of the amazing shared experience.
Cape Cod Winery
The scenic Cape Cod Winery (4 Oxbow Rd, East Falmouth) is an essential visit for any romantic getaway to Cape Cod.
Sample any of the nine delicious wines crafted in-house at this tranquil and gorgeous vineyard, and purchase a cheese board to pair with your samples!
There's something extra special about dates at small wineries.
Heritage Museum and Gardens
There's a romantic air about visiting the Heritage Museums and Gardens (67 Grove St, Sandwich).
Bask in their more than 100 acres of trees and shrubs, curated gardens, and lawns perfect for sitting and bringing a picnic.
The gardens are a wonderful date spot in the warmer months!
For a full list of things to do in Sandwich, MA, check this guide.
Bucatino
If the classic seafood restaurant characteristic of Cape Cod is not your date's preference, take them to the most romantic Italian restaurant, Bucatino (7 Nathan Ellis Highway, North Falmouth).
They boast fresh, local ingredients, a high-quality wine selection, and a warm, comforting atmosphere, making it a perfect date idea on Cape Cod.
Want to make an escape of it?
Book some quirky and cute accommodations at AutoCamp Cape Cod (836 Palmer Ave).
Falmouth Theatre Guild
If you're looking for cultural Cape Cod date ideas, pick up tickets for a show at the Falmouth Theatre Guild (58 Highfield Dr, Falmouth).
This community theater presents about five shows per season, and each show is energetic, fun, and artfully created.
You'll support local creators and you'll have plenty to chat about after the show!
Naked Oyster Bistro
Immerse yourself in traditional French cuisine and freshly-caught seafood on a romantic Cape Cod date to the Naked Oyster Bistro (410 Main St, Hyannis).
The bistro's kitchen is operated by Florence Lowell, a chef committed to merging the traditional ways of French cooking and the modern twists of Cape Cod cuisine.
Enjoy feeling like you're on a vacation in France without leaving local shores!
FIN Restaurant
If you're looking for a delicious and seasonal restaurant to try on your romantic weekend getaway on Cape Cod, make sure you visit FIN Restaurant (800 Main St, Dennis).
Local fare, creative cocktails, and upscale hospitality are all tucked within this sweet, antique two-story house.
Make a reservation, just be sure to note any accessibility needs (their upstairs dining room requires climbing a flight of stairs).
Cape Playhouse
For a drama- and entertainment-filled date on Cape Cod, take your significant other to The Cape Playhouse (820 Main St, Route 6A, Dennis).
This playhouse is the oldest in the country and has been named one of the best small theaters in America.
You'll certainly impress them with those little details!
Ocean House
The Ocean House (425 Old Wharf Rd, Dennisport) is a perfect seasonal restaurant to visit with your date this summer.
Named one of OpenTable's Top 100 Most Scenic Restaurants, you'll love their local ingredients and vibrantly-colored creative cocktails, all while looking out towards the beautiful Nantucket Sound.
Scenic settings for a date night dinner
Wellfleet Drive-In Theatre
One of the most classic date ideas on Cape Cod is going to see a movie with your date at the Wellfleet Drive-In Theatre (51 State Highway, Route 6, Wellfleet).
Check what movies are playing and visit the last theatre of its kind on Cape Cod, built in 1957.
Talk about an iconic romantic movie moment!
Sunset on Great Island
If you'd like to enjoy an incredible sunset on Cape Cod's coast, head out for a hike together along the Great Island Trail (Griffin Island and Chequessett Neck Road).
This three- to five-hour hike features amazing beaches, beautiful pine forests, and sprawling salt marshes.
Rest along the water to watch the sun set behind the Cape and enjoy an extra romantic scene together.
Nobska Lighthouse
Lighthouses have such a rich history on Cape Cod, and Nobska Light (233 Nobska Rd, Woods Hole) is one of the most beautiful historic landmarks to bring your history-loving date.
Built in 1829, this piece of history was the first lighthouse to connect the Vineyard and Nantucket Sounds.
Pack a picnic and visit the iconic lighthouse during their summer open hours.
Provincetown Art Association and Museum
Located in one of the best Cape Cod towns for couples, the Provincetown Art Association and Museum (460 Commercial St, Provincetown) is a perfect spot to enjoy local artwork or attend a special art event.
More than 4,000 permanent works made by 900 artists make this a culturally-enriching afternoon date idea on Cape Cod.
Camping is another great way to spend some quality time together, so check out our complete guide to camping in Provincetown to make it a whole getaway!
Cape Cod Canal Bikeway
For a fun date filled with adventure, take them on a ride on the iconic Cape Cod Canal Bikeway.
This 7.5-mile bike path located between the Bourne and Sagamore Bridges is a great ride with scenic vistas, parks, and great spots to rest and enjoy lunch.
Perfect for a fun day out together and creating special memories!
Barnstable Brewing
Visiting Barnstable Brewing (485 W Main St) is a delicious, casual date for any couple looking for a laid-back evening.
More than a dozen rotating beers are on tap, waiting for you to try and enjoy at this family-owned brewery!
For more Barnstable fun, take this Self-Guided Driving Audio Tour together and learn something new!
Cape Cod Beer
If your date is curious even more about the Cape Cod beer scene, Cape Cod Beer (1336 Phinney's Lane, Hyannis) is a must-visit microbrewery.
Take a tour of the behind-the-scenes brewing space, have a tasting of all their brews in the taproom and beer garden, or check out their robust calendar of events for something fun to do with your partner!
Of course, don't drink and drive.
Book local accommodations in Hyannis at the Hyannis Travel Inn (18 North St) and get home safely together.
Mass Audubon Long Pasture Wildlife Sanctuary
If you're looking for date ideas down the Cape for a nature lover, be sure to take them to Mass Audubon's Long Pasture Wildlife Sanctuary (345 Bone Hill Rd, Barnstable).
There are so many amazing ecosystems to explore while you two are getting to know each other: flowery meadows, serene woods, fascinating tidal pools, and more, available all year round.
This also features as one of our favorite things to do in our complete winter guide to Cape Cod!
Breakwater Beach
Breakwater Beach (Breakwater Rd, Brewster) is one of the best places to take your date if they love nature.
The Brewster Flats offer an incredible setting for spending quality time together.
This ecosystem reveals more than a mile of tide pools, marsh grasses, and gorgeous beaches, making it a perfect place for an afternoon of exploration.
A parking permit is required at this beach during the summer months, so be sure to come prepared.
Point of Rocks Landing
If you're looking for a quiet spot to watch the sunset with your date, there is no better place than Point of Rocks Landing (Point of Rocks Rd, Brewster).
Check out the productive tide pools at low tide, set up a beach towel with a few picnic items, and just relax at this secret Cape Cod spot.
Parking is very limited, so be sure to plan ahead.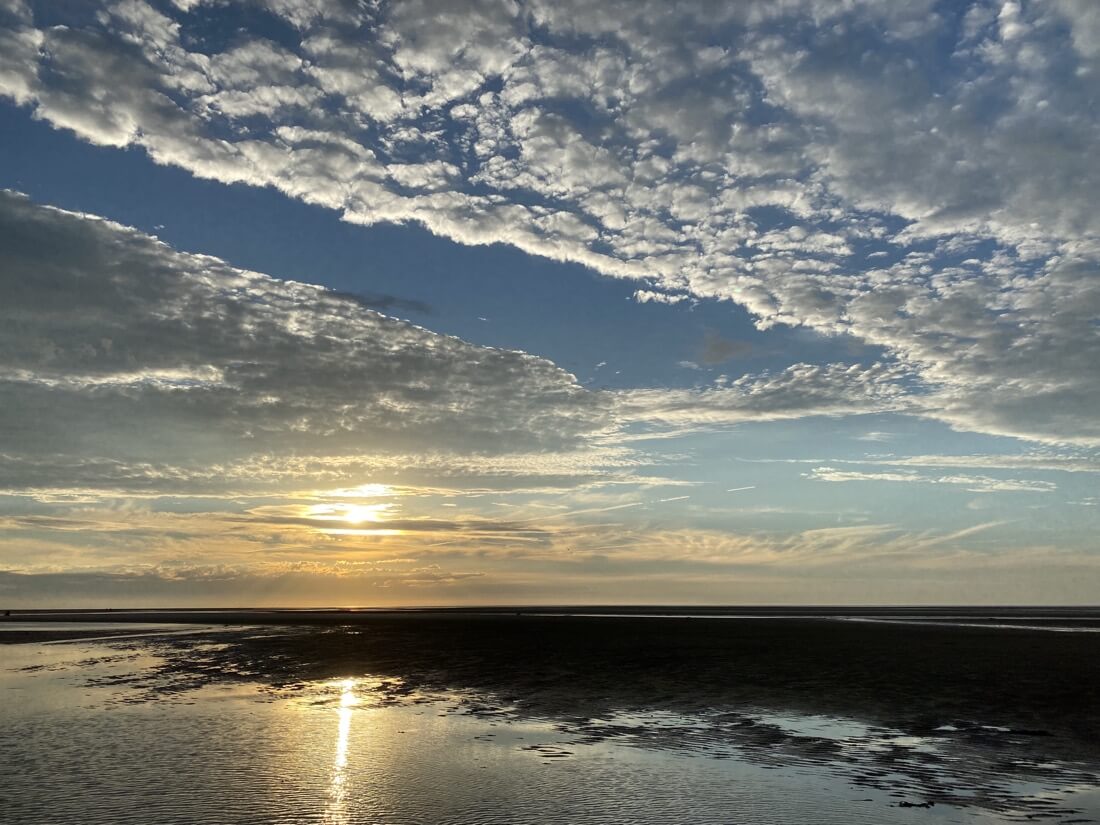 Orleans Farmers Market
Farmers' markets are always a lovely date idea, and the Orleans Farmers Market (19 Old Colony Way, Orleans) is a particularly special idea for a casual date on the Cape.
While summer markets are extra romantic as you shop for fruits and flowers under the warm sun, the market is open year-round and heads inside for the Winter Market (44 Main St).
Gather some ingredients before heading in for a homecooked meal together!
Cape Cod National Seashore
One of the most iconic activities to do on a date on Cape Cod is to visit the Cape Cod National Seashore (99 Marconi Site Road, Wellfleet).
So many gorgeous ecosystems are waiting for you both to explore at this national treasure: marshes, ponds, and beaches sprawl in every direction.
This natural beauty certainly makes for one of the most romantic places on Cape Cod.
Truro Vineyards
No romantic vacation on Cape Cod is complete without a trip to Truro Vineyards (11 Shore Rd, North Truro).
As the first company to successfully grow grapes on the Cape's seashore environment, their tours and tastings are unique and exciting for wine lovers.
Race Point Lighthouse
If you're looking for free date ideas on Cape Cod, head to Race Point Lighthouse, an hour's walk from Race Point Beach in Provincetown.
You can climb up to the top of the lighthouse and enjoy the ocean view on a free tour!
You can even stay overnight in the Light Keeper's House in the summer and fall for a truly romantic Cape Cod getaway.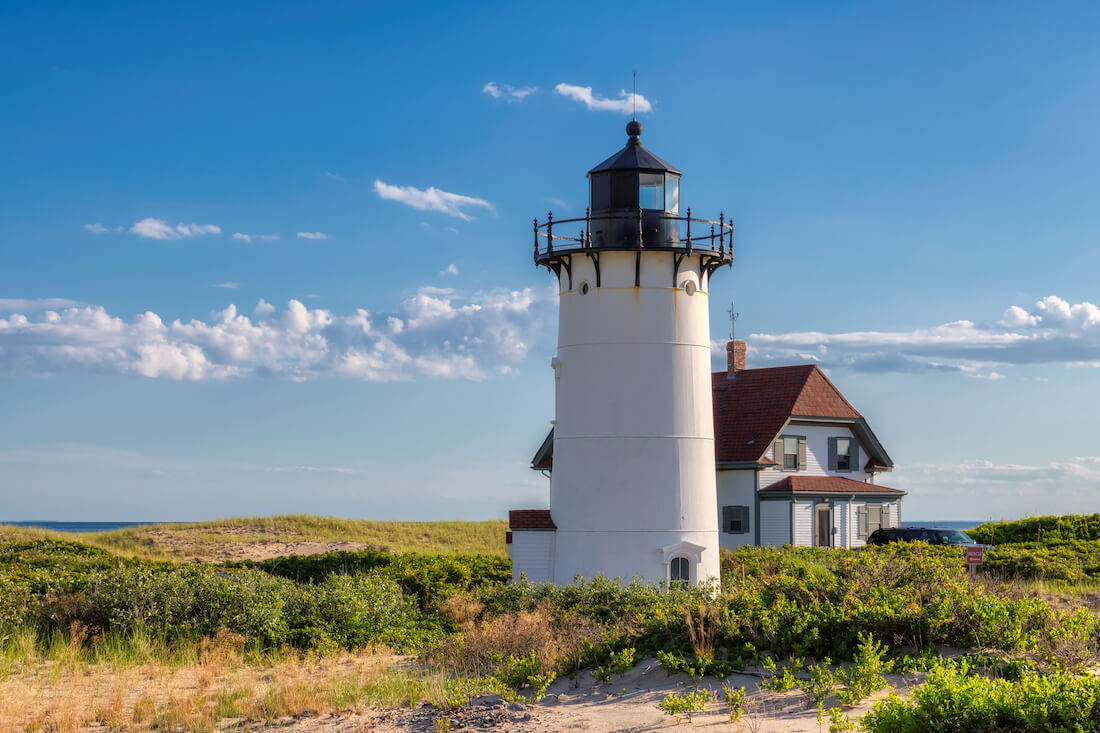 Bonus: Moped Rental on Martha's Vineyard
For an adventurous date idea on the islands off Cape Cod, consider renting mopeds on Martha's Vineyard through MV Moped Rental Group (multiple locations, Oak Bluffs).
The island makes for an excellent day trip from the Cape — or stay longer to explore even more.
Check out our guide to the Martha's Vineyard towns to plan your visit.
Ride through the beautiful landscape on mopeds with your loved one for a truly unforgettable couple's vacation!
Final Words
Ready for a romantic Cape Cod getaway now? We hope so!
Get out there and enjoy the natural beauty and quaint towns of this popular Massachusetts vacation destination.
Share your favorite date spots in the comments below!
Massachusetts Guides
Massachusetts Destinations