This article has links to products and services we love, which we may make commission from.

There are so many lovely and romantic things to do in the Berkshires of Massachusetts. Situated along the New York border in Western Mass, the Berkshires have always been an artists' haven and a beloved escape to a beautiful part of the state.
Whether you're local and looking for date night inspiration or you're visiting for a romantic getaway, you'll love the variety of options in our guide.
You might also like our guide to the Berkshires in the winter if you're visiting for a seasonal escape.
Planning a romantic getaway? Check out our recommendations for places to stay in the Berkshires to find the right accommodations for you and your significant other.
Ideas for a Romantic Berkshires Experience
Whatever time of year you're visiting, the Berkshires ooze romance.
In the beautiful spring and summer seasons, get outdoors to enjoy the natural beauty of this hilly landscape and its waterfalls.
In the fall, you'll be spoiled for choice with wineries, apple-picking, and stunning fall foliage.
Come winter, the Berkshires come alive with some of the best skiing in Massachusetts.
From romantic indoor activities to perfect active date ideas, impress your partner by planning via these recommendations.
MASS MoCA
Visiting MASS MoCA (1040 Mass MoCA Way, North Adams) is a perfect date if you have an entire day to spend enjoying art.
Once an old lightbulb factory, this museum makes the most of enormous gallery spaces, an outdoor sculpture garden, and performing arts events.
If you get hungry, be sure to stop by Bright Ideas Brewing (111 Mass MoCA Way, North Adams) for a fresh brew and a snack!
Berkshire Cider Project
Visit the gorgeous Berkshire Cider Project Tasting Room (508 State Rd, North Adams) on a date to sample all the best hard ciders in the Berkshires in a casual setting.
The Berkshire Cider Project is nestled in a converted textile mill, and sustainability is their top priority in creating their ciders.
Clark Museum of Art
The Clark (225 South St, Williamstown) is one of the most unique museums in the country, but it is a must-visit for its public art, research programs, giant art history library, and sprawling natural areas.
With almost 10,000 works in their permanent collection, you'll love strolling through the galleries, the grounds, and the amazing library.
Williams Inn
The Williams Inn (101 Spring St, Williamstown) offers amazing couples packages, perfectly suited for any stage of your relationship.
Choose from a Proposal Package, a Babymoon Package, or a simple Breakfast For Two package for your romantic getaway in the Berkshires.
Reconnect, relax, and enjoy one another's company during this sweet escape!
We've also created a complete guide to hotels in the Berkshires, so be sure to check it out for even more package recommendations.
Hancock Shaker Village
Step back in time and explore the Hancock Shaker Village (1843 W Housatonic St, Pittsfield), a living history museum made up of twenty buildings, acres of natural area, a cafe, and a store.
This peaceful village is fun to explore in any weather condition, so don't change your plans if it starts to rain!
Colonial Theatre – Berkshire Theatre Group
One of the best date ideas in the Berkshires is to see a show at Colonial Theatre (111 South St, Pittsfield) put on by the Berkshire Theatre Group.
The Berkshire Theatre Group is a newer organization, but it is actually made up of two of the oldest theater organizations in the Berkshires.
The Colonial Theatre itself is a historic building, complete with Gilded age architecture and great seats to view some of the greatest live shows in the region.
First Friday Art Walk Pittsfield
One of the best art-filled adventures in the Berkshires is the iconic First Fridays Artswalk, a great chance to explore the city of Pittsfield, meet talented local artists, and enjoy a casual, free date.
Most of the studios and galleries are located on North St, but you can download the Downtown Pittsfield App for a full list and map of participating art spaces.
Plus, they take place on the first Friday of every month, which makes this a perfect opportunity to start a fun date tradition!
Bartlett's Orchard
The perfect first date in the fall in the Berkshires definitely includes a trip to Bartlett's Orchard (575 Swamp Rd, Richmond).
From Pick-Your-Own to a well-stocked farm market with all the best autumn goods, Bartlett's is a romantic outdoor adventure and a classic Berkshires destination.
Balderdash Cellars
The beautiful Balderdash Cellars (81 State Rd, Richmond) is a wonderful date idea that combines high-quality wines with a casual, BYO food atmosphere.
Pack a lunch, or just a few snacks, and stop by this boutique winery for live music, fun events, and great community.
Furnace Brook Winery and Hilltop Orchards
If you're looking for a classic outdoor date idea in the Berkshires, Hilltop Orchards (508 Canaan Rd, Richmond) — home of Furnace Brook Winery — is a must-visit, especially in the fall.
Sample wines, ciders, and more at a tasting, take a tour of the cidery, and explore the 200-acre orchard all year long.
It's the perfect day out together!
Gateways Inn Jazz Lounge
Music lovers should visit the Gateways Inn Jazz Lounge (51 Walker St, Lenox).
Almost every night, you can visit the Jazz Lounge for incredible live music and a delicious meal.
Gateways Inn has a reputation in the Berkshires as a dining destination, so you make a reservation for dinner and a show!
Brava Restaurant and Wine Bar
Brava Restaurant and Wine Bar (65 Church St, Lenox) is a classic romantic restaurant in the Berkshires that locals love.
With an amazing wine selection, elevated menu items, and a warm, cozy atmosphere, Brava is perfect for a quiet conversation over dinner.
Firefly Gastropub
For a more upscale restaurant date idea in the Berkshires, check out Firefly Gastropub (71 Church St, Lenox), a globally-inspired restaurant with a super fresh menu.
With a mix of traditional and creative dishes, you'll love trying the loaded salads and exciting cocktails.
Ventfort Hall Mansion Cabaret
The Berkshires town of Lenox became a popular Gilded Age vacation spot in the late 1800s, but Ventfort Hall Mansion and Museum (104 Walker St, Lenox) is in a league of its own.
The building has undergone an intense restoration project, and much of it is open to the public to explore.
While Ventfort Hall is gorgeous and romantic enough on its own, its regular Cabaret events are a little extra special.
Tanglewood
Enjoy a live performance by the Boston Symphony Orchestra at Tanglewood (297 West St, Lenox) during its summer season, which brings in more than 350,000 visitors.
This is a perfect date idea for fine music and art fans, and it would definitely be an unforgettable experience for you both to share.
The Mount, Edith Wharton's Home
If you're looking for a fun, history-rich date idea, visit The Mount (2 Plunkett St, Lenox), Edith Wharton's historic home.
The novelist, short story writer, and interior designer had quite an impact on US culture during the Gilded Age.
She was also the first woman to win the Pulitzer Prize for Literature.
A historic house museum, cultural center, and bookstore, the Mount is a perfect date for history lovers.
Stroll through the grounds and gardens after you've explored the interior for even more fun and plenty of conversation opportunities.
Pleasant Valley Sanctuary
Looking for a low-key date in a beautiful outdoor setting?
Mass Audubon's Pleasant Valley Wildlife Sanctuary (472 W Mountain Rd, Lenox) features tons of different kinds of natural areas — including forests, wetlands, and meadows — all waiting for you to explore.
You can also find wildlife, dams, and more as you hike through this gorgeous area.
This area is truly amazing in the winter, too.
Want more ideas? We curated all the best things to do in the Berkshires in winter for you!
Norman Rockwell Museum
Norman Rockwell is one of the most famous American artists, and visiting the Norman Rockwell Museum (9 Glendale Rd, Stockbridge) should be an essential stop on any romantic getaway to the Berkshires, MA.
The museum focuses on American culture and the influence of illustration and art on US society.
Visit the museum and admire almost 1,000 original works by the artist and a collection of more than 100,000 items from the Norman Rockwell Archives.
It's a fun conversation starter and an iconic thing to do in Western Mass!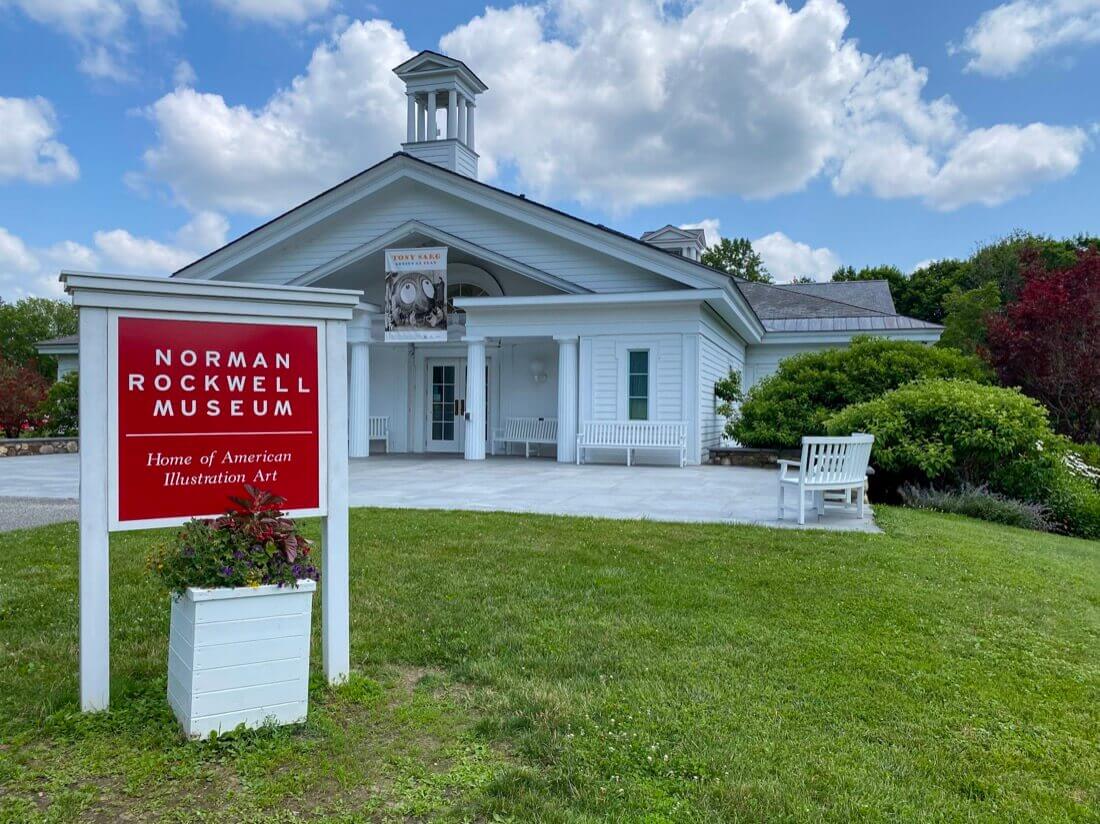 Berkshire Botanical Garden
The Berkshire Botanical Garden (5 W Stockbridge Rd, Stockbridge) is so beautiful, it's an utterly delightful spot to visit with your loved one.
Spread across 24 acres, the Berkshire Botanical Garden is one of the oldest public gardens in the Northeast.
You can visit year-round, but early springtime is best to see all the new flowers popping up!
Old Inn on the Green
The Old Inn on the Green (134 Hartsville, New Marlborough) is one of the best inns to visit for a weekend getaway in the Berkshires.
There is so much for couples to do at the Old Inn, whether you'd like to stay in an authentically restored room or enjoy a meal by candlelight in the dining room.
You could also enjoy a simple evening on the garden terrace or taproom, but you're sure to have an amazing date no matter which option you choose.
Les Trois Emme Vineyard and Winery
If you're looking for an affordable date idea in the Berkshires, be sure to visit Les Trois Emme (8 Knight Rd, New Marlborough), an authentic winery and tasting room.
Visit the tasting room to try multiple wines for an affordable price, and be sure to check their events page before you go for a special occasion.
Bash Bish State Forest and Cascade
Our Berkshires date ideas guide wouldn't be complete without a waterfall recommendation!
Visit Bash Bish State Forest (Falls Rd, Mount Washington) to see the tallest single-drop cascade in Massachusetts.
The hike is short but strenuous, so be sure to come prepared.
Final Words
Did this guide help you plan your romantic Berkshires activities and some fun and romantic date ideas? We hope so!
Share your favorite local date ideas in the comments below!
Massachusetts Guides
Massachusetts Destinations