This article has links to products and services we love, which we may make commission from.

Are you looking for a lovely and memorable experience that beats the traditional dinner-and-a-movie date night?
Providence, Rhode Island might be the perfect place for you!
With its centuries-old cobblestone streets filled with unique boutiques and cuisine and the breathtaking waterfront views, it's no wonder couples flock here year round.
Whether your idea of an evening with your partner is having an intimate cruise on a river or wandering through galleries filled with exquisite art pieces, this guide will explore some of the most romantic things to do in Providence, RI.
So grab your sweetheart and prepare to embark on an unforgettable romantic adventure in this classic New England city.
For more things to do in Providence, check this guide.
Romantic Things to Do in Providence, RI for Couples
Providence Performing Arts Center
One of the most romantic things to do in Providence is to watch a live show at the Providence Performance Art Center (220 Weybosset St).
The PPAC hosts touring Broadway productions, and there is only one theatre of its kind in the country that is larger.
This is an absolutely essential date experience in Providence.
PPAC also features in our guide to Rhode Island in winter.
Providence Art Club
Visiting any of the galleries hosted by the Providence Art Club (11 Thomas St) is ideal for couples who love art on a budget.
All of their galleries are free and open to the public, and exhibits usually rotate every two to three weeks.
This is a great date idea if you're ready to start a tradition of checking out new artists!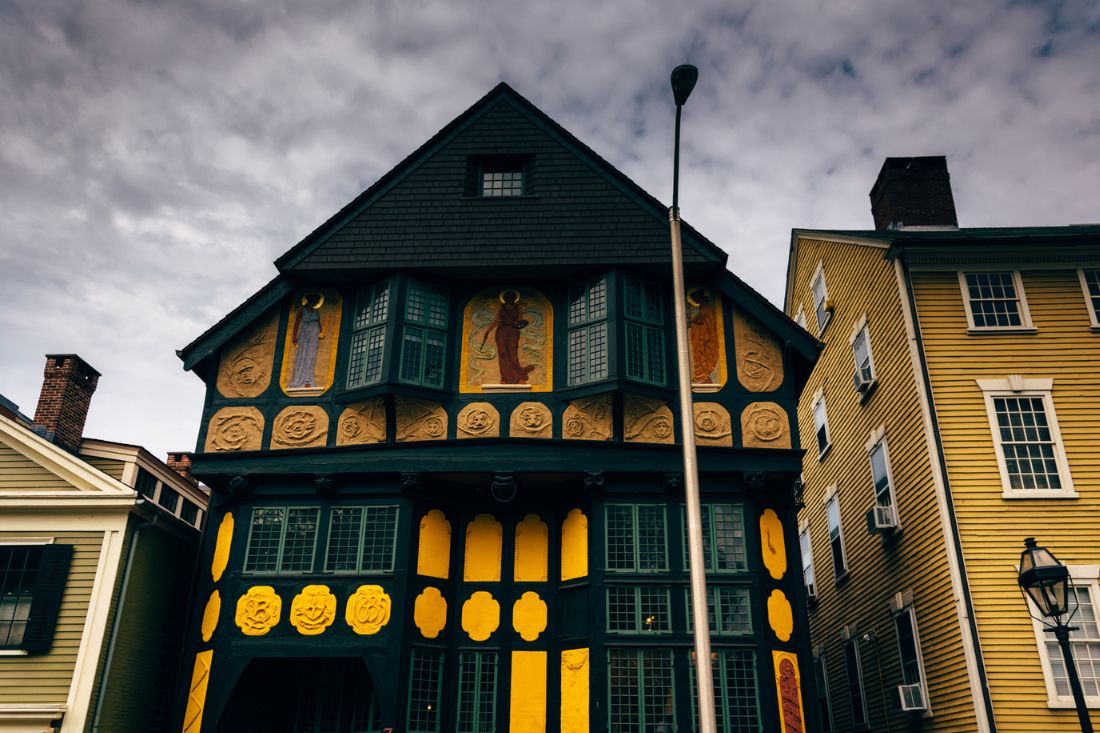 RISD Museum of Art
One of the most iconic destinations in Providence is the Rhode Island School of Design Museum (20 N Main St).
With more than 100,000 works in their permanent collection, reaching back to ancient eras and far corners of the globe, you'll love wandering the galleries with your date.
Rhode Island State House
I know what you're thinking, there's nothing romantic about politics but the State House (82 Smith St) at Smith Hill in Providence is actually a perfect romantic photo spot!
The tree-lined path leading up the neoclassical building constructed between 1891–1901 has spectacular angles, drawing the eye to the couple posing between the trees.
And, if your date is into politics, you can do a self-guided tour of the building. Win-win!
WaterFire Show
Let someone else put all the effort into your date by strategically scheduling a walk-through Downtown during WaterFire which runs on certain weekends from spring through to winter.
The dark skies light up during this Providence festival when people walk down to the water with fire on sticks.
Pack some chairs, grab a drink, and base yourself at Waterplace Park for the free show.
Avon Cinema
Taking your date to an independent movie theater like Avon Cinema (260 Thayer St) is a great option, whether it's your first date or you've been together for years.
This historic theater has been opened, owned, and operated by the same family for almost 100 years, and it only has one screening room.
You'll love getting comfortable in the Art Deco-style screening room and watching an indie, art house, or foreign film with your loved one.
The Strand Ballroom
Standing strong as Providence's oldest theatre, The Strand Ballroom and Theatre (79 Washington St) is a concert venue that hosts shows and entertainment from every genre.
No matter what kind of music you're date enjoys, there's bound to be an upcoming show at The Strand for you both to dance at and have a great time together.
AS220 Main Stage, Gallery, and Dance Studio
If you're looking for more artist-friendly ideas for date night in Providence, check out the AS220 website, where all their current and upcoming shows, gallery events, and openings are posted.
AS220 is a community arts organization that hosts artists and art events across the city.
From music shows at the AS220 Main Stage (115 Empire St), to classes at the Dance Studio (95 Empire St), you'll find something fun to do together that is sure to create lasting memories.
Eat Cake!
If you and/or your partner have a sweet tooth you will absolutely want to pick up a cake at the Italian bakery, Scialo (257 Atwells Ave).
Located at Federal Hill, the city's Italian neighborhood, this is a fun spot for drinks, food, and people watching.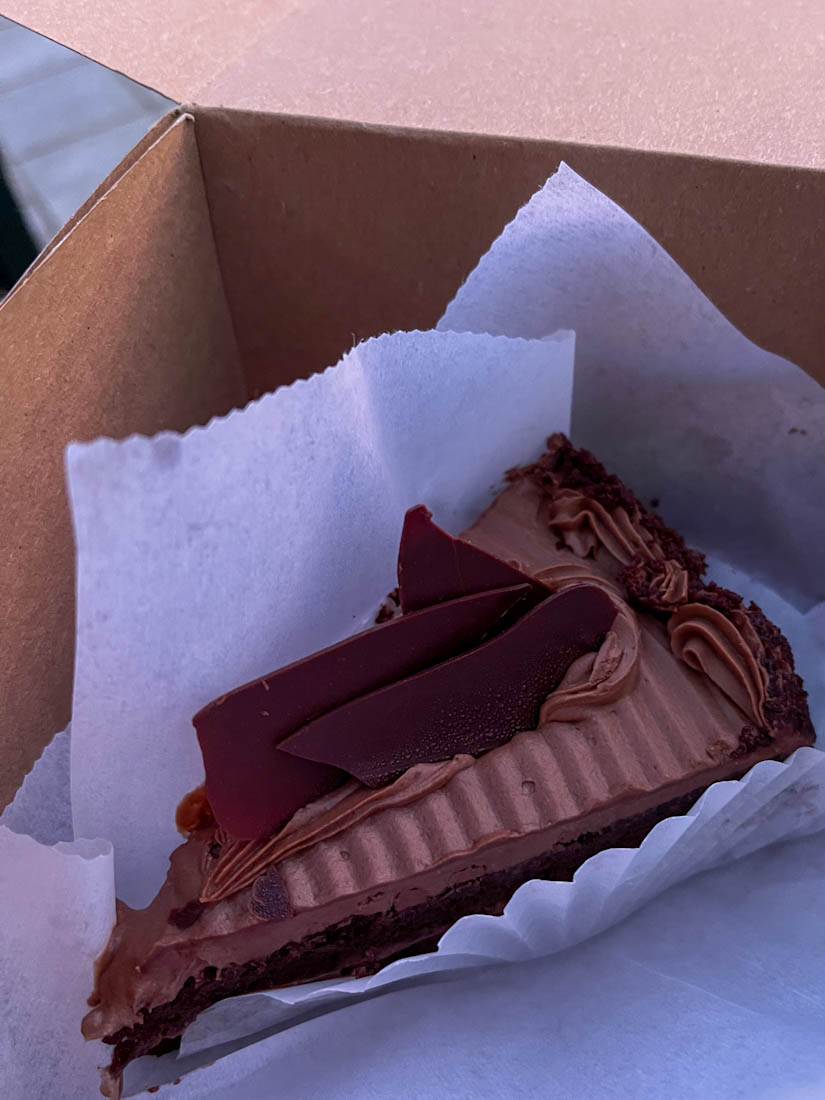 Federal Hill
Mafia history, good wine, and al fresco dining, what's not to love about Federal Hill?
There's no shortage of bars and restaurants along Atwells Ave, but it is advised to reserve a table at the weekends or you might end up cut short for date night.
Costantino Venda Bar is a popular outdoor restaurant nestled just off the main drag beside a water fountain.
It is lively though, so don't expect hushed tones – ideal for a first date that might require a little scaffolding as you can people watch!
Craft Beer and Dive Bars
The Atwells Ave side of Fed Hill is quite upmarket, so if your style is a little more low-key, consider the breweries and bars dotted around the neighborhood.
Ogies (1155 Westminster Pl) is a fun location for casual drinks and food truck-style food, or Moniker (432 W Fountain St) does its own craft beer and has inside and outside seating.
Stroll Through Brown University
If you want to recreate a scene from Gilmore Girls for your date day, plan a walk through the Brown University Campus.
Sitting atop University Hill, there's a variety of gorgeous architecture to get the conversation flowing, and outdoor seating areas for you to sip a take-out coffee at, like the Brown students do.
This area is particularly lovely during fall.
Providence Athenaeum
If you're looking for romantic things to do in Providence with a bookworm, you have to take them to The Providence Athenaeum (251 Benefit St).
This library has been a mainstay in Providence for almost 200 years and is older than the public library system in America.
Check out their extensive collections and wander the stacks, enjoying each other's company and swapping book recs.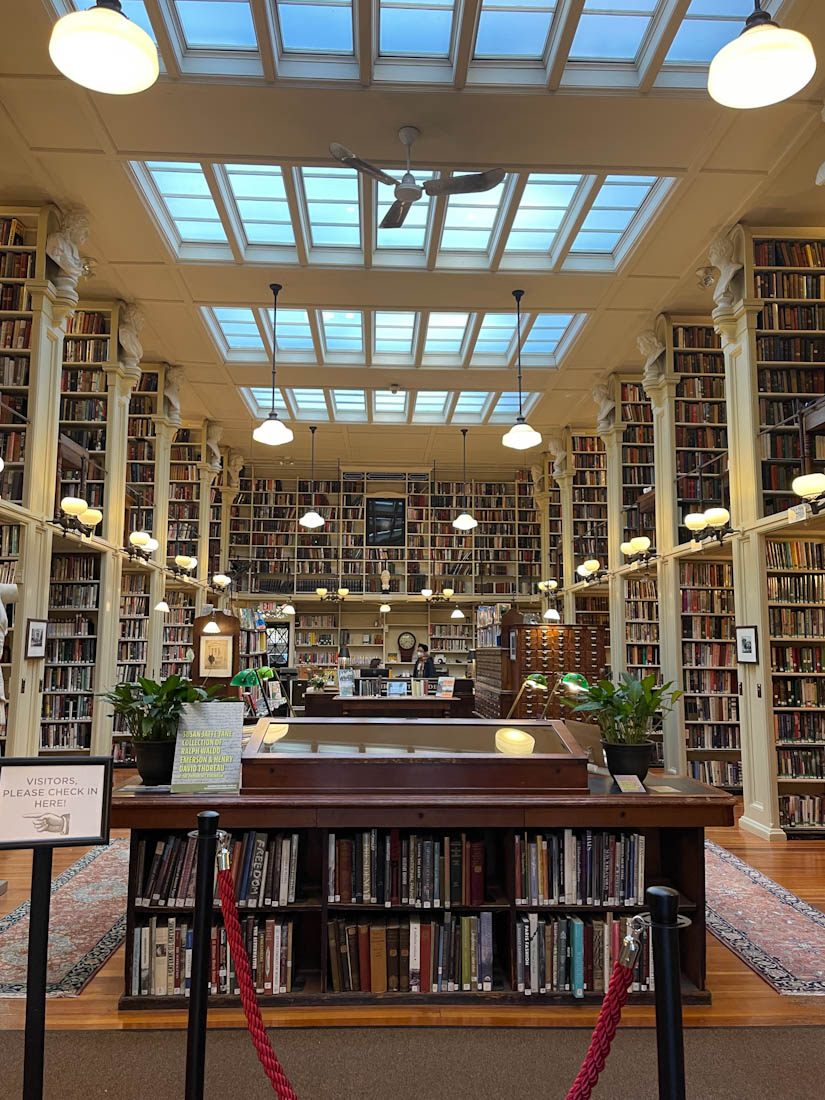 Prospect Terrace Park
For a more urban and historical date idea in a park, head to Prospect Terrace (Pratt St).
This park sits atop a hill and has amazing city and sunset views, but it also features the statue of Roger Williams, a National Memorial.
This 15-foot granite statue is amazing to behold and is a must-see in the city.
Hope Street Farmers Market
There is nothing quite like the summer magic of Hope Street Farmers Market (Lippitt Memorial Park), one of the most fun dates in Providence.
You'll love the live music all summer and fall, and be sure to check out the Providence Artisans Market, which takes place at the same time over at the far south end of Lippitt.
Revival Massage & Bodyworks
Go relax and unwind with your loved one at Revival Massage & Bodyworks (260 Wickenden St), a mindful massage therapy studio in the heart of downtown Providence.
A couple's massage would be the perfect start to a romantic date night, especially if you select the Romance Couples Massage package.
Free Play Bar Arcade
Free Play Bar Arcade (182 Pine St) is an arcade bar with unlimited free play on every single game.
Open late every night, you can head to Free Play for a round of drinks and game after game of pinball or any other classic arcade game.
Stay at the Christopher Dodge House
You can find romantic places to stay in Providence that are close to attractions, local shops, and restaurants.
Christopher Dodge House (11 West Park Street) is a 14-room inn named one of the city's best B&B.
All their rooms can accommodate at least 2 people with amenities like a private bath, WiFi, comfortable mattresses, a work desk, a reading chair, a TV, and more.
Check availability on Expedia, Hotels, or Booking.
Providence River Boat Company
If you're looking for some adventurous first date ideas, Providence has an amazing boat tour company that will take you two out on the water!
The Providence River Boat Company (101 Dyer St) offers narrated boat tours and haunted boat rides perfect for spending time together, learning about the city, and having fun.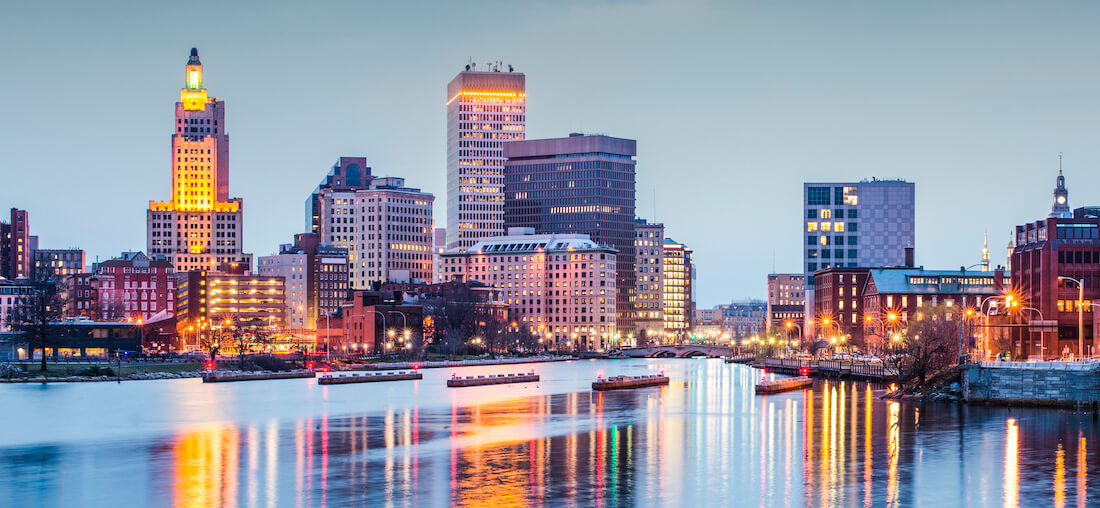 Comedy Connection Rhode Island
Making someone laugh is a huge part of dating, so invite your partner to Comedy Connection Rhode Island (39 Warren Ave, East Providence).
Make use of the full bar and light concessions, and settle in for some serious laughs!
Muse Paintbar
Get a little creative with this Providence date idea: head to Muse Paintbar (117 N. Main St) and paint a masterpiece together!
Be sure to browse their upcoming classes and pick a paint project you'd both enjoy, grab a glass of wine, and paint your hearts out!
Escape Rhode Island
One of the more unique things to do with your special someone is work together to get out of an escape room at Escape Rhode Island (385 S Main St).
You'll have 60 minutes to solve puzzles, work creatively, and explore the rooms.
This is especially fun if you've been together for a while, so you can test each other under pressure!
Providence Haunted Tour
If you both enjoy spooky adventures, head out on the Providence Doomed Artist haunted walking tour.
On this tour, you'll step into the worlds of Providence's creepiest writers: Edgar Allen Poe, H.P. Lovecraft, and more.
Scary stories and ghost hunting offer the perfect opportunity for cuddling in a little closer!
Book it on Viator or on GetYourGuide.
For more thrilling tours like this, check out our guide to Rhode Island in fall.
Roger Williams Park
There are so many relaxed, free Providence date night ideas, but packing a picnic dinner and heading to Roger Williams Park is truly special.
Miles of walking paths and trails, scenic meadows and fields, and a beautiful pond are all tucked into the park, waiting for you to explore.
Dates don't have to be expensive to be perfectly suited to you as a couple!
Roger Williams Park Botanical Center
Roger Williams Park Botanical Center (Floral Ave) is home to New England's largest glasshouse garden.
Featuring four greenhouses that are open all year round and tons of plants from around the world, this is a perfect date idea for anyone who finds wonder in the natural world.
Museum of Natural History and Planetarium
While the Museum of Natural History (1000 Elmwood Ave) is amazing, the Planetarium in the same building is a truly romantic attraction.
The dome theater displays the night sky in fantastic shows, available only on the weekends.
Museum admission is super affordable, which means you can splurge on a romantic lunch or dinner afterward.
Seastreak Ferry
Whether you take the ride for fun or for a day trip to Bristol or Newport, Seastreak Ferries (25 India St) can transport you across the water in style.
The trip is affordable and fun, and a free shuttle is available to take you to the train station, the convention center, or to the heart of downtown once you land back in Providence.
For more places to visit in Rhode Island, read this guide.
Rhode Island Bus Tour
Hop aboard this Rhode Island day tour, which departs downtown in the morning and returns just before dinner.
Learn about the towns, businesses, and mansions along the island before spending an afternoon in Newport.
The time in Newport includes a drive through the Ocean Road mansions, a visit to the church where JFK and Jackie were married, then free time for a few selfies and lunch at one of the waterfront restaurants or city taverns.
A lobster roll is a must for those who love seafood!
The tour also includes beaches and a lighthouse visit – an ideal New England date where someone else does the driving!
Alternatively, this day tour from Providence focuses more on the green spaces of Rhode Island and its historically significant residents, especially Roger Williams.
Enjoy a lunch stop in Wickford Village and learn all about this compact state in just a single day out together.
Romantic Restaurants in Providence RI
Check out some of the romantic restaurants in Providence which feature great food and the perfect vibe for that sweet moment with your date.
Schastea
Look no further for a calm, relaxed, first-date spot than Schastea (300 Broadway).
Tons of creative and unique looseleaf teas, a delicious cafe food menu, and the coziest seating make this an amazing place to chat and get to know each other.
CAV
CAV (14 Imperial Pl Suite 101) offers both lunch and dinner menus, in a beautiful loft setting featuring Ashwood ceilings, brick walls, chandeliers, paintings, and more.
They also feature a bar with comfortable leather seats and drinks like cocktails, wines, and beers.
Romantic Hotels in Providence, RI
Listed below are romantic places to stay in Providence that are close to attractions, local shops, and restaurants.
The Dean Hotel
The Dean Hotel (22 Fountain Street) is conveniently located in Providence's city center and is a walking distance of major locations like the Rhode Island Convention Center and the state's capitol building.
There are 52 rooms in this hotel- all with custom furniture, decor from Europe, and complete amenities like WiFi, air conditioner, private bath, and TV.
You can also find a European-style cocktail bar, a karaoke den, and a full-service restaurant at this place.
Check availability on Expedia, Hotels, or Booking.
Stay at the Christopher Dodge House
As mentioned above, the Christopher Dodge House (11 West Park Street) is a 14-room inn that's been named one of the city's best B&Bs.
All their rooms can accommodate at least 2 people with amenities like a private bath, WiFi, comfortable mattresses, a work desk, a reading chair, a TV, and more.
Book your stay on Expedia, Hotels, or Booking.
Final Thoughts
We hope this guide helped you find the perfect spot and activity for your next romantic getaway in Providence, RI.
Which one is your favorite? Tell us in the comments.
Rhode Island Destinations