This article has links to products and services we love, which we may make commission from.

Whether you're heading out on a first date or you've been married for decades, here's a little inspiration for romantic things to do in Portland, Maine. From fancier dining options to fun and interactive activities, it's all here in our helpful guide.
If you're visiting Portland for the first time, check out our guide on where to stay so you know all the best neighborhoods and areas.
If you're local, then you might like our fall and winter guides for even more suggestions based on the season!
Portland also features in our favorite Boston to Maine road trip itinerary, so be sure to check out the other stops if you're making this into a romantic getaway.
Romantic Portland, Maine, Attractions for Couples
From the most romantic date ideas to the fun and interactive ones that are perfect for first dates, these are the best things to do for couples in Portland, ME.
If you're looking to impress, these first few suggestions should hit the mark.
If you're planning a first date and want a little more flexibility, later in the guide you'll see lots of interactive, free, and fun options to keep things light.
Good luck!
Watch a Ballet at Merrill Auditorium
One of the most romantic places in Portland, Maine, is Merrill Auditorium (20 Myrtle St).
You'll love basking in its beautiful architecture and interior from 1912, complete with red velvet seats and incredible vaulted ceilings.
Dress up with your date and attend an upcoming event!
Check out the ballet, a classical concert, or even a symphony orchestra…more on that below!
See the Portland Symphony Orchestra
For a more upscale date night in Portland, Maine, pick up a pair of tickets to the next performance of the Portland Symphony Orchestra.
The Orchestra has been in operation for almost a century, and their shows in the Merrill Auditorium (20 Myrtle Ave) are truly magical.
If you're aiming to impress, an evening at the orchestra certainly fits the bill!
Dine at Petite Jaqueline
For some of the best date ideas in Portland, you have to support one of the locally-loved restaurants in the city.
One of our top recommendations is Petite Jacqueline (46 Market St).
This authentic bistro features all the most amazing, classic French dishes, including escargot, charcuterie, and even duck confit.
Impress your date by taking them to this stunning French restaurant and pulling out all the stops.
Eat at Eventide Oyster Company
For another very romantic Portland, Maine date idea, go to dinner at Eventide Oyster Co. (86 Middle St).
This James Beard award-winning restaurant offers classic New England menu items in a simple, elevated format.
The restaurant seats smaller parties on a first come first serve basis, so be prepared for a wait or with a backup plan.
It could be a great chance to chat before slurping back their vast array of oysters…which, of course, are an aphrodisiac.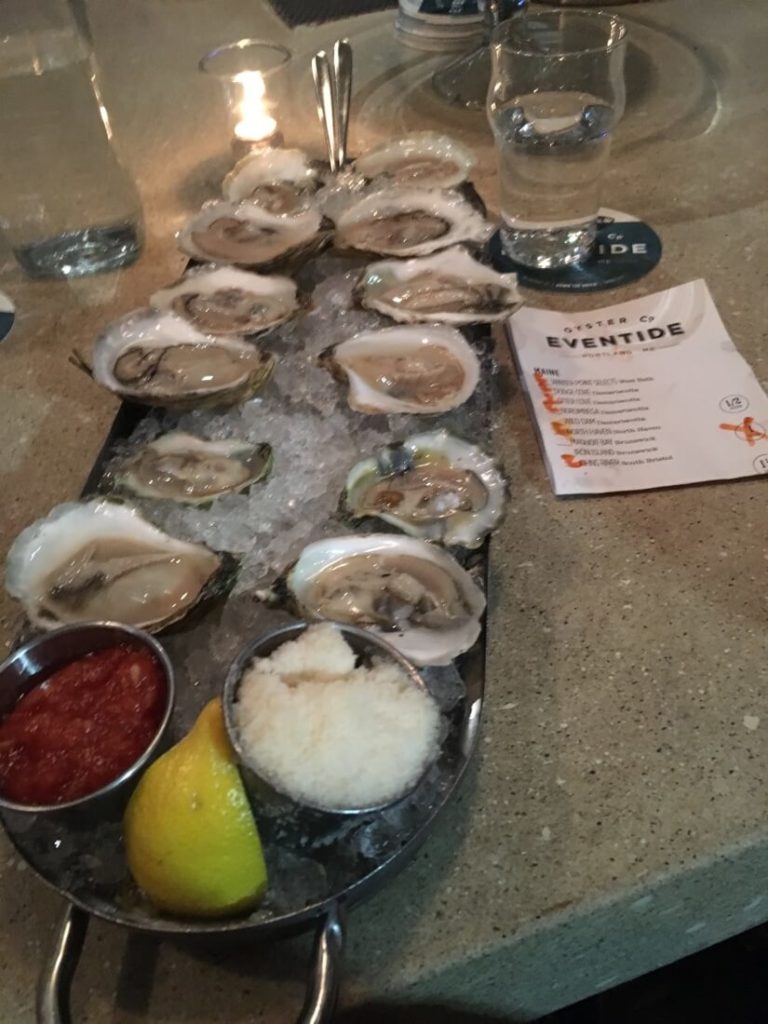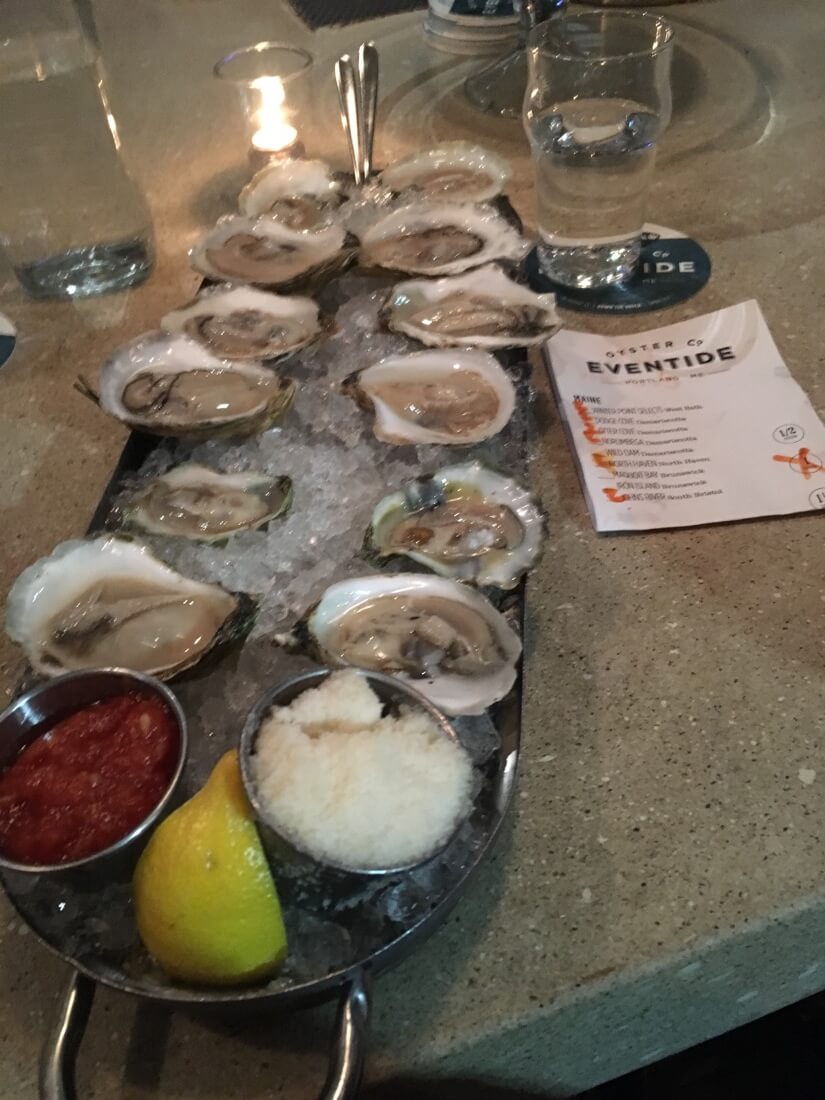 Take a Casco Bay Cruise
During the warmer months, the Casco Bay Ferry Line (56 Commercial St) is a popular activity for locals and travelers alike.
For a truly romantic date in Portland, step it up a notch with a Casco Bay Sunset Run.
The trip takes less than three hours, and you can bring a picnic to enjoy as the sun sets beautifully over the city.
Looking for a little more adventure with your date?
Head out onto Casco Bay on a Tall Ship Schooner Cruise instead!
Peruse the Portland Museum of Art
If your date is more interested in fine art and culture, take them to the Portland Museum of Art (7 Congress Sq).
Open for 135 years, the PMA is a hub of photography, sculpture, and more.
Inspire plenty of conversation as you stroll through the various exhibits together.
This is an ideal date option from your first date through to long-term couples.
This is also a perfect free date idea in Portland, Maine — admission is free on Friday afternoons!
Catch a Gig at State Theatre
Checking out a live show at a music venue is always at the top of the list of fun date ideas in Portland, Maine.
This city loves art, music, and good food…so take advantage!
State Theatre (609 Congress St) is a historic theatre that holds nearly 2,000 people.
This is the best local venue to see indie music, folk music, and more.
Enjoy a Show at BLUE
If you like live music but you're looking for a more intimate setting for date night, we have a perfect venue for you.
BLUE (650 A Congress St) is a live music venue with a full bar plus a casual dining menu.
Their focus is mainly on jazz and the blues, but check their website for upcoming shows and tickets.
This is an ideal setting for entertainment where you can still enjoy good conversation and make a whole evening of it.
Have a Fun Dinner at Honey Paw
For a truly comforting, delicious date in Portland, Maine, visit The Honey Paw (78 Middle Street).
This communal-style restaurant serves up highly intentional dishes with unique and classic Asian flavors.
Your date will love the cozy atmosphere, amazing hospitality, and irresistible dishes on the menu.
Perfect for a first date so you can chat without the stress of a super formal setting!
Paint Together at Muse Paintbar
If you're looking for fun and creative date ideas in Portland, then go paint your heart out!
Take your date to Muse Paintbar (245 Commercial St) for an upcoming Paint and Sip event.
Planning this date is as simple as heading to their website, picking a theme you both like, and signing up.
You'll each have something beautiful to bring home and remind you of the sweet time you shared together.
Don't worry if you're a terrible artist…it'll still be fun!
Impress at Union Restaurant
If you are curious about one of the best upscale restaurants in Portland, Maine, be sure to visit UNION Restaurant (119 Exchange St).
Local ingredients, creative dishes, and amazing service are waiting for you and your date at this incredible restaurant.
The restaurant is set within the gorgeous Press Hotel, which offers a beautiful setting for a date you're trying to impress.
Whether you're local or visiting, splashing out at a highly-rated hotel restaurant feels like a special night out.
Get Cocktails at Vena's Fizz House
If beer tastings are not exactly your date's style, try taking them to Vena's Fizz House, a creative cocktail bar featuring classic, naturally fizzed sodas.
Vena's serves cocktails alongside mocktails and takes mixology very seriously, which means this would be a great date idea in Portland for anyone passionate about new flavors and experiences.
The Fizz House also has a shop so you could just pick up some supplies for an at-home cocktail night.
Share Tapas at Sur Lie
For one of the best meals you can find in Portland, Maine, visit Sur Lie (11 Free St) and try as much as you can from their Tapas menu.
While their dishes find global inspiration, most of their food is centered around American tradition.
Your date will love the locally-sourced ingredients and amazing hospitality at this iconic restaurant.
Plus, tapas-style dining is great for date night so you can share and interact so much more!
Sample Beer at Shipyard Brewing
Support a family-owned business for a fun date in Portland at Shipyard Brewing (86 Newbury St).
The brewery has been based in Portland for over 25 years and the tasting room is a must-visit in the iconic Old Port.
If you want to explore more of the Old Port breweries, this Old Port Walking Tour is perfect for a more interactive date option.
Raise a Glass at Rising Tide Brewing
Located in the heart of Portland's East Bayside neighborhood, Rising Tide Brewery (103 Fox St) is a beer company known for its creative flavors.
Take your date to the Rising Tide tasting room for small-batch craft beers, a selection of ciders and wines, and an incredible menu of delicious comfort foods.
For even more brewery fun, check out the Portland Local Brewery and Spirits Walking Tour and make a whole event of the date!
Explore More at Urban Farm Fermentory
Is your date gluten-free or maybe a little tired of the classic Maine brewery circuit?
Take them to Urban Farm Fermentory (200 Anderson St), a unique fermented beverage maker with a beautiful tasting room.
Sample their homemade kombucha, cider, mead, jun, and even a few beers, all using local and foraged ingredients wherever possible.
Head to Maine Mead Works
For a unique tasting room date experience, head to Maine Mead Works (51 Washington Ave) to sample their small batch mead — a fermented honey alcohol.
Besides reimagining the world's oldest fermented drink, Maine Mead Works also features local artists and their work in the main tasting room.
Support local, try something new together, and enjoy a fun date in the city!
Top it Off at Allagash Brewery
Of course, one of the best and most classic Portland date ideas is to head to Allagash Brewery (50 Industrial Way) for a cold, Belgian-inspired brew.
Stop by the tasting room for a pint and a delicious sandwich from the Allagash food truck or reserve a ticket to the Cellar for an immersive tasting experience.
This is perhaps the most widely-recognized local brewery, so it's a must-visit if you're not local.
Stroll the Portland Farmers Market
If you're looking for even more fun dates in Portland, stop by the weekly Portland Farmers Market.
Summer markets are held outdoors at Deering Oaks Park and winter markets are indoors at 631 Stevens Ave.
Cash is preferred by most vendors, so be sure you come prepared so you can buy a few items to make a homecooked meal together later.
Walk the Eastern Promenade Trail
There are lots of free date ideas in Portland, Maine, but strolling along the Eastern Promenade Trail is one of the simplest and most beautiful.
This two-mile trail along the harbor begins downtown and was designed by the same landscape firm that created New York's Central Park and Boston Common.
Bring a frisbee, a picnic, or a bathing suit, and spend the afternoon enjoying Portland's natural beauty.
Not summer weather? Don't worry!
Strolling here in cooler weather just gives you an excuse to get closer and cozier.
Visit the Victoria Mansion
If you're heading on a date with a history buff, you'll need to take them to Victoria Mansion (109 Danforth St), one of the most important historic homes in the country.
The original interior is more than 90% preserved from its construction in 1858, which makes it an absolute wonder to see from the inside.
Reserve your tickets ahead of time on their website and enjoy an educational, interactive date option.
Pop by the Portland Observatory
Visiting the Portland Observatory (138 Congress St) is one of the best date activities in Portland because it is such an iconic Maine landmark.
It is also the final remaining historic maritime signal station in the country, standing at over 210 years old.
Pick up a pair of tickets to the Observatory online, and be sure to check the website for information on its open hours and season.
Play Together at Arcadia Bar
Playing games and drinking with your date at Arcadia Bar (504 Congress St) is one of the most fun date ideas in Portland.
With classic arcade games, pinball, skeeball, and more, Arcadia Bar is the perfect place to bring a first date!
It's also a great way for long-term couples to break the regular routine and go out for some childish fun together.
Try a creative cocktail and a fresh, hot pizza while you play against each other with some healthy competition.
Final Words
Are you ready for a fun or romantic date night in Portland now? Show off your local insights to your significant other!
Let us know your favorite date ideas in the city in the comments below.