This article has links to products and services we love, which we may make commission from.

There are so many delightful romantic things to do in Orlando, whether you're going out on a first date, heading out for some fun with your long-term spouse, or celebrating a special anniversary together. The city is full of magic and wonder, so take advantage when planning your next date night!
You can certainly splurge on special romantic activities, but there are also plenty of free or cheap date ideas in Orlando that won't break the bank.
Explore more with our guide to visiting Orlando on a budget.
You might also like our seasonal guide to Florida in the fall.
Top Romantic Things to Do in Orlando
Our guide covers all the best things to do in Orlando for couples, plus several ideas for unique dates near Orlando at the end of the guide.
Whether you're local or visiting, enjoy the city and its easy access to incredible natural beauty!
Ride the Wheel at ICON Park
The Wheel at ICON Park (8375 International Dr) is one of the most romantic date ideas in Orlando.
This giant Ferris wheel offers breathtaking views of the city sights and lights from an incredible 400 feet up.
A great way to get a unique view of the city, The Wheel at ICON Park is a must for your next Orlando visit!
Book your tickets early here.
Take a Nighttime Stroll on International Drive
International Drive is the home to all of Orlando's most exciting places.
From theme parks to entertainment attractions, International drive is like Orlando's Las Vegas strip.
A nighttime stroll through the lit-up I-drive can be a mesmerizing and romantic date idea in Orlando.
Check out our full list of things to do on International Drive and find the best I-Drive restaurants, too.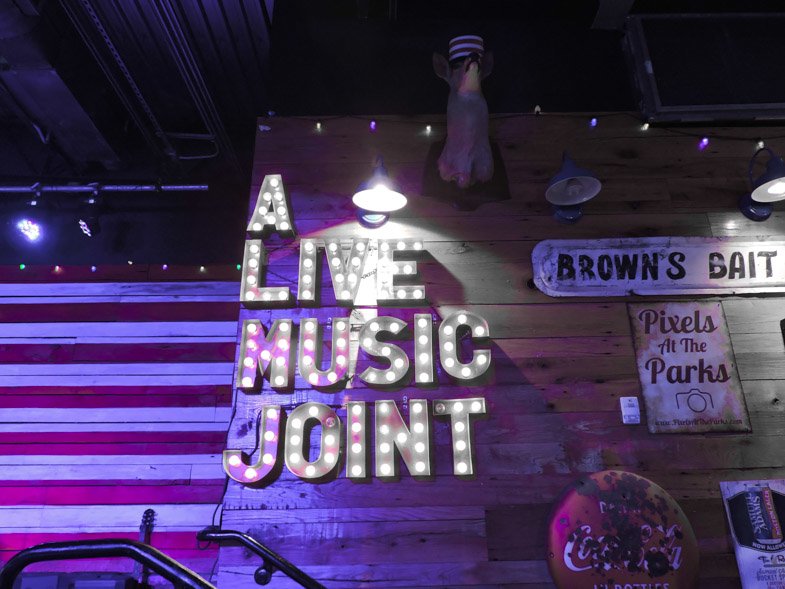 See the Sights from a Hot Air Balloon
One of the most unique and romantic activities in Orlando is a hot air balloon ride from Bob's Balloons.
A hot air balloon ride gives you the best view of the city and the surrounding nature.
See all the sights of Orlando with a romantic hot-air balloon tour.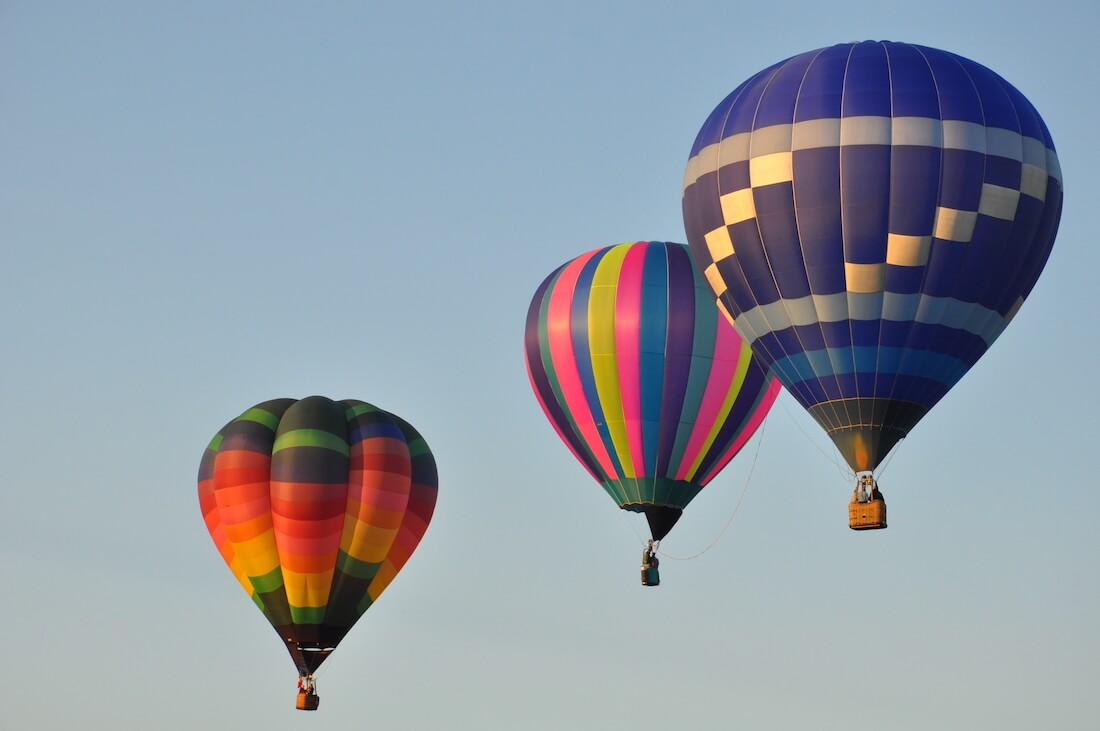 Marvel at the Theme Park Lights from a Helicopter
For a truly special Orlando date night experience, take this nighttime helicopter tour over the city to see the magical lights of the theme parks below.
See the Epcot Globe or Magic Kingdom lit up at night, or enjoy the view of Old Town Kissimmee from above.
There are several options to choose from, so book one of the most romantic things to do on Valentine's Day or an anniversary in Orlando.
Explore the Magic of the Disney Parks
You cannot visit Orlando without spending some time in one of the Disney Parks.
One of the best options for couples is to explore Epcot (200 Epcot Center Dr) to see all of your favorite characters from Disney while trying food from all around the globe.
The Disney Parks are a great date location if you want to explore new places and find the magic between you and your partner.
Take in the Magical Fireworks at Cinderella's Castle
One of the most romantic things to do in Orlando at night is to share an embrace under the magical fireworks over Cinderella's Castle at Disney World.
These fireworks are iconic and perfect for couples to take in on date night.
If you don't feel like going into the park to see the fireworks, there are plenty of places outside the park where you can still see the show.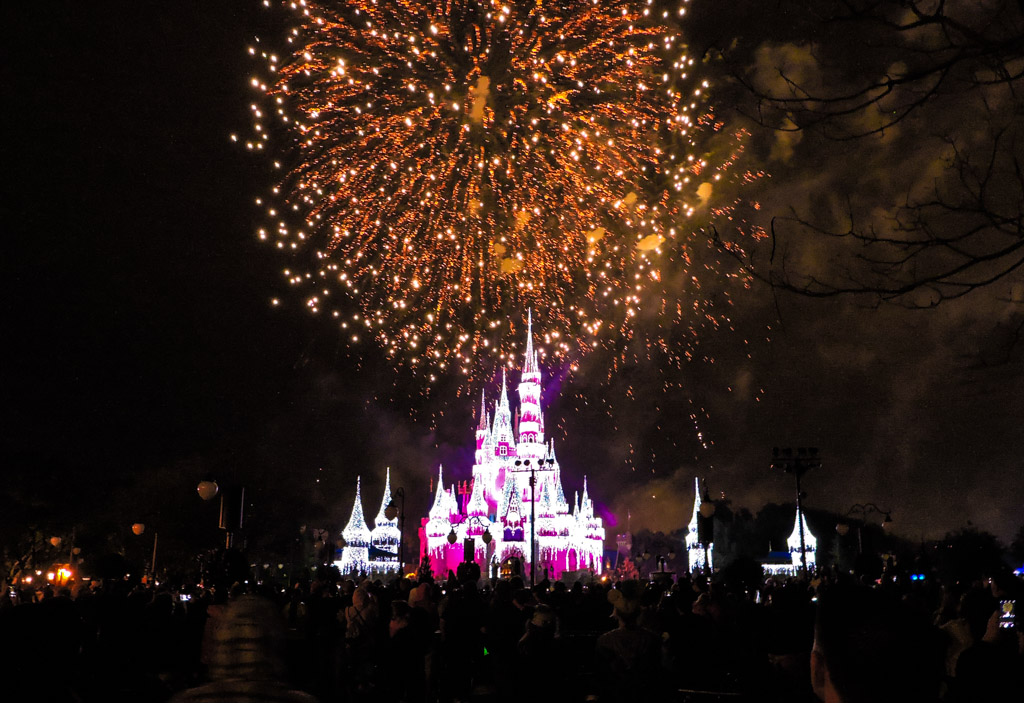 Have a Romantic Picnic at Lake Eola Park
With beautiful views of the Orlando skyline and swans circling the lake, Lake Eola (512 East Washington Street) is certainly one of the most romantic spots in Orlando.
Lake Eola Park features nearly a mile of walking trails around the pretty lake, making it a perfect destination for an afternoon or evening.
A late-evening sunset picnic here is ideal if you're looking for cheap romantic things to do in Orlando!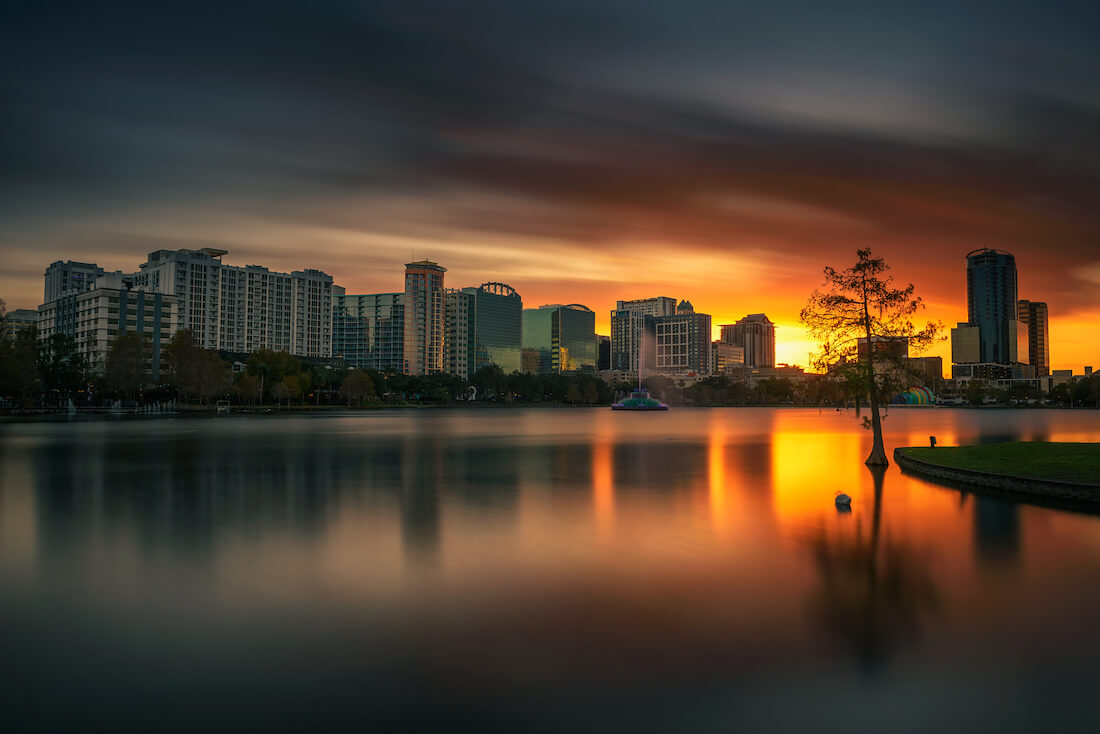 Enjoy the Nightlife of Orange Avenue
Orange Avenue (S Orange Ave) is the heart of Orlando nightlife, featuring a collection of bars and clubs that are perfect for a couple's night out in Orlando.
Whether you like to dance at the club or want to try out the unique drink menus at each place, Orange Avenue has everything you need for a memorable night out.
A night of bar hopping can offer a great variety of drink and food options while exploring everything Orlando nightlife has to offer.
Explore the Natural Beauty of Leu Gardens
Leu Gardens (1920 N Forest Ave) is a lovely place for couples who like to enjoy nature together.
An afternoon stroll around this fifty-acre botanical oasis is a really cute date idea in Orlando.
Explore the flora and appreciate all the beautiful plant life native to the region.
Take a Romantic Paddle through the Winter Park Chain of Lakes
Orlando's Winter Park Chain of Lakes (410 Ollie Ave) features six lakes that are connected by canals.
You can paddleboard or kayak through all 6 lakes in an afternoon and the conditions are manageable for beginners.
A relaxed paddle through these lakes is one of the best things for couples to do in Orlando.
Go for a Sunset Sail on Lake Fairview
Enjoy an utterly romantic sunset sailboat tour of Lake Fairview.
For a classy and unique way to experience the city together, the sunset sail is certainly one of the most romantic Orlando attractions.
Sip wine and take in the natural beauty of the Florida sunset from the comfort of your very own private sailboat.
Explore the Orlando Farmers Market
The Orlando Farmers Market (20 N Eola Dr) is the perfect spot for a cute date idea in Orlando.
Peruse all of the handmade goods and fresh produce or stop and get a bite to eat from one of the many food vendors.
You never know what treasures you may find together at the Orlando Farmers Market.
See a Broadway Show at the Dr. Phillips Center for the Performing Arts
The Dr. Phillips Center for Performing Arts (445 S Magnolia Ave.) is a staple in the Orlando theater community and the best place to see a high-quality Broadway show while in the area.
The theater offers a yearly rotation of shows, so keep an eye out for upcoming performances that your significant other would enjoy.
If theater isn't your thing, The Dr. Phillips Center for Performing Arts is also a venue for traveling acts like musicians, comedians, and speakers so you can surely find something you and your partner are interested in seeing.
Hear a Live Performance from the Orlando Philharmonic
The Orlando Philharmonic (425 N Bumby Ave) is one of the most romantic places to go in Orlando for couples who enjoy fantastic music.
The Philharmonic offers weekly shows and special guests, perfect for a special occasion to celebrate together!
Treat Yourselves at the Orlando Beer Spa
The Orlando Beer Spa (11787 International Dr. Ste 106) is definitely a unique Orlando attraction for couples!
Did you know that hops are a natural sedative?
Hop into one of the Beer Spa's big soaking tubs and relax into the hoppy, frothy beer.
In addition to traditional spa services (involving beer), this spa offers beer and wine on tap.
Satisfy Your Sweet Tooth at The Chocolate Museum
Nothing says romance like chocolate and The Chocolate Museum (11701 International Dr. suite 400) is the best place in town for chocolate-loving couples!
Tour the museum and learn the history of this sweet treat and how expert chocolatiers make it.
At the end of your museum visit, you and your partner can try all of the delicious chocolate creations at the café.
Explore the Tibet-Butler Nature Preserve
If you are looking for an escape into nature, the Tibet-Butler Nature preserve (8777 Winter Garden Vineland Rd.) is perfect for you.
With 3.6 miles of forested hiking trails, this nature preserve is one of the most adventurous things to do in Orlando for couples.
Learn Something New at The Orlando Science Center
The Orlando Science Center (777 E Princeton St) is a hands-on science museum that is one of the most fun indoor date ideas in Orlando.
Explore the exhibits and get your hands dirty with their interactive activities.
The museum even hosts a Science on Tap adults-only night where you and your partner can visit the museum and drink the offerings of over 30 local Orlando breweries.
See a Masterpiece at the Orlando Museum of Art
The Orlando Museum of Art (2416 N Mills Ave) features a full day's worth of exhibits for art-loving couples to explore.
In addition to its fine art collection, the museum also offers art workshops for couples.
A night at the art museum is a great date night idea in Orlando for couples who enjoy art or want to try something new.
Fun Date Ideas Near Orlando
If you're local and want to get out to explore more nearby, then these are perfect options for day dates and unique experiences to share.
If you're visiting Orlando, get away from the theme park hustle and bustle for a peaceful day out in nature!
Go for a Hike at Lake Louisa State Park
Lake Louisa State Park (7305 U.S. Highway 27, Clermont) is located just outside of Orlando and offers the perfect place for a romantic couple's hike.
The state park has three lakes and over 20 miles of hiking trails for you and your partner to explore.
Lake Louisa is known for its wildlife – going animal-spotting together is a perfect free romantic thing to do in the Orlando area!
Note there is a nominal vehicle charge to enter the state park.
Pick Your Own Fresh Florida Fruit
Southern Hills Farms (16651 Schofield Rd, Clermont) offers year-round fruit picking for guests who want the best fresh fruit.
Whether you like citrus, strawberries, or blueberries, nothing beats picking your fresh fruit.
An afternoon at the farm is one of the most romantic Orlando activities for couples – and it's the perfect activity after you leave Lake Louisa State Park.
Bike Ride in Summer or Experience Snow at Christmas in Celebration
Celebration is the Walt Disney Company's Masterplan community, located just 22 miles from Orlando.
Here you can walk and cycle around Lake Rianhard, dine at the Front Street restaurants, and see snow during the winter festival – how romantic is that?!
For full details, see our guide, things to do in Celebration.
Take a Day Trip to Cocoa Beach
The Atlantic Ocean is only a short 60-mile scenic drive from Orlando and makes for a lovely romantic day trip from Orlando.
Cocoa Beach is the closest ocean access to the city and offers fantastic swimming, sun, and sand.
Going for a trip to the beach is one of the best ways to spend quiet time together, where you can also enjoy the pier bars or downtown cafes.
The city of Cocoa is only 20 minutes from Cocoa Beach and has more bars, quirky stores, and a theater.
Find out more in our guide to Cocoa Beach.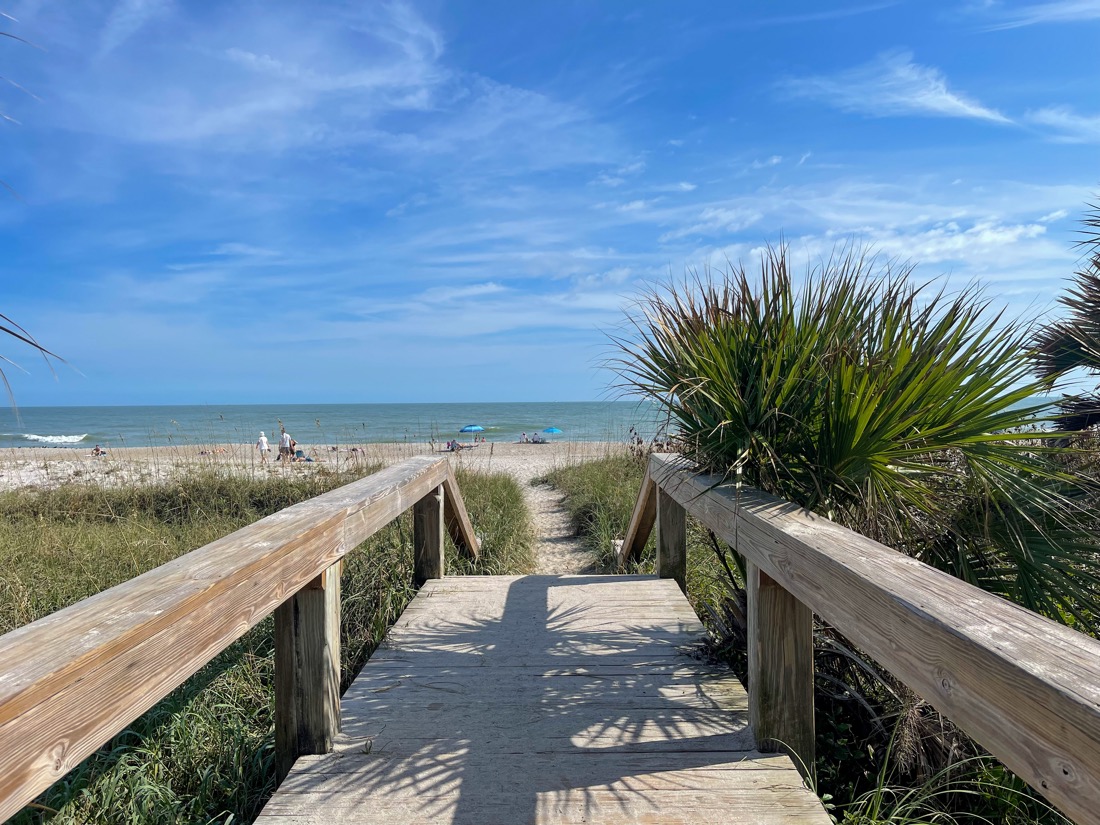 Enjoy Bioluminescence While Kayaking
Not far from Cocoa Beach, you can witness something totally magical — and we're not talking about the Magic Kingdom!
This kayaking tour takes you into a bioluminescent bay, which means you'll witness one of nature's most mesmerizing displays.
The water itself will sparkle and twinkle as dinoflagellates collide, creating a truly stunning scene.
Hop into a tandem kayak together and witness the wonder for a truly romantic date night experience!
Take a Walk Through the Picturesque Bok Tower Gardens
Bok Tower Gardens (1151 Tower Blvd, Lake Wales) is a must-visit location for all couples looking for one of the most picturesque places near Orlando.
Visit the Singing Tower and go for a stroll through the nature-filled trails.
With an unlimited number of Insta-worthy backdrops, Bok Tower Gardens is one of the most romantic places you can visit from Orlando and take endless photos to preserve your memories together.
This is one of our favorite things to do in the spring in Florida when everything is in bloom.
Romantic Restaurants in Orlando
Head out to these romantic restaurants in Orlando for a special occasion or to simply enjoy each other's company.
Setting the scene is important, so plan ahead and book early for that date night out!
Waterfront Dining at Canvas Restaurant & Market
Situated on Lake Nona, Canvas (13615 Sachs Ave) boasts beautiful sunset views over the water from its dockside dining area.
Be sure to book an outdoor table and time it right!
VINIA at Hannibal Square
For a special occasion dinner in Orlando, head to Hannibal Square and book a table for two at VINIA Wine & Kitchen (444 W New England Ave Suite 119).
Whatever your dining preferences — vegan, gluten-free, vegetarian — you'll find a variety of choices on the menu at VINIA.
The dimly lit interior is perfect for cozying up together over a bottle of vino.
Live music is often on offer, so plan accordingly if you'd prefer a quiet scene or dinner and a show.
Romantic Hotels in Orlando
For a romantic Orlando getaway, you'll want to find a place to stay that offers a bit of serenity away from the occasional chaos of the theme parks.
Look for hotels with larger rooms so you have a quiet, private escape.
We also recommend amenities that can make for a little extra special escape, like outdoor firepits, private balconies, soaking tubs, and more.
Parc Soleil by Hilton Grand Vacations
The Parc Soleil by Hilton Grand Vacations (11272 Desforges Ave) includes both studios and suites.
For a romantic getaway in Orlando, book the Penthouse Studio.
This top-floor studio is 312 sq ft and boasts panoramic views of the city below.
Alternatively, book the one-bedroom king suite for ample space to sprawl out and enjoy your romantic escape.
At 868 sq ft and with a beautiful soaking tub and a private balcony, you'll love the special occasion vibes.
The penthouse king suite is the ultimate romantic hotel option in Orlando — enjoy views of the Disney fireworks and feel like you're on top of the world!
The suite covers the top two floors and spans a luxurious 921 sq ft.
Enjoy the soaking tub and your own private balcony for the most romantic getaway in Orlando.
DoubleTree by Hilton at the Entrance to Universal Orlando
For convenience combined with romance, head to the DoubleTree by Hilton at the Entrance to Universal Orlando (5780 Major Blvd).
Book a corner king room or a king room with a view to enjoy the lights of Universal Studios below.
Both are 360 sq ft and include a small sitting area, flat-screen TV, and comfy beds.
The hotel also offers an outdoor firepit, which — although it isn't private — certainly sets the scene for romance.
You'll also love having Starbucks on-site downstairs for a morning pick-me-up.
Final Words
Have you checked out all these great date spots in Orlando? Share your favorites in the comments below!
Our Orlando Travel Guides