This article has links to products and services we love, which we may make commission from.

Looking for romantic things to do in NYC? It may not be Paris, but this city is full of love too.
In fact, there are tons of couple things to do in New York, from romantic restaurants to beautiful gardens, to amazing performances.
One of the best things about finding romantic things to do in New York City is that it is so easy to hop on the subway or grab a taxi and get anywhere in the five boroughs and have the ultimate couples weekend away or local date night.
Whether you prefer your trip to be filled with pampering and chocolate, the great outdoors, or iconic spots, this guide has the best NYC couples activities for you to choose from.
Read this guide for the ultimate NYC bucket list.
You might also like our date ideas on Long Island for more romantic suggestions!
Romantic Things to Do in NYC for Couples
Romantic Things to do in Manhattan
There are endless options for date night ideas in NYC when you're in Manhattan, it may be the smallest of the five boroughs, but it packs the biggest punch.
Go to a show on Broadway or the Metropolitan Opera, taste the city's best chocolates, go on a romantic boat ride in Central Park, or relax like the ancient Greeks once did.
Want more unique things to do in NYC? Read this guide.
Bike Ride Through Central Park
Central Park is too big to conquer in a day, but if you rent bicycles, you'll be able to cover a lot more ground and see all of the most romantic spots in the park.
You can rent a bike here.
For more fun outdoor things to do in NYC, read this guide.
In The Heights
Recreate one of the high-energy love scenes from the hit musical, In The Heights, at Washington Heights, located in the uppermost part of Manhattan.
Washington Heights has a strong, proud history featuring a variety of immigrant communities including Irish, Armenian, Jewish, African American, Cuban, Puerto Rican, and Dominican.
During your date, pick up baked goods at a panaderia bakery, people watch at La Plaza de las Americas, and if it's a warm day, look out for vendors selling shaved ice.
And if you really need to cool things down, jump into Highbridge Pool (Amsterdam Ave and W 173rd St), the very pool used in In The Heights!
Hayden Planetarium
If you visit the Museum of Natural History (200 Central Park West), you have to go to the famed Hayden Planetarium to tell your significant other that you love them to the moon and back (and then some).
The Loeb Boathouse
In the warmer months, you can rent a rowboat at The Loeb Boathouse (Park Drive North, E 72nd St) and glide across Central Park Lake, one of the most romantic places in New York.
The Paris Theatre
The Paris Theatre (4 W 58th St) is NYC's longest-running arthouse cinema and is one of the most charming places for couples to go in NYC for a classic date night experience.
The Liquid Lab
The Liquid Lab hosts mixology classes all over NYC, where you'll create specialty cocktails and spruce up your mixology skills at the same time, and it is one of the most fun date activities in NYC.
Barcade
Kick it old school at Barcade (148 West 24th St), a fun date spot in NYC where you can try dozens of American craft beers on draft and try to beat the high scores on games like Pac-Man, Donkey Kong, and Centipede.
Skyline Brunch Cruise
Taking a skyline brunch cruise on a 1920s luxury yacht is one of the most incredible couple things to do in NYC, and you can get the perfect insta pic.
Chocolate Food Tour
A chocolate food tour is one of the sweetest things for couples to do in NYC for the city's best treats and to discover some new spots in Manhattan.
In this 2-hour chocolate-tasting tour, you'll start exploring around Washington Square Park and taste treats from fantastic chocolatiers and candy stores in New York like Varsano's Chocolate, Lilac Chocolates, and Chocolate Bar.
AIRE Ancient Baths
AIRE Ancient Baths (88 Franklin Street) offers a variety of couples' experiences to relax, unwind, and rejuvenate together at their luxury bathhouse that echoes those of ancient Greece.
Romantic Activities in NYC's Outer Boroughs
Most people look in Manhattan for cute couple things to do in NYC, but Staten Island, Queens, Brooklyn, and the Bronx are full of great date night options too.
Experience incredible performances, wander around amazing botanical gardens, wander into a past century, or watch the perfect NYC sunset.
New York Botanical Garden
The New York Botanical Garden (2900 Southern Boulevard, Bronx) is 250 acres of gardens, exhibits, and a stunning conservatory that will make you wish you could live there forever.
During springtime in New York, the place looks even more colorful with the flowers in full bloom.
City Island
A mostly unknown hidden gem, City Island is a 1.5-mile island in the Bronx that is the perfect day trip away from the city to what feels much more like a New England beach town.
Watch the Sunset
Hunter's Point South Park (Center Blvd. bet. 50 Ave. & 2 St, Queens) is a perfect spot to have a picnic, watch the sunset over the East River, and get an incredible view of the Midtown East skyline.
Want more suggestions for picnic and sunset spots? Check out our NYC parks guide for all the details.
Louis Armstrong House Museum
Couples who live for music should check out the Louis Armstrong House Museum (34-56 107th St) in the working-class neighborhood of Corona, Queens.
Once home to this musical great, the space now houses a museum with Armstrong's archives.
The event space also hosts performances by multi-disciplinary artists from around the world so you can either go on an educational date at the museum, see a show, or both!
Which of Louis Armstrong's classics is your favorite love song?
Brooklyn Botanic Garden
There are few things for couples to do in NYC that are romantic and fun such as taking a trip to Brooklyn Botanic Garden (990 Washington Ave, Brooklyn)- where love can bloom amongst the roses.
There's also a 100-year-old Japanese garden in the area featuring traditional Japanese landscapes, arts, and plants.
Finish your day with something sweet at the Yellow Magnolia Cafe.
Brooklyn Botanical Garden also features in our guide to cherry blossoms in NYC.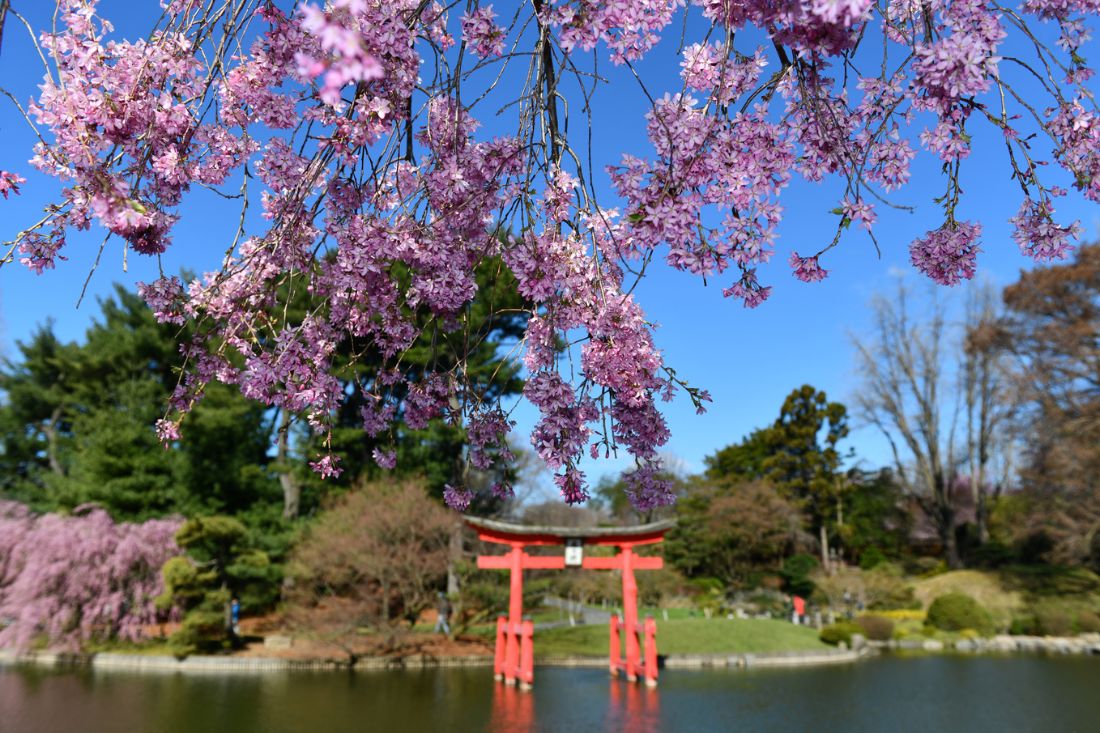 Company XIV
For the best burlesque in NYC, nowhere tops Company XIV.
With a variety of shows and two venues in Brooklyn, you will be in awe every second of the performance.
The Potter's Wheel
Re-create the infamous scene from Ghost at The Potter's Wheel (120-33 83rd Avenue, Kew Gardens).
If that doesn't work out, at least you'll have a handmade and sentimental souvenir of your night.
Historic Richmond Town
Step back in town and visit Historic Richmond Town (441 Clarke Ave, Staten Island), a living history village that makes you feel as if you've walked into the 19th century, complete with 40 historic structures.
The Flagship Brewing Company
The Flagship Brewing Company (40 Minthorne St, Staten Island) has dozens of home-brewed craft beers and hard seltzers.
Take a tour of the brewery, or if you're lucky, you'll stop by at one of their many events.
After exploring the area, finish your adventure with a romantic cruise on the Staten Island Ferry.
Romantic Restaurants in NYC
Booking a romantic dinner is one of the most classic anniversary ideas in NYC, but in a city with millions of restaurants, your head will spin trying to choose the best one.
You can dine under the twinkling lights in Central Park, slip into a speakeasy for a world of luxury and glamor, or get the most incredible aerial view of the city.
Tavern on the Green
For romantic dates in New York City, Tavern on the Green (67th Street & Central Park West) is one of the best places, and you can enjoy your dinner under the twinkling lights while looking out onto Central Park.
The View Restaurant and Lounge
The View Restaurant and Lounge (1535 Broadway) is a rotating restaurant located on the 48th floor of the Marriott Marquis and offers the most incredible views of Times Square and beyond.
Beauty and Essex
Behind Beauty and Essex's (146 Essex St) pawn shop storefront lies a glamorous speakeasy with a two-story chandelier and several bars and dining rooms.
It is one of the most secret romantic places in NYC.
Romantic things to Do at Night in NYC
Why should the evening stop at dinner when there are so many fun date night ideas in NYC?
Sure, you could bar-hop the night away, but for something a little different, why don't you try stargazing through a high-powered telescope?
Or, if you want a night full of class and culture, there's always Broadway, the opera, or one of the most famous museums in the world.
For more things to do in NYC at night, read this guide.
High Line Stargazing
Every Tuesday at dusk from April to October, you can stargaze on the High Line (Little West 12th St) using high-powered telescopes provided by the Amateur Astronomers Association- which is one of the best free fun date activities in NYC.
For more free NYC activities, read this guide.
Date Night at the Met
Examine 5,000 years of art with live music, drinks, and small bites at Date Night at the Met (1000 5th Ave) every Friday and Saturday evening, one of the most fun couple things to do in NYC.
The Metropolitan Opera
The Metropolitan Opera (30 Lincoln Center Plaza) is one of the classiest places to go in NYC for an anniversary.
You'll be dazzled by the gorgeous opera house where you get to see live opera shows and witness some of the best performers in the world.
Moulin Rouge on Broadway
Seeing Moulin Rouge on Broadway (302 W 45th St) is one of the most romantic things to do in New York, a show about love set in early 20th century Paris.
Get your tickets here.
Romantic Things to Do in NYC in December
December in NYC is a magical time- the city is decked out in holiday decorations, the air is chilly and crisp, and there's a festive atmosphere in the air.
If you're looking for something romantic to do during the month, there are a number of activities to choose from.
Dine at Holiday-Themed Restaurants
How about a romantic lunch or dinner at one of NYC's holiday-themed restaurants?
Head over to Rolf's Restaurant (281 3rd Ave, Manhattan) for their authentic German cuisine and over-the-top, ultra-elaborate festive decorations.
Dyker Heights
You and your special someone can take a romantic drive or walk through Dyker Heights- a neighborhood in Brooklyn where you can find some of the best holiday lights display in NYC.
For more things to do in New York in December, read this guide.
Final Thoughts
Clearly, couple activities in NYC aren't hard to find.
Even something as simple as just strolling through Central Park hand in hand is a perfect date night activity.
Whether you want to experience the finer things in life, an exciting adventure, or a little of both, you can find it all when you visit NYC for a romantic weekend away.
Enjoy Our NYC Travel Guides
NYC By Season