This article has links to products and services we love, which we may make commission from.

Are you looking for some unforgettable experiences to have with your special someone while in picturesque Newport, RI?
From savoring delicious seafood dishes at waterfront restaurants to exploring dramatic cliffside mansion grounds, there's no shortage of lovely activities waiting for you in this New England paradise.
Whether you're celebrating an anniversary or treating your partner to an impromptu getaway, the possibilities are endless when it comes to finding romantic things to do in Newport.
Check out all the activities to try and destinations to visit in this charming coastal city for your next romantic escape.
For more places to visit in Rhode Island, check this guide.
Romantic Things to Do in Newport for Couples
Newport Playhouse & Cabaret Restaurant
Any romantic weekend in Newport should include the Newport Playhouse and Cabaret Restaurant (102 Connell Highway).
A full buffet, a high-energy performance, and a fun cabaret are all in store for you two at the playhouse.
This is a multi-part experience that would be perfect for a first date, so you have tons to talk about afterwards.
Lighthouse Cruise
Take your date on a lighthouse cruise in Narragansett Bay and share a drink with your loved one, while listening to the histories of the iconic Newport lighthouses.
This activity is wheelchair-accessible as well; be sure to bring appropriate clothing for inclement weather!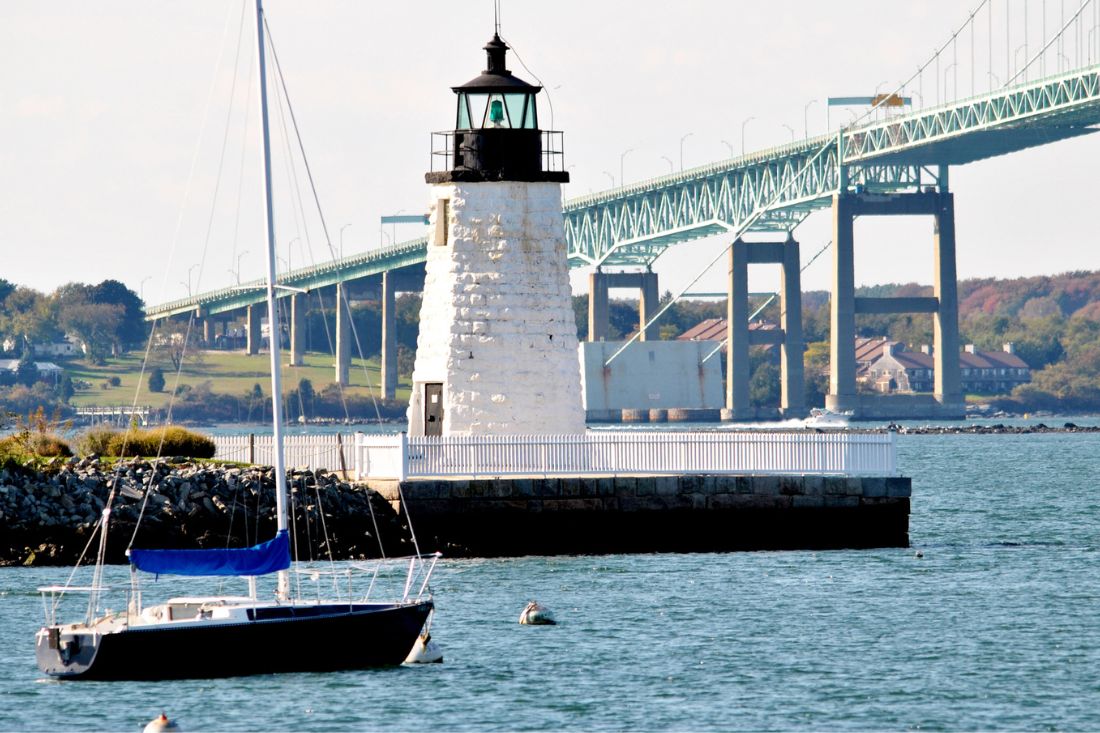 Gansett Cruises
Some of the best dates happen on the open water, whether you're just getting to know someone or have been together for years.
Gansett Cruises (2 Bowen's Landing) offers relaxing, 90-minute tours with different themes.
Two of the most memorable options are Mimosa Morning Cruises and Local Favorites Afternoon Cruises with Del's frozen lemonade and coffee shakes.
Sailing School and Tours
Learning a new skill together or just being out on Newport Harbor and Narragansett Bay is an amazing and romantic way to pass the time on an exciting date.
Signing up for sailing school or going on a romantic sailing tour with Newport Sailing (5 Marina Plaza) is a must-do experience in Newport.
Book a sailing lesson or tour online at their website.
Scenic Tour
Whether you and your date are new to the Newport area or you've been here for a while, the scenic trolley tour (21 Long Wharf Mall) is a great way to connect to the city.
Learn about the city's rich history, take in the amazing views, and explore this amazing landscape, arm-in-arm.
Looking for more things to do in Newport? Check this guide.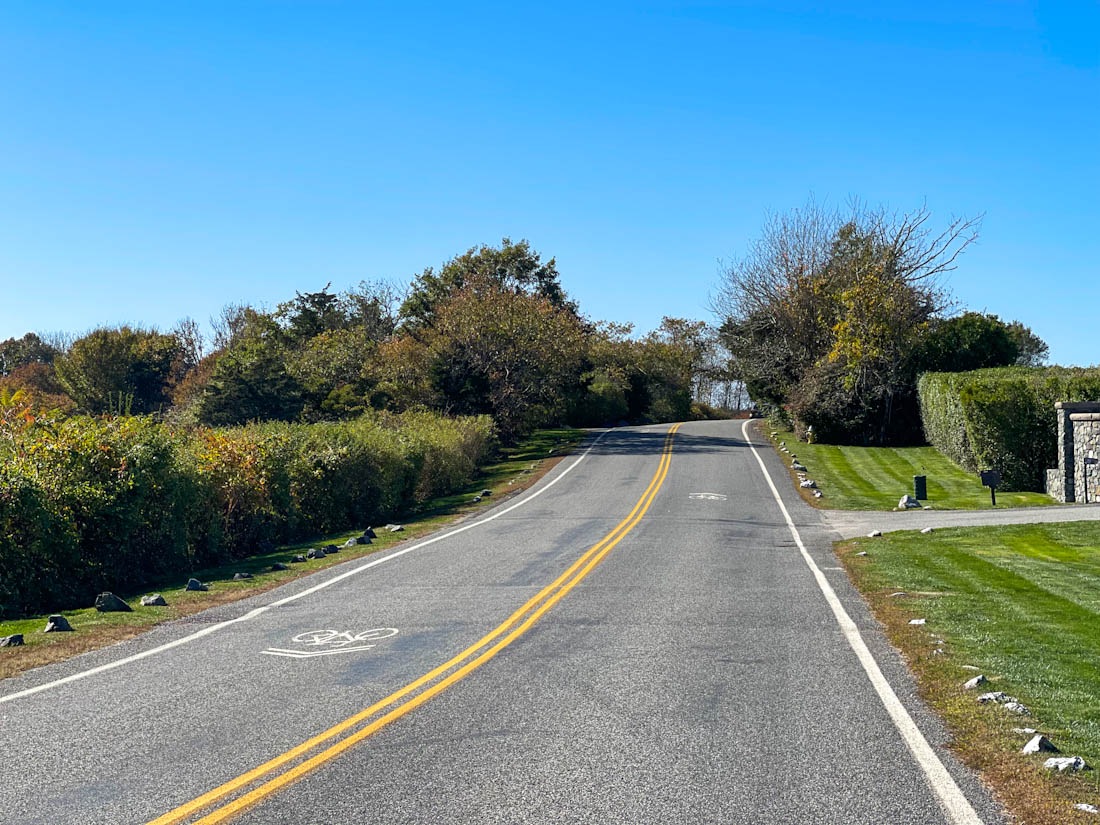 Firehouse Theater
Catching a live performance is a classic date idea, and the Firehouse Theater (4 Equality Park Place) comedy shows are some of the best in the region.
With new shows popping up all the time, grab a pair of tickets, BYOB, and prepare for a night filled with laughs and enjoyment.
SpaFjör
SpaFjör is an amazing spa that combines multiple treatment philosophies across global regions and eras of time.
The spa is part of the incredible Hotel Viking, but it is open to the public for all kinds of spa services.
Newport Art Museum
For a culturally-rich date idea in Newport, head to the Newport Art Museum (26 Bellevue Ave).
The museum has a permanent collection of more than 3,000 art pieces spanning from the early 18th century to today.
This is a perfect spot to visit before dinner at one of the romantic restaurants we recommend in this guide.
Cliff Walk
The Cliff Walk is a classic activity for a Newport getaway, and it's great for history lovers and nature lovers alike.
Start your walk at Memorial Blvd and Eustis Ave, and plan for about 2 and a half hours of gorgeous sightseeing.
If you don't have multiple hours, the best views are between Narragansett Ave and Ruggles Ave.
Exploring the Cliffwalk also features in our guide to spring activities in Rhode Island.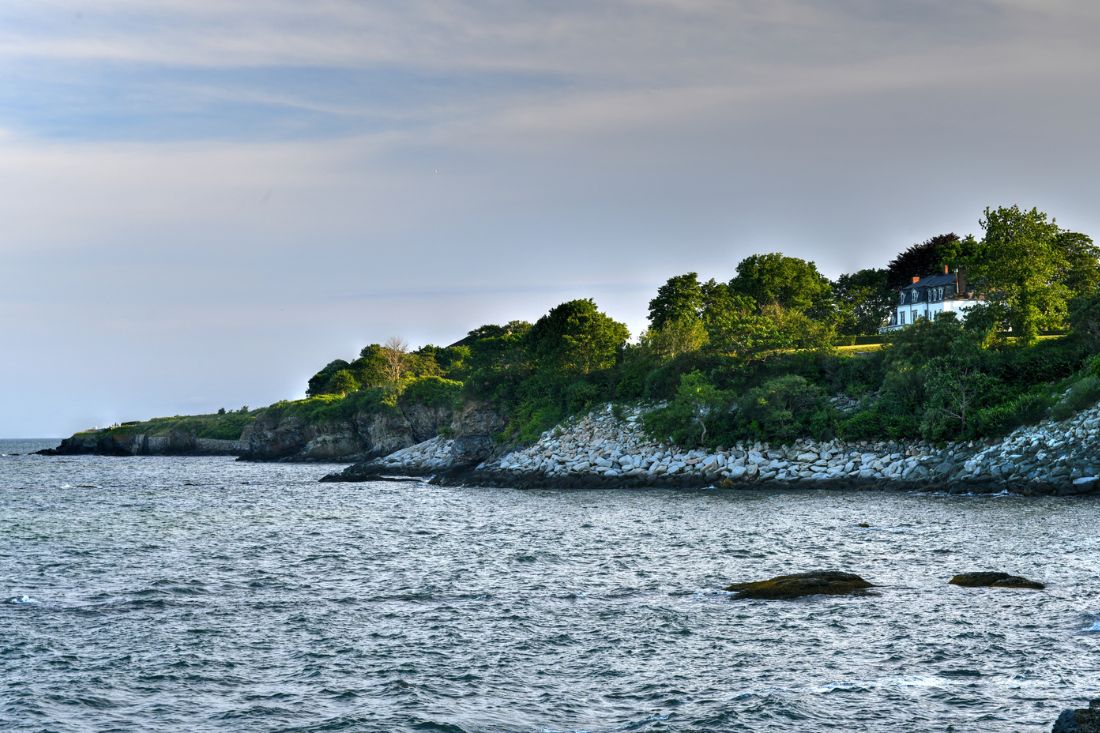 The Elms
If you're planning on spending an entire day exploring the Newport Mansions, make sure you include The Elms (367 Bellevue Ave)!
The interior is decorated with 18th-century French and Venetian paintings with the exterior featuring gardens with marble pavilions, fountains, sculptures, and more.
This mansion is also amazing during the holiday season, but you should check out all the other ways we recommend to celebrate the holidays in Newport.
Unfortunately, The Elms is not wheelchair accessible, so be sure to choose a different mansion if you require accommodations.
The Bodhi Spa Newport
Head to The Bodhi Spa (654 Thames St) for a day of complete relaxation and hydrotherapy.
The Bodhi Spa is known for its attention to restorative treatments, and its series and packages allow couples to bundle treatments for the best experience.
You'll love the complex water treatments at this facility to help you both relax, rejuvenate, and rest.
The Breakers
The Breakers Newport Mansion (44 Ochre Point Ave) is well-known for being the most extravagant mansion compared to the rest.
It was built for Cornelius Vanderbilt II, one of the richest Americans at the time.
Explore the Italian renaissance-style home with a tour ticket and a self-guided audio tour using the free app.
Marble House
Built in the late 1800s, the Marble House (596 Bellevue Ave) was designated as a summer cottage for the Vanderbilt family, but it became a social hub through the early 1900s.
Stop by the China Tea House Cafe for a light lunch after you explore the grounds; just be sure you can present your tour ticket to accessing the cafe.
Sunset at Ocean Drive
Cruising along Ocean Drive at sunset is one of the best free date ideas in Newport.
This ten-mile drive is a great, low-effort date that takes advantage of Newport's incredible beauty along the water.
Start at Thames St and head north towards Bellevue Ave for the best vantage points, and make sure you pay attention when you arrive at Brenton Point State Park, which is the gem of the whole ride, especially as the sun is setting.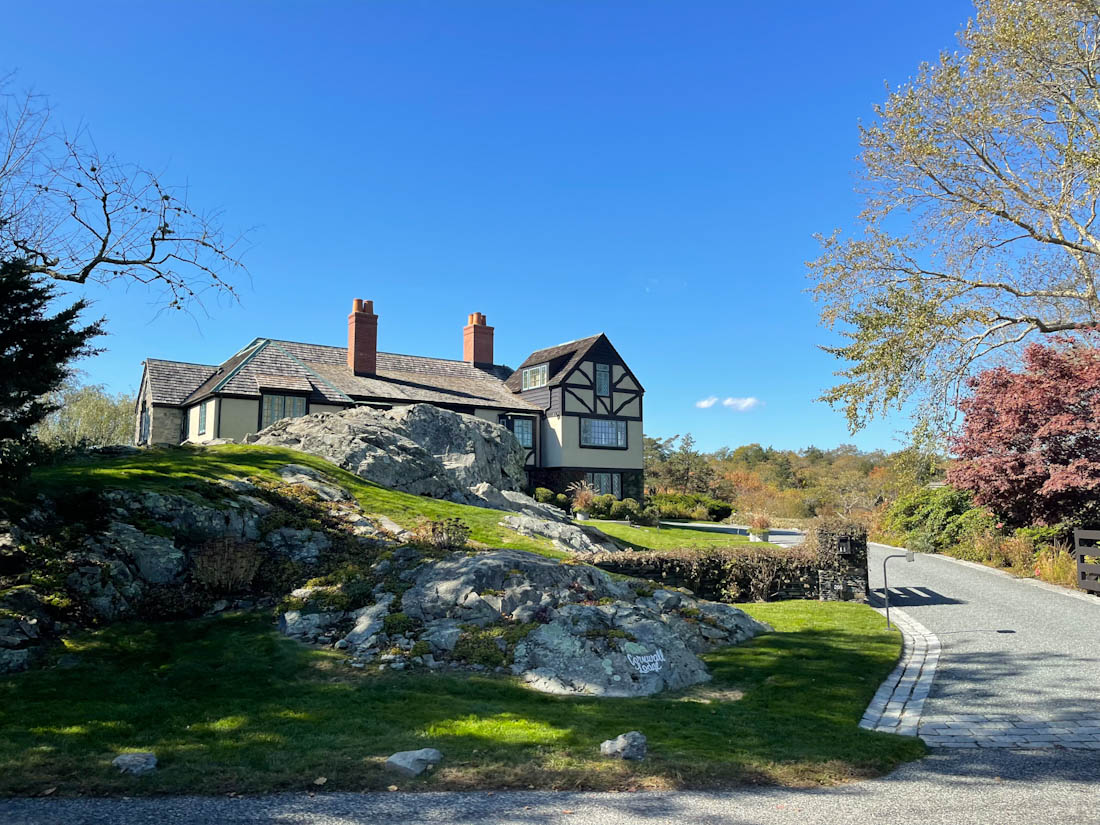 Castle Hill Lighthouse
The Castle Hill Lighthouse (800 Ocean Ave) is one of the most beautiful sights in Newport, and it is a great little trip for a casual date.
The lighthouse was built in 1898 and is made of granite, which was a unique building material for lighthouses at the time.
The grounds of the Castle Hill Inn (590 Ocean Dr) are open to the public so you're able to explore the area, though the lighthouse itself is not open.
Tilted Barn Brewery
Tilted Barn Brewery (One Hemsley Pl) boasts a sweet farm-to-pine experience, complete with an authentic New England-style barn and rickety wooden fences.
Located in Exeter, just a 20-minute ride from downtown Newport, the Tilted Barn Brewery is the place to go for fresh, small-batch brews.
Grab lunch from one of the rotating visiting food trucks and enjoy live music throughout the week for a laid-back, fun date.
Newport Vineyards
Just one town over from Newport, Middleton, Rhode Island is the home of Newport Vineyards (909 E Main St), a true destination that merges fresh wines, craft beer, and farm-to-table dining.
The vineyard is situated on 100 acres of preserved farmland, with an eye toward sustainability and conservation.
Plus, the on-site Taproot Brewery ensures that even a wine skeptic will have something delicious to drink!
Green Animals Topiary Garden
Strolling around the Green Animals Topiary Garden (380 Corey's Ln, Portsmouth) is a perfect first date in the warmer months.
Bring a picnic basket and admire one of three official Daffodil Display Gardens in New England, rare flower beds, and gorgeous geometric pathways.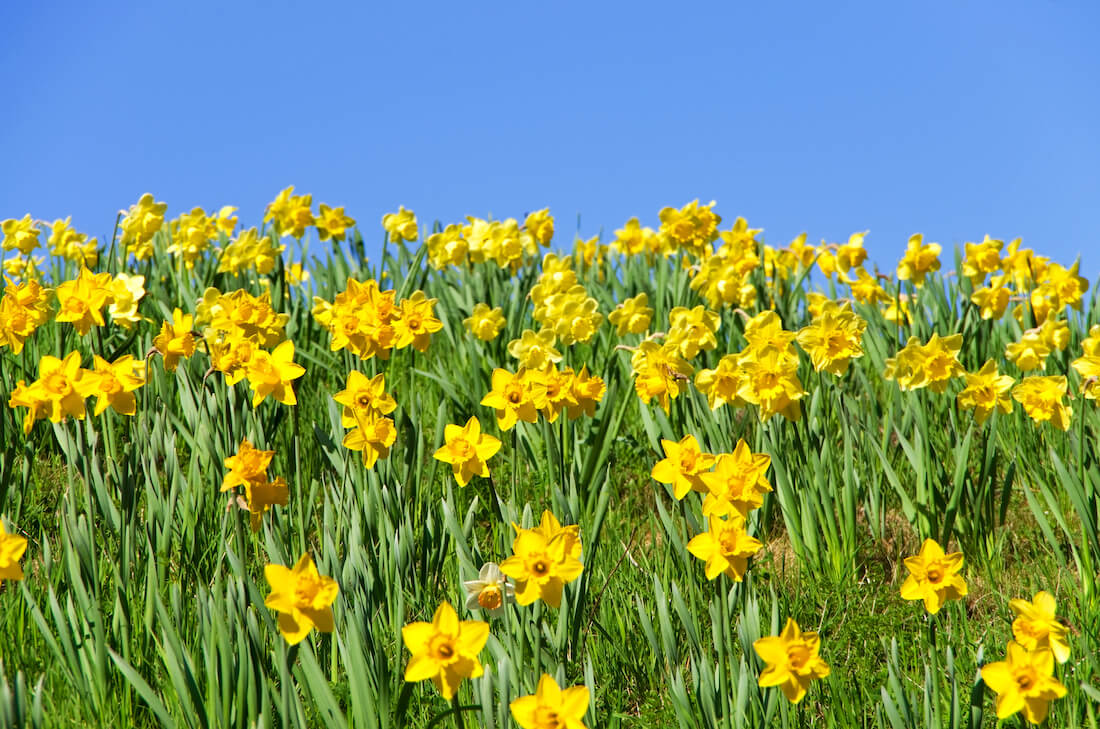 Greenvale Vineyards
Impress a first date by bringing them to Greenvale Vineyards (582 Wapping Rd), a sixth-generation winery operation located in Portsmouth, RI.
Just a 15-minute drive from Newport, their tasting room often features live music and is located in a sprawling wine garden in the warmer months.
Sipping fresh wines in the garden at Greenvale is a must-do on any romantic getaway in Newport.
Romantic Restaurants in Newport RI
The following list will take you to some of the most romantic restaurants in Newport, perfect if you want to treat your special someone to a lunch or dinner date.
Jo's American Bistro
If you want to take your date to a romantic yet laid-back setting, head to Jo's American Bistro (24 Memorial Boulevard West).
Enjoy their signature dishes like their Bacon Onion Jam Burger and Lobster salad roll.
They also offer vegan and gluten-free menus.
Bouchard Restaurant
There are few restaurants in Newport as romantic as Bouchard's (505 Thames St).
Make a reservation for the early seating or the second seating, and pay per person for a 4 or 5 course meal.
With dishes like lobster bisque, seared veal, filet mignon, and fresh vegetarian Wellington, you'll be blown away by this upscale dining experience.
Mamma Luisa's
Make a reservation at Mamma Luisa's (673 Thames St) for a traditional northern Italian cuisine, highly selective wine list, and warm, welcoming atmosphere.
The Safari Room
Indulge in a unique seaside dining experience at The Safari Room (65 Ridge Rd).
Sample locally-sourced seafood delights, prime-aged beef, and delectable hand-crafted entrees, all while taking in the panoramic views of Narragansett bay.
For a romantic outdoor dining experience, reserve a seat at The Safari Patio, which is open seasonally from May to October and a perfect place to dine while watching the sunset.
Dine at the Vanderbilt Mansion
If your date prefers the finer things in life, help them go back in time and pretend like the historic Vanderbilt Mansion (41 Mary St) turned luxury hotel is their own over dinner.
Choose where you'd like to dine from the Conservatory, the Roof Deck, the Formal Dining Room, or the Garden!
The history and glitz of Vanderbilt make it one of the most romantic places in Newport.
Romantic Hotels in Newport
Check out some of the romantic places to stay in Newport, RI- whether you're looking for something with a touch of luxury or close to the downtown area.
Feeling adventurous? Check out where to go hiking in Rhode Island.
Hotel Viking
Take a romantic stay at the historic Hotel Viking (1 Bellevue Avenue) in Newport which offers luxurious accommodations with outdoor and indoor pools.
Their guest rooms range from 150 to 350 sq ft and they also have suite rooms ranging from 400 to 1200 square ft.
Their rooms have an elegant ambiance with some of them even having romantic fireplaces.
A restaurant and rooftop lounge is also available in this place.
Almondy Inn
Almondy Inn (25 Pelham Street) is a Victorian-themed accommodation located in downtown Newport.
They feature elegant guest rooms and suites that are finely decorated with antiques- most with seating areas, private baths, a jacuzzi, and bay windows.
This is a great location if you're planning for a romantic stroll downtown where you can find restaurants, antique shops, art galleries, boutiques, and more.
Final Thoughts
We hope you enjoyed our recommendations for romantic things to do in Newport.
Feel free to share your experience in the comments below.
Rhode Island Destinations