This article has links to products and services we love, which we may make commission from.

Searching for the most romantic things to do in Miami? Our guide reveals the best spots for dreamy strolls, interesting activities for couples, cozy places to get to know each other better, restaurants for special meals, and lovely hotels for weekend getaways.
The first half of the guide shares fun date ideas in Miami that feature in each of the city's popular neighborhoods, then the second half focuses on romantic things to do in South Beach at Miami Beach.
You may also find our guide to the best things to do at night in Miami useful.
Planning a weekend trip? Here's our 3-days in Miami itinerary, and our guide, things to do in Miami.
Romantic Things to do in Miami for Dates
As with all of our Miami guides, we have mapped the best romantic places in Miami so you don't have to!
The guide starts in Downtown, sidesteps to Brickell, then over to Little Havana, Wynwood, Coral Gables, and Coconut Grove before finishing up at Miami Beach.
Stroll Along Miami Riverwalk
If you don't require Dutch courage for the date, plan to meet Downtown and go for a stroll along the Miami Riverwalk.
The pathed route keeps company with towering skyscrapers, palm trees, and the Biscayne Bay; a dreamy, modern backdrop for a Miami date.
The walk leads to Bayfront Market where you can hop aboard the Skyviews Miami Wheel (below) or dive into a bar for food and drinks.
Bayside Market is mostly made up of chain restaurants but there are a few independent ones such as Lola Bar and Mambo Bar.
Alternatively, if the date is going well, you can both hop on the Metromover to Brickell to dine or drink at one of the upscale restaurants, check out Area 31 below for more.
The Miami Riverwalk is one of the more romantic things to do in Miami for free, ideal if you are on a budget, or are done with investing in dates.
Skyviews Miami Wheel
If your date is new to the city, show them it from 200ft in the air!
The Skyviews Miami Wheel is a 15-minute, air-conditioned observation wheel which takes in views of Biscayne Bay, Downtown, and beyond.
If you are really out to impress, book the luxury cabin with leather seats.
Just make sure that your date is not claustrophobic or scared of heights.
Sunset Cruise
There's honestly nothing more romantic than sailing over the Biscayne Bay while the sun sets over the horizon.
This 1.5 hour night cruise also has a bar onboard if you want to cheers at dusk.
The tour features English and Spanish narration so you can learn about the landmarks that are sailing by.
A sunset boat tour is one of the Miami attractions for couples who don't mind sharing the bow with other people.
If you prefer a private yacht experience, hope that your date has a boat!
This cruise is one of the most romantic things to do in Miami at night.
Rooftop Cocktails in Brickell
Miami takes its rooftop bars seriously, which makes sense considering the stunning skyline she has to show off.
Reserving a table at one of the rooftop bars mentioned in our romantic dates in Miami guide, means you've got a whole backdrop of buildings to point out and discuss if the conversation dries up!
Area 31 (270 Biscayne Blvd Way) is located in the Brickell neighborhood, while retaining close proximity to Downtown.
The rooftop overlooks the Miami Circle, which is a perfect circle built by the Tequesta People thousands of years ago – you can impress your date with that Miami history fact and thank us later!
Area 31 is found on the 16th floor of Miami's Kimpton EPIC Hotel, but you don't have be a guest to drink there.
Sexy Fish
Sexy Fish (1001 S Miami Ave) isn't just about the food, it is a whole experience.
Step into the surreal at one of the most sought after Miami date spots, and dine on Asian food by Chef Director and Michelin-starred master Björn Weissgerber.
Sexy Fish is also a weekend nightlife option with DJs and entertainment.
Sing Love Songs at Karaoke
Are you brave enough to serenade your date in public?
If the answer is "I do", plan a night behind the mic at Sweet Caroline (1111 SW 1st Ave) in Brickell.
They have a library of over 300,000 songs – are you more of an Elvis or Springsteen type?
Sweet Caroline even allows duets so if the date is going really well… maybe a little bit of Elton John and Kiki Dee?
If dating on a budget, go for happy hour.
This is one of the best places to visit in Miami for couples who are looking to have a laugh together, or at other people's expense!
Catch a Game
For couples activities in Miami that feature sport, look up the schedule for Miami Heat games at the Miami-Dade Arena (601 Biscayne Blvd).
This arena has over 2000 seats, 80 luxury suites, and 76 private boxes, and is an events space as well as a sports stadium.
Acts such as The Weeknd, Carrie Underwood, and Taylor Swift have toured here.
Live Jazz
The Corner (1035 N. Miami Avenue) is a chilled bar with a small stage space, located next to the crazy st1p club, E11ven.
The intimate yet friendly bar puts on live music including jazz shows.
The crowd is made up for a nice mix and it gets busy on weekends.
Party at Club Space
If you and your date prefer a bigger gig and don't mind being crammed in with crowds of fellow revelers, go for Club Space (934 NE 11th St).
If your partner likes to party all weekend, this is the spot to see EDM DJs go from evening into morning.
See a Show
Tucked away inside of the ginormous The Arsht Center (1300 Biscayne Blvd) is an opera house, concert hall, and theater, making it one of the biggest performance spaces in the US.
Events include Broadway shows like Wicked, The Philadelphia Orchestra, and The Nutcracker.
Dating during the festive period? Here's our guide to Miami at Christmas.
Visit a Gallery
Take a walk through the grounds of the The Jorge M. Pérez Art Museum of Miami-Dade (1103 Biscayne Blvd), which has views of the incredible Government's Cut before doing an exhibition at the art gallery.
The PAMM showcases modern and contemporary art, if that's to you and your date's taste.
There is a cafe on-site and parking too.
You may also like our guides to Miami Downtown and Brickell.
Get Gelato
Heading over to Little Havana now, if you guys have a sweet tooth, you're going to want to try the famous Azucar ice-cream shop (1503 SW 8th St).
There are a few seats at the window or you can take out and wander along Calle Ocho, checking out this vibrant neighborhood's landmarks such as the murals, the Bay of Pigs memorial, Domino Park, and the Tower Theater.
Salsa at Cubaocho
Make a sneaky plan to pull your date a little closer during a salsa class at Cubaocho (1465 SW 8th St #106).
Free classes are held every week and the session is taught to music by a live DJ.
Cubaocho is one of the energetic Miami activities for couples who like to dance.
Listen to Cuban Music
Live music blasts out of the historic Ball & Chain bar (1513 SW 8th St) while couples enjoy mojitos to the tunes.
Similar to the bars in Havana in Cuba, the building has its window wide open, letting the air filter through as the salsa music blows.
The food menu consists of Cuban spring roll, quesadilla, enchilado, and the Cuban classic, ropa vieja.
Rrrrico!
For more things to do in Little Havana, click here.
Vinyl Party
If Little Havana is a little too tame, hop over to Wynwood where Miami nightlife is wild!
Impress your music-loving date by taking them to Wynwood's first vinyl listening party venue at Dante's Hi-Fi (519 NW 26th Street) but arrive early as the lines can be tedious.
Wynwood Street Art
You will get a taste for the neighborhood's street art obsession when partying there at night but to truly experience how committed this area is to the spray, visit during the day.
While the official open air museum is behind the gates of Wynwood Walls (2516 NW 2nd Avenue), you can still do a self-guided tour outside of the walls and see plenty of murals on walls, the ground, and lampposts.
If you want to learn more about the history of the area and the art work, consider this 2-hour walking tour with an expert guide.
Brewery Hop
Spend a lazy afternoon trying craft beer at Wynwood's breweries and taprooms.
Add J. Wakefield Brewing (120 NW 24th Street) and Wynwood Brewing Company (565 NW 24th Street) to your beer bucket list.
Shopping (Design District)
Fun things to do in Miami for couples who care about their closet are located in the unique Design District.
Here, there are stores for Gucci, Burberry, Chanel, Louis Vutton, Miu Miu, Cartier, Armenia, and VALENTINO, and there is even a Dior Cafe (162 NE 39th St)!
Even if you don't want to spend a pretty penny, the neighborhood is interesting to look at with its out-there car garages, public art installations, and Fly Eye Dome.
You can easily spend a day at the Design District as there are shops, galleries, and restaurants.
Read more in our Design District guide.
Venetian Pool in Coral Gables
Cool off at the tropical Venetian Pool (2701 De Soto Blvd) near the upscale Miracle Mile.
The swimming complex is carved out of limestone which was used to build one of the first planned areas in Florida, Coral Gables.
The pool has two waterfalls, a cave, a slide for children, and is pleasantly surrounded by palm trees.
This is one of the nicest couple things to do in Miami on a hot day, if you've past the stage of seeing each other in your swimwear!
After your dip, dine along the Miracle Mile, and if you've got room for dessert, grab an artisan Mexican popsicle at Morelia Gourmet Paletas.
Check out our guide, things to do Coral Gables next.
Brunch at Coconut Grove
Foodies will know about the legendary brunches at Coconut Grove's GreenStreet Cafe (3468 Main Hwy) as it's been serving breakfast with booze since the 1990s!
Alternatively, pick up a coffee to take out at the Miami-based Panther Coffee and stroll through Cocowalk Mall, the historic Charles Avenue, or David T Kennedy Park and stop for a refuel frozen lemonade at A.C.'s Icees.
Keep an eye out for roaming peacocks!
Drinks by the Marina
Sticking to the Coconut Grove area, couples can enjoy drinks and food with views over Regatta Harbour which is located at Dinner Key.
Bayshore Club (3391 Pan American Dr) is a beach-style bar with lawn seating, cabanas, and a dining area and can be reached by the free Miami trolley which stops next door at the Miami City Hall.
For more tips on things to do in Coconut Grove, read our guide.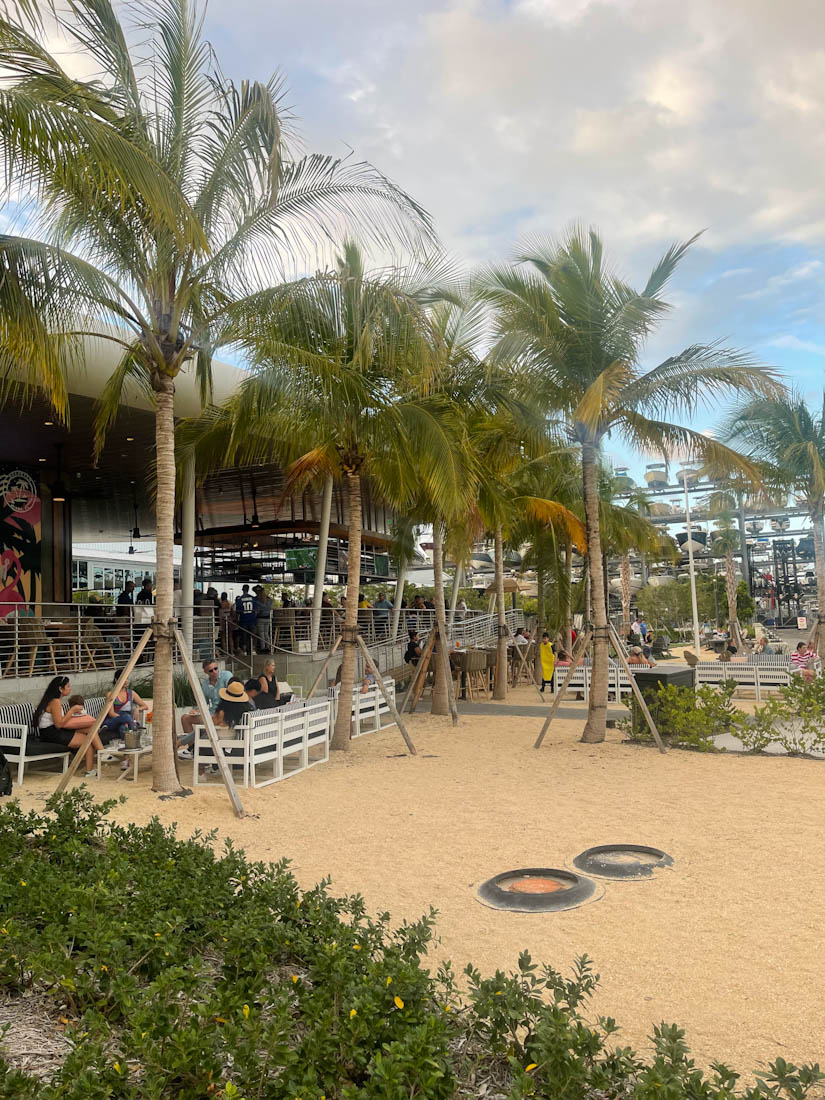 Go Kayaking or Paddleboarding
If you'd rather be on the water than looking at it, there are a number of launching areas for kayak and paddleboards in Miami.
You can rent paddleboards at Sunset Harbor (1701 Purdy Ave Shop C-102) which is located right at the water so you don't need to drag your board far.
If you are new to SUP, you can book a tour.
Alternatively, head to North Point Park at Virginia Key in Key Biscayne for another rental location or guided tour.
Things to do in Miami Beach for Couples
If you're local you'll know this, but for visitors planning to visit romantic spots in Miami, the suggestions above are all located in Miami and those below are in Miami Beach.
Miami and Miami Beach are two separate cities; the latter is home to the famous South Beach and infamous Ocean Drive!
It takes around 25 minutes to drive between the two.
You can get to Miami Beach from Miami by walking, driving, booking a car share ride, or doing the hop on hop off bus tour, which stops at Miami's Beach's popular attractions of Ocean Drive, Española Way, and Miami Beach.
There is a public bus that connects the two but most locals use Uber.
Things to do in South Beach, Miami for Couples
South Beach is the most popular area of Miami beach and it is where you will find the Art Deco District around Ocean Drive and Collins Avenue.
Million Dollar Home Shopping
Set the trajectory of your life together while affirming that you will buy a million dollar home on San Marino Island.
Or just ogle at them through jealous eyes as you walk over the Venetian Bridge to Miami Beach!
If you don't fancy the hour-long trek, this boat tour departs from Bayfront Market in Downtown and sails by Miami's islands and all of the fancy houses owned by super rich people.
Picnic with the Cruise Ships
South Pointe Park is a hidden gem in South Beach.
The green space is located at the southern tip of the barrier island where the cruise ships dock so it is a great spot for chilling out on a date.
South Pointe also has a beach, lifeguard tower, pier, public restrooms, dog park, cafe, and parking close by.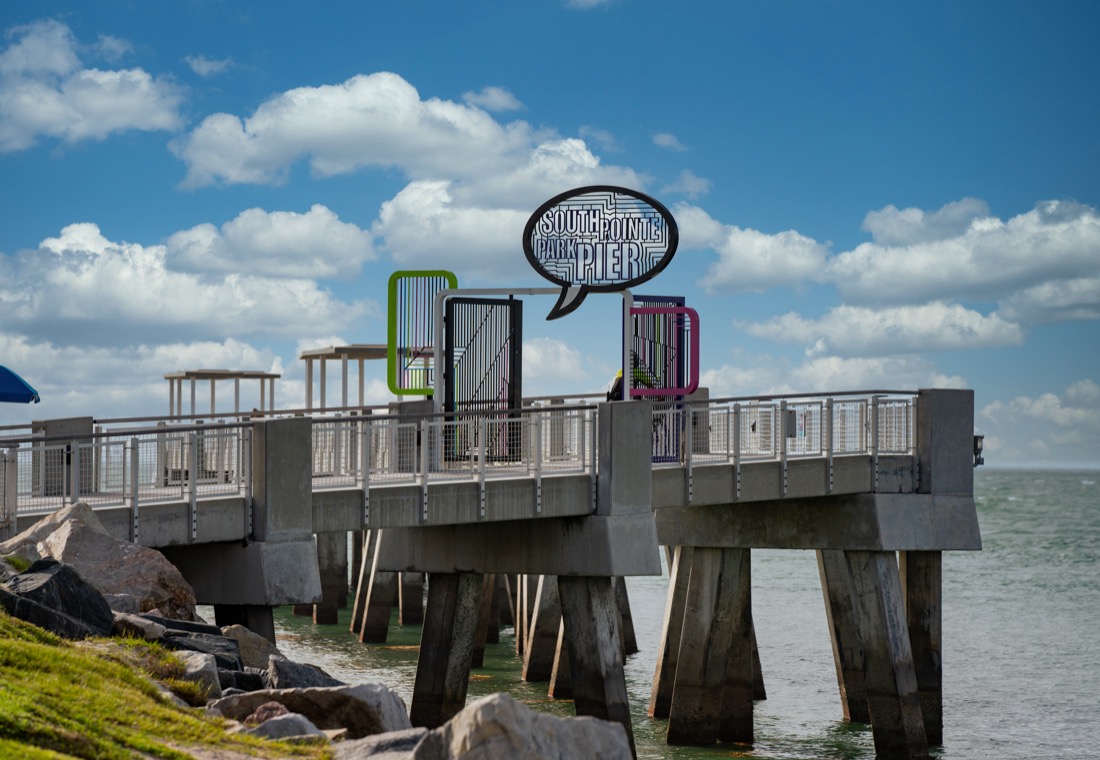 Day Party
Relax on cabanas while listening to music at the classy Nikki's Beach (1 Ocean Drive).
This luxury oceanfront complex offers daybeds, music, food, and there is a bar serving cocktails.
The crowd is mostly couples, groups of couples, and groups of women.
Image credit Nikki Beach Global.
Pool Party
If you prefer getting wet on your Miami date, go for a pool party instead.
The most popular pool party in South Beach is Hyde at SLS South Beach Miami (1701 Collins Ave) where girls pour drinks down party goers throats and live music pumps the day away.
Another option is Strawberry Moon at The Goodtime Hotel (601 Washington Avenue) which has a 4,000 sq ft pool, Mediterranean inspired food menu, and live music.
Image credit The Goodtime Hotel.
Couples' Spa
Unwind together at Tao Spa (726 6th St) where you can book couples treatments such as massages with hot oil, stones, and bamboo sticks.
If you don't like having your back touched, the spa menu also includes foot massages and seaweed wraps.
World Erotic Art Museum
Find out more about the history of erotic art at the World Erotic Art Museum (1205 Washington Ave).
The complex has a museum, library, and education service.
There are a number of collections, some of which are by the founder and director, Naomi Wilzig.
Romantic Private Flight
One of the most romantic things to do in Miami Beach is to book a flight on this private airplane.
The ride takes you and your partner over Miami's beaches so you can get a bird's eye view of the Atlantic Ocean and Miami's famous architecture.
The charming pilot shares stories about the popular landmarks as you fly by them.
Clubbing at LIV
Dress up the nines for a night out at Fontainebleau Hotel's LIV (4441 Collins Avenue), South Beach's biggest party.
The superclub's bill lineup includes international DJs such as Calvin Harris and hip hop artists like Eve and Doja Cat.
If you're planning an exceptional date night, consider the Ultra-VIP treatment which includes private skyboxes with table service.
LIV is known as a party spot for celebrities.
See a Symphony Show
For a different pace, The New World Center (500 17th Street) is where you can see live orchestras and ensembles at a 756 seat concert hall.
The center also puts on live classical music in the gardens, film screenings, and yoga in its Soundscape Park.
Cute Lifeguard Tower Pics
Did you even go to Miami Beach if you didn't get a sweet couples picture by the colorful lifeguard towers?
You'll find these towers all over South Beach and Miami Beach so you can perfect your pose at each one.
Find out more about South Beach in our guide.
Stay in an Art Deco Hotel
Miami Beach, specifically, South Beach, is known for its Art Deco buildings built between the 1920s and 1940s.
Many of these buildings are hotels so visitors can stay overnight in these cool 'Tropical Deco' builds scattered along Ocean Drive and Collins Avenue.
The Avalon Hotel (700 Ocean Drive) was built in 1941, by the well-known Art Deco architect Albert Anis.
The Tony Hotel (9801 Collins Avenue)was built in 1939, designed by architect L. Murray Dixon.
We've detailed all of the Art Deco hotels in South Beach here.
Most Romantic Miami Restaurants
Crazy About You, Brickell
For a waterfront dinner date with a younger crowd and relaxed menu, check out Crazy About You (1155 Brickell Bay Dr).
Tables can be reserved by the water and indoors.
Cote Miami, Designer District
Add a little fire to date night in Miami with the Cote (3900 NE 2nd Ave) experience.
This Korean barbecue features dinner cooked at your table over smokeless grills.
For local cuisine, choose the stone crab.
If you're on a budget date night, check out the happy hour deals.
The Designer District also features in our guide to Miami at night.
Jaguar, Coconut Grove
If pork tacos and Pisco Sours sound delicious to you, book a table at Jaguar (3067 Grand Ave).
This Latin American restaurant is an offbeat romantic restaurant to consider.
Rusty Pelican, Key Biscane
An obvious choice is the Rusty Pelican (3201 Rickenbacker Causeway) but can you beat those views?
Reserve a table for sunset, and dine under the lights as night falls.
Gianni's At The Former Versace Mansion, South Beach
A real show stopper at South Beach is dinner at the former Versace Mansion (1116 Ocean Drive).
Choose from a menu put together by Chef Valter Mancini, as you dine by the ornate swimming pool once owned by Gianni Versace.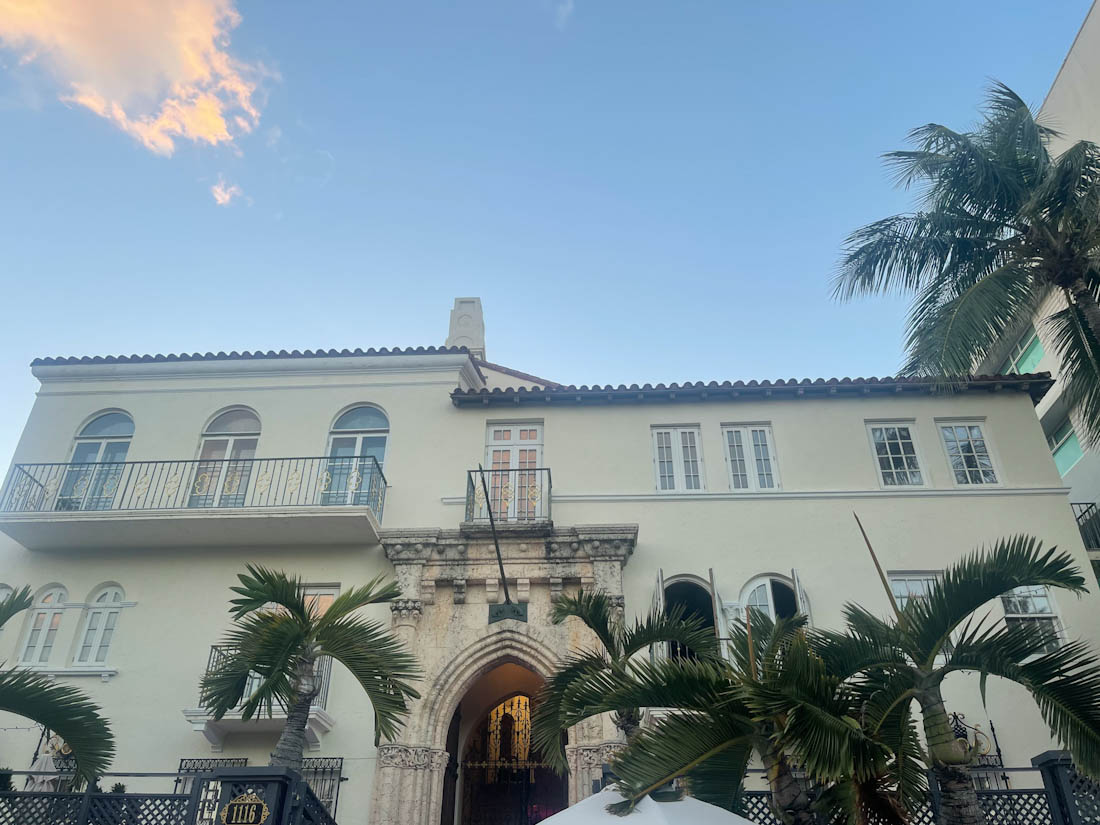 Romantic Hotels in Miami & Perfect Getaway Stays
Biltmore Hotel, Coral Gables
If you don't mind staying a little out from Downtown, The Biltmore Hotel is something else!
The brainchild of George E. Merrick, the Biltmore was designed by the same firm responsible for Grand Central Terminal in NYC, and it opened its doors in 1924.
The hotel has suites, an outdoor pool, 18-hole golf course and a full-service spa so you don't actually need to ever leave.
Hotel AKA Brickell Miami
Hotel AKA Brickell Miami (195 Brickell Ave) is in a superb location for couples looking to get up and go in the morning.
However, if you burn out and need some R&R, the centrally located hotel has a rooftop pool, gym, hot tub, and sky bar with views.
Rooms start at queen size and go up to suite with panoramic views.
The Goodtime Hotel
The Goodtime Hotel (601 Washington Avenue) is a beautiful hotel, pool and restaurant, and is owned by the musician Pharrell Williams and entrepreneur David Grutman.
Guests love the tasteful decor with hints of pale pink and green.
Queen and king rooms, and suites are available.
Image credit The Goodtime Hotel.
AxelBeach, Miami Beach
AxelBeach (1500 Collins Ave, Miami Beach) is the largest LGBTQI+ hotel chain in the world and the South Beach Axel plays host to an array of events.
The hotel has rooms ranging from double to suites, and there is an outdoor pool.
The Betsy, South Beach
The Betsy (1440 Ocean Dr, Miami Beach) was built in 1942 and is a stunning oceanfront hotel, in fact its is the only building with Florida Georgian architecture in Miami Beach.
The super stylish hotel has doubles, kings, rooms with balconies, suites, and suites with terraces.
Have we missed out any of your favorite things to do as a couple in Miami? Tell us in the comments!
Our Miami Guides
Miami By Neighborhood