This article has links to products and services we love, which we may make commission from.

Hey lovers! Find out the most romantic things to do in Key West for couples in our dreamy resource guide.
From bar hopping to spa days, live music to lingerie shopping; some Key West's date night ideas are fun yet a little offbeat.
We have to pay a special mention to the sundown scene in The Conch Republic, it is the home of the sunset after all.
Will this be your first time visiting the Florida Keys? Check out our Key West one day itinerary, which features enough suggestions to fill a week.
You may also like our 3 days in Miami guide.
Best Things to do in Key West for Couples
A Romantic Sunset Cruise in Key West
Set sail on a 05-foot schooner America 2.0 with a drink in hand, as Key West prepares for its biggest daily show, sunset.
This 2-hour cruise glides through the city's crystal-clear waters and past landmarks such as Fort Zachary Taylor, Sand Key Reef, Mallory Square, and Sunset Pier.
The boat features luxury teak decks, mahogany-trimmings, as well as 3,600 square feet of canvas for the wind to catch.
Hors d'oeuvres and alcoholic or non-alcoholic drinks are included.
Sunset Celebration at Mallory Square
Enjoying the sunset from dry land is a nightly celebration in Key West.
Two hours before sundown, hundreds of holiday-makers head to Mallory Square Pier to buy food and watch the entertainment that lines the pier.
Then, as the sun falls into the Gulf of Mexico, crowds cheer.
While this isn't an intimate date night idea, it is a free thing for couples to do in Key West.
If you're lucky, you and your partner might see the elusive Green Flash that strikes just before the sun disappears.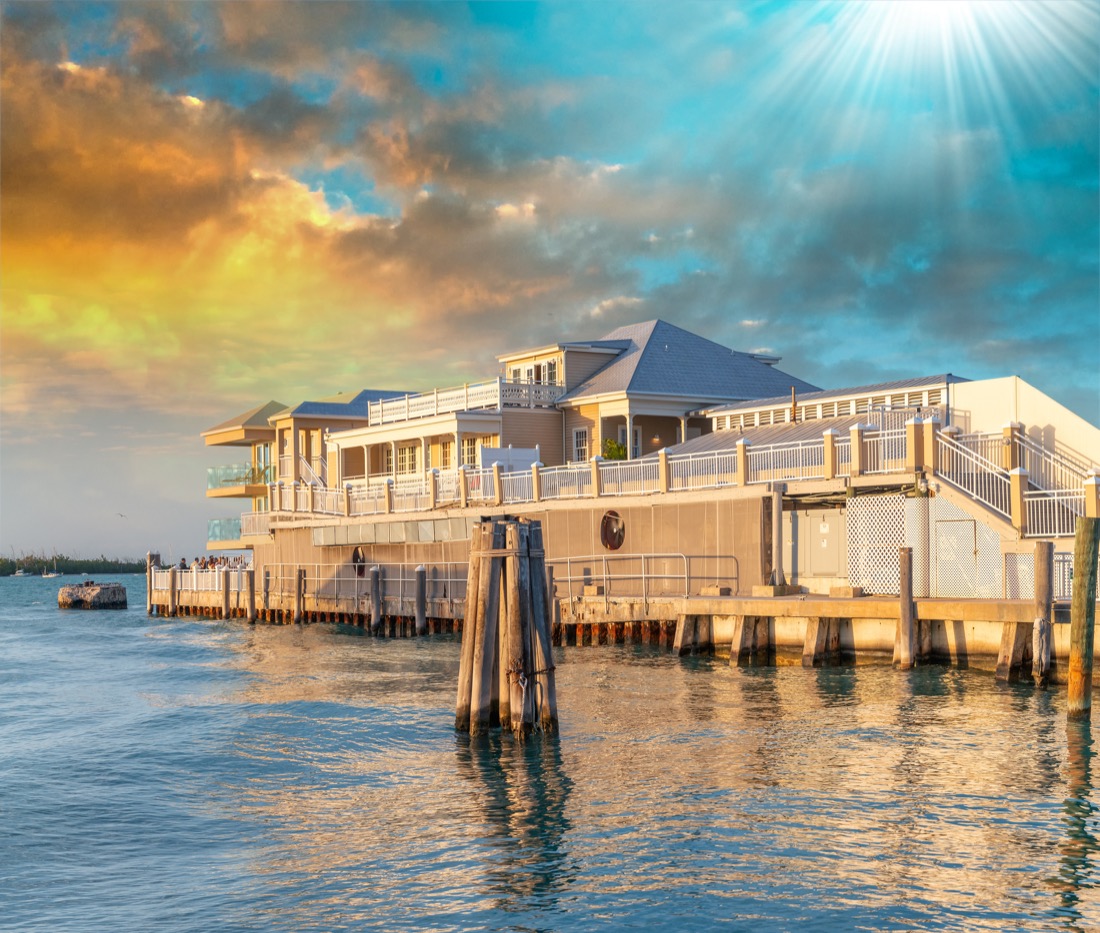 Ghosts and Gravestones Tour
Give your partner a reason to move a little closer during this spooky trolley tour of Key West!
Learn about the city's historic residents as you pass their wooden homes, full of secrets and spooky activity.
Drive by Key West's most haunted locations such as Marrero House, the Porter Mansion, and the Hanging Tree.
With an island this old, you can expect tails of superstitions, burials, and murder!
The Ghosts and Gravestones Trolley Tour lasts for one hour and travels around the Old Town.
One of the other things to do at night in Key West other than drinking.
Catch a Game at Sandbar
Celebrate your team's win, hopefully, on the TV screens at Sandbar Sports Grill (511 Greene St).
This Key West sports bar is a chilled-out location, serving pub grub like tacos and burgers, and big bowl glasses of Hurricanes.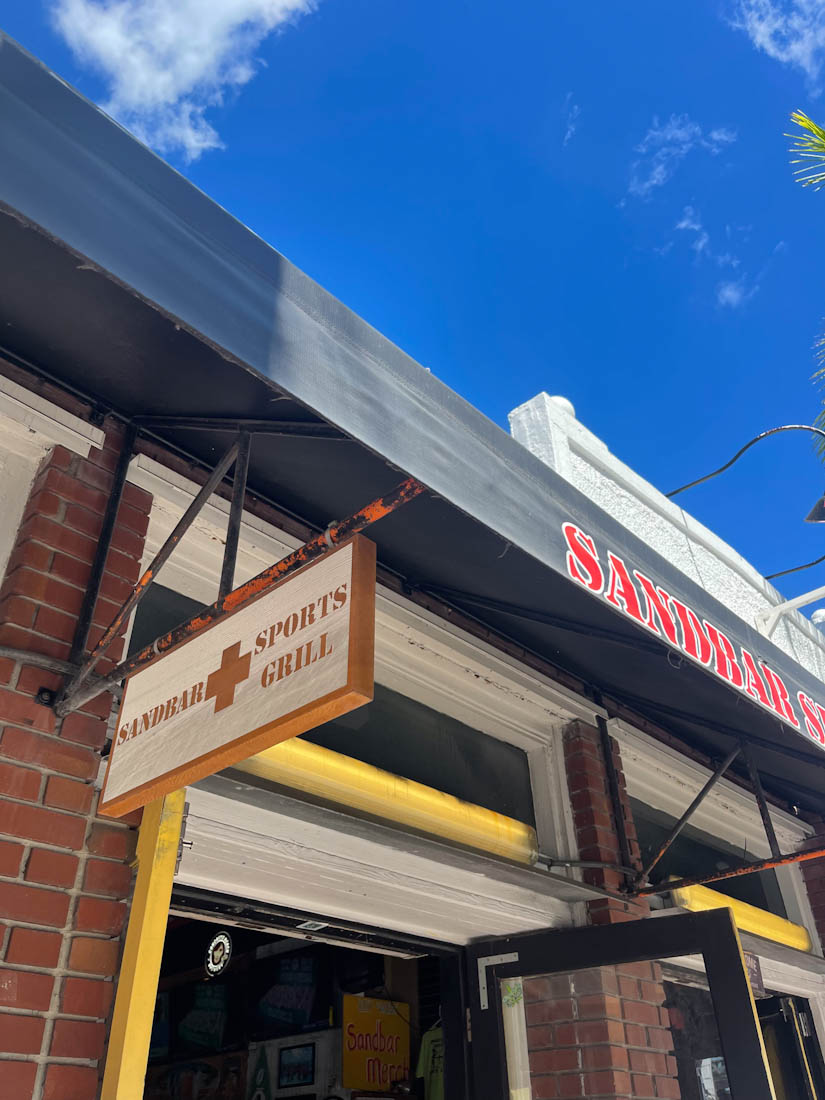 Hot Tin Roof for Sundown Drinks
Hot Tin Roof (0 Duval St) serves up seafood with a side of sunset.
This is one of the go-to bars for date night in Key West because the views are dramatic!
Even if you don't manage to book a table for sunset, you will still be impressed by the boats sailing by.
Lingerie Shopping
Empower your partner by taking them shopping for an outfit to get you both in the mood.
Adam & Eve (330 Duval St) is an adult novelty shop selling lingerie and bondage for women, men, and couples.
Graffiti Key West (721 Duval St) is a men's boutique that stocks a variety of casual outfits, beach clothes, party gear, and Fantasy Fest-appropriate accessories.
Make Key Lime Pit Together
Those who work well in the kitchen together, stay together!
Why not test out this theory with a Key Lime Pie Cooking Class (511 Greene St)?
Couples will get their hands dirty while making this local classic which consists of lime juice, egg yolks, sweetened condensed milk, meringue (or whipped cream), and pie crust.
Once the class is over you can taste test each other's pies.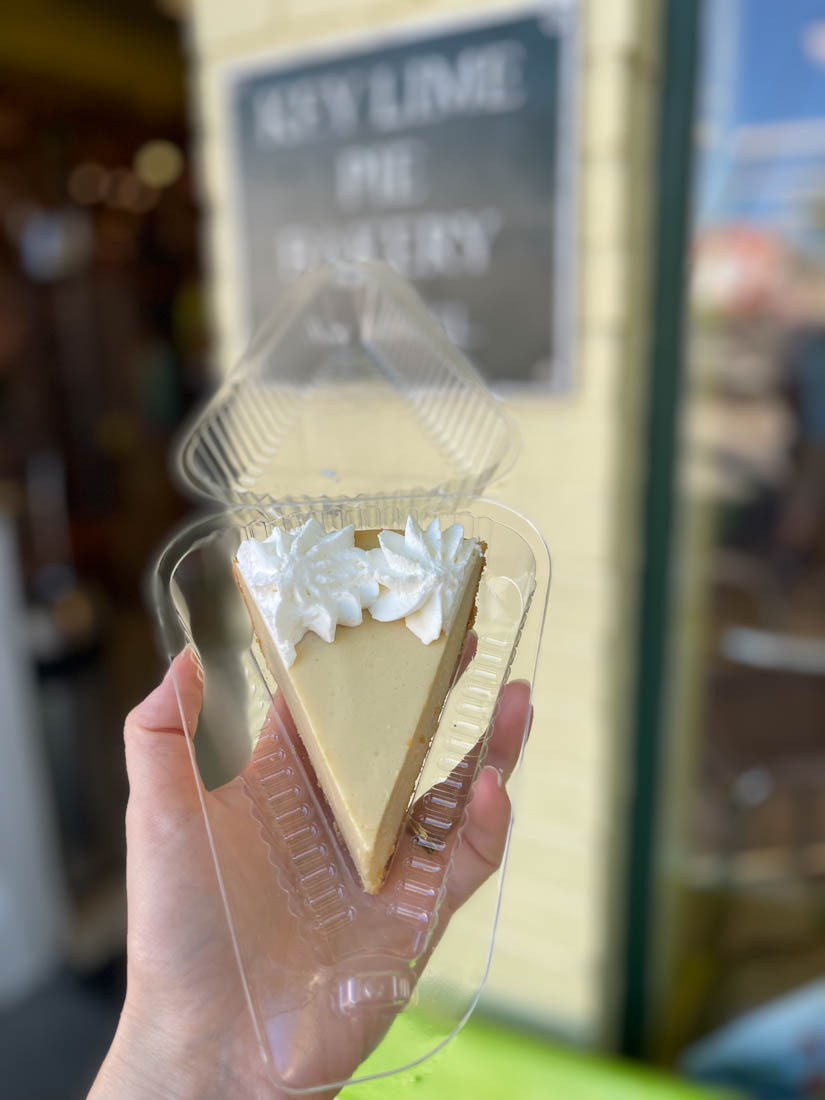 Rum Distillery Tour
There's a handful of activities couples can do at Papa's Pilar Rum Distillery, Hemingway Rum Company (201 Simonton St).
Enjoy a few rum-based cocktails and listen to live music.
Or, if you prefer to find out how your drinks are made, hop on the rum distillery tour or do the cocktail-making class.
Finally, learn more about the Papa himself, Ernest Hemingway, and his boat, Pilar, during the Hemingway Chronicles Tour.
Have a Laugh Together
Comedy Key West (218 Whitehead St #5) hosts a number of comedy shows from open mic to local comedian nights.
There's even a comedy workshop if you pair see yourselves as a slapstick duo.
See a Show
Key West Theater (512 Eaton St) is the city's performing arts center with a packed lineup of shows and musical acts.
From cover bands to comedy shows, there's an event for every taste on the bill.
The building was originally constructed in 1848 as the 1st Baptist Church of Key West then later became a dance club, then a concert hall.
Crafties at The Waterfront Brewery
The Waterfront Brewery (201 William St) has epic views over the marina and also acts as a live music venue.
The bar has two levels and the drinks menu includes house-brewed beers, IPAs, flights, spirits, wine, and signature cocktails.
There is also a daily happy hour and food menu.
Drinking in the Florida Sun
Schooner Wharf Bar (202 William St) is an open-air Key West favorite that serves seafood and drinks.
Guests love this spot for its live music and dockside views.
Eat Oysters
Nothing says sexy like Alonzo's Oysters Bar (700 Front St).
Try the aphrodisiacs at this low-key waterfront restaurant and why not get lubricated at the daily happy hour too?
Join in the Pool Party
Plan an afternoon at Dantes Pool Party (955 Caroline St) coined the 'Aquaholics Paradise'.
Cool off from the Florida heat while listening to a live DJ, and enjoying a beer and some wings.
Listen to Live Music in Key West
If you are a couple that loves to rock out, your ears are in for a treat as you'd be hard-pressed to find a bar that doesn't put on music events in Key West.
For daily live shows, park your butts at the Green Parrot, Sloppy Joe's, Willie T's, or Durty Harry's
Bar Crawl on Duval Street
Tasty rum, signature cocktails, craft beer, fine wine – whatever your choice of tipple, the Duval Street bars will cater.
Some bars have upstairs seating with an outdoor patio, like The Bull & Whistle, so you can people-watch to help keep the date conversation flowing.
Others specialize in a kind of drink, like The Rum Bar.
Some bars, like Sloppy Joe's, are Key West institutions that keep visitors returning every year.
Bar hopping is no doubt one of the best things to do on Duval Street in Key West.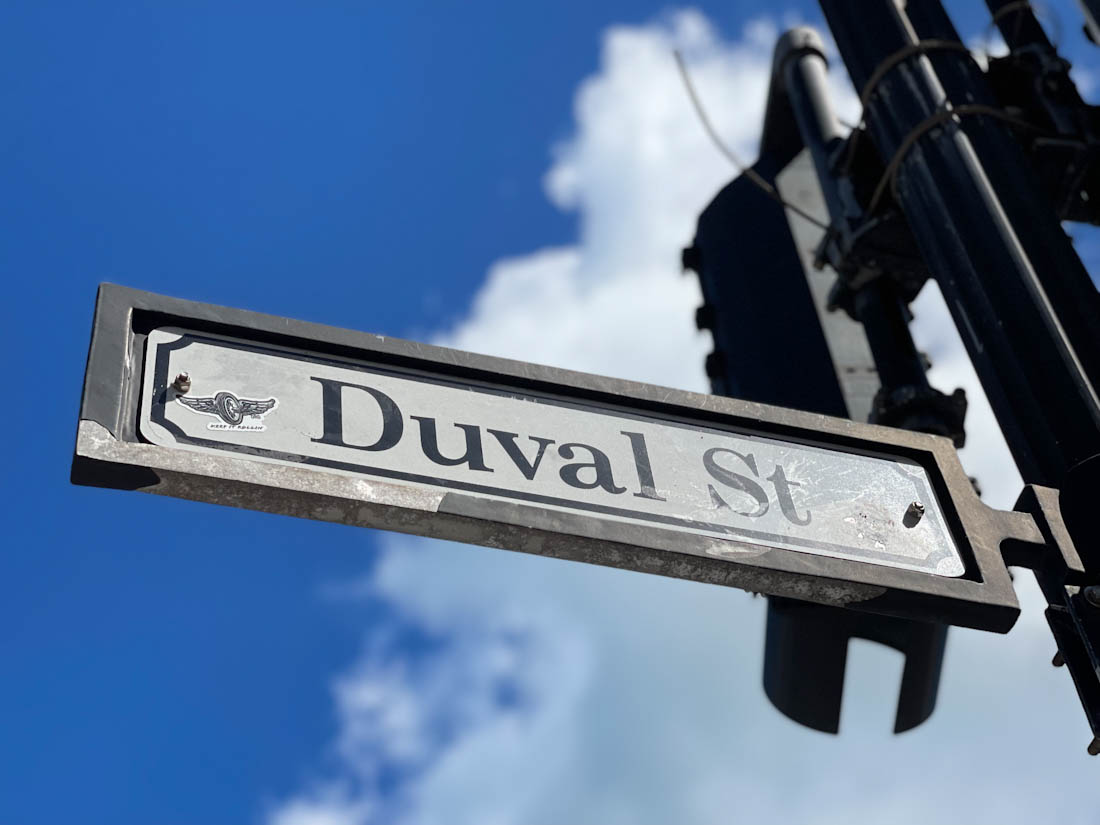 Jazz Night
If you or your date has a particular interest in jazz music, Little Room Jazz Club (821 Duval St) is an intimate venue in the Old Town.
The club also serves a full liquor bar and a small plates menu.
Day Spa in Key West
Loosen up with a couples massage at Prana Spa (625 Whitehead St).
The expert staff at Prana Spa have been reducing tension at their Old Town hideaway salon since 2003.
Treatments include massage therapy, clinical skincare, and spa treatments from around the world. 
There are three couples rooms on-site, making it one of the most romantic indoor activities in Key West.
Serenade Your Lover at Karaoke
Elvis? Elton? Stevie Wonder? Who is your weapon of choice when the mic is in your hands?
Join the friendly, and talented, staff at Bobby's Monkey Bar (900 Simonton St) for a karaoke night, even if you just like to observe.
This karaoke evening falls under the Key West adults-only activities category so you'll need to leave the kids with family.
Sexy Dessert
Feed the eyes before the belly at Better Than Sex Desserts (926 Simonton St).
This dimly lit dessert parlor is no pastel-clad cafe; the decor is decadent, and the drapes are deep red.
They even provide conversation starters on the menu to help spice up the date night.
Movie Night at Tropic Cinema
Catch one of the latest releases or get nostalgic with an oldie but goodie at Topic Cinema (416 Eaton St).
The retro movie house has four screens and a bar serving beer and wine.
Check out the schedule here.
Drag Show at 801 Bourbon Street
Join the world-famous 801 girls who perform nightly, serving up two shows every evening.
Or take part in a weekly game of Key West bingo* and a round of karaoke with the Key West Characters.
*Not suitable for kids.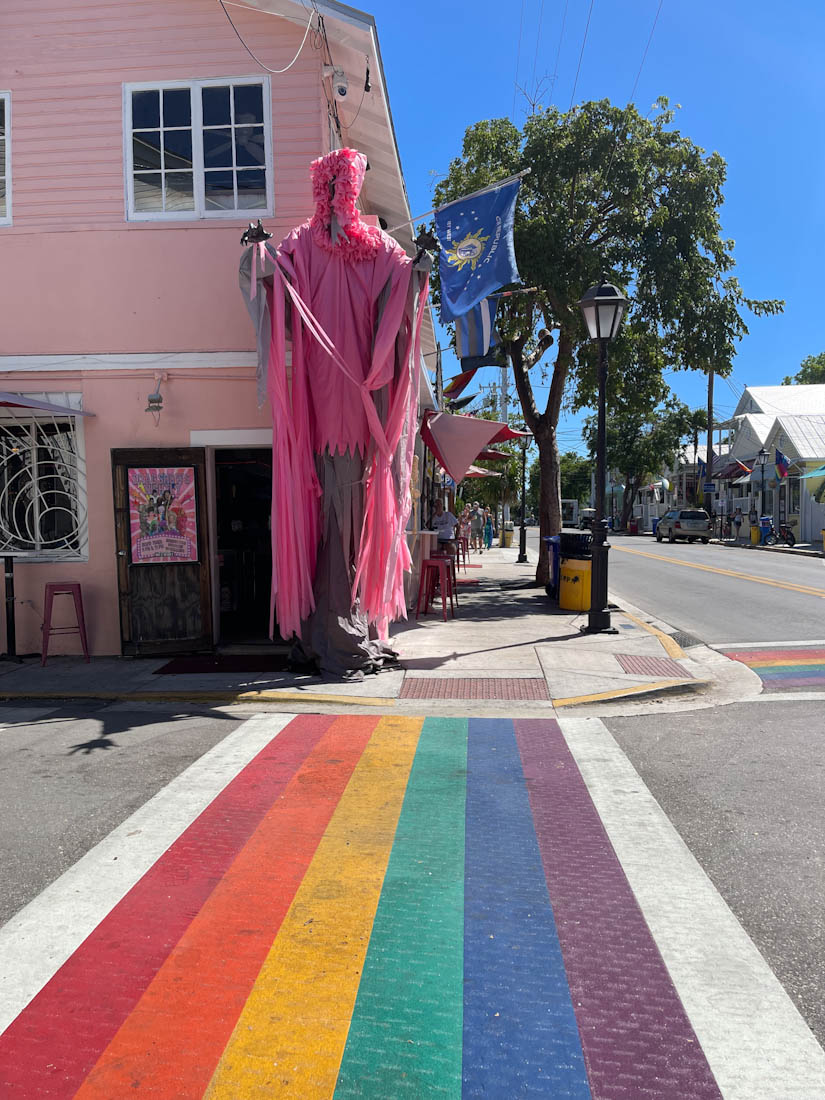 Dance Class
Looking for an excuse to hold your partner close?
Lucy and Leon are on hand, teaching group salsa lessons and private dance sessions in Key West.
Couple Shot at Southernmost Point Buoy
Key West isn't just a lively party city, it is also the southernmost point in the continental USA.
The Southernmost Point Buoy marks this fact and acts as a prop for many couple photoshoots.
There is usually a line but it moves quickly and folks are happy to help you get a cute couple pic.
If you want to wind up your partner, tell them you can see Cuba in the distance!
You can't, but it is only 90s miles away.
Rock Out at an Outdoor Gig
Key West Amphitheater (21 Quay Rd) aka Coffee Butler Amphitheater is an outdoor venue located near Fort Zachary.
Acts to grace the stage include Willie Nelson and KC and the Sunshine Band.
Check out the schedule on the website.
Even if there isn't a live show on, this area is a good spot for a Key West sunset viewing party.
Fort Zachary Beach
Pack the swimwear for a relaxing day at the free Fort Zachary Beach.
Fort Zachary Beach is popular for swimming and snorkeling, where visitors hope to see marine life such as parrot fish, schools of yellowtail snapper, and corals.
Remember your swim shoes!
Fishing is allowed on the west side of the park.
Rental huts, picnic tables, and a cafe are also available on-site.
While beach access is free, parking is not but there is plenty of space for cars.
Fort Zachery is another perfect location to experience a Key West sunset, where the Atlantic Ocean meets the Gulf of Mexico.
The beach is part of the wider Fort Zachary Taylor Historic State Park which is 54 acres of land and features a fortress which was named after U.S. President Zachary Taylor.
Smathers Beach
Smathers Beach (2601 S Roosevelt Blvd) is the largest public beach in the city, at around a half mile long.
Visitors can hire chairs and umbrellas, however, unlike at Zachary, there is no cafe so remember to pack food and water.
Parking is fee-based using street kiosks.
Note: Key West beaches do go through a sargassum seaweed summer cycle which puts some visitors off spending the day at the beach.
Skydive Date
Is your partner a wild child?
A skydive is one of the most fun things to do in Key West for couples who want to feel more than just a slight wind in their hair.
This experience lets you jump out of a plane and skydive into paradise by tandem dive.
You can also receive video footage of your ride after the session.
What about a skydive proposal like this cute couple?
I'm not crying, you're crying.
Romantic Key West Photoshoot
Document your romantic trip to Key West by commissioning a photographer to create keepsakes of your memories.
During this photoshoot, a local photographer helps you choose iconic Key West backgrounds and provides 45 edited images for you to share on social media.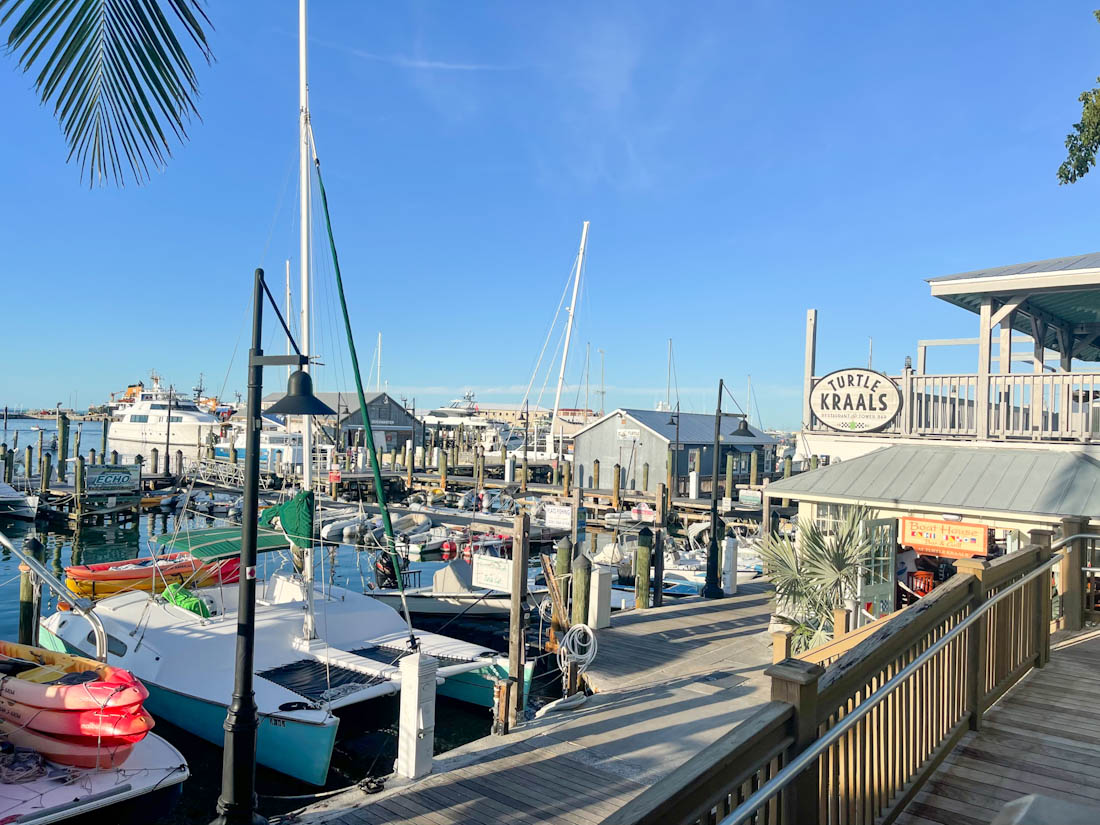 Kayak at The Mangrove
The Mangrove is a hidden gem in Key West and you can tour it with a professional company.
Florida is known for its swamps and mangroves and the good news is that you don't have to day trip to the Everglades to explore them.
The 2-hour kayak tour is led by an ecosystem expert who will point out sea creatures as you pass them.
The meeting and end point is Hurricane Hole Marina.
Blue Hole Observation
If you prefer to observe Florida's nature from dry land, take a trip out to Blue Hole Observation Platform (Key Deer Blvd, Big Pine Key) and you might just see alligators and key deer.
If you don't manage to spot the big guys, it is likely you'll receive a visit from turtles and iguanas.
Remember, don't feed the animals!
Blue Hole Observation Deck is a very short walk so you don't have to pack the hiking gear.
Romantic Restaurants in Key West
Ocean View Dining
Customers love the location, ambiance, and food at Louie's Backyard (700 Waddell Ave).
The waterfront restaurant has a patio and inside dining with big windows so you don't miss the view.
Sushi on a Patio
Thai Island Restaurant (711 Eisenhower Dr) is a laid-back option with views over the marina.
The menu consists of Thai classics such as Pad Thai and Massaman Curry; you can even add a whole lobster to your fave Thai dish.
Sushi is also a popular option.
Rooftop BBQ with Marina Views
If you are craving a plate of grilled meat served on a vintage boat, Smoked BBQ (1801 N Roosevelt Blv) could be the right date night restaurant for you.
Check out their award-winning baby back ribs.
Romantic Hotels in Key West
Andrews Inn & Garden Cottages
Andrews Inn & Garden Cottages (223 Eanes Ln) is a quiet oasis close to the madness of Duval Street.
Guests love the home-cooked breakfast, happy hour, and sparkling clean pool.
Rooms range from 180 ft sq to 300 ft sq, some come with lovely patios.
New Orleans House
New Orleans House (724 Duval St # 2) is a gay men-only guesthouse located on Duval in The Pink Triangle.
Guests credit the clean rooms, bar staff, variety of breakfast, and the pool is a big win.
There's a huge range of rooms from dorm beds to cottages with private rooms starting at 180 ft sq all the way up to 510 ft sq.
Did we miss out on anything in our guide to the best Key West attractions for couples? Tell us in the comments!