This article has links to products and services we love, which we may make commission from.

Whether you're nervously planning a first date or looking for inspiration to go somewhere new, we pulled together the top romantic things to do in Charleston SC so you can impress your significant other. From fun day dates to swoon-worthy restaurants, from stunning scenery to live entertainment, it's all here to help you plan!
Charleston is a scenic city that simply oozes romance, but it can be easy for locals to overlook the best opportunities right on your doorstep.
Get out there and explore more of your own backyard — it's even better when you do so with your partner!
If you're taking a couples trip to Charleston, don't skip our romantic hotel recommendations at the end of this guide.
You might also like our suggestions for free things to do in Charleston so you can have more fun together without breaking the bank!
We also have a complete guide to local dining in Charleston if you're just here for the food (we wouldn't blame you).
Fun & Romantic Things to do in Charleston, SC for Couples
Take a Romantic Sail on the Schooner Pride
Nothing is more romantic than sailing into the sunset with your sweetheart.
The Schooner Pride (11 Isabella St.) offers sailboat tours of the Charleston Harbor so you and your partner can take in the sights of the shoreline during sunset.
This historic ship is just as elegant and beautiful as the sites you will see while riding it.
Prefer to make a whole evening of it?
This dinner harbor cruise isn't on the schooner, but it's a great way to enjoy a unique dinner date experience in Charleston!
Take a Stroll around the Morris Island Lighthouse Trail
The Morris Island Lighthouse (1750 E Ashley Ave, Folly Beach) is located off the shore of Morris Island.
Walking the Morris Island Lighthouse Trail offers a serene atmosphere for a romantic stroll with breathtaking views of the historic lighthouse.
This is one of the best Charleston SC attractions for couples because you can enjoy a walk and a chat together, learn some local history, and take in the beautiful scenery all at the same time!
With beautiful natural paths and picturesque views of the lighthouse, The Morris Island Lighthouse Trail is certainly one of the most romantic places in Charleston, SC.
Explore Nature at the Caw Caw Interpretive Center
The Caw Caw Center (5200 Savannah Hwy, Ravenel) is perfect for couples who like to take in nature and the wildlife of the south. 
This expansive nature preserve provides plenty of distance for hiking nature trails and along man-made bridges designed to get up close to the swamp and all the wildlife held within. 
Get outdoors together and explore more!
Take in the Beauty of the Foliage at Cypress Gardens
Cypress Gardens (3030 Cypress Gardens Rd, Moncks Corner) offers 170 acres to explore by foot and by boat.
This nature preserve is located in the swampland of South Carolina and is the perfect place to enjoy the local foliage and wildlife.
Many films have been shot in this area, including that romantic favorite, The Notebook!
A hike or paddleboat ride through Cypress Gardens can be a fun date idea in Charleston, SC for couples who love the outdoors.
Tour a Historic South Carolina Plantation
Magnolia Plantation and Gardens (3550 Ashley River Rd) is one of the last remaining large-scale romantic-style gardens in the country.
The Magnolia Plantation does a thorough job of explaining the history of the site and provides perspectives and stories of the enslaved men and women who lived on the property, as well as later sharecroppers and tenant farmers.
Learn that local history together during this tour of the historic antebellum home, and then explore the beautiful flowers and bridges that cover the grounds.
The beautiful gardens are some of the most romantic spots in Charleston, SC.
Catch a Show at the Dock Street Theatre
The Dock Street Theatre (135 Church St) is a historic theater in Charleston that offers a variety of stage shows for all ages.
Catching a live show at this historic theater is a great idea for a date night.
Whether you enjoy a musical or something more serious, The Dock Street Theatre is sure to have a show for you.
Explore the Charleston City Market
The Charleston City Market (188 Meeting St) features dozens of local vendors displaying their handmade goods for sale.
The market has everything from handmade clothing to fine art.
Exploring this market is a great way for couples to spend a relaxed afternoon in Charleston.
See a Baseball Game at Riley Park
The Charleston River Dogs (360 Fishburne St) is the city's Minor League baseball team and Riley Park is a great location for date ideas in Charleston.
The River Dogs are an official MiLB team and offer some of the best baseball around.
However, if you are not that interested in the game, there is always plenty to do including chowing down on some fantastic ballpark food together!
Have a Look Around the Charleston Farmers Market
The Charleston Farmers Market (329 Meeting St) is the perfect location for an afternoon date.
Explore all of the local produce and hand-made goods while grabbing a bite to eat at one of the many food vendors.
Maybe you can pick up some ingredients to cook dinner together later.
Go on a Historic Downtown Walking Tour
This walking tour with a local historian is the best way to see the antebellum architecture of downtown Charleston and learn about the city's last several centuries.
Couples that learn together stay together!
Seeing the lights of Downtown during a stroll is one of the most romantic things to do in Charleston, SC at night.
Have a pint at Holy City Brewing
Holy City Brewing (1021 Aragon Ave, North Charleston) is one of Charleston's best locations to have a brew.
The brewery offers a full tap list and menu making it a perfect date night spot.
Get a tour of the brewery and even see live music all while enjoying the local brews with your other half.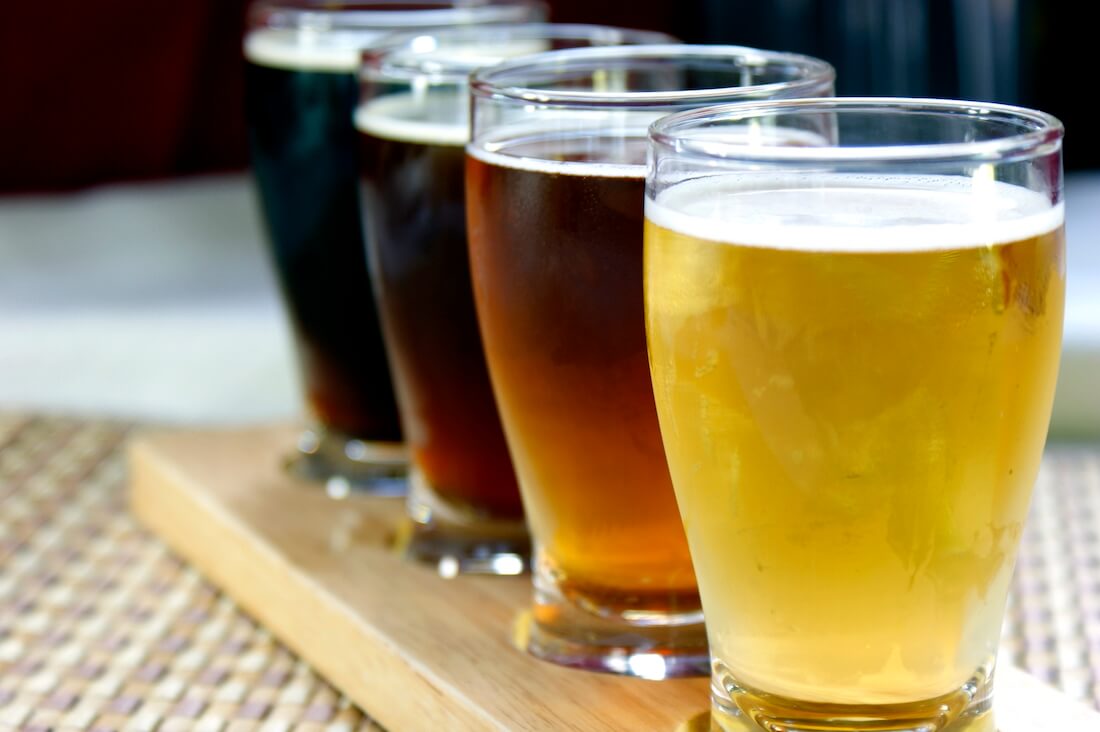 Hear the Harmonies of the Charleston Symphony Orchestra
The Charleston Symphony Orchestra (95 Calhoun St) is the perfect location for couples who enjoy the finer things on their romantic trip to Charleston, SC.
Hear award-winning classical music from an amazing venue from the Charleston Symphony Orchestra.
The symphony has weekly performances and changes its repertoire every few weeks so you can always hear something new and exciting.
Take in Dinner and a Culinary Show at a Zero George Cooking Class
Zero George Cooking Class (0 George Street) is not your typical cooking class.
Guests watch the chef prepare a five-course meal that they get to enjoy and learn from throughout the experience.
It's heralded as one of the best foodie experiences by multiple major food and travel magazines.
Enjoy a delicious meal and an educational culinary show — it's one of Charleston's best activities for couples!
Go For a Sunset Stroll at The Battery
The Battery is an area of Charleston named for the retaining wall on the harbor.
This promenade features beautiful antebellum homes directly on the waterfront and is the perfect location for a romantic sunset stroll.
Take in the beautiful scenery and watch the sun glow off the water as you stroll with your sweetheart.
Have a Drink at The Vendue
The Vendue (19 Vendue Range) is Charleston's top-rated rooftop bar.
See all the breathtaking views of the harbor while you sip your favorite cocktail.
The full food menu makes The Vendue's rooftop bar one of the most romantic date ideas in Charleston, SC.
Have a Sunset Picnic at Pitt Street Bridge Park
Pitt Street Bridge park (100 Ann Edwards Lane) is the perfect place to watch the sunset over the Charleston harbor.
Picnicking on one of the park's well-placed benches will give you and your partner an exceptional view of the waterfront as the sun goes down.
 A romantic stroll around the waterfront is a perfect location to kick off a date night in Charleston.
For an absolutely perfect evening, book here torent a ebikes and enjoy a professionally packed picnic.
No stress, just a lovely evening together!
Explore the Local Art Scene at the Gibbes Museum of Art
The Gibbes Museum of Art (135 Meeting St) is Charleston's premier destination for art-loving couples who want to learn more about the history of art in the south.
The Gibbes features a collection of art from South Carolina and the greater South.
With its vast collection and impressive architectural design, The Gibbes is certainly one of the best date night ideas in Charleston, SC.
Go on a Charleston Culinary Tour
This 2.5-hour food tour takes guests on a leisurely walking tour to a variety of delicious eateries in Historic Downtown Charleston.
Taste the local flavors with a local guide who can share more about the history of the city and its favorite flavors, from benne wafers to BBQ and from pralines to ground grits.
This tour is a fun date idea in Charleston for couples who enjoy exploring local cuisine.
See the Largest Oak Tree East of the Mississippi
Angel Oak Park (3688 Angel Oak Rd) is just a short drive from downtown Charleston and is home to the largest living oak tree east of the Mississippi.
This historic site is free to the public and features plenty of picnic areas and even a gift shop.
A hike around the park to see the majesty of the giant oak is a great way for couples to spend the afternoon together while appreciating nature.
Sit Down for a Cup of Tea at the Charleston Tea Garden
The Charleston Tea Garden (6617 Maybank Hwy, Wadmalaw Island) is the last functional tea farm in the country that offers a full tea service on-site.
You and your partner can enjoy the freshest local teas in a quaint environment perfect for a relaxed date.
A full menu of local tea varieties and a delicious food menu make this a must-do for couples looking for romantic dates in Charleston, SC.
Experience even more with this tour that takes you to the Tea Garden, the Angel Tree, a winery, and beyond in the Charleston low country on Wadmalaw Island.
Take a Stroll Down Rainbow Row
Rainbow Row (83-107 E Bay St) is a picturesque street filled with pastel houses of every color of the rainbow.
This charming street is the perfect backdrop for a romantic stroll with your partner.
Rainbow Row is the perfect location for a romantic photoshoot because it is one of the most romantic places in Charleston.
See Live Music at Music Farm
The Music Farm (32 Ann St) is Charleston's famous music venue, with acts big and small performing there year round.
From popular music to more artistically minded shows, the Music Farm has something everyone can enjoy.
Seeing live music at the Music Farm makes for a fun date idea in Charleston, SC. 
Romantic Restaurants in Charleston South Carolina
Looking for a place to impress your date?
There are plenty of romantic restaurants in Charleston to choose from, but these are some of our top picks.
Get more suggestions in our guide to the best Charleston restaurants.
Husk
For a romantic dinner in Charleston SC, you can't beat the beautiful setting and delicious dedication to local cuisine from Husk (76 Queen St).
Their motto is "If it doesn't come from the South, it's not coming through the door."
So support local cuisine and creators at this delightful spot!
Tempest
With a focus on local, seasonal, sustainable seafood, Tempest (32C N Market St) is an ideal setting to dig into a deeper discussion with your date.
The repurposed building is a stunner and the menu is exquisite.
Enjoy the ambiance and definitely don't skip their incredible cocktail creations!
This is certainly one of the most romantic restaurants in Charleston SC.
Romantic Places to Stay in Charleston SC
Planning a romantic weekend in Charleston SC? We can help!
Here are some of the most romantic hotels in Charleston, South Carolina…
The Charleston Place
The Charleston Place (205 Meeting St) is an idyllic location for a luxurious escape to Charleston together.
With 3 delicious on-site restaurants, 4 convenient bars, and a full-service spa where you can totally indulge, you'll wonder why you should ever even leave.
But you'll also be located right in the heart of Historic Downtown Charleston, so pull yourself away from the romance for a while to stroll the streets, admire the architecture, and enjoy the fresh air.
Meeting Street Inn
Meeting Street Inn (173 Meeting St) is one of the more historic, romantic hotels in Charleston.
Sprawl out in a classic four-poster bed set amidst charming decor.
Imagine balconies and a garden courtyard on a warm summer evening…perfection.
Final Words
We hope all these Charleston date ideas helped to inspire your next outing! Share your favorite romantic places in the comments below.