This article has links to products and services we love, which we may make commission from.

Visit Rhode Island in the winter for everything from festive holiday events to ice hockey, skiing trails, ice skating, and tons of indoor fun, too! This tiny New England state boasts plenty of opportunities for visitors and locals alike, so add Rhode Island to your winter getaways list and see for yourself!
If you're looking for other winter ideas in New England, check out our guides to New Hampshire, Maine, and Vermont for inspiration.
New England is a destination for all seasons, but in the winter it can be a wonderland of snow-covered beauty.
If you're anxious to explore more of the state, check out our guide to the best places to visit in RI.
Fun Things to Do in Rhode Island in the Winter
Blackstone Train Rides
In December, the Blackstone Valley Polar Express (One Depot Square, Woonsocket) runs on weekends and is the perfect family-friendly winter activity!
Hop aboard the Polar Express starting at the historic Blackstone Valley Train Station and enjoy a 90-minute train ride to the North Pole.
There is singing, games, storytime, and a visit from Santa on the train.
Everyone gets hot chocolate and a cookie, and kids get a small silver bell gift to start off the magical holiday season.
Pulaski Memorial Recreation Area
The 100-acre Pulaski Memorial Recreation Area (151 Pulaski Road, Chepachet) is open in the winter for outdoor activities.
You can cross-country ski on 10 miles of trails, which are groomed after each snowfall.
There are also narrower foot trials that are available for snowshoeing.
Yawgoo Valley Ski Area & Water Park
The Yawgoo Valley Ski Area & Water Park (160 Yawgoo Valley Rd, Exeter) is fun year-round but even better in winter!
The ski area has a lot of fun winter activities in Rhode Island, including skiing, snowboarding, and snow tubing.
They also have a snow sports school where you can take skiing and snowboarding lessons — perfect to get the kids started young!
Yawgoo features in our favorite New England skiing spots.
Smith's Castle
Christmas at Smith's Castle (55 Richard Smith Dr., North Kingstown) is another family-friendly annual event in December.
The castle is decorated for the season, and they highlight the "Aromas of Christmas" like mulled cider, baked goods, and evergreens.
There is live entertainment (think: caroling!), music, crafts for kids, and decorations for making gingerbread cookies at the event.
Wickford Village Festival of Lights in North Kingstown
Ever want to feel like you're living in a real-life Hallmark film?
The Wickford Village Festival of Lights (Brown Street, North Kingstown) is an annual weekend-long holiday celebration that brings the whole community out for a tree lighting just like you see in the movies.
Kids can meet Santa, watch elves in a parade, or even dress up as an elf themselves and march in the parade.
There are also live performances, hot chocolate, and cookies.
Ice Skating at the Boss Arena
The Boss Arena at the University of Rhode Island (1 Keaney Rd. Kingston) offers public skate hours where anyone is welcome to spend time skating on the ice.
They also open hockey, where players can play pickup games, and figure skating, where the ice is open for figure skaters to practice their tricks and routines.
And on certain weekend nights, there is Rock n Skate, which is a fun, upbeat skating event.
If you are new to skating, you can take a lesson at the arena.
Or you can rent out the arena for a private skating event, like a birthday party.
Things to Do in Providence, Rhode Island, in Winter
Providence is definitely one of the best places to visit in Rhode Island in winter.
As the state capital and largest city in RI, you can expect the widest variety of events, activities, and attractions to entertain all ages.
Check out our full list of things to do in Providence for even more inspiration!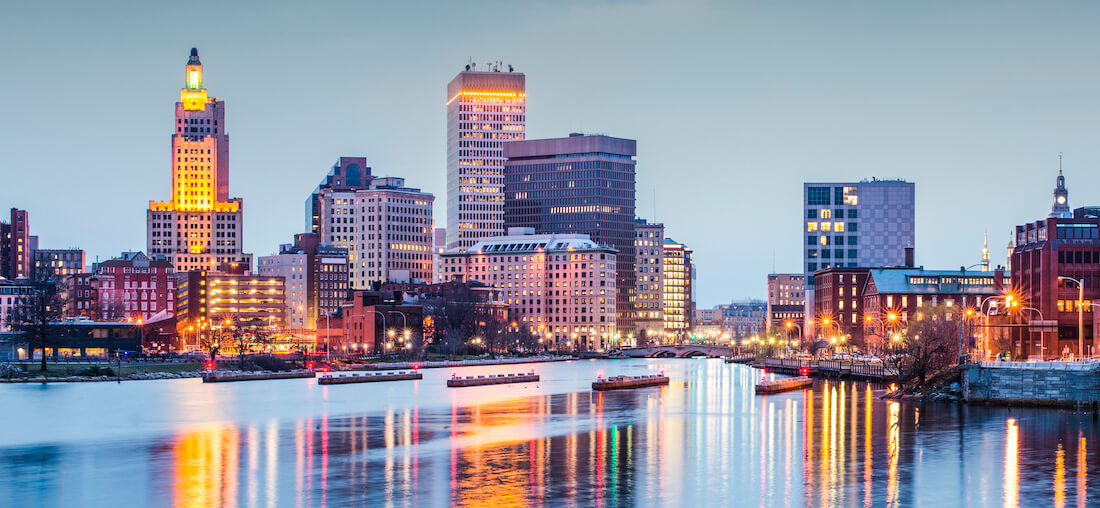 Catch a Providence Bruins game
The Providence Bruins are an American Hockey League (AHL) hockey team that plays at the Amica Mutual Pavilion (1 La Salle Square).
The AHL is a feeder program for the National Hockey League (NHL), so you're likely to see future NHL players on the ice.
Catching a game is certainly one of the iconic things to do in Rhode Island in the winter!
There are special giveaway nights and they also have special events and theme nights.
Some of the special events include College Night, Star Wars Night, Bruins Fight Cancer, and Military and First Responder nights.
Since this is AHL instead of NHL, tickets are cheaper than you'd find at Boston Bruins games, so take advantage while you're in Rhode Island!
Ice Skating in Kennedy Plaza
Kennedy Plaza at the BankNewport City Center (2 Kennedy Plaza) has an outdoor ice skating rink every winter.
You can get a single pass or a season pass to skate all winter long, and they have rentals.
You can also take an ice skating lesson or rent a skate aid if you want to learn on your own.
For even more fun, try out the ice bumper cars!
Outside of skating hours, and sometimes during skating hours on a portion of the ice, they put bumper cars on the ice that can make 360-degree turns and run into each other.
Waterfire Lighting
The Providence Waterfire events are an iconic summertime event in the city.
Along the rivers in downtown Providence, bonfires are lit for a delightful display that truly brightens up the city.
The bridges even get lit up, and music accompanies the art display.
While this is a summer-long event, you can catch the annual culmination if you visit Providence in December!
The holiday lighting every year is accompanied by a large Christmas tree along the water and lots of holiday lights to make the event that much more special.
Museum of Natural History and Planetarium
Another fun Providence winter activity is visiting the Museum of Natural History and Planetarium (1000 Elmwood Ave).
This is the only natural history museum in Rhode Island and also has the only public planetarium in the state.
The planetarium has shows about outer space, space travel, and our galaxy.
Head indoors when the weather is just too chilly and warm up while you look up in awe.
Providence Performing Arts Center
The Providence Performing Arts Center (220 Weybosset St.) puts on a variety of shows you can catch as another way to enjoy the arts in Rhode Island in winter.
There are off-Broadway performances, comedy shows, live music, and other touring shows like Disney events.
In December, there are also seasonal shows like the Nutcracker, holiday music specials, and other Christmas performances.
The theater itself is stunning and is listed on the National Register of Historic Places.
PPAC is a local institution that you won't want to miss!
Roger Williams Park and Botanical Center
The Roger Williams Park Botanical Center (Pine Hill Ave) is New England's largest glasshouse display garden.
There are four year-round greenhouses that have a warm, temperature control climate in the winter so you can enjoy the outdoors…indoors!
The park itself, which surrounds the botanical center, is a great place for more Rhode Island winter activities.
You can have snowball fights, build snowmen, or go sledding.
There is a small hill near the Temple of Music, and a bigger one across the street, both of which are good for sledding after a fresh snowfall.
Things to Do in Newport, RI in the Winter
Another popular hub of activity in the state, visiting Newport in the winter is always a good idea.
Not only is there plenty to do year-round here, but the iconic Newport mansions at Christmas are just beautiful!
Enjoy the wonder and joy of the holiday season and beyond in this coastal community.
Check out our complete guide to celebrating Christmas in Newport for lots more recommendations!
Visit the Newport Mansions
The Newport Mansions are a must-visit in winter in Newport, Rhode Island.
You can take a guided tour or a self-guided audio tour to learn more about the history of these extraordinary homes.
During December, expect festive lighting, pretty decorations, and Christmas carols to truly set the scene!
Touring the mansion also made it on our list of romantic things to do in Newport.
See The Nutcracker
Ready for more festive fun?
The Nutcracker at Island Moving Company (3 Charles Street) is a classic December show to see in Newport.
The company also puts on special performances of the Nutcracker at the Rosecliff Mansion (548 Bellevue Avenue).
You can follow the performance throughout the mansion for a truly special holiday experience.
This is absolutely one of the best Newport, Rhode Island things to do in December!
Seal Watching Tours
How about something a little different to maximize your time by the sea?
One of the coolest Newport winter activities is a seal-watching tour with Save the Bay.
The winter tours leave from Bowen's Ferry Landing in Newport.
These seasonal tours are best for spotting seals in Newport since they migrate to the area between fall and early spring, before heading elsewhere for the summer.
It is never guaranteed that you will spot seals, but they only run the tours during low tide, which is when seals are usually out.
Fingers crossed!
Dine in an Igloo
Newport Harbor Island Resort (1 Goat Island) is a must-visit in Newport, Rhode Island, in the winter. 
They have heated igloos on their patio overlooking the bay, where you can have some cocktails and food.
The view is great, and it is a unique way to spend a winter day.
Each igloo has blankets and cute decor.
But that's not all!
The resort also sets up an outdoor ice skating rink on its North Lawn in the winter.
It's a must-see and must-do!
Take a Winter Newport Foodies Stroll
The winter Newport Foodies Stroll takes you on a casual stroll through downtown Newport to three of the best restaurants in the town.
You will enjoy a three-course meal throughout the night and wine pairings, and the total walk is less than one mile.
The tour runs in any weather, and if you are unfamiliar with downtown Newport, the walk is a great way to get acquainted with the area.
Take a Trolley Tour
The Newport Scenic Trolly Tour runs year-round, but it is a cool way to see Newport in the winter, especially in December when the town is covered in holiday lights.
The 90-minute guided tour takes you through downtown Newport, along the Newport Waterfront, down Ten-Mile Ocean Drive, and around the Bellevue Mansion area.
As you drive past all these places, your guide will narrate over the trolley intercom and teach you about the history of the town.
You can also upgrade your ticket to include a visit to the Breakers Mansion if you want to enter it!
That adds another 90 minutes to your tour and it definitely worth it to experience this iconic building.
There is one tour per day with an ADA-compliant wheelchair lift, and you need to contact the tour provider for more information on booking this tour.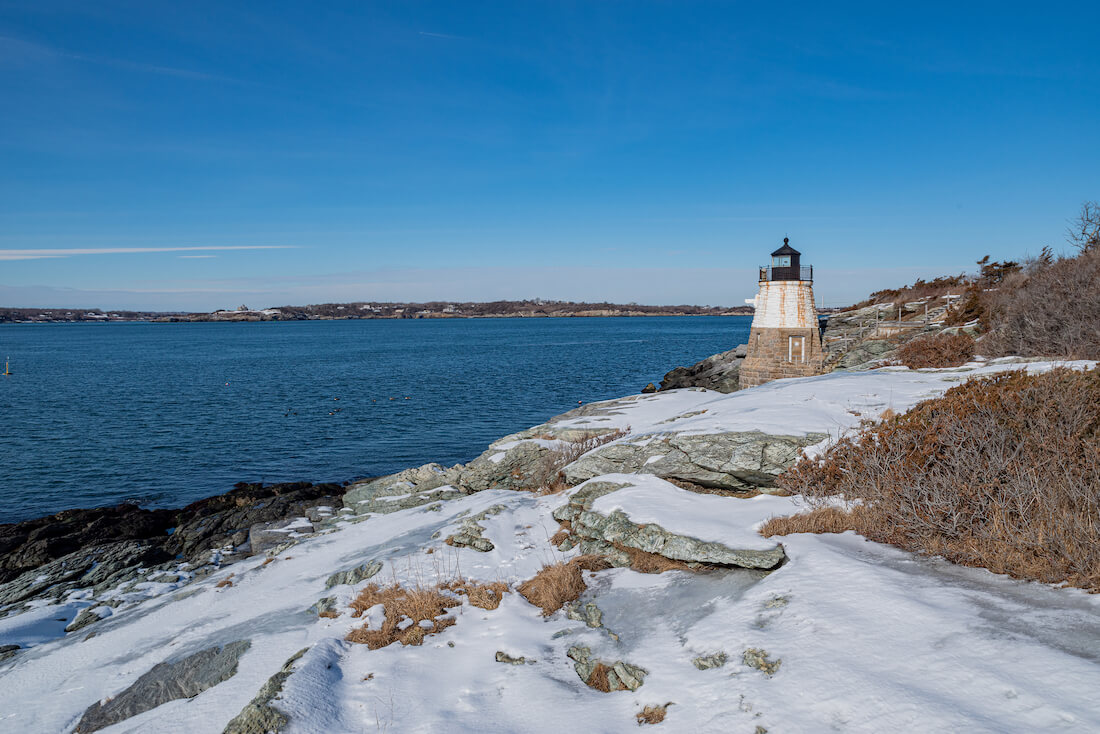 Rhode Island Winter Weather
Rhode Island winters get cold and snowy, but it is still possible to do all the fun activities on this list regardless of the weather!
Even though it is a small state, the average snowfall varies depending on the region.
On Block Island and on the southeast shores of Narragansett Bay, the average snowfall is just 20 inches per year, and sometimes less in the more mild winters.
But, if you are in the western part of the state, you can expect between 40 and 55 inches of snow yearly.
The west and northern parts of the bay, like Providence, see around 25 to 30 inches of snow annually.
Temperatures during the winter in Rhode Island can get quite cold at night.
The high temperature is only below freezing (32 degrees Fahrenheit) between 20 and 40 days per year, depending on where in the state you are.
Final Words
Did this help you plan your trip to Rhode Island this winter? We hope!
Drop your favorite RI winter things to do in the comments below.
Rhode Island Destinations