This article has links to products and services we love, which we may make commission from.

Discover all the fun and amazing things to do in The Ocean State on our ultimate Rhode Island bucket list.
Located in the New England region, Rhode Island is the smallest US state, offering over 400 miles of scenic coastline.
Despite its small size, this place is packed with rich history, vibrant culture, and natural beauty.
Picture this: sandy beaches stretching as far as the eye can see, picturesque lighthouses dotting the coastline, and vibrant towns teeming with arts, history, and mouthwatering culinary delights.
If this gets you excited, get ready to check out all the fun experiences and lovely destinations in Rhode Island on this list.
For easier navigation, we grouped the attractions by town or cities where they are located.
You may also like our list of the best places to visit in RI and things to do there in fall or winter.
Free Rhode Island Bucket List
Block Island Bucket List
Get ready for a slice of paradise as Block Island welcomes you with its pristine beaches, picturesque lighthouses, and laid-back island vibes.
Whether you're looking to relax under the sun, embark on outdoor adventures, or simply indulge in local delights, this place offers many enjoyable activities in Rhode Island.
Check out the Southeast Lighthouse.
Visit the Mohegan Bluffs.
Enjoy a romantic dinner at Restaurant 1879.
Visit Jessie Edwards Studio to admire art from over 30 artists (open from May to Dec and by appointment only in the winter months).
Eat at The Oar.
Soak up the sun on the small and secluded Mansion Beach.
Buy yourself something special at Star Department Store.
Stop for something to eat at Kimberly's.
Feast on fresh seafood at The Beachhead Restaurant.
Connect with nature on the Greenway Walking Trails.
Dine at Block Island Oyster Bar and Grill.
Find some inner peace at the Sacred Labyrinth.
Check out Settler's Rock.
Explore the North Lighthouse.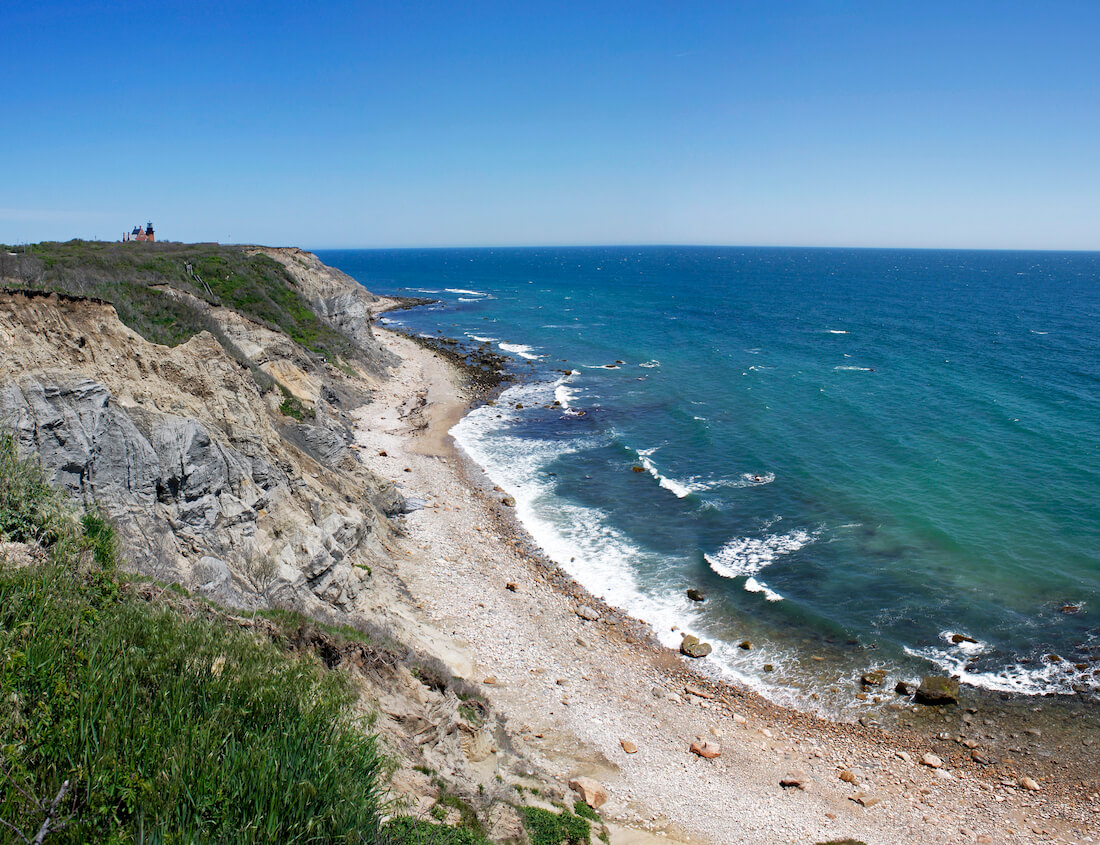 Narragansett Bucket List
Prepare to be captivated by the coastal charm of Narragansett, where sandy beaches and a vibrant seaside atmosphere await you.
Check out the list of activities below and discover why it's worth being added to your Rhode Island summer bucket list!
Catch some waves or soak up the sun on Narragansett Beach.
Learn about Rhode Island history at the South County Museum.
Check out what events are on at The Towers.
Treat your tastebuds to a meal at Coast Guard House.
Wander around Galilee and take in the beaches, ice cream, and fresh seafood.
Spend a night or two at Fishermen's Memorial State Park and Campground.
Have some fun at Adventureland Family Fun Park.
Grab a wrap at Gansett Wraps.
Sign up for an art class at Create! Color Art Studio.
Visit Point Judith Lighthouse.
Satisfy your sweet tooth with a treat from Colvitto's Pizza and Bakery.
Take a lesson with Peter Pan Surf and Stand-up Paddleboard Academy.
Spend time on the water with Narrow River Kayaks.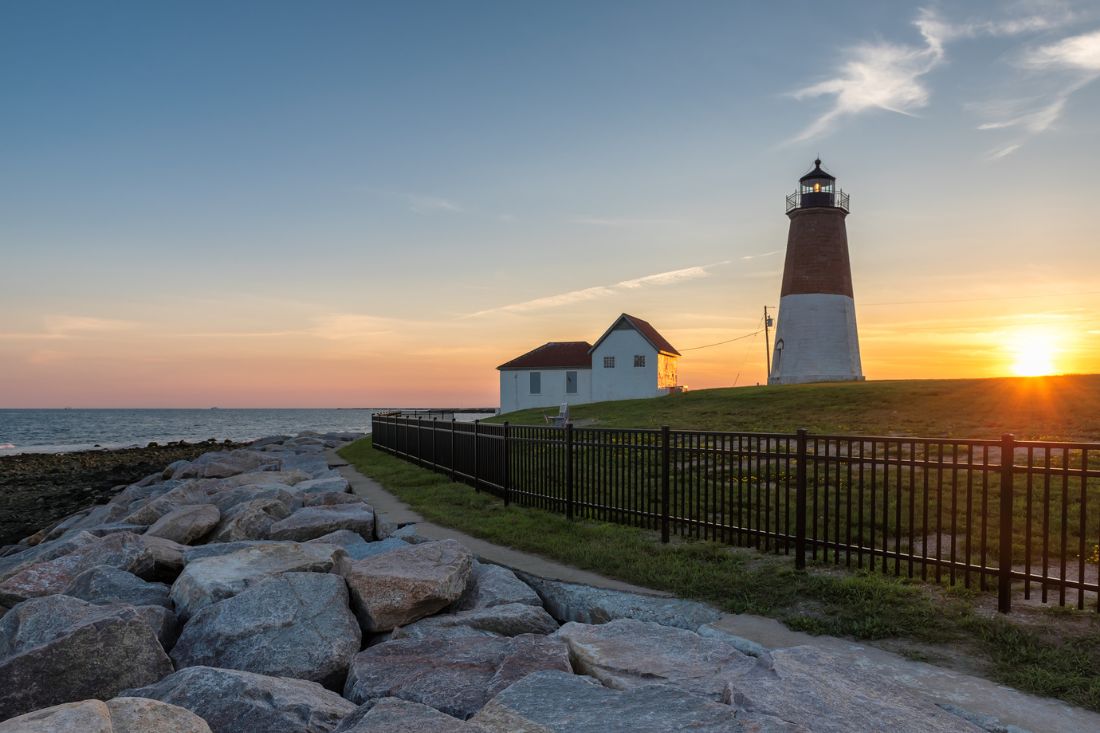 Newport Bucket List
From touring the historic mansions to strolling along the iconic Cliff Walk and indulging in world-class dining, Newport offers a unique blend of history, natural beauty, and seaside charm.
It's a destination that deserves a spot on your list of the best things to do in Rhode Island.
Explore Newport on a scenic trolley tour.
Hike the Cliff Walk.
Enjoy the beach at Easton's Beach.
See a show at the Newport Playhouse and Cabaret.
Check out The Elms, which is a historic landmark.
Fill your belly at Cru Café.
Visit the International Tennis Hall of Fame Museum.
Take a scenic self-driving audio tour.
Visit the mansions, to see how the other half live.
Explore Fort Adams State Park.
Visit the oldest Synagogue in the USA, The Touro Synagogue.
Admire the historic St. Mary's Catholic Church, this is where JFK and Jackie Kennedy were married!
Dine at Mamma Luisa Restaurant.
Explore the Sailing Museum.
Stroll along Bowen's Wharf.
Try lobster roll from The Mooring.
Spend time on the water with Gansett Cruises.
Visit the shops and cafes on Thames Street.
Shop at Anchor Bend Glassworks.
Find something tasty and unique at Newport Jerky Company.
Have some fun at Ryan Family Amusements.
Enjoy a sweet treat from The Newport Fudgery.
Enjoy the nightlife at Newport Blues Café.
Have a picnic at Battery Park.
Look for a treasure to take home at Aardvark Antiques.
See the graves of some of Rhode Islands' first settlers at Newport Island Cemetery.
Stop to eat at Pour Judgement.
Grab lunch at Scratch.
Rent a scooter or other fun gear from Scooter World.
Indulge in self-care at The Bodhi Spa.
Grab a sweet treat at Kilwins.
Eat at Brick Alley Pub.
Go on a scavenger hunt
Check out the Newport Art Museum.
Stretch your legs at Touro Park.
Dine at Jo's American Bistro.
Admire the local wildlife of Newport on a seal watching and harbor cruise.
Spend an afternoon at Newport Craft Brewing and Distilling Co for a tasting.
Explore Miantonomi Memorial Park.
Feast on Indian Cuisine at Curryland.
Take in the ocean views with mimosa on this scenic cruise.
Do some snorkeling at Gooseberry Beach.
Learn something new at The Rough Point Museum.
Tour a real castle and visit Belcourt of Newport.
Enjoy a gourmet French meal at Restaurant Bouchard.
Take a hike at Ballard Park.
See Rhode Island from a birds-eye view on a Newport Helicopter Tour.
Check out Rose Island Lighthouse.
You may also like our list of things to do in Newport, romantic activities in Newport, and Christmas in Newport.
Pawtucket Bucket List
Have some fun and learn something new at the Electromagnetic Pinball Museum.
Enjoy some spirits at Rhode Island Spirits and White Dog Distilling.
Catch a live band at The Met.
Wander around the Candita Clayton Art Gallery.
Sample some brews at Crooked Current Brewery.
Explore the Slater Memorial Park.
Catch a game at McCoy Stadium.
Visit the Smug Brewing Company and Bucket Brewery for a brew.
Dine at Garden Grille.
Test your skills at Lock and Clue Escape Rooms or Escape Room Rhode Island.
Eat at 10 Rocks Tapas Bar and Restaurant.
Dust off your bowling shoes at Breaktime Bowl and Bar.
Sign up for a fun night out at Paint and Vino.
Start your day off with Breakfast from Plouffe's Cup N Saucer.
Indulge in fresh baked goods from Bachini's Bakery.
Satisfy your taste buds at Bella Pasta Restaurant.
Shop crystals and candles at Intentions by Christina.
Providence Bucket List
Get ready to immerse yourself in the vibrant capital city of Rhode Island, Providence– where history, culture, and culinary delights collide.
From exploring historic landmarks and fun neighborhoods to indulging in the thriving culinary scene and attending captivating arts events, this is one of the places to see in Rhode Island that offers a diverse array of experiences for every traveler.
Take a bus tour of the city.
Or explore Rhode Island on a guided full-day bus tour.
Check out what shows are playing at the Providence Performing Arts Center.
Explore the Rhode Island School of Design Museum of Art.
Eat at Gracie's.
Find something sweet to eat at Ellie's.
Get a history lesson at Rhode Island State House.
See what is happening at The Vets Theater.
Shop at the Providence Place Mall, which has 150 stores to browse.
Walk around Water Place Park.
Watch the flames over the water in awe during WaterFire.
Enjoy Burnside Park.
Have a nice dinner at Hemenway's Restaurant.
Walk or bike through Swan Point Cemetery.
Stop for a coffee or sweet treat at Seven Stars Bakery.
Spend a few hours at the Providence Children's Museum.
Visit the John Brown House Museum.
Stroll through Brown University and pretend to be in a Gilmore Girls scene.
See historic books at The Providence Athenaeum.
Explore the Annmary Brown Memorial Art Museum.
Admire the historic First Unitarian Church of Providence.
Eat at Circe Restaurant and Bar.
Savor a meal at Parkside Rotisserie and Bar.
Enjoy the gardens at Roger Williams Park Botanical Center.
Spend an afternoon at The Museum of Natural History and Planetarium.
Let loose at Roger Williams Park Carousel Village.
Chow down on chicken and waffles from Elmwood Diner.
Wander around the award-winning Providence Flea Market.
Satisfy your sweet tooth at Pastiche Fine Desserts.
Enjoy fresh seafood from Providence Oyster Bar.
Buy some local goods at Hope Street Farmers Market.
Grab a bagel from Rebelle Artisan Bagels.
Enjoy a coffee from New Harvest Coffee Roasters.
Have some Chinese food at Chengdu Taste.
Have some fun at The Great Escape Room.
Lace up your ice skates at the Fleet Skating Center.
Visit the Holocaust Education and Resource Center of Rhode Island.
Enjoy Asian Cuisine at Wara Wara.
Take a boat tour with La Gondola.
Test your skills or learn something new at Archery Games PVD.
Book your tickets for the Rhode Island Philharmonic Orchestra.
You may also like our guide to the romantic things to do in Providence.
North Kingstown Bucket List
Nestled along the picturesque shores of Narragansett Bay, North Kingstown captivates visitors with its coastal beauty, charming villages, and rich maritime heritage.
From exploring historic Wickford Village to enjoying activities like boating and kayaking, experience exciting Rhode Island outdoor activities and indoor destinations when you visit this place.
Visit the Gilbert Stuart Museum and experience a working mill.
From June to October, visit The Casey Farm.
Let the kids run off some energy at Wilson Park.
Dine at Shayna's.
Explore Wickford Village.
Enjoy an evening of bowling at Kingstown Bowl.
Sit down for a meal at Coal Fired Pizza.
Start your day off right with a hearty meal from Breakfast Nook.
Slurp on lemonade from Del's Lemonade.
Get out on the water with the Kayak Center of Rhode Island.
Relax at the Tranquility Day Spa.
Learn about the history of Smith's Castle.
For an exciting list of what to do in Rhode Island in the outdoors, check out our guide to hiking in RI.
South Kingstown Bucket List
Looking for more Rhode Island activities?
Whether you're looking to catch a wave at one of the stunning beaches or immerse yourself in the vibrant cultural offerings, South Kingstown has something for everyone.
Enjoy a peaceful day at East Matunuck State Beach.
Check out Skip's Dock.
Feast on fresh seafood at Matunuck Oyster Bar.
Visit the Farmer's Daughter Farm for local produce and fresh flowers.
Try some brews at Proclamation Ale Company.
Go for a bike ride on the William C. O'Neill Bike Path.
Explore the Carpenter's Grist Mill.
Get a history lesson at the World War II Foundation Global Education Center.
Savor a sweet treat from Brickley's Ice Cream.
Climb the Hannah Robinson Tower.
Break a sweat at Rock Spot Climbing.
Westerly Bucket List
Westerly, RI is located along the southern coast of Rhode Island, positioned near the state's border with Connecticut.
Whether you're seeking a beachside retreat or looking to explore the coastal wonders of Rhode Island, Westerly's location makes it the perfect place for your seaside adventures- where you can unwind and have fun.
Explore Napatree Point Conservation Area.
Sip on some handcrafted beer from the Grey Sail Brewing of Rhode Island.
Try the wines and ciders handcrafted at Tapped Apple Cidery and Winery.
Visit the Westerly Armory.
Have fun learning about sharks at the Living Sharks Museum and Research Centre.
Have some fun at the Atlantic Beach Park.
Walk around Dr. John Champlin Glacier Park.
Grab something to eat at Two Little Fish.
Spend some time at Manfredi Farms.
Spend an afternoon on the patio at Langworthy Farm Winery.
Check out the Dunns Corner Market.
See the work of local artists at The Black Duck Gallery.
Check out what bands are playing at the Knickerbocker Café.
Look into what events are happening at the Westerly Library and Wilcox Park.
Eat at The Brazen Hen.
Get spooked with Seaside Shadow's Downtown Westerly ghost tour.
Get yourself a new book at Savoy Bookshop and Café.
Grab a meal or check out the nightlife at The Malted Barley.
Relax at the Vintage Cigar Lounge and Club.
Rent a bike for the day from Napatree Bikes.
Find something tasty at Maize n Manna Wholefoods.
Relax at Life Essentials Wellness Center.
Take a boat tour with Sail Trim Again.
Spend some time in the water with Paddle Surf.
Go for a helicopter ride with Helioblock.
Final Thoughts
And that's it for our RI bucket list- we hope we've inspired you to add these Rhode Island adventures for your next trip.
Don't forget to share your thoughts on your favorite Rhode Island experiences in the comments below.
Rhode Island Destinations