This article has links to products and services we love, which we may make commission from.

Heading to Portland Maine this winter? Enjoy all the winter-themed activities, from festive events to snow- and ice-filled fun! The city offers plenty of outdoor options alongside cozy indoor retreats when you need to warm back up.
If you're planning more winter fun, check out our guide to Maine in winter for even more suggestions.
Heading elsewhere? Get all the details on winter in New Hampshire, too.
New England is beautiful in all four seasons, but winters can certainly add an extra magical feel to a place.
Whether freshly blanketed in snow or glistening with holiday lights and good cheer, Portland is a beauty all season long.
Enjoy the winter months and then plan your next seasonal visit to enjoy the changing views and vistas!
Check out our guide to Portland in the fall and our summer in Maine planning guide for more recommendations.
Fun Things to Do in Portland, Maine in the Winter
Ice Bar at the Portland Harbor Hotel
The Ice Bar is one of the unique things to do in Portland, Maine, during winter.
The Portland Harbor Hotel transforms into a winter wonderland, and the highlights are the outdoor ice bars.
You can get martinis served from ice luges, enjoy hors d'oeuvres, and dance to the live DJ.
And there is a fire pit to keep you warm and other cocktails available.
If you are visiting Portland, Maine, in January, the Ice Bar is a must-visit.
Just be sure to dress warmly!
Portland Ballet
One of the best things to do in Portland ME in December is to go see the Portland Ballet (517 Forest Ave Suite #2).
Every holiday season, they put on performances of the iconic Nutcracker.
The show is good for people of all ages as you watch the dancers tell the story of a young girl and her journey to the Land of Sweets.
The show is a great way to get into the Christmas spirit, or you can catch other shows throughout winter.
Portland Symphony Orchestra
The Portland Symphony Orchestra (85 Exchange Street 4th Floor) also puts on a Christmas performance every year in December.
The show is a tradition at the symphony, as it has been put on for decades.
The orchestra plays a variety of Christmas hits and classics.
Maine Narrow Gauge Railroad Co and Museum
Maine Narrow Gauge Railroad Co and Museum (49 Thames Street) offers scenic train rides year round, but the coolest is the Polar Express train ride that runs in the winter in Portland, Maine.
Once you board the train, you are served cookies and hot chocolate and enjoy Christmas music on your way to the North Pole.
Santa also visits the train and gives kids a silver sleigh bell as an early Christmas present.
And the train cars have some of the best decorations in Portland, ME.
Take a Walking Tour
You might think winter is too cold for a walking tour, but it's actually the best time, especially if you love the snow.
In winter, you will get to explore the beautiful, snow-covered city of Portland, ME, while learning about and experiencing the city.
The Old Port Culinary Walking Tour is a great tour option, where you will learn about some of Maine's top food.
The walking tour is a great tour to take in the winter since you will be stopping inside to try food and drinks, and the only time outside is the walk between places.
Another option is the 2-Hour Guided History Tour which covers the 200-year history of the town.
This tour is outside almost the entire time, but it runs rain or shine… or snow!
So bundle up and get ready to learn about the town's history and see just how pretty it can be in the winter.
The tour even ends with a sweet treat, so you have something to look forward to.
L.L. Bean Outdoor Discovery Programs
The L.L. Bean Outdoor Discovery Programs run in winter every year throughout the state of Maine, and there are some in Portland.
One of the events is at Bissell Brothers Brewing, so you can warm up and make some new friends over a cold beer.
They also have events at the Portland Museum of Art to add some cultural experiences to your winter.
If you want to explore outside of Portland, you will find plenty of other L.L. Bean programs where you can ski, snowshoe, snow tube, and more.
Ice Skating at Thompson's Point
The Thompson's Point Depot Pavillion (207 Thompson's Point Road) transforms into an ice rink every winter.
The large rink overlooks the water, and they also offer concessions.
Ice skating is ideal for families, couples, or solo travelers looking for some winter-themed fun!
Check out our full guide if you're looking for more Portland date ideas.
Portland Maine Winter Festival
Every winter Portland, Maine, hosts the Carnaval ME festival.
The festival runs for a week and a half in February and features live music, local food and drinks, and ski and snowboarding performances.
There are also a lot of activities for kids, like face painting, ski lessons, winter games, and ice carving.
The event is put on to benefit WinterKids, a non-profit organization encouraging kids to get outside in the winter.
Lighthouse Viewing
The coast of Maine is known for its many beautiful lighthouses, and they make for a lovely scene in winter, too!
Check out cute little Bug Light in South Portland, just 4 miles from the Waterfront District.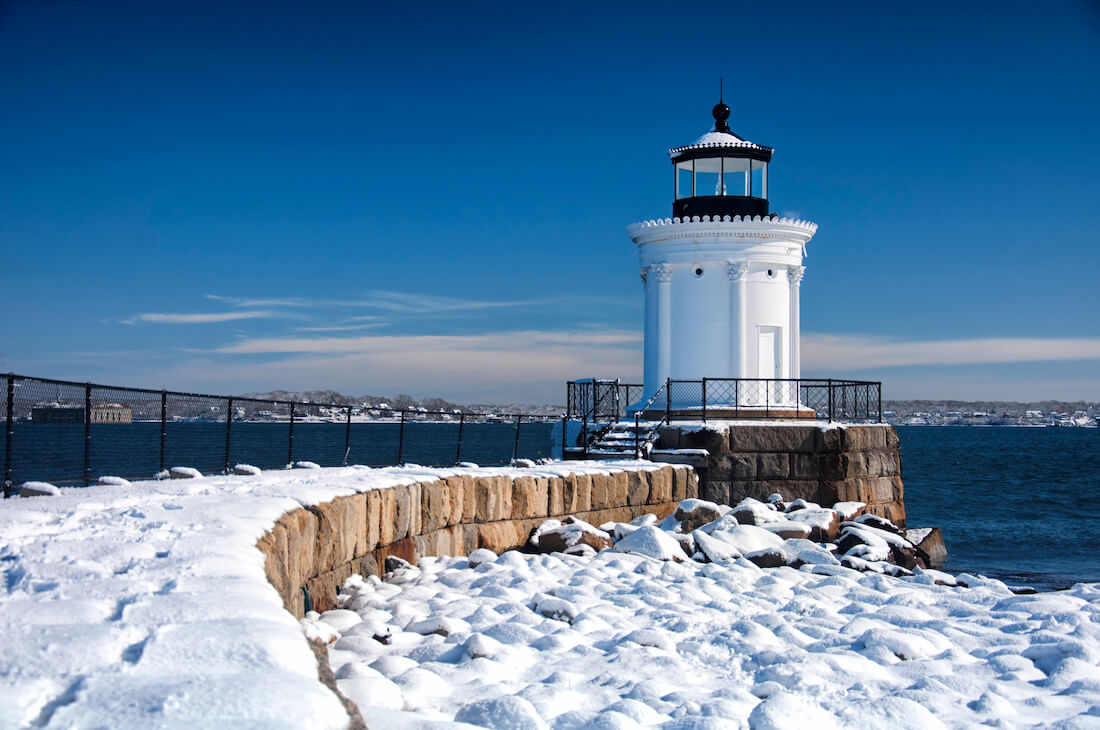 Or head slightly farther to the iconic Portland Head Light, another mile down the coastline.
Set in Fort Williams Park, this is a popular viewing point all year-round!
Sledding in Portland Maine
Sledding is one of the most iconic things to do in winter in Portland — and throughout New England!
If you're in Portland when there's a fresh blanket of snow on the ground, head to these spots with anything that will glide downhill.
Riverside Golf Course
In the winter, Riverside Golf Course (1158 Riverside St) transforms into a wonderland of snow-covered activity.
If you're looking to go sledding, you can enjoy 24/7 access to any slopes on the property (just please stay off any roped-off areas).
Since there isn't just one designated hill, you're likely to find a great spot without the big crowds.
They also have outdoor activities like snowshoeing, fat biking, ice skating, and cross-country skiing.
No rentals are available, however, so BYO gear for whatever you plan to do.
Payson Park
Another place to sled in Portland is Edward Payson Park, which is just north of Back Cove.
The sled area is pretty big, and the views from the hill are good, too.
Eastern Promenade
You can also sled at the Eastern Promenade on the East End of Portland.
It is steep, so check it out if you want to fly down the hill on your sled!
Indoor Things to Do in Winter in Portland ME
Holy Donut
The Holy Donut is a good place to grab a donut and a hot drink to warm up after all your fun outdoor activities.
They have dozens of different flavors of donuts to choose from and organic coffee and tea.
There are two Holy Donut locations in Portland, one at 177 Commercial St. and the other at 194 Park Avenue.
The Children's Museum & Theatre of Maine
Visiting The Children's Museum & Theatre of Maine (250 Thompsons Point Rd) is one of the best things to do in Portland, Maine, in winter with kids.
There are a lot of interactive and educational exhibits for kids to learn and play, including light shows, water tables, and even seeing their on-site bees busy at work.
See a show at Maddy's Theater, which is the oldest continuously operating children's theater in the United States!
Booking your tickets in advance is highly recommended for the Children's Museum & Theatre of Maine.
Southworth Planetarium
The Southworth Planetarium is at the University of Southern Maine (Science Building, 70 Falmouth Street).
The planetarium puts on films and shows about space, telescopes, and the planets.
Or, you can attend a lecture on a variety of space topics.
Check the schedule to plan which experiences interest you most.
Bayside Bowl
Bowling at Bayside Bowl (58 Alder St) is one of those classic Portland Maine winter activities!
They have 20 bowling lanes, a bar, and a restaurant to keep the whole family entertained.
There is also often live music and fun events happening, in addition to their regular bowling leagues.
State Theatre
The State Theatre (609 Congress St.) has a lot of live events throughout the winter, like music and comedy.
You can enjoy the full bar during the show or get food like pizza from Portland Pie Company or some Little Lads' popcorn.
Portland Museum of Art
The Portland Museum of Art (7 Congress Square) has a collection of more than 18,000 pieces in their collection.
They rotate the exhibits so you can see different works whenever you visit the museum.
And they host special events like films, new exhibition openings, and lectures.
Portland Ovations
The Portland Ovations (120 Exchange St) is an organization that puts on shows all over Portland.
In the winter, they have plenty of shows where you can get out of the cold weather.
They have a variety of shows, including broadway, theater, dance, music, and family shows.
Breweries in Portland Maine
There are several breweries where you can cozy up during the winter in Portland.
This city is known as a foodie and microbrew destination, so stay warm indoors during cold weather with a few brews.
Great Lost Bear
The Great Lost Bear (540 Forest Ave) has been open for over 40 years.
They have dozens of beers on tap from many breweries in Portland, Maine, and all over New England.
Bunker Brewing
Bunker Brewing (17 Westfield Street, Unit D) has a spacious tap room where you can enjoy their various beers.
Some unique beers include nitros, a beer with maple syrup, and a brown ale.
Rising Tide Brewing Company
Rising Tide Brewing Company (103 Fox St) in Easy Bayside is a family-owned brewery with endless beers on tap.
They use local grains to brew their beers and partner with a local farm to brew a special beer using their hops.
It's a fun spot for a social gathering to warm you up after a day out in the snow!
New Year's Eve in Portland, Maine
All the bars and restaurants in Portland, Maine, are open and ready to ring in the new year.
But, there are a few unique places you can go to have a memorable night.
Arcadia National Bar
Arcadia National Bar (504 Congress St.) has food and drinks, like any bar, but they also have games.
The arcade games are a great way to have fun until the clock strikes midnight, then keep the gaming going into the new year.
Start a brand new year with laughter and fun — it's the best way to celebrate!
Portland House of Music
The Portland House of Music (25 Temple Street) also has live music on New Year's Eve that you can jam out to until midnight.
Ri Ra Irish Pub
Ri Ra Irish Pub (72 Commercial Street) is another fun place to spend New Year's Eve in Portland, Maine.
They have dozens of beers, wine, and cocktails to choose from, plus a full food menu and live music so you can welcome the new year partying like the Irish.
Snow in Portland
The average snowfall in Portland ME is 61 inches per year, with the typical year having anywhere from 50 to 70 inches.
Sixty-one inches is a lot of snow, but it should not deter you from visiting Portland, Maine, in winter…
In fact, so many of these fun activities can be enjoyed in the snow, so don't let it deter you, embrace the winter fun!
Final Words
Did this help you plan your winter trip to Portland? We hope so!
Let us know your favorite winter things to do in the comments below.