This article has links to products and services we love, which we may make commission from.

Are you ready for a city adventure in Boston?
While there's so much to do– from exploring historic monuments, shopping on Newbury Street, and strolling along the waterfront– it's no secret that parking in Boston can be a massive pain.
Luckily, there are lots of options, and affordable deals, as long as you do a little research and prepare ahead of time.
We've got you covered with all the best parking options, from the airport to the major neighborhoods; from the iconic destinations to general parking advice, our comprehensive guide makes parking in Boston a breeze.
Get ready to navigate the streets and garages like a pro…
You can also check out some awesome free things to do in Boston during your trip.
Boston Logan Airport Parking
This list will explore lists of parking spots you can find at the Boston Logan International Airport.
You'll also be introduced to nearby parking located just a few minutes' drive away from the airport.
Boston Logan Airport Parking
For official Boston airport parking, you can reserve short and long-term parking spots through Boston Logan's website.
If you're looking for an ideal Boston Logan long-term parking place, reserve your spot at the Central Parking lot to have an easy access point for all terminals.
There is also an Economy Parking lot, which is generally cheaper and features a shuttle bus service that will take you to and from the airport and the lot.
You can also check current lot availability and reserve a spot through their site.
Boston Airport parking costs may vary depending on the parking area you pick, but you usually can save money by reserving a spot ahead of time rather than on the day of your trip.
For the terminal parking area, the parking fee starts at $8 for the first hour and can go up to $38 if you're parking for 24 hours.
If you want long-term parking, an additional fee of $38 per day applies on top of your 24-hour parking fee.
Economy parking at the Boston Logan Airport can be a few dollars cheaper if you're parking for more than an hour, with rates ranging from $8 for the first hour to $25 for 24 hours of parking.
If you're planning to park for the duration of your trip, say one week, it would cost you around $203.
Parking Near Boston Logan Airport
If you don't want to put your car at the airport, you can find off-site parking areas and facilities near the Boston Logan Airport.
You can do your preflight parking in Boston at 20 Tomahawk Drive Parking, located around 2.8 miles from the airport, which is about an 8-minute drive.
Parking costs can be a lot cheaper here, though you'll need to figure out a way to get to your terminal without your car.
For a more convenient option, the PreFlight Airport Parking Boston (111 Eastern Ave) offers reserved parking that's just 1.4 miles from the airport.
They provide a complimentary shuttle service that runs every 7 to 10 minutes with a parking fee of around $26.95 per day.
Park Shuttle and Fly also offer off-site parking, with a daily parking rate of $29 plus a shuttle bus ride that can take you to the airport in two minutes.
Neighborhood Parking Options
South Boston Parking
There are three popular parking garages in South Boston: Downtime Parking (139-147 W Fourth St), South Station Bus Terminal Parking Garage, and South Boston Waterfront Transport (503 Congress St).
The Boston Convention Center Parking (415 Summer St) also offers parking during events.
You can check the schedule on their website and try to arrive early because the lot tends to fill up quickly.
Metered parking is also available along A St and D St.
There are also several blocks of free 2-hour parking between W Second St and W Broadway.
If you're coming to Boston for St. Patrick's Day, just know that parking in Southie can be a mess due to the parade route.
You may want to park farther out and plan to walk a little extra.
North End Parking
Some of the best parking in the North End is at three smaller garages: the North End Garage (600 Commercial St), the 34 Cooper St Lot, and Prince Street Boston Parking (Prince St and Causeway St).
There are also two parking lots on the wharf: ABM Sargent's Wharf Lot and the Lewis Wharf Lot, located on either side of the intersection of Commercial St and Fleet St.
The wharf parking lots are expensive, but there are many parking spaces available and they are central to the North End with a nice view of the water.
Parking Seaport Boston
If you're looking for a parking garage in Seaport, Boston, look no further than Seaport Place Parking Garage (One Seaport Ln).
Parking at this garage is convenient as it is open 24/7/365, with discount options for harbor cruises and motorcycles, in and out access for Seaport Boston Hotel guests, and multiple payment options available.
You can also find quite a few parking lots and garages between Congress St and the river, where you'll be able to drive around and shop for the best rates in that seven-block stretch.
As for metered street parking, you can try Seaport Blvd, Congress St, and Summer St.
East Boston Parking
What East Boston lacks in paid parking lots and garages, it makes up for it with tons of free street parking.
Check between Condor St to the north, Border St to the west, Bremen St to the east, and the E Boston Expy to the south.
You will have a hard time finding paid parking or secluded garages anywhere that isn't west over the Charles River, unfortunately.
Allston Parking
Allston is another neighborhood with tons of free parking.
It's a really large area, but the most popular spots to visit are along Commonwealth Ave and Cambridge St.
Both of these areas have lots of metered street parking and some free street parking.
Parking Downtown Boston
You might be surprised by how many parking options there are located in Downtown Boston.
There are more than 6,000 parking spots and garages throughout the neighborhood, so you probably don't have to worry about figuring out where to park your car.
The three largest garages are 33 Arch St Garage, 101 Arch St Garage, and 45 Province St Garage.
One of the best parking garages is the Government Center Garage Boston (125 Bowker St).
With daily deals and regular rate specials, you'll love the ease and convenience of this spot.
For metered and free parking, make sure you check the blogs between State St to the north and Essex St and Purchase St to the south.
Parking Near Major Boston Attractions
Visitors to Boston often find themselves frustrated while trying to find parking near the city's major attractions.
With so many people coming and going, it can be tough to snag a spot on the street or to find an available garage.
Fortunately, this list will discuss the city of Boston parking locations that are near the major attractions.
Museum of Fine Arts Boston Parking
Museum of Fine Arts in Boston (465 Huntington Ave) has three parking lots and garages with access on Museum Rd: the Huntington Lot (25 Museum Rd), the Fenway Lot (71 Museum Rd), and the Museum Road Garage (20 Museum Rd).
You'll find some of the most affordable parking options in the city in these lots; plus, all three are accessible and touchless.
You are also able to prepay for MFA Boston parking if you plan on staying 6 hours or longer.
Check out more information about museum parking at the MFA website.
Parking Near Boston Common
If you're looking to visit Boston Common with your own vehicle, you can find many parking spots near the park.
The Boston Common Garage (Charles St) is a few minutes walk from the park and can accommodate up to 1,350 vehicles.
Boston Common Theater District Garage (47 Boylston St) offers self-park and valet parking services starting at $8 during weekdays- plus, an ideal location if you're looking to explore not only Boston Common but Theater District as well.
Ritz Carlton Boston Common Parking (47 Boylston St) is just around a one-minute walk to Boston Common Park with self-parking rates that start at $8 for half an hour.
Only a few minutes away from the park, the AVA Theater District Garage (45 Stuart Street) offers parking with valet service for $20.
You can find metered parking available around the Boston Common on places like Beacon St, Charles St, and Tremont St.
You might be able to find free public parking in Boston at nearby intersections like the cross streets along Mt. Vernon St, though there are 2-hour time limits on each of the parking spots.
Boston Public Garden Parking
If you're looking to explore Boston Public Garden (4 Charles St), which sits just right next to the Commons, you can find convenient parking spaces around the area.
The Back Bay Garage (85 St James Ave) is one great option for parking as it is only a few minutes' walk to the Boston Public Garden and the Boston Common park.
Garages you can find along Boylston St like the Millenium Place Garage also offer convenient parking for your garden trip.
Parking Near Fenway Park
Even though it's a super popular spot, you won't find too many public parking garages near Fenway Park–there are a few, but they can be quite expensive.
The two nearest garages to Fenway Park are the Lansdowne Garage (49 Lansdowne St) with a parking fee starting at $8; and the Kenmore Lot (73 Brookline Ave) that's just about a 4-minute walk to Fenway Park and has a parking fee of around $5 for 2 hours.
If you don't mind walking, you can park at the Prudential Center for considerably less and walk about 0.8 miles to Fenway.
Boston University is just northwest of Fenway Park and you'll find some free parking along Bay State Rd after 5 pm and for a whole day on Sundays.
Boston Museum of Science Parking
The Museum of Science Boston also has a Museum Parking Garage (One Science Park).
The garage gets quite full, so you should plan on arriving early or in the later part of the afternoon for a better chance at parking.
It is not open 24 hours, but it is open in the early morning until late at night; you should be able to arrive during its open hours unless you plan on arriving in the middle of the night.
The parking rates are a bit expensive, but they are on par with the average all-day parking prices in Boston.
Boston City Hall Parking
Need to head to Boston City Hall but don't know where to park?
Luckily, Downtown Boston has a lot of parking options for your trip.
The three closest garages are at 125 Bowker St, 75 Somerset St, and 34 Tremont St.
You won't find any street parking in that area, so your best bet is to park your car in a nearby garage.
Prudential Center Boston Parking
The Prudential Center (800 Boylston St) in Boston is an iconic landmark filled with shops, restaurants, and amazing skyline views.
Lucky for drivers, the Prudential Center features its own parking garage with discounted rates for anyone who makes a purchase equivalent to lunch inside.
Their parking is massively discounted for longer stays, so plan accordingly to save some money.
They also offer evening and weekend discounted rates for events at Symphony Hall (301 Massachusetts Ave), Berklee (1140 Boylston Street Boston), Huntington Theater (264 Huntington Ave #4606), and Jordan Hall (30 Gainsborough St).
Mass Eye and Ear Boston Parking
Need to head to Massachusetts Eye and Ear (243 Charles St) for an appointment?
Luckily, you won't have to worry too much about parking!
Mass Eye and Ear has its own garage on Fruit St, and they will validate your parking for you, whether you choose self-park or valet.
Be sure to bring your ticket during your appointment because they'll ask for it at the lobby for validation.
Note that the garage is only open during business hours.
Plan ahead if you need to find a parking option for an extended period of time.
Parking on Newbury Street Boston
While there is metered street parking all along Newbury Street in Boston and each cross street for eight blocks, you're not guaranteed to find a spot on a busy day.
There aren't too many garages that are as close to Newbury Street as the Back Bay Garage (500 Boylston St) and 501 Boylston St Garage.
House of Blues Boston Parking
If you're driving to the House of Blues in Boston, you'll probably need to park in a garage.
Unfortunately, this venue does not offer a private garage, but they recommend Lansdowne Garage located next door.
Check out the Lansdowne Garage (49 Lansdowne St) for all your parking needs as there aren't too many alternatives nearby.
You might be able to find a metered parking spot on Van Ness St or Boylston St, as well.
There are also a few free parking spots on Ipswich St and Jersey St near the House of Blues, but they have a time limit.
Parking Near Boston Aquarium
The top parking garages near the Boston Aquarium are 50 Cambridge St Parking, the Boston Harbor Garage (270 Atlantic Ave), and the International Place Parking Garage (55 Purchase St).
The Boston Harbor Garage is closest to the aquarium and provides discounted parking validation to visitors with certain restrictions; stop by the membership to receive your validation.
The aquarium also provides an accessibility parking reference sheet for anyone who needs accommodations.
If you don't mind walking, there is a lot of metered street parking on almost every block between State St and Purchase St.
Boston Harbor Parking
Boston Harbor is a fantastic spot to sit by the water, enjoy the waterfront, and take in all Boston has to offer.
For parking, your best option is the Boston Harbor Garage (266 Atlantic Ave), a small garage with hourly rates, daily specials, and monthly parking options.
It's also close to restaurants like Legal Sea Foods (255 State St Long Wharf) and a few miles away from sites like James P. Kelleher Rose Garden (73 Park Dr).
If you are not able to reserve a spot ahead of time at Boston Harbor Garage, then try 299 Milk St.
As for street parking, there is limited free parking along the streets in the area, but you'll be much luckier finding a spot in a garage.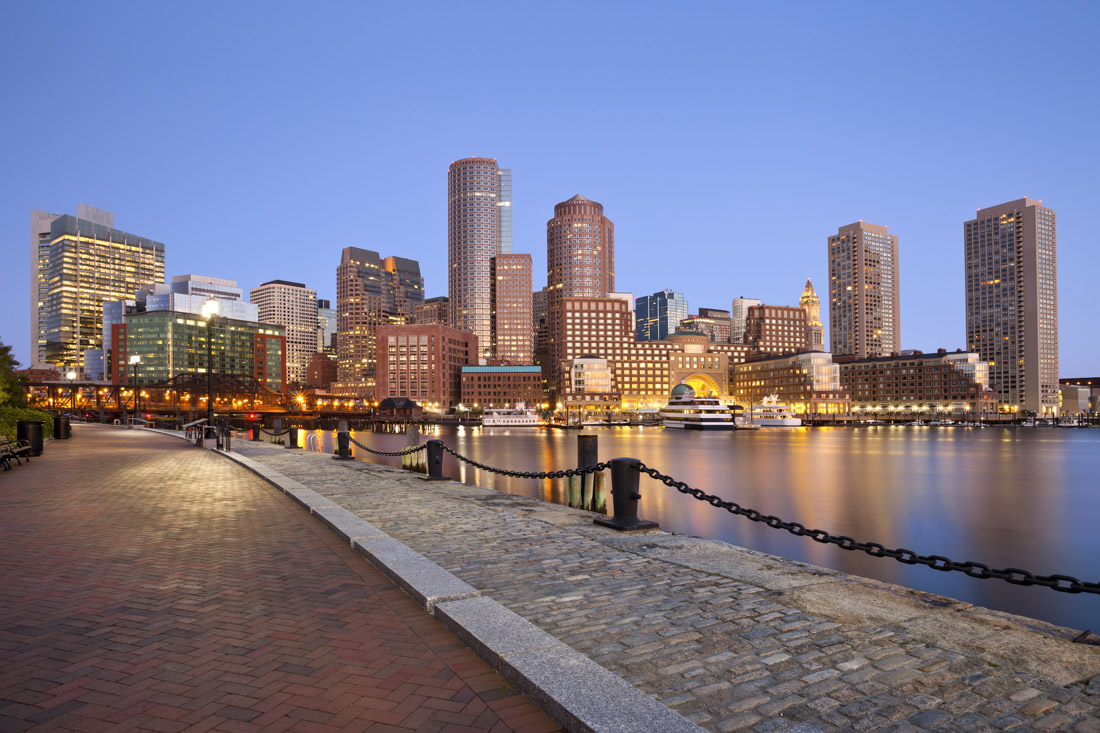 Parking Options for Boston Hotels
Parking areas are also available at some of the most popular hotels in Boston.
We also have a guide that can help you find where to stay in Boston.
InterContinental Boston Parking
If you are staying at InterContinental Boston (510 Atlantic Ave), you're in luck.
They offer free parking as well as valet parking with a daily fee.
Located right in the city's center, booking a room at the Intercontinental means you've got flexibility and ease of travel throughout Boston at your disposal.
Hyatt Regency Boston Parking
Located between the Theater District and the Financial District, the Hyatt Regency Boston (1 Ave de Lafayette) is a perfect starting point for all your Boston adventures.
You can self-park at the public garage next to the hotel for $32 for 2 hours.
The garage provides valet parking services as well for a slightly higher fee of $33 for parking up to 3 hours.
They also offer 24-hour parking at rates that are comparable to the daily rates in the surrounding area.
You also have in and out privileges at the garage if you need your car for traveling around the city.
General Parking Advice
The list below will discuss the different types of parking in Boston including locations where you can find one.
We'll also look at the most comprehensive and popular platforms used to find and locate parking in Boston as well as how to apply for a resident parking permit.
Free Street Parking in Boston
One of the neighborhoods with lots of free parking in Boston is Mission Hill.
You'll find lots of free parking in locations like 152-154 Parker Hill Avenue, 30 Sachem Street, and 32 Pontiac Street.
If you're staying at a hotel, note that most hotels in Boston offer their guests free parking, so check with them to make sure!
Cheap Parking in Boston
There is plenty of cheap parking in Boston if you know where to look.
One of the cheapest all-day parking options in Boston is the Boston Harbor Garage (270 Atlantic Ave)- $18 for a full day of parking.
The garage is close to the wharf and it even has in and out privileges.
Another inexpensive all-day parking option is the MBTA Haymarket Center Garage (136 Blackstone St)- with a 24-hour parking fee of $33.
This garage is quite close to some of the nicest restaurants in Downtown Boston like Mo'Rockin Fusion (100 Hanover St) and Paul Revere's Historic House (19 N Square).
For cheap metered parking near Downtown Boston, make sure you check Blossom St as well.
Overnight Parking in Boston
If you're hoping to park overnight in Downtown Boston, you have quite a few options.
You can consider these overnight parking options in Boston which are 45 Province St Parking, and Zero Post Office Square (112 Congress St).
It is important to note that these garages only allow you to enter and exit once; you can't leave and come back multiple times, which means you won't be able to use your car for your trip.
You can also try the Haviland Street Garage (7 Haviland Street), located near Fenway Park, where you can park your car overnight with an evening rate of $20 that's valid until the next day.
5 Well St parking area at the Folio Boston Condominium (80 Broad St) is also worth checking out as it is one of the only garages in Downtown Boston that offers in and out privileges for reservations made at least 24 hours.
Long Term Parking Boston
Neighbor is an online marketplace made to help you find cheap long-term parking in your neighborhood or for a long trip.
Simply search in the neighborhood you're staying in and choose from hundreds of spaces hosted by kind neighbors; you can even filter by price, size, and distance from a specific location.
Other parking lots offer monthly parking passes, like Sullivan Square Lot (5 Maffa Way) in the Charlestown neighborhood.
Pi Alley Garage (275 Washington St) is also a perfect option for monthly and long-term parking in Downtown Boston.
Monthly Parking Boston
Whether you're a Boston resident looking to rent a monthly parking spot, or you're a long-term visitor, there are lots of parking options available for you.
For at least $185/month, you can park your car at the Lafayette Garage (1 Avenue de Lafayette).
The place is right next to the Hyatt Regency Boston and a few-minute walk to attractions like Boston Common.
You can also consider a parking lot at 147 W 4th St, which provides an uncovered parking spot with a monthly fee of around $150.
If you need more information, you'll love this comprehensive guide on everything you need to know about monthly parking in Boston.
Boston Parking Meters
One of the best secrets about parking in Boston: all metered spots are completely free on Sundays, with no time limit.
You can also park for free at metered spots on all major holidays.
Plus, Boston parking meters are only enforced from 8 am to 8 pm during weekdays, which means if you're parking at night, you'll be able to park for free at a metered spot!
SpotHero Boston
SpotHero Boston is one of the best ways to look for paid, private parking ahead of time and at the last minute.
SpotHero is a digital marketplace that connects drivers with parking garages, lots, and valet services online.
All you've got to do is search your destination and travel date into their search engine and instantly browse tons of options, compare prices, and purchase your reservation.
You'll be able to show a parking ticket right from your smartphone, making SpotHero quick, easy, and painless.
Parkwhiz Boston
Similar to SpotHero, ParkWhiz Boston helps you locate affordable parking spots online or through a smartphone app.
With touch parking made easy, you can search in your desired area, compare rates, and make a reservation.
You can scan your mobile pass when you arrive and focus on the event instead of hunting for parking.
Parkopedia Boston
One more parking app and website: Parkopedia Boston is an easy online reservation system to find parking and reserve a spot ahead of time.
Simply search your destination, whether it's a specific place, iconic monument, or neighborhood.
From there, you can compare prices and place a reservation.
You'll be able to scan a mobile pass and park safely without having to worry about weaving through the streets looking for a spot.
City of Boston Resident Parking
You can find the "Resident Parking Only" signs on residential streets in most neighborhoods of Boston like South End.
The restrictions are intended to ensure that residents have access to parking.
If you are a resident of Boston, you can easily apply for a resident parking permit online.
You just need to prove your residency using a utility bill with your name and address on the piece of mail; you can also bring your signed lease.
It's important to apply for a resident parking permit because many residential streets require them, especially recently.
Display the sticker in the rear window, or, if your windows are tinted, on the front passenger window.
If you can't apply online, visit City Hall (1 City Hall Sq, Rm 224) to apply in person.
Final Thoughts
Boston is a city that's constantly on the go and parking can be a challenge, but we hope this guide has helped you find the parking spot you need.
Did we miss some locations you might know? Tell us in the comments below.
Our Boston Guides