This article has links to products and services we love, which we may make commission from.

Thinking of spending spring break in Orlando Florida this year? You certainly won't be alone in choosing one of the top spring break spots in the entire country! The key to enjoying your experience is planning ahead so you maximize your time and minimize the headaches.
Families, in particular, love heading to Orlando for spring break. There are plenty of other Florida destinations where more college students go to party, but this is a much more family-friendly option.
Because families with younger kids tend to head here, it also means that Orlando's spring break time spans a wide range.
It's busiest during Easter week when elementary through high school students are all off school for the week.
When Easter is earlier, the spring break season is shorter and therefore busier, so plan accordingly and book your accommodations and attraction tickets early!
You might also like our guide to Orlando on a budget to maximize your time without breaking the wallet.
To help inspire your trip planning, these are the top things to do on spring break in Orlando that you won't want to miss.
Spring Break in Orlando, Florida
To get the most out of your getaway, stay downtown and plan ahead with advance ticket purchases and early arrivals at any of the popular attractions.
You'll thank us later!
Disney World
No list of things to do for spring break in Orlando could ever be complete without the iconic Disney World.
It is, after all, the happiest place on Earth!
Whatever your kids' (or your) ages, everyone falls in love with Disney World.
Just know that spring break is one of the busiest weeks all year — so plan ahead!
Try to get there before it even opens to avoid spending too much time waiting in lines; also plan your rides ahead of time as best you can.
It might seem silly to be strategic about your day at Disney, but you won't regret being prepared for this special experience.
Check out the theme park maps to plan ahead.
Universal Orlando
You simply have to go to Universal Orlando on spring break!
The park is home to the incredibly popular Wizarding World of Harry Potter, plus a variety of rides from films like Men in Black, Despicable Me, and The Fast & the Furious.
Whatever ages your kids might be, Universal is the go-to spot for spring break in Orlando!
Don't miss the Despicable Me Minion Mayhem ride or the classic E.T. Adventure; older kids will love the Race Through New York with Jimmy Fallon.
Of course, because everyone wants to go do spring break at Universal Studios Orlando, you can expect crowds and long lines.
Plan to get to the park as early as possible to get in and enjoy the full day as much as you can; be sure to get your tickets early to avoid the lines.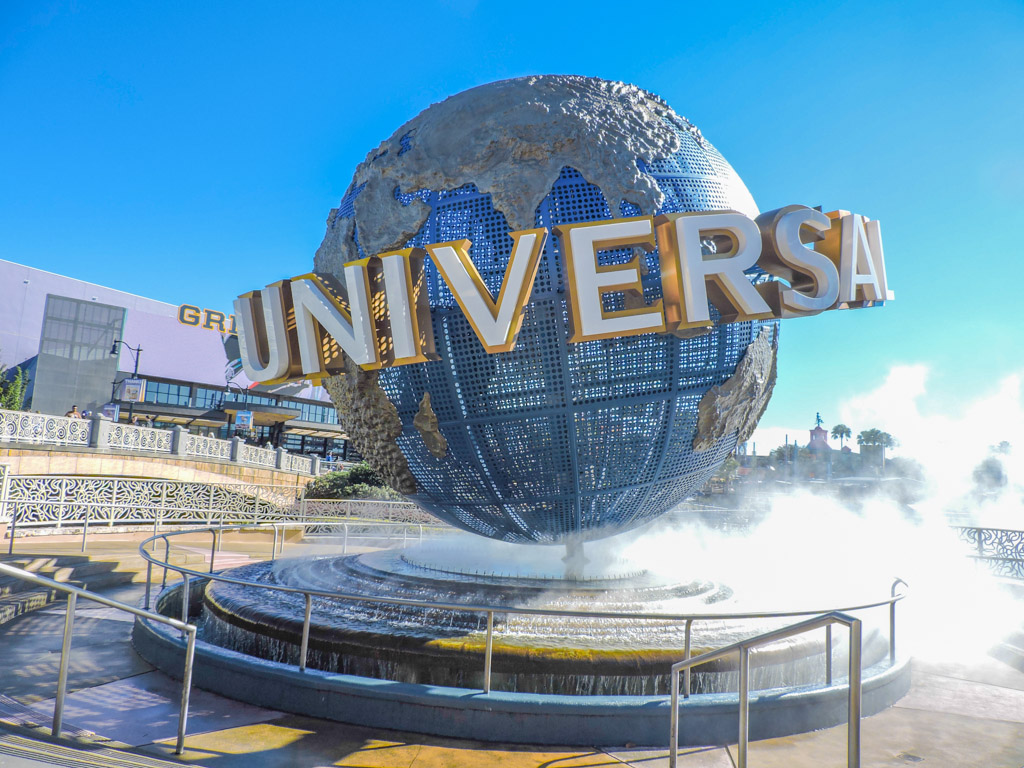 Universal's Volcano Bay
Because it's spring break, we're also calling special attention to Universal Studios' Volcano Bay Waterpark (6000 Universal Blvd).
Whether you're traveling from up north where the winter weather is still harsh or you're just a summer-loving water baby, Volcano Bay is super fun for everyone!
With some seriously epic water-based rides (think: rollercoaster, but on water) and some heart-pumping slides, this is the perfect spot for older kids who need some good old-fashioned family fun.
If your teens are all about bravado these days, dare them to try the Ko'okiri Body Plunge.
Volcano Bay is the perfect place for the whole family to cool off and play during spring break in Orlando.
Book your tickets in advance to avoid delays.
The Wheel at ICON Park
The Wheel at ICON Park (8375 International Dr) is always a popular attraction and spring break is no different.
The Wheel is a great way to enjoy the city views both day and night.
Icon Park is the home of the wheel and offers plenty of food, drink, and fun for the whole family.
Book your tickets here to skip the line.
Check out all our tips for things to do on International Drive in Orlando.
Pirate's Cove Adventure Golf
Located next to ICON Park, Pirate's Cove Adventure Golf (8501 International Drive) features 18 holes of the most exciting mini-golf in Orlando.
The whole family will have fun with all of their unique obstacles and holes.
Check out our favorite places to eat on I-Drive after you finish your mini-golf.
Madame Tussauds Orlando
Madame Tussauds Wax Museum (8387 International Dr) features a collection of life-like wax sculptures of your favorite celebrities.
This tourist attraction is a unique addition to your spring break plans that is sure to provide some once-in-a-lifetime photos for the whole family.
Everyone can see their favorite celebrities on a trip out to Madame Tussauds Wax Museum.
Book your tickets in advance to avoid the line.
Leu Gardens
Leu Gardens (1920 N Forest Ave) comes alive in the spring with a variety of seasonal flowers that are a delight to explore.
Enjoy a relaxing family stroll through the gardens or even go on a scavenger hunt to see who can find all of the unique plant life in the gardens.
The whole family can appreciate all the beautiful plant life native to Orlando at Leu Gardens, creating a relaxing family outing to counter the crowds at the theme parks and popular attractions.
The Winter Park Chain of Lakes
The Winter Park Chain of Lakes (410 Ollie Ave) is the perfect afternoon spring break adventure for families with kids who love the water.
Spring weather in Orlando is perfect for a day on the water, especially if you're coming from up north where it's been way too cold to enjoy being outdoors together.
Rent kayaks or paddleboards for the whole family to explore the six lakes on the Winter Park Chain.
Take a Hot Air Balloon Ride
One of the most unique experiences in Orlando has to be a hot air balloon ride with Bob's Balloons.
Spring offers the best weather for a hot air balloon ride over the area with the whole family, with typically reliable conditions for a perfect flight.
Hot Air Balloon tours offer views of the city skyline, all of the bustling amusement parks, and the gorgeous Florida landscapes.
If you want to give the kids something to talk about when they get back after spring break, a hot air balloon ride might do the trick!
Alternatively, leave the kids on terra firma and enjoy an adults-only ride; this is one of our recommended romantic things to do in Orlando that you might love.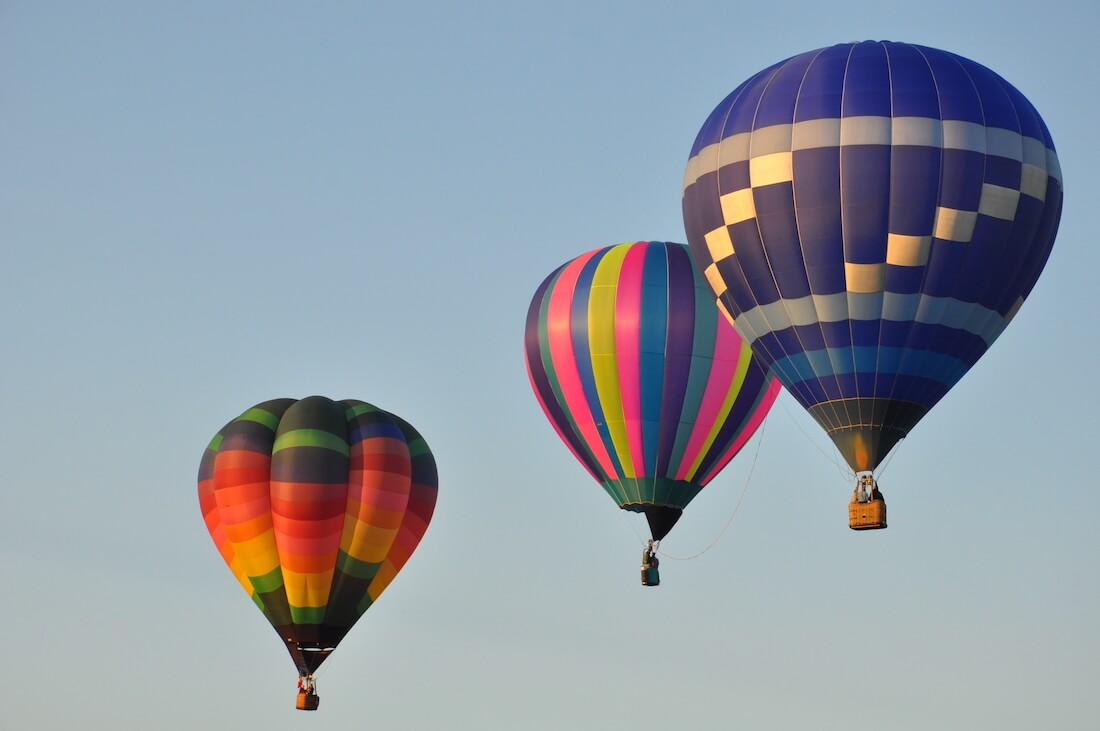 Dr. Phillips Center for the Performing Arts
The Dr. Phillips Center for Performing Arts (445 S Magnolia Ave.) is the best location in Orlando to see a family-friendly show.
The theater offers a yearly rotation of shows, with traveling acts including musicians, comedians, and magicians all on the line-up.
Find some spring break entertainment that the whole family can get excited about!
Orlando Spring Break Events
Depending on when exactly you're heading to Orlando for spring break, you might catch some fun events happening during the season!
International Flower and Garden Festival at Epcot
Epcot (200 Epcot Center Dr) hosts the International Flower and Garden Festival every spring throughout the park.
This is one of the can't-miss things to do in Orlando during spring break!
The festival features lovely floral beauty all around Epcot, with your favorite characters as topiary displays for perfect photo ops.
The Disney Parks are a great location for families looking to find some magic, and timing your trip for the Epcot flower show is just a bonus!
Spring Break Science Camp
The Orlando Science Center (777 E Princeton St) puts on Spring Break Camps in Orlando in March that are perfect for families looking to keep their kids' education going even in vacation mode.
The Orlando Science Center is a hands-on science museum that is one of the most fun indoor activities in Orlando during spring break.
The museum has something for everyone with hands-on exhibits designed for guests of all ages to learn something new.
Take it to the next level with a whole camp for the kids!
Camps run all day for preschool through 5th-grade students.
Note that the spring break camp follows the same break as the break for Orange County or Seminole County Public Schools
Orlando Museum of Art Spring Camp
The Orlando Museum of Art (2416 N Mills Ave) hosts a kid's camp during spring break in March for families looking to get creative.
The camp is open to kids in 1st through 5th grades and offers seven days of art activities to enjoy during spring break.
Parents can peruse the museum and appreciate the great collection of art while the kids get hands-on art instruction.
Mardi Gras at Universal Studios
Universal Studios (6000 Universal Blvd) hosts a Mardi Gras festival every spring which is the perfect event for spring break fun in Orlando.
The festival features a Mardi Gras Parade every day and holiday-specific performances that you won't want to miss, including performances from some of the biggest recording artists around.
The Mardi Gras festival is your one-stop event for food and fun from around the world.
Central Florida Fair
The Central Florida Fair (4603 W Colonial Dr) is a 10-day long fair at the beginning of March that features rides, food, and fun for the whole family during spring break.
Catch live music performances and play carnival games while celebrating local businesses in Central Florida.
Seminole County Fair
The Seminole County Fair (440 Hickman Dr, Sandford) takes place at the end of March into April and features local food vendors, carnival games, and rides for the whole family.
With over 30 rides and dozens of food vendors, the fair is a fun spring break event.
Spring Break Activities Near Orlando
If you're visiting Orlando for spring break, you should also get out of the city to enjoy the many awesome spots just a short trip away.
These are some of our favorite recommendations.
Tour the Picturesque Bok Tower Gardens
Bok Tower Gardens (1151 Tower Blvd, Lake Wales) is a must-visit location for all spring breakers looking for one of the most picturesque places near Orlando.
Take your family on an adventure to hear the sounds of The Singing Tour located in the center of the gardens.
Bok Tower Gardens can even serve as the backdrop for your next family photo.
Explore Wekiwa Springs
Wekiwa Springs State Park (1800 Wekiwa Cir, Apopka) is the perfect location to escape the hubbub of downtown Orlando during spring break.
The waterfalls and swimming areas at Wekiwa Springs are relaxing and fun for the whole family.
Just a 30-minute drive from the city, you can head out to hike, swim, snorkel, bike, or kayak through this beautiful conservation area.
Stretch your legs and lungs together with a nice day trip out into nature!
Hiking at Lake Louisa State Park
Lake Louisa State Park (7305 U.S. Highway 27, Clermont) is located just outside of Orlando and offers three lakes plus more than 20 miles of hiking trails for the whole family to explore.
The trails at Lake Louisa State Park are segmented and can be hiked in small portions making it a good fit for beginners and children.
Lake Louisa is the perfect spot for the whole family to seek out views of local wildlife.
Eat Fresh Florida Fruit on a Trip to the Farm
Southern Hills Farms (16651 Schofield Rd, Clermont) is a fun location for a day trip outside of Orlando during spring break.
An afternoon at the farm is one of the best ways for your family to learn about one of America's highest producers of citrus, strawberries, and blueberries.
Southern Hills Farm is sure to have your family's favorite fruits right from the source.
See the Manatees at Blue Spring State Park
Blue Spring State Park (2100 W French Ave, Orange City) is the best location to get a glimpse of the manatee population in Orlando in their natural habitat.
The state park features plenty of boardwalk space that overlooks the ocean and is the perfect spot to view the ocean life off the coast.
The park rents kayaks and canoes for those looking for an ocean adventure during their Orlando spring break.
Check out more Florida state parks to experience the natural beauty of this area.
Soak up the Sun at Cocoa Beach
Cocoa Beach is a short 45-minute drive outside of Orlando and is the perfect destination to take in the sun, and sand, and swim during spring break.
Going to the beach is a spring break tradition and this city has everything you need for a great beach day including two restaurants on its historic pier, a downtown packed with cafes, bars, and stores, and six miles of shores.
There's also a historic village in the city of Cocoa, which is less than 20 minutes drive from Cocoa Beach.
Cocoa Beach is always a great day out, read more about it here.
Build Your Next Creation at LEGOLAND
LEGOLAND (One LEGOLAND Way, Winter Haven) is one of the lesser-known amusement parks around Orlando but is a unique experience for those who want to let their creative side shine.
Just a short drive outside of the city, LEGOLAND features rides and different Lego-based activities.
Compared to the big theme parks, LEGOLAND is a lesser-known attraction that might be an ideal alternative for your kids' Orlando Spring Break.
Book your entry tickets in advance to skip the line.
Do an AirBoat Tour in Everglades
For something unique and exhilarating, whizz across the water on an airboat tour of the Everglades.
Step away from the lights and rollercoasters for a while to explore Florida's fascinating nature during your spring break.
Perfect for the kids to learn even while school is out of session!
Book a tour on Viator or GetYourGuide to look for turtles, bald eagles, and alligators in their natural habitat with an expert local guide.
Final Words
We hope this guide helped you plan the perfect Orlando spring break adventure!
Share your favorite things to do in the comments below.
Our Orlando Travel Guides