This article has links to products and services we love, which we may make commission from.

Looking for a fun one day in Miami itinerary? This jam-packed guide takes you through the best things to do in Miami from morning until night! It includes what to see, where to eat and drink and what you should skip.
Since you only have 24 hours you don't want to waste time on tourist traps. Find out what attractions are worth visiting and where the locals hang.
Note: since you only have a day in Miami, cover more ground using the hop on a half-day bus tour which covers Miami Beach, where South Beach is located, and unique neighborhoods like Wynwood and Little Havana.
If you are making Miami a stop during a road trip, read this guide to East Coast road trips first.
Visiting in winter? Here's the most festive things to do in Miami at Christmas.
Flexible with dates? Here's our 3-days in Miami itinerary.
Fun One Day Miami Itinerary
Morning Miami Itinerary: Coconut Grove and/or Downtown/Brickell
There's no way to see everything Miami has to offer in only 24 hours, but layover travelers can certainly enjoy a full day of sightseeing and once-in-a-lifetime adventures in this bustling destination.
Travelers will need to think about pacing themselves to make sure they can get as much out of the city as possible, and there's no better way to gear up for a full day of activities than spending the morning in Coconut Grove.
Breakfast in Coconut Grove
Coconut Grove is a unique enclave in Miami of boutiques, restaurants, and hotels that are far enough away from the hustle and bustle of downtown without putting travelers too far out of the way.
Grab a quick breakfast at GreenStreet Cafe or Le Pain Quotidien; two Coconut Grove staple eateries, before embarking on the rest of the morning.
Coconut Grove is a little out of the way of Miami's main attractions so be prepared to jump in a taxi to Downtown/Brickell after.
Or, if your style of travel is to see a more local side to a city, head to Coral Gables from Coconut Grove to visit one of South Florida's planned cities, The City Beautiful, Coral Gables.
If you prefer to start your 24 hours in Miami at Downtown, skip this section but you will be missing out on a local's recommended brunch!
Next, there are a number of museums and attractions to consider depending on your interest.
Vizcaya Museum and Gardens
After breakfast, indulge in a more opulent Miami attraction – the Vizcaya Museum and Gardens at 3251 S Miami Ave.
Built in the 1900s, the Vizcaya Museum and Gardens property was originally a winter villa for a wealthy businessman named James Deering.
Today it's filled with artwork from the 15th and 19th centuries that the public can explore on their own or catch a guided, 45-minute tour.
HistoryMiami Museum
Moving toward downtown, there's the HistoryMiami Museum, a Smithsonian-affiliated museum that offers a variety of exhibitions related to Miami history.
Wynwood Walls
If you prefer street art, Miami's famous Wynwood Walls is the area to visit.
A former warehouse district, it was transformed into a massive outdoor art exhibit featuring colorful murals.
A 1-hour golf buggy tour through Wynwood Walls allows travelers to sit back and enjoy the art; book it on GetYourGuide or Viator.
Art fans shouldn't miss this off the one day in Miami itinerary.
If you need a snack, pick up some baked goods at Zak the Bakery or tacos at Coyo.
Miami Design District
If you're in Miami for art and shopping, there's plenty to explore in the Miami Design District.
The District offers high-end shopping opportunities, stunning architecture, public art installations, galleries, and world-class dining.
There's even a Dior cafe!
Miami Design District is a little out of the way but can be reached in under 30 minutes by foot from Wynwood, there is also a free trolley connecting the two neighborhoods.
Here's our guide to things to do in the Design District for more.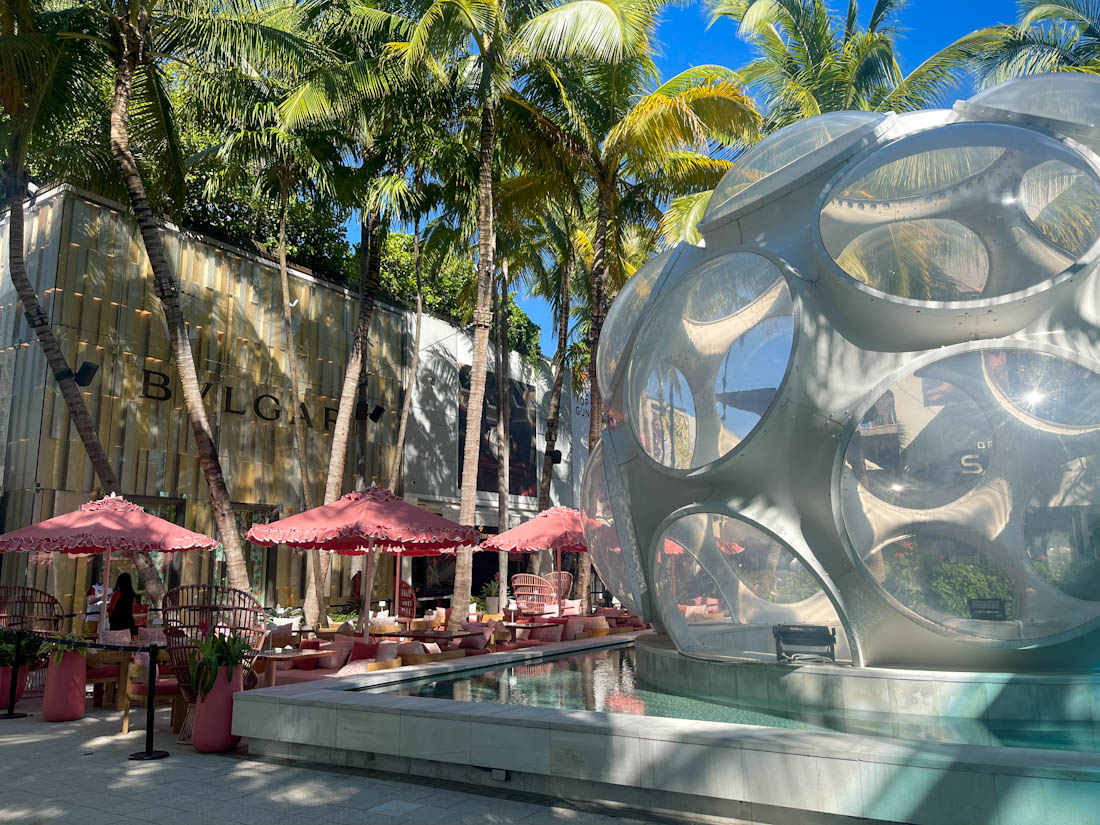 Bayside Marketplace
If you're ready for something to eat and drink, head to Bayside Marketplace.
Bayside Marketplace is a large, outdoor mall that has more than 150 shops, cafes, and restaurants in downtown Miami.
Don't get too distracted by all the marketplace has to offer, though.
There are lots of exciting tour boats that depart from the area, so be sure to save time to hit the water during the afternoon.
Bayfront Park is also close, there you can see the bronze statue dedicated to the only woman who founded a city in the US, Julia DeForest Tuttle.
Afternoon: Beaches, Watersports and Brickell
With only 24 hours in Miami, travelers should be sure to hop on the water to enjoy the afternoon – a typical Miami pastime, and a great way to admire the city skyline.
Luckily, Miami has plenty of boat tours and water activities that depart from Bayside Marketplace.
Boat Tour in Miami
Sightseers can grab a front-row seat to admire some of Miami's finest waterfront homes, Venetian Islands, and South Beach in Miami Beach.
The City Cruise to Millionaire's Homes & Venetian Islands boat tour takes sightseers around the Biscayne Bay to soak in the gorgeous Florida sunshine and admire the city from afar.
This is a great way to get close to Miami Beach without trying to carve time into your itinerary getting there.
Many visitors don't realize that Miami Beach is its own city, just like Miami.
Book it on GetYourGuide or on Viator.
Watersports
There are also opportunities for day travelers to blaze their own trail across Biscayne Bay with a jet ski rental or jet ski tour, which is perfect for small groups eager to enjoy a beautiful day on the water.
Book a jet ski rental on GetYourGuide or on Viator.
Or you can book a jet ski tour on GetYourGuide or on Viator.
Parasailing
Adrenaline junkies traveling with a group shouldn't miss parasailing 400 feet above Biscayne Bay.
The one-hour boat ride into the bay offers travelers the perfect chance to unwind from a busy morning before sailing through the Miami sky.
Book it on Viator or GetYourGuide.
Miami Bus Tour – Hop On and Off at the Top Attractions
To see as much of the city as possible, hop on a half-day bus tour and 90-minute boat tour through some of Miami's most famous attractions.
The narrated tour teaches guests about Miami's rich history as they enjoy picturesque views of the city.
Then head to the water to visit Island Queen Millionaire's Row in Biscayne Bay.
Book your tickets on GetYourGuide or Viator.
Brickell Neighborhood
At some point in the afternoon, try to swing by Miami's Brickell neighborhood, the city's waterfront historic district and swanky downtown shopping destination.
It's full of shiny high rises and bars.
You could easily slink into the night here, hitting up the rooftop bars such as Sugar and area31 for sundown drinks.
You'll experience a totally different vibe from Brickell by day and Brickell by night and if you plan to party here, dress to kill.
Find out more about the best things to do in Brickell.
Things to do at Night in Miami
Sunset Cruise
For travelers who didn't have a chance to enjoy the water during the day, there's always the option to kick the evening off with a 1.5-hour sunset cruise through Biscayne Bay and South Beach.
The tour sails past attractions such as Star Island, known for Al Capone's Mansion.
This happy hour sunset cruise sets you up to start the night right in Miami, with drinks on board before you hit Miami's best clubs.
Best Miami Cocktail Bars
For party-goers, a day in Miami isn't complete without indulging in a bit of the local nightlife.
For those looking to stick to the mainland, go grab a round of drinks at one of Miami's many famous cocktail bars.
The award-winning Broken Shaker (Miami Beach) is a favorite among locals and travelers alike.
Sip on craft cocktails poolside or in the rustic bar backyard while soaking in the memories made during the day exploring Miami.
For a truly Florida cocktail experience, don't skip The Sylvester, a downtown Miami bar that draws much of its inspiration from the Sunshine State.
The bar brings in elements of both old and new Miami for a truly unique atmosphere and fun, Florida-themed menu items.
Food is also served here.
Drinks at a rooftop bar feature in our romantic things to do in Miami guide too.
Dine at South Beach's Sunset Harbor
Pop over to South Beach's Sunset Harbor, dubbed Miami's best dining neighborhood by The Miami Herald.
With dozens of restaurants ranging from super-casual to upscale, there are plenty of options to choose from even for the pickiest of eaters.
After dinner, it's time to get out and explore some of Miami's glamorous nightlife destinations.
Ball & Chain, for Mojitos
The iconic Ball & Chain bar and lounge is a staple of the Little Havana neighborhood in Miami.
The Ball & Chain has managed to hold on to its 1930s roots along with great Cuban food and drinks.
Next, satisfy your sweet tooth with ice cream at Azucar on Calle Ocho (1503 SW 8th St).
Calle Ocho also features in our guide, things to do in Miami.
Catch a Game or a Show
The 20,000-seat multipurpose sports and entertainment arena, the FTX Arena is where you will see the 2006, 2012 and 2013 NBA champions Miami HEAT play basketball.
Party in Miami
There's also the outdoor bar, El Patio, in the eclectic Wynwood neighborhood just north of downtown Miami for a fun night in one of Miami's more artsy areas where you'll find craft beer and vinyl listening events too.
Partying in your 20s? Consider 1-800-Lucky.
Partying in your 30s+? Gramps has a varied crowd.
For a truly over-the-top night of clubbing, head to E11even.
It's a nightclub, performance venue, strip club, and rooftop restaurant rolled into one downtown location.
If the line's too long at E11even, there's also LIV Miami and WALL Miami Beach, both offering plenty of music and dancing to celebrate the most epic 24-hour Miami vacation.
Or for a more lowkey evening, watch sports and enjoy happy hour at Sandbar.
Finish off the night admiring the nighttime Miami skyline at a glitzy rooftop bar, like Area 31.
Located in the heart of Miami, Area 31 brings guests to the top of the Kimpton EPIC Hotel, surrounded by stunning skyscrapers and unforgettable nighttime views.
There's also Sugar in Brickell, the highest rooftop bar in Miami on the 40th floor of hotel EAST Miami near Biscayne Bay.
The rooftop terrace is decorated in tiki-style and offers a menu of refreshing cocktails.
Visit Miami during fall in Florida for fall-themed parties and events.
We have this very detailed guide to Miami at night with tons more ideas for all year round.
Miami: Things to Avoid
With only 24 hours in Miami to explore the city, there isn't much time to waste.
Don't fall into the usual tourist traps, including…
Spending the Day Getting a Sunburn on South Beach
While it's an iconic spring break and Memorial Day getaway destination, South Beach isn't for travelers who want to explore the more unique side of Miami.
If that is you, check out our guide to Miami's hidden gems too.
However, it is worth some time if you want to people watch along the infamous Ocean Drive and there are some cultural spots like the Jewish Museum which you can read about here.
For those who simply must dip their toes in the sand, head up to the quieter Mid Beach, North Beach, or Surfside Beach where parking is easier and the neighborhoods are quaint and historic.
You could easily spend a day at Miami Beach so it might just have to wait until your next trip to Miami.
There's also Virginia Key, the Historic Virginia Key Beach Park, or Key Biscayne for plenty of beach opportunities.
Alternatively, relax at the Venetian Pool at Coconut Grove.
The tranquil public pool is surrounded by beautiful architecture and waterfalls.
The Venetian Pool is located in Coconut Grove, which is also known as City Beautiful, the area was designed and developed by George E. Merrick in the 1920s.
An Expensive Show at the Adrienne Arsht Center
Though the venue is stunning, spending an entire evening at the theater likely isn't the best use of time or money.
Hoping to get a Taste of Cuba in Little Havana
Calle Ocho in Little Havana, once a culturally rich area of Miami, has become largely overrun with tourists and big businesses moving in.
Though there are still some of its Cuban roots showing, it may not live up to everyone's expectations.
Consider El Palacio de los Jugos at 5721 W Flagler St for Cuban for a less touristy Little Havana experience.
Skipping a Chance to Hit the Open Water
While there's certainly plenty to do on land, the best parts about Miami are experienced on the water.
Even a short cruise around Biscayne Bay gives sightseers a new perspective on one of the country's most exciting cities.
Expect 12 Hours of Sunshine
Miami is sunny but it does get its fair share of downpours; the good news is that the rain tends to stop after a short period and the sun dries everything out pretty quickly.
Hurricane season is June through to November.
As with many locations in the states, spring is said to the best time to visit for mild weather.
Where to Stay in Miami
For couples, check out the Marseilles Beachfront Hotel, an Art Deco boutique hotel with pool cabanas (book on Expedia, Hotels, or Booking).
Alternatively, The Betsy is a gorgeous luxury hotel with beachfront access, two pools, and a rooftop deck with 360-degree views you won't want to miss (check it out on Expedia, Hotels, or Booking).
For friends, Moxy South Beach (Miami Beach) is a modern hotel with killer views (see below); check availability on Expedia, Hotels, or Booking.
For more historic hotel ideas, read our guide to the Art Deco hotels in Miami Beach.
Parking in Miami
Like most US cities, parking is at a premium rate in Miami so it is advised to leave the car if you are staying at a beach or city hotel.
Hotel parking rates tend to be around $40 per night.
Download a parking app like PayByPhone or SpotHero to help you find street parking or parking lots.
Drinking and driving is not tolerated in Miami and there have been sobriety tests around the city for big events.
If your group needs a car at night, designate a driver or use rideshares such as Uber or Lyft.
Getting Around Miami
You can get around Downtown, Miami Beach and Brickell using public transport such as the bus, rail or Metromover and trolleys, but crowds can create long wait times.
Download the transit tracker before you arrive to the 305.
Alternatively, consider e-scooters or e-bikes for Downtown.
If you are visiting Miami for the first time and fancy a tour that saves your feet, there is a hop on a half-day bus tour with a multi-language audio guide.
Arriving in Miami
There are two airports which visitors fly into Miami via – Miami International which is 7 miles from Downtown and Fort Lauderdale, 25 miles from Downtown.
Miami has three train options.
Amtrak's station is located at 8303 NW 37th Avenue and the South Florida local link Brightline is located at 600 NW 1st Ave.
Miami Map
Here is a map of Miami with all of the attractions, hotels, bars and restaurants discussed in this itinerary.
Pin to your Miami vacation board
Our Miami Guides
Miami By Neighborhood