This article has links to products and services we love, which we may make commission from.

If you're going to be in New York this autumn, you are in for a treat! Not only does New York have some of the most beautiful foliage for you to see, but there is SO much to do all season long. There are NYC fall festivals for food, drink, culture, and music – but if none of those appeals to you, most major sporting leagues kick off in fall, and of course, there's Halloween!
We have the inside scoop for all of the NYC fall events, parades, and sports, and we had to throw in some of our favorite upstate New York autumnal festivities too.
If you like this guide, check out this one for more fun things to do in upstate New York and this one for the best things to do in NYC in fall.
But if you're not ready to make the trip yet, check out this guide for winter in NYC.
24 NYC Fall Festivals You Won't Want To Miss
Fall Festivals in NYC
There will never be a time that you'll struggle to find things to do in The Big Apple, but the fall festivals in NYC make autumn one of the best times to visit. In the mood for booze?
There's a festival for that!
Want to laugh until you cry?
There's a festival for that too.
Want to spend your trip surrounded by books?
Yep, there's a NY fall festival for that too.
New York Comedy Festival
For nearly two decades, the New York Comedy Festival has been cracking people up at over 100 shows all over the city, with more than 200 comedians ready to make you spit out your drink as you laugh out loud.
New York Burlesque Festival
Now in its 20th year, the New York Burlesque Festival is a night of grandiose with live music and the world's best Burlesque performers in a 1920s supper club atmosphere.
New York Film Festival
One of the longest-running and most prestigious film festivals, the New York Film Festival is held at Lincoln Center and features the best works from emerging and famous filmmakers.
The New Yorker Festival
Join some of the world's most influential and creative minds from political, arts, and everything in between at The New Yorker Festival, organized by The New Yorker Magazine, for live conversations, performances, screenings, and more.
The New York Coffee Festival
What could be more New Yawk than a cup of cawfee?
The New York Coffee Festival offers bottomless free coffee tastings, interactive workshops, demonstrations from top baristas, street food, coffee cocktails, art, and live music.
New York City Wine & Food Festival
The Food Network's New York City Wine & Food Festival is the top food and wine festival in NYC and every foodie's dream!
Four days of 500 chefs cooking up some of the best food in the country, who is in?
OktoberFest
One of the best-known festivals around the world, Oktoberfest is all about fun, entertainment, food, and of course, beer; even though the event is centered around alcohol, there are many family-friendly options too.
Brooklyn Book Festival
Brooklyn Book Festival is New York City's largest free literary festival.
It celebrates literature by connecting readers of all ages and backgrounds with local, national, and international authors, publishers, and booksellers.
Electric Zoo
Think music festivals are just for the summer?
One of the largest music festivals in NYC, Electric Zoo, brings in people from all over the world to listen to some of the top names in electronic music performances.
NYC Parades in Fall
Some things signify the turn of the season in the city and the Village Halloween Parade and Columbus Day Parade are two New York fall events that do exactly that.
They are both iconic and beloved by marchers and spectators alike and are on many NYC bucket lists.
Columbus Day Parade
The Columbus Day Parade is one of the most famous in New York as 30,000+ people march down 5th Avenue to celebrate Christopher Columbus and New York's strong ties to Italian Heritage.
However, in recent years there has also been an Indigenous Peoples Day Parade that honors the Indigenous people who died as a direct result of the colonization that Columbus began.
Village Halloween Parade
The ultimate way to celebrate the spookiest holiday of the year, the Village Halloween Parade is one of the most famous ways to celebrate; you can watch from the sidelines or even participate in one of the most iconic NYC Halloween events.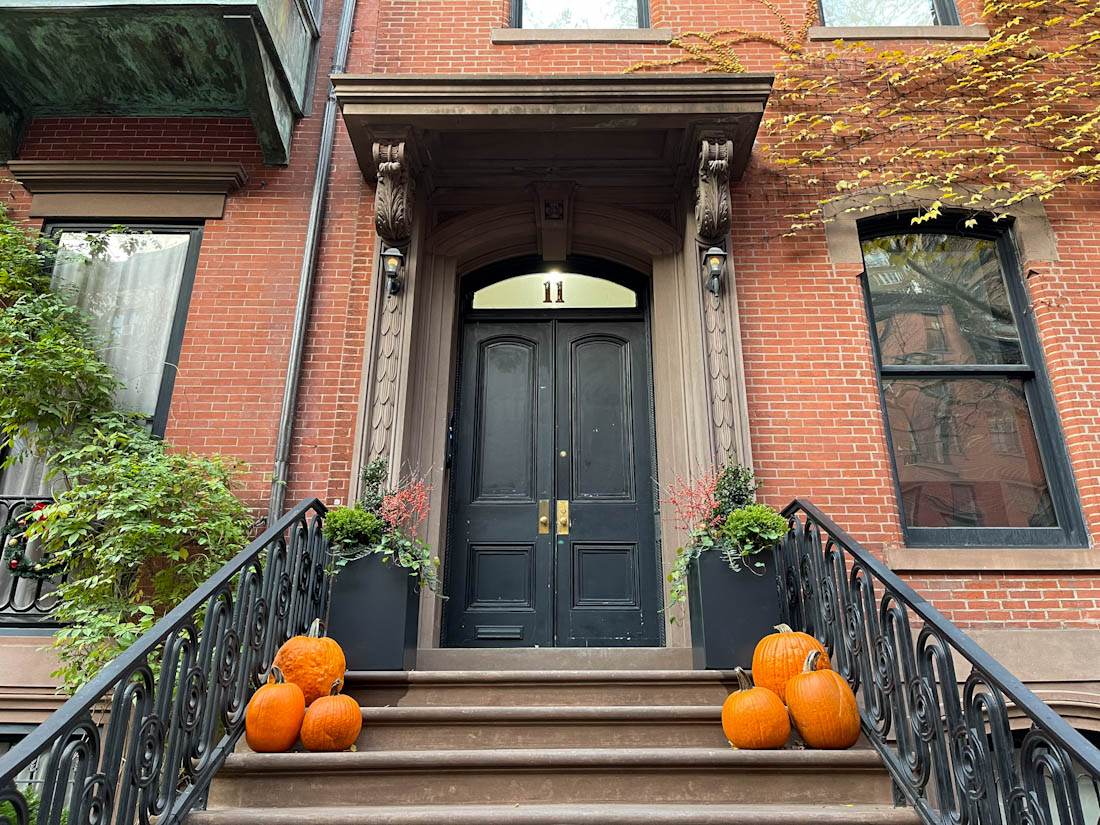 NYC Sporting Events in Fall
Are you an ice hockey fan? What about football? Basketball? Baseball?
If you visit New York between September and October, you'll have more than ample opportunity to catch a game (or two or three!)
National Basketball Association starts in October, and you can watch the New York Knicks at Madison Square Garden in Manhattan and the Brooklyn Nets at Barclays Center in Brooklyn.
The National Hockey League also starts in October.
See the New York Rangers play in Manhattan's Madison Square Garden, and if you want to travel upstate, you can see the New York Islanders at UBS Arena in Elmont.
If you're visiting in September, catch a National Football League game; the New York Giants and New York Jets both play at MetLife Stadium, which is in New Jersey, just over the state line.
Major League Baseball ends in September, so if you're quick, you can catch a New York Mets at Citi Field in Queens and a New York Yankees game at Yankee Stadium in the Bronx.
Fall Festivals Near NYC
If you have your fill of NYC October festivals, you can take a bus or Metro-North train from the city for a weekend away to many destinations; however, if you've got a car, there's no limit to the possibilities of pumpkins, pies, and pretty foliage.
Here are some upstate New York fall festivals to check out.
Here's our guide to Upstate New York in fall for more.
The Great Jack O'Lantern Blaze
If you want a Halloween festival in upstate NY that is fairly accessible by public transport, The Great Jack O'Lantern Blaze in Hudson Valley is the place to go; the Van Cortlandt Manor's 18th-century landscape is illuminated with over 7,000 hand-carved jack o'lanterns that you have to see.
From Grand Central, you can take the Metro-North Hudson Line for an hour and a half to Hudson Valley and either walk a mile or call a cab to get you the rest of the way.
New York State Festival of Balloons
Dansville kicks off the beginning of the fall season with the New York State Festival of Balloons; say goodbye to summer with hot air balloon launches, art & craft vendors, food vendors, and live music – but you'll probably need a car for this one, the best public transport option takes 11 hours while driving takes five.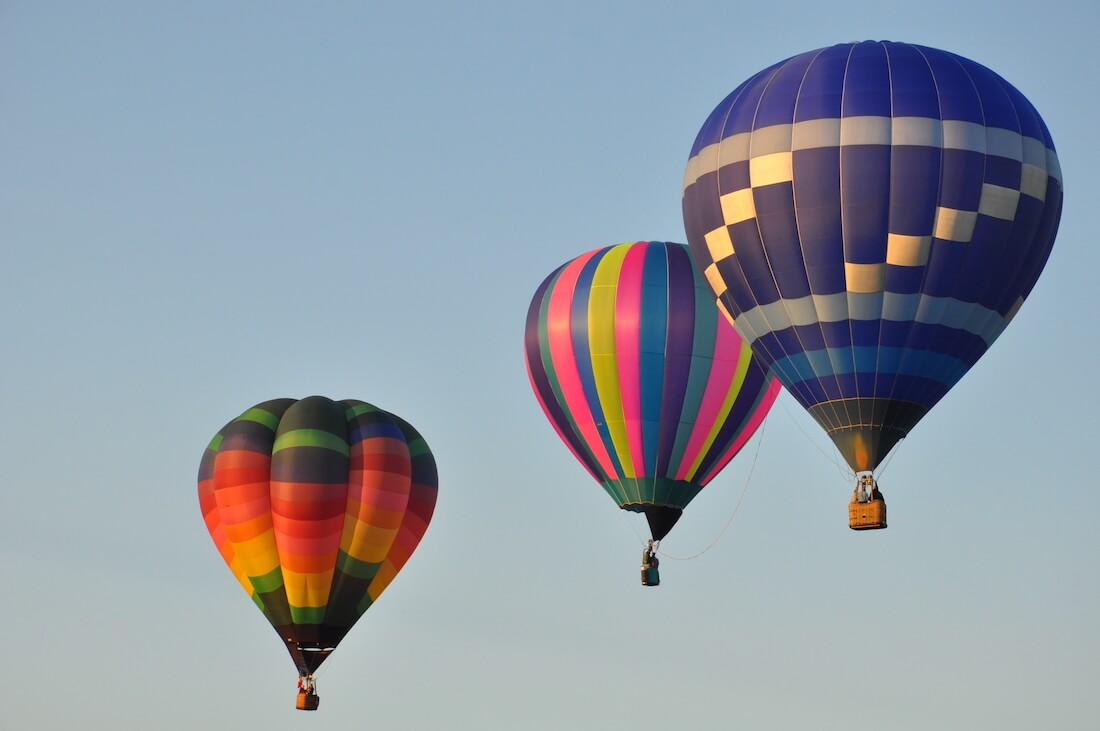 Niagara County Peach Festival
If you've got a car handy and want to escape city life and find some fall festivals in western NY, Niagara County Peach Festival is the perfect option; carnival rides, a parade, pageants, a 5k, and of course, peaches as far as you can see.
You can get to Niagara via public transport; the first bus leaves from Midtown and takes 8 hours to get to Buffalo, where you'll transfer to another bus for an hour, but we recommend driving the 7-hour trip.
Apple Harvest Festival
Ithaca's Apple Harvest Festival is an upstate New York fall festival that dreams are made of AND is moderately easy to get to by bus; first, you take a 45 trip to Fort Lee, NJ and then transfer to another bus which will get you to Ithaca in just over three and a half hours.
Or you can drive the four and a half hours to get to live music and entertainment, a cider trail, seasonal baked goods, a craft fair, and every use of an apple you could ever imagine.
Great Pumpkin Farm Fall Festival
Head up to Clarence, which is only 45 minutes away from Niagara, for the Great Pumpkin Farm Fall Festival for a weekend full of fun.
The whole family will love the corn maze, hayrides, music, food, drinks, a zombie train, and even a world pumpkin pie eating competition!
The easiest way to get here is by car, but you can use the same public transportation directions to get to the Niagara County Peach Festival to get to Clarence.
Final Thoughts
As you can see, there are so many fall festivals in New York – both in the city and upstate.
Everyone will find something they'll love on this trip regardless of who is in your group: music lovers, coffee snobs, foodies, film buffs, or sports fans. 
Enjoy Our NYC Travel Guides
NYC By Season