This article has links to products and services we love, which we may make commission from.

Ring in the new year right! New Year's Eve in Boston is the perfect place for festive fun, fireworks, romantic escapes, and so much more.
While First Night is the biggest and most popular celebration in the city, there is plenty to do whatever your budget and style.
Don't love crowds? Avoid them with a fabulous dinner in one of Boston's best restaurants.
Taking the kids? Enjoy the family-friendly activities before the late-night parties begin.
Whatever your style, Boston offers a variety of ways to celebrate New Year's Eve and you won't want to miss out!
Enjoy more time in the city with our guide to free things to do or our Boston winter guide.
Planning a longer trip? Enjoy these winter getaways from Boston before or after NYE.
First Night in Boston
The First Night Boston celebration is one of the biggest and best New Year's Eve events in Boston.
The tradition started in 1975, and it is still a hugely popular way to ring in the new year!
There are plenty of performances, fireworks, and Boston First Night activities that all ages can enjoy.
The live performances start mid-day and last past midnight, with a variety of live music, dancing, kid's shows, fireworks, and more.
The majority of the events happen in Copley Square, but there are also First Night events at Boston Common, the Boston Public Library, and Copley Place Mall, in addition to smaller events at various hotels and churches around Back Bay.
First Night also has a New Year's Eve Parade in Boston called the People's Procession that goes down Boylston Street.
Note that there are no designated parking garages for the event, but check out our guide to parking in Boston for plenty of options.
First Night Ice Sculptures Boston
One of the highlights of First Night is the ice sculptures that are on display.
The sculptures are in Copley Square and by the Boston Public Library, with local businesses also hosting other displays in the area if you want to go on a scavenger hunt!
Depending on the weather, you can expect the ice sculptures to be placed in the afternoon at some point and then they'll be illuminated at night for extra ambiance.
Boston First Night Fireworks
There are a few Boston New Year's Eve fireworks displays that you can see during the First Night celebration.
The first one is at a family-friendly time soon after sunset, so the kiddos can enjoy the fireworks without having to wait until midnight.
Then, there is another fireworks show at midnight over the Boston Harbor to celebrate the new year.
An additional pyrotechnics display happens right at Copley Square over the Fairmont Copley Plaza Hotel.
Where to Celebrate New Year's Eve in Boston
Beyond the popular First Night celebrations in Boston, there are plenty of other places to ring in the new year.
These are some of our favorite spots around the city.
You might also like our guide for staying in Boston for first-timers if you haven't visited before!
Royale New Year's Eve Boston
Royale Boston (279 Tremont St) hosts a New Year's Eve event in Boston every year, and it is the place to be if you love classy events that make you feel like a royal.
Dance and party the night away, ringing in the new year in style.
There is a DJ, a huge dance floor, champagne, multiple bars, and flat-screen TVs that show the ball drop in Times Square.
Copley New Year's Eve Boston
Copley Square is one of the best places for New Year's Eve in Boston.
As previously mentioned, First Night in Boston takes place in the square, so that is already a huge event in the area.
Then, The Westin Copley Place (10 Huntington Avenue) hosts a New Year's Eve event every year, too.
The event is called Back Bay New Year's Eve Boston and is for people 30+ who want to celebrate the new year at an upscale event.
Throughout the evening at Back Bay, you will enjoy a three-course dinner, live music, a DJ, and a silent auction.
There is also a cash bar, and hors-d'oeuvres are served after dinner ends.
Not in that age group yet? Check out the Westin's Resolution Ball instead!
The event is 21+ and is regularly one of the largest events for NYE in Boston.
Waterfront New Year's Eve Boston
New Year's Eve on the Waterfront is another great place to go in Boston.
Enjoy the Waterfront Ice Sculpture Stroll from early afternoon until dusk, with a variety of sculptures to admire.
It's the perfect family-friendly NYE event in Boston!
Bundle up and enjoy the experience.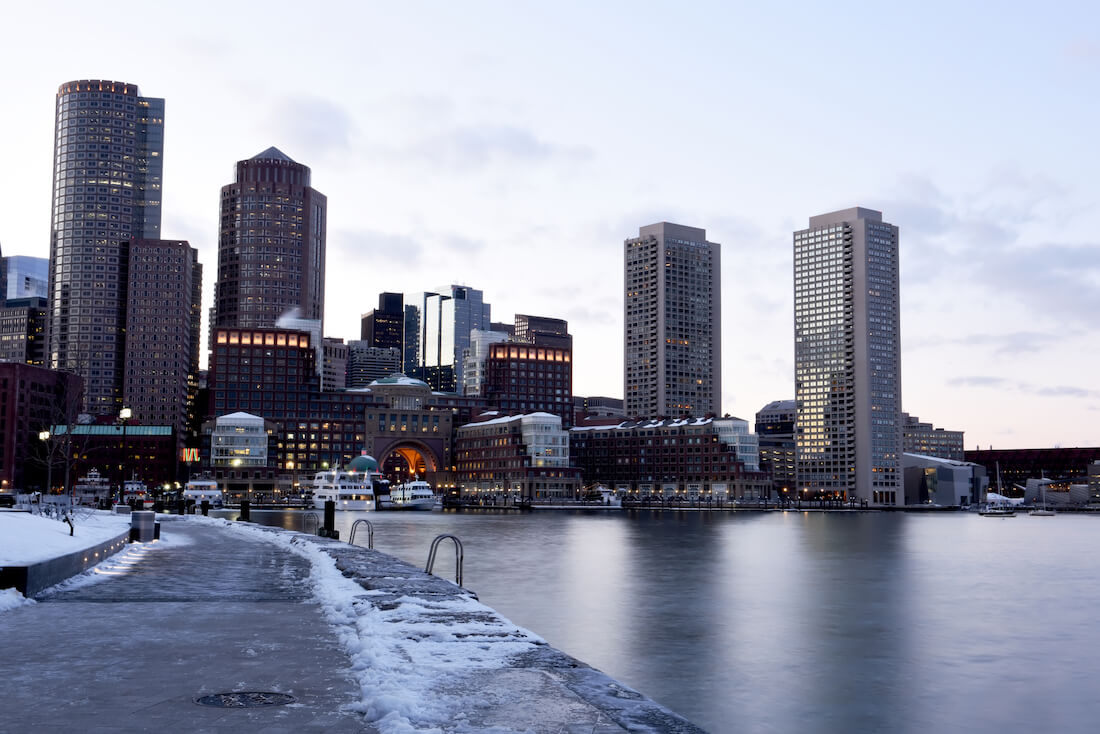 North End New Year's Eve Boston
If you want to spend your New Year in North End, you can enjoy one of a few fun activities.
There is a North End Pizza Tour that takes you to three of Boston's best pizza places.
Pizza is always a good idea if you want to finish the year on a high note!
You will also see five Freedom Trail sites along the way and end the tour with a cannoli from one of the city's most famous bakeries.
If you aren't a pizza person or want to try a variety of foods, you can go on Boston's North End: Secret Food Tour.
The three-hour food tour lets you try dishes like Italian sandwiches, pizza, cannolis, roasted nuts…and a secret dish.
You will also learn about the city's history as you walk between restaurants.
The tours take place during the day, so get your fill before going to a party, bar, restaurant, or wherever else you are spending your night.
New Year's Eve Restaurants in Boston
Spending New Year's Eve at a Boston restaurant is a simple but satisfying way to end one year and start another.
Boston has no shortage of amazing eateries where you can grab dinner on New Year's, but here are some of the best for the special occasion…
Zuma Boston (One Dalton Street) is at the Four Seasons Hotel.
This Japanese restaurant is a lovely place to spend New Year's Eve in Boston's Back Bay.
Wood Hills Pier 4 (300 Pier 4 Boulevard) brings farm-fresh food to the city, so celebrate local fare to start the new year off on the right foot.
Boston Chops (1375 Washington St) is one of the best places to have a New Year's Eve dinner in Boston if you want a yummy meal without the typical NYE show.
They offer classic steakhouse dishes as well as some chef's specialties, and you never know what they will come up with for a New Year's Eve special!
New Year's Eve Boston Bars
If you are less focused on food and instead looking for a party, there are a lot of bars where you can have a fun New Year's Eve in Boston, MA.
Howl at the Moon (184 High St) is a Boston staple and offers an NYE event with live music at their piano bar.
There is a champagne toast at midnight and a build-your-own slider bar.
If you are looking for more of a nightclub, party the night away at Down Nightclub (184 High Street).
There are general admission packages where you have access to a cash bar, or you can buy a table for the night that comes with a few bottles of alcohol for your table and a champagne toast.
Another place for a guaranteed night of fun is Wild Rover (61-63 Chatham St).
The bar and nightclub have three floors and multiple bars to party at all night long.
They have great entertainment and simple and not overly-priced drinks, and you will never get bored with three different levels of fun to choose from.
Take a New Year's Eve Cruise in Boston
How about something a little different this NYE?
There are multiple cruises you can take on New Year's Eve in Boston, although they are not necessarily at night, which means you can take the cruise and then enjoy the other activities on this list.
One option is the Boston: 1.5-Hour Dog-Friendly Harbor Cruise which is great for people — and pets — of all ages!
Enjoy pretty views of the city and some of Boston's most iconic landmarks along the way.
Another cruise you can take on NYE is the Boston Harbor: Winter Holiday Weekend Brunch Cruise.
This cruise is a great way to start out your NYE celebrations as you get a three-course brunch and enjoy views of Boston from the water.
Romantic New Year's Eve in Boston
Looking for a romantic NYE night in Boston?
From romantic restaurants to hotels to activities, we have you covered.
You can also check out all our best Boston date ideas to plan a dreamy getaway.
Some of the holiday markets in Boston are actually still going strong after Christmas, so check out the schedules and stop by before heading out for the night.
Romantic NYE Dining
Many of the restaurants and bars above are great options, but there are also some places you can go if you want something geared toward romance.
Davio's Italian Steakhouse (26 Fan Pier Boulevard) is a nice place to go in the Seaport for New Year's Eve in Boston.
Check out their New Year's Eve package for food stations, a DJ, a dance floor, a bar, and a great view of the fireworks over the water.
Romantic NYE Hotels in Boston
Another romantic New Year's Eve idea for Boston is to spend a night at the Boston Harbor Hotel (70 Rowes Wharf).
The hotel hosts a New Year's Eve dinner at the Rowe Wharf Sea Grille, where you can grab a meal together before sipping champagne as the clock strikes midnight.
Stay overnight in one of the hotel's suites and welcome the first morning of the New Year in a comfortable, romantic room.
Another option for a romantic New Year's Eve is the Encore Boston Harbor (1 Broadway, Everett).
Their Rare Steakhouse offers a fantastic meal option, which you can follow up with champagne or wine before staying the night in a quiet spot in the city.
Other Things to Do on New Year's Eve in Boston
Still wondering what to do on New Year's Eve in Boston?
If you're looking for more than a traditional bar or party atmosphere and you aren't coming with your significant other, you certainly have options!
Head to the New Year's Eve Boston concerts that vary by year, but you'll find them during the day or evening at some of the city's best venues.
Check out the Boch Center, The Wilbur, or the Chevalier Theatre for more upscale events.
Looking for a laugh instead?
Check out the variety of comedy shows on New Year's Eve in Boston.
What a way to start a new year than by laughing!
Comedy shows and concerts are a great way to start your evening before you head to the bars and clubs or a fun way to end the night if you're not up for late-night adventures.
Whatever your style, Boston loves to celebrate NYE and you'll be sure to find the perfect spot to ring in the new year.
Final Words
Have you done any of these Boston New Year's Eve events or activities? Did we miss your favorites?
Let us know in the comments below!
Our Boston Guides