This article has links to products and services we love, which we may make commission from.

New Hampshire in the winter is a wonderland of snow-covered beauty with the tallest peaks and most popular ski slopes in all of New England. If you love a winter adventure outdoors, then you cannot skip New Hampshire!
We cover all the iconic things to do in winter in NH, plus specific recommendations around popular parts of the state.
If you're not into skiing, don't worry, there are plenty of other fun things to do that involve staying cozy and warm indoors!
There are plenty of idyllic winter weekend trips from Boston you can take into New Hampshire, so be sure to check out those suggestions too.
Prefer staying in one place?
Enjoy all the picturesque winter fun in North Conway right in the heart of the White Mountains.
Also planning a trip in fall? Check out our guide for all the best foliage spots and seasonal fun.
If the snow melts before your trip, then check out our NH spring guide for fun ideas as the weather turns warmer.
Fun Things to Do in New Hampshire in the Winter
These are the quintessential winter activities in New Hampshire that you just can't miss!
If you love all things snow, then you're in for a treat.
Expect temperatures to be at or below freezing most of the time between December and February, with days on either side in November and March rising up into the 40s.
Snowfall begins in November and hits its peak in January, so plan your outdoor adventures accordingly!
Snowmobiling at Bear Rock Adventures
Bear Rock Adventures (2638 North Main Street, Pittsburg) is one of the places you can go on snowmobile trips in New Hampshire with your family.
You can rent a snowmobile and explore the land on your own if you want.
Or, you can take a guided tour where your guide will take you to some of the best areas and teach you how to stay safe on a snowmobile.
Santa's Village at Christmastime
Santa's Village is a popular family-friendly destination in New Hampshire in the summer, but it should absolutely be on your shortlist for winter, too!
On weekends from mid-November into December, head to Santa's Village with the kids to get into the festive season.
Both outdoor and indoor shows will entertain all ages, while most of the amusement park rides are open and feel extra atmospheric with snow on the ground.
This is one of the best places to visit in New Hampshire in December to celebrate the holiday season!
Note that online tickets are required.
Fat Biking at Great Glen Trails
Another winter activity families can enjoy together is fat biking at Great Glen Trails (1 Mount Washington Auto Road, Gorham).
Fat bikes have softer and wider tires that allow you to bike in the snow, given the conditions are right.
The center has adult and kid bikes available for rent.
Note that a trail pass and a helmet are both required of all fat bikers.
Nordic Skiing at Bretton Woods
Bretton Woods Nordic Center (99 Ski Area Road, Bretton Woods) has over 60 miles of trails groomed for cross-country skiing, with various trails for beginner, intermediate, and expert skiers.
The center is in White Mountain National Forest, and you will ski by ponds, mountains, and the woods.
Don't worry, you can rent skis and snowshoes for any of these Bretton Woods winter activities if you do not have your own!
Or you can take a lesson if you are new to any of these winter sports.
Bretton Woods also features in our guide to skiing in New England.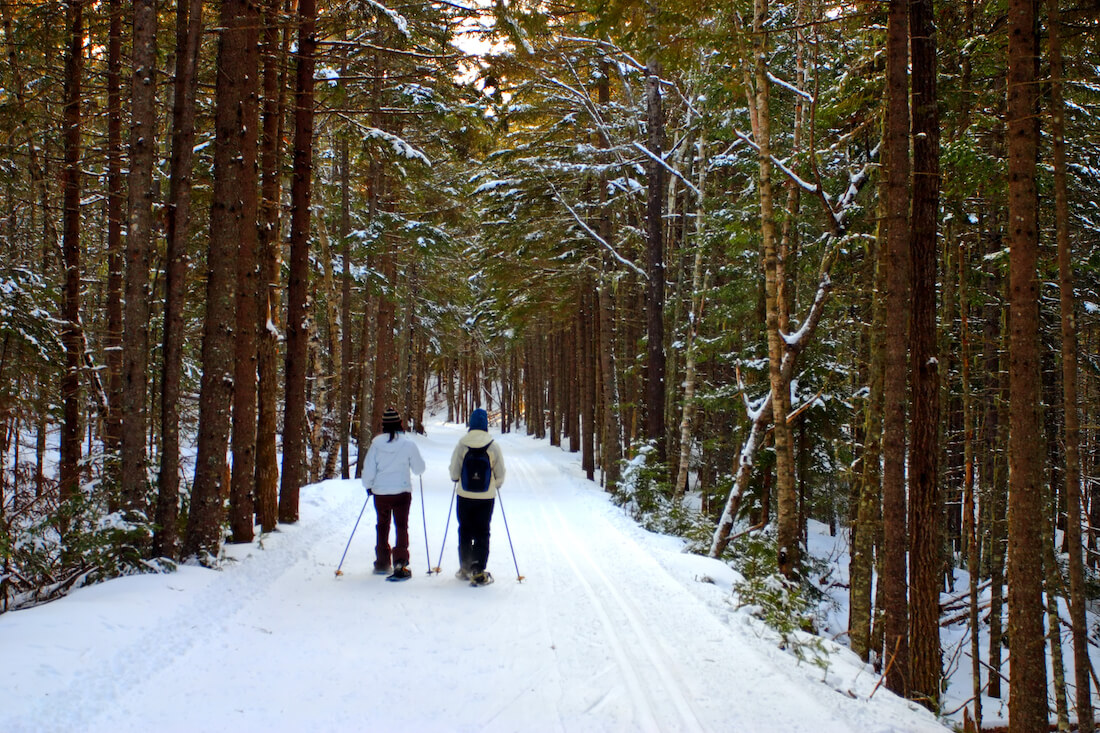 Skiing at Waterville Valley Resort
Waterville Valley Resort's Adventure Center also offers Nordic skiing.
The resort is in the White Mountains, and they have rentals, lessons, and gear for sale.
Enjoy more than 40 miles of trails across the complex.
Other activities at the resort include snowshoeing and fat biking.
The trails are groomed for different activities, and you can even take your dog with you to explore certain areas of the park.
Night Snow Tubing at Gunstock Mountain Resort
Gunstock Mountain Resort (719 Cherry Valley Rd, Gilford) has a lot of fun winter activities in New Hampshire.
Skiing and snowboarding are the main attractions, but there is also cross-country skiing and snow tubing on offer.
Lessons are available for newcomers to these sports.
But the coolest part of Gunstock is that you can ski or go snow tubing at night!
Enjoy the trails with the stars guiding you…plus a lot of lights for safety.
Enjoy Peaceful Scenery at Odiorne Point State Park
New Hampshire's small Atlantic coastline includes the lovely Odiorne Point State Park (570 Ocean Blvd, Rye) which is open to exploring in the winter.
The park is not staffed at this time of year, but you can hike, ski, or snowshoe if you have your own equipment.
Enjoy beautiful winter scenery along their 135 acres of coastal conservation land.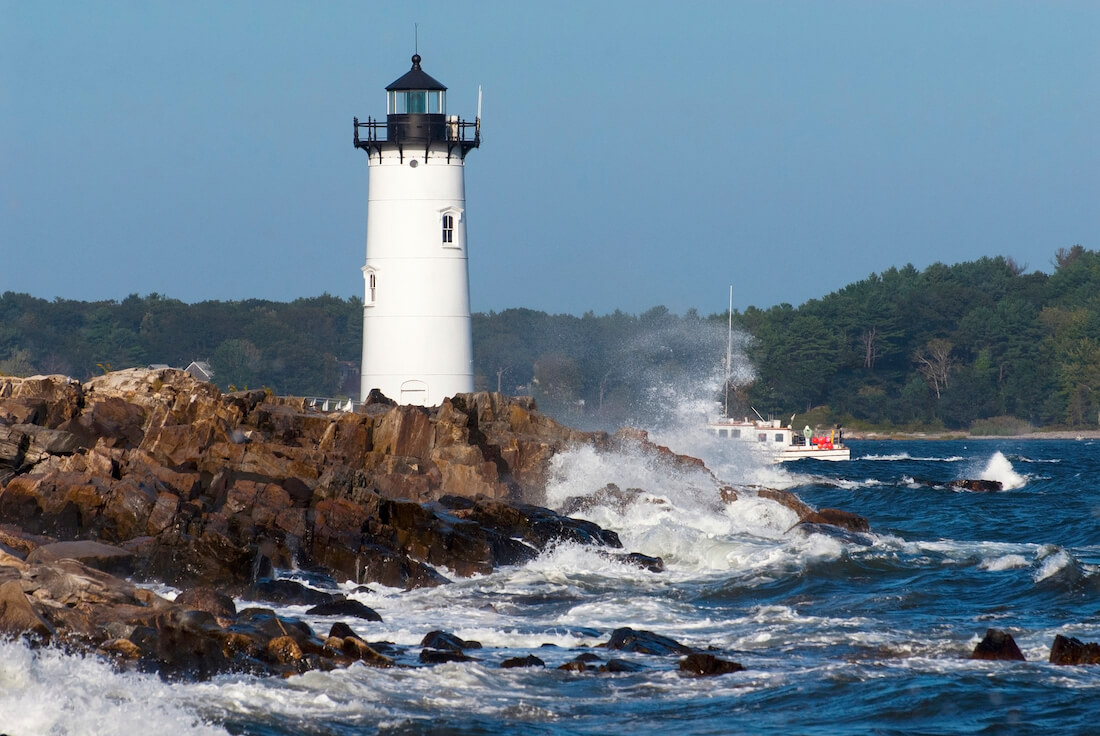 Jackson NH Things to Do Winter
Black Mountain Ski Area
Black Mountain Ski Area (373 Black Mountain Rd) has a lot of New Hampshire winter activities.
The area has five lifts, 45 trails, and 143 acres of skiable terrain, so you will have plenty to do here,
You can ski, snowboard, take a lift up to see the scenic winter views, or take a lesson for one of the winter sports.
Honeymoon Covered Bridge
Honeymoon Covered Bridge is at the intersection of NH. Route 16 and 16A on Village Street.
The bridge is beautiful to see when it is surrounded by snow in the winter.
This is just one of many covered bridges to seek out in NH during your trip!
Things to Do in North Conway NH in the Winter
Cranmore Mountain Resort
Cranmore Mountain Resort (1 Skimobile Rd. North Conway Village) is one of the best places to visit in New Hampshire in winter because there are so many activities to do there.
They have a ski lift, skiing, snowboarding, and a snow tubing area.
They also have night skiing, where you can stay at the resort after the sun goes down and ride down the mountains in the dark.
There are also lessons and rentals available.
Echo Lake State Park
Echo Lake State Park (68 Echo Lake Road) is a good place to visit in the winter if you want to enjoy some beautiful scenery.
The park stays open year-round, even though there is no staff here in the winter.
You can still explore the park on your own and go for a serene stroll.
Check out all our other recommendations for North Conway winter fun!
Things to Do in Lincoln NH in Winter
Snow Tubing at Loon Mountain Resort
Loon Mountain Resort (60 Loon Mountain Rd) has snow tubing in NH every year.
It is a great place for families since they have two different snow hills.
One of the hills is for kids seven and under, and it is easy for kids to walk up.
The other one is the main hill which is 250 feet high, and there are 1,000 feet of track to slide down.
You have to take the chairlift up the bigger hill at the top of the Little Sister Trail.
And, there is plenty more to do at the resort, including sow-biking, skiing, and a gondola.
Zipline at Alpine Adventures
Alpine Adventures (41 Main St) offers fun all year, including winter.
The most popular winter activity they offer is ziplining, where you can soar over New Hampshire's winter scenery.
Other activities include off-wheeling, a high ropes course, and a guided trip up Barron Mountain.
Sip at Seven Birches Winery
Seven Birches Winery (22 S Mountain Dr) is a great place to do a winter wine tasting in NH.
The winery is right by Loon Mountain, and they use local fruits to create their wines.
You can get a glass of wine or do a tasting where you can try multiple wines.
Or, you can take an informal winery tour on certain days of the week.
On the tour, one of the winemakers will show you the facility, teach you how the wine is made, and you can sample some of the wines.
Hobo Railroad
Hobo Railroad (64 Railroad St) has Santa Express Trains between late November and mid-December.
The 80-minute train ride takes you through the winter New Hampshire scenery with Christmas activities.
There are visits with Santa and Mrs. Claus, letters kids can write to Santa, and kids get a present from Santa.
Franconia Notch State Park
Franconia Notch State Park (Flume Gorge, Daniel Webster Hwy) is another place to explore in the winter.
You can hike through the park, even in the snow, and some of the trails are part of the popular Appalachian Trail.
The Cannon Mountain Aerial Tramway is also in the park, which takes you to the top of the mountain, where there are 97 ski trails and slopes.
And, even if you are not skiing, you can still ride the tramway and enjoy the park views from above.
Things to Do in North Woodstock NH in Winter
Ice Castles
The Ice Castles New Hampshire (24 Clark Farm Road North Woodstock) are one of the most unique winter activities in NH.
The Ice Castles are made up of icicles designed by professional ice artists.
As you explore the castle, you will come across ice art, slides, and plenty more cool icicles.
This is one of the most Instagrammable spots in NH in winter!
Woodstock Inn Brewery
The Woodstock Inn Brewery (135 Main St) is a good place to try some local beers in the winter.
You can sample the beers at the brewery right where they make them and take a tour.
Each beer they brew tells a story about New Hampshire and what makes the state special.
And the brewery is part of a larger resort, so it is one of the good places for New Hampshire winter getaways.
Manchester NH Winter Activities
McIntyre Ski Area
In winter, there is a lot to do at the McIntyre Ski Area (50 Chalet Ct) in New Hampshire.
The area has two ski lifts, 11 trails, a snow tubing hill, and a couple of parks.
You can learn to ski and snowboard here or rent equipment and go on your own.
And there are events, restaurants, and a cafe to visit.
The Palace Theatre
The Palace Theatres (80 Hanover St) offer shows all winter long, and the shows are always changing, so you can go often.
This is a lovely family-friendly place to go in New Hampshire at Christmas for holiday shows, including the Nutcracker and A Christmas Carol.
SEE Science Center
Visiting the SEE Science Center (200 Bedford St) is one of the best things to do in NH during winter to escape the cold.
The center makes learning about science fun for kids and adults alike with demonstrations, educational displays, and hands-on exhibits.
Portsmouth NH in Winter
Ice Skate at Puddle Dock Pond
Puddle Duck Pond (14 Hancock Street) is an outdoor ice skating rink that is open each winter for public skating.
The rink is weather dependent and is typically open from late November to early March.
Bundle up and go outdoors for some classic New England fun!
The Music Hall
The Music Hall (28 Chestnut St) has a variety of shows year-round, like concerts, opera dance performances, and musicals.
And, if you are in New Hampshire in December, check out one of their Christmas shows.
Final Words
We love New Hampshire in the winter and we're sure you will, too!
With so many ways to enjoy the stunning natural beauty of this winter wonderland — plus plenty of cozy spaces for indoor fun to warm up — the Granite State never disappoints.
Share your favorite winter spots in the comments below!
New Hampshire Destinations