This article has links to products and services we love, which we may make commission from.

New Hampshire in the spring means the snow has melted, the mud has receded, and the flowers are finally in bloom! To celebrate the warming weather and longer days, there are tons of fun events all across the state.
If you're looking for outdoor activities, you'll find everything from maple sugaring to fishing to beautiful lupine flowers.
Looking for unique local events?
How about a muffin and scone tour, a Wildquack Duck Race, or a bacon and beer festival?
You'll find all of that and more in NH this spring!
You might also like our NH winter guide if the season has lasted longer than expected.
And check out our favorite NH covered bridges if you're road-tripping around the state — it's like a scavenger hunt!
Things to Do in New Hampshire in the Spring
This guide includes a wide variety of great things to do in the spring in NH, starting with activities or attractions that are statewide or in multiple locations.
Then our guide goes from north to south so you can explore the areas of NH that are most convenient to you.
You might also want to check out our full guide to New England in the spring for tons more ideas.
New Hampshire Maple Month and Weekend
For the entire month of March, you can celebrate Maple Month, a time when sugar maples are producing sap and sugarhouses are collecting and boiling it to make maple syrup.
There are nearly 250 sugarhouses in the state, and many of them host open houses, tours, syrup tastings, workshops, and more!
Browse the directory of sugarhouses and check out all the places to visit in New Hampshire in spring.
College students can make the most of their New Hampshire spring break by getting out in the forests and appreciating the maple sugaring process.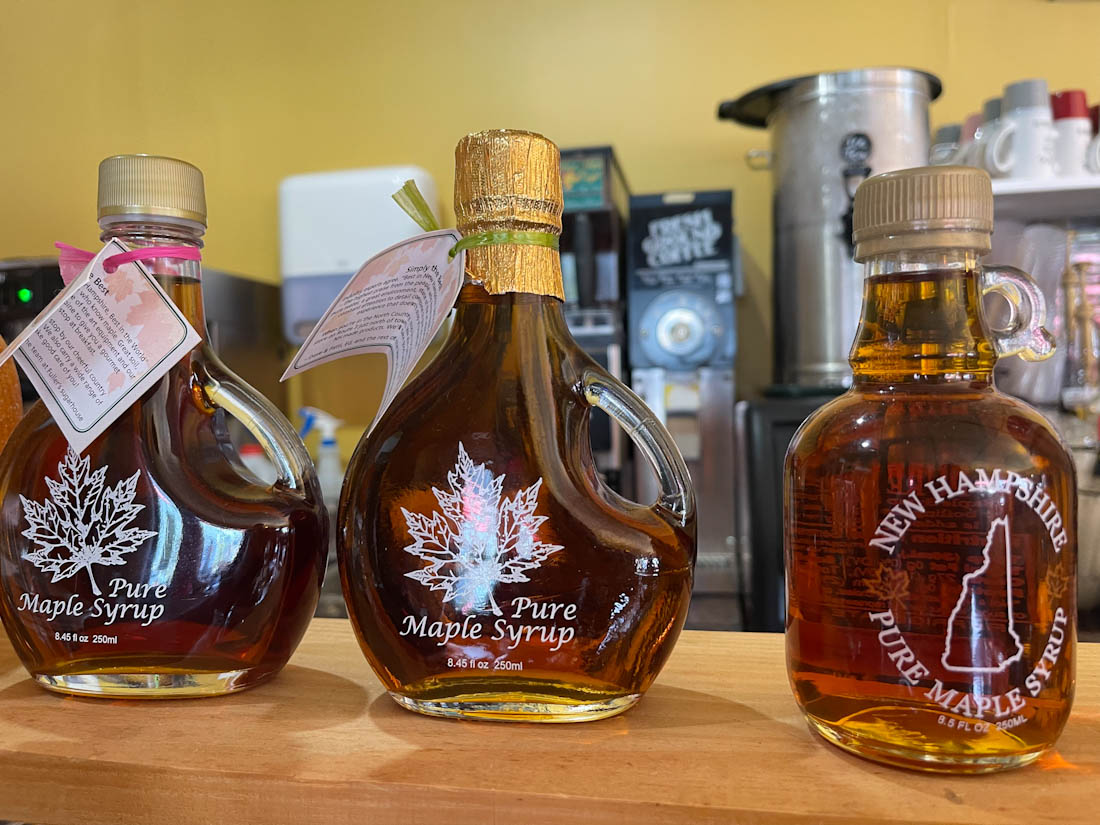 Trout Fishing
Opening Day for spring fishing season in New Hampshire is the fourth Saturday in April, making it a perfect spring in NH activity.
There are dozens of trout ponds across the state you can visit on Opening Day, which is an exciting event for lovers of the outdoors.
You can purchase a short-term fishing license or an all-season license at the NH Fish and Game website for a low cost and join in on the fun!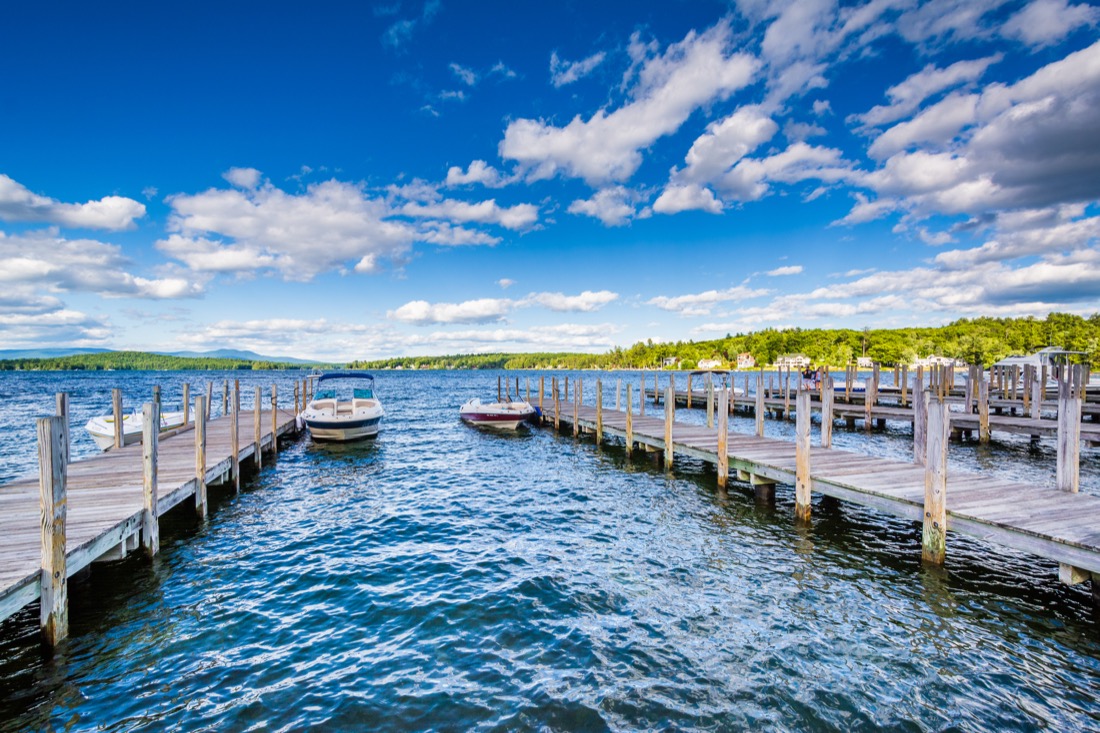 Annual Muffin and Scone Tour
Baked goods lovers: you can't miss the annual Lakes Region Bed & Breakfast Annual Spring Muffin & Scone Tour in late April.
Visit any of the participating B&Bs and enjoy their specialty baked goods and refreshments.
If you make it to each of the B&Bs, you'll be entered into a raffle to win amazing prizes like B&B vouchers, gift baskets, and more.
Find the Pink Lady's Slipper
The state wildflower, the pink lady's slipper, is one of many native New Hampshire spring flowers and can be found in the Lakes Region.
Blooming in late May and June, you'll find pink lady's slipper in shady areas, under pine trees, and near wetlands or bogs.
The most common forests in the Lakes Region are Franconia Notch State Park and the White Mountain National Forest, but there are so many other forested areas to explore in the region.
There are so many awesome things to do in this area — check out our complete guide to the White Mountains for more ideas!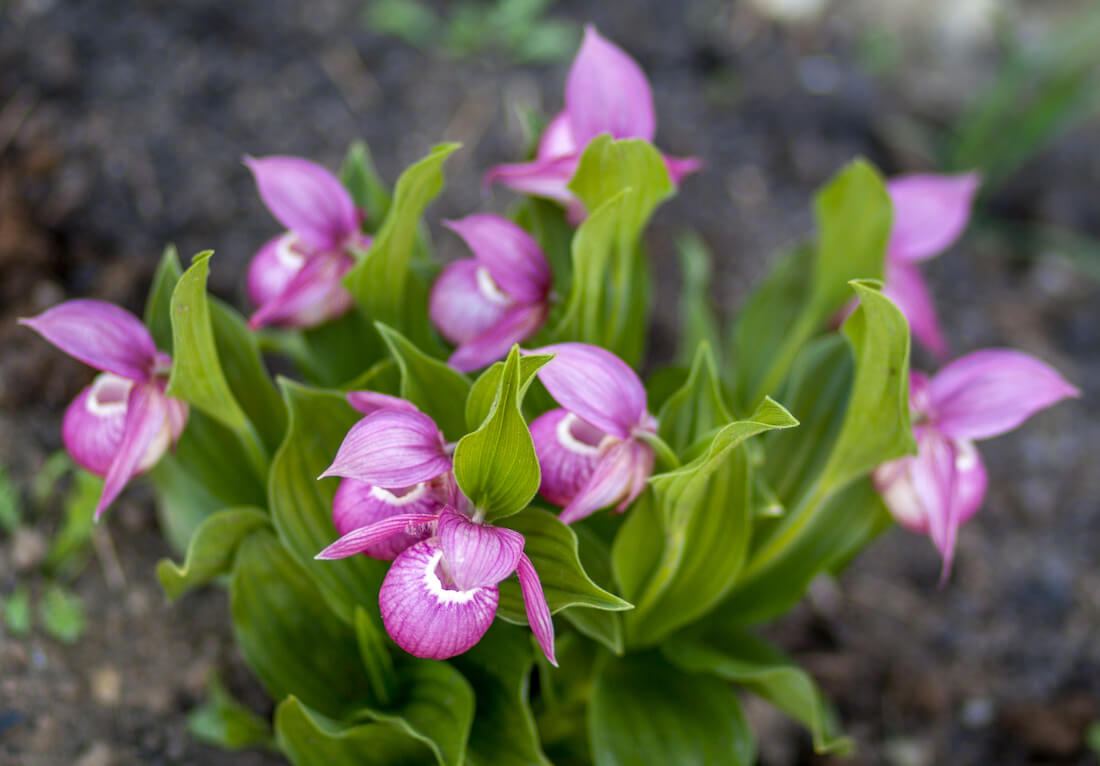 Best Springtime Events and Activities in NH
These individual locations are perfect for planning your calendar of spring events in New Hampshire.
These are ideal for locals who want to explore their own backyard — and perfect for visitors seeking authentic experiences!
GoNorth Snofest, Stewartstown
If you want to make the most of outdoor snow sports before the warmer days of the New Hampshire spring, check out GoNorth SnoFest (1166 Diamond Pond Rd) in early March.
Snowmobile demos, ice skating, snow tubing, and other late winter activities are in store, as well as a beer and wine tasting room for the adults.
Spring in New Hampshire is a variable time, so capture the last of the snow before it disappears for the season!
Go Searching for Lupines, Sugar Hill
Sugar Hill, New Hampshire is known for its incredible display of lupines, a wild mountain flower that turns whole fields a vibrant pink and purple.
A New Hampshire spring wouldn't be complete without a self-guided tour using the Sugar Hill lupine map.
You can also expect events and markets hosted by Sugar Hill during peak lupine season, but make sure you check the site for updates.
Wildquack Duck Race & Music Festival, Jackson
For some lighthearted, silly fun in New Hampshire in the spring, head to the Wildquack Duck Race and Music Festival (18 Main St) at the end of May.
Enjoy music from local bands, a parade, food vendors, and a rubber duck race on the Wildcat River.
Chowderfest and Brews, Waterville Valley
In late May, chowder lovers gather at the annual Waterville Valley Chowderfest and Brews (33 Village Rd).
Admission covers many chowder samples and a ballot so you can vote for the best chowder in the area.
Enjoy local beers and a free outdoor concert, as well!
Castle in the Clouds Garden Tours, Moultonborough
The Castle in the Clouds (455 Old Mountain Rd) gardens open in early June, and the garden tours are one of the best New Hampshire attractions in spring.
The Castle's gardener will show you through all the garden landscapes, including the oldest historic gardens on the property.
Memorial Day Weekend Craft Festival, North Conway
Celebrate Memorial Day in North Conway by checking out the Memorial Day Weekend Craft Fair at Schouler Park.
Enjoy live music, more than 100 vendors and exhibitors, as well as demonstrations and lots of activities for kids at this fun annual event.
North Conway is one of our favorite spots in the whole state; check out our winter guide in case you come in early spring and the snow still hasn't melted!
Winni Fishing Derby, Lake Winnipesaukee
One of the most iconic events in the spring in New Hampshire is the Winni Fishing Derby in May.
For more than 40 years, the Derby has been an exciting challenge for people to catch the most fish, winning them thousands of dollars in prizes.
Register for the derby at the official website.
Lake Winnipesaukee is just one of many must-visit places in New Hampshire — check them all out in our complete New Hampshire guide.
Laconia Motorcycle Week, Laconia
Even if you don't ride a motorcycle, you can still enjoy the exciting and historic Laconia Motorcycle Week.
In early June, motorcyclists celebrate the event by riding through the scenic Kancamagus Highway and participating in events in Laconia.
If you're not a motorcyclist but still want to enjoy the Kancamagus, you can take advantage of this self-guided audio tour of the trip.
Enjoy vintage motorcycle shows, live music, and more across the city.
Before you leave Laconia, be sure to stop in at the classic Colonial Theatre to catch a show!
Originally built in 1914, this beautifully restored building hosts live music, comedy acts, theater performances, and more.
John Hay Estate at The Fells, Newbury
The John Hay Estate (456 Rt 103A) hosts its Opening Day on Memorial Weekend every year, which makes it a great thing to do in New Hampshire in spring.
Tour the historic Main House and the Gardens and Trails during your visit, and learn about the summer retreat for John Hay, a private secretary to Abraham Lincoln.
Trail Side Sugar House, Andover
Maple sugaring takes place in early spring across the forests of New Hampshire, but the Trail Side Sugar House (248 Currier Rd) is one of the best spots to visit to try delicious maple syrup.
Visit to get a tour of the sugarhouse, try some samples, and pick up a few treats for friends and family.
Annual Sheep and Wool Festival, Deerfield
Fibers and textile lovers must visit the NH Sheep and Wool Festival (34 Stage Rd) in mid-May.
Shop the booths of tons of vendors, participate in shows, expos, lectures, and demonstrations, and meet a few sheep!
Lilac Festival at the Wentworth-Coolidge Mansion, Portsmouth
The lilac is the official state flower, and you can celebrate its incredible late May bloom at the Lilac Festival at the Wentworth-Coolidge Mansion (375 Little Harbor Rd).
The mansion and grounds are open to explore, which means you can learn about the history of the mansion and appreciate the oldest living lilac plants in the United States.
This free event features tons of activities for kids, an art exhibit, and a silent auction to support the care and keeping of the historic lilacs.
For a little more of Portsmouth's old history, head out on a haunted walking tour of the city.
Market Square Day, Portsmouth
One of the biggest events in Portsmouth, NH is Market Square Day in early June.
More than 60,000 people visit the city, which is largely closed off from cars all day, and enjoy more than 150 vendors and live music for the event.
Start the day with the 10K Road Race and then celebrate with all the best entertainment in Portsmouth.
If you'd rather bike than race in Portland, take this fun bike tour to New Castle along the Piscataqua River.
And don't skip seeing the iconic Portsmouth Lighthouse along the coastline!
A good viewpoint can be found at Great Island Common (301 Wentworth Rd).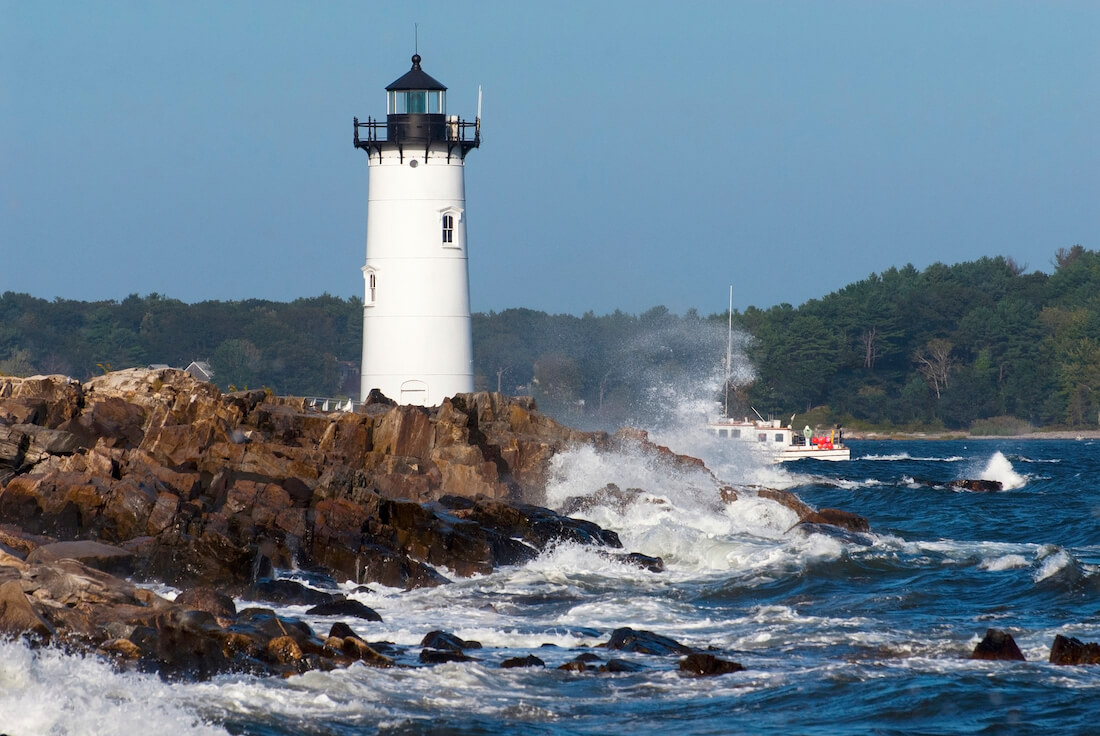 Piscataqua Riverfest, Portsmouth
In early June, boating enthusiasts and river lovers alike will have an amazing time at the Piscataqua Riverfest (14 Hancock St).
Featuring a handcrafted boat show, demonstrations, a gala, sailing trips, a beer garden, and live music, this late spring New Hampshire event is sure to be great fun for the whole family.
Fuller Gardens Botanical Garden, North Hampton
Springtime is such a special season because so many flowers are in bloom, and the Fuller Gardens (10 Willow Ave) are some of the best gardens to appreciate spring blooms in New Hampshire.
Thousands of rose bushes, a Japanese garden, and a conservatory make these grounds totally spectacular.
NH Bacon & Beer Festival, Merrimack
The annual NH Bacon & Beer Festival (221 Daniel Webster Hwy) is a delicious and fun experience that also works to fundraise for terminally and chronically ill children.
More than 150 kinds of beer, dozens of bacon samples, a pulled pork contest, and live music make this festival in early June a party to remember.
Canobie Lake Park, Salem
Named one of the top 10 amusement parks in America, visiting Canobie Lake Park (85 N Policy St) is a fun thing to do in New Hampshire in the spring.
With more than 85 attractions, a water park, rides for all ages, and tons of games, this park is great for a family New Hampshire spring vacation.
Andres Institute of Art, Brookline
Head outside after a long winter season to hike through the Andres Institute of Art (106 Route 13).
This is the largest outdoor sculpture park in New England and features more than 10 miles of trails across 140 acres and more than 100 art sculptures.
Enjoy the relationship between art and nature in this amazing park in the spring.
New Hampshire Spring Weather
New Hampshire temperatures in the spring range from the low 40s in March to the low 70s at the end of May.
Spring is a variable time of year, so plan to wear layers and be prepared for anything!
You can expect cloudy, overcast days and the possibility of rain for most of the spring months.
Final Words
Are you ready to experience all the beauty of New Hampshire in the spring?
Share your favorite springtime things to do in the comments below.