This article has links to products and services we love, which we may make commission from.

This New Hampshire fall road trip itinerary covers five days of fall colors, crips air walks, covered bridges, and train rides!
In the first three days, you'll visit the top places and locations to see in New Hampshire in autumn.
Then, if you have another day or two, you can add on days four and five for a fuller Granite State fall getaway.
Fall in New Hampshire and wider New England is a popular time, so reserve accommodation and restaurants in advance.
Remember, this New Hampshire road trip planner is meant to help give you ideas, and you can always adjust it depending on how long you have and what stops you are most interested in.
We've provided an estimate of miles per day but it depends on how many detours you take while getting whisked up in all the glorious fall activity during this New Hampshire fall itinerary!
Fall temperatures vary between highs of 72F in September to lows of 28F in November, consider this when packing.
You may also find our guides to where is stay in New Hampshire fall, best places to see foliage, and covered bridges in NH useful.
Would like to see more than just New Hampshire but not sure if it is possible? Check out our one week fall road trip itinerary.
New Hampshire Fall Road Trip
Day 1 – Peterborough & Concord – (Approx. 77 miles)
On day 1 of your road trip through New Hampshire, you'll explore Peterborough and Concord.
Morning: Miller State Park
The first stop is Miller State Park (13 Miller State Park Rd), the oldest state park in New Hampshire.
You can choose from three hiking trails to the top of the mountain or drive up the 1.3-mile winding paved road.
Whether you hike or drive, the views from the top are worth it, especially on clear days when you can see as far as Mount Washington, the Vermont hills, and the tallest buildings in Boston.
Miller State Park takes reservations in advance, which is a good idea, especially if you visit on the weekend or during the peak fall season.
From here, head to Pitcher Mountain Fire Tower for a short hike worth the view!
Afternoon: Gould Hill Farm
Now it's time to get your New Hampshire fall drive officially started as you drive toward Concord with a stop at Gould Hill Farm (656 Gould Hill Rd, Hopkinton)
The highlight of the farm is to pick your own apples and other fruits depending on what's in season.
They also have a farm store that sells apple desserts, pies, bread, maple syrup, and other fresh goodies.
You can also visit the restaurant or Contoocook Cider Company, which are both on the farm.
Evening: Sewalls Falls and Downtown Concord
When you arrive in Concord, stop at Sewalls Falls.
The 1.4-mile Sewalls Falls Trail is an easy trail where you can hike and bike.
Alternatively, head into town to see Concord's colorful murals (Storrs Street mural, Arnie's Place mural, Keach Park mural, etc.) and the Capitol Building.
Refuel at a bar or restaurant around Main Street then get your rest, as tomorrow is the busiest day of your New Hampshire fall road trip.
Day 2 – Mount Major (Approx. 91 miles)
Today you are hiking up a mountain, and you have one of your longest driving days with 90 miles to go between Concord and North Conway.
Morning: Hike Mount Major
First is a hike up Mount Major, where you will see views of Lake Winnipesaukee and many fall trees along the way.
The Brook and Main Trail Loop is a 3.7-mile trail that will take you a few hours to complete.
It is a moderately challenging hike; you go up more than eleven hundred feet in elevation.
If you are traveling on a warm day, the earlier you can start this hike, the better.
You may also like our guide to hikes in New Hampshire.
Afternoon: Pine River Orchards
Halfway along your drive, today is a good time to stop at Pine River Orchards (314 Pine River Rd, Effingham).
The apple orchard is open in September and October, where you can spend the afternoon picking apples.
It is a great place to stop for some classic fall pictures or to get some snacks for your road trip.
Evening: North Conway
End the day in North Conway, where you can grab some dinner at one of the restaurants.
Check out Muddy Moose Restaurant for a casual, cozy lodge-like dining, Barley & Salt Tap House and Kitchen for beer and menu, and May Kelly's Cottage for Irish faire, or have some wine at the White Mountain Winery.
On day three, you are staying in and around North Conway.
With little driving to do tomorrow, tonight is a good night to relax as you prepare for the second half of your New Hampshire fall drive.
Day 3 – North Conway (Approx. 6 miles)
If you only have three days for a New Hampshire fall road trip, you'll spend your final day in North Conway or skip day 1 and 2 and start here.
The town is one of the best places to stop on your road trip, thanks to its great New Hampshire fall attractions.
You may also like our New Hampshire bucket list featuring activities in North Conway.
Morning: Echo Lake State Park
Today starts with another hike, this time through Echo Lake State Park (68 Echo Lake Rd).
Depending on how much of a hike you want, you have a few options, including the easy 1-mile loop around Echo Lake.
Or, if you want to spend more time here hiking, there is the 4.2-mile White Horse Ledge Loop trail.
Diana's Baths
If you have time before the afternoon attraction. which you won't want to miss, head to Diana's Baths (3725 West Side Rd, Bartlett), for another short hike.
This hike takes you by pools and cascades along a 0.6-mile trail.
You can extend this hike longer as it is part of the Moat Mountain Trail.
In summer, visitors use Diana's Baths as a slide!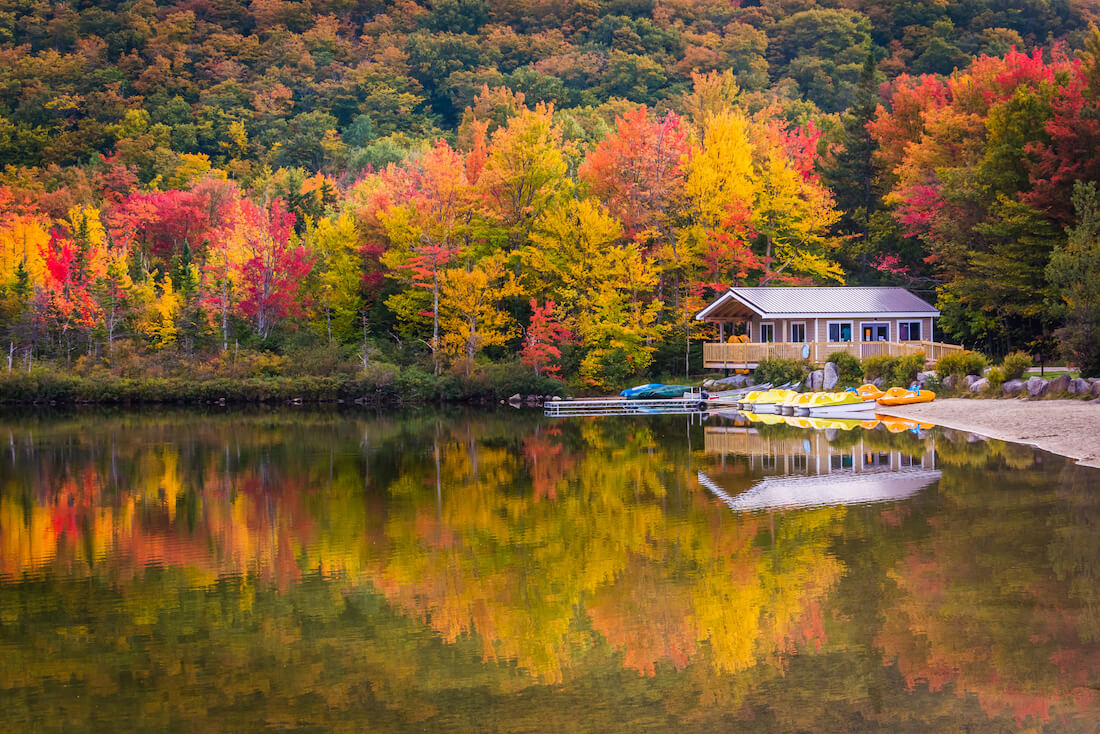 Afternoon: Conway Scenic Railroad
Finally, drive back into town and ride on the Conway Scenic Railroad (38 Norcross Cir).
There are three options for chugging out of this vintage 1874 train station!
The Concord Valley Train follows an 11-mile round-trip route that lasts just under one hour.
The Sawyers River Excursion rides over bridges and past rivers with breathtaking views for a 21-mile round trip that lasts 2 hours.
The Mountaineer to Crawford Notch is lengthier at 4-5.5 hours, covering 50-60 miles round trip!
Book your tickets in advance, and expect them to sell out during peak foliage.
Check out our guide to New Hampshire train rides for more.
North Conway is where you will end your three-day fall foliage road trip New Hampshire!
Day 4 – The Kancamagus Highway & Lincoln (Approx. 43 miles)
Have another day or two?
On day four, you are exploring The Kancamagus Highway on your way to Lincoln, NH, this is known as one of the best foliage drives in New Hampshire!
Morning: Drive The Kancamagus Highway
Today you are driving along one of the best scenic foliage drives in NH.
The 35-mile Kancamagus Highway, also called "The Kanc," is part of New Hampshire's Route 112.
The drive goes through White Mountain National Park, reaching almost 3,000 feet at the highest point.
Along the way, you pass a lot of scenic overlooks, so you will want to be prepared to stop along the way.
You can either start your Kancamagus Highway route in Conway (south of North Conway) or Lincoln.
Technically, when you map all of the locations it should only really take an hour to drive but you'll be hopping in and out of the car to snap the fall foliage so you'll need to give yourself lots of time!
From Conway you will see Albany Covered Bridge, Lower Falls, Rocky Gorge, Sugar Hill Scenic Vista, Sabbaday Falls, Hancock Overlook, and Loon Mountain which is the next stop on this New Hampshire leaf drive.
Afternoon: Loon Mountain
Once you finish your scenic drive, it's time to explore Loon Mountain in Lincoln.
One of the coolest things to do on the mountain is the White Mountain Express Gondola (60 Loon Mountain Rd).
The ride takes you on New Hampshire's longest scenic Gondola ride.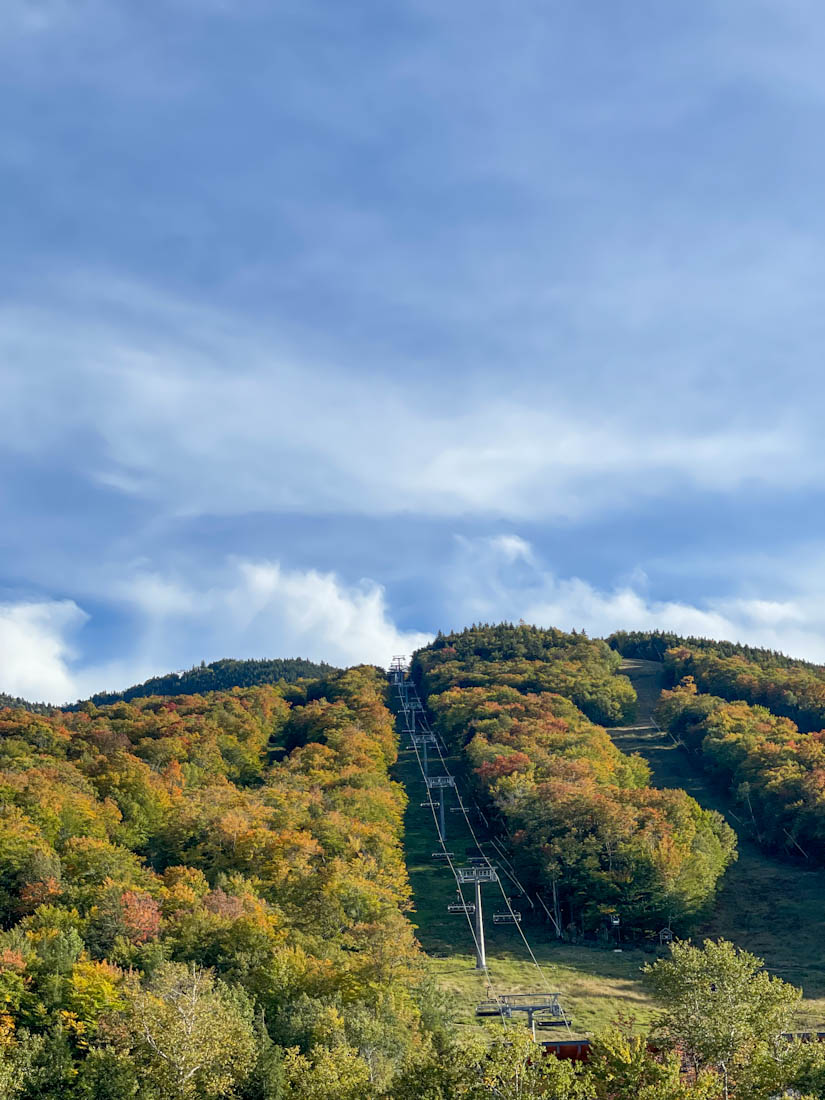 The ride is 1.3 miles long, and at the end, you can hike around the top of the mountain after your ride.
As with most gondola rides in New England, the schedule stops around mid-October.
There are a lot of other hiking trails, too, if you have time, like the easy Brookaway (Octagon Lodge to Camp III), where you can get some great views.
The longer and harder trail is the Bear Claw Trail (Camp III to the summit of Loon Peak) is a 1.6-mile trail that takes you up to the summit of Loon Peak.
You can join the Bear Claw at the end of the Brookaway!
Then it's time to head to the popular mountain town of Lincoln.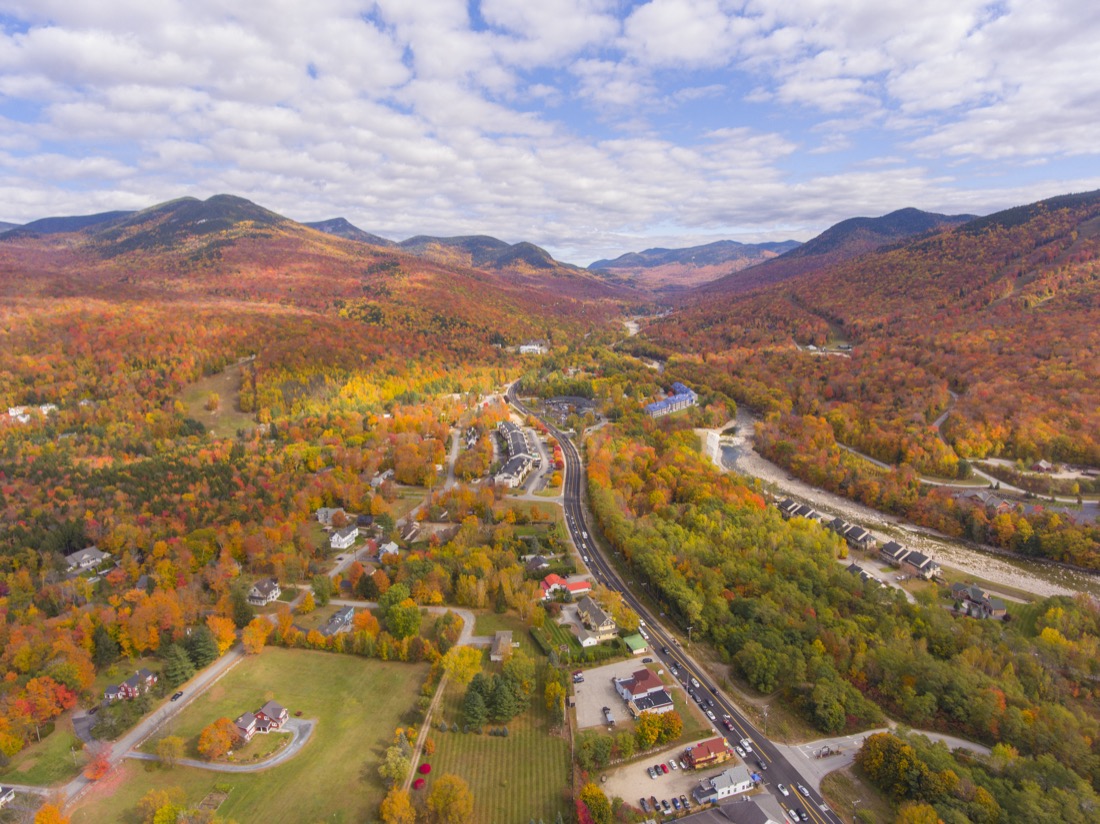 Alternative Afternoon: Hobo Railroad
If you're all hiked out, spend the day in Lincoln, NH, with a ride along the Hobo Railroad (64 Railroad St.), where you can let someone else take the wheel.
The railroad was originally built in 1882, and today you can take a ride along it on a restored vintage railcar.
The 15-mile round-trip railroad takes you through part of the White Mountains and along the Pemigewasset River.
The 80-minute ride is one of the best fall foliage routes New Hampshire has to offer where you don't need a car.
Evening: Lincoln
Relax with a drink in Lincoln at One Love Brewery, see a show at Jean's Playhouse, or hit the Lincoln Village Shops.
Day 5 – Franconia and Gorham – (Approx 79 miles)
For the fifth and final day, you continue to circle White Mountain National Forest as you visit Franconia and Gorham.
Morning: Franconia Notch State Park
The first stop today is Franconia Notch State Park (Flume Gorge, Daniel Webster Hwy, Lincoln).
The state park is the perfect place to hike, bike, or have a picnic if you want to see more of the foliage in the mountains.
A popular location in the park is a 30-foot-wide, 15-foot-deep granite pothole bowl waterfall called The Basin.
Franconia is also home to the state's only aerial tramway which goes to Cannon Mountain's 4,080m summit.
For short hikes, Flume Gorge is a 2-mile loop through granite walls reaching 70 to 90 feet in height!
Visitors must reserve tickets in advance for the Gorge.
As you drive to the next stop, take a quick detour to Flume Covered Bridge.
Afternoon: Presidential Rail Trail
The Presidential Rail Trail (Dolly Copp Rd, Randolph) is an 18-mile hiking and biking trail.
The trail is one of the best places to see fall colors in New Hampshire as it runs through the Presidential Range of the White Mountains.
If you are not a biker and do not want to hike too long, you can hike along the nearby 1.6-mile trail to Cherry Pond.
An alternative to hiking is the Mt. Washington Cog which we will discuss in the next section.
Evening: Mt Washington Auto Rd
Finally, spend the rest of your New Hampshire fall trip driving along the MT Washington Auto Rd.
This route takes you to the highest peak (6,288.3 ft) in the northeastern US which has a record for wind speed!
You do not need to buy a ticket for your car in advance, but you will have to pay the toll when you enter the road.
The scenic yet steep 7.6-mile drive takes about 30 minutes up the mountain, then another 30 to 45 minutes down the mountain, work this into your timings.
You will also want time to stop along the way to admire the New Hampshire fall foliage, so plan for at least a couple of hours for the full drive.
Alternatively, if you prefer not to drive, hop aboard the Mt. Washington Cog 'Railway to the Moon', the last ride is late afternoon – plan accordingly.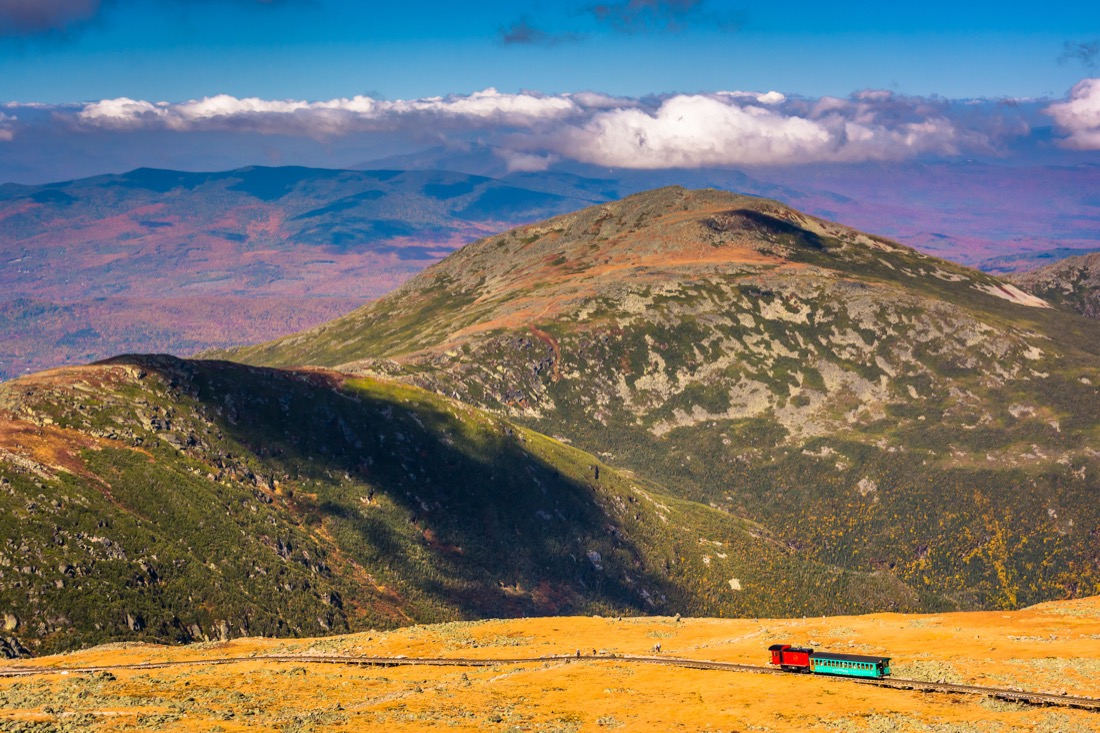 New Hampshire Fall Foliage Map
If possible, be flexible when you go on your New Hampshire fall foliage road trip.
Late September and early October is the best time to go since that is when the foliage is at its peak.
Use this fall foliage map to see where the foliage is peaking and when.
The map covers all of New England, so you can utilize it no matter where you go on your East Coast fall road trip.
You can also use our map to New Hampshire attractions.
Best Places to Stay in New Hampshire For Fall Foliage
There are a variety of options for accommodation around New Hampshire during fall season including big mountain resorts, cozy cabins, sleek apartments, and lakeside rentals!
You can read which accommodation offers the best leaf-peeping opportunities in our guide.
New Hampshire Destinations