This article has links to products and services we love, which we may make commission from.

Ready to hit the slopes for some New England skiing this season? We're highlighting all the best places to ski in each New England state, starting with the most popular and best destinations that you can't skip this winter.
Vermont is known as a winter wonderland, so it's no wonder this state has some of New England's best skiing.
But New Hampshire isn't far behind, with tons of options for beautiful mountain resorts as well as awesome places for beginners.
Maine boasts some of the most beautiful places to ski, while the hills of Massachusetts surprise visitors with their plentiful options within easy reach from Boston!
Connecticut and Rhode Island aren't known as ski destinations, but they each do have a trick up their sleeves for locals to enjoy.
It's all here in our comprehensive guide to skiing in New England so you can plan the perfect ski season!
Best Places to Ski in New England
Organized by state, from the most popular can't-miss ski destination to the lesser known, here's our guide to the best skiing in the Northeast.
You might also like our guide to enjoying winter in New England for a wider range of things to do after you hit the slopes.
Stowe Mountain, Vermont
Stowe Mountain (5781 Mountain Rd, Stowe) is one of the best ski mountains in New England overall.
With skiing elevations of 3,635 feet, 116 trails, and 485 total skiable acres, this resort is massive, with tons of space to explore.
Stowe has more mile-long lifts than any other place in the east, so you'll love the ride up as much as the slide down.
Check snow conditions, find season and day passes, and more on their website.
The Lodge at Spruce Peak is the only mountainside hotel and it's a beloved favorite!
Killington, Vermont
Killington Resort (3861 Killington Rd, Killington) is the second-highest peak in Vermont and is a top New England ski area.
Ski at the 4241-foot elevation, on 155 trails, and through 1,509 total skiable acres.
This resort is absolutely giant, but most of the trails are either 'Difficult' or 'Extremely Difficult.'
While it is not the most family-friendly New England ski slope, it's a great resort for experienced skiers.
Stay at the Killington Grand Resort for the best access via the ski bridge to the slopes (weather permitting).
Okemo, Vermont
Okemo Mountain Resort (77 Okemo Ridge Rd, Ludlow) is conveniently situated in southern Vermont, making it very accessible from Boston.
Enjoy 2,200 vertical skiable feet and more than 200 inches of annual snowfall at the resort.
Okemo also has the highest snowmaking efficiency in Vermont, so you don't have to wait for snowy weather.
Be sure to visit any of the 12 dining options on the resort to fuel up and warm up.
Stay at the resort's Mountain Lodge or Jackson Gore Village to enjoy convenient access to the slopes.
Pico Mountain, Vermont
One of the best New England ski resorts for fun social events is Pico Mountain in Vermont (73 Alpine Dr, Mendon).
Pico features more than 19 miles of trails for every skill level and almost 2,000 feet of vertical drop.
Pico hosts lots of events all season long, including the Mini Shred Madness and the Vertical Challenge.
Book your ski weekend getaway in New England at Fox Hollow Village (106 Fox Hollow Village PVT).
Mount Snow, Vermont
Mount Snow (39 Mount Snow Rd, West Dover) is a classic ski mountain well-loved by locals and travelers alike.
With a 3,600-foot summit elevation, 19 lifts, and 600 total skiable acres, this resort is great for adventurers.
Most trails are at a blue square level, so it's a great mountain for middle-of-the-road skiers.
Check snow conditions, order a New England ski pass, and more at their website.
Jay Peak, Vermont
Jay Peak Mountain Resort (830 Jay Peak Rd, Jay) boasts having the most snow on the entire east coast, which makes visiting this ski area a no-brainer.
More than 80 trails, 100 acres of glades, and almost 2,000 feet of vertical drop set this mountain apart from the rest.
You'll also love the homey atmosphere and the incredible hospitality at this New England ski resort.
They're always having sales, deals, and affordable ski packages advertised on their website, so definitely check it out.
Mad River Glen, Vermont
Mad River Glen (57 Schuss Pass Rd, Waitsfield) is a staple of the Vermont ski scene, and it is 100% cooperatively run.
Dozens of trails are loved by every skill level, but the resort is only for skiing; no snowboards are allowed!
The Mad River Valley is also home to some of the best ski towns in New England, all waiting for you to explore after a day of downhill adventure.
Check snow conditions, find season and day passes, and more on their website.
Bretton Woods, New Hampshire
Bretton Woods (310 Mount Washington Hotel Rd) is consistently voted the best ski resort overall in the east, and for good reason.
It has the best grooming and snow and is the largest resort in New Hampshire.
Backcountry skiing in New England and cross-country skiing are both very popular in Bretton Woods.
Book your stay at the iconic Omni Mount Washington Resort (310 Mount Washington Hotel Rd) for the most perfect New England ski trip.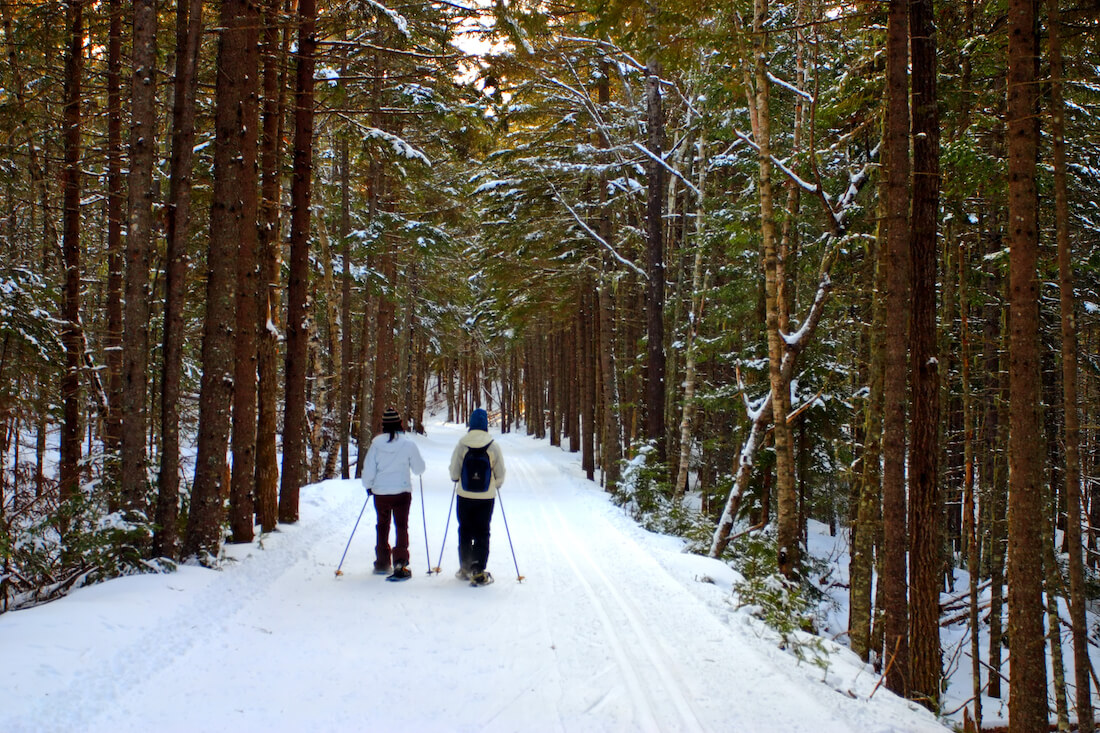 Loon Mountain, New Hampshire
Loon Mountain Resort (80 Loon Mountain Rd, Lincoln) is one of the best winter sports mountains overall in New England.
With 61 trails and almost 400 total skiable acres to explore, you won't run out of thrills and excitement on this mountain.
Find everything you need to know about the snow conditions and more at their website.
Note that there is no official lodging at Loon Mountain, but The Village at Loon Mountain Resort offers amenities and atmosphere, as well as a free shuttle service to the slopes.
Cannon Mountain, New Hampshire
Cannon Mountain (2650 Profile Rd) is New Hampshire's only state-owned resort.
With 11 lifts and almost 300 total skiable acres, this ski area located in Franconia Notch State Park is truly special.
Once you've skied your heart out, be sure to visit the New England Ski Museum for a look into the history of skiing in the region.
There's no resort on Cannon Mountain, but their partner accommodations include the lovely Franconia Inn, the quaint Sugar Hill Inn, or the jaw-dropping Mountain View Grand Resort.
Waterville Valley, New Hampshire
Waterville Valley (1 Ski Area Rd, Waterville Valley) is one of the best family-friendly ski areas in New England.
They offer passes to support young skiers, and you can even purchase a Kids Ski Free pass.
Be sure to check the website for family-friendly events at the resort all winter long.
There's no lodging on the mountain, instead, choose from their partner locations including The Valley Inn, Snowy Owl Inn, or the Silver Fox Inn.
Sugarloaf, Maine
Some of the most beautiful skiing in New England is at Sugarloaf Mountain, which is a Registered Natural Landmark.
The mountain summit sits at 4,200 feet and the total vertical drop is nearly 3,000 feet.
Night skiing in New England is best here at Sugarloaf, so be sure to head to the mountain for a special nighttime event.
Find amazing season and day pass deals and more on their website.
If you're heading to Sugarloaf later in the season, you might catch their fun annual Reggae Festival — it's one of our recommended things to do in Maine in the spring.
Sunday River, Maine
Sunday River (15 S Ridge Rd, Newry) is one of the largest and most popular ski resorts in Maine.
Ski all 8 of the interconnected peaks across 870 acres on 135 different trails,
There are more than 50 miles of trails, and most of them are considered Beginner or Intermediate.
Saddleback Mountain, Maine
Saddleback Mountain (976 Saddleback Mountain Rd) is the largest independent ski resort in the state.
The mountain boasts the highest base elevation of any ski area in the east, at 2,460 feet.
There are 88 acres of glades and the longest continuous run is over three miles.
Saddleback Mountain is definitely for anyone who is serious about skiing.
Camden Snow Bowl, Maine
Camden Snow Bowl (20 Barnestown Rd, Camden) is a classic ski area in Maine.
Most tickets include discounts to other local mountains, which gets you on more ski areas for less.
Night skiing is not available at the Snow Bowl, but there is tons of fun to be had during the day.
Jiminy Peak, Massachusetts
Jiminy Peak (37 Corey Rd, Hancock) is powered by 100% renewable energy.
With 3 terrain parks and 96% snowmaking coverage, this mountain resort is a perfect way to spend a winter afternoon.
The trails are on the slower side, since most are labeled Beginner or Intermediate.
Find everything you need to know before you go on their website.
Jiminy Peak is one of our top places to go skiing in Massachusetts — read the guide for more!
Berkshire East Mountain Resort, Massachusetts
Berkshire East (66 Thunder Mountain Rd, Charlemont) has been in operation for nearly 50 years.
It is considered a true hidden gem by the locals, and it is not as popular as other ski resorts in the area.
The kids will also love the snow tubing center at Berkshire East!
Ski Butternut, Massachusetts
Ski Butternut (280 State Rd, Great Barrington) is a smaller, more humble ski mountain with extra support for those just now learning to ski.
This mountain features two exciting terrain parks for the most adventurous winter sports enthusiasts.
Be sure to check the website for eye-popping midweek day pass deals that will almost make you quit weekend skiing altogether.
Wachusett Mountain, Massachusetts
Wachusett Mountain (41 Mile Hill Rd, Westminster) is a smaller ski area that is absolutely adored by locals.
With a 2,000-foot elevation, 27 trails, and 8 super efficient ski lifts, you'll love zipping up and down the mountain all day long.
Wachusett is one of the best ski resorts near Boston, at just over an hour's drive to the mountain.
Mohawk Mountain, Connecticut
Mohawk Mountain (46 Great Hollow Rd, Cornwall) is a popular ski and snowboard area that mostly services those from the tri-state area.
Mohawk features 26 trails, 8 lifts, and regular night skiing for those hoping to beat the crowds.
This is also a great New England snowboarding mountain, especially if you're just starting to learn.
Yawgoo Valley, Rhode Island
Yawgoo Valley (160 Yawgoo Valley Rd, Exeter) is the only major ski area in Rhode Island, so it's the spot to go if you don't want to leave the state.
Their 100% snowmaking operation makes winter fun possible without having to wait for a storm.
You can also snow tube at the park!
Ski Season in New England
The ski season in New England is pretty long.
Most mountains begin the season in mid- to late-November and they don't close until mid-April.
That gets you five to six months at all the best New England ski resorts!
Final Words
Are you ready to go skiing in New England now? We hope this guide inspired you to hit the slopes all around the region.
Share your favorite places to ski in New England in the comments below!