This article has links to products and services we love, which we may make commission from.

New England in the winter means getting outdoors for snow-covered fun and then cozying up inside to take the chill off. It's also the festive season and New England does the holidays right!
Holiday shopping is a favorite pastime, as is a Christmas stroll or big light displays.
If you love the festive season, you might also like our guide to Boston's best Christmas lights.
This guide includes our favorite winter activities in New England, with tons more ideas for each state included in the links below.
Plan your seasonal fun ahead of time so you're ready to go sledding, skating, or skiing as soon as the next snow comes.
Plus, you won't want to miss the special festive events around the winter holidays, so book early!
Check out our other seasonal guides for New England in the fall and in the spring, too.
Things to Do in New England in the Winter
We start off in Maine and then head to neighboring New Hampshire, into Vermont, and then down to Massachusetts, Rhode Island, and finish in Connecticut.
Enjoy the best of each state in New England this winter and embrace the snowy scenery!
Also check out our dedicated guide to the best skiing in New England if that's your favorite winter sport.
Winter Things to Do in Maine
Beautiful Maine offers plenty to do during the winter season.
Enjoy everything from downhill or cross-country skiing to small-town festive events and decorated lighthouses along the coastline.
Below are a few of our top suggestions, but you can get even more ideas for things to do in our complete guide to Maine in winter.
Also check out our guide to Portland ME in winter if you're heading there specifically.
Ski Saddleback Mountain
If you've come to Maine for winter fun in New England, take the family to Saddleback Mountain (976 Saddleback Mountain Rd) to ski the slopes.
Saddleback Mountain is the largest independent ski resort in the state of Maine, and it is a favorite of the locals.
The summit elevation stands at 4,120 feet, and the greatest vertical drop is over 2,000 feet.
Spend an amazing winter day in Maine skiing any of the 68 trails within more than 600 acres of skiable acres.
Old Fashioned Christmas in Bath
If you're looking for a winter weekend getaway in New England with the kids, make a trip to Old Fashioned Christmas in Bath.
Old Fashioned Christmas takes place in early December and is a magical tradition to celebrate the holiday season.
Caroling, holiday treats, shopping, and more are part of this delightful festival.
Book your stay at the Pryor House B&B (360 Front St) to keep the fun going all weekend long.
Holiday Lighting of Nubble Lighthouse
The Nubble Lighthouse (Sohier Park Rd, York) during the holiday season is one of the best places to visit in New England in winter.
Most years, there is an official lighting formal ceremony to kick off the holiday season.
The event is complete with hot chocolate, cookies, and even a meet-and-greet with Santa himself.
Carnaval ME Winter Festival
Celebrating winter comes easy in the northernmost state in the continental US — do it in style at the Carnaval ME Winter Festival (Cutter St).
Live music is the main attraction at the festival, but you can also expect to experience ice sculptures, heated igloos, tons of local beer and food, and fun activities for kids.
Skiers and snowboarders can also take part in the rail jam, a super high-energy downhill competition for talented athletes.
Things to Do in New Hampshire in Winter
New Hampshire can be a true winter wonderland!
We love NH in all seasons, but winter in the White Mountains is extra magical.
Check out some of our favorite activities below, but if you need even more inspiration for things to do this season, check out our New Hampshire winter guide.
You might also like our North Conway winter guide for a hub of seasonal activities.
Winter Zip-Lining on Mount Washington
Non-skiers will love the Canopy Tour, the zip-lining course through the gorgeous slopes of Mount Washington.
Featuring 9 zip lines, 2 sky bridges, and 3 rappels, you'll descend more than 1000 feet by soaring through the air at up to 30 miles per hour.
This adventure in winter in New England is sure to excite almost any traveler.
Ice Castles in North Woodstock
For a unique thing to do in New England this winter, visit North Woodstock, New Hampshire to see the majestic Ice Castles (24 Clark Farm Rd).
Built every year by talented artists, the Ice Castles are massive structures built with ice slides, tunnels and caverns, a winter fairy walk, and even a full ice bar.
This activity is perfect for a romantic date, an adventure with friends, or an outing for the whole family.
Dartmouth Winter Carnival
The Dartmouth Winter Carnival has been a local tradition for more than 100 years to celebrate the winter season and the Dartmouth sports teams.
Take part in this three-day event, complete with ice sculptures, food and drinks, and incredibly fun downhill races.
If you're looking for something fun to do this winter in New England, consider making the trip to Hanover, NH for this winter event.
Cannon Mountain for Ski
Experienced skiers and first-timers alike love Cannon Mountain (260 Tramway Dr, Franconia).
Enjoy its 100 trails and glades, 11 lifts, and 4,000-foot peak elevation.
Rent skis or a snowboard, take lessons, or even ski up the mountain during your weekend getaway to Franconia.
Things to Do in Vermont this Winter
Vermont in winter is spectacular — get even more ideas in our complete guide!
We love this state and the winter season is particularly enjoyable.
You might want to check out our winter guides for Stowe, Killington, and Burlington for tons of hyper-local suggestions.
Ski Sugarbush Resort
By far the best ski mountain in Vermont is Sugarbush (102 Forest Dr, Warren).
Explore all 2,000 acres and more than 2,000 vertical feet at Sugarbush, and stop in any of the five dining options at the resort for refreshments.
If you're looking for romantic things to do in New England in the winter, plan a weekend of skiing and then cozying up together at the delightful Warren Lodge (731 VT-100).
Great Ice! Event in North Hero
Sometimes, winter fun in New England is simple and no-frills: Great Ice! in North Hero is just that.
You'll find bonfires, outdoor skating, cooking contests, snow sculpture competitions, and even a few fireworks at this weekend-long festival in mid-February.
Play on the Frozen Lake in Burlington
Burlington, Vermont is a special place to visit in the winter, but something as simple as exploring the frozen lake is one of the best things to do.
Head to Waterfront Park (10 College St) to get close to the water; if you aren't totally sure it is completely frozen, stay on land!
Don't venture out too far, but slipping and sliding across the ice is an iconic Burlington tradition every year.
Christmas Shop in Woodstock
Get your holiday shopping in Woodstock, a charming small town that is known for its beautiful downtown area.
We think it's one of the best winter towns in New England!
Stop into unique shops like F. H. Gillingham & Sons General Store (16 Elm St), The Village Butcher (18 Elm St), or Farmhouse Pottery (1837 W Woodstock Rd) for everyone on your list.
Things to Do in Massachusetts This Winter
Massachusetts boasts the largest city in New England (Boston) as well as varied landscapes to enjoy everything from skiing and snowboarding to beach strolls and small island life in the off-season.
These are are few of our favorites, but check out our Massachusetts winter guide for even more ideas!
Winter Sports at Ski Butternut
Ski Butternut (380 State Rd, Great Barrington) is one of the most famous ski areas in the Berkshires.
More than 100 acres of skiing and 10 lifts are available to skiers of all abilities.
Check their website to find lift tickets and look out for mid-week discount rates!
Love skiing? Check out our other places to ski in MA that you shouldn't miss.
We also have tons more ideas for spending winter in the Berkshires.
Old Sturbridge Village Christmas by Candlelight
If you're interested in a more historic New England in winter experience, visit the Old Sturbridge Village (369 Main St, Sturbridge) during one of their Christmas by Candlelight events.
This is one of the most beautiful areas to learn about old Christmas traditions, enjoy live music and a special lighting ceremony, and taste delicious holiday treats.
Skate and Sled on Boston Common
Ice skating on Boston Common's Frog Pond is one of the most popular things to do in New England in the winter.
This is certainly one of the best things to do in Boston during the winter, but check out our complete guide for plenty more suggestions.
Recently voted as the best outdoor skating rink in the US, you can visit and skate any day of the week during the season.
Rent skates or bring your own and enjoy this amazing Boston experience.
Don't forget to stop by the Make Way for Ducklings statues in the Public Garden just across Charles Street!
Nantucket Christmas Stroll
Getting into the Christmas spirit couldn't be easier than at the yearly Nantucket Christmas Stroll.
In early December, visit Nantucket to enjoy live music and entertainment, arts and crafts displays, Santa's Village Marketplace, and a visit from Santa himself.
The Stroll began as a way to help locals shop for the holidays without leaving the island, but has blossomed into a special tradition for everyone.
Spend more time on the Cape and Islands with our Cape Cod winter guide.
Winter Things to Do in Rhode Island
Winter in Rhode Island is extra special!
This small state boasts popular Providence as its capital city plus historically affluent Newport along the coast.
You won't want to skip the festive activities there in December!
Get all the details for our favorite fun things to do in winter in RI.
Newport Winter Festival
Every year at the end of February, the town of Newport celebrates the winter season coming to an end.
The Newport Winter Festival is a weeklong event filled with more than 150 events, including live music, activities for kids, tons of food and drink, and more.
Check their website for a complete list of happenings for the upcoming year.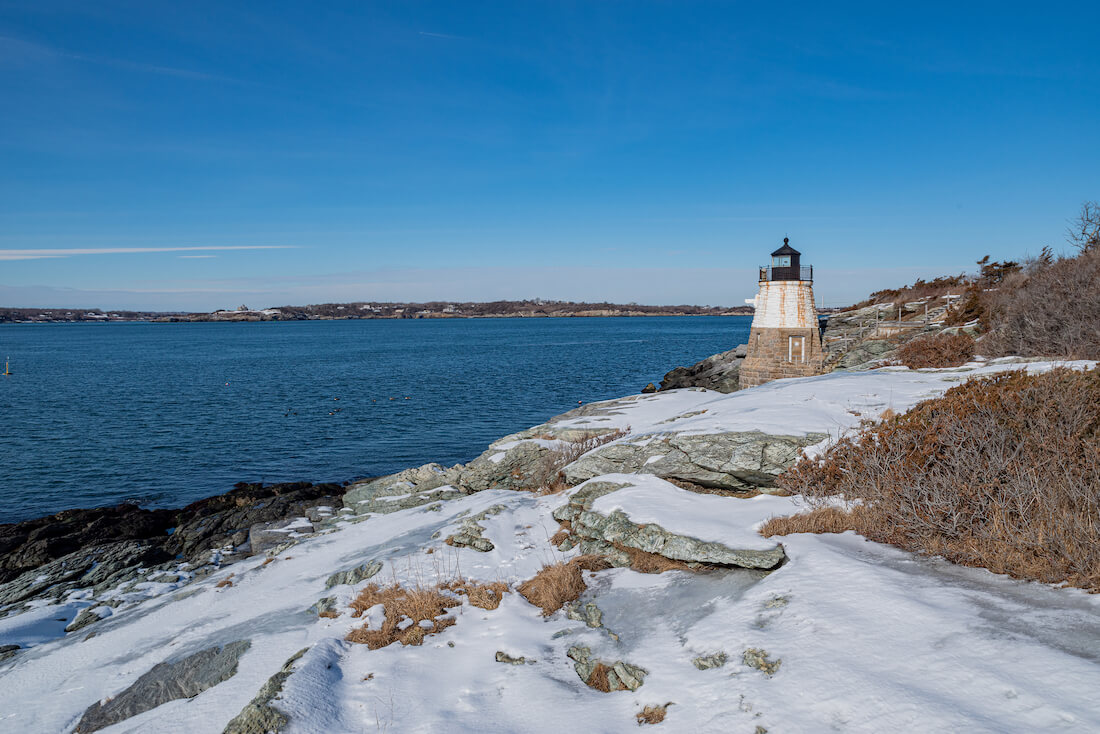 Snowshoe Rental and Nature Preserve Hike in North Kingstown
Getting out into nature in Rhode Island is easy all year round, but snowshoeing presents a new and fun challenge.
Rent snowshoes from The Kayak Centre (70 Brown St) and head out into the Ryan Park Loop for a serene snowshoe adventure.
RISD Museum is Free Sundays all Winter
Art lovers on a budget: head to the Rhode Island School of Design Museum (20 N Main St) on Sundays all winter long: you'll get in for free!
RISD is one of the largest museums in New England and its collections are incredible.
This activity is perfect for anyone who gets a little tired of the winter chill and needs an indoor escape.
Things to Do in Connecticut in Winter
Connecticut is too often overlooked in New England, but there is plenty of winter fun to be had here!
Get our full winter in Connecticut guide for more suggestions, but here are a few ideas to get you started planning your seasonal fun.
Mohawk Mountain Ski
Connecticut isn't exactly known for its ski mountains, but Mohawk Ski Resort (46 Great Hollow Rd, Cornwall) definitely does the trick if you're into a quieter New England winter family vacation.
With 26 trails and a summit elevation of 1,600 feet, you're sure to get the most out of the mountain.
If you're not much of a skier, the mountain also has an amazing hill for sledding and tubing.
Fairfield Christmas Tree Festival
If you're looking for a chance to get into the holiday spirit on your New England winter vacation, stop by the Fairfield Christmas Tree Festival (739 Old Post Rd).
The Burr Homestead, a historic mansion and garden, hosts the festival every year.
Each room is decorated festively all season long, so head to the Homestead to travel back in time to Christmases past.
Ice Climb with Ascent
If you're ready for a serious New England winter adventure, try your hand at ice climbing with Ascent Climbing.
Climb frozen waterfalls and learn all the tricks of the trade with experienced guides and teachers.
Final Words
We love all the festive and fun things to do in New England in the winter — this region certainly embraces the weather and the holiday season!
Share your favorite things to do in the comments below.