This article has links to products and services we love, which we may make commission from.

Ready to finally visit New England in fall?
Or maybe you've been here before and want to find some of the best places to see fall foliage in New England for your next trip?
Either way, this guide is jam-packed with lots of fall ideas and adventures you can find like apple and pumpkin picking, taking a scenic drive or train ride, and hiking up to the best places to see foliage in New England.
There are also museums to explore, Oktoberfest, spooky Halloween events, family-friendly corn mazes, tons of historical spots, and fall festivals – making New England in autumn well worth the trip.
And if you want your trip to be extra thrilling, try staying at one of New England's haunted hotels as the base of your fall adventures.
Of course, New England is truly a year-round destination, so check out all the best places to visit to plan for other seasons, too.
Here are our guides to New England in the spring and winter for more ideas.
You may also like our one week fall road trip itinerary or make Boston your hub and enjoy plenty of fun fall day trips from there.
Things to Do in New England in Fall in Each State
Maine
Maine doesn't need to do much to prove it's one of the best places to visit in New England in the fall.
Mainers know how to celebrate the change of the season with lots of fun events, and there are so many opportunities to see the famous New England fall foliage in all of its glory.
When you visit cities in Maine, especially in the autumn, you'll find tons of outdoor activities, from apple picking to whale watching.
See more of Maine's fall activities and events below.
See the Fall Colors at Camden
Camden is a nice spot to see the fall colors in Maine.
You can go to Camden Hills State Park which has 20 trails, including the scenic Maiden's Cliff, for some great leaf-peeping opportunities.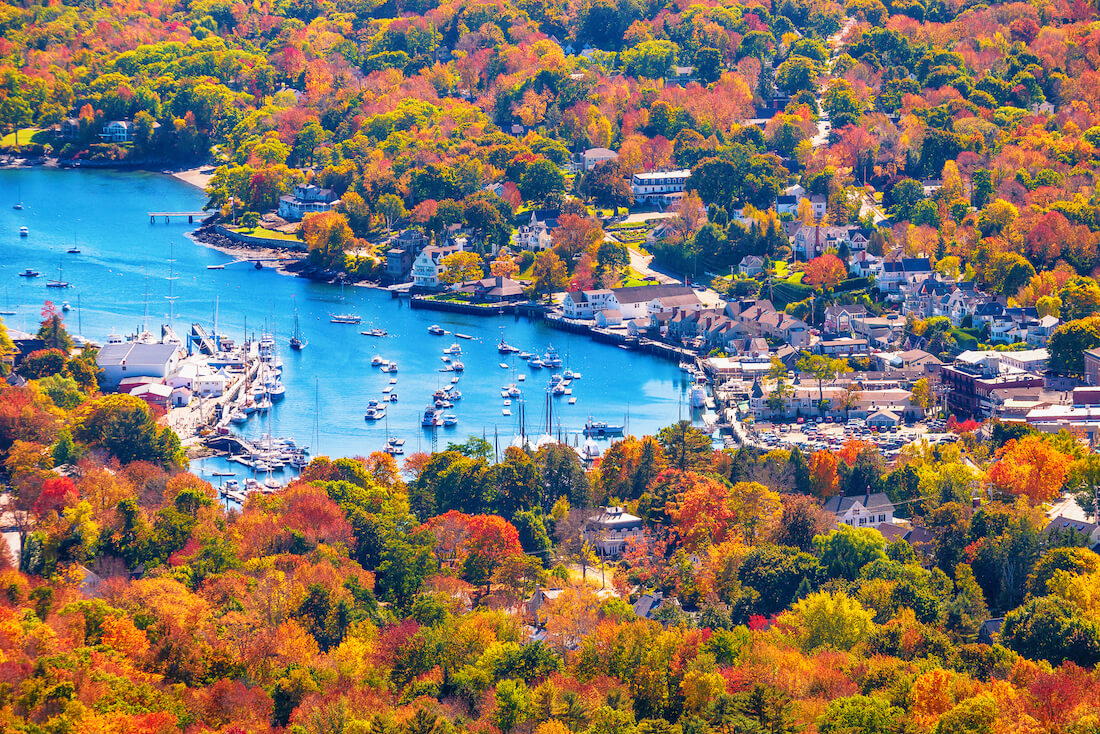 Fall Foliage Train Ride
The Belfast and Moosehead Lake Rail offers scenic seasonal train rides like their Fall Foliage Train Ride to see some of the best foliage in New England.
They also have a Pumpkin Express ride that takes you to a local pumpkin patch.
Fall Foliage Cruise
If you'd prefer to travel by boat rather than rail, Damariscotta River Cruises (47 Main Street) will bring you to the leafiest sights and teach you about the local oyster farm community.
Maine Craft Weekend
On the first weekend of October, the Maine Craft Event is the perfect excuse to take a weekend road trip to see Maine's finest artisans and check out their studios, galleries, pop-up shops, lessons, demonstrations, and more.
Pick Some Apples
The apple-picking season in Maine usually runs from August through November.
And you can't go wrong with so many apple-picking spots to choose from, but The Apple Farm (104 Back Road) in Fairfield is a popular choice for visitors wanting to pick their own apples and grab some other tasty farm treats.
Maine Maple Fall Fest
The Maine Maple Fest is a great event for the whole family to learn about all things maple.
This is where many maple producers in Maine open their sugar houses for tours, maple syrup tastings, and demonstrations.
Take a Scenic Drive
The Rangeley Lakes Scenic Byway takes you through 36 miles of western Maine with gorgeous views of mountains and lakes in the autumn.
And there are plenty of great places to stop off and explore, like the town of Rangeley where you can get a cup or two of fresh squeezed cider, especially during their annual Apple Harvest Festival.
Hike the Pleasant Mountain
Maine is full of ample hiking opportunities, but Pleasant Mountain is popular for its moderately challenging hikes and incredible views of the White Mountains as they change color in autumn.
Enjoy Local Food and Drinks
Harvest on the Harbor in Portland is a great event every October that features local foods and drinks.
You can find food served by local chefs and restaurants like oysters, lobsters, ciders, beers, and more.
If you wish to stick around the event until evening and explore more of Portland the next day, you can find many accommodations in the city to book your stay.
See Arts & Crafts at Freeport Fall Festival
The Freeport Fall Festival is where you can find artists, makers, and local food producers from all over New England come together to showcase their crafts and products.
This three-day event takes place every October and features displays like paintings, photography, handmade jewelry, woodwork, artisan soaps and candles, and more.
There are also food stalls, live music, and activities for kids available.
Shop for Farm Fresh Produce
In November, Maine Harvest Festival in Bangor is joined by hundreds of Maine farmers and vendors to "Celebrate Farm Fresh".
Sample some of the best-tasting drinks by Maine's distillers and brewers, or enjoy farm-fresh produce by local farmers that are perfect for the season like apples, cranberries, vegetables, and more.
Whale Watching
The whale watching season spans from May to October.
You can take numerous tours like the one with Bar Harbor Whale Watch Co. in the Gulf of Maine- as you try to spot whales, porpoises, dolphins, seals, and more.
Check out our guide to Acadia in fall or Bar Harbor in fall for lots of season-specific tips.
Vermont
You can find lots of fall-worthy activities in Vermont, making it one of the top New England fall destinations.
In the following list, you will find activities you can enjoy in the autumn including exploring Vermont's charming covered bridges, gondola rides, trying some maple syrup, and more.
If you're looking to spend the night or two, Vermont has some great places to stay for peak leaf peeping opportunities- or if you're planning on camping earlier on in the season, we have a guide to help you.
Visit Vermont's Covered Bridges
Vermont is known for its covered bridges– and to see some of the oldest, head to the town of Bennington.
You can visit the Silk Covered Bridge and Henry Bridge at Walloomsac River, both built in the 1800s.
The surrounding area is also filled with lush trees turning every color of autumn.
Wander a Huge Corn Maze
The epic corn maze at Hathaway Farm is family-friendly and is so much more than just a corn maze.
There are puzzles and various fun stopping points along the way, making it a fun activity in the fall.
Or check out The Great Vermont Corn Maze, which claims to be the largest in New England!
It took Amanda (Co-Owner of Hey! East Coast USA) 2.5 hours to make her way out of that maze in 2023.
Have a Romantic Dinner with a View
The Champlain Valley Train offers a three-hour round trip ride with a three-course gourmet meal through Champlain Valley during September and October.
It's the perfect chance to see the gorgeous New England fall colors complement the beautiful Vermont landscape.
Hike the Stowe Pinnacle Trail
Vermont has some of the best fall foliage in New England, and hiking is a great way to see it.
The Stowe Pinnacle Trail is a 3.7-mile moderate hike and a nice way to spend a fall afternoon as it gives an incredible 360-degree view of the most vibrantly colored treetops.
Aside from hiking, the trail is also famous for birdwatching.
Test Your Pumpkin Skills
How far can you hurl a pumpkin?
Find out at the Vermont Pumpkin Chuckin' Festival, listen to live music, and enjoy the chili cook-off.
Visit a Maple Sugar Shack
Could you really visit Vermont and not try some maple syrup?
At Burr Morse, you'll have a maple sugar house tour and tasting, wander a nature trail, visit the country store, and explore the farm.
Have Fun at a Resort
There are various resorts in New England that offer activities perfect for the fall.
One is Killington Resort, which offers gondola rides just over a mile long to the top of 4,241-foot Killington Peak for breathtaking views, plus a lodge with refreshments at the top.
The resort also has access to 15 miles of hiking trails in addition to the Appalachian and Long Trails; and features other activities to enjoy like biking, golf, ATV tours, and more.
Ride a Gondola
The scenic gondola rides at Stowe Mountain Resort (5781 Mountain Rd) will treat you to breathtaking views of Vermont's highest mountain, Mt. Mansfield as well as the forest around the area which is especially beautiful in fall as the leaves change color.
There are also a variety of dining options at the resort as well as access to the trails of the Green Mountains.
New Hampshire
If you've been to New Hampshire, you'll know why it's a popular stop on any New England fall road trip.
First and foremost, there are so many chances to admire the NH fall foliage as the leaves change color, especially if you take the canopy tour.
But if you prefer to stay closer to the ground, you'll have to take a drive down "The Kanc", a designated American Scenic Byway and one of the best places for fall foliage in New England.
And to get the most out of your trip New Hampshire has a good number of places to stay in the fall.
Check out our full guide to New Hampshire in fall for tons more tips and suggestions.
Hit the Open Road
New England in October is where you can see the autumn leaves at their most vibrant, and you simply can't miss one of the best spots to see this.
Possibly the most popular New England fall foliage drive, The Kancamagus Scenic Byway, is 34.5 miles long, reaches 2855 feet in elevation, and gives the most spectacular views of the White Mountains in its fall color.
Scamman's Farm Corn Maze
Scamman Farm (69 Portsmouth Ave) has a 6-acre corn maze, featuring new designs every year that will keep you twisting and turning from all the adventure- plus they include games you can enjoy within the maze.
You can also visit their pumpkin patch or shop at the Seacoast Marketplace located just near the patch for fresh farm vegetables or handmade goods.
Hike at Monadnock State Park
The Monadnock State Park in Jaffery is home to the 3,165-ft. Mount Monadnock- one of the most climbed mountains in the world.
You can hike here in the autumn and enjoy the spectacular views of the fall colors from the mountain's summit.
Oktoberfest
Catch the views of the White Mountains and enjoy the party at Schilling Oktoberfest in Littleton hosted by Schilling Beer Co., a European-inspired craft brewery.
Visit the Orchards
New Hampshire has dozens of orchards to choose from, but Gould Hill Farm is one of the best.
They have lots of pick-your-own fruit options, a restaurant, cider tasting room, farm store, bakery, and even homemade donuts and ice cream.
Canopy Tour
Want a unique way to enjoy the fall weather or foliage in New Hampshire?
Take the 3-hour canopy tour by the Omni Mount Washington Resort (310 Mount Washington Hotel Road) which is connected by nine ziplines, two sky bridges, and three rappels.
This tour is a great way to enjoy the spectacular fall views of the White Mountains, Mount Washington, and the Presidential Range.
Rhode Island
Rhode Island may be the smallest state, but that doesn't mean it isn't one of the nicest New England fall destinations.
Due to its size, you can drive across the entire state in just an hour making it ideal if you're looking for a day-long fall foliage New England road trip.
Or find lots of great things to do, from beautiful hiking trails to a scenic cruise on the bay.
Take a Leaf-Peeping Stroll
Providence is a gorgeous little town in RI to visit in the fall, with all the leaves changing color on the trees lining the streets- perfect for leaf-peeping.
The fall weather makes it also nice to explore Providence's many historic neighborhoods on foot, stopping in at all the great shops and restaurants along the way.
And don't forget to visit Prospect Terrace Park for some stunning views of the cityscape.
Solve a Murder Mystery
Enjoy a full course meal, cocktails, two and half hour train ride through Aquidneck Island on the Grand Bellevue as you are immersed in a murder mystery and try to figure out "whodunnit".
Take a Scenic Route
Want more ideas on some of the best New England road trips this fall?
Route 102 is well known for being one of the best scenic routes in the state in the autumn.
Take the 44-mile drive and stop off at some of Rhode Island's quaint towns along the way- like North Smithfield and Glocester.
Get Scared
Voted the scariest spot in the state, Scary Acres RI (2150 Scituate Ave) is one of the perfect sites for a spooky fall getaway in Rhode Island.
On your visit, you'll wander through the haunted corn maze and ride the terrifying hayride and try your best to escape the zombies, ghouls, and monsters.
Go Cruisin' Down the Bay
The Scenic Narragansett Bay Cruise is not only a great way to leaf peep, but you'll also learn about the history of Newport Harbor and the many historic landmarks on the Jamestown shoreline.
Massachusetts
If you're looking for one of the best New England fall getaways, look no further than Massachusetts.
You can experience the magic of the wide-open countryside, the bustling metropolitan area, and the sandy beaches – all within a few hours.
Plus, it's right in the middle of the surrounding states, which makes it a great place to start your fall getaway in New England.
Watch the Head of the Charles Regatta
The Head of the Charles Regatta is probably one of the most popular fall activities in Boston, MA.
Every year at the end of October, you can watch thousands of rowers from across the globe converge in Boston to race down the Charles River.
Take a Brunch Cruise
Chow down on a gourmet brunch while cruising on a 1920s-style yacht and seeing the Boston Harbor in all its autumnal glory.
Join the Fall Foliage Parade
The Fall Foliage Parade at downtown North Adams is held every first Sunday of October featuring a variety of traditional entertainment.
There is a children's fair, a road race, an arts and crafts fair, and live music at the event.
Visit a Museum
If you're visiting in late November, the living history Plimoth Patuxet Museum which tells the story of the Plymouth Colony, hosts a variety of Thanksgiving programs, including an authentic 17th-century feast.
Check out our guide to Plymouth for more ideas.
Take a History-Filled Ride
Learn about the area's history as you enjoy the Fall Foliage Train Ride through the historic part of Adams and see the beautiful scenery of the foliage.
The ride is organized by the Berkshires Scenic Railway Museum.
If you plan to stay in the Berkshires, here's our guide to hotels.
Check Out a Rennaissance Fair
King Richard's Faire is the largest Renaissance festival in New England.
The festival's 80-acre wooded site is truly a step into another world filled with jousting knights, performing minstrels, psychic readings, plus food, artisans, and one-of-a-kind experiences.
Boylston Schul-Verein Oktoberfest
The Boylston Schul-Verein Oktoberfest is a family-friendly event that has a traditional beer bar, lots of homemade German food, an artisan market, a kids section, and live music.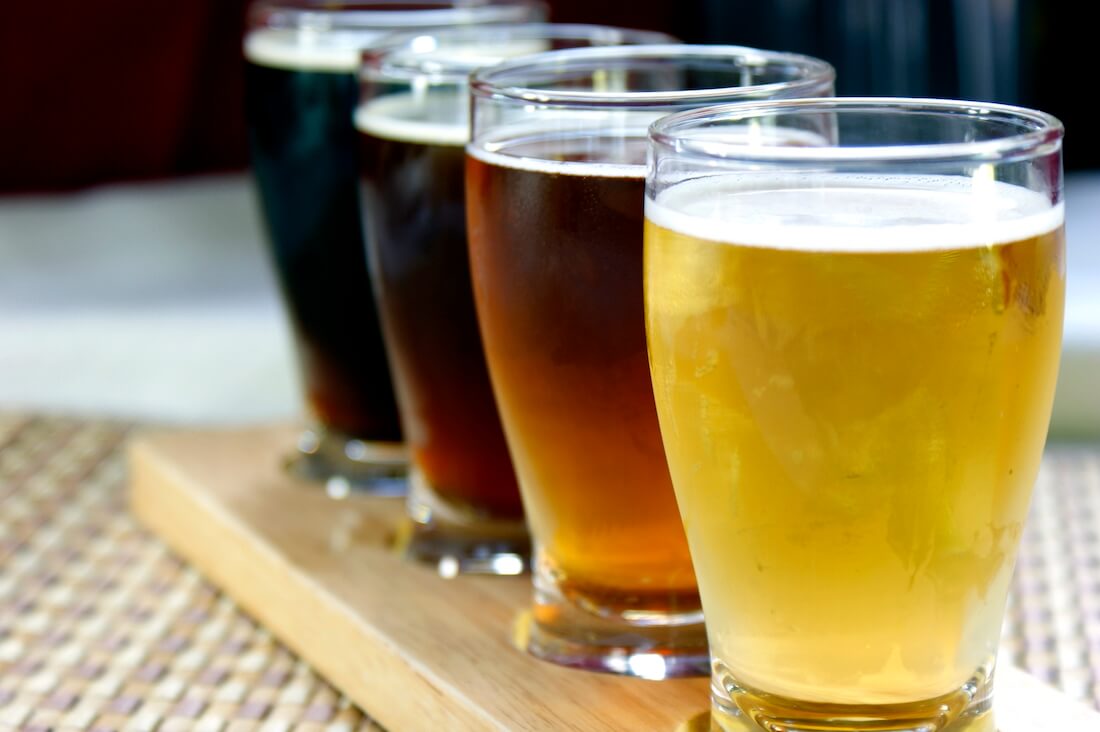 Apple Picking at Red Apple Farm
Not only can you pick apples at Red Apple Farm, but you'll also love the weekend BBQs, hayrides, and farm stand.
Plus, it has an apple tree that has been cultivated to sprout nearly every variety of apples the farm has.
Get into the Halloween Spirit
One of the many reasons people take fall trips to New England is to have some spine-tingling fun with all the haunted places and ghost tours available in the region.
And one of the most visited places for this is Salem, renowned for its witch trials and the Witch House (310 Essex St)- and is one of the top Halloween destinations in the country.
Every October the town hosts the Salem Haunted Happenings, a month-long event full of Halloween-themed and supernatural-inspired activities.
With tourists flocking to the town during the fall, you may want to look for places to stay in Salem in advance.
Go Leaf Peeping
The Norwottuck Rail Trail is an 11-mile paved path popular for its gorgeous fall colors and scenic views – it's also wheelchair accessible and dog-friendly.
Visit a Bog
Have you ever tasted a fresh cranberry?
Visit a cranberry bog, and you can do that and more – some might even have you help them harvest.
Connecticut
There's no way Connecticut isn't on your list of places to visit in New England in the fall.
It's full of gorgeous little towns, all with their own unique charms and autumn activities worth trying.
You may also like our guide to Connecticut in fall.
Hike Mt. Misery
Hike up to Mt. Misery Trail and enjoy the 441-ft view of the incredible Pachaug State Forest and Voluntown in the fall.
The crisp and cool autumn weather also makes this moderately challenging trail worth exploring- plus a chance to spot birds in their fall migration.
Go to a Book Sale
Doesn't it feel so autumnal to curl up with a cozy book?
Book Barn is so large they have three separate shops (all within a very short walk), and if you go in October, you might catch their annual sale.
Attend an Apple Festival
The Southington Apple Festival is one of the state's top events that draws in over a hundred thousand people.
You'll enjoy the family-friendly activities, crafts, specialty food, and lots of apples in this fall-themed event.
Take the Long and Winding Road
See Connecticut's farms, small towns, and beautiful scenery on Connecticut State Route 169, which has 36 miles of nature with some of the best foliage views.
Route 7 for Fall Colors
Route 7 in CT runs from north to south and features Kent Falls State Park (462 Kent Cornwall Rd).
The park features a quarter-mile hike up the Kent Falls Trail with fall colors and a 250-foot Kent Falls over the Housatonic River.
Visit a Pumpkin Dream
Pumpkintown U.S.A. is the ultimate destination for pumpkin lovers; it has its own restaurant, country store, farm, and even a barbershop.
Drink Cider
Located in historic Mystic, Connecticut, B.F Clyde's (9129 North Stonington Road) is a family-owned and operated cider mill that has been welcoming visitors for over 100 years.
Fall is the perfect time to visit as it's when the mill is freshly stocked with freshly-made apple cider donuts, mums, pumpkins, and of course, delicious cider.
The mill is only open from September to December.
Final Thoughts
No matter which state you visit in New England in the fall, make sure to see some of the most beautiful fall foliage, join in at least one fall festival, or find some apple cider donuts or maple syrups to try!
What fall activity did you enjoy the most? Let us know in the comments.
If you want to visit more places in New England, see our guides below: