This article has links to products and services we love, which we may make commission from.

Planning the ultimate trip to New England in the fall? It's the perfect chance to see the best of the East Coast fall foliage and check out some of the bigger cities and incredible mountain ranges.
This New England fall road trip 1 week itinerary will take you from Boston to Portland to the White Mountain National Forest to the Green Mountain National Forest, to Hartford to Providence, and back to Boston.
By taking this route, you'll experience many major sights with the least driving time to get the most from your 7 day New England fall road trip.
Generally speaking, peak fall foliage is mid-October.
Each day has under 4 hours of driving time to the next destination to maximise time for exploring, which is especially useful the closer your trip is to Daylight Savings Time.
The clocks change the first weekend of November.
In early September, the sun will set around 7:30; by early October, it will set around 6:30; and by early November, it will set around 5:30.
We've included approximate times and mileage between stops, this may differ depending on what options you take.
For fun fall activity ideas throughout New England, read this guide.
The Best New England Fall Road Trip 1 Week
Day 1: Salem, Massachusetts
The largest airport in New England is Boston Logan International Airport, so assuming you're flying in for your 1 week New England fall road trip, this is the best place to start.
Once you land and pick up your rental car, head to Salem, about 45 minutes (15 miles) north.
Salem is one of the most iconic American destinations to visit in autumn; however, because of this, you'll want to have everything booked and planned far in advance so you don't miss out.
Travelling on a weekday can help alleviate some stress, but parking will be more difficult (even impossible) the closer you get to Halloween so it is advised to book parking ahead with your accommodation booking.
Get Breakfast at Ugly Mug Diner
Grab breakfast (or brunch) at Ugly Mug Diner (122 Washington Street) in the heart of historic Salem.
Their waffles and brunch cocktails are particularly popular, but you have to try one of the hand crafted coffees or speciality sodas.
Visit a Salem Museum
Salem has so many museums for a small town; you can cram as many in as possible or take your time through one or two.
Some of the most popular ones are Salem Witch Museum, Witch Dungeon Museum, The Witch House, Salem Witch History Museum, and Peabody Essex Museum.
Look out for Hocus Pocus filming locations too.
Head to Red's Sandwich Shop for Lunch
Red's Sandwich Shop (15 Central St.) serves more than just sandwiches; they also have great breakfast, salad, and pasta options.
Located in the bright red historic London Coffee House from 1698, you can chow down in a building older than the country.
Feel the Magic at Crow Haven Corner
Crow Haven Corner (125 Essex St) is the oldest witch shop in Salem and has everything from t-shirts to spell kits for you to bring back home.
You can also book a reading with Lorelei, the shop's owner who has a reputation as "Salem's Famous Love Clairvoyant."
Relax at Ledger Restaurant for Dinner
You can splash out on a fancy dinner downtown Salem at Ledger Restaurant (125 Washington St).
Housed in a former bank, you'll feel steeped in history in the 200 year old building while eating traditional 19th century cuisine served with a contemporary twist.
Take a Spooky Tour in Salem
Starting at 221 Essex Street, this walking tour will bring you through 8-12 sites in the city, including Salem Witch Trials Memorial, Ropes Mansion, Old Burying Point Cemetery, and Witch House.
Find more fun things to do and accommodation options in these Salem guides:
Sleep well and set the alarm early for your first state boundary crossing from Mass to Maine.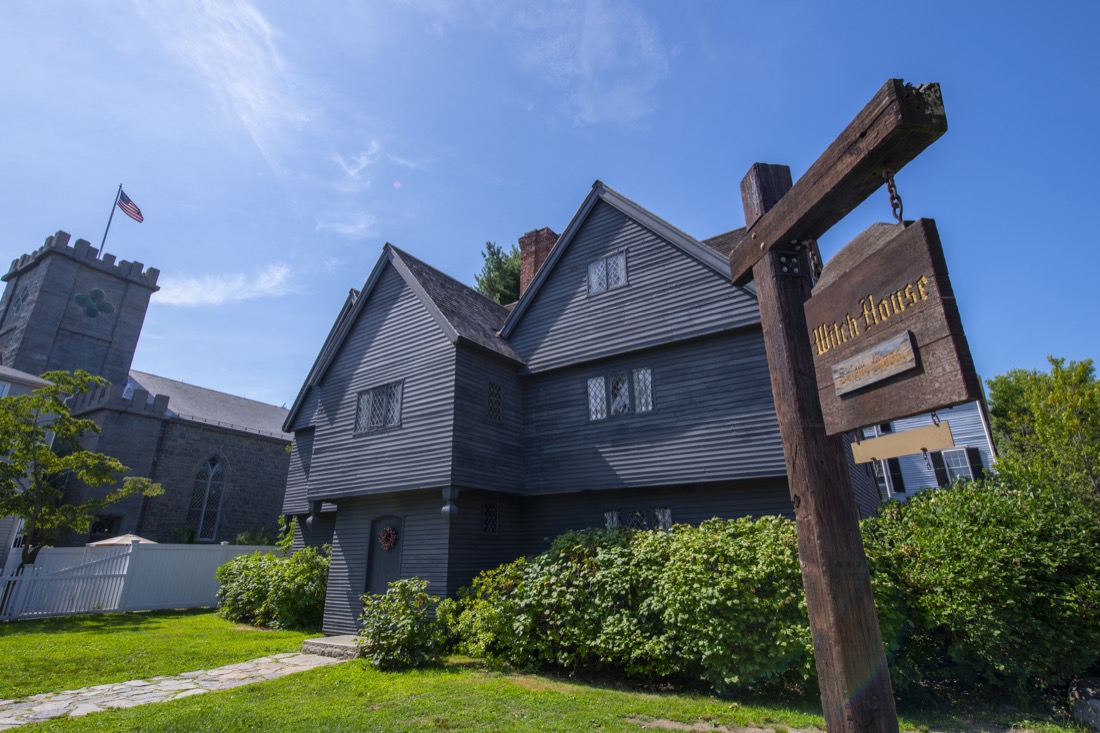 Day 2: Acadia National Park and Bar Harbor, Maine
Starting with one of the trip's longest driving days at 4h 28 min to Bar Harbor (268 miles); make sure you are up and away very early, and that you've stocked up with a giant coffee from one of the local shops on the way.
While en route to Bar Harbor, you can stop off at Portland for a quick breakfast, which is only an hour and a half away (95 miles) from Salem, read this guide for for fun things to do in Portland in fall for more.
The trip takes place on I-95, one of the best New England leaf-peeping routes, in mid-October.
Parking in Bar Harbor is affordable but varies depending on the part of town; find more details here.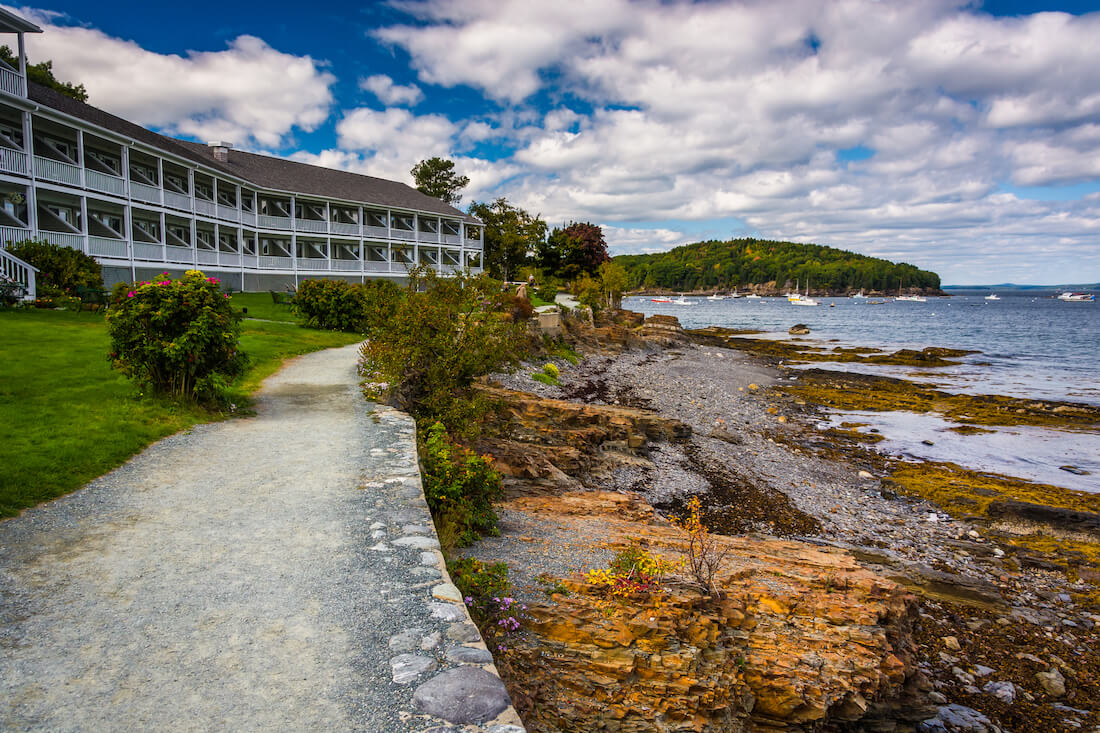 Acadia National Park and Cadillac Mountain
Normally visitors spend 2-3 days in Acadia National Park but since you only have time for a one week New England road trip, half a day will have to suffice.
It will give you a quick taster of what one of the most popular national parks on the East Coast has to offer and a reason to return to the 27 miles of historic roads and 158 miles of hiking trails!
Even for a short visit, you have to book your entry to Acadia National Park in advance and print off your vehicle pass for display.
It gives you access to the whole park, excluding the popular Cadillac Mountain drive.
If you plan to do the 3-mile drive to the 1,530 foot summit of Cadillac Mountain, you must apply for a Cadillac Mountain vehicle reservation in advance, where you pick a timed slot.
Alternatively, you can leave your car in Bar Harbor, hop aboard the Island Explorer bus, and then hike the Cadillac North Ridge Trail to the summit, which takes around 2.5-4 hours up and down.
This hike includes views of popular Acadia attractions such as Bubble Pond and Eagle Creek.
A third option is to skip Cadillac altogether and book a sunrise drive in advance for the next day.
For the rest of your day in Acadia, you'll want to download this self-guided driving/walking tour to see as much as possible; it will take you to some of the most popular parts, like Beaver Pond, Ocean Path, Egg Rock Overlook, and Cadillac Mountain, if you've pre-booked a time slot.
Lunch at Jordan Pond House
You don't have to leave the park for lunch if you go to Jordan Pond House (2928 Park Loop Rd); you can try their famous afternoon tea with popovers while looking out over Jordan Pond.
Explore Downtown Bar Harbor
Bar Harbor is only about 3 miles long, so you can get a lot of exploring done in a short amount of time; there are lots of bars and restaurants and cafes as well as quirky shops and boutiques.
Cool As A Moose (118 Main St) and A LITTLE MAD shop (17 Rodick St) are popular spots for some of the most interesting and unusual finds.
Stewman's Lobster Pound for Dinner
Sit out on the oceanfront and tuck into some of Maine's famous lobsters at Stewman's Lobster Pound (35 West St, Bar Harbor).
Have a Laugh at ImprovAcadia
Unwind at ImprovAcadia (15 Cottage St, 2nd floor), where you can get a drink and a snack and watch comics, magicians, musicians, and drag queens perform.
For accommodation, read this guide which has pet-friendly accommodation options, this one has boutique, waterfront and affordable choices, and this guide has luxury ones.
For more fun autumn things to do in Bar Harbor, read this guide.
Day 3: Sunrise at Cadillac, Mt Washington and Conway, New Hampshire
If you've opted for the sunrise drive up Cadillac Mountain your day will start here.
Then consider breakfast at Jeannie's Great Maine Breakfast (15 Cottage St) for a hearty start to the day with their blueberry pancakes full of fresh Maine blueberries.
The drive 5 hr 40min drive to Conway (265 miles) will see you cross your second state boundary into New Hampshire.
On the other longest driving day, you'll double back on yourself down I-95 again for the first half of the trip – more time to take advantage of that gorgeous New England fall driving tour!
Augusta is the perfect halfway stopping point if you need one, and from there, you can continue onto your New Hampshire fall road trip.
If you've chosen to start the day with the Cadillac Mountain drive you may have to cut out some of the next suggestions to make up time.
Climb to the Top of Mt Washington
For the best views of the whole park, take the 45 min drive to Mt. Washington to ride the Mt Washington Cog Railway (3168 Base Station Rd), the first mountain-climbing cog railway.
At the top, you'll be able to see for miles and miles around and can even get something small to eat at the Mount Washington Snack Bar.
The last tour is late afternoon so plan you driving day accordingly.
You may also like our guide to trains rides in New Hampshire.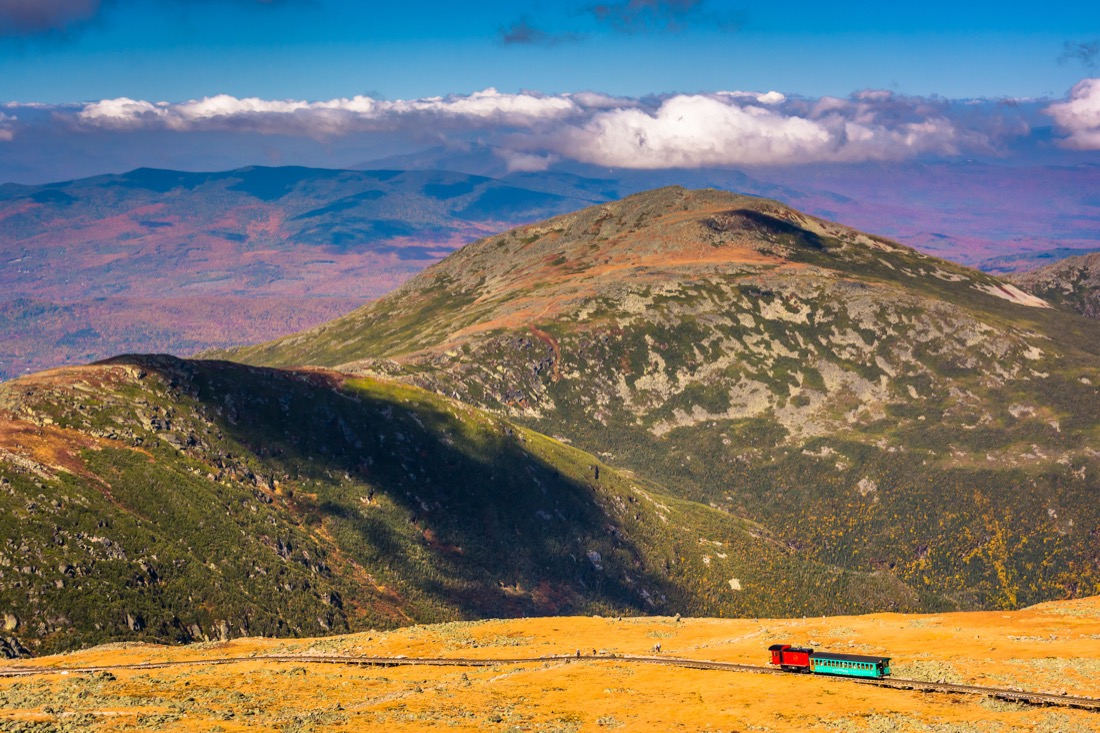 Food at Fabyan's Station Restaurant
Depending on what time you arrive you could have your lunch or dinner inside a vintage train depot at Fabyan's Station Restaurant (2652 Route 302, Bretton Woods) before hopping aboard the cog.
Fabyan's have a casual pub menu and are open for lunch and dinner.
It's a great family-friendly spot and even has a working model train that travels around on a track.
Alternative Option: Hike Mount Willard
The White Mountains has over 1,200 miles of hiking trails of all levels (they even have a list of accessible trails), so you'll be able to fit at least one hike on your jam-packed day.
Mount Willard (Route 302W Bretton Woods) is a good option because it's not too difficult at only 3.2 miles; plus, at the top, you'll be able to see the beautiful Crawford Notch.
Stay in Conway or North Conway for the night.
If you have hours of daylight left, head to the 118-acre state park, Echo Lake State Park, especially if visiting during fall.
You may also like our guide to best fall foliage spots in New Hampshire.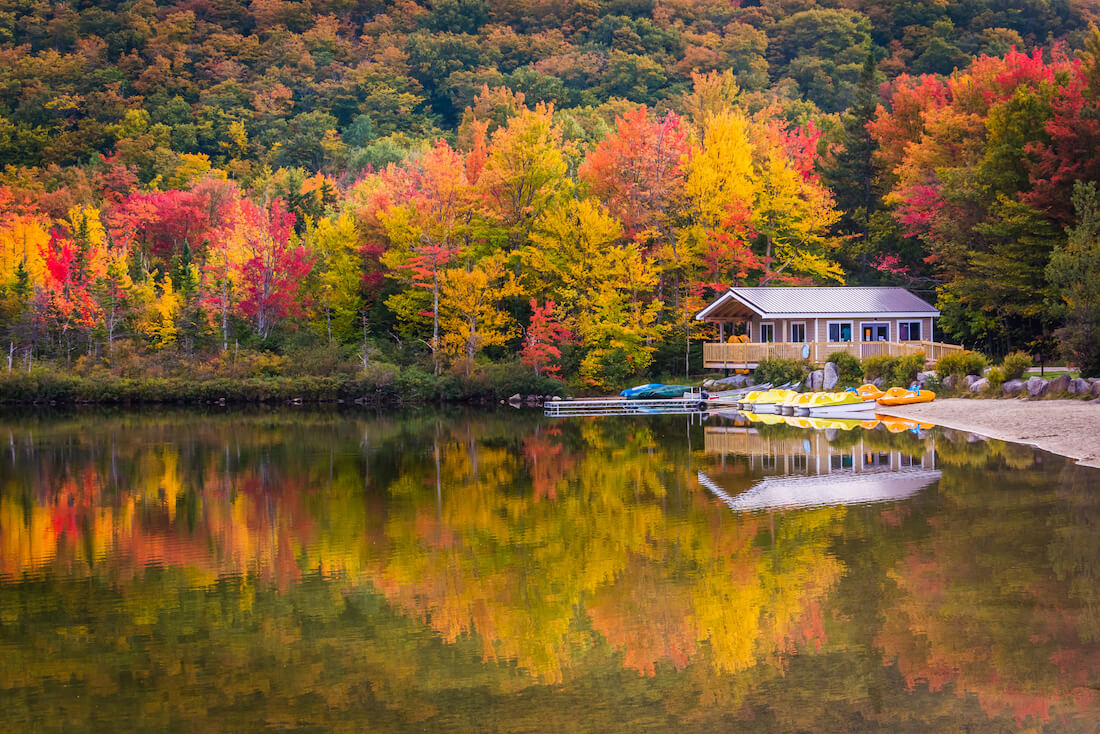 Day 4 Conway to Lincoln to Manchester, Vermont
Conway to Lincoln is one of the best places to see the White Mountains (although at 750,000 acres, you'll have hardly scratched the surface) and get some of the best pics on your New England foliage road trip.
This part of the road trip technically takes one hour to drive but you'll be in and out of the car many times so expect the stunning route to take longer.
Today's drive to Manchester, VT is just under 4 hours at 181 miles.
By mid-October the sun rises around 7 am, so if you get up super early, the two-hour drive on your Vermont and New Hampshire fall road trip could be the perfect way to watch the sunrise over the colorful trees.
Drive The Kanc
The Kancamagus Highway, known as "The Kanc" is a 34.5 mile designated American Scenic Byway that stretches between Lincoln and Conway and is possibly the best route for fall foliage in New England.
You can also take a self-guided audio tour to learn all the ins and outs as you drive through this incredible highway completely untouched by modern amenities and soak up the fall color on this drive in New Hampshire.
You really don't want to miss this New Hampshire scenic route which features Albany Covered Bridge, Lower Falls, Rocky Gorge, Sugar Hill Scenic Vista, Sabbaday Falls, Hancock Overlook, and Loon Mountain.
Brunch at Flapjacks
Come to Flapjacks (149 Main St) hungry; they have big portions to get you fuelled up for your drive to Vermont.
There's a lot on the menu, but the pancakes are the most popular choice.
New Hampshire Destinations
Grab a Slice for Lunch in Manchester, VT
Rest up and carb up before your hike at Sam's Wood Fired Pizza Co. (4478 Main St).
They've got tons of tasty speciality pies, but you can also make your own if you're a picky eater or just want to try something a little different.
Find the Views Mt. Equinox, VT
Mt. Equinox has so many trails to hike and explore.
If you want a moderate option with a great view, try the Red Gate Trail to Robin's Lookout for a gorgeous view of the valley below.
Alternative: Explore the History of Hildene
Hildene (1005 Hildene Road) was the home of President Lincoln's only surviving child, Robert and is now a beautiful estate open to the public.
You could probably spend a whole day here wandering the stately gardens, riding the restored wooden railcar, walking the trails, viewing the maple sugaring system and more.
Get Historical at Ye Olde Tavern
Get the New England feel at Ye Olde Tavern (5183 Main Street) which was built in 1790 and today serves a colonial candlelight dinner.
The dinner menu reflects the Tavern's history but is contemporary enough for a 21st century palette.
Drinks with a View at The Copper Grouse
Unwind at The Copper Grouse (3835 Main Street) with their creative libation choices, and if you're lucky, you can catch the sun setting over the mountains.
For more information about all things Vermont, read these guides.
Vermont Destinations
The following stops on our one week New England fall road trip itinerary sees fewer miles and less time on the road.
Day 5: Manchester, VT to Hartford, Connecticut
New England fall road trip itinerary is incomplete without a stop in Connecticut and today's drive from Manchester, VT to Hartford, CT is 2 hrs 32 minutes.
Hartford is the capital city (and one of the oldest in the country) and is a bit of the best of both worlds – the amenities and lots of fun things to do that come with city life but the quaint seaside feel of a small New England town.
It's also famous for its arts and culture scene and having so many of the country's oldest institutions.
It will feel like a crime to only spend a day here when you could really spend the whole week in Hartford.
Street parking in Hartford is mostly free but can vary, learn more here.
Brunch or Lunch at The Place 2 Be
The name says it all, brunch at The Place 2 Be is a "millennial food concept" and has lots of ample opportunities for the gram but also really tasty food that's a little different than the usual options.
Plus, if you don't need to drive immediately, you'll want to take full advantage of the bottomless brunch.
Hike to the Top of Talcott Mountain
Just a 20 minute drive west of the center of town, you can hike 2.6 miles up Talcott Mountain and check out the Heublein Tower while you're up there.
It is open to the public and provides an incredible panoramic view; it's a great stop on any fall foliage road trip in New England.
See the Colors at Elizabeth Park
Take advantage of the free admission and beautiful grounds and spend the afternoon wandering Elizabeth Park (1561 Asylum Avenue); you can have lunch there in the Pond House Cafe.
If you're lucky, there might be a concert, workshop, lecture or other special events during your visit.
Dinnertime at U.S.S. Chowder Pot IV
Embrace the state's nautical vibes at U.S.S. Chowder Pot IV (165 Brainard Rd) with a casual seafood dinner that offers a wide array of options; they also occasionally have dinner shows too.
Catch a Show at Hartford Stage
You can watch many well known productions at Hartford Stage (50 Church St) but they also have produced many original musicals, some of which have ended up on Broadway.
For more fun things to do in Connecticut in fall, read this guide.
Day 6: Hartford, CT to Providence, Rhode Island
New England road trip planner has to include Providence, which is also its state capital city and is the third biggest city in New England.
It takes around 1 hr 32 min to Providence (86 miles) to get to Providence, RI from Hartford, CT.
Providence is known for being a major foodie city that is full of arts and culture and historic sites.
You'll have more than enough choice of what to do, where to eat, and what to see during your short visit.
Everything that you can't fit in on this trip will just have to go on the list for the next autumn road trip.
There are many places to park; on-street, parking lots, and garages, all at varying costs; read more here.
Get Sweet at PVDonuts
Providence is known for its donuts, so there's really no better way to start the day than at PVDonuts (79 Ives Street), which offers a rotating menu of speciality donuts and locally roasted coffee.
See the Sights on a Bus Tour
On this 1.5 hour guided bus tour (departing from the RI Visitor Information Center on 1 Sabin St) will get to see the best of Providence and your guide will tell you everything, you need to know.
Plus, there will be lots of photo opportunities along the way to document what you've seen.
Lunch on the Go at Olneyville New York System Restaurant
A Rhode Island staple, Olneyville New York System Restaurant (18 Plainfield St) is the state's original fast food joint and is still going strong today.
You have to get the hot weiner, which is what they're most famous for (and maybe an order of chili cheese fries on the side).
Explore Downtown
The bustle of the biggest city in the smallest state, downtown Providence has so much going on.
Check out the public art, get a souvenir at a boutique, pick up a coffee at a cafe, explore the old buildings and architecture, or go shopping as you walk down the tree-lined streets.
Nicks on Broadway for Dinner
One of Providence's most popular spots, Nicks on Broadway (500 Broadway), offers a mouth-watering menu.
Or, if you're looking for something different, the cheese/charcuterie plates or oysters with paired wines are always a great choice.
Get a Drink on the Rooftop of the Providence G
Take in the cityscape on the rooftop of the Providence G (100 Dorrance Street) while huddling next to a fire pit and watching the sunset on the Providence skyline.
Relax and unwind with their extensive drink list (including non-alcoholic options) and sip away while you listen to live music.
Check out these Rhode Island guides for more ideas of what you can do:
Rhode Island Destinations
Day 7: Providence, RI to Boston, Massachusetts
The final stop on your New England fall foliage road trip itinerary; depending on the time of your flight, you probably won't get to see as much as you'd like of New England's biggest city, but we'll cram in as much as possible.
This guide on where to park in Boston will help you not waste any time searching for the perfect spot.
One of the best things about Boston is that even though you're in a major city doesn't mean there won't be any leaf peeping opportunities.
Plan for around 1 hr 9 minutes to from Providence, RI Boston, MA (59 miles).
Sail on a Foliage Brunch Cruise
This Boston Harbor Fall Foliage Weekend Brunch Cruise (400 Atlantic Avenue) will guide you around the most colorful spots and the cityscape, all while chowing down on a three-course gourmet brunch.
Take a Spin around on a BlueBike
Grab a BlueBike to cycle around the city (there are dozens of spots where you can pick up and drop off) so you can go adventuring so you can check out some famous spots like the Black Heritage Trail, Charles River Paths, or Boston Harborwalk.
Picnic in the Boston Public Garden
Visit the Copley Square Farmer's Market (139 St James Ave) to stock up on supplies and then walk 10 minutes to the Public Garden (4 Charles St), the country's first public botanical garden.
You can just hang out amongst the pretty scenery or walk around and see the sculptures or ride a swan boat.
If you do end up having a full day in Boston, these guides will be really helpful:
Our Boston Guides
5 Day New England Fall Road Trip
If you need an abridged version for a 5 day New England fall road trip, there's an easy way to combine your days to still have the best New England fall driving itinerary.
Fly into Boston and spend your first night in Salem (day 1), then skip Maine and New Hampshire and travel to Vermont (day 2), Connecticut (day 3), Rhode Island (day 4) and back to Boston to fly out (day 5).
Altogether this route is 9 and a half hours of driving time (445 miles), with the longest stretch of the trip taking about 3 and a half hours.
New England Fall Foliage Map
This New England fall foliage road trip map will be especially useful if you want to take a bit off the beaten path.
Fall foliage tends to start in the north then spreads to the south then over to the coast but this is never guaranteed!
Most leaf peepers plan their visit around the last week in September and first two weeks in October with some flexibility about locations.
In saying that, we do suggest you book your base accommodation in advance to avoid disappointment.
Final Thoughts
Organising a New England fall itinerary is a mammoth task!
But whether you want to see the cutest small towns or where to see the best fall foliage in New England, or finally ticking the New England fall R.V. trip bucket list off, this guide should hopefully help you make those crispy fall leaf dreams come true.
We hope planning your New England fall foliage trip is much easier – let us know in the comments.