This article has links to products and services we love, which we may make commission from.

Planning for a Myrtle Beach Memorial Day Weekend? Find out all the best things to do, places to stay, and top advice for smooth sailing on this busy long weekend.
Myrtle Beach, South Carolina, is one of the most popular beach destinations on the East Coast, so it's no wonder everyone flocks there to start the summer season off right.
Memorial Day Weekend in Myrtle Beach can get very busy, so it's best to plan ahead and make sure you book well in advance.
Check out all our tips for the perfect long weekend getaway!
Read our guide to the best Memorial Day weekend locations on the East Coast for more inspiration.
You might also like our guides for Charleston if you're heading there for more South Carolina fun: where to eat, free things to do, and date ideas for you and your honey.
Special Events for Memorial Day Weekend in Myrtle Beach
Memorial Day is, first and foremost, a celebration to honor veterans past and present.
Myrtle Beach is actually a former military town, having been home to the US Army Air Corps during World War II and the Myrtle Beach Air Force Base until 1993.
The Market Common District now occupies that former base and typically hosts a special Memorial Day event.
There is a Memorial Day Parade held each year in Myrtle Beach, so check the current route map and find a good spot to watch it all stroll past!
The annual Atlantic Beach Bikefest — also known as Black Bike Week — typically takes place over Memorial Day Weekend as well.
Note that the Myrtle Beach Bike Week Spring Rally ends just before Memorial Day Weekend.
Prefer moving by your own power?
Sign up for the annual Memorial Day 5k race at Brookgreen Gardens to start off the day getting your sweat on.
There are also plenty of special concerts and performances you can enjoy over the course of the weekend, on top of the usual entertainment and fun!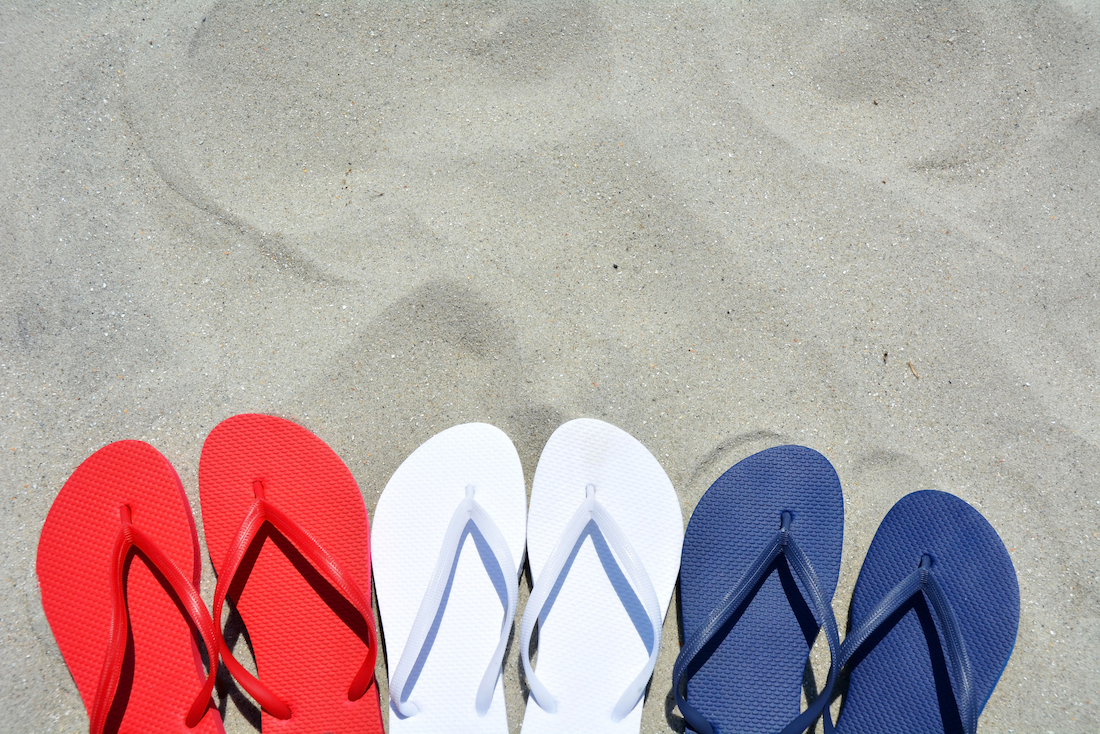 More Fun Things to Do in Myrtle Beach on Memorial Day
Beyond the special Memorial Day activities, Myrtle Beach is an awesome beach getaway in the summer.
But the beach isn't the only thing there is to in Myrtle Beach!
Enjoy the Strand, sand, and sea to the absolute max…here's what to do:
1. Experience the Iconic Grand Strand
Stretching more than 60 miles, the Grand Strand offers endless fun and activity for your Memorial Day Weekend in Myrtle Beach.
Both North Myrtle Beach and Myrtle Beach are part of the Grand Strand, but the area continues well beyond this popular part.
Explore the quieter beaches and coves of the Grand Strand for a day away from the Memorial Day fray.
2. Sunbathe at the Beach
Myrtle Beach at Memorial Day Weekend means setting up on the sand for a day of sun and sea.
It also means endless water- and beach-based activities!
We're talking sand castles, strolling the surf, games, and splashing around.
The sun and sea are free for all to enjoy!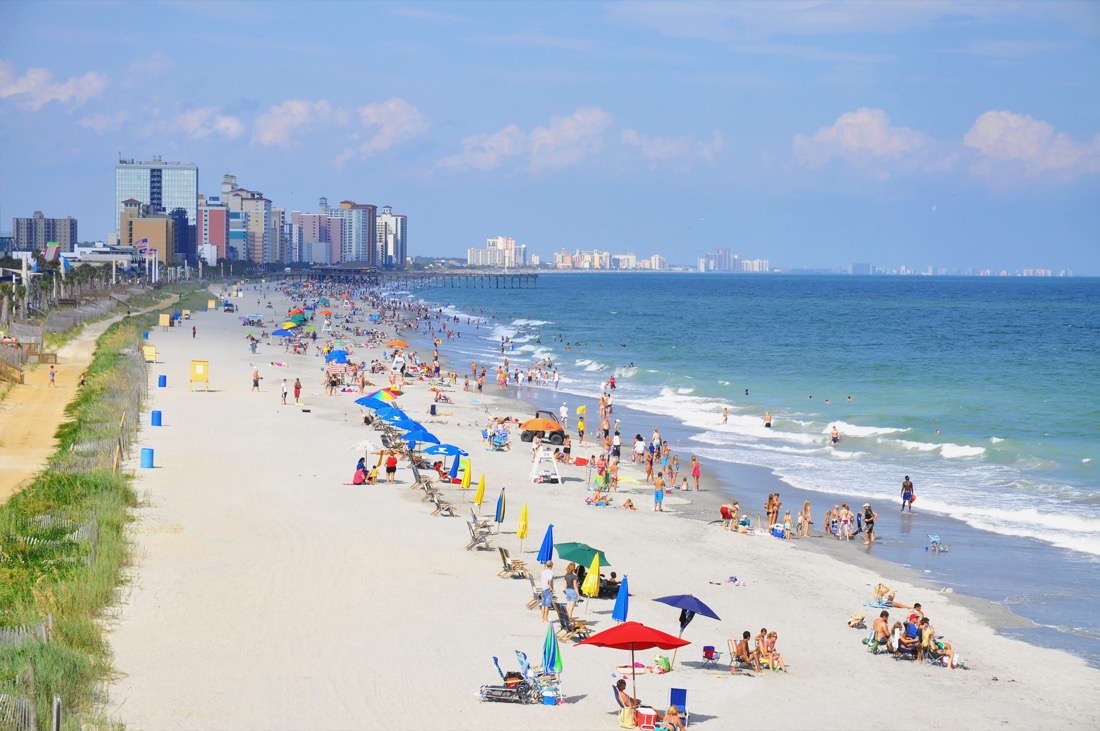 3. Enjoy the Thrill of Jet Skiing
Looking to do more than get a tan?
Jet skiing is always a thrill-seeker's favorite!
There are a bunch of places offering jet ski rentals, so go ahead and zoom across the water.
4. Soar High Up While Parasailing
Prefer the view from high above?
Try parasailing for a surprisingly relaxing adventure activity.
You'll be comfortably seated and safely strapped in, so just sit back and enjoy the views.
5. Glide Along in a Kayak
If you're looking for more of a challenge, sea kayaking can be an excellent upper-body workout!
Rent one to head out solo or join a tour to learn more about the area and its history as you paddle along.
6. Surf the Waves
Myrtle Beach is a great spot to learn to surf, with gentle waves perfect for beginners.
Choose from the many surf shops all along the Grand Strand for lessons to make sure you literally get your feet under you.
7. Go Deep Sea Fishing
Whether you're in it for the fresh catch or just the fun, deep-sea fishing is a great way to spend the morning or whole day out on the water.
8. Learn About the Gullah Geechee
Enslaved West Africans were brought to the Atlantic Southeast to forcibly work on rice plantations, among other profitable crops.
The resulting blended language of African dialects they created, with elements of English, is a Creole known as Gullah.
Today, the federally-recognized Gullah Geechee Cultural Heritage Corridor spans 12,000 miles across several states along the southeastern seaboard, from Wilmington, North Carolina, all the way to St Augustine, Florida.
While you're in Myrtle Beach, visit Brookgreen Gardens to join their Gullah Geechee Programs and learn about the Gullah cultural and linguistic heritage.
You should also head a bit further south to Georgetown SC, to visit the Gullah Museum to learn even more.
9. Go Golfing
Myrtle Beach isn't just known for its extensive stretch of coastline.
This is also one of the most popular golf destinations in the US!
More than 100 golf courses in and around Myrtle Beach offer avid golfers plenty of opportunities to hit the links and bask in that beautiful sunshine.
Not a pro golfer?
Head to any of the area's 50 mini-golf courses instead of the big leagues.
10. Laugh At a Comedy Show
Beyond the beautiful outdoors, Myrtle Beach offers plenty of fun-filled entertainment options for evenings and indoor fun.
Check out one of the many comedy show options for a laugh.
Even better: combine comedy with magic!
11. Catch Some Live Music
Not into comedy?
Live music is sure to win you over instead!
It doesn't matter if you're into tribute bands, folk, metal, or anything else — you're bound to find some good tunes in Myrtle Beach.
A regular Myrtle Beach favorite for the whole family is the Motown Tribute Show.
If you prefer a harder party scene, check out Miami for Memorial Day weekend.
12. Walk the Boardwalk
The Boardwalk at Myrtle Beach runs for over a mile and offers fun for the whole family.
Stroll along for that classic seaside vibe and some awesome people-watching.
Stop in at the many shops and restaurants along the way, or just enjoy the views!
13. Go Shopping
There are also endless shopping options in Myrtle Beach, including flea markets, farmers' markets, gift shops, and outlet malls.
One spot you can't miss is the Gay Dolphin Gift Cove; it's a Myrtle Beach institution!
14. Act Like a Kid Again
From Ripley's Believe It or Not! to arcades to truly endless entertainment for the whole family, Myrtle Beach is a place to feel like a kid again!
Let loose and have some fun.
Ripley's also features in our things to on International Drive in Orlando guide.
15. Ride the SkyWheel
You can't visit Myrtle Beach without taking a ride on the iconic SkyWheel.
At 187 feet tall (approximately 20 stories) you can test your fear of heights…but you'll feel safe inside the gondolas.
Good luck!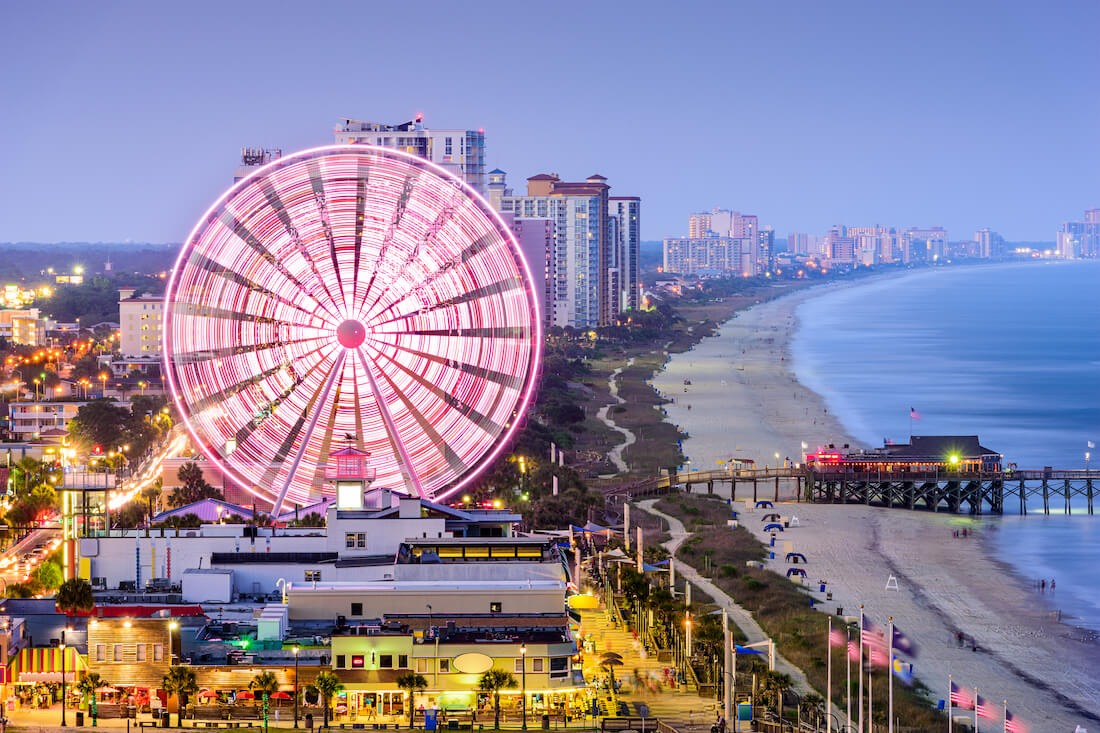 Where to Stay: North Myrtle Beach vs Myrtle Beach
With over 60 miles of coastline to choose from along the Grand Strand, deciding where to stay in Myrtle Beach can be a challenge.
And especially for Memorial Day Weekend, you don't want to wait until the last minute to book!
If you're picturing spending Memorial Day Weekend on the Myrtle Beach Boardwalk, eating out and enjoying beach bar drinks, then you'll want to stay in the heart of it all on Myrtle Beach to easily access all the fun.
If, instead, you want to golf, relax, and enjoy a little less hubbub, then head north toward more residential areas of North Myrtle Beach.
In reality, the whole area will be busy during the long weekend.
For a Myrtle Beach Memorial Weekend getaway, just choose the area that matches your interests and vacation pace best.
North Myrtle Beach Accommodations
North Myrtle Beach is farther from the airport but also a quieter area for tourists looking to escape the busy areas and crowds.
There are plenty of excellent accommodations in North Myrtle Beach that you can choose from.
We love this Canalfront Cottage at the northern end of North Myrtle Beach, perfect for a memorable family getaway.
Or check out all the awesome amenities at the Club Wyndham Ocean Boulevard.
Myrtle Beach Accommodation Options
Myrtle Beach is the largest city in this region and offers an astounding array of accommodation options.
Finding a place to stay in Myrtle Beach for you and your friends or family is easy enough if you look way before the long weekend approaches.
Grab your friends and stay in the heart of it all right on the water in this oceanfront condo.
And this family villa is perfect for a more tranquil escape.
Camp in Myrtle Beach State Park
If you're eager to enjoy the natural beauty as much as possible, consider checking out Myrtle Beach State Park.
It's an idyllic spot for Memorial Day Weekend camping adventures with the whole family.
There are hundreds of tent campsites and multiple cabins available, too.
Just be sure to book early — reservations open up 13 months in advance here.
What to Know for Memorial Day Weekend in Myrtle Beach
Where is Myrtle Beach?
Myrtle Beach is located in South Carolina on the traditional land of the Waccamaw and Chicora peoples.
Around 10 million tourists visit Myrtle Beach each year; the vast majority of those visits are made during the summer.
As the unofficial start of summer, a Myrtle Beach Memorial Day Weekend getaway is always a great idea!
It is, however, a very busy weekend.
How to Get to Myrtle Beach
You can fly into Myrtle Beach International Airport (code MYR) from around 50 destinations across the US.
The airport is conveniently located right in the heart of Myrtle Beach — just a mile from South Kings Highway — so you can get your toes in the sand soon after you land.
Alternatively, you can drive from elsewhere on the East Coast or beyond.
Just note that traffic can certainly be an issue in Myrtle Beach (like most other popular coastal areas) and a long weekend can mean different traffic management systems in place, as well as restrictions on parking and more.
If you plan to drive to Myrtle Beach for Memorial Day Weekend, it's ideal if you can arrive on Thursday instead of risking getting stuck in traffic jams on Friday evening or Saturday morning.
Can't make that work? No stress, just pack road snacks and turn up the summertime tunes to relax!
Keep up-to-date on traffic restrictions and road closures via the Myrtle Beach Police.
Is Myrtle Beach Safe?
Overall, yes, Myrtle Beach is a safe tourist destination.
As with all places, take normal precautions and do your best not to attract unwanted attention.
Millions of people visit Myrtle Beach each year without incident, but busy holiday weekends and crowded spaces can always lead to unfortunate interactions.
At night, stay in well-lit areas and don't wander off too far from popular spots.
It's also advised that you do not walk alone at night and ensure you take care when partaking in the fun local nightlife scene.
The popular tourist areas will stay busy until late during Memorial Day Weekend, so just keep an eye on your belongings and take typical precautions.
Is Myrtle Beach Warm in May?
While Memorial Day Weekend is the unofficial start of summer, many East Coast destinations can still be too cool for a comfortable swim in the sea.
Myrtle Beach is not one of those destinations!
Memorial Day Weekend at Myrtle Beach means swimming, sunbathing, and splashing in the pool or sea.
With temperatures averaging in the 80s during the day and ocean temps reaching into the 70s, you can bet getting in the water will feel oh so perfect.
May is also one of the driest months in Myrtle Beach, so you can expect some of that glorious endless sunshine.
Celebrate the start of summer where it already actually feels like summer!
Accessibility at Myrtle Beach
Myrtle Beach at Memorial Day is an awesome getaway option for the whole family or for you and your crew.
With a variety of wheelchair access points, this is one of the most wheelchair-friendly beach areas in the US.
You can also take advantage of free beach-going wheelchairs provided courtesy of the City of Myrtle Beach.
Just note that they are available on a first-come, first-served basis, however, so you can't guarantee availability.
There are also many sensory-friendly experiences and autism-aware attractions throughout Myrtle Beach, making this a truly welcoming destination.
Final Words
Everyone loves a long weekend, but they're made so much better with your toes in the sand and sun on your face.
A Myrtle Beach Memorial Day Weekend getaway can be as relaxing or as wild as you want it to be, but you're guaranteed to have lots of beach fun no matter what.
Enjoy the sand and sea, celebrate the start of summer, and keep exploring more the fabulous East Coast!