This article has links to products and services we love, which we may make commission from.

Mud season in Vermont is that interesting time between winter and spring as the snow melts and the waterfalls surge before warmer sunshine dries up muddy trails for summer hiking.
If you're a Vermonter, you know how to prepare for this time of year.
If you're visiting, this guide will help you figure out what to do and where to go to enjoy that time of year as spring approaches but isn't quite here yet.
Don't worry, you can still get outdoors during the VT mud season, just stick to the trails we recommend and you'll have a great time!
Get inspiration for your trip with our guide to the best places to visit in Vermont.
If you end up catching the end of true winter weather instead, here's our guide to winter in VT.
Mud Season Vermont
To make the most of this year's mud season in VT, we organized our top recommendations for activities and experiences starting with activities that are statewide or in multiple locations.
Then we go from Burlington and make our way out from that hub.
Plan your mud season fun and enjoy the changing scenery!
Spring Maple Open House, Multiple Locations
Mud season means spring, and it is always a perfect time to appreciate nature and spring, and Spring Maple Open House is one of the best ways to spend mud season in Vermont.
Get out into the sugarbush, the large stands of sugar maple trees that sap is collected from, and try your hand at making syrup!
The Vermont Maple Company hosts tons of events over two Spring Maple Open House weekends in late March and early April, so be sure to check out their website for more information.
We included lots of other maple-themed ideas, and tons of activities, in our complete guide to Vermont in spring!
Ramps and Fiddleheads, Multiple Locations
While hiking mountains and trails might just be too wet and muddy, finding dry, forested areas in Vermont is possible for good foraging opportunities.
Both ramps and fiddleheads are in abundance in the early spring mud season, but you absolutely must forage mindfully.
Never take the first ones you see, harvest only what you need, and harvest less than one-third of what you find.
Trout Fishing, Multiple Locations
Trout fishing open season begins in early April, which is peak mud season in Vermont.
If you're looking for an outdoor activity that won't damage the wet, muddy trails in the mountains, trout fishing is a great idea.
Buy your license online and get to trout fishing this spring in the qualifying rivers and streams in the state.
Wild Turkey Scouting, Multiple Locations
Towards the end of mud season, you can get out into the woods and take part in some of the best wild turkey scouting in New England.
They are particularly challenging to spot in the spring, so you'll have a fun challenge trying to track these amazing animals down.
The Vermont Fish & Wildlife Department releases a yearly wild turkey scouting report, so check it out on their website.
Shop for Winter Clothes and Sporting Goods, Multiple Locations
One of the best-kept secrets of mud season: it's the best time to shop for next year's winter gear.
Shops like Outdoor Gear Exchange (37 Church St) in Burlington, affectionately called OGE, reliably have their best sales of the year to make room for the upcoming winter season's equipment and clothes.
Don't forget to celebrate your haul from OGE with an all-inclusive craft beer tour before you leave Burlington!
Check out our guide to the best things to do in Burlington for more fun suggestions.
Search for Trillium and Other Wildflowers, Northern Hardwood Forests
The springtime mud season is by far the best time to head out into the woods to find early wildflowers.
When the mountain trails are slippery and dangerous to walk on, opt for other natural areas in Northern Hardwood Forests.
Some of the most common flowers in these areas are trout lily, spring beauty, and trillium, but you can check out the Vermont Land Trust's website to learn even more about the wildflowers you can see.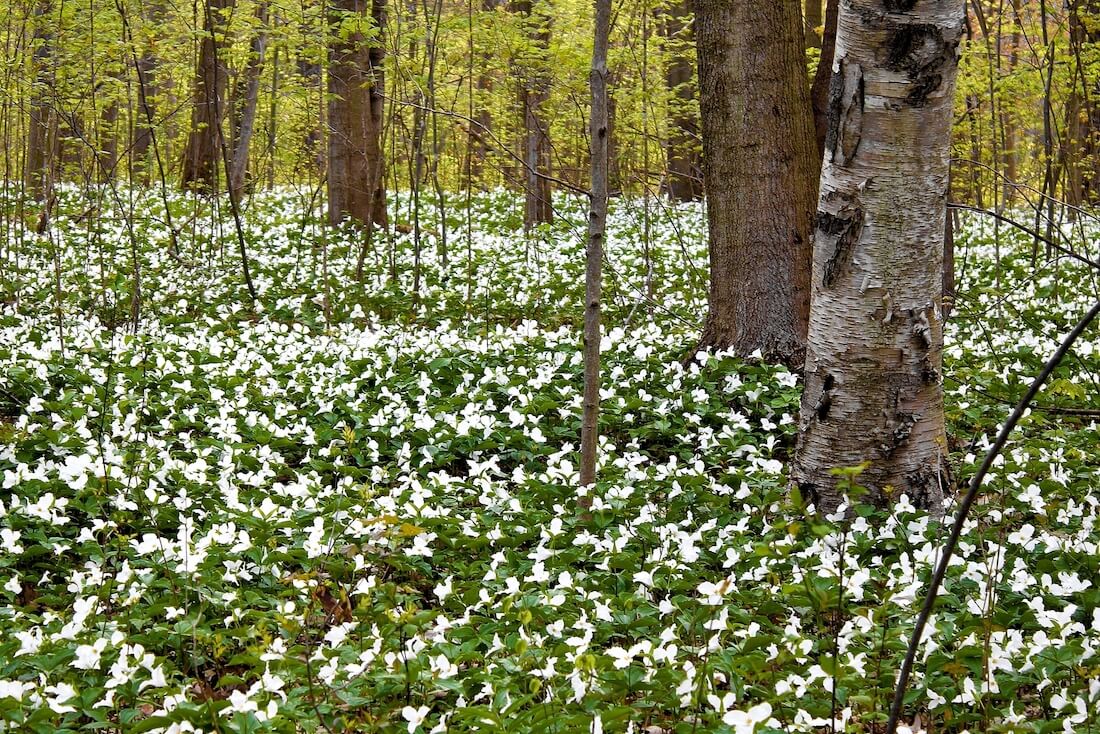 Burlington Greenway, Burlington
Dirt trails can be impossible to explore during mud season, but if you still want to go on outdoor adventures, paved paths like the Burlington Greenway are wonderful alternatives.
More than eight miles of a concrete path with shoulders start at Oakledge Park and travel along Lake Champlain and the Winooski River.
This beautiful bikeway also features bathrooms and parking so you can plan your trip accordingly.
Once the VT mud season ends, check out these hikes near Burlington to get back out onto more trails.
Colchester Causeway, Colchester
The Colchester Causeway is another partially-paved, wheelchair-friendly path that connects the mainland of Vermont to South Hero Island through Lake Champlain.
The entire out-and-back trip is almost 11 miles, but you can choose to turn around at any point.
Enjoy the beauty of the lake without worrying about damaging natural trails during mud season.
Mount Philo, Charlotte
If you want to visit a state park safely during mud season, take the easy hike to the top of Mount Philo (5425 Humphreys' Rd).
This mountain is perfect for hikers of all levels and features a partially-paved path that you can even drive your car up.
The summit is nearly 1,000 feet tall, which affords you amazing views of the surrounding area.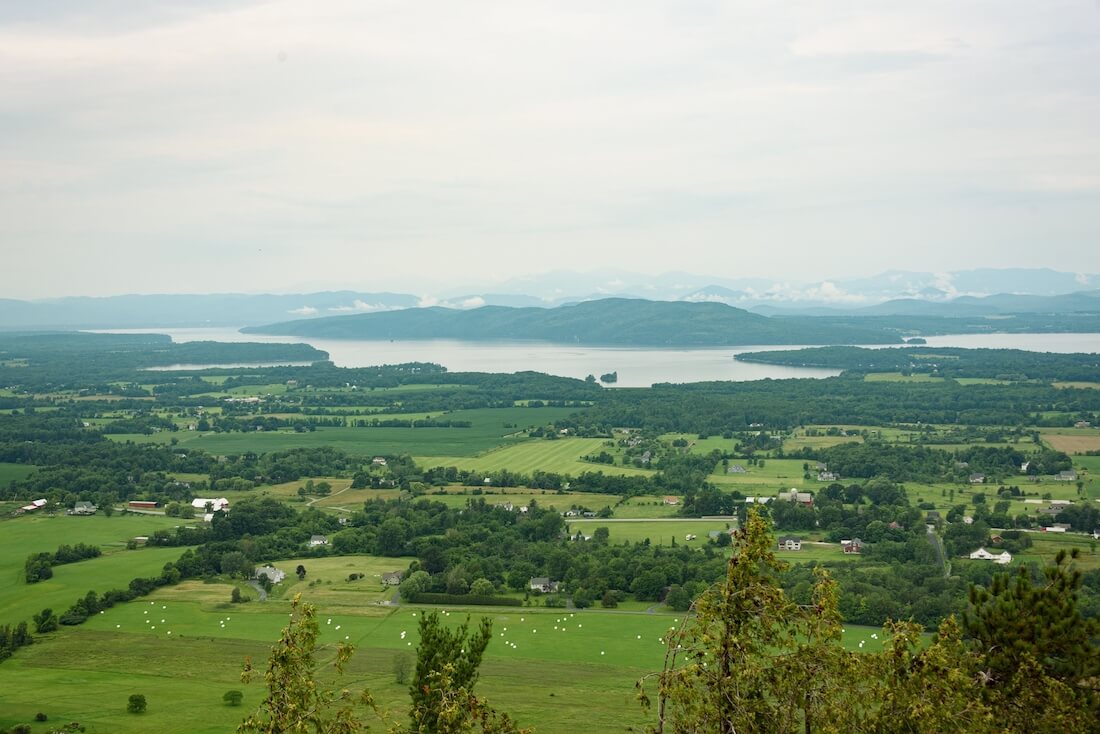 Green Mountain Audubon Society, Huntington
While some trails are impossible to hike during mud season in Vermont, you can still head out with the Green Mountain Audubon Society (255 Sharman Hollow Rd) to spot spring migratory birds in the area.
This 250-acre center offers an opportunity to explore wildflower areas, observe spotted salamanders, and see special birds like the Red-eyed Vireo.
The Center also hosts after-school programs throughout the season to help nurture young kids to connect with and learn more about nature.
Bingham Falls, Stowe
Visiting waterfalls is best during mud season, and Bingham Falls (6524 Mountain Rd) is one of the most popular spots in the state.
The falls are the strongest in the spring, when the snow from the mountains starts to melt and flow down the slopes, rivers and streams move faster, and the falls become bigger and super impressive.
Bingham Falls is less than half a mile from Route 108, but be careful as you move along the trail as it can be a little slippery.
This is a quick trip, so complete your Stowe adventure with a rewarding half-day brewery tour!
Stowe Recreation Path, Stowe
The Stowe Recreation Path is a 5.3-mile paved path that travels along the beautiful Little River.
Paved paths are the best option for outdoor activities during mud season, and this trail supports biking, rollerblading, skateboarding, and other active modes of transportation.
There are also multiple bike and/or skate rental facilities along the path where you can stop in if you don't have your own set of wheels.
At the end of mud season when the trails are dry, check out these top places to hike near Stowe.
Sunset Rock, Stowe
On a drier day this spring, Sunset Rock is one of the best mud season hikes in Vermont.
The trailhead is located right downtown in the Historic Village at the end of Sunset St, and the views are absolutely incredible.
Be sure to park behind the Stowe Community Church and along Main St, not on Sunset St if you're driving.
Texas Falls, Ripton
Texas Falls is a popular waterfall to visit during mud season in Vermont thanks to its 35-foot drop and an easy hike to get to.
This waterfall is a favorite to photograph, so you might have seen it already on a postcard or hiking guide!
There is also a picnic area nearby in case the weather is warm enough to stop and enjoy lunch!
Moss Glen Falls, Granville
The Moss Glen Waterfall (369-615 Moss Glen Falls Rd) boasts a nearly 90-foot drop and is the tallest in the state!
Take a very short, quarter-mile hike to the site of the falls, and be sure to stay to the left if you're a more inexperienced hiker (both paths of the fork lead to different views of the waterfall).
Lamoille Valley Rail Trail, Hardwick
If you're looking for a top-notch rail trail to help you get outside without damaging the delicate mountain trails during Vermont mud season, head to the Lamoille Valley Rail Trail.
The path is paved and connects five counties and 18 towns across northern Vermont, and it features views of the natural landscape and important historical landmarks.
It is wheelchair-accessible and is 10 feet wide, making it a perfect place to enjoy the outdoors safely.
Joe's Pond Ice Out, Walden
This mud season, take part in the historic tradition of Joe's Pond Ice Out, a cross-country bet about when the ice on Joe's Pond will melt for the spring.
This contest has been going on for more than 50 years, and is a fun game that might just win you up to $5,000!
Waiting for spring, for the ice to melt, and for mud season to be over are all too familiar in the cold Vermont state.
Sentinel Rock Trail, Westmore
Head outside and check out the iconic Sentinel Rock at Sentinel Rock State Park on a path made mostly of gravel and crushed stone (no mud here!).
This 356-acre state park is ideal for people to hike through meadows and forests, and to The Rock, which is a boulder deposited from a glacier.
You can see where drill marks were made to extract parts for the historic McLaughlin farm in about the year 1890.
Rutland County Audubon Society, West Rutland
If you're visiting Rutland County, check out the Rutland County Audubon Society to find a map with all the best birding hotspots in the area.
All the hotspots they mark on the map are publicly accessible, and you'll be able to spot some of Vermont's most prized spring migratory birds.
You can also find other educational opportunities on their site if you're hoping to learn more about birding.
Mount Ascutney, Windsor
Mount Ascutney (1826 Back Mountain Rd) is one of the most popular mud season hikes, and it is a longer, more challenging hike for those who are looking for more than a rail trail.
The entire trail is more than 5 miles and reaches heights of more than 3,000 feet.
It was one of the earliest State Parks in Vermont and is a favorite among locals and travelers alike.
Mount Ascutney also features as one of our favorite southern Vermont hikes.
Prospect Rock, Manchester
Prospect Rock affords an incredible lookout within the Long Trail State Forest and is a moderately-challenging hike to complete during mud season in Vermont.
This 3-mile trail is ideal for birdwatching and spotting spring wildlife.
Do not take the trails if they are muddy and do not try to step around the mud.
You'll be interrupting potentially delicate ecosystems and unnecessarily widening the trail.
Be extra careful on the way down, as rocks can be especially slippery.
Lake Paran, North Bennington
Lake Paran (269 Houghton St) is a natural area and lake that features fishing, swimming, and year-round educational programs to help connect the greater community to nature.
While it will be too cold to swim in the spring, you can definitely go fishing and take part in their many programs and events all season long.
Then head to Bennington for some drinks at Madison Brewing.
Check out our VT bucket list for more things to do.
How Long is Mud Season in Vermont?
Typical Vermont mud season dates vary, but you can expect it to take place between when the snow starts to melt in March and Memorial Day.
If you're wondering, when does mud season end in Vermont so I can get back on the mountain, usually most of the trails are dry by the end of May.
Final Words
Whether you're local or visiting, we hope this guide to mud season in VT will help you plan for some fun adventures during the season.
Share your favorite mud season activities in the comments below!
Vermont Destinations