This article has links to products and services we love, which we may make commission from.

Mud season in Maine means winter is ending and spring is approaching…but it will be a little messy in the meantime. Don't wear your best shoes but do get outside to enjoy the changing seasons!
This guide to Maine's mud season will help you prepare and plan so you can make the most of this time of year.
If you're local, you probably already know how to cope, but we still hope we can inspire you to get out and enjoy instead of avoiding the mud!
If you're visiting, be sure to check out our guides to Maine in the winter and in the spring in case your timing overlaps between either season and mud season.
Looking for some destination inspiration?
Here are the best places to visit in Maine all year round.
Maine Mud Season
Our guide to mud season in Maine starts with activities and experiences you can enjoy statewide, and then we go from north to south to help you plan your own fun.
Maine Maple Sunday, statewide
When the trails are too wet and muddy, opt for a fun alternative like Maine Maple Sunday.
In late March, the days start to warm up, while the nights dip below freezing.
These conditions cause the snow to melt and the sap from sugar maple trees to flow!
Visit a nearby sugarhouse, explore the sugarbush, and try some delicious, local maple syrup during mud season in Maine.
We talk a little more about this event in our complete guide to Maine in spring, as well, so be sure to check that out for more ideas!
Fiddleheads and Ramps, Statewide
Another special part of the early spring mud season in Maine is the opportunity to forage plants like fiddleheads and ramps.
While you'll find these edible plants across the state of Maine, it's incredibly important that you forage responsibly.
The best practices of foraging include never taking the first ones you see, only taking what you need and not more, and harvesting one-third or less of the plants in a particular area.
Wildflowers, Statewide
Maine comes alive with flowers in the spring, and it's a perfect time to head outside and start spotting your favorites.
Flowers like forget-me-nots, violets and trilliums, and more are poking up through the thawing forest floor.
Be sure to check a local wildflower guide to learn more about how to find and identify them!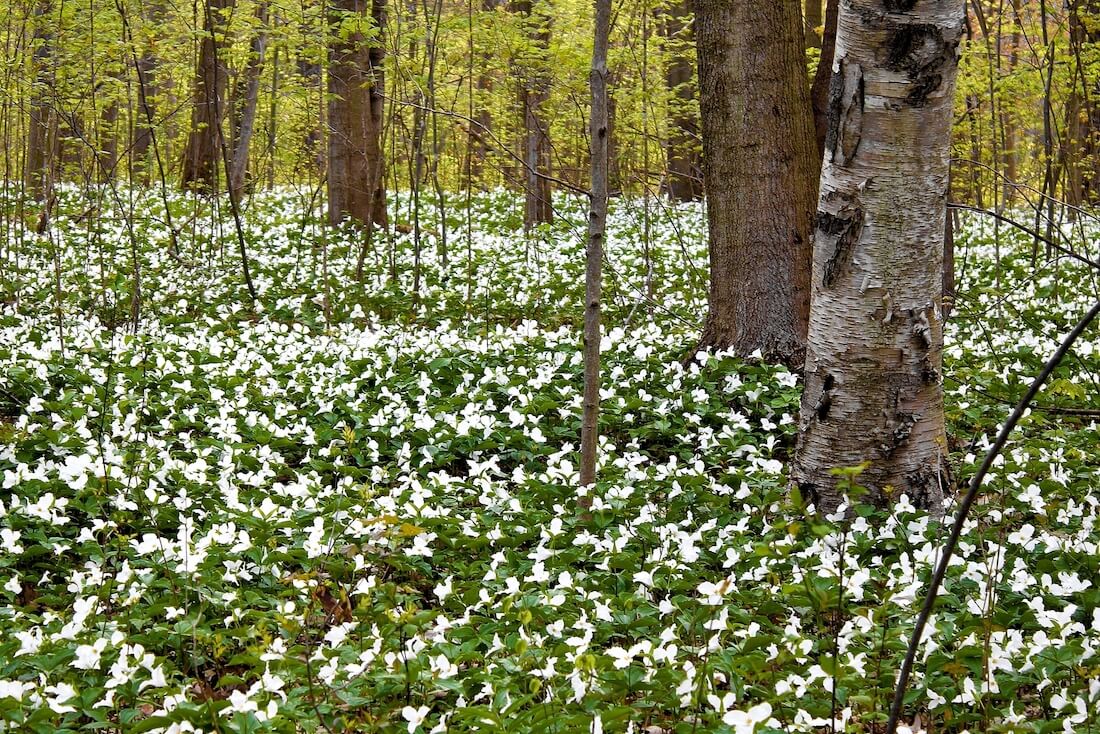 Trout Fishing, Statewide
Trout fishing season begins in early April, so if you're looking for an outdoor activity during Maine's mud season, head out on the open water to fish!
Maine boasts the largest distribution and abundance of wild brook trout in the country.
Secure a fishing license for the short- or long-term on Maine's Fish and Wildlife website.
Moose Watching, Statewide
Towards the end of mud season, the trails are starting to dry up and it's a perfect time to head out on a moose-watching adventure!
Maine boasts the second-largest concentration of moose in the country besides Alaska.
They can be found most often in the western lakes and mountains, the highlands, and Aroostook County.
Spot them around dusk or dawn, keep your distance, and stay quiet and vigilant while you're out.
Southern Bangor and Aroostook Trail, Mapleton
While Maine's mud season usually means slippery and muddy nature trails, the Southern Bangor and Aroostook Trail is a perfect option to avoid that mess.
The wide, mainly gravel trail is more than 37 miles long and is built on an old train corridor, which means you avoid the worst of wet, non-walkable trails.
Watch out for motorized vehicles like ATVs and logging trucks, and bring plenty of supplies into the remote country.
Moxie Falls, West Forks
Viewing waterfalls is arguably the best during mud season in Maine because as the snow melts, that melted water starts flowing down the mountain with great force.
The waterfalls become super powerful, including Moxie Falls (503 Lake Moxie Rd), one of Maine's tallest cascades.
Less than a one-mile walk will take you to the site, which means you can avoid the messiest trails.
Little Wilson Falls, Elliotsville
Another powerful waterfall with a short walk to the site is Little Wilson Falls, which is located along the famous Appalachian Trail.
The hike is a very easy, gradual incline, and the waterfall features a stunning 50-foot totally vertical drop.
Gulf Hagas, Brownville
While Gulf Hagas is the most challenging hike on this list, the extra care, caution, and effort will be well worth it when you catch a glimpse of "The Grand Canyon of Maine."
In the spring, use the Head of the Gulf Parking Area instead of the Gulf Hagas Parking Area so that you can travel across the Pleasant River using the bridge.
Calais Waterfront Walkway, Calais
Rail trails are often the best alternative to hiking trails during mud season in Maine because you can get outside without causing any damage to fragile natural areas.
The Calais Waterfront Walkway (Waterfront Park Way) is a 1.5-mile trail along the beautiful St. Croix River, and it is made of gravel and crushed stone.
The trail is wheelchair accessible, which means almost everyone can make use of this beautiful and free walkway.
We featured Calais in our guide to Maine's cities, so check out the other exciting things to do here after walking along the waterfront!
Houston Brook Falls, Bingham
For those extra muddy days when you still want to go outside and enjoy nature, head to Houston Brook Falls (Pleasant Ridge Rd).
Just a few minutes of walking on the trail off of Old Canada Road Scenic Byway will afford you amazing views of the 32-foot cascade.
There is even a swimming hole at the bottom of the falls for extra warm days — or extra brave people!
Austin Stream Falls, Moscow
For an easy hike to a pretty, no-frills waterfall, check out Austin Stream Falls (Dead Water Rd).
The total drop is the shortest on this list, but it is the easiest to get to on foot.
Enjoy the simple pleasure of an energetic waterfall as the winter snows melt and spring is well on its way.
Belfast Rail Trail, Belfast
The Belfast Rail Trail on the Passagassawaukeag is an iconic thing to do during mud season in Maine if you're trying to avoid the muddiest natural trails.
The trail is wooded and features historical trains and views of the river.
Keep your eye out for seals, eagles, ospreys, and other wildlife on your walk!
Camden and Rockport Migratory Hawks, Camden and Rockport
Both Camden and Rockport are known for their migratory hawk sightings, so you should visit these towns if you love spring birding.
Birdwatching can be a great alternative to hiking during mud season, and you'll be lucky to spot hawks along their coastal migration corridor.
For the best hawk sighting, head to Camden Hills State Park (280 Belfast Rd).
Heart of Poland Trail, Poland
If you're looking to go outside without worrying about damaging muddy trails, try walking or biking along the Heart of Poland Trail.
You'll travel through the woods from Tripp Lake Road all the way to the Poland Public Library.
Enjoy scenic areas, including a vernal pool, a quarry, and even caves.
The surfaces are not all wheelchair-accessible, so check the trail map to see which parts are more accessible than others.
Tripp Pond Ice Out, Poland
Lake and pond ice outs are popular dates in spring for those Mainers who are eager to officially say goodbye to winter until next year.
Ice Out dates are when a body of water is passable without a boat being impeded by ice.
Tripp Pond is the site of local bets and is one of the most iconic sites for these Ice Out fans who are anxiously awaiting spring!
Papermill Trail, Lisbon
Papermill Trail is a paved nature trail that follows the Sabattus River and is a popular outdoor activity in Maine's mud season.
The entire length of the trail is just over 2 miles, and the northernmost part passes through open fields and meadows, making for beautiful scenery as you walk.
Watershed Center for Ceramics Art Wild Clay, Newcastle
Some people avoid the mud during mud season, while others dive in hand-first!
At the Watershed Center for the Ceramic Arts (103 Cochran Rd), you can participate in wild clay harvesting workshops, where you go out into the mud and collect clay in nature.
You can make your own clay creation from there, or you can simply learn about the surrounding area's natural clay deposits and get a little dirty in the process.
Embrace the season and dive right in!
Marshall Point Lighthouse, Port Clyde
One of the best parts of mud season in Maine is that it is the off-season, which means you won't have to fight the summer crowds to make the most of your Maine trip.
Take advantage of the off-season and visit the Marshall Point Lighthouse while you can without tourists filling your view.
Check the website for more information about their opening day in the spring.
Spring Hawkwatch at Bradbury Mountain State Park, Pownal
It is well-known that Maine mud season means migratory birds come back to the state for the spring.
An alternative spot to Camden and Rockport (mentioned previously) is Bradbury Mountain (528 Hallowell Rd).
This is a prime spot to see hawks and you will even find people counting and observing birds as part of the annual Spring Hawkwatch.
Ask these official counters questions and get some extra help identifying the birds that make Maine in spring so special.
Back Cove Trail, Portland
The Back Cove Trail is one of the oldest trails in Portland and features incredible views of the city and the scenic Back Cove.
At just under 4 miles, this trail also connects you to green spaces like Payson Park and Loring Memorial Park.
This trail is accessible by Bus 8, and it is also accessible to wheelchairs, bikes, strollers, and more.
Once you've had your fill of the Back Cove Trail, join a knowledgeable local guide on a walking history tour of the city to learn more about fascinating Portland.
Staying for a visit?
Find out where to stay in Portland to maximize your time in the city.
And if you head there too early, you'll want our guide to winter in Portland ME to stay warm and enjoy the seasonal fun.
Eastern Trail, South Portland
The Eastern Trail is an outdoor trail that has been developed and improved since the 90s and is well-loved by locals and travelers alike.
Walk, run, bike, or wheel up to 22 miles from South Portland all the way to Kennebunk on trails that follow along slow country roads.
The Eastern Trail is incredibly scenic, but if you want to see a little more of Portland, take this self-guided audio tour of the city!
How Long is the Mud Season in Maine?
You can expect to experience Maine's mud season from early March to late April or early May.
Most of the snow and showers will have melted or ended by April, and the trails will continue to dry up into May.
Final Words
Are you feeling ready to tackle mud season in Maine now? We hope so!
Share your favorite things to do during mud season in the comments below.
Maine Destinations