This article has links to products and services we love, which we may make commission from.

Are you looking for romantic things to do in Delaware?
Known as 'The First State", little Delaware is often overlooked for its larger surrounding cities of New York, Philadelphia, Baltimore, and Washington D.C. – especially when planning a trip filled with romance.
Delaware is probably best known for tax-free shopping (take full advantage at the Christiana Mall in the northern part of the state and the Tanger Outlets in the southern part) and being the home of President Biden, but this small state can pack a big punch.
One of the biggest advantages of its tiny size is that you can easily drive from top to bottom and back again.
So you can see the art museum, visit an Amish market and have dinner down at the beach all in one day's itinerary!
Each county is distinctive; New Castle has the largest population and is the most metropolitan part of the state, and is known for its lasting effects from the famed du Pont family in many of the more opulent places.
Kent County is the least populous and most suburban; it is made up of many small towns that still hold strong ties to their original roots.
Sussex County varies from east to west; along the eastern shore is a thriving beach community that hails visitors from all over the world, while the western side has a much more small-town and rural feel.
No matter which county you visit (especially if it is all three), get ready to plan a vacation full of fun dates in Delaware with this guide for every type of couple; there is something for everyone, from history and art lovers to foodies and beach bums.
You may also like our Delaware bucket list.
Most Romantic Things to do in Delaware in Each County
Romantic Things to do in New Castle County
Delaware's most northern county has the most city-like vibe but is still a small town community.
There are lots of choices for romantic things to do in Wilmington, DE, for every sort of couple.
Art lovers can go to the museum and cinema, history buffs will enjoy a historic steam train ride and mansion estates with centuries of memories, and the opera house and RiverWalk provide all sorts of entertainment.
You can indulge in immersive dining experiences with belly dancing, fondue, or even musical theatre and sneak into a speakeasy for a nightcap.
Then you'll retire in a luxurious and iconic hotel, or a charming B&B with 17th-century roots, a modern hotel at the foot of all the action, or a relaxing spa with onsite gardens for an escape.
You may also like our guide, things to do in Wilmington.
Winterthur
Winterthur is a gorgeous mansion estate and museum with one of the largest collections of Americana in the country, a gigantic library, and a 1,000-acre garden.
This estate also features in our guide to Delaware in fall.
Grand Opera House
The 200+ year old Grand Opera House hosts concerts, Broadway productions, comedy shows, and more
Wilmington RiverWalk
The 1.75 mile long riverside Wilmington RiverWalk has restaurants, a 10,000 square market, loads of attractions, arts & entertainment, and more.
Nemours Estate
The Nemours Estate is a French inspired 200-acre estate with a mansion filled with rare 18th-century French furniture, art, artifacts, and the country's most developed and largest French garden.
Wilmington & Western Railroad
The 250+ year old heritage Wilmington & Western Railroad offers scenic 10-mile rides on an antique steam locomotive, a historic diesel locomotive, or a "Doodlebug" railcar.
Delaware Art Museum
The Delaware Art Museum holds over 12,000 objects focusing on the English Pre-Raphaelite & American art from the 19th to the 21st century.
Theatre N
Wilmington's only arthouse cinema, Theatre N, shows independent films every weekend.
Romantic Places to Eat & Drink in New Castle County
The Melting Pot
Have fun with fondue at The Melting Pot, where you'll enjoy an interactive dining experience.
Casablanca Moroccan Restaurant
Immerse yourself into a North African and Mediterranean experience at the Casablanca Moroccan Restaurant with live entertainment and a hookah bar.
House of William and Merry
The weekly changing menu at House of William and Merry uses seasonal ingredients from local farms.
The Candlelight Theatre
You'll get dinner and a show at The Candlelight Theatre with a full buffet option to enjoy before the performance.
Hummingbird to Mars
Step into a lesser known spot at Hummingbird to Mars, a speakeasy with a full bar and live entertainment every weekend.
Romantic Places to Stay in New Castle County
The Inn at Montchanin Village and Spa
The Inn at Montchanin Village and Spa offers a beautiful garden, relaxing spa, a popular restaurant all central to the many popular locations in Wilmington.
Hotel du Pont
The iconic Hotel du Pont is luxurious and mixes a historical look with modern amenities.
The Terry House
Located in a historic part of town, The Terry Houses is a B&B furnished with antiques and surrounded by a garden adjoining Battery Park.
Miller-Dunham House
The Miller-Dunham House is an intimate early-American style B&B on 3 acres of land in a historic part of town.
Hyatt Place Wilmington Riverfront
Stay on the Riverfront at the Hyatt Place Wilmington Riverfront and enjoy all the modern amenities and local attractions.
Romantic Things to do in Kent County
Kent County is made up of many small towns with local and quaint charm, providing many things to do for couples in Delaware.
Enjoy the simplicity of small-town life at the locally run family- farm and the Amish market, tap into your artistic side with a visit to the opera house or a walk down the art stroll, and test your skills at the ice skating rink.
Explore the historic downtown area of Dover, the state's capital, with coffee and pastry in hand, or enjoy a delicious meal in gorgeous restored Victorian homes, or indulge in Tuscan-inspired cuisine.
Your stay won't be complete without at least one night in one of the restored Georgian mansions turned B&B or relaxing in a garden oasis or an intimate inn.
Or for a livelier experience, you'll have a blast in the state-of-the-art hotel & casino.
Romantic Things to Do in Kent County
Fifer Orchards
A family-run farm, Fifer Orchards offers U-Pick experiences, a farm store, and even hosts a peach festival each August to celebrate Delaware's state fruit. 
Spence's Bazaar
You can experience Delaware's Amish culture at Spence's Bazaar, with their flea market, Amish food market, and auction.
Smyrna Opera House
The 150-year-old Smyrna Opera House is now a community cultural arts center with concerts and performances for all ages.
Milford Art Stroll
Explore downtown Milford with the Milford Art Stroll, with art murals and colorful miniature yachts inspired by Milford's 48-foot original "Augusta" yacht.
Mispillion River Walk
The mile-long Mispillion River Walk provides a scenic view of the river as it winds through the downtown area.
The Centre Ice Rink
Glide around at The Centre Ice Rink or hop into an ice bumper car and see who wins!
Find out more in our guide, things to do in Dover.
Romantic Places to Eat & Drink in Kent County
House of Coffi
Grab a cup of joe at the House of Coffi and walk around the historic part of Dover, or stay for lunch.
Grey Fox Grille
Dine in a restored Victorian home at Grey Fox Grille, with locally sourced produce for wholesome meals and live music most nights.
Bavarian Bakery & Deli
Bavarian Bakery & Deli is a German bakery with everything from custom cakes to fresh-baked bread and pastries to sandwiches and salads.
Benvenuto Restaurant
A Tuscan-inspired culinary experience, Benvenuto Restaurant creates an old Italian feel with its decor and food and also has an extensive wine menu.
Elizabeth Esther Cafe
In the historic part of Smyrna, in an 1860s Italianate mansion, the Elizabeth Esther Cafe offers local, natural, and organic options and made-from-scratch comfort food.
Romantic Places to Stay in Kent County
Bally's Dover Downs Hotel & Casino
Dine, drink, gamble, and sleep at the Bally's Dover Downs Hotel & Casino; you can also relax at the spa, swim in the pool, and enjoy the live entertainment.
Towers Bed and Breakfast
The ornate, pink, Georgian structured Towers Bed and Breakfast has five Victorian-inspired rooms and is on the National Register of Historic Places.
State Street Inn
The State Street Inn is a B&B in a restored Tudor-style home in the historic part of downtown Dover.
Causey Mansion Bed & Breakfast
The 1763 Greek Revival, Georgian style, yellow Causey Mansion Bed & Breakfast sits on 3+ acres and features period-appropriate decor.
Dover Garden Suites
The "Mom & Pop" boutique hotel, Dover Garden Suites, is popular for its garden oasis as well as its suite rooms with abundant amenities.
Sussex County
The state's most popular vacation spot is the Delaware Beaches, on the coast of Sussex County.
There are many romantic things to do in Rehoboth Beach, the most well-known spot, but Lewes, Milton, Seaford, and other local towns have fun and romantic options too.
Plus- if you're looking for romantic places to propose in Delaware, the beaches are usually the most popular choice.
Aside from all of the fantastic beach-related activities, you can walk through fields of flowers, visit the state's best winery, get an adrenaline rush, and visit one of the best sunset spots in Delaware.
Every palette has a culinary choice, with top picks for Japanese, American, and French menus and romantic spots with candlelight dinners, beach views, and rooftop dining.
You can pamper yourself with a stay at the spa, wake up with beach views, live the beach life at an Edwardian B&B or try something unique at a local brewery's inn.
Further Reading
Romantic Things to Do in Sussex County
Lavender Fields Farm
The Lavender Fields Farm has bee & butterfly, wildflower, herb and flower, dahlia, & zen gardens along with the lavender fields, a tea room, and more.
Towers Beach
On the northern tip of the Delaware Seashore State Park, Towers Beach is a popular spot with locals for sunset watching.
Nassau Valley Vineyards
Delaware's first and only award-winning winery, Nassau Valley Vineyards, offers tours and tasting, a wine shop, and even a Saturday farmer's market.
Delaware Botanic Gardens
The Delaware Botanic Gardens borders Pepper Creek and has various gardens, from woodland to meadow.
Go Ape Zipline and Adventure Park
The Go Ape Zipline and Adventure Park is a treetop adventure with 50-foot-high tree-to-tree crossings, 700-foot-long ziplines, Tarzan swings, and more.
The Delaware Beaches
With miles and miles of white sandy and blue water, you won't be able to resist heading out onto the beach no matter what time of year you visit.
You may also like our guide to Delaware beaches and dreamy beach resorts.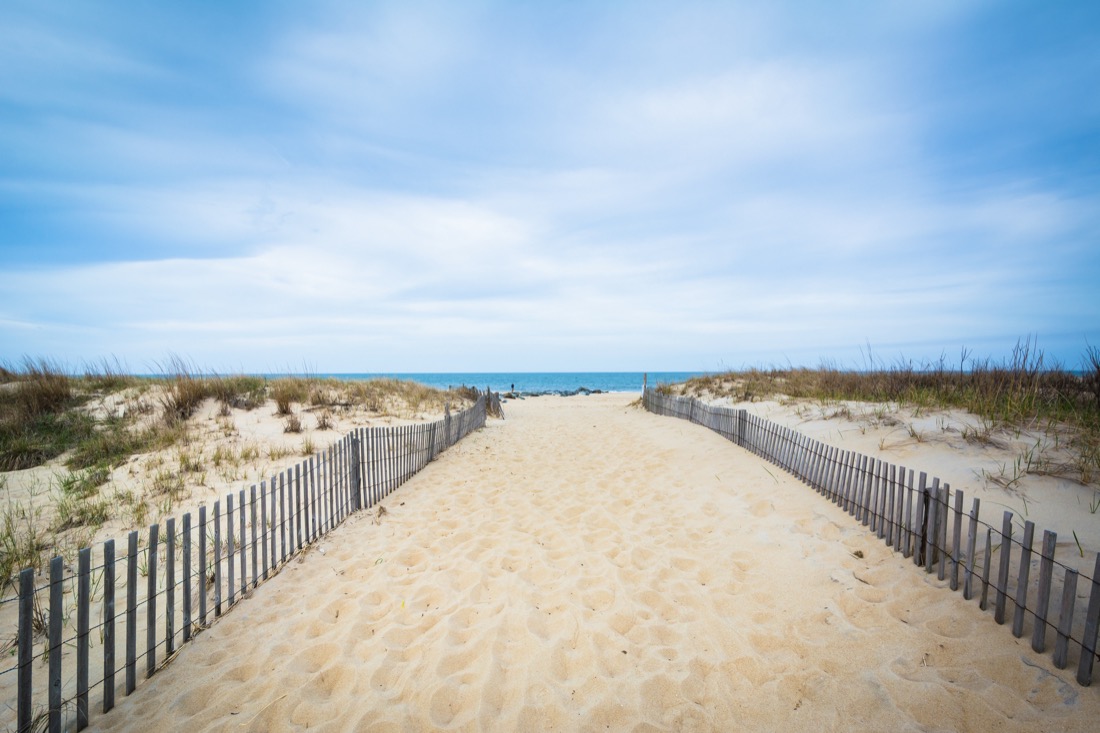 Romantic Places to Eat & Drink in Sussex County
The Cultured Pearl
One of Delaware's best-rated restaurants, The Cultured Pearl has an extensive sushi menu with a rooftop patio featuring a 5,000-gallon koi pond.
Salt Air
Featuring farm-to-table fresh cuisine and an upscale atmosphere, Salt Air has a locally inspired menu with locally sourced ingredients.
Kindle
Kindle offers seasonal American fare with a bit of a French influence as you dine by candlelight.
Bon Appetit
Bon Appetit is a gourmet French restaurant with an old world and cozy atmosphere complete with fresh flowers and gilt decor.
Victoria's Restaurant
Have your dinner with a view in the three-tiered Victoria's Restaurant, which offers scenes of the Atlantic Ocean from every table.
Dolles
Grab salt water taffy at Rehoboth Beach while enjoying a stroll together.
You may also like our guide to the best things to do at Rehoboth Beach.
Romantic Places to Stay in Sussex County
Savannah Inn B&B
In the heart of the Historic District, the Edwardian Savannah Inn B&B brings beach culture and luxury together.
Boardwalk Plaza Hotel
Situated on the famous Rehoboth Beach Boardwalk, the Victorian Boardwalk Plaza Hotel has wonderful beach views and a central location to the best beach offerings.
Dogfish Inn
Dogfish Inn is a beer lover's dream spot with Dogfish Head beer-themed amenities and close distance to the DogFish Head brewery, distillery, and restaurants. 
The Inn at Canal Square
The Inn at Canal Square sits on the waterfront of Historic Lewis and has a variety of themed packages for every occasion.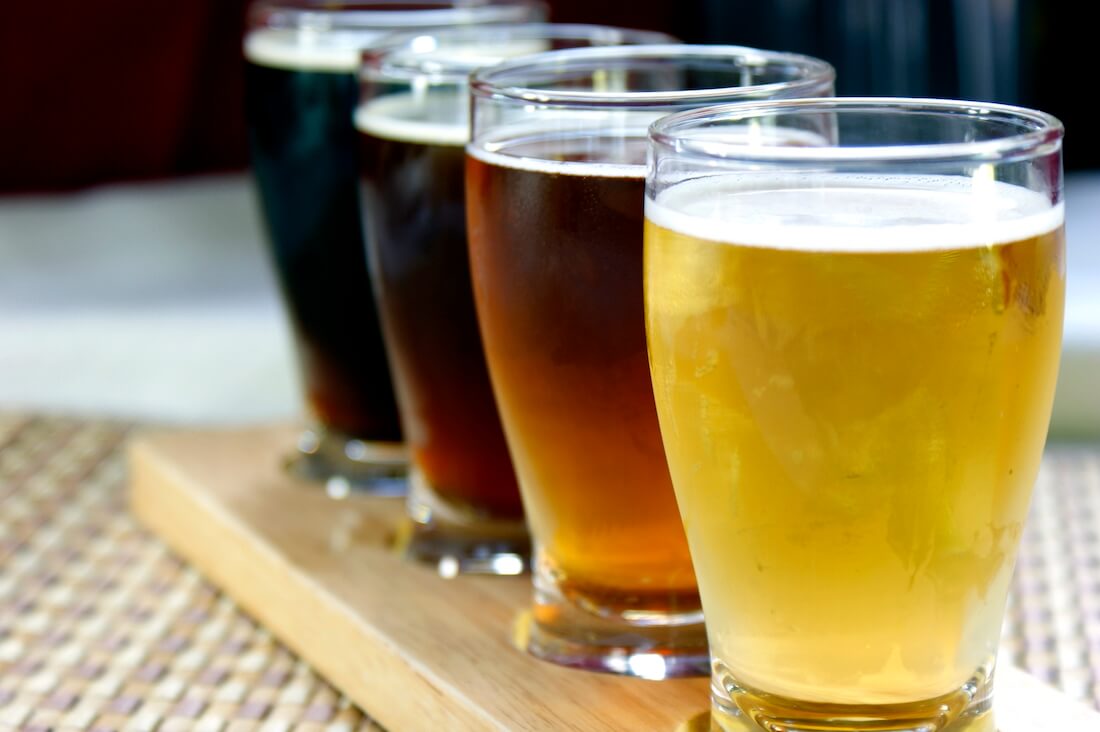 Final Thoughts
It may be the second smallest state, but there are big opportunities for romantic getaways in Delaware.
If you can't choose between the small-town hidden gems, historical sites, or aesthetically inspiring spots for the best things to do, places to eat, or places to stay – you can always come visit again.