This article has links to products and services we love, which we may make commission from.

Miami at night is lit! Whether this means seeing the skyscrapers sparkle over the Biscayne Bay, or partying into the wee hours, there is a nighttime activity for every type of visitor and all locals.
Our guide reveals fun things to do in Miami at night, throughout all of the city's unique neighborhoods – including the best music experiences, where to salsa dance, lively performances, scenic evening tours, restaurants you're going to want to dine at, and bars you'll have to drag yourself away from!
We've also included suggestions for visiting Miami Beach at night, since both cities are just a 25 minute drive apart.
There are a ton of cool things to do at South Beach when the sun goes down over the Atlantic, so you're going to want to add that to your bucket list.
Now, let's take a look at the best places to go in Miami at night for friends, couples, and families.
You may also like our 24-hour itinerary, 3-day itinerary, and guide on things to do in Miami.
Best Things to do in Miami at Night All Year Round
Downtown Miami at Night
Since it is the most central neighborhood, this guide kicks off with things to do in Downtown Miami at night.
Downtown is home to museums, galleries, restaurants, bars, clubs, and hotels.
It straddles the cool Brickell neighborhood and is also home to Bayfront Marketplace, which is the launching pad for many evening tours in Miami.
Sunset Cruise Over Biscayne Bay
What better way to end the day than watching the sun slip into the water during this night cruise.
The boat sets sail from Bayside Marketplace and glides by Miami landmarks such as Millionaire's Row, Miami River, and even South Beach.
The tour features narration in six languages, so you can learn more about the attractions in the skyline.
There is a cash bar onboard if you want to clink a cheers as the sun sets.
Sports Games & Live Performances at Miami-Dade Arena
Miami-Dade Arena is home to a variety of night activities in Miami.
The arena (601 Biscayne Blvd) is where the American professional basketball team, Miami Heat, shoot hoops, so you might just catch a home game while in Downtown!
This arena suits most budgets with over 2000 seats, 80 luxury suites, and 76 private boxes.
One of the coolest things about seeing a Miami Heat game at the arena is the interactive scoreboard, designed by Christopher Janney.
If basketball isn't your jam, what about a theater performance?
The Waterfront Theater at Miami-Dade Arena is the largest in Florida with 5,800 seats.
Plus, the arena has a huge events area for live music and has hosted international acts such as Dua Lipa, U2, and Ariana Grande.
Hit The Dancefloor
For a club night akin to those on the White Island, consider Club Space (934 NE 11th St).
This electronic club has been entertaining revelers for decades, and attracts international DJs such as Diplo, Solomon, and Green Velvet.
Visitors love the terrace for its clear ceiling which means you can watch the stars migrate to sunrise during an all-nighter!
Pack your shades for this rave.
A Flashy Night Out at E11even
If you prefer table service looked after by 'model servers', the infamous E11even (29 NE 11th St) may be more of your scene.
This 24/7 club boasts performances by Post Malone, Drake, and Cardi B, as well as famous guests such as Paris Hilton, Megan Fox, and Kylie Jenner.
The night starts late, or the morning starts early, at E11even with dressed to impress ticket holders lining up from around 2am.
For more things to do in this area, check out our guide to Downtown Miami.
Brickell at Night
Brickell is a swanky residential neighborhood with towering buildings.
Inside of the buildings are lots of places to visit in Miami at night including activities, food, and drink.
It's a little difficult to see what is behind the shiny facades when wandering about this area, so use a map app to get to your attraction of choice.
Brickell and Downtown are connected by the free Metromover.
The name comes from Mary and William Brickell, one of the first real estate families in the city.
Trendy Mini Golf and Drinks
Puttshack (701 S Miami Ave, in Brickell City Centre) is an upscale mini golf course with an on-site bar and restaurant.
The inside crazy golf course consists of three areas that even the most novice of swingers can handle.
After your round of golf you can enjoy a round of drinks, and order food while other score around you.
Luxury Viewings at CMX Theater
Another evening activity idea located in the Brickell City Centre complex is seeing a latest release at the luxurious CMX Theater (701 S Miami Ave 4th Floor Brickell City Centre).
The cinema theater consists of reclining seats and uniquely offers a dine-in experience.
One of the fun things to do in Miami at night with family.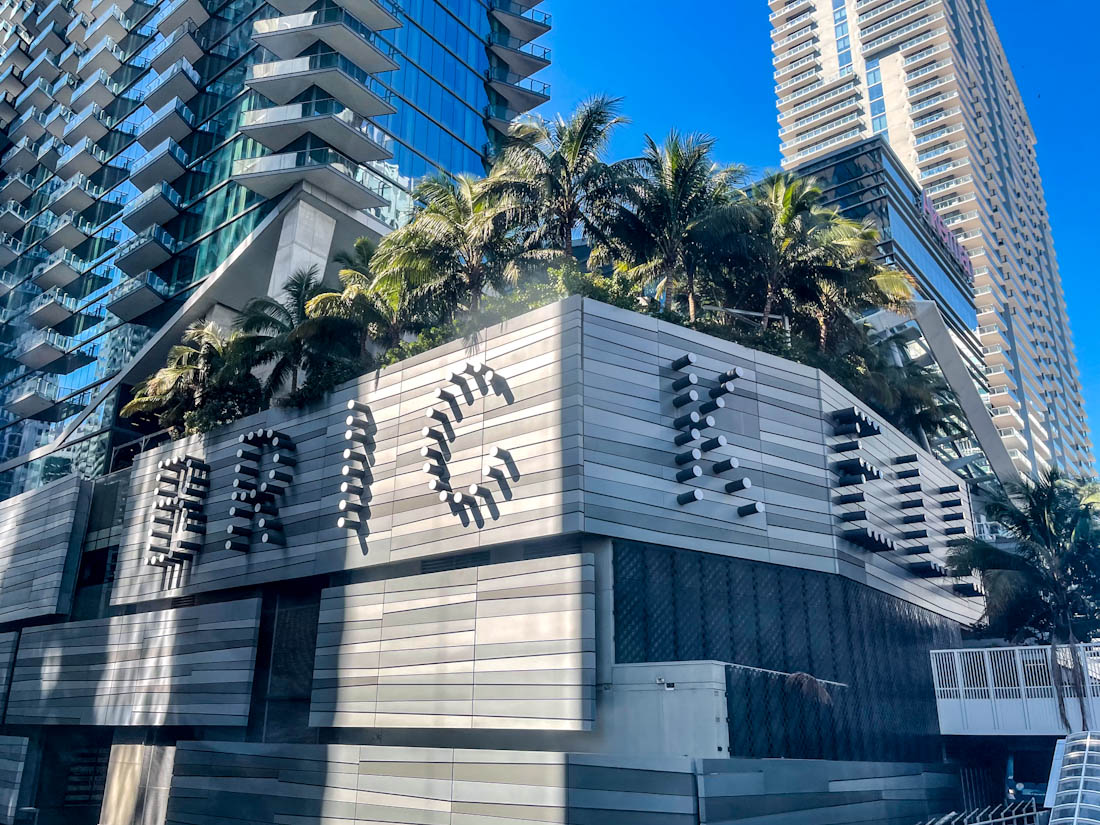 Scenic Drinks With Epic Views
There are two options for drinks or dining with views in Brickell.
Firstly, the popular rooftop, Sugar (788 Brickell Plaza #40) which is located on the 40th floor of the EAST Miami hotel.
It is expected that guests adhere to the 'nightlife attire' request while dining here.
Another option is the lesser-known, Peruvian restaurant La Mar (500 Brickell Key Dr), which is located on the man-made island, Brickell Key, and provides diners with waterfront views over the Biscayne Bay.
If you're looking for places to walk in Miami at night, Brickell Key has a 1.2 miles of path – walk off the day while taking in the evening skyline.
Clubbing at Blackbird Ordinary
Blackbird Ordinary (729 SW 1st Ave) in Brickell attracts a more chill, young crowd compared to E11even or Club Space in Downtown mentioned above.
The club has two rooms with DJs and bands and is open seven days per week.
Belt Your Lungs Out at Karaoke in Brickell
If you prefer to be in the band instead of watching, head to Sweet Caroline (1111 SW 1st Ave) for live karaoke.
The bar has a library of over 300,000 songs and happy hour every night.
One of the fun things for couples to do in Miami at night.
If you'd like to read about more date night ideas, here our guide to romantic things to do in Miami.
Comedy Shows at Flamingo Theater Bar
We get it, singing in front of an audience is not everyone's ideal night out in Miami, so if you prefer to laugh at people instead of being laughed at, consider Flamingo Theater Bar (905 Brickell Bay Dr).
The comedy club schedule includes stand-up comedians, plays, and Latin music performances.
A menu of drinks and appetizers is also available.
Salt Bae in Brickell
How good is his seasoning?
Find out at Salt Bae's Nusr-Et Steakhouse Miami (999 Brickell Ave).
Expect a meat-filled menu, flamboyant servers, and a hefty cheque.
Crazy About You, Brickell
Crazy About You (1155 Brickell Bay Dr) is a popular Brickell restaurant with the social media fan crowd, as its waterfront views are stunning.
You can dine indoors or outside by the water, underneath the festoon lights at night.
Find out more about Brickell in our things to do guide.
Little Havana at Night
Salsa, cena, and… sushi?!
There's a lot going on in the Latin American community of Little Havana and while most of it does feature Cuban influence, some things to do at night don't.
Most of the following things to do in Little Havana at night are located on Calle Ocho, which is close to Brickell and can be reached by taxi or free trolley.
Cuban Food at Versailles
Versailles (3555 SW 8th St) is the iconic Cuban restaurant that locals and visitors love to dine at from desayuno (breakfast) through to cena (dinner).
The restaurant opened in 1971 and has been more than just a place to eat for the Cuban community as it is also where protests have taken place.
Versailles enjoys all year round custom from visitors and regulars, some of which dine here every day.
Lung Yai Thai Tapas
If you've had your fill of ropa vieja, consider the small tapas of Thai food served at Lung Yai Thai Tapas (1731 SW 8th St) in Little Havana!
Delicious plates are thrown down on tables of this shack restaurant when they are ready, and the vibe is dine and dash, after paying of course.
You can't book a table so expect lines at the weekend.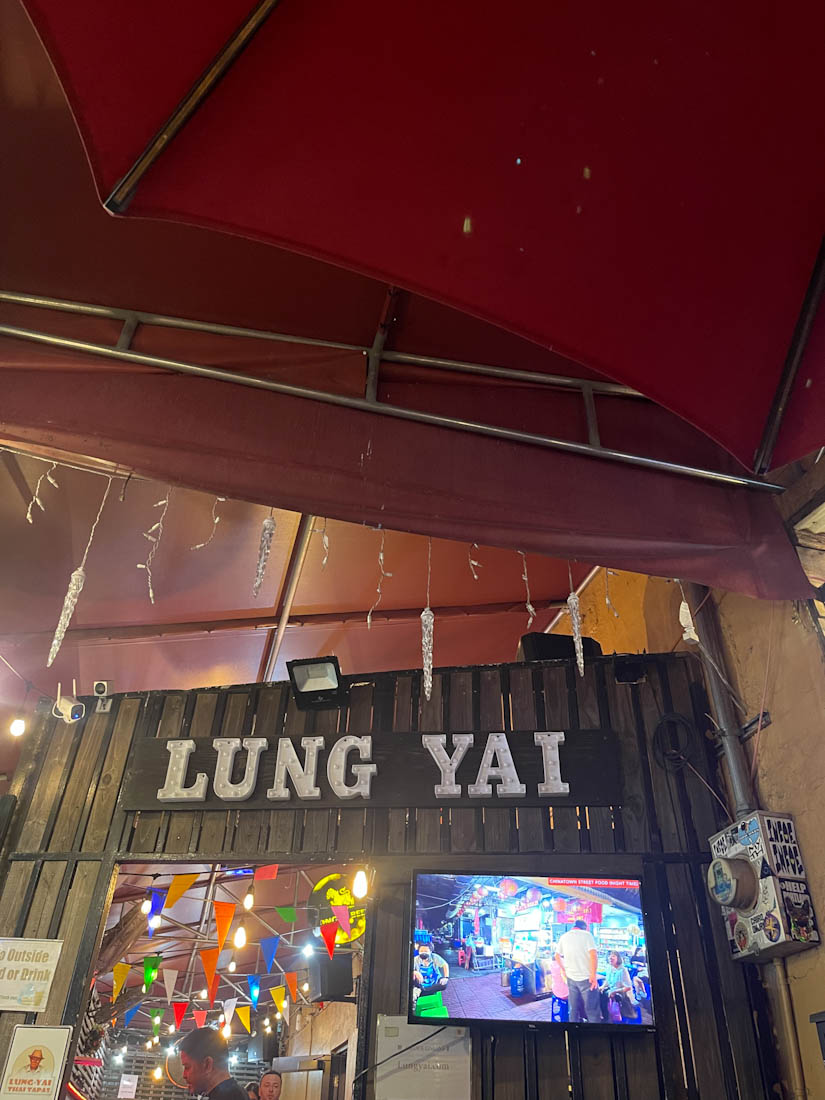 Florida Based Sushi Bar, Sushi Sake
If you are feeling temaki over tom yum, go for Florida based Sushi Sake (1615 SW 8th St).
Cuban-American brothers Angel and James Aguayo started the chain in Miami in 2009.
There's a cool Welcome to Little Havana mural on the side of the building.
Cafe La Trova Entertainment and Mural
Cafe La Trova (971 SW 8th St) is an award-winning Cuban restaurant owned by Julio Cabrera and his long time friend, Chef Michelle Bernstein.
It has been featured on The World's 50 Best Bars list many times!
Drinks are made and served by Cantineros, while live music plays in the background.
Find the Speakeasy at El Santo Taqueria
El Santo Taqueria (1620 SW 8th St) is a popular Mexican restaurant that celebrates Lucha Libre culture while serving very photogenic food.
After tacos, it's time to find the tequila speakeasy!
Tower Theater for Dual Language Movies
Tower Theater (1508 SW 8th St) shows movies in both English and Spanish and subtitles English movies with Spanish text.
The building is one of the oldest cultural places in the city, and designed in Art Deco like the style you can find at South Beach.
Live Music & Mojitos at Ball & Chain
Ball & Chain (1513 SW 8th St) is one of the most popular places in Little Havana known for its live music, Cuban menu with a twist, and cocktails.
The original Ball & Chain Saloon opened in 1935, long before Little Havana was created, and many stars such as Billie Holiday, Count Basie, and Chet Baker have performed here.
Salsa Dancing at Cubaocho
If you want to move to the music, put on your dancing shoes and get along to Cubaocho (1465 SW 8th St #106).
Not only are there weekly salsa dance classes with a teacher and DJ, but also food and rum.
Check out our guide, things to do in Little Havana for more.
Wynwood at Night
Whoah, Wynwood nights are wild.
If you've visiting during the day to see the street art, you won't recognize this busy nightlife area when the sun goes down.
Expect loud music belting out of buildings, party buses, cars, and crowds.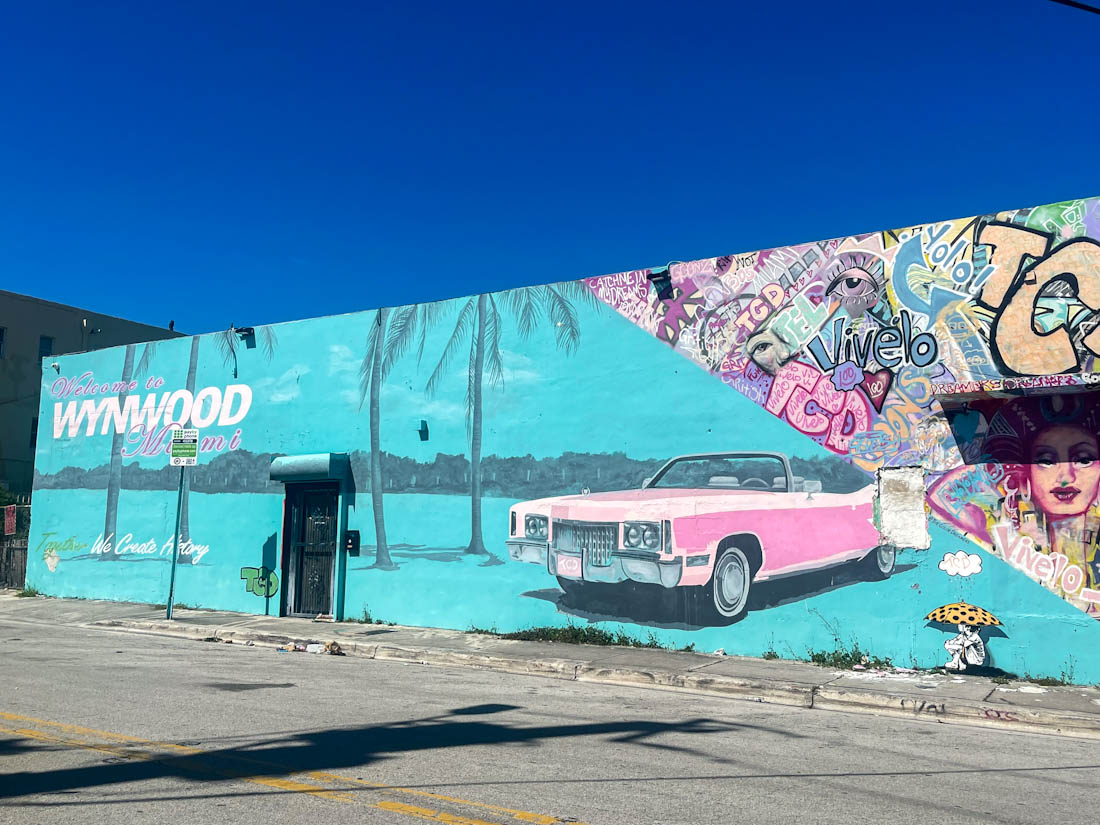 Wynwood Marketplace For Drinks, Food, Sports, & Music
Wynwood Marketplace (2250 NW 2nd Avenue) is a great place if you're part of a crowd who can't agree on where to go, as it has multiple areas, bars, and Miami vendors.
The space consists of a mix of outdoor and covered seating areas, with music, and sports on TV.
Party at the Mad Butcher
Dine on the 'Best Smoked Burgers in Town' then slip into the speakeasy at The Mad Butcher (2300 NW 2nd Avenue).
This restaurant and bar offers indoor and outside seating in the center of Wynwood.
Turn Tacos Night Up
Coyo Tacos (2320 NW 2nd Ave) is an award-winning Mexican street food restaurant and margarita bar.
Their margs are made using house-brand tequila and there is also a speakeasy!
The OG, Gramps
Gotta give credit to the original club in Wynwood, Gramps (176 NW 24th Street), this institution has seen the neighborhood change dramatically while retaining its low-key roots.
Expect sections of indoor and outdoor bars, dance floors, and a decent cocktail menu.
There's a huge live stage and dance floor with fans.
At winter, the back room is made into a festive bar, one of the best places to visit in Miami at Christmas!
Craft Beer at J Wakefield Brewery
If a quiet(er) pint of craft beer is more of your nighttime Miami vibe, pop into J Wakefield Brewery (120 NW 24th Street), one of the few first breweries left in Wynwood.
The bar has tables inside and out, as well as games to play.
1-800-Lucky Food Court and Karaoke
Dine on dumplings then sing to Sean Paul at 1-800-Lucky (143 NW 23rd Street).
This food court and night club takes over 10,000 square feet of Wynwood and is a fun place with a younger crowd.
Spin the Wheels at Dante's Hi-Fi
Dante's Hi-Fi (519 NW 26th Street) is the legendary first vinyl bar in Wynwood where you can watch international DJs work the decks.
A must-do Miami at night activity for music fans.
Shots, Shots, Shots
Does what is says on the tin.
Over 100 flavors of shots can be downed at Shots (311 NW 23rd Street) in Wynwood, the original Shots location.
Wynwood Brewing Company
Thankfully, Miami's first craft production brewery, Wynwood Brewing Company (565 NW 24th Street), is still going strong and the taproom is open from day through to night.
Wynwood Brewing Company was founded by Luis Brignoni and his father, Luis 'Pops' Brignoni, and is one of the few Wynwood businesses with Puerto Rican roots, even though the area used to be referred to as 'Little San Juan'.
Go Dancing at The Anderson
First up, The Anderson (709 NE 79th St) isn't actually in Wynwood but this is the closest neighborhood to the bar mentioned in this guide.
It's all the way past the Upper East Side but it is worth the taxi ride as it is one of the few unpretentious Miami clubs in the city.
If you like to party in an intimate dark room and have the option to enjoy breezy drinks out front, The Anderson is for you.
Coconut Grove at Night
Coconut Grove is the oldest continuously inhabited neighborhood in Miami, and home to upmarket restaurants and bars, and marinas.
The Grove is known for its leafy backdrop and century old trees, as well as the peacocks that roam the streets.
Dining Out in Coconut Grove
While The Grove is a small neighborhood, there's lots of choice when it comes to dining out.
There's Peruvian food at Jaguar (3067 Grand Ave), pizza at Harry's Pizzeria (2996 McFarlane Rd), and Indian food at Bombay Darbar (2901 Florida Ave).
If you're looking for Coconut Grove restaurants with a view check out Bellinis (2988 McFarlane Rd) or the Bayshore Club (3391 Pan American Dr).
Date night in Coconut Grove is one of the romantic things to do in Miami at night.
Bar Hopping in The Grove
Head to Sandbar (3064 Grand Ave) for live sport on the TV, Happy Wine (2833 Bird Ave) for a large selection of vino, or The Grove's oldest bar, The Taurus (3540 Main Hwy) for whiskey.
Next door to Coconut Grove is Coral Gables, one of the first planned communities in South Florida, where you'll find a bar at the fancy Biltmore Hotel (1200 Anastasia Ave), Titanic Brewery (5813 Ponce de Leon), and Cebada Rooftop (124 Giralda Ave).
If you need something to take the edge off the hangover the next day, you'll find Panther Coffees and A.C.'s Icees might just do the trick.
Catch a Movie at Cinépolis Luxury Cinemas
Another luxury cinema option is Coconut Grove's Cinépolis Luxury Cinemas (3015 Grand Ave).
This movie house has comfortable leather seats, a bar, and meals served to your chair.
Spend the Afternoon at Bayshore Club
Watch the boats bob about the historic Dinner Key at the modern waterfront bar, Bayshore Club (3391 Pan American Dr).
It is easy to lose a night at this three-level restaurant, built at the old Pan Am Seaplane Base.
Bayshore Club also features in our guide to hidden gems in Miami.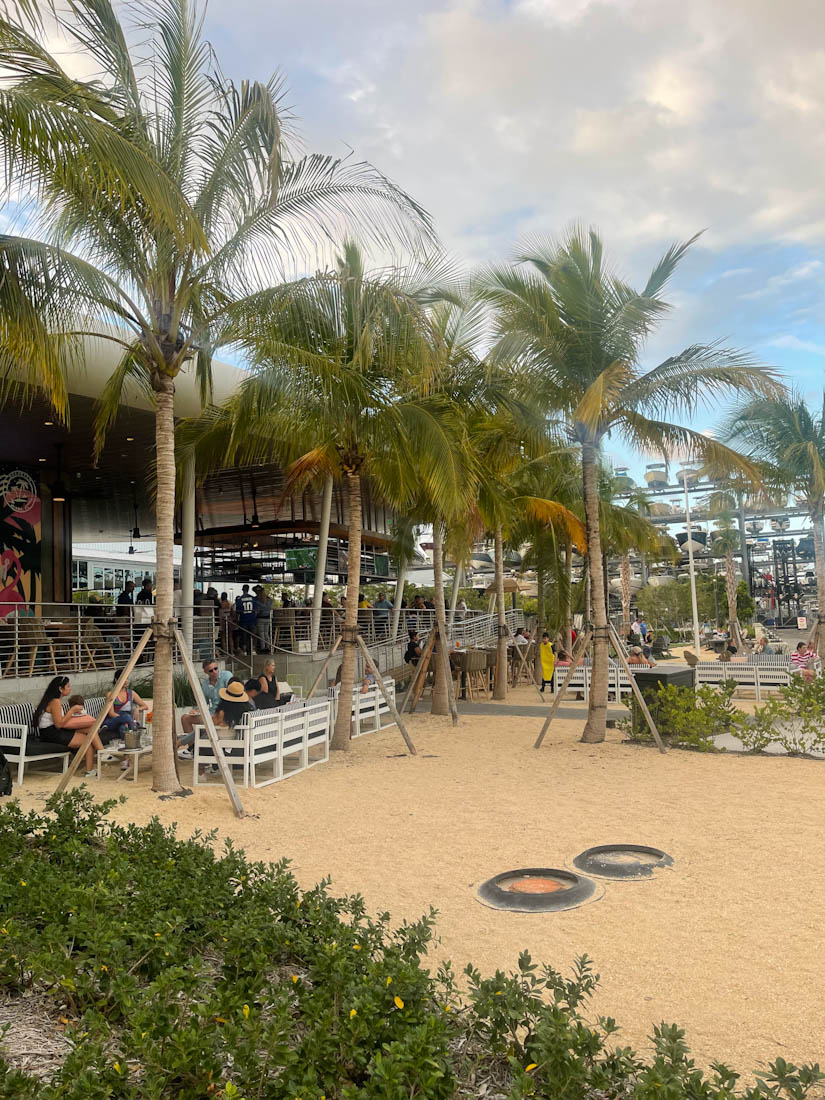 Relaxed Drinks at Monty's
While Bayshore might feel a little too upmarket for some, Monty's Raw Bar (2550 S Bayshore Dr) is a decent waterfront alternative in Coconut Grove.
The tiki bar puts on live music shows, and serves food and drink.
Well behaved dogs are welcome.
Find out more about this affluent neighborhood in our guide, things to do in Coconut Grove.
Miami Beach at Night
Now it's time to say goodbye to the City of Magic and head over to The Sun and Fun Capital of the World, Miami Beach.
Most locals and visitors use car share ride apps to book a taxi between Miami and Miami Beach, the ride takes around 25 minutes.
The barrier island's most popular neighborhood is South Beach (SoBe) and this is where most of the things to do at night in Miami Beach are.
The Art Deco District at Night
One of the best free things to do in Miami at night is walk along the bustling Ocean Drive to see the 'Tropical Deco' buildings all lit up in neon colors.
Along Ocean Drive you'll see The Avalon, The Carlyle, and The Leslie.
Many of these hotels have bars and restaurants at ground level, some have patios for views over Ocean Drive.
The Art Deco District was one of the first neighborhoods of 20th century buildings to be enlisted on the US National Register of Historic Places in 1979.
Find out more about Art Deco in Miami in our guide to Art Deco hotels.
The Clevelander Bar
The Clevelander (1020 Ocean Drive) was built in 1938, and is another example of Art Deco.
Today the hotel is home to a pool party, lively bar, relaxed restaurant, and sports on TV.
Dine at the Versace Mansion
You may be familiar with the Versace Mansion, where the fashion designer Gianni Versace once lived.
It is currently (and was previously) known as Villa Casa Casuarina (1116 Ocean Drive), a boutique hotel with opulent decor and a restaurant with tables by the gold-lined Versace outdoor pool.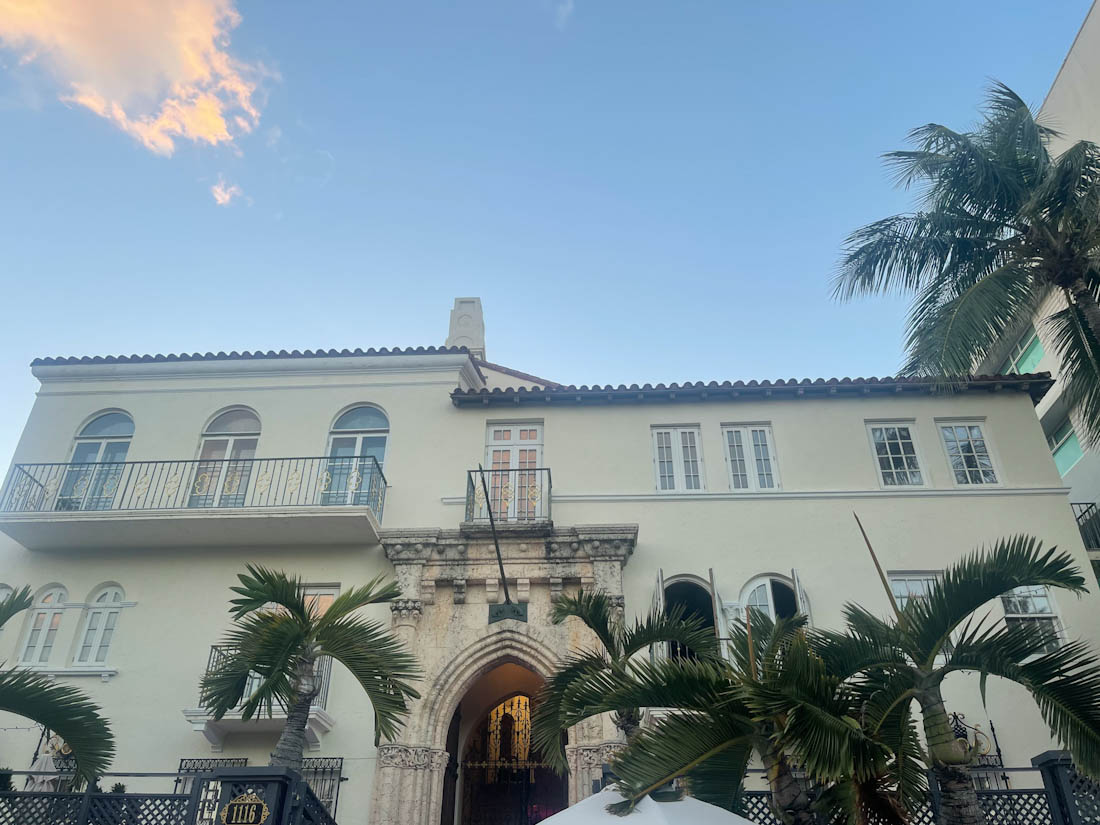 Enjoy Beers at Broken Shaker, The Backyard Bar
Take a break from the glam of Miami at the award-winning Broken Shaker (2727 Indian Creek Dr) hostel's backyard bar.
Here you'll find comfortable seating, a succinct bar menu, and reasonably priced jugs.
Party at LIV at Fontainebleau Hotel
Partying at LIV was once 'the' place to party, thanks to many appearances by the Kardashians.
Today, LIV is still a popular party spot for tourists and visitors.
Located in Miami Beach's biggest hotel, Fontainebleau Hotel (4441 Collins Avenue), revelers dressed in formal wear take to the dance floor and enjoy table service at this superclub, which has hosted acts such as DJ Khaled and Cardi B.
Our Miami Guides
Miami By Neighborhood