This article has links to products and services we love, which we may make commission from.

Ah, summer has officially started! Dust off the sun hats, take out the camping gear and let's take a look at the best Memorial Weekend getaway destinations for families, couples and friends.
We're naturally biased so this guide leans towards Memorial Day Weekend activities on the East Coast and features beach vacations, city breaks with fun festivals and outdoor adventures.
Organizing a Memorial Day Weekend bachelorette party? The following spots are ideal for a chilled-out or popping weekend too.
We've included the best things to do over Memorial Day weekend at each location and what temperatures to expect so you can plan and pack accordingly.
East Coast Memorial Weekend Getaway Ideas
St. Augustine, Florida for Seafood and Jazz Festivals
Visit the nation's oldest city for a family-friendly Memorial Day weekend of historic sightseeing and lazy afternoons on the beach.
You'll get to St. Augustine just as the busy summer season begins.
Try to make reservations in advance to get the best deals before Memorial Day.
Stop by the annual Blue Crab Festival for food and Memorial Day festivities.
Also, catch a free concert from the St. Augustine Jazz Society in the afternoon.
Dive into the city's Spanish roots at some award-winning Spanish restaurants and indulge in fresh seafood.
You'll have plenty of history to explore in the city's Colonial Quarter and at the iconic Lightner Museum.
If you're looking for something a little different, explore Saint Augustine's spooky side on an 80-minute Haunted Old Town Trolley Tour (book on GetYourGuide or Viator).
Saint Augustine weather is usually warm and still not too humid in May with temperatures ranging from 66°F to 84°F (18°C to 29°C).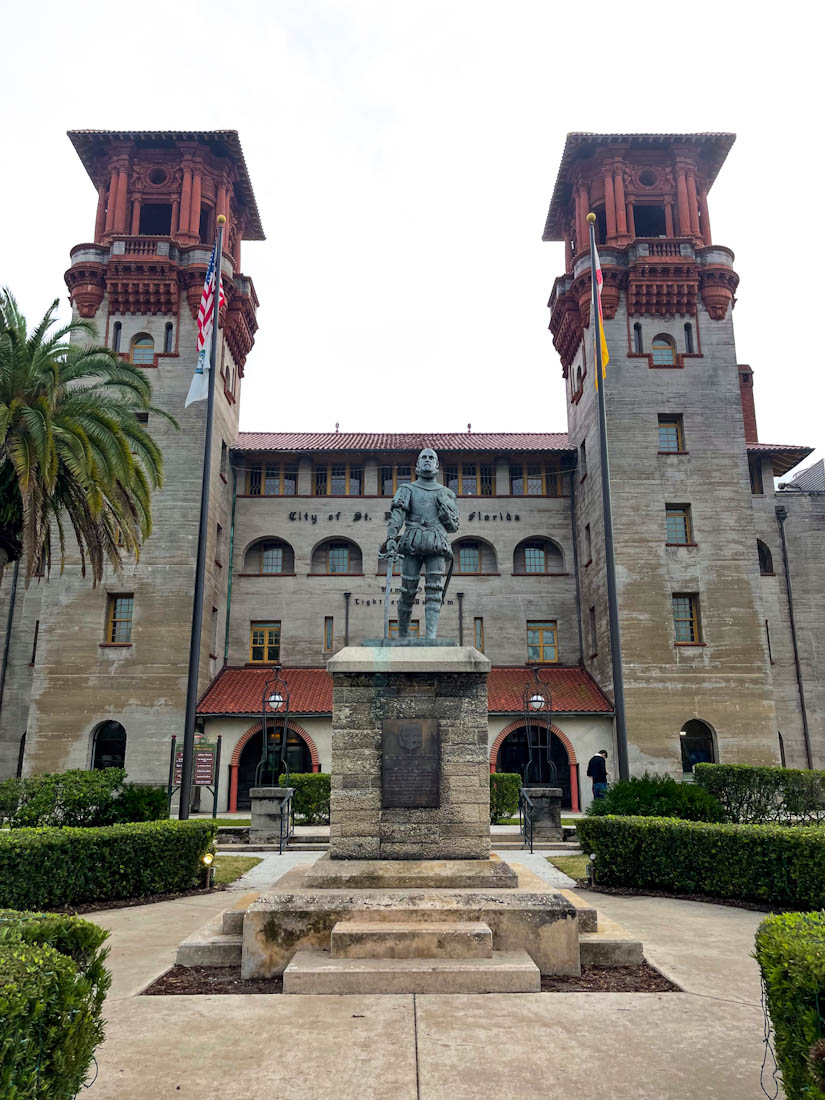 Where to Stay in St. Augustine
Since you're only visiting over a long weekend, stay centrally to enjoy all the fun things St. Augustine has to offer.
For convenience, charm, and character, check out the Renaissance St. Augustine Historic Downtown Hotel (book on Expedia, Hotels, or Booking) or the lovely Casa De Solana and Victorian House Bed & Breakfast (Expedia, Hotels, or Booking).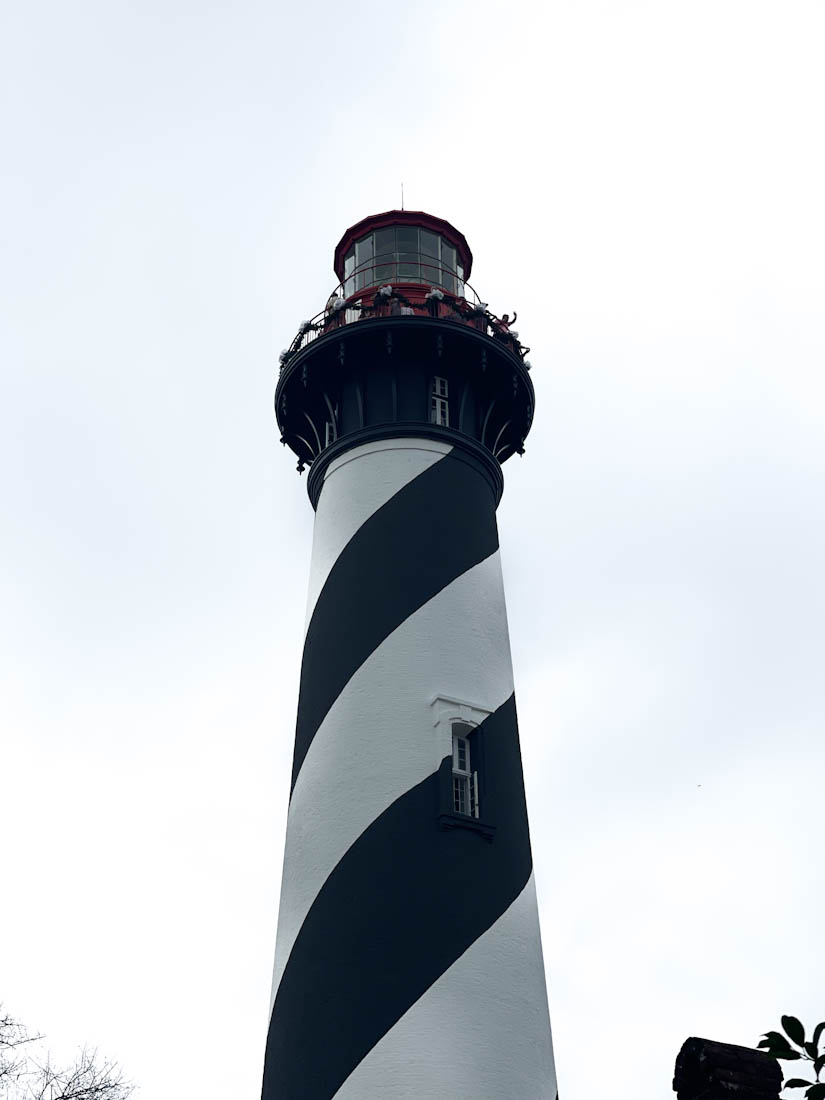 Washington, D.C for Memorial Day Parades
It's no surprise that the nation's capital goes all out for Memorial Day.
The city's must-do Memorial Day traditions include the National Memorial Day Parade and the National Memorial Day Concert.
Visitors can pay their respects at Arlington National Cemetery and visit the nearby U.S. Marine Corps War Memorial.
Spend the rest of the weekend doing some patriotic sightseeing along the National Mall and exploring the U.S. Capitol building.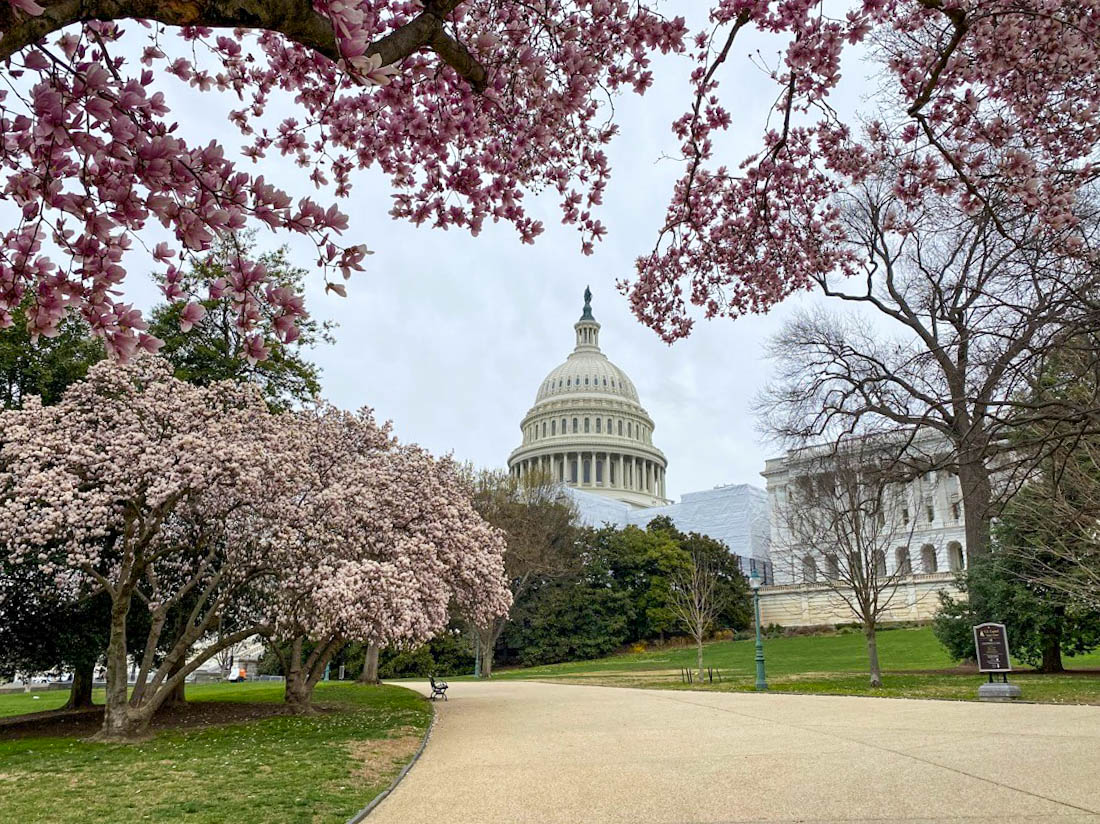 Wind down at one of D.C.'s swanky rooftop bars such as Cortez DC (tequila!) or explore the city's rich ethnic food scene like Makan (3400 11th St NW) for Malaysian or Martha Dear for Greek (3110 Mt Pleasant St NW).
You can even get Texan BBQ in DC at Hill Country BBQ (410 7th St NW).
Hop on a half-day tour to Washington D.C.'s must-see sights so you don't miss anything before you leave town; check availability on GetYourGuide or on Viator.
Spring is a wonderful time to visit D.C. for the pleasant weather.
Expect temperatures between 54°F to 76°F (12°C to 24°C).
Memorial Day can bring a lot of visitors to the city. Book reservations in advance for better deals.
Check out our full list of things to do in DC so you maximize your visit.
Where to Stay in Washington DC
Stay right by The White House for incredible convenience for the long weekend; Hotel Washington is always a good choice (book on Expedia, Hotels, or Booking).
Alternatively, head just up the street to vibrant Logan Circle and stay at the fabulous Hotel Zena (book on Expedia, Hotels, or Booking).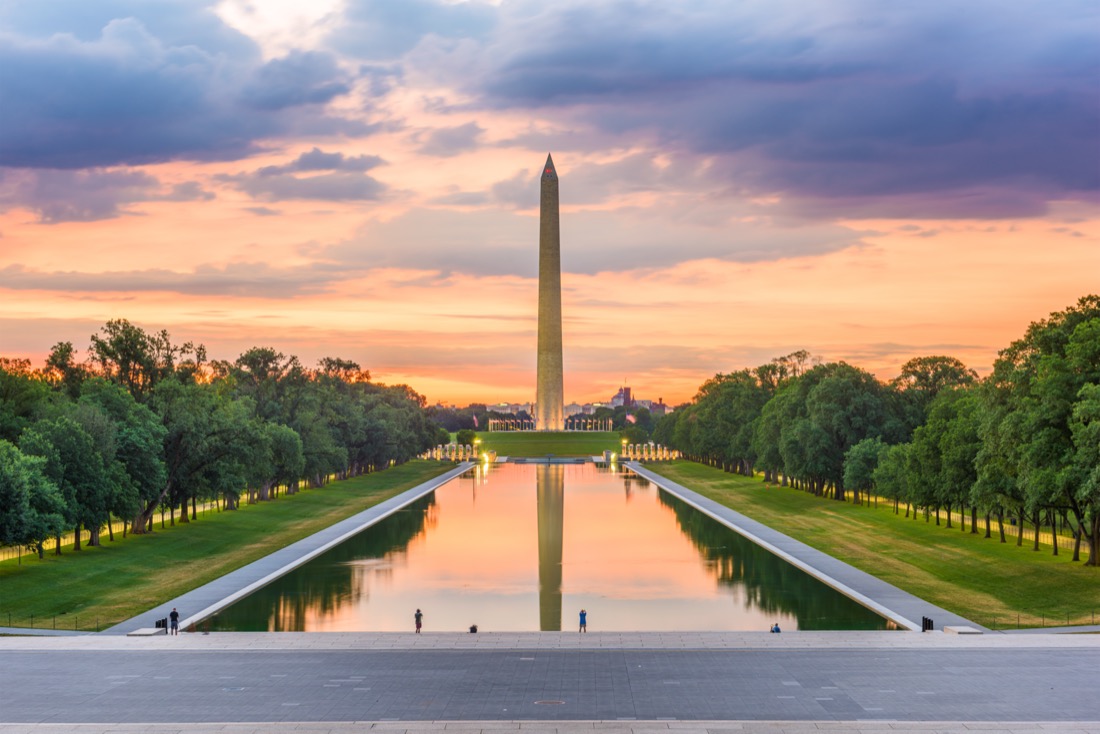 Acadia National Park, Maine for a Camping Road Trip & Nature
Spend some time in the great outdoors at one of America's best national parks.
Acadia National Park offers 47,000 acres of wilderness that's perfect for hiking, biking, climbing and camping.
If there's room in your budget, stay at the park's oceanfront glampsite for a more luxurious stay.
On a smaller budget? Regular campsites are only about $30 per night in the park.
Spend your time in the park hiking along the tranquil banks of Jordan Pond.
Thrill-seekers can hike the challenging 2-mile Precipice Trail up the side of Champlain Mountain.
Get up in time to watch the sunrise from Cadillac Mountain or at the Bass Harbor Head Lighthouse.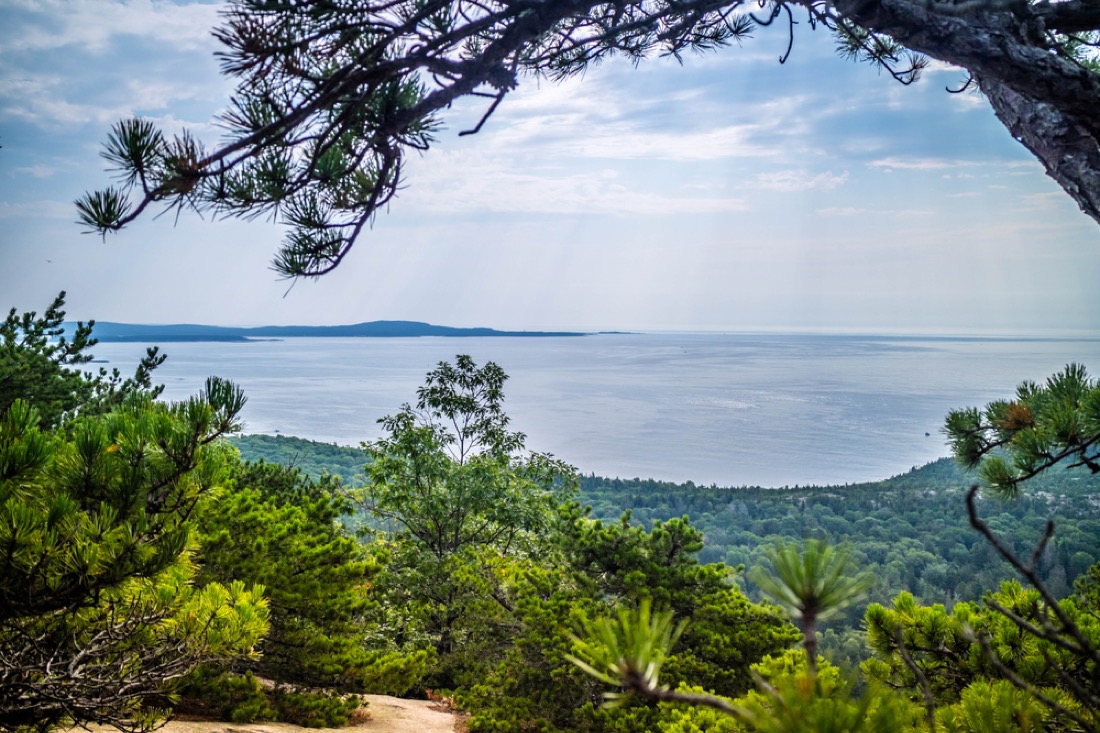 Head to nearby Bar Harbor, Maine for food and shopping.
You can even take a culinary walking tour through Bar Harbor and nibble on samples; check availability on GetYourGuide or Viator.
Acadia also features in our guide to the best places to visit in Maine.
The weather may still be on the cool side, but the park won't be filled with the large leaf-peeping crowds that it's famous for.
Expect highs in the low-70s (21°C) and lows in the 40s (4°C).
If you have more time for an adventure or are looking for other routes, check out our East Coast road trip guide.
Get our other suggestions for Memorial Day Weekend camping spots on the East Coast and start packing your gear!
Where to Stay Near Acadia National Park
If you'd prefer to stay indoors instead of camping, check out our complete guide to where to stay in Bar Harbor.
The Best Western (Expedia, Hotels, or Booking) or the Kimball Terrace Inn (Expedia, Hotels, or Booking) are both good options within a few minutes drive of the park entrance.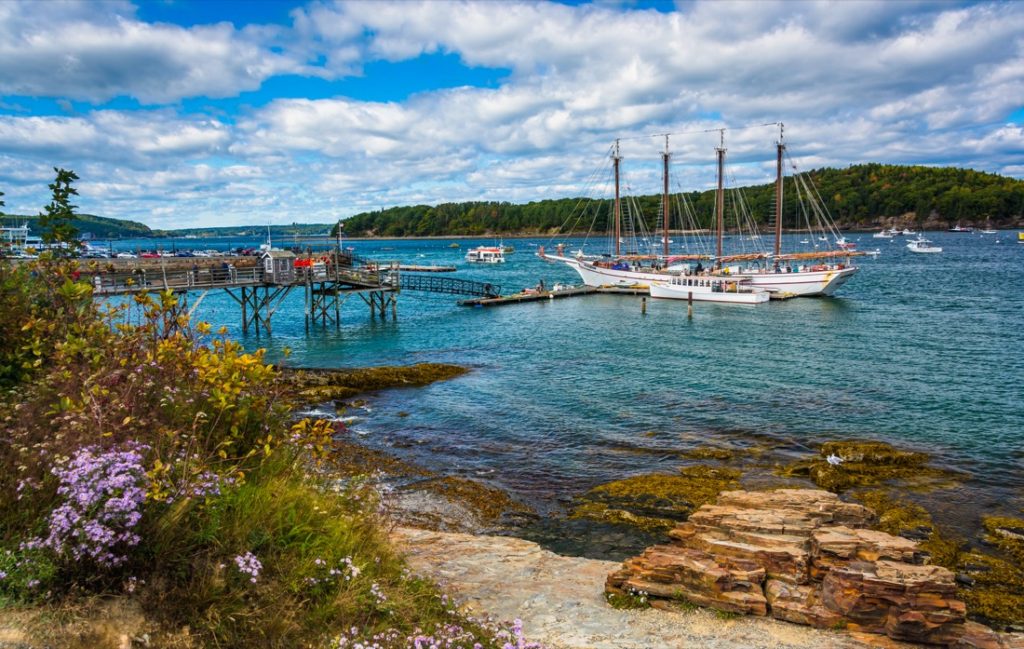 Cunningham Falls State Park, Maryland for Family-Friendly Camping
For an easy, family-friendly camping destination within driving distance of Washington, D.C., look no further than Cunningham Falls State Park in Maryland.
Nestled in the beautiful Catoctin Mountains, Cunningham Falls State Park has everything you need to ring in the start of summer.
Hike down to the park's sandy beaches, or get a rental boat to enjoy a day on the water.
Don't forget to stop at Maryland's largest waterfall within the park for a picture.
With 130 basic campsites and 41 campsites with electric hook-ups, you won't have a hard time finding a spot in the park.
A basic campsite is less than $25 per night and an electric site is less than $30, with discounts available for senior citizens and Maryland residents. Call ahead of time to make reservations.
Expect high temperatures in the mid 70s (21°C) and lows in the mid 50s (10°C).
Check out our East Coast hikes guide for more trek ideas.
Check out our ideas for things to do in Baltimore if you're extending your trip to the state capital.
Where to Stay Near Cunningham Falls State Park
Don't feel like camping?
Enjoy the activities of the park each day while getting a good night's sleep in nearby Hagerstown at the Plaza Inn (Expedia, Hotels, or Booking) or the Quality Inn (Expedia, Hotels, or Booking).
Finger Lakes, New York for Wine and Memorial Day Museum
Escape the city for a long weekend in New York's relaxing Finger Lakes region, which happens to be the birthplace of Memorial Day.
Be sure to visit the National Memorial Day Museum and the iconic Scythe Tree.
The Finger Lakes region is known for its local wine, especially its renowned Rieslings.
Visitors can sample wine along the country's first wine trail – the Cayuga Lake Wine Trail.
Spend a day outside at one of the region's 26 state parks.
Watkins Glen State Park is a favorite for its waterfalls and gorges.
Memorial Day can draw crowds to the Finger Lakes. Luckily, the region is home to more than 300 bed and breakfasts to choose from.
Traveling with kids? Stop by The Corning Museum of Glass for a day of DIYs or visit a mini-golf course.
You'll have wonderful weather for whatever you choose to do. May temperatures typically range from 47°F to 71°F (8°C to 22°C).
Where to Stay in the Finger Lakes
Stay on pretty Keuka Lake at the Los Gatos B&B near Penn Yan (book on Expedia, Hotels, or Booking) to enjoy a traditional Finger Lakes getaway.
Alternatively, step it up a notch with a special Memorial Day weekend getaway at the Inns of Aurora Resort & Spa (book on Expedia, Hotels, or Booking), where you can truly escape from it all on Cayuga Lake.
Hampton Beach, New Hampshire for a Coastal Memorial Day Escape
Hampton Beach is an affordable beach vacation destination along the New Hampshire coast.
Hampton Beach is an affordable beach vacation destination along the New Hampshire coast.
The funky seaside community will just be gearing up for summer, which will make snagging a spot on the beach in Hampton Beach State Park a little easier.
Play some skeeball at Funarama Arcade, munch on saltwater taffy and try to catch a show at the Hampton Beach Casino Ballroom.
Dine on lobster bisque, cioppino, and boardwalk snacks like pizza and chicken wings.
Plan on packing some light layers. May temperatures range from 45°F to 68°F (7°C to 20°C).
Check out our guide to the best places to visit in New Hampshire for more on Hampton Beach and surrounding areas.
Where to Stay in Hampton Beach, NH
For a fun long weekend getaway, spend your Memorial Day right in the heart of Hampton Beach.
Book the Pelham Resort (Expedia or Hotels), the Surf House (Expedia or Hotels), or Atlantic Breeze (Expedia, Hotels, or Booking) to enjoy being right by the beach.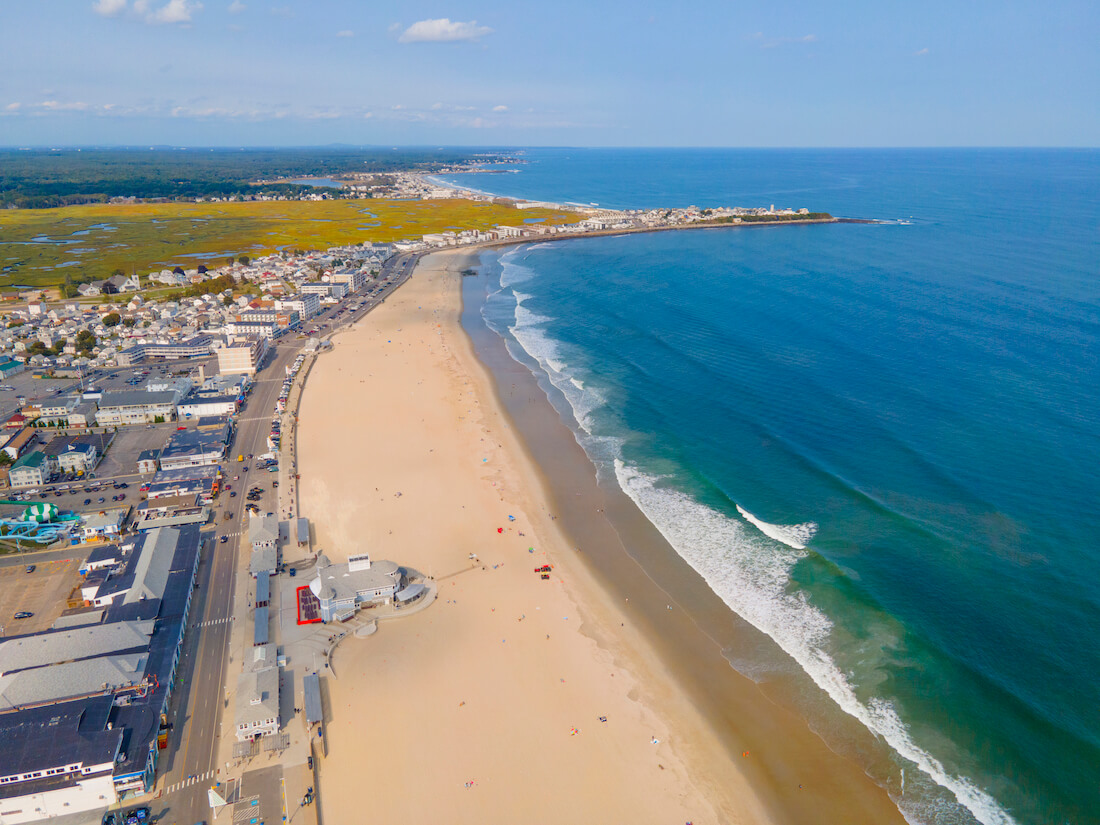 Cape Cod, Massachusetts for Trails, Races & Food
Cape Cod is a beachy, laid-back vacation area perfect for a Memorial Day weekend getaway.
Whether you're craving a day on the beach, want to shop for artsy knick-knacks, or indulge in some fresh seafood, Cape Cod has something for you.
Crowds can be unpredictable in late May, so your trip well in advance to be sure you find the best hotel and flight options.
Head to the Cape Cod National Seashore for a day in the sun or take a walk on the Cape Cod Rail Trail.
You can watch the annual Figawi Sailboat Race from the shore.
Then, go explore the Provincetown art district for souvenirs and glass-blowing demonstrations at the Sandwich Glass Museum.
Spend the evening at the iconic Wellfleet Drive-In movie theater or dine at one of Cape Cod's delicious seafood eateries.
You'll be in town for Cape Cod Maritime Days, a month-long celebration of the Cape's rich Maritime history marked with special tours.
Expect cooler temperatures ranging from 48°F to 63°F (8°C to 17°C).
Check out our guide to the best beaches in Provincetown and nearby to plan your days out and don't skip the rest of our favorite things to do down the Cape while you're there.
Where to Stay on Cape Cod
Families should try to stay at the popular Cape Codder Resort & Spa in Hyannis (book on Expedia, Hotels, or Booking).
Another popular spot is the Bayside Resort in West Yarmouth (book on Expedia, Hotels, or Booking).
For a special stay, head to the Chatham Bars Inn, an iconic hotel in the beautiful Lower Cape town of Chatham (book on Expedia, Hotels, or Booking).
Lewes Beach in Delaware Memorial Weekend Fireworks
Visit the 'first town in the first state' for a memorial day parade and fireworks put on by the local community!
Families choose Lewes Beach over its popular neighbor, Rehoboth, just down the coast because the bay water is pretty calm which is ideal for kids.
Lifeguards are present at the beach between Memorial Day and Labor Day.
The beach is free and is open from 7 am until dusk.
There are public restrooms and shower facilities at the beach.
You can't start your own fires or firework displays and alcohol is not allowed on Lewes Beach.
Dogs are not permitted on Lewes Beach during Memorial Day Weekend between 8:00 am and 6:30 pm.
Other things to do include visiting the Zwaanendael Museum, to learn about the history of one of America's earliest settlements.
Another popular option is hiking around Cape Henlopen State Park, which is on the doorstep of Lewes.
We have a whole guide to Lewes DE, plus it features as one of our favorite Delaware beaches.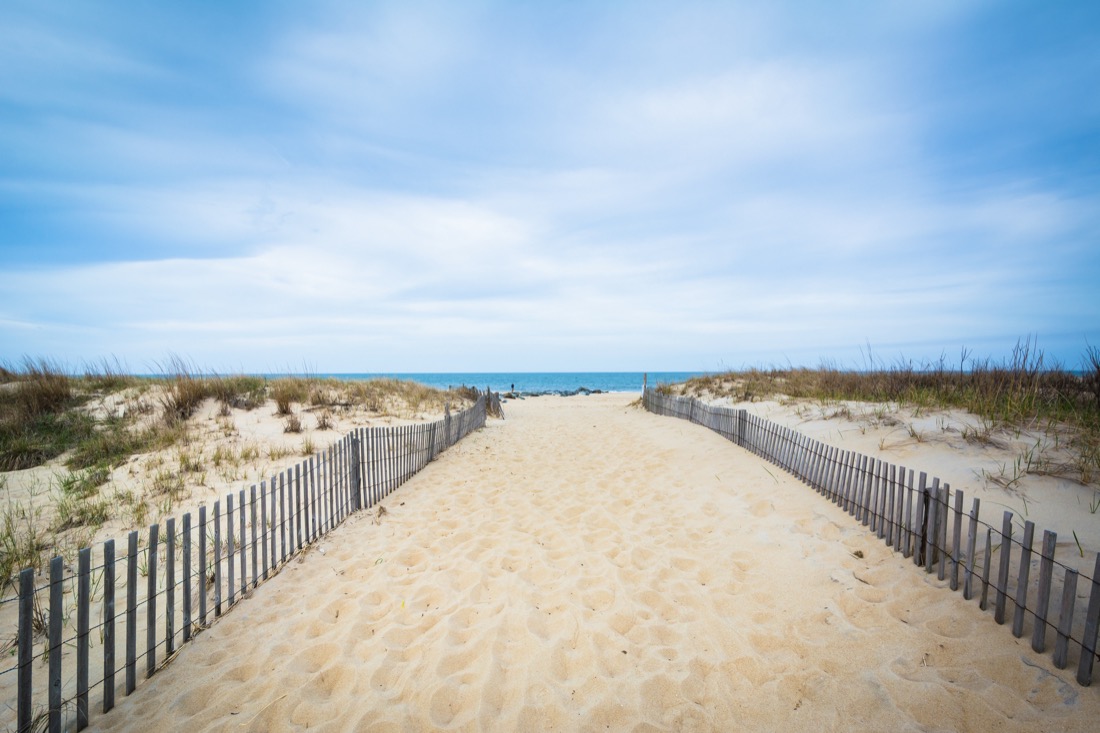 Hopping aboard the 17-mile crossing of the Delaware Bay by ferry to Cape May, in New Jersey.
If you plan to spend time in Cape May, book a sunset cruise and try to spot some dolphins and interesting birdlife in the area; book your experience on GetYourGuide or Viator.
There's a selection of food and drink options in Lewes including crab dip at Big Oyster Brewery and pretzels with a view at On The Rocks Dockside Grill.
Is there parking at Lewes Beach?
There is chargeable on-street parking and parking lots in the downtown area between May 1 and October 14 and at parking lots at Lewes Beach between May 1 and September 30.
Where to Stay in Lewes, DE
Lewes is a small town with more options for vacation rentals than hotels or resorts, but there are a few convenient and high-quality spots you may want to look at.
To stay near Lewes Beach, check out the Hotel Blue (Expedia or Hotels); or, just 3 miles from the beach, you could stay at the Hyatt House (Expedia, Hotels, or Booking).
Rehoboth Beach, Delaware for Sunbathing & Tax-Free Shopping
Spend Memorial Day at the Nation's Summer Capital for free live music at the Rehoboth Beach Bandstand!
Relax at Rehoboth Beach, which is free to use but does come with some restrictions such as no tents, tarps, grill, fires, alcohol or dog over Memorial Day Weekend making it a good choice for families looking for a PG vacation.
Shop along the Boardwalk or Tanger Outlets, Delaware has tax-free shopping!
Gorge on Thrasher's fries and Dolle's salt water taffy.
For more things to do, read this guide to Rehoboth Beach.
Visiting with your partner? Here are the most romantic things to do in Delaware.
Where to Stay in Rehoboth Beach
Thinking about Lewes or Rehoboth Beach for a Memorial Weekend getaway? Here's our complete guide to dreamy beach resorts in Delaware.
To stay right near Rehoboth Beach, check out Brighton Suites on Expedia, Hotels, or Booking.
Or try the Hotel Rehoboth on Expedia, Hotels, or Booking.
Atlanta Georgia Memorial Weekend Fun with Carnival
Start the summer season right with Atlanta's two Caribbean-style Carnival celebrations.
The city always hosts endless fun things to do, but Memorial Day Weekend means colorful costumes, parades, socca and reggae music, and countless cool parties to attend.
Head to the downtown Carnival or the DeKalb Carnival in Stonecrest.
Prefer a more laidback vibe?
The annual Atlanta Jazz Festival is regularly called the largest free jazz festival in the entire United States, and it culminates in top-tier performances on the main stage during Memorial Day Weekend.
Get all the details you need to plan your Memorial Day Weekend in Atlanta in our helpful guide.
Where to Stay in Atlanta
To make the most of your long weekend getaway over Memorial Day, stay downtown to enjoy the festivities and convenient location.
Check out Aloft for a fun Downtown stay (book on Expedia, Hotels, or Booking) or the W Atlanta for fabulous views in the heart of it all (book on Expedia, Hotels, or Booking).
Hilton Head Island, South Carolina for Beaches, Golf & Wildlife
Want a relaxing Memorial Day destination with plenty of opportunities to spend time outdoors?
Hilton Head Island in South Carolina is the perfect spot, but expect larger crowds and pricey accommodations.
The barrier island off the coast of South Carolina is famous for its 12 miles of sandy beaches and pristine golf courses.
Spend a family-friendly day on the beach at Coligny Beach Park, Mitchelville Beach, or Driessen Beach Park.
Peruse the shops and restaurants in Harbour Town which surrounds the island's yacht basin.
If you want an even more relaxing weekend, consider the nearby Daufuskie Island; a car-free historic area that offers quiet beaches and old southern charm.
Kids will enjoy exploring the Coastal Discovery Museum and Pinckney Island National Wildlife Refuge.
Spend an evening on the water with a 90-minute sunset dolphin cruise around the island; book it on GetYourGuide or Viator.
Luckily, temperatures are ideal with highs in the mid-80s (26°C) and lows in the 70s (21°C).
Check out all the best beaches in Hilton Head during your trip.
Where to Stay in Hilton Head
Enjoy a long weekend Memorial Day escape in Hilton Head at the fabulous Sonesta Resort (book on Expedia, Hotels, or Booking).
Alternatively, stay in charming Harbour Town at the beautiful Inn & Club at Harbour Town (book on Expedia, Hotels, or Booking).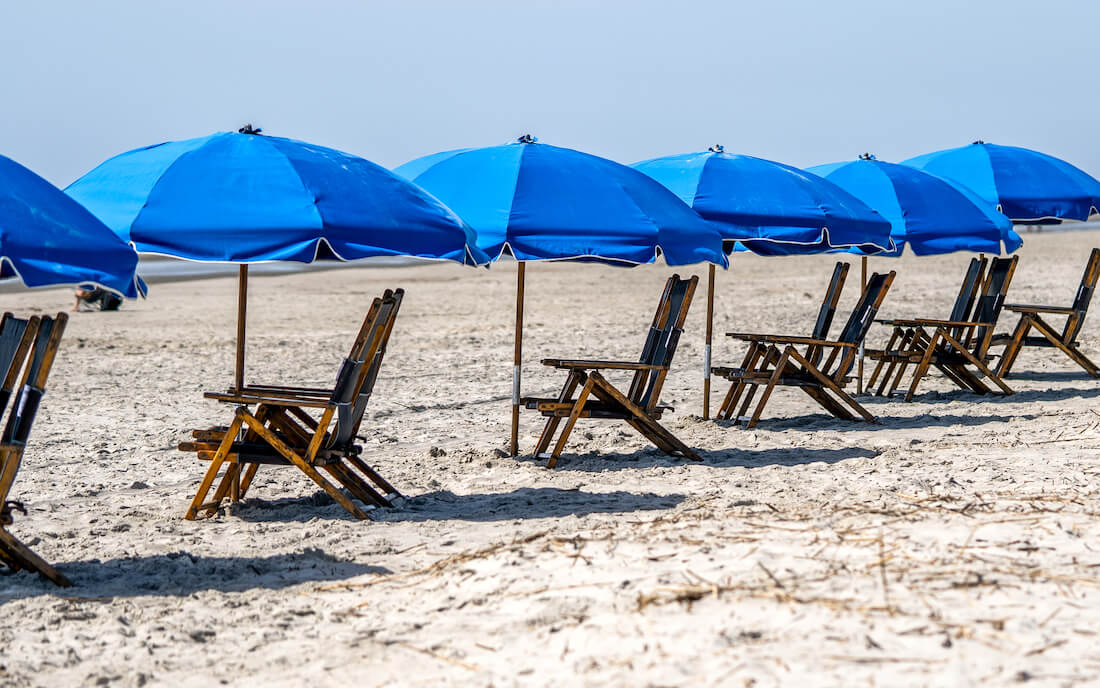 Atlantic City, New Jersey for Boardwalk-Inspired Fun
Atlantic City has always been a spot for Americans to let loose and have some fun, especially over a long weekend.
Start your summer by walking along the famous Atlantic City Boardwalk, or maybe try your luck in one of the casinos.
Be sure to try some of the local specialties including funnel cakes, saltwater taffy, shellfish, and street tacos.
Then, get some shopping done at Playground Pier on the Boardwalk.
When it's time to relax, find a spot to soak up some sun on Atlantic City Beach.
Stay up late to experience the city's hopping nightclubs and bars.
Traveling with kids? Head to Storybook Land Amusement Park for some family-friendly fun.
Wind down from an action-packed day with an evening happy hour ocean cruise.
Late May can still be a little cool with temperatures ranging from 55°F to 66°F (12°C to 19°C).
Check out our other New Jersey travel guides for more Jersey Shore inspiration!
Where to Stay in Atlantic City
If you're going for the casinos and nightlife, check out the Hard Rock Hotel (Expedia, Hotels, or Booking) or the Borgata Hotel & Casino (Expedia, Hotels, or Booking).
Williamsburg, Virginia for Historic Sites & Culinary Tours
Step back in time with a trip to Colonial Williamsburg where you can learn more about an era of US history.
Spend Memorial Day watching reenactments and visiting historic sites including Jamestown and the Yorktown Battlefield.
Take the kids to Busch Gardens Williamsburg for thrilling rides and games.
Get to know the best side of Williamsburg's food scene with a 2.5-hour guided culinary tour around the city; book it on GetYourGuide or Viator.
You'll have ideal weather to explore the city over Memorial Day Weekend, with temperatures ranging from 55°F to 78°F (12°C to 25°C).
Where to Stay in Williamsburg
Stay centrally to enjoy the restaurant scene and historic sites on your doorstep during your Memorial Day weekend escape.
The Fife and Drum Inn is a traditional, charming B&B you can book on Expedia or on Hotels.
The Griffin Hotel is another centrally-located option that's pet-friendly and offers plenty of on-site amenities (book on Expedia, Hotels, or Booking).
Myrtle Beach Memorial Day Weekend Getaway, South Carolina
A former military town, Myrtle Beach was once home to the US Army Air Corps during World War II and the Myrtle Beach Air Force Base until 1993, making it a popular spot to spend Memorial Day weekend.
The former base is now occupied by The Market Common District and they usually put on a Memorial Day event.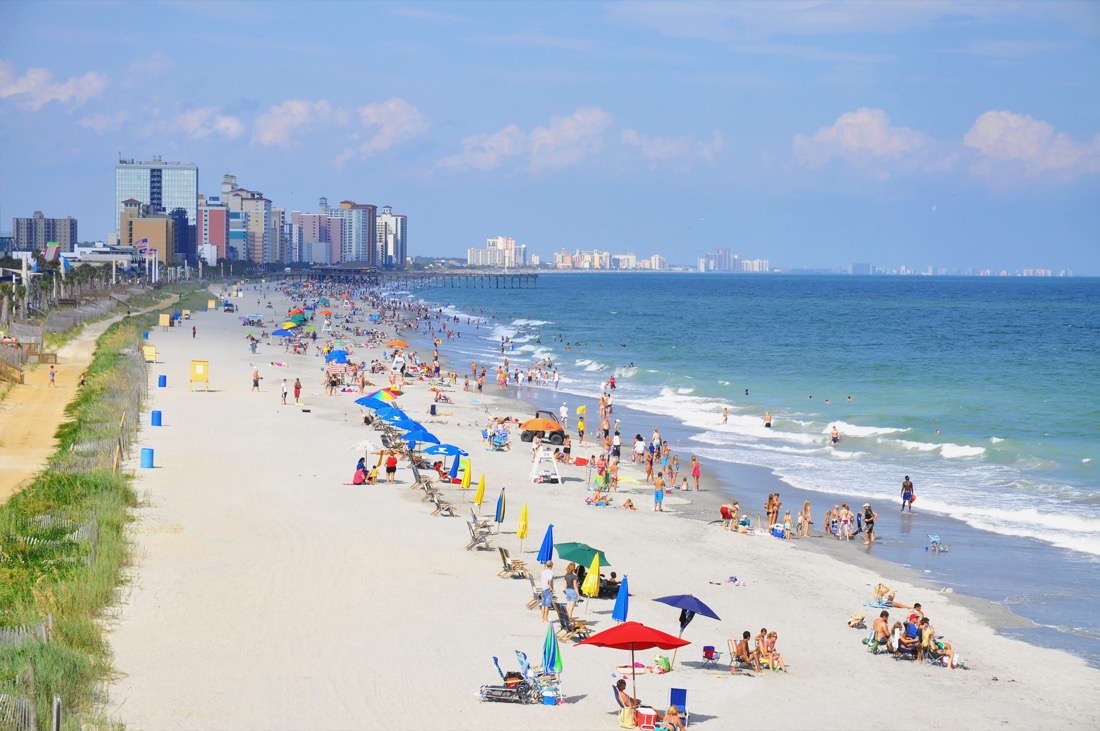 Each year, visitors go to see the Myrtle Beach Memorial Day Parade and take advantage of the 80s F temperature and 60 miles of Grand Strand beaches.
A Memorial Day 5k race also takes place at Brookgreen Gardens and Atlantic Beach Bikefest tends to end just before the Memorial Day events kick off.
Check out our extensive guide to Myrtle Beach's Memorial Day Weekend for more.
Where to Stay at Myrtle Beach
Stay beachfront to maximize your long weekend at Myrtle Beach!
Homewood Suites by Marriott (Expedia, Hotels, or Booking) and SpringHill Suites by Hilton (Expedia, Hotels, or Booking) are both convenient options to check out.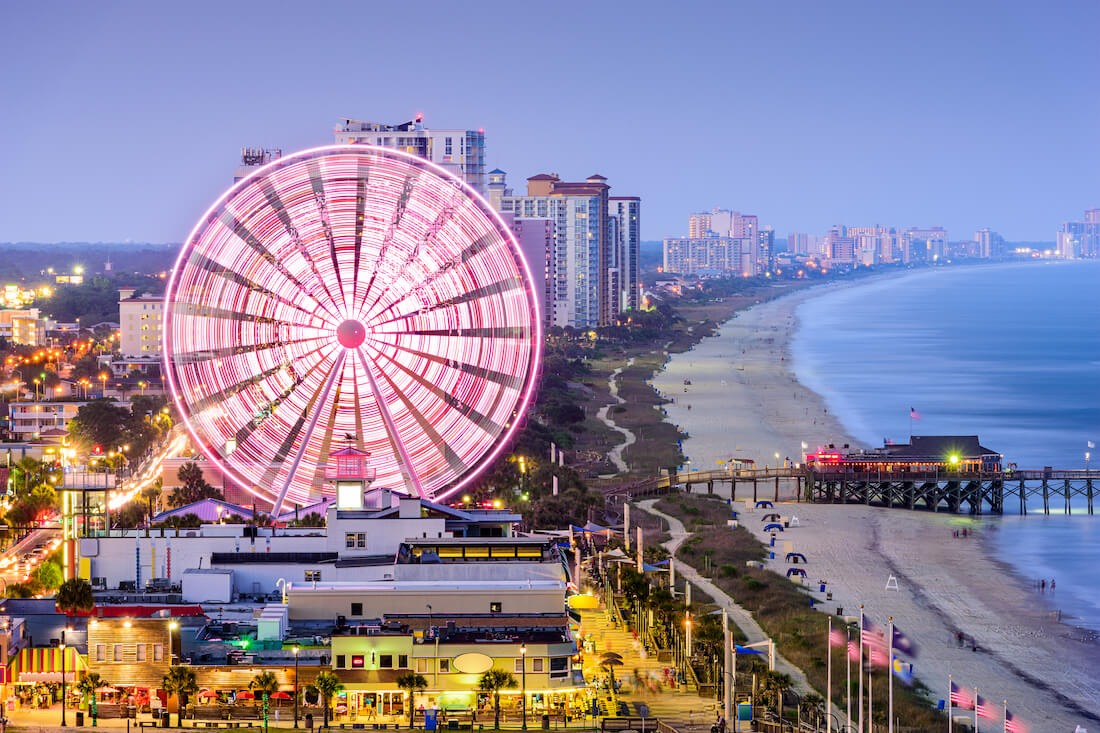 Miami for Urban Beach Week & Gay Memorial Day Weekend Parties
When you think of partying away Memorial Day Weekend, you think of South Beach, right?
Since 2000, the unofficial Urban Beach Week hip-hop festival has taken place at South Beach around Lincoln Road, Ocean Drive, and Collins Avenue.
There is no official promoter, just a series of events spread out over different venues.
Celebrate diversity in Miami over Memorial Day Weekend with international DJs and dancers at Urge Miami and South Beach Sizzle Miami.
Not all Memorial Day Weekend events take place on dry land, look out for yacht parties launching too.
It's not all about partying hard though, The Air and Sea Show also takes to the sky and Miami Beach to showcase technology and equipment from all five branches of the United States Military, police, firefighters and their first responder agencies.
After the show, local and international artists and U.S. Military Bands and Drill Teams will take to the stage to perform.
Note: Memorial Day Weekend in Miami is not for everyone and the city has discussed plans such as banning drinks offers and bringing closing time forward to change the landscape over this holiday so travel and party safely or it might not exist in future years!
Expect road closures and increased traffic.
To avoid the festivities, consider a hotel in the cool Brickell neighborhood or upmarket Coral Gables and for beaches, North Beach or Key Biscayne.
For more things to do in Miami check out our Miami itinerary.
Where to Stay in Miami
Some of our top picks are the Moxy Miami South Beach (Expedia, Hotels, or Booking) or the Hotel AKA Brickell (Expedia, Hotels, or Booking).
More accommodation suggestions are in our detailed guide on things to do in Miami over Memorial Day Weekend.
Final Words
Are you ready for your Memorial Day Weekend getaway now? We hope this guide helped you pick from the best spots on the East Coast!
Share your favorite long weekend escapes in the comments below.