This article has links to products and services we love, which we may make commission from.

Memorial Day is celebrated on the last Monday in May and the weekend kicks off the Thursday or Friday before it. If you like to party to celebrate the holiday, there are plenty of things to do over Memorial Day Weekend in Miami.
One of the main events is family-friendly but the majority are focused around South Beach day drinking, pool parties and DJs at night.
If partying isn't your thing, there are still a huge variety of Miami activities to do in other neighborhoods which this guide will detail too.
There's a reason Miami is the second most visited city in the US! Let's find out why…
You may also like our 24 hours in Miami itinerary or 3-day itinerary, and our guide, things to do in Miami.
If you're still trying to decide where to go for the long weekend, check out our guide on the best Memorial Day Weekend getaways on the East Coast.
Things to do at Memorial Day Weekend in Miami
Miami Air and Sea Show, Miami Beach
The Air and Sea Show showcases technology and equipment from all five branches of the United States Military, police, firefighters and first responder agencies at Miami Beach.
After the show, local and international artists and U.S. Military Bands and Drill Teams will take to the stage to perform.
This is a family-friendly Memorial Day Weekend event in Miami.
Visit South Beach For an Unofficial Darty
If you have the stamina and are looking to day party with revelers visiting Miami for Urban Beach Week head to South Beach.
Remember to pack sunscreen and water along with your liquor to stay hydrated so you make it to the DJs and acts in the evening.
You can drink the faucet water in Miami and you can pay to fill up reusable bottles at water stations.
Download the Tap app to locate the nearest drinking water.
Play nice or expect a fine.
Here's our guide, things to do at South Beach for more suggestions.
Note: Since the Gulf of Mexico suffers from the issue of Red Tide, which can cause respiratory illness and eye irritation, it is always best to check the Florida forecast on the NCCOS website.
Urban Beach Week
Urban Beach Week is an unofficial hip-hop festival which has been taking place in Miami since the year 2000.
There is no official promoter for the event, just a series of parties and shows spread out over different venues.
Most of the shows take place on Lincoln Road, Ocean Drive and Collins Avenue at South Beach.
If you are not interested in Urban Beach Week, it is best to avoid South Beach as the crowds take over the area.
Book accommodation in a Miami (city) nieghborhood such as the residential Brickell or upmarket Coral Gables, and use a ride share app to get to Miami Beach, opt for sunbathing at North Beach or Key Biscayne instead of South Beach.
We'll talk about each of these later in the guide.
Sizzle Miami Memorial Day Weekend Events
Starting Thursday of the Memorial Day Weekend, Sizzle Miami is hosting a number of events with international DJs at Sizzle Miami Beach.
According to the website, this South Florida festival is the "most celebrated and anticipated black gay event" in the US.
Sizzle Miami is a ticketed event offering tiered options for all events or just the night club parties.
Some of the day parties are included in the ticket and night gigs start at $40.
The festival partners with Miami hotels and it is recommended to use Uber or taxis to get from the parties at the beach to the city.
You may also like our guide to Miami Beach and Miami at night.
Memorial Day Yacht Parties
Not all of the partying takes place on dry land over Memorial Weekend!
Look out for a variety of yacht parties hosted by promoters.
Most of the parties have themes such as white parties where part-goers dress in their finest white gear.
This day party event usually includes a free drink in the first hour, brunch, live music and a bar on the boat.
Search for this year's tickets at Eventbrite.
If you are looking for something a little tamer, check out Memorial Day Weekend at Myrtle Beach.
Other Things to do in Miami Over the Memorial Day Weekend
Some of the other attractions and activities in this section are not in Downtown or at the beaches so here's an overview map to help you get your bearings.
Walk Along Ocean Drive
If are not taking part in the Memorial Day party scene but still want a feel for the city's most infamous street, it usually takes 30 minutes to walk along the full length of Ocean Drive.
Try steal a peek of the Versace Mansion at 1116.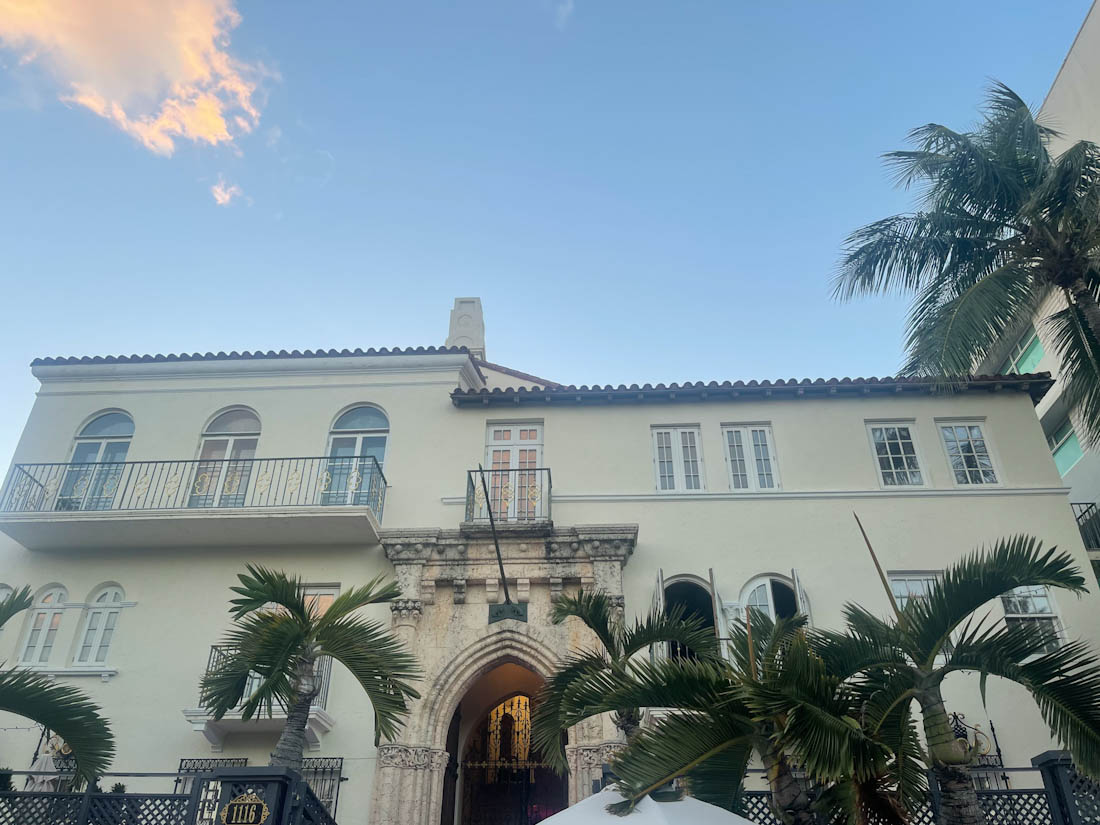 Do this very early in the morning if you want to avoid crowds, or as much avoidance as you can do during Memorial Day Weekend.
There's plenty of food options around South Beach area if need to fill up.
Check out Bacon Bitch for brunch and 11st Diner for all day breakfast and cocktails.
Bayside Marketplace
Refuel at Bayside Marketplace, a large, outdoor mall with 150 shops, cafes, and restaurants in Downtown.
Watch the boats bob about in the water while listening to tunes and drinking cocktails this Memorial Day.
There are lots of water based tours that depart from the area such as the unique tiki boat cruise which sets sail from Bayfront Park.
Look out for the 10 ft bronze statue of the Mother of Miami, Julia Tuttle, the only woman to have founded a major US city at this park too.
Boat Tour in Miami
See Miami's celeb waterfront homes, Venetian Islands, and South Beach from the ocean during this 1-hour boat tour.
Hit the Water
Hire a jet ski and ride along Biscayne Bay or join a 2.5-hour jet ski tour, which is ideal for small groups who prefer to let someone else do the driving!
Visit Vizcaya Museum and Gardens
Vizcaya Museum and Garden (3251 S Miami Ave) is famous for its deco architecture and pure 1900's opulence.
Originally a winter villa for James Deering, a wealthy businessman, now it homes artwork open to the public.
Wynwood, More Than Just the Walls
Most first time visitors to Miami add this area to their itinerary to spend time taking in the street art at Wynwood Walls.
You can also visit the walls with an experienced guide during this 1-hour golf buggy tour if you prefer to get the backstory to the murals.
Wynwood is also home to the Miami Selfie Museum, FunDimension game station and the trippy Paranoia Miami.
Wynwood Marketplace has a bit of everything in one area – art, food, drinks and shopping.
Wynwood's nightlife scene attracts a younger crowd.
This is also where you'll find the cool Zak the Bakery colorful building and other food spots like Coyo Tacos.
Go Shopping at the Design District
Miami's Design District is a cool yet cool neighborhoot with upscale restaurants, designer stores, and art installations.
You can combine a trip to both Wynwood and the Designer District by hopping on the free trolley or booking a ride.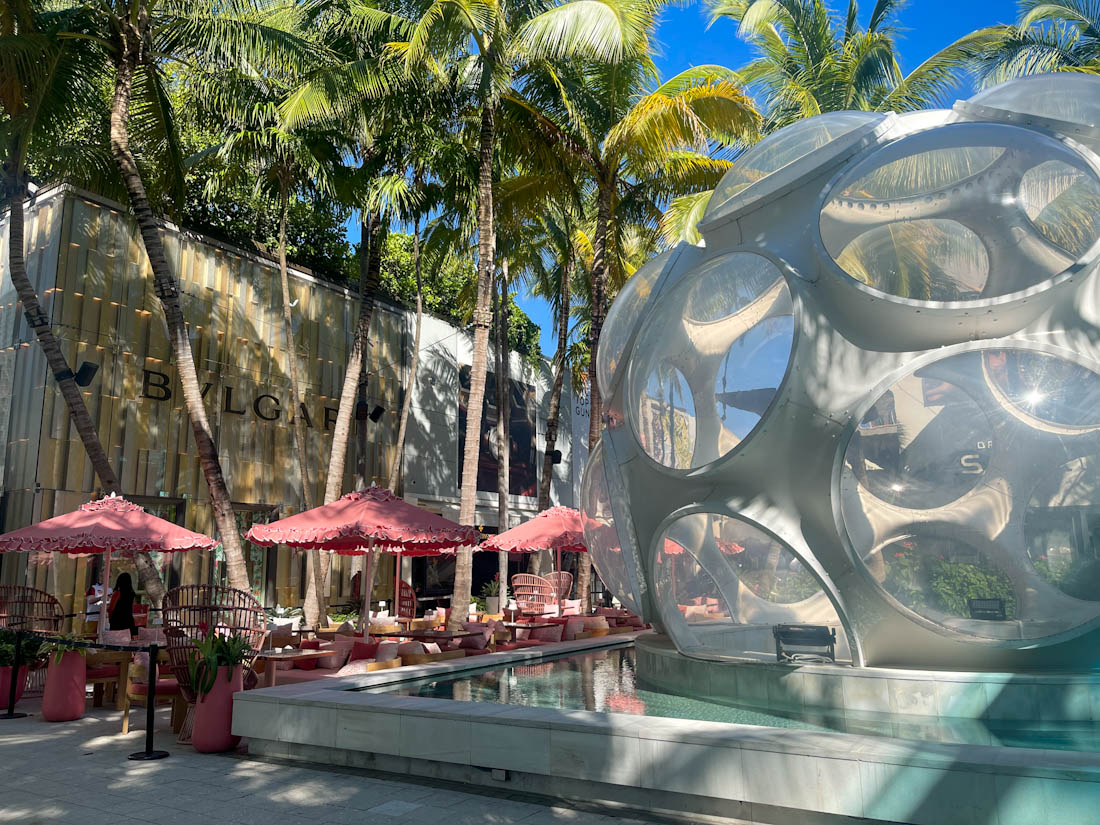 Brickell For Rooftop and Riverside Drinks
If you're craving concrete jungle vibes, head to Brickell, which is south of Downtown, and dine at restaurants hidden in the shadows of the shiny skyscrapers or have drinks at Sugar, the highest rooftop bar in Miami on the 40th floor of the EAST Miami hotel.
Brickell is also where you will find Salt Bae's Nusr-et Steakhouse.
Find out more about the area in our guide, things to do in Brickell.
People watch at Riverside, the 120,000-square-foot waterfront venue aka Brickell's backyard.
Go shopping at the Brickell City Centre's five floor indoor and outdoor mall.
Use the free Metromover to get around Brickell or walk while you people watch.
Avoid driving if you can because traffic is heavy.
Wander Through Coconut Grove
Coconut Grove, or The Grove, is the charming and upscale neighborhood that hugs the shoreline of Biscayne Bay.
This was the spot to party away from South Beach before Brickell was built up.
Pass the old Coconut Grove Playhouse, walk through Barnacle Historic State Park and grab some food or drinks at the Miami institution, GreenStreet Cafe or bars on Grand Ave.
The Grove is an idyllic escape if you are looking for a laidback neighboorhood, and you might just see a peacock!
Swim at the Venetian Pool
The Venetian Pool (2701 De Soto Blvd) is a family-friendly activity.
Located in the swanky, City of Coral Gables, the pool is fed with 820,000 gallon of spring water from an underground aquifer.
The pool also has two waterfalls and a cave-like grotto.
The Coral Gables trolley is free to use.
Check out our guide on things to do in Coral Gables for more.
Eat Cuban Sandwiches at Little Havana
During the 15-year period after the Cuban Revolution, 500,000 Cubans left their home country on freedom flights and set up homes in an area west of Downtown Miami now known as Little Havana.
Here you can drink Cuban coffee, fresh mojitos, listen to live music, see gents play dominos, and eat Cuban sandwiches at Sanguich (2057 SW 8th St).
Calle Ocho is a busy street for a wander, with an ice cream in your hand from Azucar, naturally.
Find out more about all the cool things to do in Little Havana.
If You Have Room For More… Little Haiti
Leave some room for intensely seasoned Caribbean food from Chef Creole (200 NW 54th St).
See the colorful street art murals in Little Haiti including the the three-part mural, "Smile Lil' Haiti" by Serge Toussaint.
Day Trip to Key Biscayne
When you think Miami can't get anymore beautiful… enter Key Biscayne sandwiched between Crandon Park and Bill Baggs Cape Florida State Park.
Head over Rickenbacker Causeway to visit the sandy shores and climb the 109 steps of the Cape Florida Lighthouse.
Enjoy premium priced dinner with a sunset at the Rusty Pelican.
Day Trip to Biscayne National Park
30 miles from Miami is an underwater treasure trove for those who like to snorkel and scuba dive as there is a Maritime Heritage Trail featuring shipwrecks.
Glass bottom boat tours are available for those who like to keep their feet dry.
Prefer a balance between the two? Kayaking and canoeing is popular with paddlers.
You can also do boat tours to Boca Chita and its lighthouse.
To get to the park you need to travel through reefs by boat, a pretty special experience far from the party scene at South Beach.
If you want to stay overnight, there are two campgrounds in the park, Elliott Key and Boca Chita Key.
These are remote campgrounds for those who want to experience the wilderness and bookings work on a first come first served basis.
Elliott Key has showers.
Here's a link to the official NPS Biscayne National Park website for more information.
If you're looking for other outdoor options, camping on Memorial Day Weekend is also a potential at Midway Campground in Big Cypress National Preserve, right next to Everglades National Park.
Memorial Day Weekend in Miami Weather
The average high is 86 F and the low is 71 F.
Miami does experience some rain over the Memorial Day Weekend, however, the downpours are short and closely followed by sun so events continue as planned regardless of the rain.
Hurricane season is June – November so you just miss it!
Where to Stay in Miami During Memorial Weekend
South Beach For Party Visitors and Art Deco
Read our guide to Art Deco hotels in Miami Beach next.
Brickell For Brunch and Bars
Parking in Miami
Like most US cities, parking is at a premium rate in Miami so it is advised to the leave car if you are staying a beach or city hotel.
Hotel parking rates tend to be around $40 per night.
Download a parking app like PayByPhone or SpotHero to help you find street parking or parking lots.
It is likely that roads will be blocked off during Memorial Day Weekend, making driving even more of challenge than normal.
Naturally, drinking then driving is not tolerated in Miami and there have been sobriety tests around the city.
If your group needs a car at night, designate a driver or use ride shares such as Uber or Lyft.
Getting Around Miami
You can get around Downtown, Miami Beach and Brickell using public transport such as the bus, rail or Metromover and trolleys but crowds can create long wait times.
Download the transit tracker before you arrive to the 305.
Alternatively, consider e-scooters or e-bikes for Downtown.
If you are visiting Miami for the first time and fancy a tour that saves your feet, there is a hop on a half-day bus tour with a multi-language audio guide.
Arriving in Miami
There are two airports which visitors fly into Miami via – Miami International which is 7 miles from Downtown and Fort Lauderdale, 25 miles from Downtown.
Miami has three train options.
Amtrak's station is located 8303 NW 37th Avenue and the South Florida local link Brightline is located at 600 NW 1st Ave.
Miami Map
Here is a map of Miami with all of the attractions, hotels, bars and restaurants discussed in this Memorial Day guide.
Final Words
Whether you are planning to visit for a festival, a party or just to enjoy the attractions and heat that the Magic City offers, arrive with an empty stomach ready to eat all the cuisines on offer and keep hydrated during your stay!
Still not sure about Miami? Here's our list of other Memorial Day Weekend destinations.
What do you plan to do over Memorial Day Weekend in Miami? Tell us in the comments.
Our Miami Guides
Miami By Neighborhood