This article has links to products and services we love, which we may make commission from.

Massachusetts is a winter wonderland for anyone who loves snow and outdoor winter fun! From the ski slopes to the skating rinks, and holiday decorations to festive celebrations, the whole state enjoys the season.
If you love cityscapes blanketed in fresh snow, Boston will steal your heart.
If you prefer woodlands and rolling hills, then head to Western Mass for natural beauty and outdoor adventure.
Looking for a milder winter experience?
Snowfall on Cape Cod is typically the lowest for all of Massachusetts, so head there for wintertime beach walks and quiet local spots to stay cozy indoors.
It's all here in our helpful guide!
Get more winter inspiration for other New England states in our guides for New Hampshire, Vermont, Maine, Rhode Island, and Connecticut.
Fun Things to Do in Massachusetts in Winter
We listed all our favorite things to do in MA in winter, starting in Boston with some of the most popular activities.
From there, we head to a few North Shore towns where you can enjoy festive fun!
Next is the South Shore and Cape Cod, before we head to Central Mass and finally Western Mass.
Pick your favorite spot and let's enjoy winter in Massachusetts together!
Get the season started off right with these beautiful Christmas lights in Massachusetts — we picked our favorites all across the state.
Things to Do in Boston During the Winter
Boston in the winter boasts beautiful cityscapes and endless opportunities to hide indoors in cultural, historic, and entertaining spaces.
You'll also benefit from smaller tourist crowds in the winter!
We love the city and think it's just magical around the holiday season especially. Check out all the best Boston Christmas light displays if you're visiting in December.
Below are a few of our favorites, but we have tons of other recommendations for Boston winter fun, too, so don't miss out!
Cozy Up in a Rooftop Igloo
Boston's Seaport area is ideal for drinks at The Envoy Hotel's Lookout Rooftop bar — where you can rent your own igloo!
The Seaport is a really popular area these days, and it's all the more atmospheric at night in winter with shimmering lights on the water.
Enjoy the views outdoors without the cold temps as you stay cozy and warm in the igloo.
Perfect for date night or a gathering with friends!
This is also listed as one of our favorite things to do at night in Boston.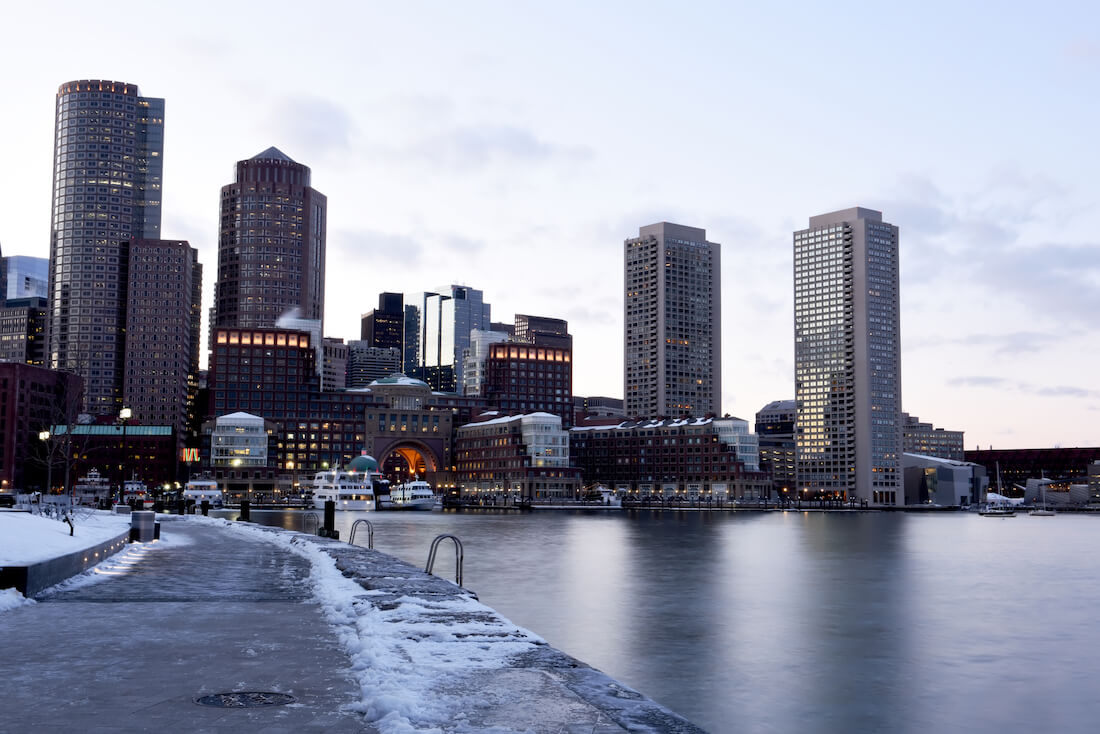 Kendall Square Ice Rink
The Kendall Square Ice Rink (300 Athenaeum St) is located just next to Boston in the city of Cambridge.
Take part in the classic winter activity with your romantic date or the whole family.
Rentals, skate lessons, and more are available at this professionally maintained outdoor skate rink.
Enjoy a Historic Pub Crawl
Boston's famous Freedom Trail is a 2.5-mile walk through the city with stops at interesting places and plenty of facts to learn.
In the winter, you might not be quite as enthusiastic about walking its entirety.
So, instead, join a historic pub crawl to warm yourself up with a few beers while still learning local history from passionate tour guides.
Things to Do on the North Shore This Winter
Head north from Boston and you'll find yourself in scenic coastal towns like Gloucester, Rockport, Salem, and Newburyport.
This area is known as the North Shore.
It's not a typical first stop for tourists in the winter, but it should be on your list!
Visit Hammond Castle in the Snow
Visiting Gloucester over one weekend this winter?
You definitely have to stop by Hammond Castle (80 Hesperus Ave), which is only open on weekends in the winter.
Even though the castle is designed in the medieval style, it was built in 1926 for the sole purpose of containing John Hammond's collection of European artifacts.
Whether you decide to do a self-guided or private tour, you'll love exploring the grounds and transporting back in time.
Be sure to visit on a Thursday evening in December for a special Candlelight Tour throughout the grounds.
This has to be one of the most special things to do in Gloucester, MA in the winter!
Check out the Lobster Trap Christmas Tree Lighting in Gloucester
Massachusetts coastal towns are known for their fishing and lobster trapping.
That's why the Gloucester lobster trap Christmas tree (Main St) is so iconic and one of the best free things to do in Massachusetts in winter.
If you'd like to enjoy the magic of the 'tree' lighting, you'll likely be able to attend in the beginning of December.
Check Gloucester's town page for a set date, but this incredible display of local pride around the holidays is truly special.
Here's our guide on Gloucester for more fun ideas.
Cross Country Ski and Sled at Maudslay State Park in Newburyport
If you've come to Massachusetts prepared with your own set of cross-country skis or snowshoes, you must head into the great outdoors at Maudslay State Park (74 Curzon Rd, Newburyport).
Even if the significant landmarks, like the sprawling 19th-century gardens, are covered in snow, you'll be able to appreciate and explore more than 16 miles of trails by foot or ski.
Travel along the trails through the forest, along rivers, and up and down the most scenic wintry hills.
If you do not have skis, don't worry: a sled works perfectly on the downward slopes!
This wintry experience is a perfect place to visit near Boston in winter.
Maudslay also features in our guide to the best skiing in Massachusetts.
Winter Bird Watch at the Parker River National Wildlife Refuge
It would be tough to find a more stunning natural place to visit in Massachusetts in winter than the Parker River National Wildlife Refuge (6 Plum Island Turnpike, Newburyport).
Almost 5,000 acres of natural area, protections for the most amazing and vulnerable species of migratory birds, and miles of trails that are open year-round make the refuge a must-visit spot.
Day passes are always available for a small fee, and tons of information about the important species in the area is available at the welcome center.
Winter birding is particularly fascinating because there are some rare birds that can most often be seen in this weather: snowy owls, sea birds like eiders, and even bald eagles.
This is one of the most peaceful and beautiful things to do in Newburyport MA in the winter.
Things to Do in Plymouth, MA in the Winter
Head south from Boston and hug the coast to find yourself in one of the original European established settlements.
There's plenty of history to learn from in Plymouth, and going in the winter means you'll avoid the tourist crowds.
This is also the gateway to Cape Cod, so read on for more suggestions if you love a beach town in winter!
Pilgrim Memorial State Park
Pilgrim Memorial State Park (79 Water St) is a lovely winter attraction in Massachusetts because it is usually much quieter compared to the traditional tourist seasons.
Even though it attracts more than a million visitors every year, you'll be able to enjoy a little more natural atmosphere in the waterfront park in the winter.
Check out Plymouth Rock, the Mayflower II museum, and some amazing views of the harbor from this iconic state park.
Looking for more outdoor spaces to enjoy?
Head to White Horse Beach in Manomet for a quiet winter walk with just the locals and their dogs.
Plimoth Cinema
As fun as outdoor winter activities in Massachusetts can be, sometimes a good, indoor event is all you need to keep a vacation fun.
The Plimoth Cinema (137 Warren Ave) is a movie theater based right at historic Plimoth Patuxet Museums for an atmospheric spot to see a feature film.
The cinema is open 7 days a week and shows movies once in the afternoon and once in the evening.
Stop by to warm up and enjoy freshly popped popcorn with your film!
Things to Do on Cape Cod, MA in the Winter
The Cape is a much more popular summertime destination, but heading down the Cape in the winter means no tourists!
Just note that lots of places are only open seasonally, so you'll want to check accommodations early and double-check restaurant opening hours during your visit.
For even more ideas, check out our free guide to Cape Cod in the winter.
Holiday Shop on Main St in Chatham
The Main St in Chatham, Massachusetts is possibly one of the best retail spots to do all your holiday shopping.
With more than 100 stores, galleries, and more, you're guaranteed to find something for everyone on your holiday list.
Check out classic stores like Black Dog, Lily Pulitzer, and J. McLaughlin, along with unique thrift shops, art galleries, and bookstores.
Time your holiday shopping spree for the annual Chatham Christmas by the Sea festival for one of the most festive and fun things to do in Massachusetts in the winter!
Hike, Ski, and Skate on Beech Forest Trail in Provincetown
For beautiful natural winter scenery, amazing bird watching, and a rare opportunity to enjoy Cape Cod places in total peace and quiet, hike the Beech Forest Trail (36 Race Point Rd) in Provincetown.
This one-mile loop takes you through a serene beech forest stand and is an easy enough trail for the whole family to enjoy.
This trail features Blackwater Pond, which usually freezes over and is a lovely option for an ice skating adventure!
Berta Walker Gallery, Provincetown
Cape Cod is very quiet in the winter, which means it's the perfect time to visit if you just hate the tourist crowds.
For a fun indoor activity this winter, check out the Berta Walker Gallery (208 Bradford St).
Featuring primarily American art, this gallery is well-loved by locals and travelers alike.
Provincetown is the oldest, largest, and longest ongoing art colony in the country, so you can't miss the opportunity to appreciate local art while you're visiting.
We love Ptown — check out all our guides to plan summertime fun, too!
Watch a show at Orpheum Theater, Chatham
Chatham Orpheum Theater (637 Main St) is over 100 years old and is a testament to the longstanding appreciation of film on Cape Cod.
Through so many transitions and time periods, the Orpheum Theater is as strong as ever.
Stop by to watch the latest films and stay out of the tough Cape Cod winter weather.
Things to do in Worcester County, MA in the Winter
Head west of Boston and you'll find yourself in Worcester County, which is where you can finally start hitting the slopes if you're eager for outdoor winter fun!
There are many quaint towns in this area, too.
It's an easy day trip from Boston, so you might want to check out our other winter getaways from the city if you're planning lots of winter weekend fun.
Or if you want to discover more things to do in Worcester, check this guide.
Ski at Wachusett Mountain
Wachusett Mountain (499 Mountain Rd, Princeton) hosts some of the best skiing and winter sports in Massachusetts.
At its highest, Wachusett stands over 2000 feet tall.
The mountain features 27 ski trails, 8 lifts, and full snow-making and grooming capacities.
You'll love skiing Wachusett, whether you're a beginner or an expert.
Wachusett also features in our top places to ski in New England!
Adventure at Ski Ward Winter Sport Park
For a little more adventure than simply skiing, visit Ski Ward (1000 Main St, Shrewsbury) for all your winter sport adventure needs.
Snow tubing, racing, skiing, snowboarding, and more await you at Ski Ward.
Lessons for all ages, downhill thrills for the whole family, and a fireside lodge with a snack bar are some of the best features of the sports park.
Things to Do in Northampton MA in the Winter
Continue heading away from Boston and you'll reach Western Mass, where more outdoor fun awaits alongside tons of excellent indoor cozy options!
Northampton is one of our favorite spots in Western Mass, so check out all the fun things to do there year-round, too.
And explore more with all these fun things to do in Western Mass.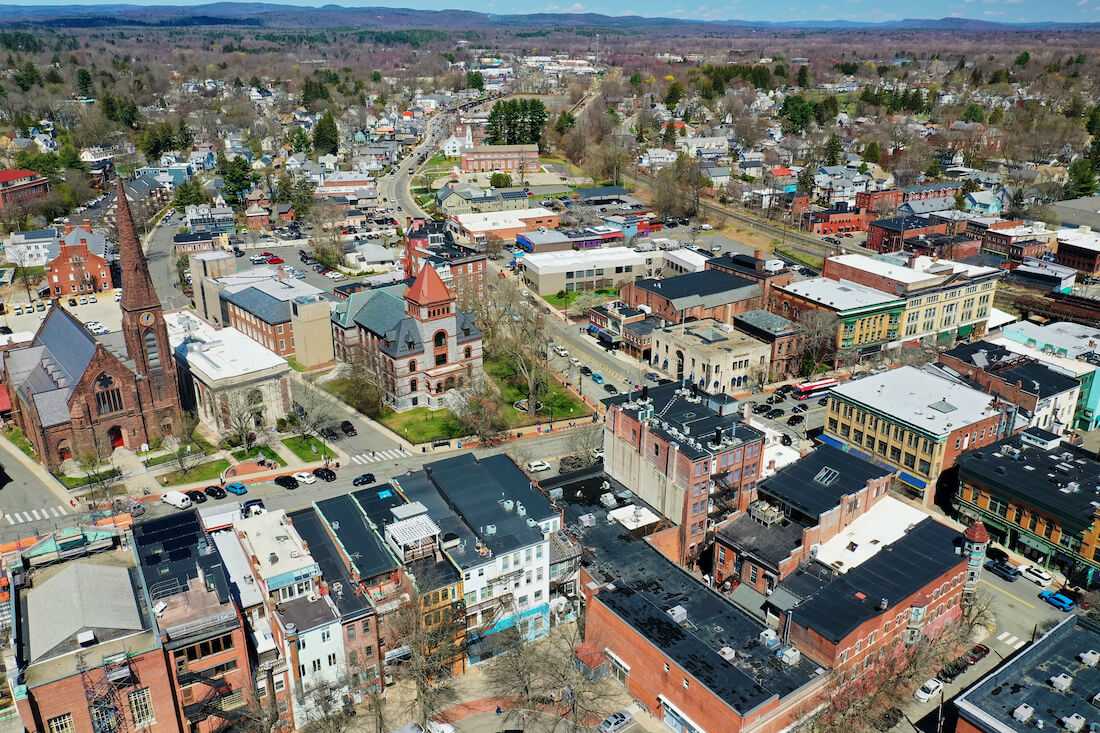 Warm up in the Botanic Garden of Smith College
The white winter wonderland can sometimes just get to be a little brutal in the winter.
Duck inside the Botanic Garden of Smith College (16 College Ln) to get a taste of the best greenery to come in the springtime.
The Lyman Conservatory in particular offers an amazing escape to the tropics, but all the indoor spaces make this one of the best things to do in Massachusetts in winter if you need an escape!
Holiday Shop at Thornes Marketplace
If you love to shop and you're looking for iconic things to do in Massachusetts in winter, be sure to visit Thornes Marketplace (150 Main St).
Three levels of unlimited shopping and dining await you; you just won't find a place that is as special as Thornes.
They boast easy and painless parking, a prime location in the heart of the downtown area, and a prioritization for small businesses to enter the workplace.
Things to Do in the Berkshires in Winter
As far west as you can go before reaching the New York border, The Berkshires are a beloved winter destination in Massachusetts.
Go for all the beautiful Berkshires winter activities, but here are a few of our favorites to get you started!
Go Skiing at Bousquet Mountain
For some of the best skiing in the Berkshires, head to Bousquet Mountain (101 Dan Fox Rd, Pittsfield).
Grab a lift ticket ahead of time, reserve rentals, and spend the day sliding down some of the most beautiful mountains in the country.
Skiing at Bousquet Mountain is one of the best winter activities in Massachusetts.
Visit MASS MoCA to Escape the Chill
MASS MoCA (1040 MASS MoCA Way, North Adams) is a contemporary art museum that is located within a restored lightbulb factory.
The massive factory spaces mean that the museum has huge rooms, impossibly high ceilings, and seemingly endless galleries go on forever.
MASS MoCA is the perfect place to visit for an afternoon or the entire day.
The museum also focuses heavily on winter event programming.
Browse the website's event page to find artist talks, music concerts, and even holiday parties.
MASS MoCA is one of our favorite date ideas in the Berkshires, too.
Cross Country Ski at Canterbury Farm
New to cross-country skiing?
Try your hand at the winter sport at Canterbury Farm (1986 Fred Snow Rd, Becket).
The touring center has everything you need to ski, from rentals to lessons.
The farm also features snowshoe rentals and a frozen pond for skating (along with skate rentals).
Winter Festivals in Massachusetts
Winter might be a time to reset and even hibernate, but these festivals should get you out and feeling reenergized!
Lowell Winterfest
Every year in mid-February, Lowell Winterfest comes to Massachusetts.
Located mainly at the Lowell Memorial Auditorium (50 E Merrimack St), the Lowell Winterfest is a hotspot for live music, amazing food vendors, fun competitions, and more.
Check out the schedule of events, a full map, and even more on their website.
Greenfield Winter Carnival
If your winter trip to Massachusetts is centralized around western Mass, be sure to plan around the incredible Greenfield Winter Carnival in Greenfield, MA.
This carnival takes place in early February and is actually a tradition that is more than 100 years old.
You'll find contests, sled races, tournaments, vintage snowmobiles, delicious food vendors, and a delicious chili cook-off at the carnival.
This yearly event is truly the hub of winter fun in Massachusetts and you can find events happening all around the city.
Old Newbury Bonfire
Though the Old Newbury Bonfire (71 High Rd, Newbury) isn't exactly your typical destination for a Massachusetts winter vacation, it is definitely a cool place to stop by if you have the chance.
This tradition celebrates the original purchase of the town of Newbury in 1701.
The bonfire takes place in mid-January every year and is actually a fundraiser for the volunteer fire department.
Gather around a massive pile of hundreds of Christmas trees and watch them burn while enjoying a stiff drink.
There's no better way to beat the winter cold than by standing around a giant bonfire!
Check out our Massachusetts bucket list for more.
Massachusetts Winter Weather
Average winter temperatures in Massachusetts vary between 46 and 23 degrees Fahrenheit.
The coldest temperatures almost surely will take place at the end of January and the beginning of February.
The average monthly snowfall in Massachusetts in winter ranges between 6 inches and 9 inches.
Final Words
Are you ready for all the winter fun in Massachusetts now? We hope so!
Share your favorite winter activities in MA in the comments below.
Massachusetts Guides
Massachusetts Destinations