This article has links to products and services we love, which we may make commission from.

Planning to take a Maine summer vacation this year? This New England state offers so much natural beauty, history, and fantastic food that you'll love exploring from the coast to the mountains.
In this guide, you'll read popular vacation ideas, more remote suggestions and all our best tips for visiting the islands off Maine's coast.
You might also want to check out our East Coast road trip itinerary to keep the fun going from Maine to Miami.
Popular Maine Summer Vacation Ideas
1. The City of Portland and Day Trips
Maine's largest city by population and one of the best places to live in the US, Portland, is a great base for those who like city breaks with day trip opportunities.
Visit the Old Port District for cobbled streets and converted warehouses selling craft beer and lobster rolls.
There is also a working port.
If you like art and culture, make time for the Arts District, visit the Portland Museum of Art and Maine College of Art (MECA) and catch a show at the State Theatre or the Merrill Auditorium.
Photographers spend slow mornings in the West End, taking photos of the fancy houses and learning more about them at the Victoria Mansion Museum.
The Old Port and West End are some of the best areas to stay in and you can read more about hotels in the city in our guide, where to stay in Portland, ME.
The East End neighborhood is home to Munjoy Hill, the Eastern Promenade, East End Beach and the Portland Observatory.
Plan a day trip to South Portland where Bug Light at Bug Light Park and Spring Point Ledge Lighthouse is located as well as the Fort Preble ruins.
Travel to Cape Elizabeth to see the famous Portland Head Light at Fort Williams Park.
Alternatively, combine this city vacation with a ferry ride to Peaks Island which we'll discuss below.
If you like the idea of a city break, read our Maine cities guide next.
Where to Stay in Portland
Check availability for The Francis (747 Congress St) on Expedia, Hotels, or Booking.
Another favorite is the gorgeous Press Hotel (119 Exchange St); check availability on Expedia, Hotels, or Booking.
2. Acadia National Park Road Trip & Hikes
One of the most visited places in Maine is its national park, Acadia.
If you like the sound of a road trip for your Maine summer vacation, pre-book your entry ticket before you arrive at the park and if you hope to do the popular sunrise or sunset Cadillac Mountain drive, arrange your time slot well in advance.
Most visitors stay overnight in Bar Harbor, shopping and dining on and around Main Street and spending 3-4 days in the area.
Plan for early rises as you enjoy scenic drives around the 27-mile Park Road Loop.
Stop for hikes such as the 3.2 miles around Jordan Pond or hike The Bubbles for a view from Bubble Rock overlooking Jordan Pond.
The park map includes Mount Desert Island, Schoodic Peninsula, Isle au Haut, and other outer islands.
Acadia also features in our vacation ideas for memorial day weekend and memorial day camping.
You may also like our guide to Bar Harbor in the fall.
Where to Stay in Bar Harbor
Stay at the Kimball Terrace Inn (Expedia, Hotels, or Booking) to stay close to the park, or take a look at The Best Western for convenience (Expedia, Hotels, or Booking).
Read our full guide for where to stay in Bar Harbor and elsewhere on Mt Desert Island for tons more recommendations.
3. Kennebunk and Kennebunkport for a Coastal Summer Vacation
The Kennebunks are located next to each other, only divided by a river!
Visitors tend to spend time in both Kennebunk and Kennebunkport so you get two for the price of one.
Check out our full guide to things to do in Kennebunk and also our guide to Kennebunkport so you can see the differences between the two.
This is another popular Maine summer vacation spot so book your cozy B&B early.
Spend your summer days at one of the local beaches, Mothers Beach, Gooch's Beach or Colony Bay then dine at Dock Square in the evening.
Visit the sweet Maine Art Hill in Kennebunk to see the pastel buildings and go snap a pic of the iconic Wedding Cake House.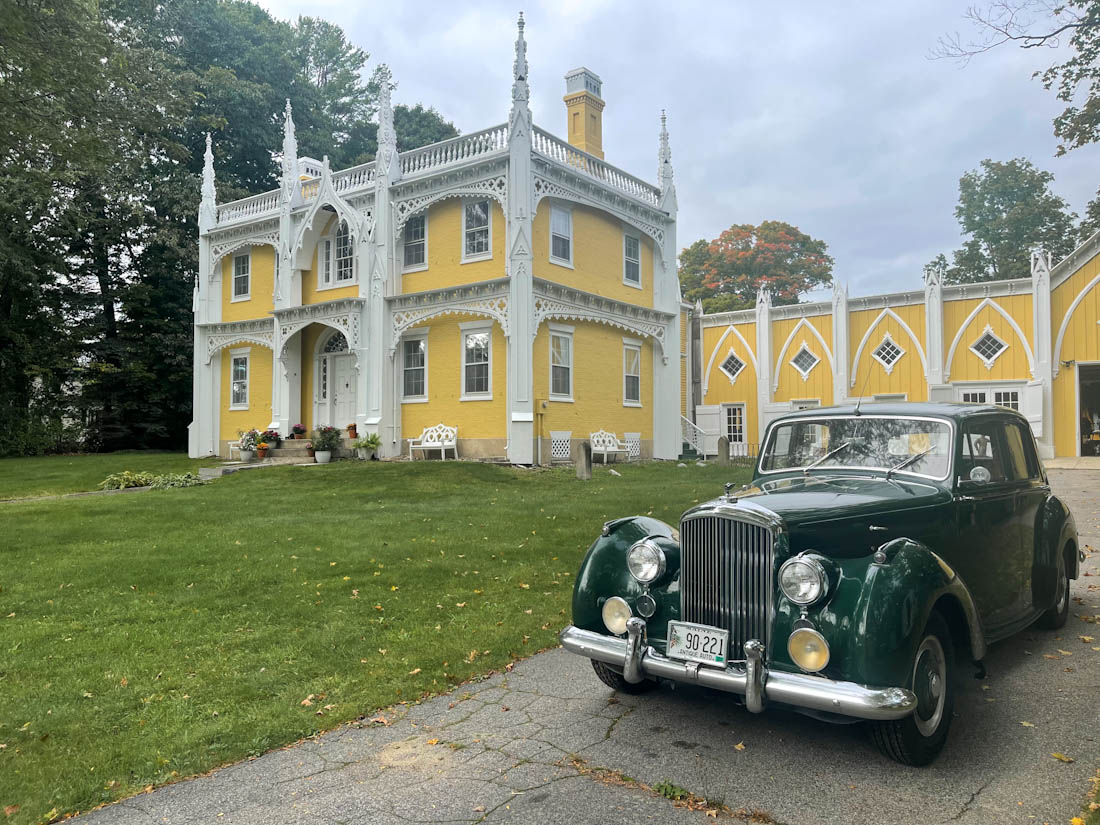 Learn more about the town history through the Museums on the Streets information boards, take this delicious food tour, or book a walking tour on GetYourGuide or Viator.
Maine is one of the whitest states in the country so unfortunately most of the history you will learn is likely to come from a white person's perspective.
For a more diverse representation, check out Rev. Lara K-J Campbell's research and local Historian, Kathy Ostrander Roberts session on YouTube here.
Driving the coastline of Kennebunkport will afford you amazing views of nearby lighthouses, but here's a list of all the most stunning structures in the Kennebunkport area.
The Goat Island Lighthouse is viewable from the Cape Porpoise Pier, which is the best place to start on your lighthouse tour.
Next, make sure you don't miss one of the most beautiful and most photographed lighthouses in the world: The Nubble Lighthouse in York is located just a half-hour drive from Kennebunkport.
It can be found between Short and Long Sands Beaches.
While you're on the hunt for lighthouses, stop by the beach and play in the surf!
The Boon Island Lighthouse is a tall and narrow structure just off the coast of Kennebunkport and can be seen distantly from Long Sands Beach.
You can even take a day trip from Boston to Kennebunkport to let someone else handle the driving and navigating.
The Kennebunks feature in our most beautiful small towns in Maine guide.
Where to Stay in the Kennebunks
In Kennebunk, look at the Port Inn & Suites (55 York St) on Expedia, Hotels, or Booking.
Alternatively, you might like the White Barn Inn & Spa in Kennebunk (37 Beach Ave) for a relaxing getaway; check availability on Expedia, Hotels, or Booking.
In Kennebunkport, the Kennebunkport Inn (1 Dock Square) is a classic place to stay; check availability on Expedia, Hotels, or Booking.
Another lovely option in Kennebunkport is The Boathouse Waterfront Hotel & Marina (21 Ocean Ave); see the options on Expedia, Hotels, or Booking.
4. Rangeley Lakes Region for a Lesser-Known Vacation
If you prefer fewer crowds, consider the Rangeley Lakes Region.
Maine's Western Mountains and Lakes Region offer hiking trails at Rangeley Lake State Park and Mt Blue State Park.
The Height of Land Overlook (Route 17, Roxbury, ME 04275) is a stop with views over Mooselookmeguntic and Upper Richardson lakes.
If you're planning to stay around the area for a while, you can find some lakefront rental accommodations in Rangeley featured in this guide.
Are you considering The Jewel of the Western Maine Mountains? Tell us in the comments.
5. Jasper Beach for a Unique Beach
Jasper Beach in Howard Cove, Machiasport is one of only two Jasper beaches in the world; and you'd have to travel to China to find the second one!
If you're planning a summer vacation in Maine and want to go somewhere truly special, you have to head to Jasper Beach.
Jasper rocks are a unique type of quartz that is usually red, yellow, brown, or green.
This beach is truly breathtaking; imagine an entire shoreline of perfectly smooth stones jostling in unison as each wave swells and recedes.
The sensation of sitting on the shore among these almost dancing stones is one of the most peaceful and beautiful experiences you could have this summer in Maine.
Many people claim to hear the rocks almost singing while they explore this beach—you really can't miss this experience.
Jasper Beach is a secluded geologic wonder and a local's secret!
If you're ready to escape the busy tourist spots, this beach is definitely where to go in Maine in the summer.
Check out the Machias River Inn (103 Main Street, Machias) to stay close to Jasper Beach (about a 30-minute drive); book on Expedia or Hotels.
6. Experience Fine Dining in Maine in Kittery
Kittery is a lovely spot for families who are ready for a shopping adventure!
When the kids are down for the night and it's time for the adults to go out, give The Black Birch (2 Government St) a try for a fancy meal that won't break the bank.
Enjoy a highly seasonal menu, fancy pickled veggies, and creative local dishes.
Getting out at night will help you beat the heat during the day, and the fresh fare at the restaurant will be key to cooling you down.
Rustic wood interiors, vintage decorative accents, and super friendly staff make dinner here one of the best things to do in Maine in the summer.
Where to Stay in Kittery
If you're planning an overnight stay in Kittery, you should definitely reserve a room at the Water Street Inn (6 Water St); check availability on Expedia, Hotels, or Booking.
Just a short drive to the Kittery Outlet shopping center, this Inn features a gorgeous garden and terrace and super comfortable accommodations.
Or check availability at the Hampton Inn (275 US Route 1) on Expedia, Hotels, or Booking.
Islands to Visit in Maine in the Summer
If you're planning a trip to Maine in the summer, you can't skip this northeastern state's incredible variety of islands.
Just off the coast and within easy access, you can explore everything from historic lighthouses to gorgeous views of the mainland and more.
Here are some of our favorites…
7. Head to Peaks Island for a Summer Getaway in Maine
Peaks Island is a great day trip if you're enjoying a summer vacation in Portland, but are ready to explore even more of the surrounding area.
Accessible most easily by a 17-minute ferry trip, Peaks Island is a quaint little island town with hiking trails, beaches, and little shops and restaurants to explore.
The Casco Bay Lines ferry leaves from the Ferry Terminal at the corner of Commercial St and Franklin St in downtown Portland.
Check the schedule for regular departures in the summer.
Parking is available at the ferry terminal and on the island, if you decide to bring your car.
Just make sure you plan ahead—both lots can fill up quickly in the summer and can get expensive at peak season.
If you require a car for accessibility, you are totally welcome and able to do so!
Otherwise, you'll probably prefer biking or walking the island to avoid narrow streets, throngs of pedestrians, and limited parking.
The 3.7-mile hiking loop around the island features ocean views, historic WWII landmarks, and excellent birding and wildlife sighting opportunities.
If you like hiking, you should check out our guide to the best hikes on the East Coast.
The two public beaches, Sandy Beach and Cairn Beach, are fun for kids and adults alike!
You can swim, kayak, and lounge on the shore at Sandy Beach, or explore the rocky stretch of Cairn Beach, a perfect spot to check out lighthouses across the water.
Other fun things to do include visiting the Fifth Maine Museum, biking to Evergreen Landing, or enjoying fresh lobster at Covey's Lobster Shack.
If you're staying a few days in Portland, get the best accommodations in the city at The Francis!
Portland also features in our Maine cities guide.
8. Bike Around Great Cranberry Island
For an adventure around an even smaller island than Peaks, take the ferry to Great Cranberry Island.
This island is one of the best places to visit in Maine in the summer for its stunning views of Acadia National Park and Mount Desert Island.
Check out our tips for visiting Acadia in our East Coast National Parks guide.
With an area of only two square miles, you'll love biking Great Cranberry from tip to tip and stopping at all the little rocky beaches along your route.
The island is only accessible by boat, and you won't be able to take your car over—only passengers, pets, and small freight like bicycles and wheelchairs are allowed on the ferries.
Take a ferry over from Northeast Harbor, Southwest Harbor, or Manset and spend an afternoon exploring the walking paths and small town center.
Once on the island, you'll find a café, a small museum, an art gallery, and a gift shop, plus a 1-mile hiking trail beginning behind the Cranberry House.
When you're ready to come back to Acadia for the night, stay at the beautiful Bar Harbor Grand Hotel (269 Main St).
Located just over a mile away from Acadia's entrance, you'll get to enjoy a deluxe breakfast, a heated outdoor pool, and a hot tub.
Check availability on Expedia, Hotels, or Booking.
Bar Harbor and Acadia National Park also features in our guide to the best places to visit in Maine.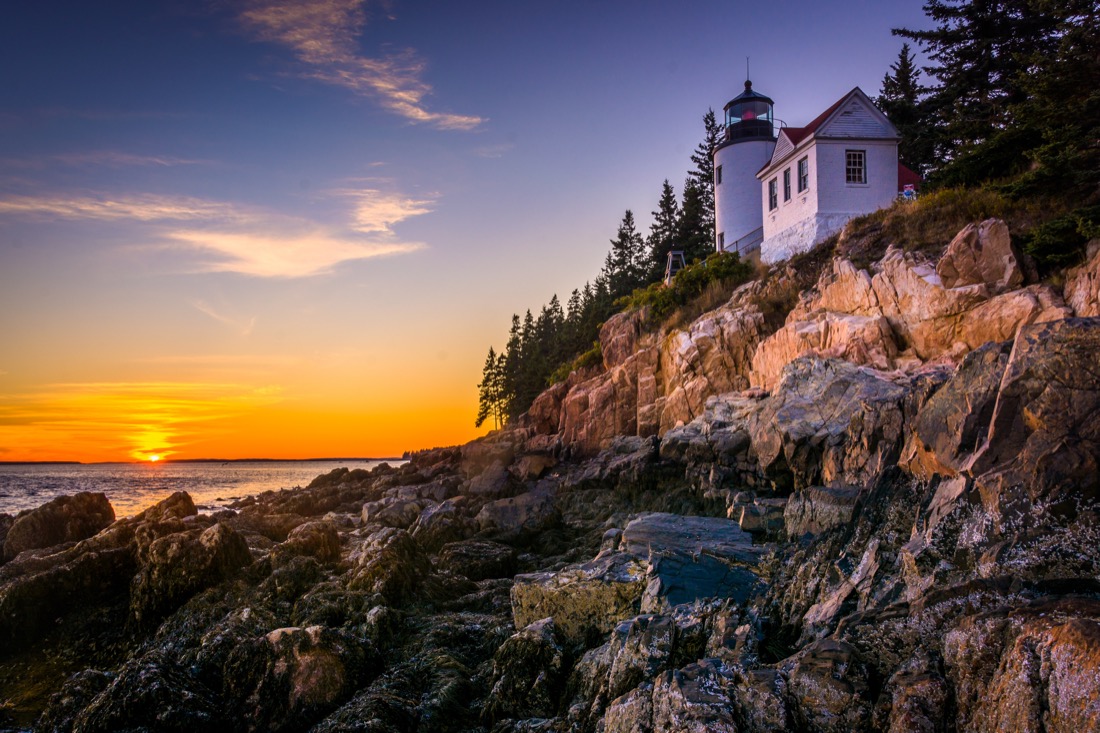 9. Escape to Monhegan Island for Tons of Outdoor Activities
If you want to get a bit further out into the open sea, journey an hour away from shore by ferry to the incredible Monhegan Island.
Located 10 miles from the nearest spot on the mainland, Monhegan features cliffs, hiking trails, shops, art galleries, restaurants, inns, and great cafes.
Ferries leave from Port Clyde, New Harbor, and Boothbay Harbor on a seasonal schedule.
There are often multiple trips a day from each port in the summer.
Cars are not allowed with visitors to the island, so prepare for as many walking adventures as possible during your stay.
Golf carts are available for rent, so check ahead of time to reserve a rental if you'll be needing one in place of a car for transport.
Medicine and First Aid is operated by a small group of volunteers, so make sure you come to the island well-prepared with everything you'll need to keep yourself in good health—consider bringing your own First Aid Kit as well!
There are eight restaurants and cafes on Monhegan Island.
Grab a quick bite and a coffee at The Black Duck or make a reservation for a romantic meal in the Island Inn Dining Room.
You might not taste a better beer after an afternoon of hiking than at the Monhegan Brewing Company.
With a delicious food truck on-site, make sure you order a flight of Monhegan Brewing's small-batch brews to enjoy.
You can even take your favorites back home with you in cans!
Base yourself in Boothbay Harbor at the beautiful waterfront Harborage Inn on the Oceanfront (75 Townsend Ave).
Check availability and book your stay on Expedia, Hotels, or Booking.
10. Hike for an Afternoon at Great Wass Island Preserve
Exploring the 2.5-square-mile Great Wass Island Preserve in the Downeast part of the state is an idyllic summer activity in Maine.
Just off the mainland town of Jonesport, you have to cross two bridges to get to the island; one from the mainland to Beals Island, and then another connecting Beals to Great Wass.
The island is highly exposed to marine climates because of the way it sharply juts out into the sea, and the vegetation and wildlife reflect these harsher conditions.
Keep an eye out for very rare plants like Beachhead iris and bird's eye primrose, which love the extreme conditions, sea spray, and constant wind.
You'll also get to explore some of the only remaining healthy bogs in the Northeast.
These trails are walking only, so don't bring your bike with you!
Unfortunately, pets are also not allowed, so you'll have to keep them at home.
If you are looking for a shorter trail than the entire island loop, you can check out the Little Cape Point Trail (2.2 miles) or the Mud Hole Trail (2.3 miles).
Prepare for rocky terrain, steep ledges, and exposed bedrock on each of these trails, but every step of the way is filled with amazing views, beautiful vegetation, and fresh sea breezes.
The Machias River Inn (103 Main Street, Machias) can be a good base from which to explore Great Wass Island — it's about a 40-minute drive between the two.
You can check availability on Expedia or Hotels.
Final Words
Ready to plan your own epic summer vacation in Maine? Let us know where you go and share your own tips in the comments below.
Maine Destinations