This article has links to products and services we love, which we may make commission from.

The following hotels in Plymouth, MA, make staying overnight in America's Hometown a must-do on every Massachusetts bucket list.
The guide reveals the best hotels to stay in Downtown Plymouth and Harbor, so you are close to the action and accommodation options by Plymouth Beach, one of the top reasons for visiting this coastal town south of Boston!
We've also included cheap places to stay for those on a budget and hotels closest to public transportation options if you're traveling without a car.
You may also enjoy our guide to things to do in Plymouth and Provincetown.
Best Hotels in Plymouth MA
In the first section we'll look at Downtown Plymouth hotels, then accommodation near the harbor and Plymouth Patuxet.
These areas are ideal for those visiting to see the tourist attractions built around the early settlers and The Wampanoag.
Then we'll take a look at cheap hotels, accommodation near the train stations and finally, hotels near Plymouth.
Hotels in Downtown Plymouth MA
John Carver Inn & Spa Plymouth MA
The John Carver Inn Plymouth (25 Summer Street) is one of the best hotels in Plymouth, MA, if you want to be near Plymouth's historical sites.
You can easily walk to the Mayflower II, Plymouth Rock, and the National Day of Mourning plaque at Cole's Hill from the hotel.
It's also a quick wander to the beach.
Rooms come in at 305 sq ft which is pretty standard for Plymouth hotels, and feature air-con, and a TV with pay-per-view channels.
Guests love the pool, hot tub, and sauna at the John Carver Inn, plus the excellent spa amenities.
The spa offers body, facial, and nail treatments, as well as massages and hydrotherapy, so there's a treatment for everyone to enjoy.
There is also an on-site restaurant available for guests and open to the public.
Free parking is available for guests.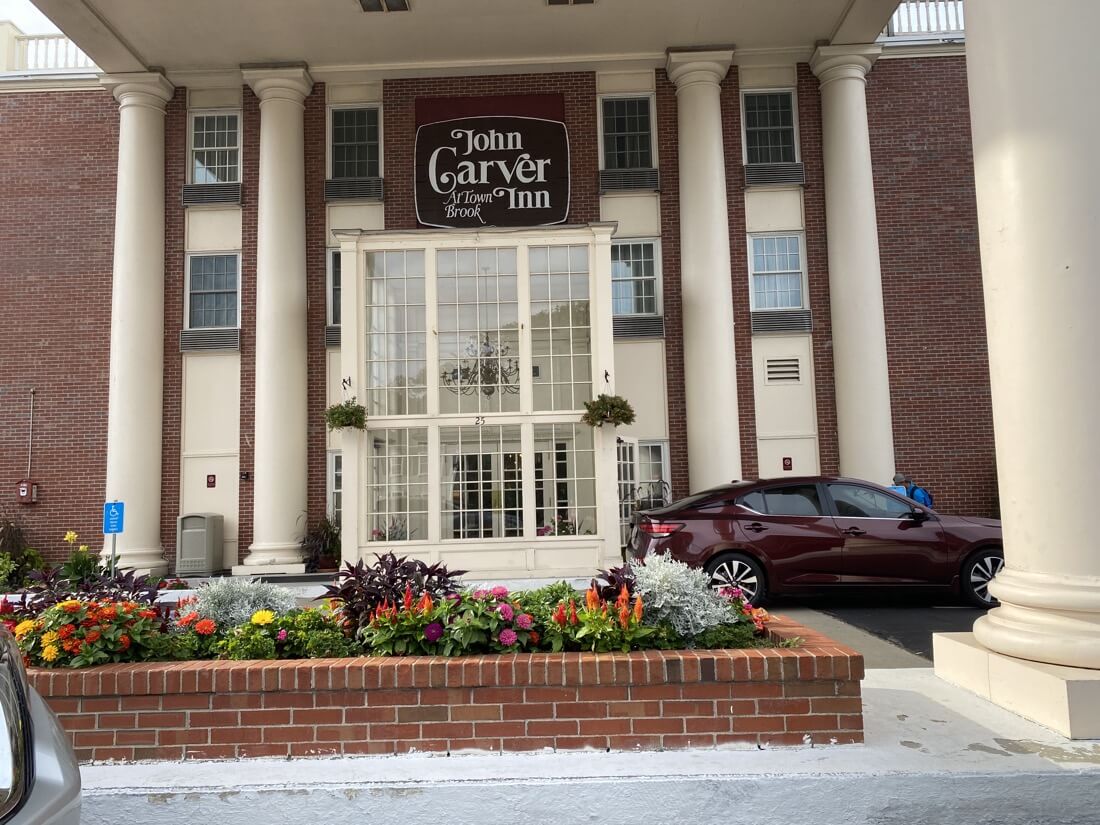 Hilton Garden Inn Plymouth MA
The next of many great hotels in Plymouth, Massachusetts, is the Hilton Garden Inn Plymouth (Four Home Depot Drive).
Guests like the large, clean rooms with air-con and microwaves which start at 325 sq ft.
You can also grab breakfast at the on-site Great American Grill Restaurant.
There is an indoor swimming pool, fitness suite, and laundry room too.
Check out all the hotels in Plymouth with pools if you're looking beyond the beach for your next vacation!
Plymouth Harbor Hotels
One of the benefits of staying at one of the hotels at Plymouth Harbor is the proximity to Nelson Beach and Nelson Memorial Park.
There is also a handful of seafood restaurants and grills to dine at.
You may also like our list of historic hotels in New England.
Hotel 1620
Hotel 1620 Plymouth Harbor (180 Water Street) is one of the best hotels in Plymouth, MA, for staying near Plymouth Harbor, perfect if you want to do activities on the harbor like a pirate tour or whale watching.
This Plymouth, MA, hotel is one of the closest to the beach, and you can walk there in just six minutes.
If you don't want to go to the beach, or it's too cold to swim outside, the hotel has a lovely heated indoor swimming pool.
Rooms start at 283 sq ft and include comfortable beds, seating area, cable TV, and free toiletries.
This Plymouth hotel has an elevator.
The 1620 Hotel in Plymouth, Massachusetts, is also close to many restaurants and shops in downtown Plymouth, perfect for spending a day or night out in the town.
This is a dog-friendly accommodation! Read more about the pet-friendly hotels in Plymouth.
Thomas Sea Suites at Harbourtown
Thomas Sea Suites (150 Water Street) is a contemporary hotel on the South Shore.
Some rooms have private deck with waterfront views, ideal for pre-dinner drinks and a game of cards.
The hotel offers a wide variety of rooms, each with a full kitchen and living room for a home away from home experience.
Condos come in at 625-650 sq ft and penthouses go up to 1,800 sq ft.
All rooms have free WiFi.
Free parking is also available which is great for those on a Mass road trip!
Harbourtown Suites
Another great Plymouth, Massachusetts hotel you should consider if you want to stay near the ocean is the Harbourtown Suites (150 Water St).
The suites are apartment-style measuring up to 645 sq ft.
They have their own kitchen, a living area, and much more space than a standard hotel room.
Harbourtown are perfect for long-term stays, families, or anyone who enjoys cooking over eating out.
Best Western Plus Cold Spring
The Best Western Plus Cold Spring (180 Court Street) is a very modern hotel near the harbor.
Rooms are 280 sq ft and feature air con, cable TVs, and coffee machines.
The Best Western offers a hot breakfast every morning, an outdoor pool with great views, a gym for guests' use, and free parking.
Accommodation Near Plimoth Patuxet
If you are looking for hotels near Plimoth Plantation please note that the recreation of the 17-century pilgrim village museum which shares the story of the Wampanoag people is now called Plimoth Patuxet Museums.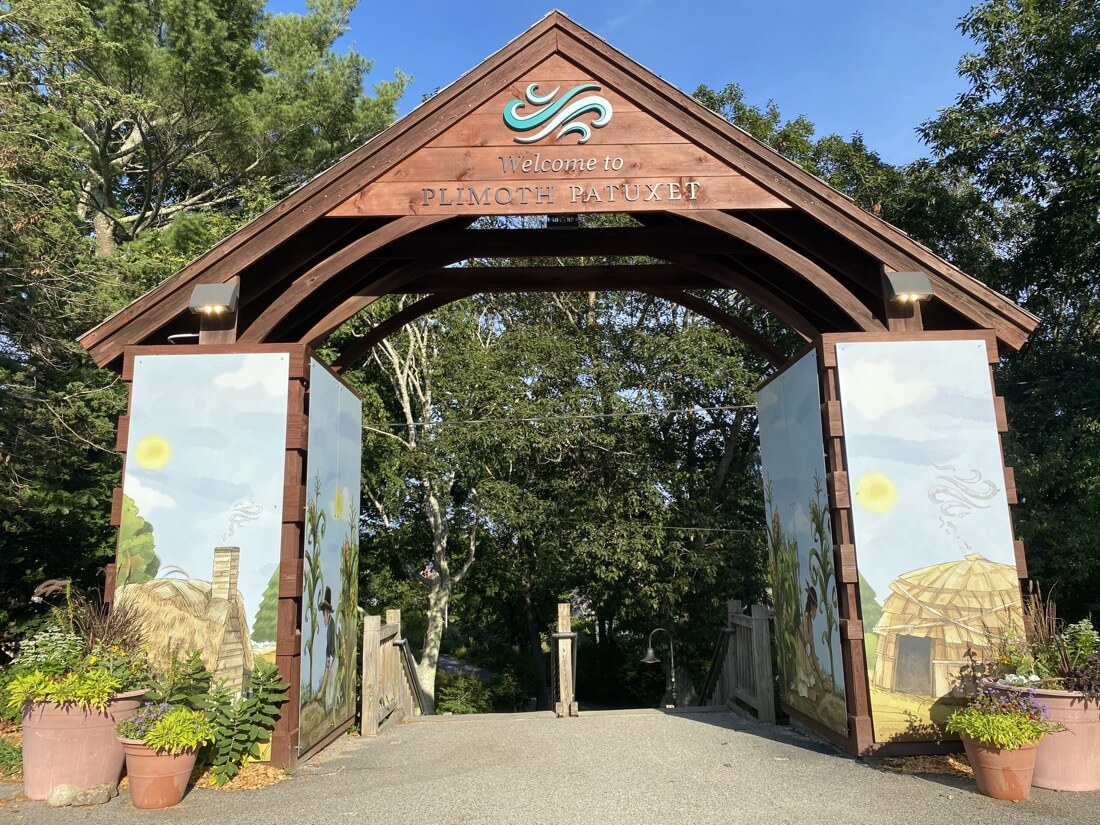 Pool House
The Pool House (394 Sandwich Street) is a 10764 sq ft holiday home which sleeps 10 people.
Featuring five bedrooms, a fully equipped kitchen, dining room, and sitting area, this house would suit a large group or family vacation to Plymouth.
As the name suggest, there is a private outdoor pool as well as a large terrace with seating.
Hilton Garden Inn Plymouth mentioned above is also a hotel near Plimoth Patuxet option.
Plymouth MA Hotels on the Beach
Pilgrim Sands Plymouth MA
Pilgrim Sands on Long Beach (150 Warren Avenue) is one of the hotels in Plymouth for beach fans.
The hotel sits right on the beach, and guests have access to a private area of the beach with chairs.
There is also an indoor swimming pool with a Jacuzzi if you want a break from the beach or an outdoor pool for hot summer days!
If you want an extra special stay at the hotel, you can get a room with a beautiful ocean view.
Rooms measure up at 300 sq ft and no matter what type of room you stay in, you get a continental breakfast and free Wi-Fi during your stay.
The hotel is also close to many attractions you'll want to visit, like Plimoth Patuxet, which is just a few steps away.
And there is a restaurant and lounge in the hotel and another one on the beach within walking distance.
Cheap Hotels in Plymouth
Holiday Inn Express – Plymouth
Depending on when you are visiting, Plymouth hotels may be expensive.
But, there are some budget-friendly options in Plymouth, like the Holiday Inn Express (155 Samoset Street).
Just because you're staying at a cheaper hotel doesn't mean there aren't great amenities with rooms measuring sq ft.
The Holiday Inn has an indoor pool, free breakfast, and hot coffee available 24/7, so it is well worth the money.
And the hotel is in an amazing location.
You can walk to the beach in 20 minutes or some of the historic sites downtown like Plymouth Rock, the Mayflower II, and the Plimoth Patuxet.
Or, if you have a car and want to explore more of the area outside of downtown Plymouth, it's an easy and fast drive to Cape Cod and the outskirts of Plymouth.
Quality Inn Middleboro-Plymouth
Another great hotel near Plymouth if you want something on the cheaper side is the Quality Inn Middleboro-Plymouth (30 East Clark Street).
You are less than a thirty-minute drive from downtown Plymouth, which is not bad given the money you are saving compared to many other hotels in Plymouth, Mass.
You are also within driving distance to other great places in the area like Cape Cod.
And although it's cheaper, you still have an outdoor pool, free breakfast, and a fitness center available to you as a guest, which are great amenities to have in a cheaper hotel.
Motels in Plymouth MA
Blue Spruce Motel & Townhouses
Blue Spruce Motel & Townhouses (710 State Road) is one of the only motels in Plymouth, Massachusetts, but it's a great option if you want to stay somewhere in Plymouth on a budget.
Basic rooms are equipped with sitting areas and air-conditioning and some have a full kitchen.
Rooms come with a private outdoor deck to enjoy a little alone time and a place to relax.
The motel has free parking and there is also an outdoor pool.
Another benefit of staying in one of the Plymouth MA motels south of Downtown Plymouth, like Blue Spruce, is that you are close to some other cool attractions like a wildlife sanctuary, a conservation area, and the quieter White Horse Beach.
Hotels Near Plymouth Train Station
There are two train stations in and near Plymouth.
Plymouth Train Station at 385 Court Street and Kingston at 134 Marion Dr, Kingston.
Both are operated by MBTA and offer routes to and from Boston.
Unfortunately, Plymouth train station is closed indefinitely as of April 2021.
Kingston station is just 2.5 miles from Plymouth center, however!
Baymont by Wyndham Kingston Plymouth Bay
An option for lodging near the Kingston Train Station is the Baymont by Wyndham Kingston Plymouth Bay (149 Main Street).
The walk between the station and the Baymont is 20 minutes.
Rooms are large at 320 sq ft and feature air conditioning, flatscreen TVs, and soundproofing.
The Baymont has a heated indoor pool for year-round swimming.
There's also a fitness center, staff to assist you 24/7, and free continental breakfast.
You'll also be close to the top things to do in Plymouth, like Plymouth Harbor, the Mayflower II, and Plymouth Rock, which are all less than five miles away.
Hotels near Plymouth MA
Hampton Inn & Suites by Hilton Plymouth
The Hampton Inn & Suites by Hilton Plymouth (10 Plaza Way) is a great place to stay if you are looking at Plymouth, Massachusetts hotels, but you want to stay somewhere outside of downtown and away from the main attractions.
Even though you aren't in the main area, you can easily drive to the historic sites or Cape Cod.
Or, if you don't have a car or want alternative transportation, the hotel offers a transfer service to areas around Plymouth.
Your stay at the Hampton Inn includes a free breakfast, 320 sq ft rooms with air-con, coffee machines, and flatscreen TVs.
And there is an indoor pool at the hotel for you to enjoy and a nice outdoor patio if you visit when the weather is nice.
Mirbeau Inn & Spa – Plymouth
Another good option for Plymouth, MA accommodations that aren't downtown is the Mirbeau Inn and Spa Plymouth (35 Landmark Dr).
The inn and spa is one of the most beautiful places to stay in.
Even though you are less than 10 miles from downtown, everything you need during your stay is close to the hotel.
Near the hotel are restaurants and a golf course, plus a Bistro on-site with indoor and outdoor seating where you can enjoy a delicious French meal.
The highlight of the Mirbeau Inn is the spa, where you can enjoy a facial, a massage, body treatments, and more.
And, after your spa treatment, there is a beautiful terrace where you can enjoy lunch.
Fairfield Inn & Suites by Marriott Plymouth
The Fairfield Inn Plymouth, MA (16 Plaza Way) is only four miles, or ten minutes by car, away from downtown Plymouth, so it is another great place to stay if you are looking for hotels near Plymouth, Massachusetts.
The hotel offers great amenities like free parking, continental breakfast, and a large, modern indoor pool.
There is also a bar and lounge on-site!
You are only a ten-minute drive from all the great sites downtown from the hotel.
Final Words
We hope this guide to various hotels in Plymouth MA helped you plan your trip! Let us know in the comments below if you stayed in one of these spots.
Looking for more ideas on accommodations in Massachusetts? You can also look at our guides to hotels in Provincetown, hotels in the Berkshires, and places to stay in Salem, MA.