This article has links to products and services we love, which we may make commission from.

Sistaaaahs! Come with me on a virtual tour of the best Hocus Pocus filming locations but watch out for the Sanderson Sisters.
Fly with us as we discover where Max, Dani and Allison live, what building hosts the best party in town, and which cemetery played the backdrop for the bullying scene during our tour of the 1993 Hocus Pocus filming locations in Salam, MA.
Then we hoist ourselves upon our broomsticks, or vacuums, and whiz through the air to another lovely New England destination for the Hocus Pocus 2 filming locations, where Becca, Cassie, and Lizzie awaken the freaky trio from their slumber, and all hell follows.
Note: Can all virgins please stay away from black flame candles? Thanks!
You may also like our guide things to do in Salem.
Hocus Pocus Locations in Salem
While Hocus Pocus 1 and 2 are both set in Salem, only the first movie was actually filmed in the town in Massachusetts.
Salem is under an hour from Boston by car or train, and you can even arrive by ferry.
It is where the Witch Trials took place between February 1692 and May 1693.
It is a super popular fall New England location, especially in October for Halloween so book ahead if you plan to stay.
Salem is also where the seventh season of the 60s TV Bewitched was filmed.
You can twitch your nose at the Elizabeth Montgomery statue on Essex Street!
Allison House Hocus Pocus
The most popular Hocus Pocus location is Allison's house at 318 Essex Street, Ropes Mansion, which was built around 1727.
Ropes Mansion was once called home by four generations of Ropes families, and today it is owned by Peabody Essex Museum.
When Nathaniel Ropes passed in 1893, three Ropes sisters were left ownership of the mansion.
They left Cincinnati for Salem to move into their new home, which they turned into a historical museum featuring 15 rooms with artifacts.
It is one of the most documented houses in New England.
You can take an audio tour of Ropes Mansion, aka Allison's (Vinessa Shaw) house, here.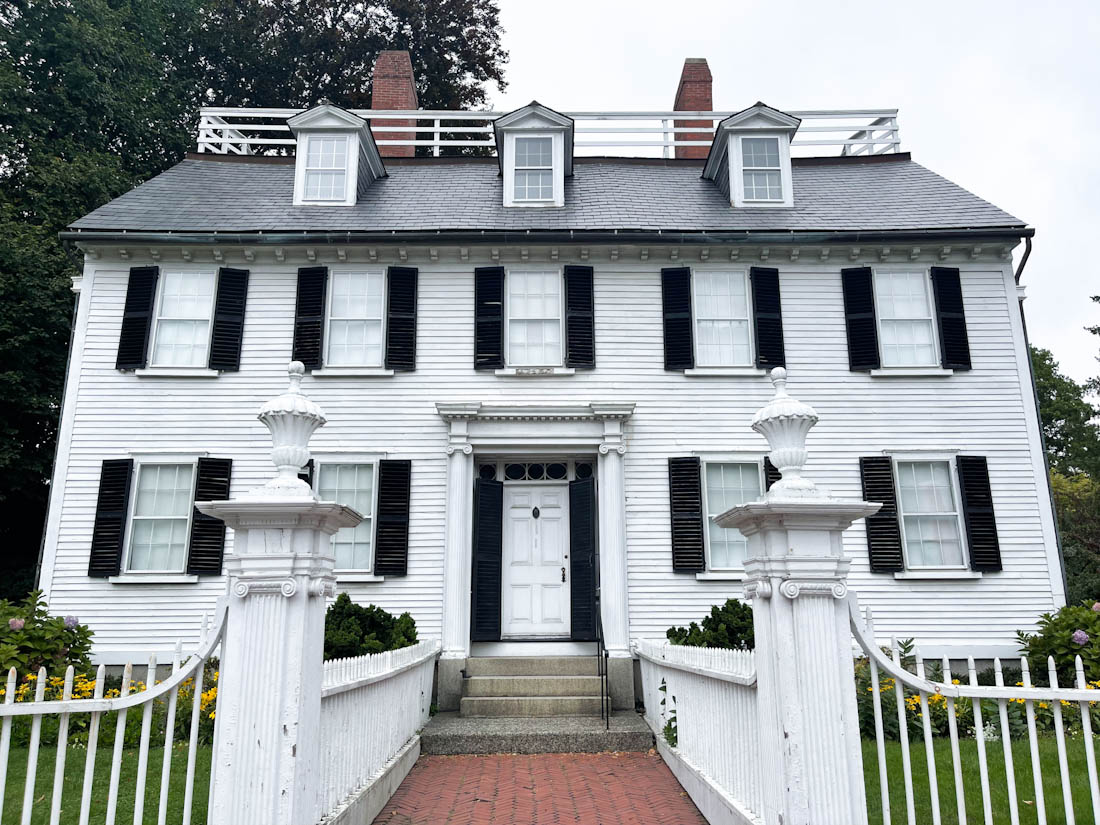 Ropes features a one-acre Colonial Revival-style garden with over 5000 plants, designed by Salem botanist and horticulturist John Robinson (1912).
The garden is still kept as to Robinson's notes.
You can also see a one-hundred-year-old copper beech tree on the grounds.
Ropes House and Garden are free to enter.
Hocus Pocus School
The exterior filming location for Jacob Bailey High School can be found at 86 Essex Street, across from Salem Common.
The red brick building built in 1883 and was named after Stephen C. Phillips, former mayor.
It is now an apartment building.
Old Town Hall
Salem's Old Town Hall at 32 Derby Square is where the big Halloween party was held.
During the movie, the kids go into the party to look for their parents among all the fancy dress costumes.
There is also a scene where revelers spill out of the town hall.
This historic building was built in 1766 and is Salem's earliest surviving municipal structure.
Max and Dani's House Hocus Pocus
Next, we have Max (Omri Katz) and Dani's (Thora Birch) House at 4 Ocean Avenue.
The big white house on the corner is privately owned, so please respect the people living in the property.
In the movie, you see Max dumping his bike, shoeless, outside of this very building.
Ocean Drive is close to the next Hocus Pocus film location.
Old Salem
Old Salem was filmed at Pioneer Village (98 West Avenue), a replica of a 17th Century fishing village!
Built in the 1930s, the set aims to take you back to Salem in 1630.
Colonial architecture such as dugouts, wigwams, thatched roof cottages, and the Governor's Faire House sits on three acres.
There are other resources on the website such as information about the history of the Massachusetts tribes.
In the movie, Binx Thackery, the human version, not the black cat, leaves one of the thatched houses while calling out for his sister, Emily.
Hocus Pocus Cemetery Scene
Old Burial Hill in Marblehead is the filming location for the Hocus Pocus graveyard scene where Max loses his shoes to bullies, Jay and Ernie, sorry, Ice.
Not the nicest of welcomes, dude.
Old Burial Hill is a 15-minute drive to Salem, don't want to pedal that distance without sneaks, do you?
This Hocus Pocus site is one of New England's oldest cemeteries and has 600 Revolutionary War-era graves.
Salem's Skyline
At the end of this scene, Max stops cycling to look at Salem in the distance, but a little sprinkling of movie magic has been used here as the view is actually from Crocker Park in Marblehead.
Today, you can still see the church tower.
Hocus Pocus Filming Locations Map
Click this link to access a map with the above Hocus Pocus 1 locations.
Hocus Pocus 2 Filming Locations
So now that's the Hocus Pocus 1 locations revealed, let's look at the sequel.
In Hocus Pocus 2, we go back in time by 370 years to meet the younger version of the Sanderson Sisters and then fast forward to 2021, where Becca (Whitney Peak), Cassie (Lilia Buckingham), and Izzie (Belissa Escobedo) cast up some unwanted guests.
For Hocus Pocus 2 filming locations, we're heading to Rhode Island.
Old Salem Magic Shoppe
The Old Salem Magic Shoppe, run by Gilbert (Sam Richardson), is actually a purpose-built facade in Newport, RI.
With some camera manipulation, this is where the girls pick up a candle, and Gilbert tells them, 'legend has it, it's on the 16th birthday that a witch gets her powers'… as a black cat called Cobweb, not Binx, meows.
It is also where Booooook comes alive and where Winnie, Sarah, and Mary Sanderson pay a visit, not really the customers you hope for!
It turns out this (facade) is their former home.
Since the Magic Shoppe in the movie is just a facade, you can't buy your own candle there.
The good news is that there are several magic shops in Salem, so you can shop 'til your black heart is content if you plan to visit Mass to check out the above Salem filming locations.
Newport Trolley
Usually reserved for tourists hoping to catch a glimpse of the rich folk in their mansions, the Newport Trolley aka Salem's Trolley is used as a getaway car by the new witch seekers.
Walgreens
Yes, you read that right; the Sanderson Sisters find themselves in Walgreens.
Winnie gets her hands on a broomstick, Sarah picks up a vacuum, and Mary smartly goes for a modern flying device.
Who needs a broom when you have shoes that fly, and less thigh chaffing?
"We must fly!" Winnie says, and fly they do.
Walgreens in Providence, RI, has been showing off its filming location badge with these in-keeping posters.
One reads 'Tryals of several witches lately executed in New England'.
Old Salem
Old Salem in Hocus Pocus 2 is a purpose-built set located at Chase Farm (671 Great Road in Lincoln).
In the movie, you get a bird's eye view, literally, as the camera glides through the air on the wings of a bird.
White Church
There's a striking white church in the background of two scenes; when the girls summon the Sandersons and Gilbert digs up Billy Butcherson.
Initially, we thought it was the famous Newport Trinity Church, but after investigation, the clock face isn't quite in the correct position.
Can you help us locate the white church?
Tell us in the comments!
Our Salem Travel Guides