This article has links to products and services we love, which we may make commission from.

Hoping to go hiking near Burlington VT? This awesome city offers plenty of entertainment and fun, with endless things to do that you can enjoy. But you might want to head into nature for a while to bask in the beauty of this region.
Whether you're local or visiting, these hiking trails near Burlington offer a chance to get some fresh air, do a little bird-watching, and enjoy the changing colors once Fall arrives.
You might also like our guide to the best Southern Vermont hikes if you want to head a little farther away.
Alternatively, check out these hikes near Stowe VT if you're basing yourself there instead.
And then expand your hiking wish-list with these awesome New Hampshire hikes and go even bigger with the best East Coast hikes.
Hikes Around Burlington
When it comes to hiking trails, Burlington VT has long been a popular destination.
The Green Mountain State is named as much for good reason, so immerse yourself in the natural beauty that abounds here.
From Burlington and heading farther afield, these are excellent options for getting outdoors to appreciate the scenery and variety of hiking trails in and around Burlington.
Also check out all the best things to do in Burlington while you're here!
Ethan Allen Park
One of the first urban forest parks in the US, Ethan Allen Park is a great spot for hiking in Burlington, Vermont.
Ethan Allen, one of Vermont's most celebrated historical figures, built his home near the site in the 1780s.
But long before colonists arrived, the indigenous Abenaki people used the outcrops to survey Lake Champlain for Iroquois and Mohawk boats.
The most abundant rock in the area is called dolostone (a type of limestone) and is nutrient-rich which fuels an abundance of interesting plant life.
The forest has remained mostly undisturbed since the turn of the 20th century, allowing oaks, maples, and hemlocks to mature into old-growth stands.
The park serves the important function of being a wildlife corridor – this means animals have a safe place to travel around an urban area.
Birders will love the chance to see migratory birds passing through the 60 acres of woodland.
There are over 4 miles of trails of a variety of surface types including crushed gravel and boardwalks.
These paths also connect to a further network of trails including the Burlington Wildways Trail whose western terminus is in the park.
You can also access further trails around the Ethan Allen Homestead if you cross the pedestrian footbridge over Route 127.
The bluffs above the forested trails give panoramas of Burlington below and the mountains in the distance.
In the center of the park, there is a prominent 40-foot tower that was built in 1905.
The Ethan Allen Tower sits atop Burlington's highest point and is constructed of rock quarried on site.
The other high point in the park is The Pinnacle, a grassy overlook with lovely views and a gazebo.
After enjoying the views on view, explore Lake Champlain by boat via the ferry across the lake; you'll enjoy views of the Green Mountains and the Adirondack mountains en route.
Oakledge Park
If you're looking for some easier walking trails, Burlington VT has many options for more casual strolls.
For a quick bit of fresh air and a nice walk, look no further than Oakledge Park, right in Burlington itself.
One of the greatest features of Oakledge Park is the Forever Young Treehouse – the world's first accessible treehouse!
Many of the park's paths are paved making them accessible for all mobility levels.
If you have the kids along, they will love the park's playground and beach as well.
There are 1.2 miles of paths in the park, and you can connect further to downtown via the Burlington Greenway bike path.
To keep those kiddos entertained even longer, head to the ECHO Leahy Center, a science and nature museum for kids of all ages right near Oakledge Park.
Red Rocks Park
Red Rocks Park sits on Shelburne Bay on the Shores of Lake Champlain.
It's a small park at only 100 acres but it is a well-loved place for hikes around Burlington Vermont.
It is open year-round, so you can enjoy summer or winter hiking!
There are 2.5 miles of trails, many of which are accessible on hard-packed gravel.
The park's location on a bluff above the lake makes for some lovely views at various points along the trails.
If you're a woods person, you can enjoy the forested trails, and if the beach is more your thing, there are 700 feet of waterfront, including a designated swimming spot.
Please note that — for everyone's safety — cliff jumping is strictly prohibited, and punishable by a fine.
Red Rocks Park is also a good spot to see the foliage during fall in Burlington.
Bolton Valley Vista Lookout Tower
Just a 30-minute drive from Burlington, Bolton Valley Resort is a beautiful place to get outside and hit some awesome hiking trails near Burlington VT.
The road to the resort climbs 2,000 feet, which gives it the highest elevation of any ski resort in the state.
This also means that a hike to the top is very manageable as a partial day hike, given the head start you get!
You still have to earn the stunning views from the top though as you gain 1000 feet of elevation in about 1.5 miles.
This steep elevation gain makes this hike a challenge, but your hard work will be rewarded by the Vista Fire Tower that rises strikingly out of the forest at the summit.
The elevation at the tower is 3,200 feet — the highest point of the Bolton Valley Resort.
The tower is one of the best hikes near Burlington VT if you're looking for a hidden gem and a beautiful spot to catch a sunrise or sunset.
It can be accessed via the Vista Work Road summer trail.
Bolton Valley boasts 5,000 acres of high mountain forest and is well known for its sweeping vistas.
You will definitely have earned some refreshments after this hike, so don't skip the Ben and Jerry's Factory Tour nearby!
Check out the Flavor Graveyard while you're there, too.
Mt Philo State Park
In the early 20th Century, guests of the Mt Philo Inn hiked or rode horse-drawn surreys to the top of 968-foot Mount Philo.
It would go on to become Vermont's first state park in 1924, covering 237 acres around the mountain.
In the early 1930s, a CCC crew built the current access road, as well as the campground, ranger's quarters, picnic area, and a summit lodge that is now available for rental for up to 60 people.
Today, visitors can drive to the summit and take an easy 0.75-mile walk for summit views of Lake Champlain and the Adirondacks.
For a longer — but still relatively short — hike, you can take the Mount Philo Trail that starts near the road to the summit.
The trail is only 2 miles round trip and is very family-friendly.
Along the way, you will encounter House Rock, named for the way it is hollowed out underneath.
After enjoying your outdoor adventure, stop in for a little culture at the Shelburne Museum on your way back to Burlington.
The museum boasts an "unparalleled and unique experience of American history, art and design" and it is home to one of Vermont's covered bridges.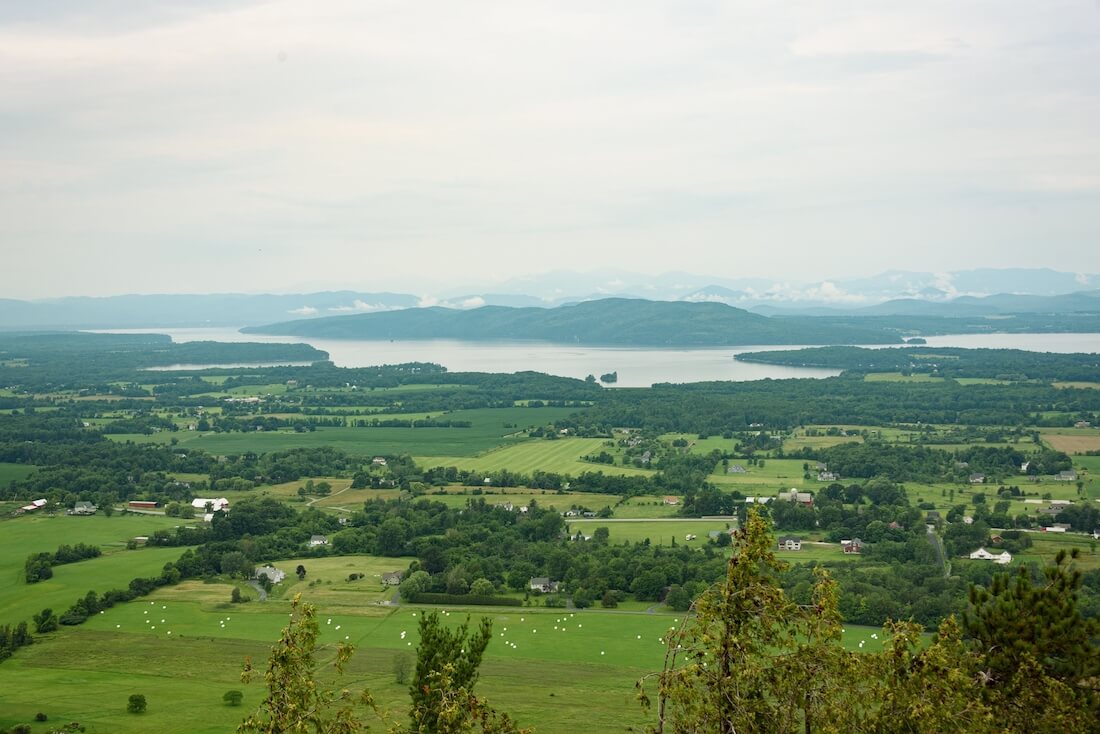 Green Mountain Audubon Center
The Green Mountain Audubon Center values the legacy of the indigenous Abenaki people and strives to instill a spirit of conservation and stewardship for the next generation.
The center, situated in the foothills of the Green Mountains, is welcoming to all, with a special focus on educating and nurturing children.
Operated by Audubon Vermont, there are nearly 6 miles of trails across a variety of woodland, swamp, and river habitats.
This variety of ecosystems is carefully managed by the Center to cultivate prime habitats.
The 255-acre area is a haven for wildlife, with many species of birds and beasts to be seen by the keen wildlife watcher.
For the true bird enthusiast, head to the Birds of Vermont Museum next door to complement your hike.
This is also one of our top recommendations for things to do during mud season in VT.
Camel's Hump
At 4,083 feet, Camel's Hump is Vermont's third-highest peak and one of the most popular trails for hiking in Vermont near Burlington.
This mountain is located in the Green Mountains about a 40-minute drive from Burlington in Camel's Hump State Forest.
The Waubanaukee, Vermont's indigenous people, first named it "Tah-wak-be-dee-ee-wadso" or Saddle Mountain.
The alpine summit has a unique, arctic terrain that is found on only two other peaks in Vermont: Mount Mansfield and Mount Abrams.
The two major trailheads are located in the towns of Duxbury and Huntington.
From Duxbury, the Monroe Trail is the main trail and is a somewhat challenging 6.8-mile hike.
There is also an 8/10 mile long accessible loop trail from the same spot that has several views of the mountain along the way and its own dedicated parking lot.
From the Huntington side, the Burrows Trail is about 5 miles and an easier option than the Monroe Trail both in length and elevation gain.
Camel's Hump State Park is also host to a section of the 272-mile Long Trail, which is the oldest long-distance hiking route in the US.
For this reason, it's a favorite among backpackers, but be sure to check the local camping regulations before setting off on a through-hike.
Whichever trail you take to the summit, you will be rewarded with stunning views as far as New Hampshire's White Mountains and the Adirondacks in New York.
If you're not up for backpacking and camping, Mad River Masterpiece is a unique place to stay nearby.
Robert Frost Interpretive Trail, Ripton
Not one of the closest hikes near Burlington, but you shouldn't miss out on a quiet, unassuming trail along the Middlebury Gap.
The Robert Frost Interpretive Trail is well-loved for the immersive experience it provides to connect with nature as you reflect on the words of Robert Frost.
The words of Robert Frost's poetry are sprinkled along the trail in ways that highlight the natural environment.
It was these very woods that he walked through when he wrote his famed poem "Stopping by Woods on a Snowy Evening."
The trail and nearby attractions such as the picnic area and Robert Frost's cabin are understated and not touristy – a perfect nod to his down-to-earth style.
At only about a mile long, this loop is perfect for a gentle stroll.
It's over an hour's drive from Burlington, so break up the drive halfway by stopping in Ferrisburgh, along Route 7.
Beyond Frost's poetry, this stop will continue your educational experience by learning about the history of an Underground Railroad station at the nearby Rokeby Museum.
Final Words
Are you ready to hit all these great hiking trails near Burlington? Let us know your favorites in the comments below!