This article has links to products and services we love, which we may make commission from.

Ready to explore the incredible city of Atlanta?
Everything from its unique attractions and southern-style cuisine to its vibrant nightlife makes it a great destination for both tourists and locals.
But when the weather outside does not cooperate, maybe it's raining, it's too hot or too cold- or you simply do not enjoy the outdoors as much, the city offers tons of thrilling indoor options to try as well.
Whether you want to discover the city's rich history at local museums and galleries or catch live performances and go shopping, there are plenty of amazing indoor activities in Atlanta that are just as exciting as outdoor adventures.
So read on and let's dive into some of the best indoor experiences waiting for you in this beautiful city!
Visiting Atlanta on a budget? Check this guide.
Indoor Activities in Atlanta
Take a Tour of the MLK National Historic Site
Looking for indoor things to do in Atlanta that teach you a bit about history?
The MLK National Historic Site honors the life and legacy of Martin Luther King Jr. and the Civil Rights Movement.
This museum features tours of MLK's birth home and exhibits about his life and impact to the world.
And the best thing is you can tour the place for free.
MLK National Historic Site also features in our guide to Memorial Day weekend in Atlanta.
Take a Walk Through the Georgia Capitol Museum
Georgia Capitol Museum (206 Washington St SW) is located in the Georgia Capitol Building and features tons of information on the history of the state government.
The building has been registered as a National Historic Landmark and the museum offers a great opportunity to learn the history of the place and its iconic golden dome.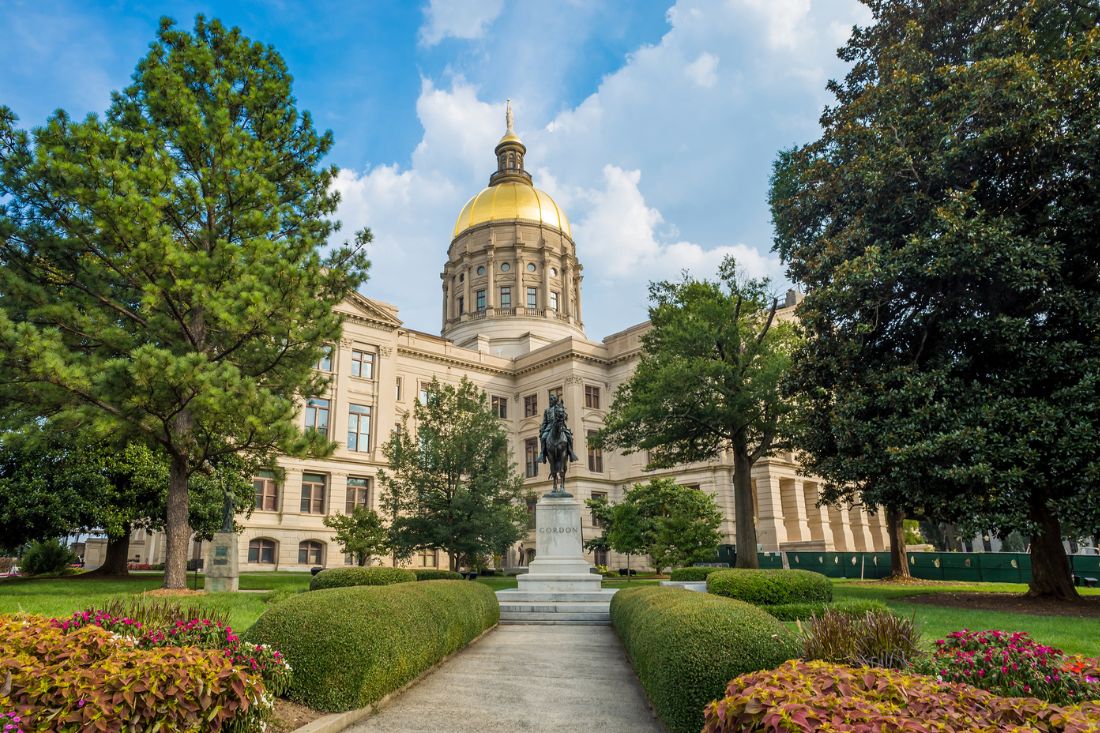 Catch a Hawks Game
Catching an Atlanta Hawks basketball game at State Farm Arena (1 State Farm Dr) is a fun way to spend the afternoon or evening indoors.
State Farm Arena has an electric atmosphere with tons to do for the entire family.
With a kid's center and hall of fame, State Farm Arena has something to do even if you are not interested in basketball.
Take the Family to the Children's Museum of Atlanta
Children's Museum of Atlanta (275 Centennial Olympic Park Dr. NW) features hands-on exhibits that are fun for the whole family.
There's also special programs making this one of the best indoor activities for kids in Atlanta.
Pack extra clothes for the wee ones as some of the activities are messy play.
Set aside three hours for a visit.
Visit the College Football Hall of Fame
The College Football Hall of Fame (250 Marietta St NW) is a great place to visit even if you are not a fan of the sport.
The hall of fame and museum offers 94,000 square feet of college football history.
See the enshrined exhibits of all of the best players from the past and test your skills on the indoor playing field.
Visit the World of Coca-Cola
Touring the World of Coca-Cola (121 Baker St NW) is one of the most enjoyable things to do indoors in Atlanta, especially for fans of the iconic drink.
Learn the history of Atlanta's favorite soda with tons of hands-on experiences.
Meet the Coca-Cola Polar Bear and learn the secrets of the Coke formula and how it has changed through the decades.
Catch a Show at the Iconic Fox Theatre
Seeing a live performance at the historic Fox Theatre (660 Peachtree Street NE) is a fun way to spend a rainy day in Atlanta.
From live comedy to Broadway shows, the Fox Theatre hosts events year-round so you can always find a show that interests you.
Visiting the historic Fox Theatre is just as much about seeing the beautiful architecture of the building as it is about watching the performance.
Explore the Ponce City Market
Ponce City Market (675 Ponce De Leon Ave NE) is home to a variety of food vendors and free-to-play games.
Dining out on all of the food and drink that this market has to offer is one of the best things to do on a rainy day in Atlanta, and with such variety, a reason to keep going back!
Play games, visit vendors, and have a bite to eat all inside this indoor market.
Visit the Illuminarium
Illuminarium (550 Somerset Terrace NE) is one of the most fascinating experiences in the city for all ages.
The Illuminarium features a 4k laser projection room where all six surfaces of the room are lit up with an immersive experience.
With a variety of events from a space adventure to fully immersive live sports, the Illuminarium is a great way to light up a rainy day.
Find Delicious Eats at The Krog Street Market
Krog Street Market (99 Krog St NE) is a famous food court and hangout spot that features a variety of independent food stalls with some of the best eats in the city.
Krog Street Market is completely indoors and features vendors who serve food and drink so you can hang out all day.
Find your new favorite Atlanta food spot at the Krog Street Market.
Visit the Atlanta Monetary Museum
One of the things to do in Atlanta on a rainy day or when the weather gets dreary, is to visit some of the city's museums.
Atlanta Monetary Museum (1000 Peachtree St NE) is housed in the federal reserve bank of Atlanta and is a great place to learn how money is made or look at a million dollars in cold hard cash.
The Atlanta Monetary Museum is free to the public and features a self-guided tour around the facilities that teaches you everything you need to know about how our government produces and stores money.
Visit the High Museum of Art
The High Museum of Art (1280 Peachtree St NE) is Atlanta's premier art museum featuring over 11,000 pieces from around the world.
You can spend an entire rainy afternoon viewing paintings, sculptures, and other forms of art on display at the High Museum.
See All your Favorite Characters at the Center for Puppetry Arts
The Center for Puppetry Arts (1404 Spring St NW) is one of the coolest Atlanta indoor attractions where you can see tons of famous puppets and participate in hands-on puppet workshops.
See all of your favorite puppets from Coraline to Sesame Street to Lion King on Broadway, this museum has hundreds of puppets from television, movies, and performances.
The Center for Puppetry Arts puts on puppet performances that are a great way to see the puppets in action.
Enjoy Exotic Flora at the Atlanta Botanical Garden
The Atlanta Botanical Garden (1345 Piedmont Avenue) features 30 acres of beautiful plant life that is perfect for those who want to take in nature, even on a wet day.
With tons of special events year-round, like Christmas Lights and Night in the Garden, there is always something to do while enjoying all of the beautiful plants indoors.
You may also like our guide to romantic things to do in Atlanta featuring Atlanta Botanical Garden.
Explore CDC Museum
The Center for Disease Control (1600 Clifton Rd) is located in Atlanta and offers a museum with exhibits on the history of the CDC and the mysterious diseases that scientists have solved in the history of the center.
The museum offers self-guided tours and exhibition tours by CDC experts so that you can get the most out of this indoor activity in Atlanta.
Have a Pint at the SweetWater Brewery
The SweetWater Brewing Company (195 Ottley Dr. NE) is one of Atlanta's famous breweries.
You can enjoy a refreshing glass of one of Sweetwater's beers while taking in the great atmosphere of the heart of Atlanta.
Take a tour of the brewery and grab a bite to eat in what has been named the "Coolest Brewery in Georgia" by The Atlanta Journal.
See a Performance at the Woodruff Performing Arts Center
The Atlanta Symphony Orchestra appears at the Woodruff Performing Arts Center (1280 West Peachtree Street Northwest) year-round.
A performance by the Atlanta Symphony Orchestra is one of the most elegant activities you can do indoors in Atlanta.
The award-winning orchestra performs classical music and is a great experience for anyone who enjoys music.
See the Art at the Michael C Carlos Museum
Michael C Carlos Museum (571 South Kilgo Cir NE) is located on the Emory University Campus in Atlanta and features a large collection of ancient art.
The museum offers the perfect mix of art and history with ancient art from Egypt, Greece, Rome, Africa, and America.
For those that love art and world history, the Michael C Carlos Museum at Emory University is one of the most interesting things to do indoors in Atlanta.
Stroll through the Fernbank Natural History Museum
The Fernbank Museum (767 Clifton Rd) has been voted one of the city's best indoor attractions and is a fun rainy-day activity in Atlanta.
In addition to their normal daily hours, The Fernbank hosts adults-only date nights every month with each month featuring a different theme- perfect for those looking for indoor activities in Atlanta for adults.
You can explore the museum and learn something new with hands-on exhibits ranging from space science to natural history.
See the Stars at the Fernbank Science Center
Fernbank Science Center (156 Heaton Park Dr) features a state-of-the-art planetarium show.
In addition to the planetarium the Fernbank Science Center also features a free museum for guests.
Learn about the Apollo missions or use their hands-on photomicrographs to take a closer look at a variety of samples.
Shop at Phipps Plaza
For a great indoor shopping experience, head to Phipps Plaza (3500 Peachtree Rd NE).
Phipps Plaza is an upscale multi-story shopping mall featuring over 100 stores including Nordstrom, Saks Fifth Ave., and luxury brands like Gucci and Saint Laurent.
You can also find a movie theater, full-service restaurants, and a Legoland Discovery Center area in the mall.
Legoland Discovery Center
Legoland Discovery Center (3500 Peachtree Rd NE) is a great location for family-friendly indoor activities in Atlanta.
The place features rides and hands-on experiences for people of all ages.
Build your next masterpiece and release your inner creativity at Legoland Atlanta.
Final Thoughts
Which indoor activity in Atlanta did you enjoy the most? Let us know in the comments!
Georgia Travel Guides