This article has links to products and services we love, which we may make commission from.

Are you ready to explore Atlanta without breaking the bank? Then look no further!
Whether it's museums or an inside look at the local history, there are plenty of fantastic and inexpensive activities in this vibrant southern city- you can do it all without leaving your wallet a little lighter.
To help you plan, this guide will discover free things to do in Atlanta which includes movie-inspired tours, botanical gardens, and tons of free iconic spots and venues.
Also included are the fun inexpensive things to do in the city that are worth the extra few bucks.
So pack up your bags and get ready for a good time- here are some great free activities to enjoy in Atlanta!
Free Things to Do in Atlanta
Below are the fun free things to do in Atlanta you can enjoy outdoors and indoors including its famous parks and museums- plus locations you may not yet have heard of but are definitely worth exploring.
Picnic in Piedmont Park
Piedmont Park (400 Park Dr. NE) offers views of the Atlanta Skyline and is a perfect location for a picnic.
The park surrounds the beautiful Lake Clara Leer and offers some of the best views of the downtown city skyline.
Walking around the lake or picnicking under the skyline is the perfect use for a free afternoon in Atlanta.
Piedmont Park also features in our guide to Memorial Day Weekend in Atlanta where you'll find lots of free activities during this weekend.
See the Flora at the Iris Garden at Winn Park
Another one of the free outdoor things to do in Atlanta is visit the Iris Garden.
The Iris Garden and Pond at Winn Park (56 Peachtree Cir NE) is a perfect place to enjoy the beautiful irises and the serene pond for no charge.
This picturesque location is great for a social media photo shoot, a short walk, or a nice picnic.
Experience Olympic History at Centennial Olympic Park
Centennial Olympic Park (265 Park Ave W NW) played host to the 1996 Olympics and is now a lovely area where you can walk through and see all the history of the games.
You can explore the competition areas and view the tributes to those who lost their lives in the 1996 bombing there.
Spending time in Centennial Olympic Park is one of the top free things to do in Atlanta and is the perfect spot for an afternoon walk, picnic, or a romantic date.
Hunt for the Tiny Doors
There are tiny doors hidden all around Downtown Atlanta.
These small art installations have been added all around the city and are perfect for a scavenger hunt downtown.
There are 20 doors to find and each of them features an Augmented Reality experience completely free.
Visit the Oakland Cemetery
Looking for free things to do at night in Atlanta?
For a spooky adventure, take a free tour of the Oakland Cemetery (248 Oakland Ave SE) after sundown.
This free attraction in Atlanta has around 70,000 graves including that of some famous figures like golf legend Bobby Jones and Gone with the Wind author Margaret Mitchell.
The historic cemetery also boasts beautiful sculptures and botanical gardens as well as stunning architecture.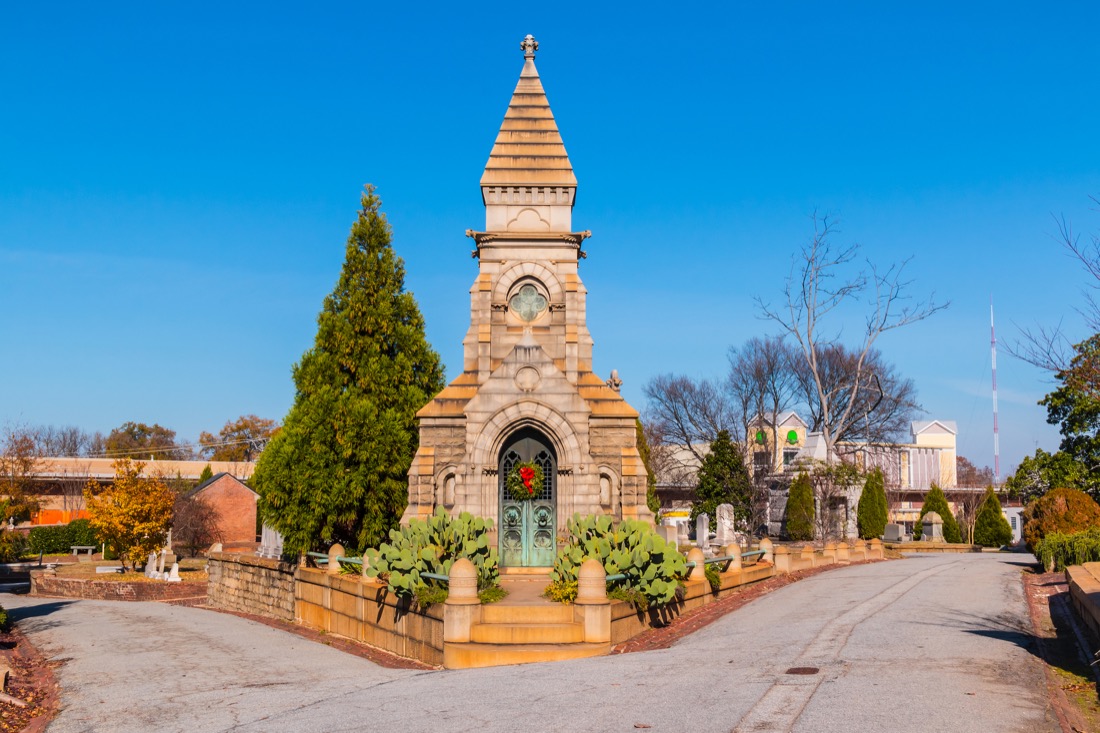 Visit the Sets from The Walking Dead (*spoilers)
The popular tv show, The Walking Dead was filmed at many locations in Downtown Atlanta.
You can take a walking tour of all of the eerie locations featured in the show using fan-made tour maps.
The tour is self-guided, and you can take all the time you need to explore these famous places from the show such as where Rick enters Atlanta, Shane's grave, the river where the zombies attack, and
All of the exhibits and hands-on activities make this one of the best free things to do in Atlanta with kids.
Hike the Atlanta Beltline
The Atlanta Beltline is an old railway that surrounds Downtown Atlanta and has been converted into hiking trails all around the city.
The trails are a mix of paved and unpaved trails that offer a nice mix of urban views and nature experiences.
Searching for local art all around the Atlanta Beltline is a fun and free way to fill an afternoon.
Take a Walk Through the Georgia Capitol Museum
If you want to take a break from the outdoors, there are also a lot of free indoor things to do in Atlanta.
Georgia Capitol Museum (206 Washington St SW) is located in Georgia's capitol building and features tons of information on the history of the state government.
You can tour the place and learn new things about the state of Georgia for free.
The building has been registered as a National Historic Landmark and the free museum offers a great opportunity to learn the history of the building and its iconic golden dome.
Learn About the Civil Rights Movement at the MLK National Historic Site
The MLK National Historic Site honors the life and legacy of Martin Luther King Jr. and the Civil Rights Movement.
This free museum in Atlanta features tours of MLK's birth home and the Heritage Sanctuary.
The museum offers exhibits on the life and impact of MLK and is free to the public.
Explore the Ponce City Market
The Ponce City Market (675 Ponce De Leon Ave NE) is home to a variety of food vendors and free-to-play games.
The roof is the perfect hangout spot where you can play lawn games and take in the Atlanta skyline.
Hanging out at the Ponce City market is one of the best things to do in Atlanta for free.
See All your Favorite Characters at the Center for Puppetry Arts
The Center for Puppetry Arts (1404 Spring St NW) is one of the most unique Atlanta attractions and admission is free for anyone with an active library card.
See all of your favorite puppets from Coraline to Sesame Street to Lion King on Broadway, this museum has hundreds of puppets from television, movies, and performances.
The Center for Puppetry Arts puts on puppet performances that are a great way to see the puppets in action.
Visit the High Museum of Art
The High Museum of Art (1280 Peachtree St NE) is Atlanta's premier art museum featuring over 11,000 pieces from around the world.
Although the museum usually charges an entry fee, the second Sunday of each month offers free admission to all visitors.
Visit all of the great exhibits for free and spend the afternoon appreciating Atlanta's best art.
For more indoor attractions and activities in Atlanta, check this guide.
Visit the Atlanta Monetary Museum
Looking for more free stuff to do in Atlanta that you can enjoy indoors?
The Atlanta Monetary Museum (1000 Peachtree St NE) is housed in the Federal Reserve Bank of Atlanta and offers free exhibits on everything money.
Learn how money is made or look at a million dollars in cold hard cash.
The Atlanta Monetary Museum is free to the public and features a self-guided tour around the facilities that teaches you everything you need to know about how our government produces and stores money.
CDC Museum
The Center for Disease Control (1600 Clifton Rd) is located in Atlanta and offers a museum that has free admission on weekdays.
Featured in the CDC museum are exhibits on its history and the mysterious diseases that scientists have solved in the history of the center.
The museum offers self-guided tours and exhibition tours by CDC experts that are all free with admission.
Learn Something New at the Fernbank Science Center
Fernbank Science Center (156 Heaton Park Dr) is a free science museum that offers exhibits that are open to the public.
The planetarium show at the Fernbank Science Center does have a fee, but the majority of exhibits are free to access.
Learn about the Apollo missions or use their hands-on photomicrographs to take a closer look at a variety of samples.
Take the Family to the Children's Museum of Atlanta
If you're looking for free stuff to do in Atlanta that you can enjoy indoors, there are free museums in Atlanta offering family-friendly and educational activities.
The Children's Museum of Atlanta (275 Centennial Olympic Park Dr. NW) features hands-on exhibits that are fun for the whole family.
The museum usually charges an entry fee, but they do offer four days each year where admission is free for the whole family as long as you register beforehand.
All of the exhibits and hands-on activities make this one of the best free things to do in Atlanta with kids.
See the Public Art at Woodruff Park
Woodruff Park (91 Peachtree St) in Downtown Atlanta features six acres of public art.
With a beautiful fountain and several monuments, this park is filled with art so you can get a creative fix while enjoying nature.
Woodruff Park hosts events year-round so there is always something going on that visitors can experience for free.
Rose Garden at The Carter Center
The Carter Center (453 John Lewis Freedom Pkwy NE) was founded by former president Jimmy Carter and features a beautiful rose garden on campus.
Find your favorite state flag in the circle of flags or sit for a while at the fountain.
The rose garden is a wonderful locale for a stroll where you can slow down and smell the gorgeous flowers.
Have a Photoshoot on the Jackson Street Bridge
The Jackson Street Bridge (433 Freedom Park Trail) offers the best views of the Downtown Atlanta skyline.
A fun photoshoot in front of the iconic skyline can be a fun free activity for those visiting the city or for those who have lived in the city for a while.
Fill your social media feed with sunset pictures with the picturesque backdrop of the Atlanta skyline.
Catch Live Music at one of Atlanta's Many Festivals
Atlanta is home to many free live music festivals all year round.
Porchfest is a unique music festival where live acts perform on the porches of the historic Virginia Highland Neighborhood.
The Atlanta African Dance and Drum Festival is a free activity in Atlanta that features live music and an African market.
Explore the Battery Atlanta
The Battery Atlanta is a bustling complex that measures 2.25 million square feet and is home to shopping, restaurants, entertainment, residences, parks, and more.
Following a game at Truist Park, Atlanta Braves fans often head here.
While you can make the most out of your experience here by spending money- especially for their chef-driven restaurants, games, and events- exploring most of the area is free.
There are fountains and parks available in this place for you to spend time in or you can head to some of their retail stores like Dress Up and Baseballism for some window shopping.
At night, it's an especially beautiful place, especially with all the lights and free events, such as their New Year's Eve Bash at the end of the year.
Walk or Run The Silver Comet Trail
The Silver Comet Trail is located a few miles outside of Downtown Atlanta and features over 60 miles of paved trail perfect for exploring the area.
This trail can be accessed at many different points and is perfect to split up into smaller hikes.
It also features both urban and wooded surroundings so it's a perfect way to explore the beauty of nature.
Take a Hike at Kennesaw Mountain National Battlefield Park
Kennesaw Mountain National Battlefield Park (900 Kennesaw Mountain Dr, Kennesaw) offers a picturesque hike through the historic Civil War Battleground.
With over 40 miles of trails and a historic center, this hike is the perfect way to spend the day just outside of Atlanta, Georgia.
If you're looking to explore more places in Georgia aside from Atlanta, read this guide.
Inexpensive Things to Do in Atlanta
Even if you're on a budget, to make the most out of your trip, certain things are worth paying for.
Find out the cheap activities in Atlanta you can enjoy that won't cost much.
City Lights Night Tour
Enjoy a night ride through Atlanta's famous spots and see them lit up in this city lights night tour.
Experience the top city landmarks, movie and TV filming locations, and iconic attractions such as the Jackson Street Bridge, Centennial Olympic Park, and Mercedes Benz Stadium.
Take a Trolley Tour of Downtown Atlanta
Whether you want to witness the area where Martin Luther King Jr grew up or simply explore Atlanta's historic neighborhoods this 1.5-hour trolley tour will take you to the city's famous spots.
A historic trolley takes guests to all the major sights of Downtown Atlanta while the tour guide provides the history of each location.
Final Thoughts
We hope this guide helped you discover the free things to do in Atlanta, Georgia for your next visit.
Which one is your favorite? Let us know in the comments.
For more places to visit in Georgia, see our other guides below.
Georgia Travel Guides