This article has links to products and services we love, which we may make commission from.

Are you visiting The Granite State in autumn and planning to chase New Hampshire fall foliage? This guide reveals where you'll find the best leaf peeping locations featuring subtle pops of reds, yellows, and oranges as well as explosions of traffic light shades in the sky!
You may also like our New Hampshire fall road trip itinerary, guide to train rides in New Hampshire, and also covered bridges.
Northern New Hampshire Fall Colors
Bretton Woods Fall Foliage
Nestled within Mount Washington, Bretton Woods is a perfect place to explore and enjoy amazing leaf peeping.
You can hike the Mount Willard Trail in the Pemigewasset Ranger District.
It's a 3-mile trail in town that is rated as moderately challenging.
You'll love the rolling hills, waterfall views, and sweet bird watching.
Conway, NH Fall Foliage
Conway has some of the best hiking in the state and affords incredible panoramic views.
The South Moat Mountain Trail in the White Mountain National Forest is a difficult trail with amazing rewards.
The loop is 5.8 miles and will take about 4 hours to hike.
There is a steady climb, rather than a rock clambering adventure; you'll enjoy this hike and you'll get sweeping views of fall foliage throughout.
Here's our guide to more New Hampshire hikes.
Saco River Covered Bridge is another location in Conway where you can picture of the the state's famous historic bridges with tree surrounding it.
If you get a still day, there may be a reflection in the Saco River!
Mt. Washington, New Hampshire Fall Foliage
Mount Washington is the largest and tallest mountain in the northeastern United States with complex trails and a scenic driving route to the peak.
Clocking in at 6,288 feet tall, whether you decide to hike or drive, you'll find amazing fall foliage every step of the way.
Driving the Mt. Washington Auto Road is 7.6 miles and takes about 30 minutes to drive.
Make sure you come prepared to pay an entry rate, as well as a fee for additional passengers.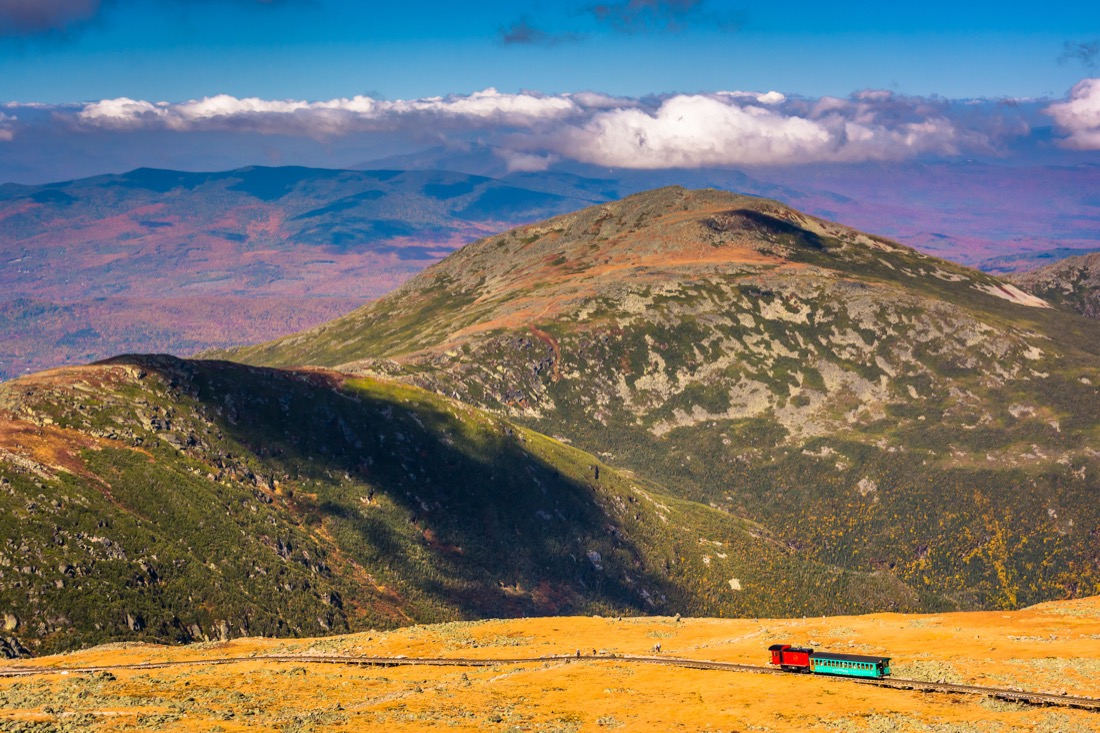 Lincoln, NH Fall Foliage
Lincoln is a wonderful town for hiking, especially the Mount Lafayette and Franconia Ridge Trail Loop.
If you're up for a 9-mile hike, you'll never forget the incredible views, stunning waterfalls, and even some wildlife spotting!
Mount Lafayette is one of the highest mountains in New Hampshire, which means you'll get to find panoramic views of New Hampshire fall foliage.
If hiking isn't your style of travel, hop aboard The Hobo Railroad (64 Railroad St) for an 80-minute journey through the White Mountains and the Pemigewasset River.
Lincoln is also home to Riverwalk Covered Bridge which is located at 18 Mill Street.
Read more about NH's covered bridges here.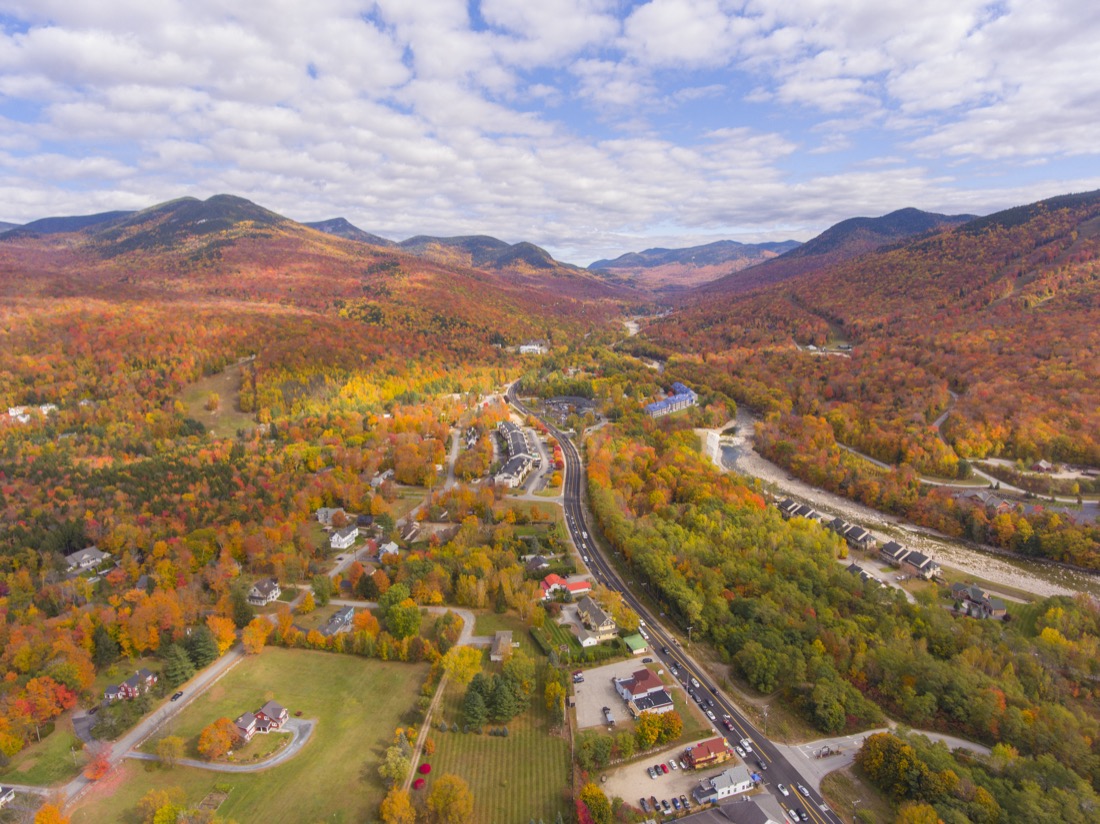 Central New Hampshire Fall Colors
Laconia, NH Fall Foliage
Laconia is known for its beautiful natural scenery, though this city was originally built as a manufacturing town.
For the best fall foliage, hike the Backbone Loop.
This 1.3-mile loop is perfect for a casual stroll alone or with the family.
There are so many trail options and combinations to explore and will be beautiful all fall long.
Meredith, NH Fall Foliage
If you need a little more than just sprawling mountains this fall, be sure to visit Meredith, NH.
You'll be treated to gorgeous fall foliage in the mountains and amazing lake views along the shore.
Be sure to spend time in the downtown area for shopping and dining, but you should also make the most of the natural areas by hiking the Hamlin Trail.
The loop is 4.5 miles long and is categorized as moderately challenging.
You'll skirt the lake and climb into the hills on this hike to enjoy the best fall foliage in New Hampshire.
Southern New Hampshire Fall Colors
Nashua, NH Fall Foliage
If you're looking for the best fall foliage in Nashua, NH, make sure you hike the Nashua River Trail.
This easy, 4.9-mile trail should take just over an hour and a half.
Take a late-season fishing trip, stroll around the thick woods, and enjoy the serene river views.
Keene, NH Fall Foliage
Keene is a unique, beautiful city in New Hampshire filled with nature trails, lakes and mountains.
One of the most iconic natural areas in town is Horatio Colony Nature Preserve (Daniels Hill Rd).
More than five miles of hiking trails are open to the public are clearly marked and are easy to navigate.
You can also visit Goose Pond Loop a 2-mile loop in Keene.
This loop is ideal for birding and hiking and perfect to visit all year-round.
There are also gorgeous water views, beautiful trees, and well-marked trails.
Allenstown, NH Fall Foliage
Allenstown is a perfect town to check out fall foliage this season.
Visit Bear Brook State Park (61 Deerfield Rd) and explore their 10,000 acres and miles of trails.
You can camp, hike, and fish in the largest developed state park.
There are 101 sites at the Bear Brook State Park campground, and it is open until mid-October.
If you're just visiting for the day, you'll find scenic trails and lovely picnic tables for the whole family.
New Hampshire Foliage Report
If you're wondering when the best time to visit New Hampshire for fall colors is, be sure to follow the New Hampshire Foliage Report closely in the middle of the season.
Check out these daily foliage reports for each region throughout New Hampshire on the state's official website.