This article has links to products and services we love, which we may make commission from.

Looking at taking a ferry to Provincetown for your summer vacation? You have plenty of options from both Boston and Plymouth to make the journey much more fun than sitting in Cape traffic for hours.
Located at the very tip of Cape Cod in Massachusetts, Provincetown is a super popular summertime destination in Massachusetts. You'll want to book early and definitely plan ahead, especially if you're planning to go over Memorial Day Weekend, July 4th, Carnival week, or Labor Day Weekend.
While you're planning your trip, check out our helpful guide on things to do in Provincetown.
You might also like our guide to all the beaches in Provincetown and nearby.
Ferries to Provincetown from Boston
Boston Harbor Cruises: Long Wharf to MacMillan Pier
Boston Harbor City Cruises (1 Long Wharf) is a fast ferry trip for adventurers!
The ferry, Salacia, is one of the fastest ferries in North America, able to travel up to 40 knots, or almost 50 miles an hour.
Comfort is their first priority, with ride stabilization, climate-controlled indoor spaces, and comfortable and breezy outdoor decks.
With a full cash bar and a huge selection of snacks for purchase, you definitely won't go hungry or thirsty on this trip!
The ferry is also pet-friendly and features free luggage storage, so you won't have to worry about an extra fee for your bags or pets.
It leaves frequently from the harbor; most days, you can catch it in the morning or in the evening at peak season.
Peak season runs from mid-June through Labor Day Weekend with twice daily crossings.
Additional services are offered around Memorial Day Weekend, July 4th, Carnival Week, and Labor Day Weekend.
Book your tickets in advance to not be disappointed.
You may also want to check out accommodations and hotels in Provincetown close to MacMillian Pier.
How to Get to Long Wharf in Boston
Long Wharf is in the North End of Boston, which is close to the iconic Faneuil Hall and other major Boston landmarks.
To get to Long Wharf, you can travel by subway, commuter rail, or car.
The Aquarium subway stop on the Blue Line is less than 200 yards from the wharf.
Hop off the Long Wharf stop on the MBTA commuter rail, Hingham Line.
If you are traveling by car, the 1-65 Wharf Parking Lot (59 Long Wharf) is open 24 hours and you can pay for the entire day and overnight.
Bay State Cruises: World Trade Center to Macmillan Pier
Bay State Cruises is the longest-running ferry company serving Provincetown to date.
If you're traveling during the season (late spring to early fall), the ferry leaves from Boston to Provincetown three times a day, 7 days a week.
The trip takes just over 90 minutes and is a perfect, sea-faring adventure to kick off your P-town vacation!
It also leaves Provincetown in the early morning on Mondays for those who want to stay a little longer in P-town.
Tickets are non-refundable, and all sales are final, so make sure you have planned well ahead and can catch your ferry!
How to Get to the World Trade Center Pier
To get to the ferry in Boston for Provincetown, which is on the Lower Level of the World Trade Center, make sure you head to the East side of the building, the side opposite the city skyline.
If you are driving to the terminal, there is daily and overnight parking at Seaport Open-Air Parking Lots and underground at the Seaport Hotel.
You can also hop on the Silver Line, which has a stop one block away from the World Trade Center's Pier.
Once you exit the subway at the World Trade Center Stop, exit on the New Congress Street side and walk less than 100 yards to the pier.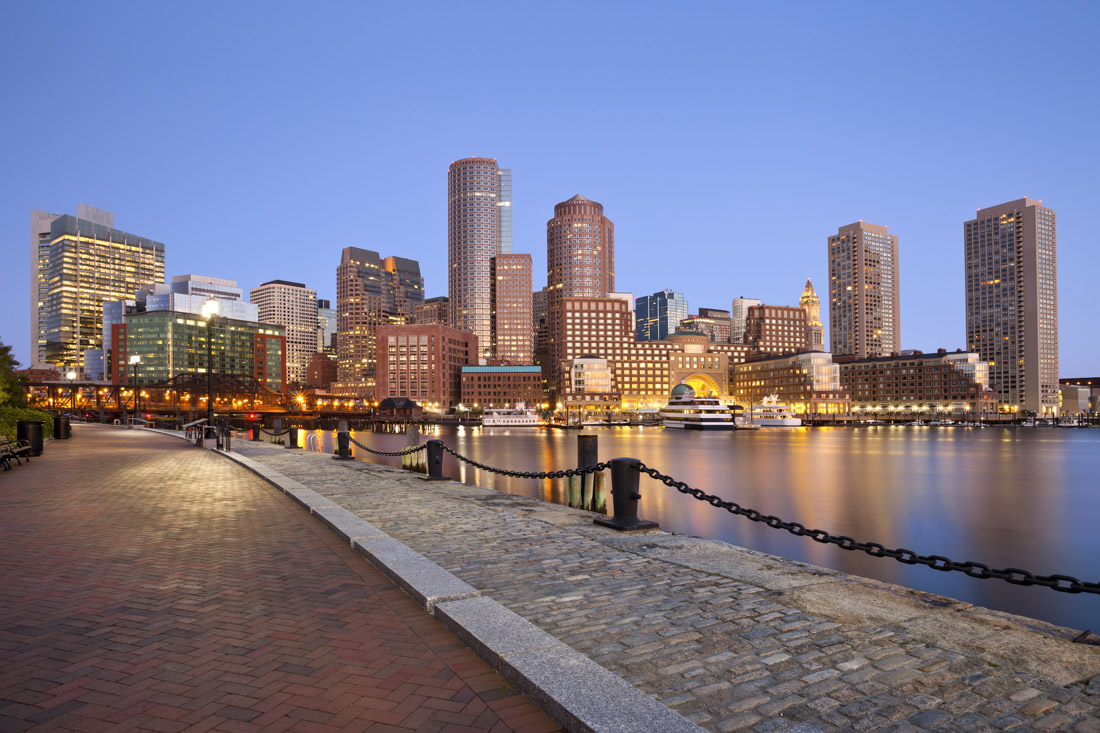 Ferry from Provincetown to Boston
As with the reverse route, the Provincetown to Boston ferry schedule includes more services over holiday weekends and all peak season weekends.
You can take the fast ferry from Provincetown to Boston with Bay State Cruises three times daily.
There is an additional early morning service on Monday mornings (which changes to Tuesday mornings for long holiday weekends).
Alternatively, you can travel with Boston Harbor City Cruises up to three times daily from Ptown to Boston on weekends and during holidays in peak season.
See the last section below for parking information if you're taking the Provincetown ferry to Boston.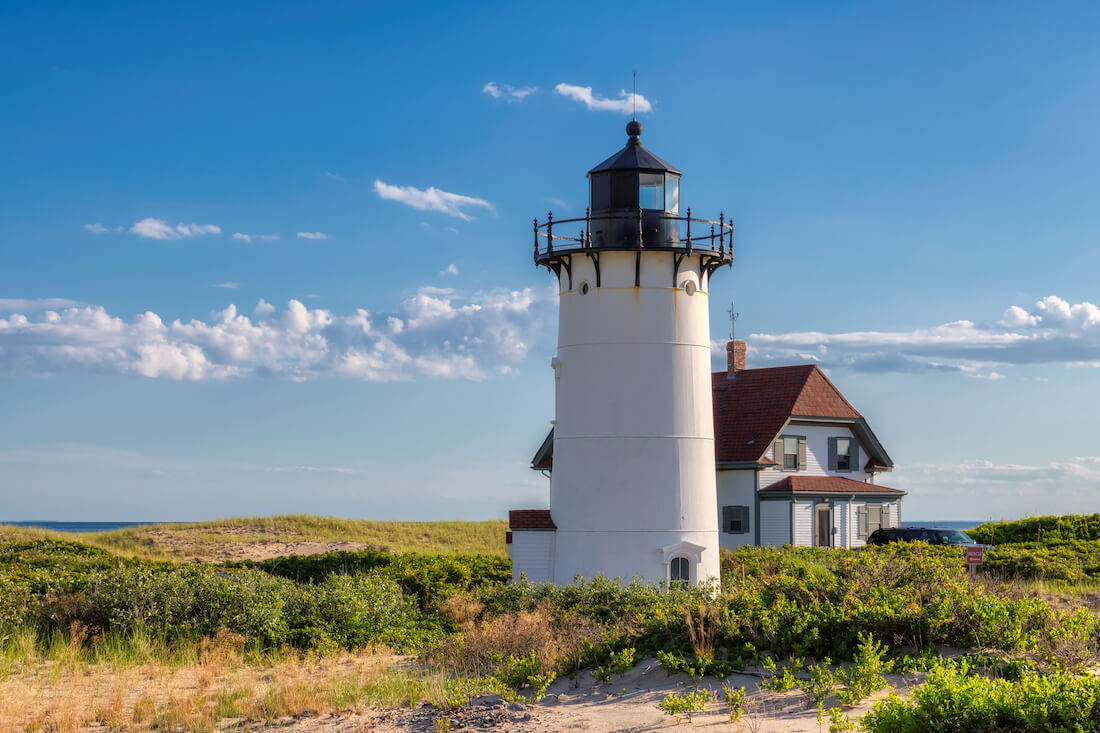 Plymouth Fast Ferry to Provincetown
This 90-minute ferry to Provincetown from Plymouth couldn't be simpler.
Leaving once a day in the morning from State Pier (77 Water St), Captain John Boat's fast boat to Provincetown is fun and seamless.
You'll see breathtaking views of the historic Cape Cod coastline and arrive in Provincetown before noon!
Stay comfortable in the climate-controlled cabin or soak up the sun and ocean on the deck.
There are restrooms available on every boat, and they are regularly maintained and serviced by the crew.
You can also enjoy the full galley on board!
With hot dogs, hamburgers, drinks, and tons of snacks, there's a treat for everyone in the family.
Adults can also order from the full bar; please do not bring any of your own alcohol on the boat.
Be aware that the galley is cash only.
The ferry is dog-friendly and your pet rides for free, though they must be leashed at all times.
Try to arrive about 60 minutes before the ferry leaves to allow you enough time for ticketing, boarding, and finding the perfect seat!
The ferry only leaves once daily from Plymouth and returns from Ptown late afternoon, so plan accordingly.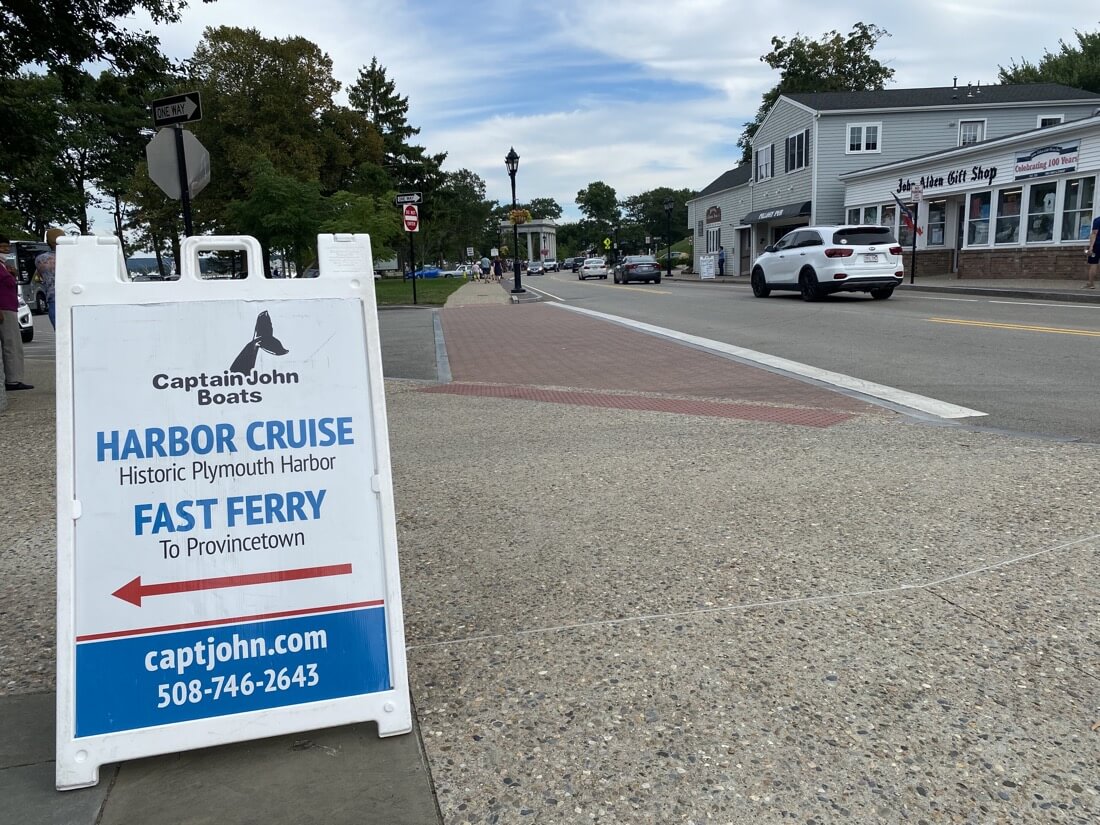 Parking for the Plymouth to Ptown Ferry
If you hope to drive to the ferry, there are multiple free parking areas in downtown Plymouth near the pier.
There are two free lots at the intersection of Water St and Lothrop St, as well as one off of Summer St.
These free lots fill up very quickly, so make sure you arrive early to secure a spot, especially if you plan to park overnight.
If you are only staying for the day in Provincetown and can't find a spot in the free lots, there are lots of areas to park for up to 10 hours around the downtown Plymouth area.
Choose any of the 11 paid lots all within a 15-minute walk of the Pier; check the Park Plymouth website for a map and for more information.
Ferry from Provincetown to Plymouth
The ferry to Plymouth from Provincetown leaves in the late afternoon to return to Plymouth by early evening.
When buying your tickets, you can choose a round-trip or one-way option.
This is a great chance to take a day trip to Ptown without having to drive the entire Cape to get there.
If you're staying in Ptown and instead want to take a day trip to Plymouth, you'd have to plan for an overnight stay in Plymouth, due to the departure times.
While in Plymouth, we recommend you consider the Thomas Sea Suites at Harbourtown.
You can expect free WiFi, free toiletries, and private bathrooms with showers and hairdryers in each room.
Each room offers a kitchen featuring both a dishwasher and a microwave, plus you'll enjoy a seating area with a sofa.
Guests love the cleanliness and comfort of these condos, and the convenience of the Provincetown ferry pier makes this a super easy trip!
Parking information for Ptown is in the final section below.
You may also like our guide to hotels in Plymouth and things to do there.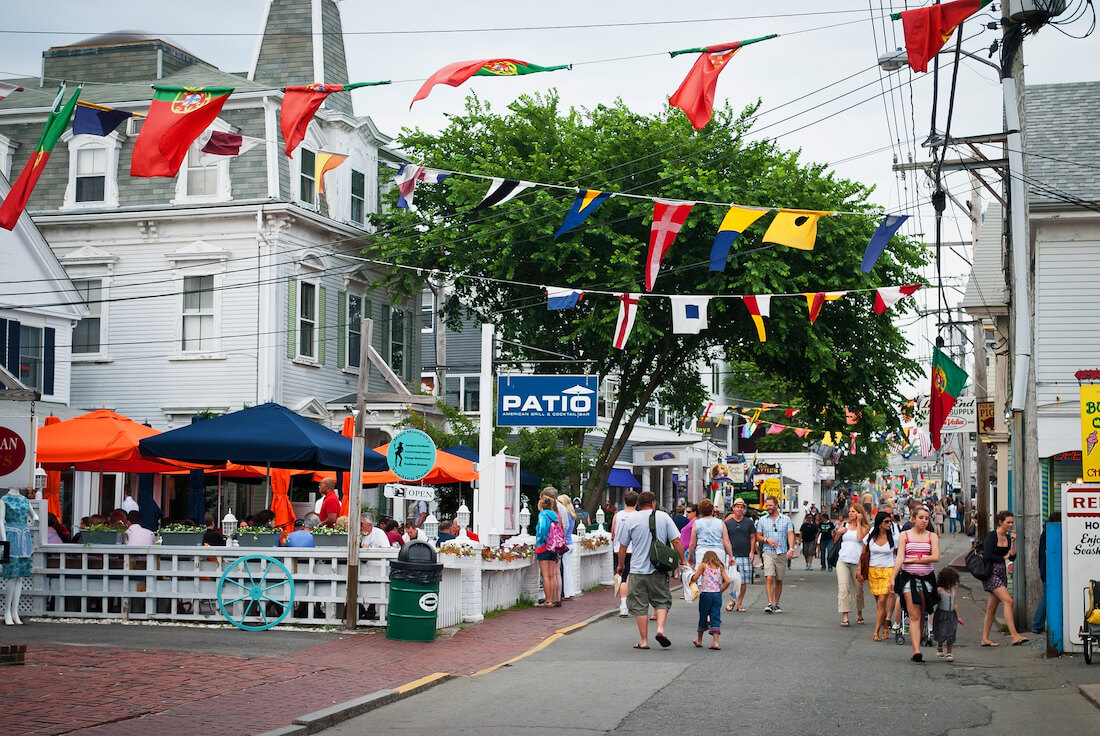 Where to Stay Near the Ferry Wharf in Provincetown
If you'd like to stick close to the harbor and MacMillan Wharf after taking the ferry to Provincetown, we have a few recommendations.
Check out the Revere Guest House (14 Court St), which is a historic home built for a fisherman in the 1830s.
Featuring a private scenic garden and uniquely furnished rooms, the Revere Guest House is an iconic Provincetown experience.
Free parking is included throughout the duration of your stay, and some suites even include a spa bath.
Another historic home is the Queen Vic Guest House (166 Commercial St), a very short walk from the pier.
In fact, it actually used to be a sea captain's home!
With on-site gardens, fresh complimentary breakfast, and gorgeous interior design, this inn is perfect for the ocean-loving couple.
Another hotel option just steps away from MacMillan Wharf is Prince Albert Guesthouse (164 Commercial St).
With a home-away-from-home feel, the Prince Albert is very charming.
Every room is well-equipped with climate controls, cozy furniture, and more.
The continental breakfast is unmatched, featuring fresh and hot waffles every morning and a warm cup of coffee.
You'll love the barbeque set up on the terrace and the vintage-style decor.
Plus, the hotel was featured on Booking.com as a sustainable offer for travelers, making the Prince Albert one of the smartest and lowest-impact booking decisions you could make on your trip to Provincetown!
White Porch Inn (7 Johnson St) is another guesthouse-style inn with views of the harbor and an on-site art gallery.
The inn is one of the top-rated stays in Provincetown, mainly for its upscale atmosphere and its amazing European-style continental breakfast.
Plush bedding, original paintings sourced from around the globe, and a gorgeous front porch make this inn a must-stay in Provincetown, especially if you hope to keep close to the wharf.
Parking in Provincetown MA
Unfortunately, all ferries are pedestrian-only; there is no car ferry from Boston to Provincetown.
If you plan on staying in P-town for a week or more and you want to explore more of Massachusetts, you can take any of the ferries from Provincetown to Boston or Plymouth for day trips or more.
While you take the ferry out of Provincetown, check out these parking options to keep your car safe for the day or overnight.
MacMillan Pier Parking Lot
This parking lot is a favorite for travelers and locals alike.
With ample parking (more than 300 spaces), 24/7 access, and a reasonable hourly rate, you will love the proximity to everything, including public bathrooms.
Because of its central location, almost everything to see in P-town is within walking distance.
It is also quite large and easy to find, and perfect if you're taking the ferry to Boston or Plymouth!
If you are in Provincetown in the off-season, MacMillan Pier Parking is actually free!
If you have an electric vehicle, there are two EV charging stations just outside the lot, so feel free to charge up while you're visiting P-town.
Plus, you can't really beat the breathtaking views of the ocean as soon as you step out of the car.
Grace Hall Parking Lot
Another parking lot with a reasonable hourly rate, Grace Hall is just a 10-minute walk to Commercial St, where all the shops and restaurants are located.
Grace Hall is also open 24/7 and can hold more than 350 cars.
It tends to be a bit cheaper than MacMillan Pier Parking, but check the Provincetown Parking webpage for up-to-date pricing.
This lot is located at Prince St and Bradford St, though you can also enter the lot off of Captain Birdie Way.
It is located just a block away from the heart of downtown, and it is a short walk to many other iconic Provincetown destinations.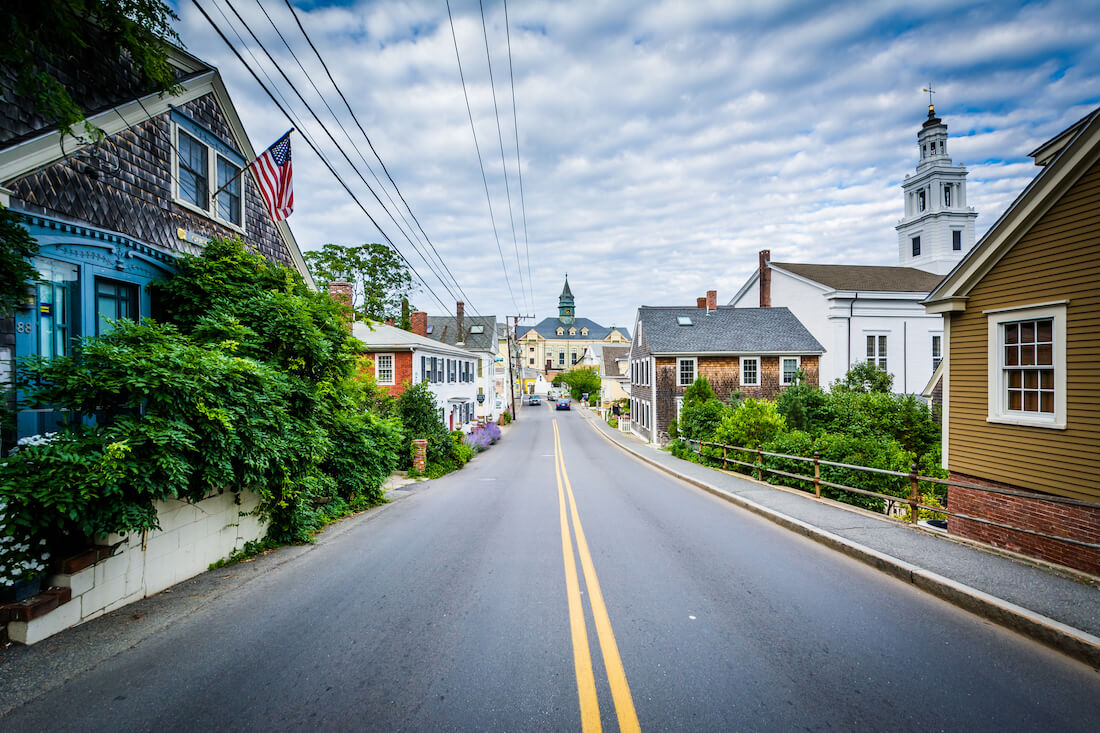 Kiosk Pay Stations
These four Provincetown parking lots are staffed, but they also have kiosks that accept cash, coins, and credit cards.
They are enforced between the hours of 8:00 am and 12:00 am and the rates of each lot vary.
See the links below for each parking lot to view a helpful map of the lot and the kiosk.
The Johnson St Parking Lot and Pay Station
Alden St Parking Lot and Pay Station
Ryder St Parking Lot and Pay Station
West End Parking Lot and Pay Station
Pilgrim Monument Parking Lot
Parking for the Pilgrim Monument is located at 1 High Pole Hill Rd.
There is a flat rate for the entire day, and a ticket to the museum is included!
You can park your car in the lot and experience the magic of the 252-foot tower by climbing to the top.
From the top of the monument on a clear day, you can see for miles all around, from the shore and out to the deep ocean.
It's definitely one of the best things to do in Ptown!
In the off-season, there is no charge at all for parking, though the opportunity to monument may not be available.
Final Words
There are plenty of options for taking ferries to Provincetown or from Provincetown to make the journey smooth and simple. We hope this guide makes your trip to P-town by boat even easier!
Have any other tips for fellow travelers? Share them in the comments below.