This article has links to products and services we love, which we may make commission from.

Fall might not be the first season that comes to mind when you think of Florida, but there's actually a lot to love about spending autumn in the Sunshine State.
For starters, the weather is still warm enough to enjoy all your favorite outdoor activities like going to the beach or hiking.
And of course, no discussion of fall in Florida would be complete without mentioning the state's iconic fall-themed events and festivals.
So if you're looking for a fun-filled autumn break, Florida is definitely worth the trip.
And to help plan your visit, this guide will be exploring the fall-worthy destinations and things to do- organized by the regions, cities, or towns where they are found.
Also included is a guide to the weather in the state during the autumn season.
You may also like this guide if you're looking for a list of kid-friendly activities in Florida, featuring Orlando's International Drive.
Or you can go on an ultimate adventure with our Florida bucket list guide.
Florida Fall Weather
Most Floridians might agree that Florida has two seasons, wet and dry.
It is the only state to maintain subtropical to tropical weather year-round.
September to November mark the fall months in Florida.
Temperatures will vary depending on what month or region you are traveling.
But for most of the state, the average high temperature ranges between 83°F to 85°F in September, 80°F to 82°F in October, and 75°F to 78°F in November.
Note that Florida will experience rainfall during these months and hurricanes are expected to hit the state, usually until November- so if you come, make sure to stay updated on the weather report.
Northwest Florida in Fall
The following list will explore fall things to do in northwest Florida- in and around the city of Pensacola.
Pensacola boasts sandy white beaches and a number of historic attractions worth checking out.
If you visit during autumn, you'll find plenty to do- from exploring corn mazes to Halloween events.
Sweet Season Farm in Florida's Panhandle
Experience a fall celebration at its best at Sweet Season Farm (2260 Horn Road, Milton).
An entire family can enjoy plenty of fall activities, including a hayride, pumpkin patch, a massive corn maze, corn cannon, a sunflower speedway, tube slides, and a cow train.
The corn maze is eight acres and can take up to 45 minutes to complete, so come prepared with comfortable shoes.
The kiddie maze is much shorter, and if you are not into the maze, take a leisurely stroll on the walking trail that loops around the maze through the sunflowers.
Sweet Season Farm's aim is to "make sure everyone leaves with memories to cherish."
HalloweenFest
Looking for things to do for Halloween in Pensacola?
Head to the HalloweenFest for two full days of outdoor spooky fun, starting with Splash City Adventures' Haunted night.
A costume contest (for adults and kids) is held each day, so come to win.
There is a fee to compete for adults.
HalloweenFest also features a special event with trick or treating, celebrity guests, and live entertainment.
Trunk or Treat
Trunk or Treat (1132 Creighton Rd) is Pensacola's alternative version to the traditional trick or treat.
The community comes together, and adults decorate their vehicles with all the Halloween fixtures.
Kids and adults dress up and go from one trunk to the next to get treats and admire the decorations.
Seafood Festival in Pensacola
For seafood lovers, the Seafood Festival in downtown Pensacola may be too good to pass up.
Plenty of food and cart vendors await to serve delicious food and desserts, including Gulf to Table vendors serving smaller portions.
There are arts and crafts and live entertainment that can be enjoyed by the whole family.
Artisans are also present at the event and display 100% handmade pottery, drawings, soap, metal work, wood crafts, jewelry, face painting, and more.
Other commercial resale vendors, to name just a few, include Pampered Chef, Lilla Rose, and Young Living.
Northeast Florida in Fall
Also known as the First Coast, northeast Florida is a region that features a rich history, being the location of the first permanent European settlement in the state.
So in this list, discover where to go and what activities you can do during fall.
Amelia Island
Another thing to do in the fall in Florida includes visiting one of the oldest locations in the state, Amelia Island- with a history that dates back to 1562.
This historic district is located near Georgia around the Northeastern border of Florida and offers ghost tours of the old town.
Amelia Island has fantastic ocean views, and waterfront restaurants line the coast.
In the fall, Main Beach Park (32 North Fletcher Ave) is a great time to see the sand dunes, play sand volleyball, play catch on the large grassy areas, and do other activities on the public boardwalk.
Central Florida in Fall
Central Florida is home to world-famous theme parks and attractions that's why it's one of the most popular destinations in the state, attracting millions of visitors each year.
Check out all the fun activities you can do if you visit central Florida in the fall.
Blue Springs State Park Manatees
Did you know that mid-October is the start of manatee season in Florida?
You can see these glorious cows of the ocean at various spots with warmer waters in Florida, including Blue Spring State Park (2100 W French Ave, Orange City).
The spring is a constant 72-degree which the manatees love, hence why this state park sees the biggest gathering of them in fall.
Plus, the water is crystal clear so it's like looking through natural glass.
This destination also made it to tour list of the best Florida state parks.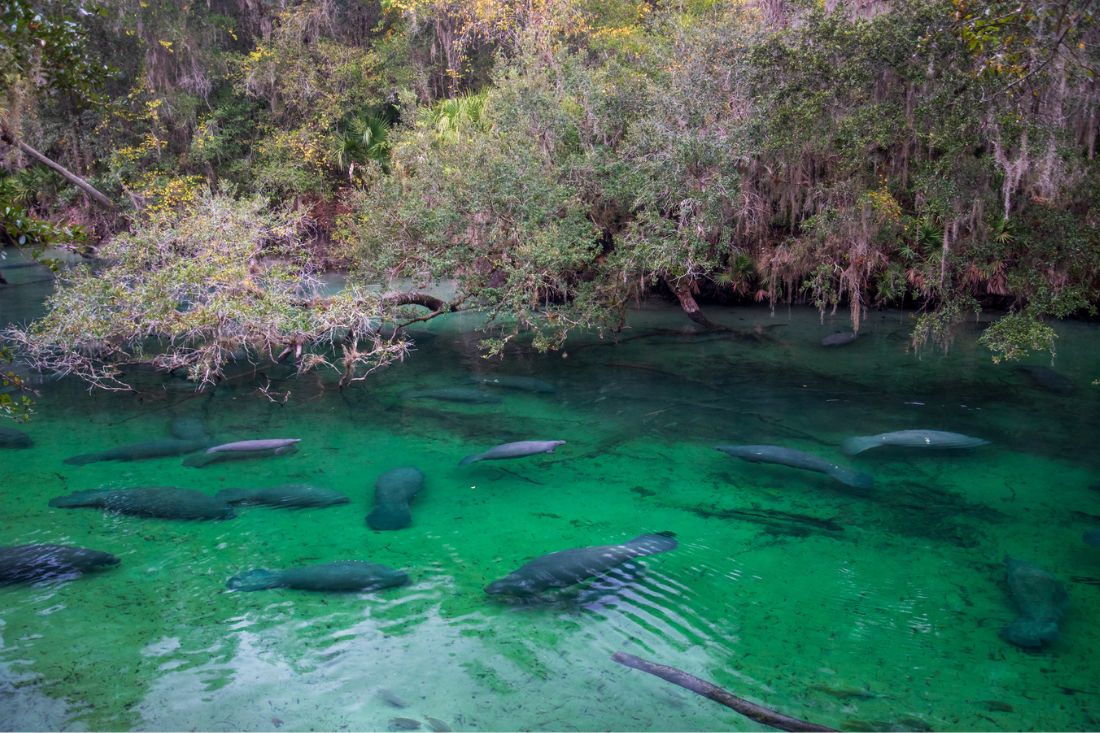 Walt Disney World at Halloween, Orlando
Dressed in their Halloween costume, meet your favorite Disney characters at Disney World.
Come make some not-so-scary memories with your friends and family while you attend Mickey's Halloween party.
Plan a once in a lifetime trip and witness fall colors in Florida at Disney World.
You can see the fall foliage in Florida peak around November 15, so you might want to make preparations ahead for this.
Come dressed in your costume and experience a trick or treat throughout the Disney park.
You may also like our guide to Orlando on a budget.
Orlando Epcot International Food and Wine Festival
Locals and visitors alike eagerly await Epcot's International Food and Wine Festival.
With over 35 marketplaces to sample and sip on exotic delicacies from all over the world, you won't want to miss this annual opportunity.
The festival is top of the list for many culinary seminars, celebrity chefs, guest speakers, and concerts.
Enjoy more special occasions and delicious fare with our date ideas in Orlando.
Scott's Maze Adventures
What started with seven acres, The Scott's Maze (26216 County Rd 448A, Mt Dora) has become a spot for games, education, and other fun things to do in the fall for many Floridians.
Every year there is a new theme and design to get lost in while you go through the winding pathways.
Have fun jumping on giant pillows and sliding down a 60 ft slide.
Their huge castle playground is a kid's favorite.
If the giant maze seems too intimidating, they have a mini maze where you can learn more about the different types of farming and get your fortune.
Compete with family and friends to see who can complete the game sheet first while collecting the clues as you travel through the corn maze.
Shop the marketplace, food vendors, and cafes before you leave.
Autumn Art Festival, Winter Park
The Autumn Art Festival is a sidewalk presentation held in downtown Winter Park and features artwork from local artists.
You can find plenty of authentically handmade ceramics, jewelry, and digital art to take home as a souvenir at this community-oriented event.
Admission is free, hosted by the Chamber of Commerce, and held in central park, downtown Winter Park.
Live entertainment and arts and crafts are available for the entire family.
Fall in Tampa Bay Region, FL
The Tampa Bay region is located in the west-central part of Florida and is home to stunning beaches and tourist spots.
The following list features activities in the autumn around Clearwater Beach and Venice.
Clearwater Beach
One of the most popular beaches in the state, Clearwater Beach has powdery white sand and crystal blue water.
Named after its clear and calm water, the beach is great for paddle boarding, swimming, and parasailing in the fall.
You won't want to miss the street performers and artisans on Pier 60.
The Beach Walk is great for biking, rollerblading, or simply walking and people-watching in autumn in Florida.
Stop for a bite at one of the many restaurants, cafes, and bars that line the coastal promenade.
Find out more about the area in our Clearwater guide.
Clearwater Offshore Nationals
The Clearwater Offshore Nationals is an exciting event featuring offshore powerboat racing along the coast of Clearwater Beach.
Visitors from all around the world head to Florida to watch this event that's usually held around September.
Enjoy cocktails and live entertainment at a party with the race teams and drivers two days before the race.
Clearwater Jazz Holiday
The Clearwater Jazz Holiday is a festival featuring live jazz music enjoyed by thousands of people at Clearwater Beach.
The music festival runs for four days and four nights every third week of October.
You can also see other musical styles being performed like blues, swing, funk, and rock.
Bands and singers like Tony Bennet, Chicago, and The Avett Brothers have performed at the event.
Find out more tours and attractions in our things to do in Clearwater guide.
Chalk Festival, Venice
Step into the painting where you can experience a unique opportunity to be a part of an interactive 3D illusion at the Chalk Festival.
Bring your creativity to try your hand at chalk art, they provide the space and chalk.
Dance on stage to live music in your Halloween costume or relax under the large tent with a good meal and spirits.
Located at Venice Airport Festival Grounds (610 Airport Ave E), parking is free, and children under five can enter without charge.
There is a new theme each year and all proceeds go to the Avenida de Colores 501c3 nonprofit for artists' scholarships and to pay the costs to host the festival.
Tip: No Pets Allowed. ONLY trained (ADA) service dogs are permitted.
Fall in South Florida (Southwest)
Let's now move to the southern part of Florida, featuring fall activities on Sanibel Island.
Sanibel Island
Spend the fall season in Florida and explore Sanibel Island to beat the summer temperatures and crowds.
The shoreline spans 15 miles and is usually much quieter during the fall.
Kids will love finding colorful seashells while their parents stretch out and enjoy the beach.
Book a charter boat to explore the island and nibble on the local seafood.
Southeast Florida in Fall
Southeast Florida is another region flocked by tourists each year for its beaches, historic sites, outdoor adventures, and world-class shopping.
For your fall visit, we listed the things you can do- from joining events to visiting a museum.
Oktoberfest in Lake Worth
Oktoberfest in Lake Worth takes experiencing German culture to another level.
It's one of the best things to do in October in Florida where you can eat bratwurst and schnitzel while you sip on domestic and imported beers and listen to live entertainment.
Oktoberfest has fun, family-friendly activities that include arts and crafts, folk dancing, and carnival games.
Yamato Scrub Natural Area Hikes
If you want to take advantage of the cooler temperatures and stretch your legs consider the 1.8 km Cicada Nature Trail.
This out-and-back trail near Boca Raton, Florida is child-friendly and has a paved sidewalk.
The trail will take you to the Yamato Scrub Area where you can look out for the seasonal Goldenrod- a popular yellow plant that tends to bloom from August through to October.
Flamingo Road Nursery
For six weeks, the festival at Flamingo Road Nursery in Davie, Florida, puts on a wonderful fall-themed event every year.
The autumn transformation occurs in the 10-acre garden with scarecrows, hay bales, corn stalks, and a pumpkin patch.
The garden for fall pictures is available, and you can see the giant pumpkin patch at this event.
Experience a new theme each week, including the Tomato Fest, Pepper Palooza, and Tropical Fruit celebration.
The hayrides pulled by antique tractors are a kid's favorite.
Be sure to experience Fish Camp, and The Davie Moonshine offered daily, along with kid's crafts and yummy food.
Miami Children Museum Halloween
The Children's Museum in Miami (980 MacArthur Causeway) has been putting on a not-so-scary Halloween event for families for over a decade.
Little ghouls and goblins are promised family-friendly spooky fun organized through the education program at the museum.
Want to visit more places in Miami? Check out this itinerary to plan your trip.
Halloween Parties in Miami
Get your scary or cute, costumes ready; it's time to celebrate Halloween, Miami style.
Check out Halloween at The Biltmore for a party, the Fontainebleau for live performances, or hop aboard a haunting yacht party, what could go wrong?
Planning to stick around until December? Read our guide to Christmas in Miami.
National Hispanic Heritage Month in Miami
National Hispanic Heritage Month runs from September 15 to October 15 and there are a number of celebrations.
Previous years have featured educational talks at Florida Atlantic University, live music at Miami Beach OnStage and the LGBT+ festival, ORGULLO.
You may also like our guide to South Beach.
The Florida Keys
What better time to visit a tropical-like location in Florida in the fall than the Florida Keys?
People come from all over to hang out on the beach, jet ski, and snorkel, with water temperatures in the fall around the low 80s.
The October weather is perfect for outdoor activities, and Key West and Key Largo have some of the most beautiful beaches.
A bronze statue called Christ of the Abyss by sculptor Guido Galletti can be found submerged 25 feet in the sea of Key Largo and is an iconic attraction you can see while snorkeling.
Driving to Key West also features in our Florida Road Trip guide.
Florida Fall Festivals
To complete your list of fall things to do in Florida, discover some more festivals you may want to experience during your visit.
Jacksonville Taco and Tequila Festival
The Jacksonville Taco and Tequila Festival at Riverside Park (753 Park St) is a 2-day festival held around the last week of September and features Mexican cuisine from various restaurants and food trucks.
Grab a tequila or margarita from their drinks station and enjoy some live music, arts and crafts, or games featured in the event.
Boca Pumpkin Patch Festival
For some of the best places in Florida to visit in October, go to the Mizner Park Amphitheater (590 Plaza Real, Boca Raton) for the Boca Pumpkin Patch Festival.
Thousands of pumpkins are available in their patch, or you can explore the area for other activities like pumpkin decorations, corn mazes, and carnival rides.
The fall-themed venue offers plenty of photo opportunities, and they have food stands and beer bars where you can enjoy drinks and pumpkin-themed treats.
Vegan Block Party
Taste delicious vegan food and drinks at the Vegan Block Party (Huizenga Plaza) in Fort Lauderdale.
The fall festival is held in October and aims to celebrate veganism, educate others about the lifestyle, and connect with like-minded communities.
There's also live music, contests, and giveaways at the event.
Non-vegans are very welcome to attend and you can bring your pets too.
Check out our guide to Lauderdale-By-The-Sea too.
Final Thoughts
We hope this guide can help you plan your fall trip to the Sunshine State.
Any activities or destinations you found the most interesting in this guide? Share your thoughts in the comments.