This article has links to products and services we love, which we may make commission from.

These fall day trips from Boston show off all the beautiful foliage and interesting history New England has to offer. Base yourself in Beantown to enjoy an autumn vacation, with day trips from the city being easy and interesting!
Follow the coastline to enjoy fall colors along the Atlantic shore.
Or head west or north to see the hills and mountains draped in colorful trees.
You can enjoy all the spooky seasonal fun you want within a short drive from Boston, too.
Want more fall inspiration?
Plan a whole New England fall road trip or check out our guide to Boston in the fall for more fun right in the city itself.
You might also like our New England fall favorites.
Best Fall Day Trips From Boston
Driving Distance: Less Than 1 Hour from Boston
In under an hour, you can leave Boston for a variety of fabulous day trip destinations.
If you're into history, you can't miss these iconic locations.
If you're looking for some classic New England fall fun, we have an easily accessible PYO orchard you won't want to miss!
Lexington and Concord, MA
Lexington is about 15 miles away and a 30-minute drive from Boston.
Concord is just the town over, which means you can easily explore both historic cities during this Boston fall day trip.
One of the best fall foliage day trips from Boston is visiting Walden Pond State Reservation (915 Walden St, Concord), the natural area that inspired Henry David Thoreau's Walden.
You can also visit the Buckman Tavern (1 Bedford St, Lexington), a site of important American Revolution meetings and multiple galleries and exhibitions.
Looking for a little more historical context and insight?
Check out this self-guided tour of the battles at Lexington and Concord!
Salem, MA
Salem is about 25 miles away and just a 40-minute drive north of Boston.
This is one of the most atmospheric day trips from Boston in September and October!
Make sure you visit The Salem Witch House (310 1/2 Essex St), the old home of Judge James Corwin.
James Corwin's home is the only structure you can visit with a direct connection to the Salem Witch Trials of 1692.
For even more spooky ghost experiences, take the Ghosts of Salem Walking Tour.
One of the coziest restaurants to stop for lunch is Gulu-Gulu Cafe (247 Essex St); grab an espresso and a fresh sandwich before you explore the city.
Check out our full accommodation guide to Salem and our huge Salem travel guide for more!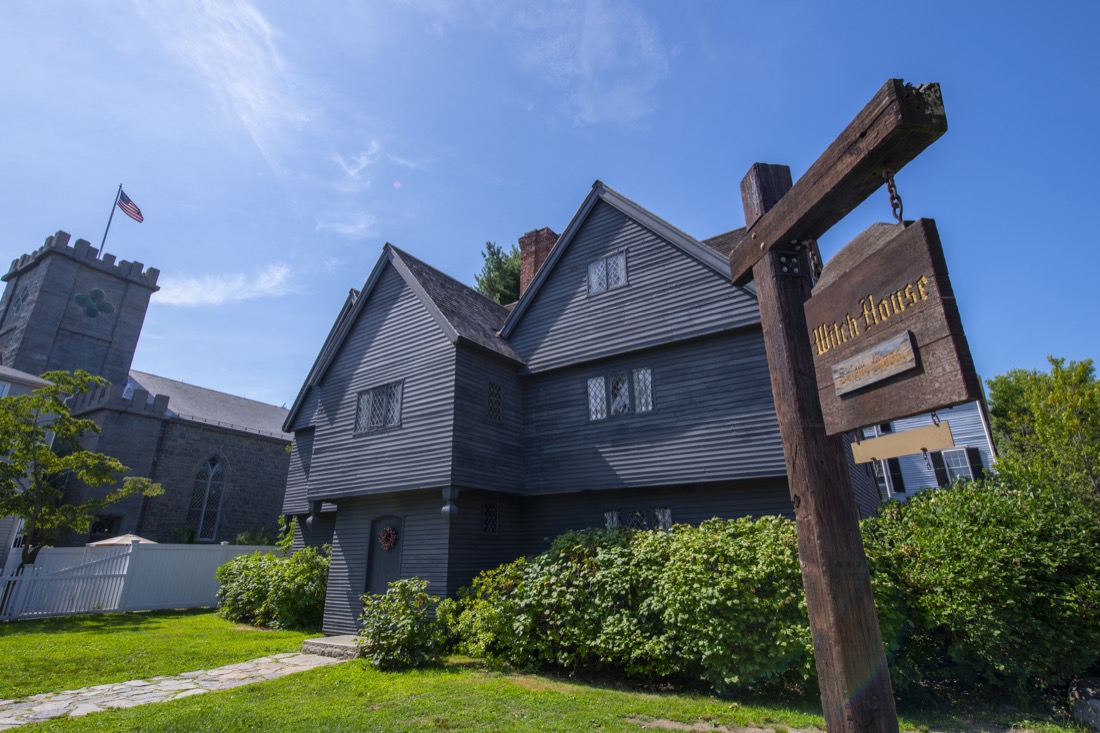 Stow, MA
Stow is about 30 miles away and a 55-minute drive west of Boston.
Widely recognized as one of the best apple orchards in the state of Massachusetts, Honey Pot Hill Orchard (18 Boon Rd) is a must-visit in the fall.
Founded almost 100 years ago, this orchard features pick-your-own apples, a farm store with fresh cider donuts, hay rides, and corn mazes.
For sweet fall foliage, hike through more than 15 miles of trails in the Assabet River National Wildlife Refuge (680 Hudson Rd).
Driving Distance: 1-2 Hours' Drive from Boston
Head a little farther afield to experience an array of different spots that are perfect for a fall visit.
Stay along the iconic New England coastline for gorgeous views and plenty of fun attractions.
Or head inland for historic spots in Massachusetts.
Craving some more city adventure beyond Boston?
There are a few awesome options less than 2 hours away.
Plymouth, MA
Plymouth is about 40 miles away and a one-hour drive south of Boston.
Two of the best fall activities in Plymouth include the Plimoth Patuxet Museums (137 Warren Ave) and Fresh Meadows Farm Organic Cranberries (26A Walker Rd, Carver).
Step back into history this fall and learn all you can about life for early colonial settlers at a living history site.
Next, go enjoy the seasonal autumn harvest of cranberries at Fresh Meadows Farm.
Drive out to Manomet Point (Manomet Point Rd) for scenic coastal views and a bit of natural fall foliage.
If you haven't gotten enough history from exploring on your own, make sure you reserve a spot on the Ghost and History Night Tour.
Check out our Plymouth activity guide for tons more recommendations.
Want to extend your day trip?
Here's our Plymouth accommodation guide if you can't get enough and want to stay the night!
Sturbridge, MA
Sturbridge is about 60 miles away and a one-hour & 10-minute drive west of Boston.
Old Sturbridge Village (1 Old Sturbridge Village Rd) is a recreated 1830s New England town that you can visit and become immersed in a living history museum.
The villagers carry out tasks that are accurate to the time period, and you can speak with them and ask any questions from that time.
While this village is open year-round, the fall season transforms this area into a magical place.
Kittery, ME
Kittery is about 60 miles away and a one-hour & 10-minute drive north of Boston.
If you're looking for an unmatched shopping experience, head to the Kittery Trading Post for dozens of shops, restaurants, and more.
Kittery is definitely one of the best leaf-peeping day trips from Boston.
This is because Pepperrell Cove on Piscataqua River features some of the most vibrant fall foliage within an hour's drive from the city.
Make sure you grab a table at Bistro 1828 (88 Pepperrell Rd) for delicious local fare after you explore the area.
Kittery also features in our list of the most beautiful towns in Maine!
Portsmouth, NH
Portsmouth is about 62 miles away and a one-hour & 15-minute drive from Boston.
Visiting Prescott Park (Marcy St) is an ideal stop in your day trip from Boston in the fall.
Sprawling gardens and bright fall colors in this park make it a perfect autumn adventure in Portsmouth.
For a more historic fall experience, visit the Strawbery Banke Museum (14 Hancock St) to learn more about the oldest neighborhood in the state to be settled by the Europeans.
Looking for a little spooky seasonal fun?
Discover all the most haunted areas in Portsmouth with this Haunted Walking Audio Tour.
Portsmouth made our best cities in New England list!
Providence, RI
Providence is about 50 miles away and a one-hour & 30-minute drive from Boston.
You could also take the train if you're tired of driving!
In Providence, visit the downtown area and walk along the river.
Thayer Street is fun for window-shopping and people-watching.
Stroll along the Woonasquatucket River on Promenade St or adventure downtown among the high rises, just make sure you also stop by Pastiche Fine Desserts (92 Spruce St) for a cappuccino.
For ideal fall foliage, head just a little outside the city to visit Goddard Memorial State Park (1095 Ives Rd, Warwick).
You can enjoy miles of trails and massive trees in every fall color there.
Trust a local expert to show you a great time on this Providence Small-Group Tour.
Here are even more things to do in Providence to fill your whole day.
Peterborough, NH
Peterborough is about 73 miles away and a one-hour & 40-minute drive from Boston.
This quaint town is one of the oldest in New Hampshire, and it has tons of shops and activities to keep you busy!
The two best visits are to the country's oldest public library (2 Concord St) and the classic-style Peterborough Diner (10 Depot St).
There is also an amazing fall foliage day trip that starts from Peterborough: just strike out on Route 101 West towards Keene and enjoy the scenery.
Hartford, CT
Hartford is about 101 miles away and a one-hour & 40-minute drive from Boston.
You'll love the Wadsworth Atheneum Museum of Art (600 Main St) for its extensive art collection — wandering through galleries is a perfect fall activity!
Also visit the Soldiers and Sailors Memorial Arch (15 Trinity St), which honors more than 4,000 Connecticut soldiers lost in the Civil War.
Check out our guide to Connecticut in fall for even more Hartford goodness!
Portland, ME
Lexington is about 107 miles away and a one-hour & 50-minute drive from Boston.
If you're taking a day trip from Boston to see fall foliage, the coast of Maine is one of the best spots to go!
Explore the bay front of Portland as much as you can.
Something fun for the kids: take a 50-minute narrated tour of Portland in a vintage fire engine.
Looking for even more ideas for Portland in the fall?
Check out our guide for things to do in Portland this season and our comprehensive guide to Portland accommodation.
Driving Distance: 2+ Hours' Drive from Boston
Get up and hit the road early to make the most of these great fall day trip options!
Whether you're into colonial history, unique modes of transportation, or you're just in it for the leaf-peeping, these spots are for you.
Stockbridge, MA
Stockbridge is about 131 miles away and a 2-hour & 10-minute drive from Boston.
The town of Stockbridge is in the heart of the Berkshires, which is an amazing foliage day trip from Boston.
U.S. Route 7 passes through Stockbridge, and that road is one of the best scenic fall drives in Massachusetts.
For a bit of history, visit the 1742 Mission House (19 Main St) while you're there.
It is one of the only surviving examples of a true colonial mission house and a part of the Berkshire 18th Century Trail.
Shelburne, MA
Shelburne is about 101 miles away and a 2-hour & 10-minute drive from Boston.
One of the most gorgeous sights near Shelburne is the Bridge of Flowers (Water St), which is open until the end of October.
For more of an apple-picking fall experience, visit the sprawling Apex Orchards (225 Peckville Rd).
Shelburne is one of our favorite areas out in Western Mass.
Woodstock, VT
Woodstock is about 140 miles away and a 2-hour & 20-minute drive from Boston.
This fall, be sure to visit Billings Farm and Museum (69 Old River Rd) for farm strolls, fall-themed educational exhibits, and more.
Of course, you'll have to stop by the Middle Covered Bridge (Union St), the first Vermont state-funded public covered bridge.
Get the details on those quaint covered bridges in Vermont you should seek out.
Woodstock also features as part of our perfect fall road trip itinerary.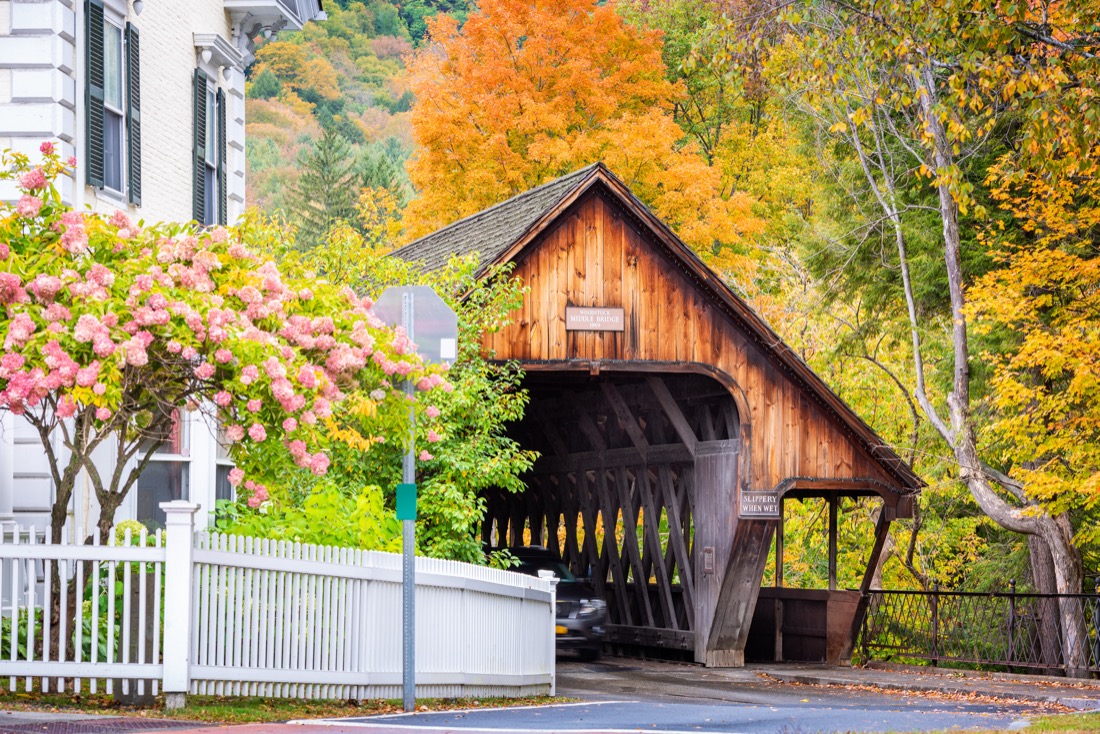 North Conway, NH
North Conway is about 137 miles away and a 2-hour & 30-minute drive from Boston.
Whether you're traveling along the Kancamagus Highway on a New England scenic road trip, or you're on a train ride on the Conway Scenic Railroad (38 Norcross Circle), you'll have an amazing time in North Conway.
For the best fall foliage hike, take the Black Cap Trail in the Green Hills Preserve.
North Conway made our ideal New Hampshire fall foliage road trip, as well!
Martha's Vineyard, MA
Martha's Vineyard is about 90 miles away and a 2-hour & 50-minute drive and ferry from Boston.
By far the longest trip on this list, Martha's Vineyard is well worth the trip if you can leave early and stay late.
Edgartown is the best place to visit in the fall: stop by the Rosewater Market (20 South Summer St) and the Morning Glory Farm (290 W Tisbury Rd) for a fall-loving foodie's adventure.
If you're tired of planning day trips from Boston all on your own, book a planned trip that includes all the best sights of Martha's Vineyard.
Be sure to check out our visitor's guide to Martha's Vineyard and our full Martha's Vineyard activities guide.
Final Words
We hope you take advantage of all the amazing things to do on a fall day trip from Boston!
New England boasts such an interesting variety of places to enjoy, and many of them are within easy reach of Beantown.
Let us know your favorite fall day trips in the comments below!
Our Boston Guides