This article has links to products and services we love, which we may make commission from.

The most exhilarating way to capture all the beautiful sights the United States has to offer is by hitting up an epic once-in-a-lifetime east coast road trip. Traveling by road provides the most empowering steps towards self-development. When you embark on a mighty east coast drive, you take a journey into yourself to awaken a true sense of wanderlust.
If you have reached the point where you are ready to drop all those stressful responsibilities to unwind in the open air, here are the best east coast road trip ideas for you to discover something new about yourself while nurturing the soul in one of the most scenic and historically rich countries in the world.
The main east coast road trip stops are all the top favorites with tons of amazing things to do, such as Portland, Boston, New York City, Philadelphia, Washington D.C., Baltimore, Arlington, Savannah, Charleston, Miami, and Orlando.
If you have an extended vacation, you can drive the full itinerary from Portland, Maine to Miami in Florida or pick and choose shorter routes for fun weekend road trips along the east coast.
This guide details an epic east coast road trip itinerary, numbers of nights at each stop, top attractions to visit, what to eat and where to stay if arriving by RV (RV Parks) or car (campgrounds and apartments with free parking)!
Maine For Seafood, Craft Beer & A Famous Lighthouse – 1 Night
Start your journey from Portland, which is the largest town in Maine.
You can easily find plenty of hotels, bed & breakfasts, and apartments in the area to book for a family night.
Most accommodations have on-site parking facilities that you may want to enquire about and book in advance to secure your spot.
For example, Cambria Hotel Portland Downtown Old Port offers parking and can be booked via Expedia, Hotels, or Booking.
Check out our guide on where to stay in Portland for all the details.
Then you can lift that foot off the pedal for a walk and go sightseeing in town without worrying about where to park.
Portland is in the Old Port district, which is an incredibly bustling area with tons of museums.
While here, you can also pop by Cape Elizabeth to pose in front of picturesque beaches and lighthouses to take the perfect couple or family photo.
Cape Elizabeth is only five miles away, which should give you an excellent opportunity to hit the road again to catch some beautiful scenery.
Alternatively, leave the the car in the city and let someone else do the driving during this lighthouse tour.
Want to explore more of this state? Plan the perfect Maine summer vacation with our helpful guide to the islands and more.
Things to Do in Portland, ME
Since you are on such a limited timeframe, the Old Port culinary walking tour is the quickest way to try several local dishes.
You can go on a leisurely walk through the streets of Old Port and fill your soul with some history lessons as well.
Other Things to do in Portland
Wander the streets of Old Port and dine on seafood
Hop aboard this sailing tour of Casco Bay
See the sights from Portland Observatory
Things to Eat in Portland, Maine
Portland is famous for lobster rolls, which are the most iconic sandwiches in Maine.
You can also tuck into some oysters, clam chowder, blueberry cake, Bean Hole Beans, and Fiddlehead Ferns.
Portland is also known for its craft beer.
These are the staple dishes that will help you dive into a story about Maine's culture and history.
If you have a sweet tooth, look out for the popular donuts made from potatoes at The Holy Donut.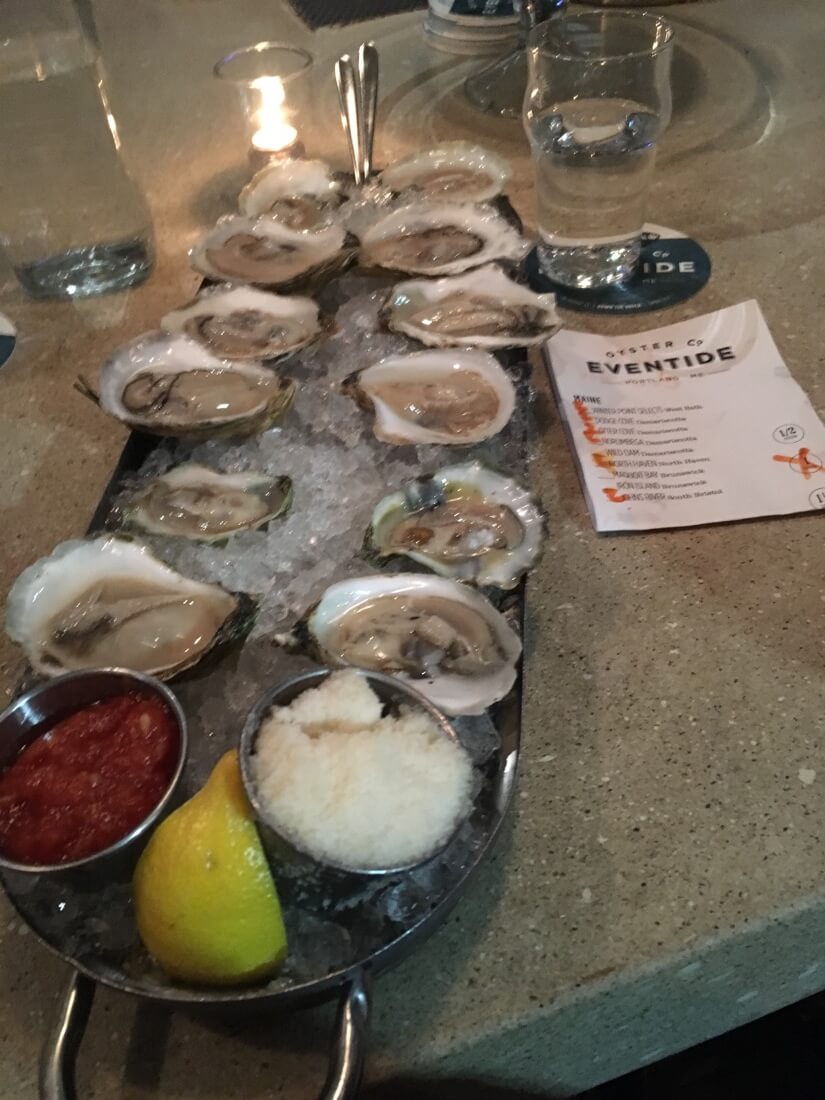 Parking in Portland, Maine
Portland has plenty of street parking. The meter's cost in Downtown, Central Business District, South Waterfront, and Pearl District is $2.00 per hour.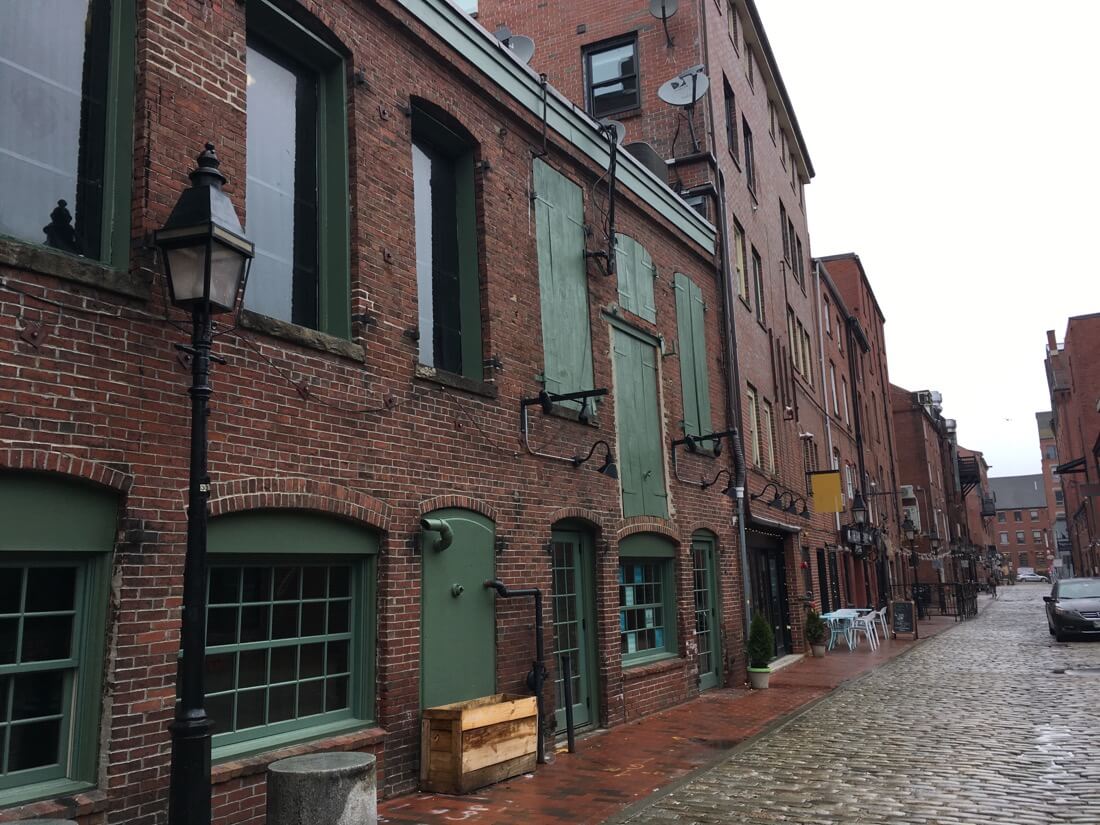 RV Parking and Campgrounds
At Old Orchard Beach, you can find plenty of highly rated spaces to park your RV.
These are Pinehurst RV Resort & Campground and Moody Beach RV Campground.
Even though the campground is called "Moody," you will still have a great time being close to plenty of lighthouses and lobsters.
These parks are ideal for family hiking, camping, fishing, and boating.
If one of your vacation goals is to get out more, check out our guide to the best East Coast hikes.
Massachusetts For History – 3 Nights (253.6 Miles, 4-5 hours from Maine)
After a night of rest, slip back into the driver's seat to head to Salem, Massachusetts.
This is where you will instantly be transported back in history to learn and experience the wonders of Witchcraft.
Salem – 1 Night
The family will have a great time exploring the Witch House and Salem Maritime National Historic Site.
After sundown, you can dare yourself to do some guided haunted tours to see all the cemeteries and night while listening to thrilling stories.
Things to do in Salem
To feel the hair on the back of your neck stand, the best walking tour is the 1-hour haunted ghost tour, starting outside the Peabody Essex Museum.
This guided tour will lead you through a well-rounded view of the history of Salem.
Some of the sights you will visit on foot are the Salem Witch Trials Memorial, Ropes Mansion, and the Old Burying Point Cemetery.
Alternatively, go it alone using this Salem audio tour on your phone.
Narrations kicks off at all of the important locations around the city and shares knowledge about each stop.
We can personally recommend the audio tour – it's ideal for those who want to learn about Salem at their own pace.
Read more about the best things to do in Salem.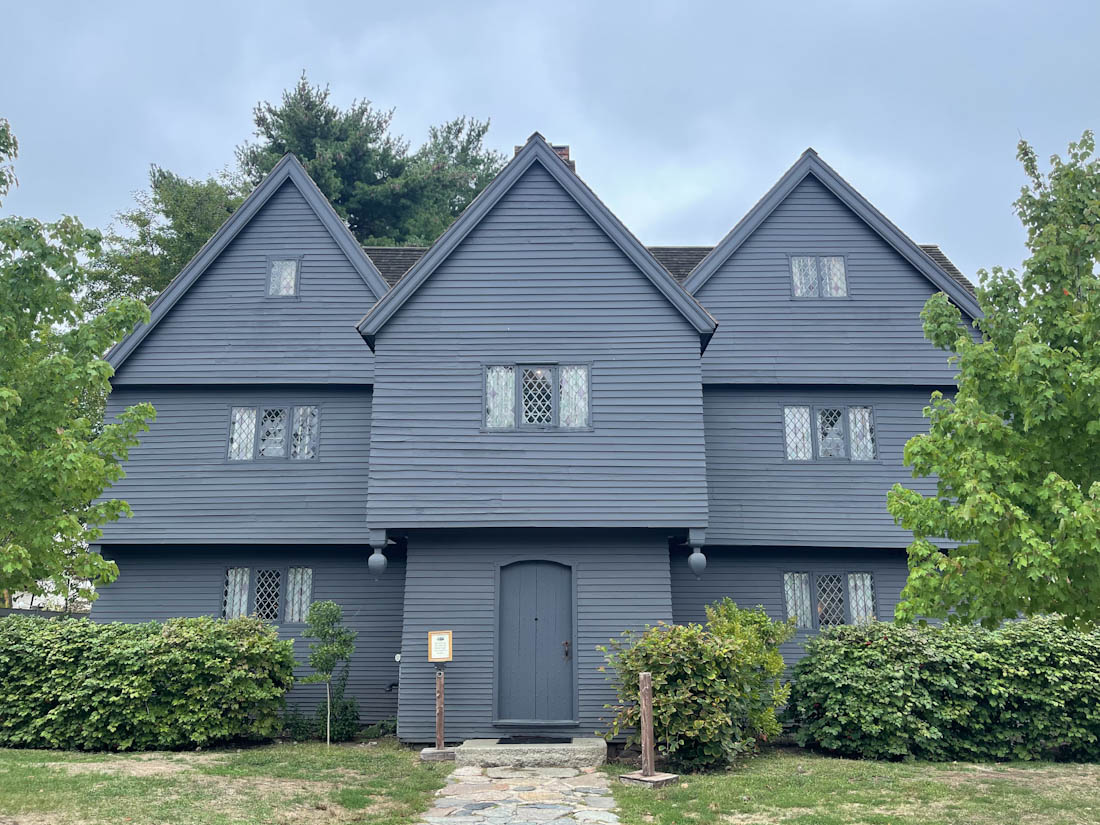 There are also rumors that the Hawthorne Hotel in the center of this beautiful quaint town is often frequented by ghosts.
You may want to go the extra haunted mile by challenging yourself to book an overnight stay in a haunted house!
The Hampton Inn offers parking and can be booked via Expedia, Hotels, and Booking.
Here's our guide to the best Salem hotels, some old, some new.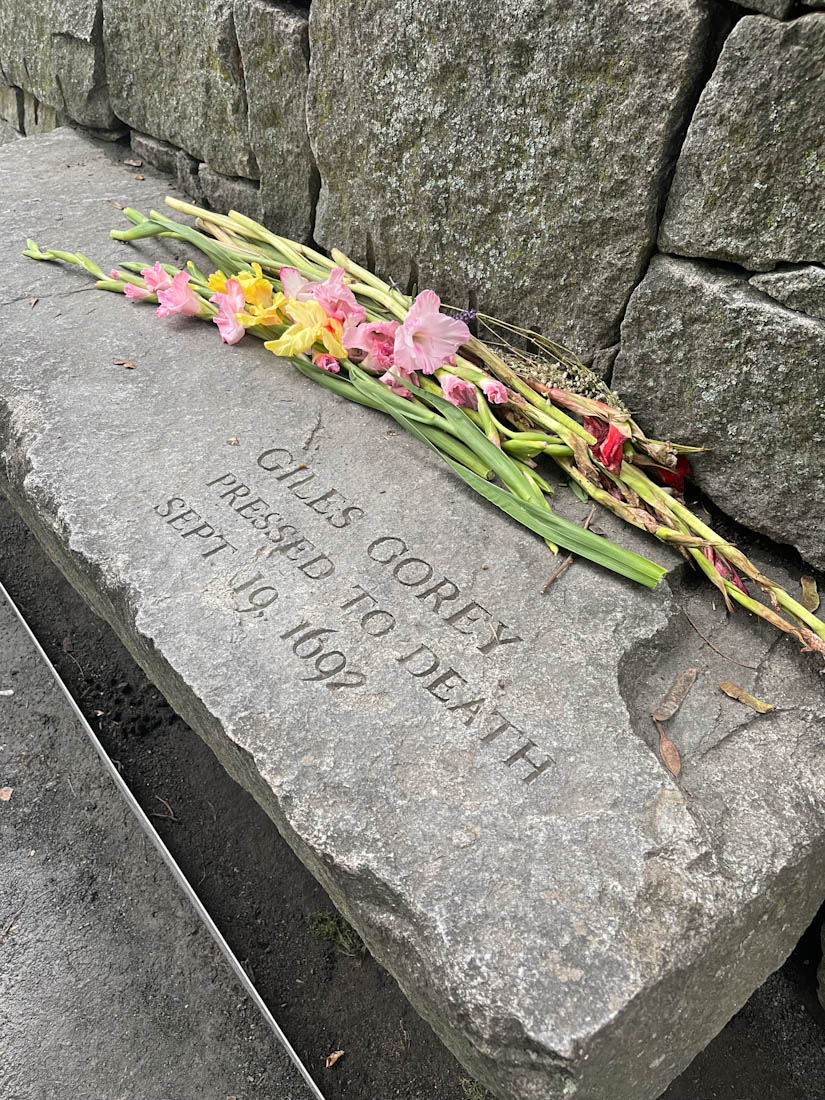 Other Things to do with 24 Hours in Salem
Learn more about witchcraft at the Salem Witch Museum (19 1/2 N Washington Square)
See the statue of Elizabeth Montgomery from Bewitched, which was filmed here
Shop along Essex Street
Visit the iconic Salem Maritime National Historic Site

Dine at Turner's Seafood at the historic Lyceum Hall

Stick around for this Salem night walking tour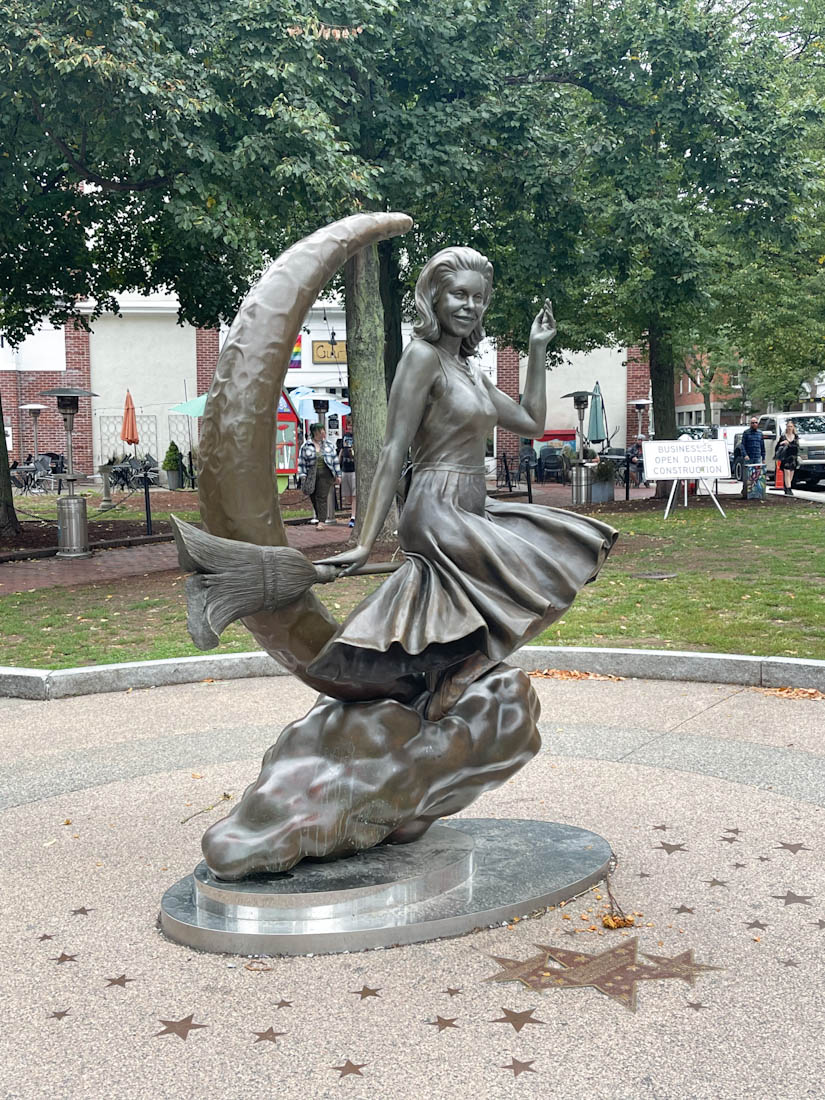 Things to Eat in Salem
For the best seafood, head to "The Lobster Shanty."
This dive bar in the center of town is hard to miss because they always put the funniest signs outside.
Although this famous eatery claims to have "lousy beer," it is refreshingly delicious with fried clams and lobster risotto.
For late-night weekend snacks, pick up a cookie from Fatties, or pick up candy at Ye Olde Pepper Company.
Parking in Salem
Salem has plenty of parking garages, such as South Harbor Garage, Salem East India Square Garage, and Museum Place Garage.
Parking outside of garages in the historic downtown area can get really expensive; there are permit-free streets if you're willing to walk a bit more though.
Alternatively, base yourself in Boston and take a day trip to Salem.
Boston – 2 Nights
Your next stop on this epic east coast family road trip after a heart-pumping night in Salem should be Boston, which is only 25 miles away.
Although Boston can be seen in one day if you get an early start, there is still a lot to do if you crave a proper feel of this friendly city.
Things to do in Boston
Trolley tours in Boston are the best way to see the city in a short time.
The best tour is sightseeing trolley tour, which only lasts 1.5 hours, but the guide on board fills you in on all the history and fun facts about this incredible city.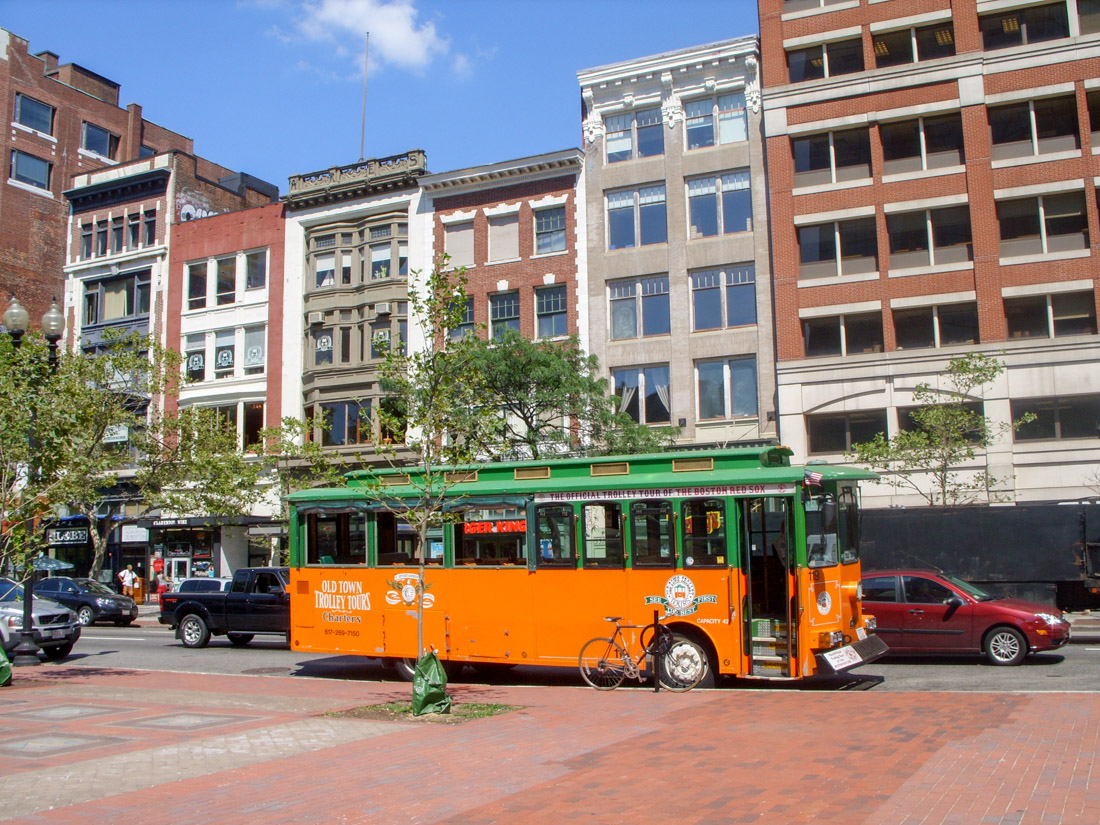 Later in the day, you can take to the sea on a Boston harbor champagne sunset sail from Rowes Wharf tour.
This way, you can sail on the Boston Harbor and share a glass of bubbly with loved ones to toast, sharing the magic of your east coast road trip together.
Boston is the perfect stop for delicious fresh lobster rolls and clam chowders at fun food markets such as Faneuil Hall.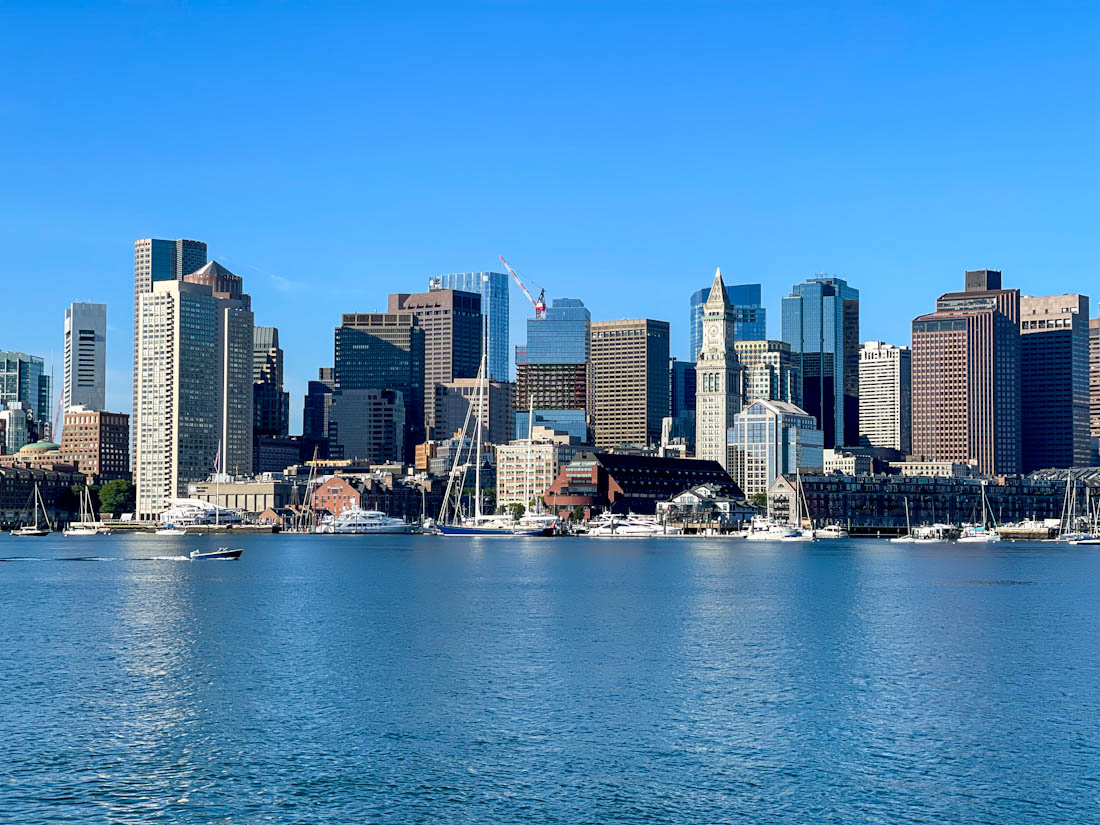 Other Things to do in Boston
Visit Boston Public Gardens
Learn about Boston's past during this historic walking tour
Do the popular Fenway Park tour which can be booked via Viator or GetYourGuide
Add a day for the famous Harvard University and MIT campuses
Our Boston Guides
Where and What to Eat
Faneuil Hall food vendors
Pinocchio's Pizza
Dunkin' Donuts
Enjoy a drink at the TV show Cheers bar
Parking in Boston
Like most cities, Boston also has plenty of parking garages. Some of them are Boston Common Garage, Boston Harbor Garage, Seaport Boston Parking, and Dock Square Parking Garage.
You can also get free street parking on Sundays where all the meters do not charge.
Even if you have a 2-hour time limit on a Sunday, you can park on the street all day without any penalties.
Get all the details in our guide to parking in Boston.
For a hotel for this leg of the East Coast road trip, check out our guide on where to stay in Boston.
Most hotels like the affordable Moxy Downtown, which you can book through Expedia, Hotels, and Booking, offer a parking valet service but it is expensive.
Boston is a pricy city, so do factor this in when planning your road trip.
Alternatively, RVs can be parked at Atlantic Oaks RV Resort, a massive park located in Eastham, less than two hours drive from Boston.
Eastham is one of the friendliest communities on Cape Cod, and you can find tons of like-minded families to socialize with.
This is also a gated resort, so you can always rest assured that your RV and belongings will remain safe.
Other Places to Visit in Massachusetts
Salem and Boston will give you a taster of what Mass has to offer, but there is so much more to this historic state.
If you can find more time or plan to return, consider the following stops too.
Visit the most painted building in the US, Motif No 1 in Rockport or the oldest seaport, Gloucester, established in 1623.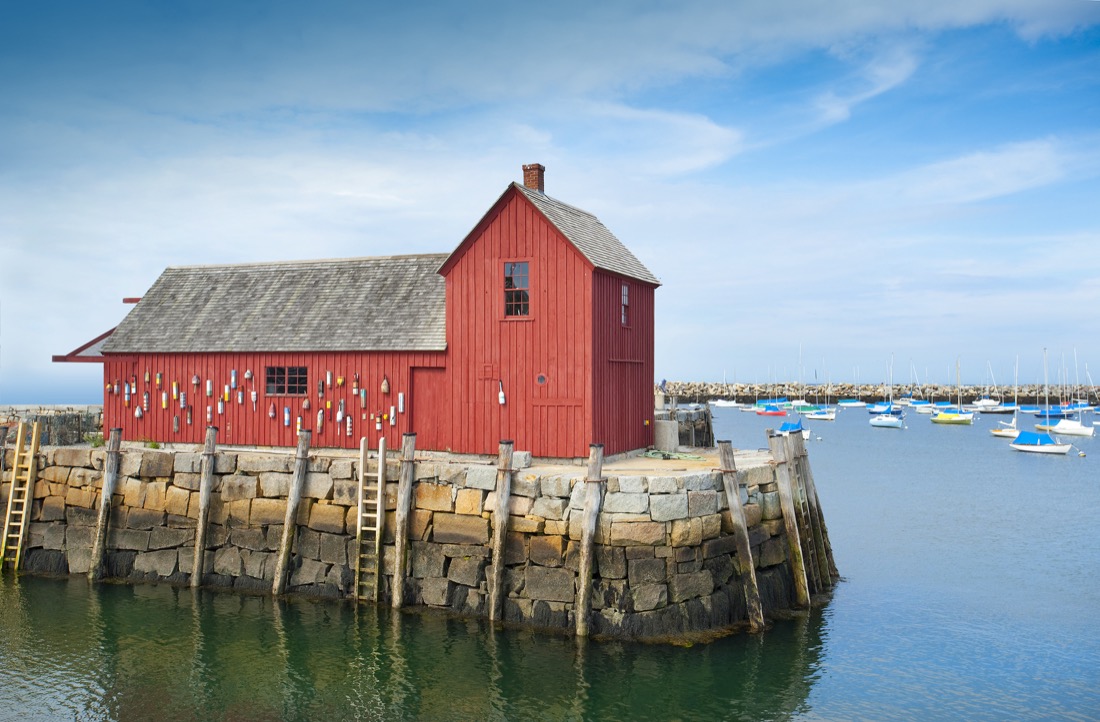 Enjoy the Appalachian Mountains, check out Mass MoCA and visit the Shakespeare & Company at Lenox in The Berkshires.
There are so many fun things to do in Amherst MA out in Western Mass.
Closer to Boston, learn more about the Indigenous people of Mass in Plymouth.
This is a popular Thanksgiving location for the parade and National Day of Mourning events.
Take the ferry to Provincetown at the tip of gorgeous Cape Cod.
Head further south and you can island-hop to the upmarket Martha's Vineyard to see the likes of the Aquinnah Cliffs.
If you are looking for even more island life, you can ferry from Martha's Vineyard to the idyllic 'far away place' Nantucket, too.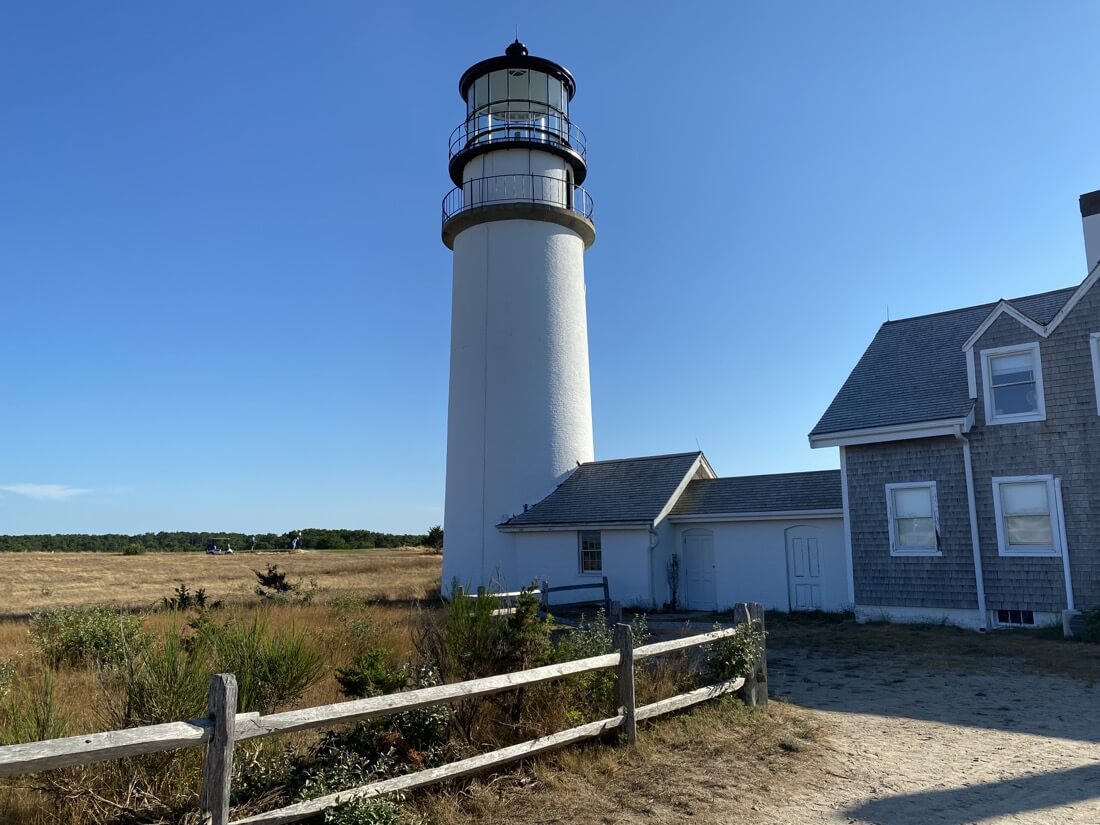 New York For Entertainment – 2-3 Days (219.6 Miles, 4-5 hours from Boston)
If you enjoy movie nights with blockbuster hits like Godzilla, King Kong, The Avengers, or even romantic classics, such as Breakfast at Tiffany's and When Harry Met Sally, the Big Apple should be the next hotspot on your east coast road trip planner.
This is where you can also catch some world-famous Broadway shows and shed lots of tears while watching Hamlet.
Naturally, you can spend a week in NYC so you're going to have to be selective when it comes to choosing which attractions you want to see and how you want to spend your 2-3 nights here.
Some tourist attractions also have long lines, so you may want to take your time visiting the famous sites rather than putting yourself on a rigorous schedule.
Things to do in NYC
New York City is the concrete jungle where dreams are made of.
Traffic is horrendous in Downtown Manhattan, which is why it is best to drop park your car and take the subway or walk to all the tourist hotspots, such as the Empire State Building, World Trade Center, Central Park, and Times Square.
For the best view of the entire city that will could just go viral on social media, head to the top of Rockefeller Center.
Top of the Rock tickets can be bought throughout the year, and it is one of the best lookout points to marvel at the entire skyline away from all the crowds.
Check out our guide comparing New York's observations here.
Once you are back at ground level, get lost in the madness of Times Square on your way to a more tranquil stroll, or cycle, through Central Park.
Catch a Broadway show, then dine at Hell's Kitchen.
Learn more about the European immigrants that moved to the US during the Ellis Island and Statue of Liberty tour.
Catch a Yankees game or head across the striking Brooklyn Bridge for street art in Bushwick and craft beer.
Things to Eat in NYC
The problem with New York City is that there is too much to eat.
Popular items include:
Food cart hot dogs
A slice if pizza the size of your head
Food with a performance at Ellen Stardust Diner
Italian with karaoke at Da Mariano's
Burgers, sushi, snacks at TSQMKT
Lunch at Katz
Pierogies at Veselka in the East Village
Fancier dining options at a Hell's Kitchen restaurant
Smorgasvird in Brooklyn
You will always find restaurants, small cafes, and food trucks, no matter where you go.
To sightsee and tour at the same time, try the food tour of Greenwich Village.
This walking tour will guide you through all of NYC's culinary favorites in Greenwich Village.
You can also see the Stonewall National Monument in Greenwich.
Romantic restaurants, comedy shows, live music, there's lots of evening activities to do in the city that never sleeps and we've documented them in our guide to things to do at night in NYC.
While it is unlikely you'll be doing this East Coast road trip in winter, New York at Christmas is a magical time to visit for shopping and shows.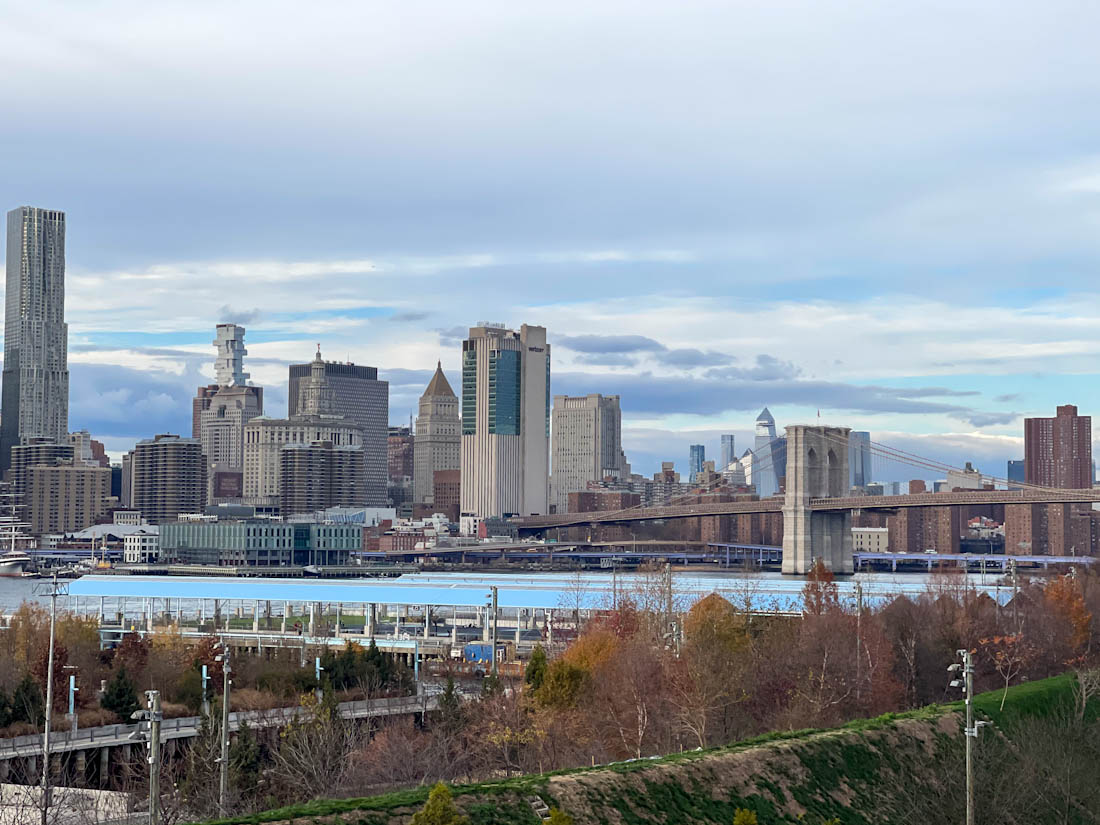 Parking in New York
New York City has tons of parking garages that you can pay to use all day that cost anywhere between $18-$30.
There are designated "Manhattan Free Parking" areas during specific hours of the day, and the meters are all free on Sundays.
You should also download the Park NYC app to make payments if you are not near a machine during a tour.
To visit NYC, you can safely park your RV at Liberty Harbor RV Park, Camp Getaway, Wiley Post, and Camp Getaway Brooklyn Tamarak and Goldenrod.
Pennsylvania For Cheesesteak – 1-2 Days (95 Miles from New York City, 3 hours)
The next place to hit after New York City is Philadelphia in Pennsylvania, to learn tons of history and indulge in the best cheesesteaks.
This is one of the oldest cities in the United States, and you can see and feel that in all the architecture and old cobblestone streets while driving into downtown Philly.
Things to do in Philadelphia
This is where you can check out the Liberty Bell, the most recognizable landmark representing American freedom.
The iconic relic can be found at Independent Park and traces back to the suffragists, abolitionists, and various other groups who fought for all the freedoms we enjoy in the modern world.
The bells were also rung when the Declaration of Independence was read on July 8, 1776.
With the whole family, you can Segway down the streets along the Delaware River and zip through the Museum and Historic Districts of Philly on a Segway adventure tour.
This way, you can also catch Chinatown, and take a group photo in front of the famous steps where "Rocky" was filmed.
Things to Eat in Philadelphia
Spend a full day in Philly to visit the Liberty Bell, and then hit the Reading Terminal Market.
This is one of America's oldest and largest public markets that opened in 1893.
It is housed in a National Historic Landmark building where you can find tons of locally sourced poultry, meats, and produce.
If you love cheesesteaks, this is where you will find plenty of vendors who compete to create the best sandwiches.
For families and groups with different tastes, the Reading Terminal Market always has something for everyone because there are several small eateries under one roof.
Parking in Philadelphia
Philadelphia has downtown parking garages that can average up to $18.50 for 12 hours or $21 for 24 hours.
You can also park for free in the center every Wednesday after 5pm or 6:30pm on rush-hour streets.
RV Parking and Campgrounds
Some of the best RV campgrounds near Philadelphia are Lake Owego Camp, Cramer Hill CDC, and Philadelphia South/Clarksboro KOA.
For hotels wth parking consider the Philly Inn & Suites which can be booked through Expedia, Hotels, and Booking.
Delaware (103 Miles, 2-3 hours from Philadelphia)
Unless you are keen on trying your luck at a game of crabs or roulette in Atlantic City, the next stop on your east coast itinerary should be Wilmington, Delaware.
Don't confuse this with Wilmington in North Carolina!
Like Philadelphia, you can cover Wilmington in one day.
Wilmington
First stop could be the former Henry Francis du Pont Estate, Winterthur Museum, Library, and Garden.
60-acres of garden and changing exhibitions, including the Netflix The Crown's costume exhibition.
You can also stop by a free jazz festival that celebrates the life of composer and trumpet player Clifford Brown.
The Clifford Brown Jazz Festival is a commemoration of the musician's life and a celebration of Wilmington's local community, where everybody has a great time sitting on lawn chairs in the park while sharing chicken and potato salad between musical sets.
For more ideas, check out our guide on things to do in Wilmington, DE.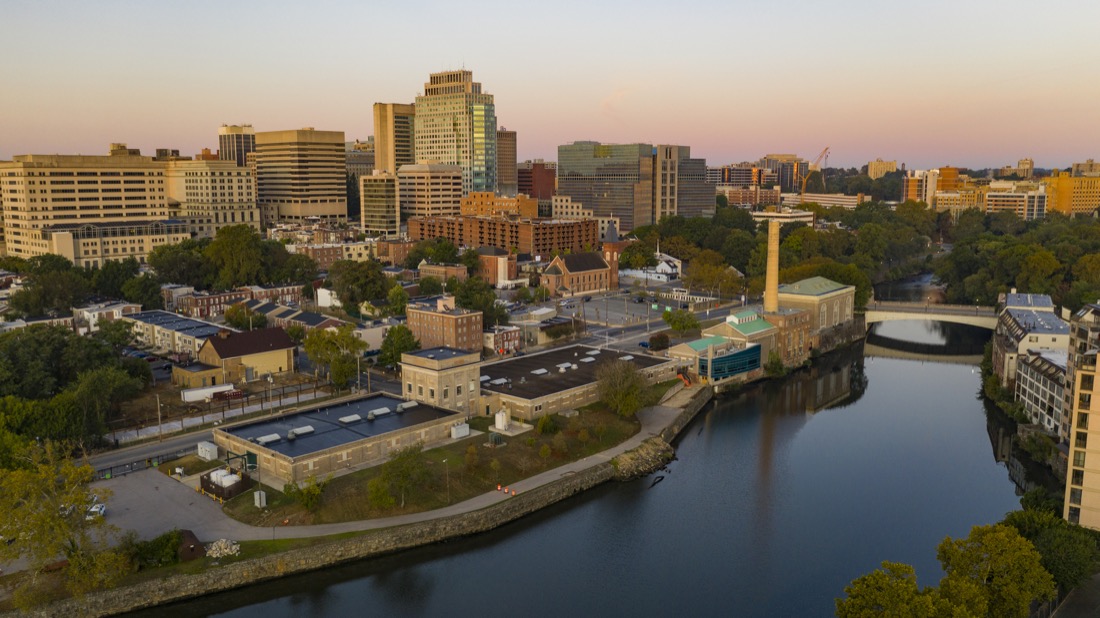 Things to Eat
Capriotti's Bobbie is the most iconic sandwich in Delaware.
It has stuffing, turkey, and cranberry sauce on a sub.
This sandwich itself is a Thanksgiving meal.
Alternatively, you can also try some blue crabs that are caught fresh each day in Delaware Bay.
If you have more time and like the ocean, consider one of these beaches in Delaware.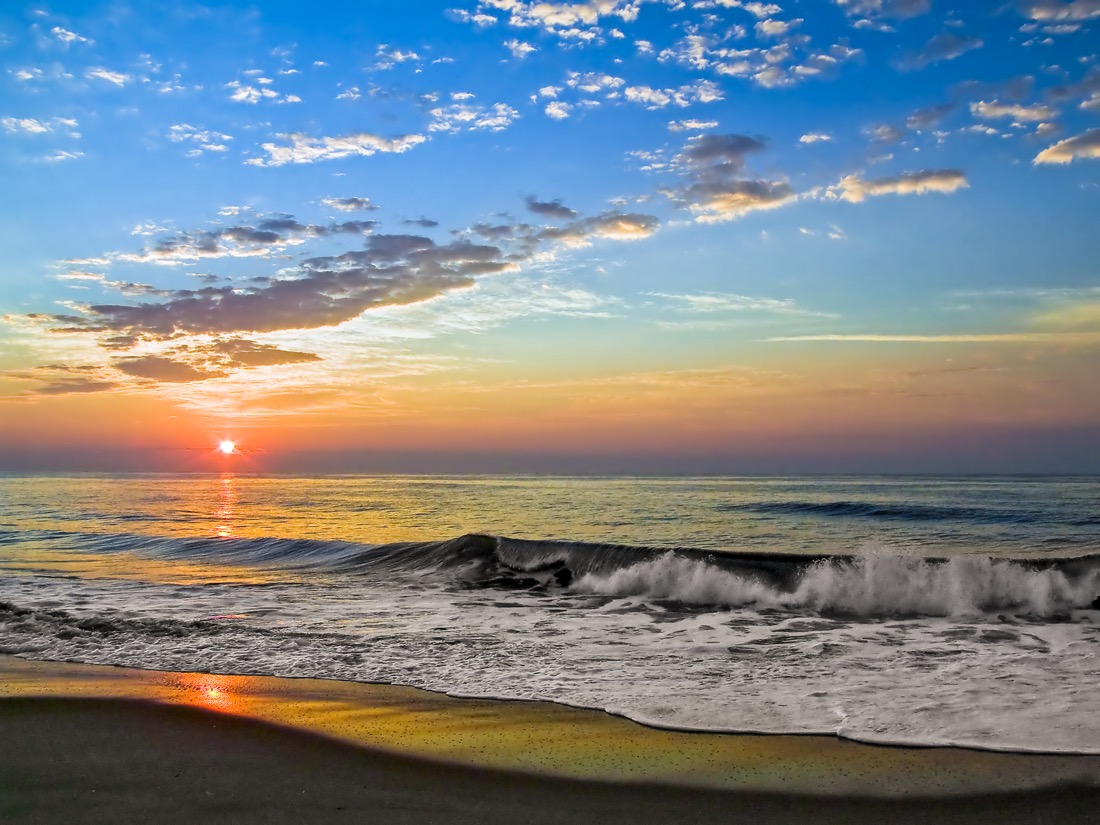 Parking
You can find plenty of parking garages in Wilmington, such as Colonial Parking Inc., Wilmington Parking Authority, and HyPark Garage.
For street parking, you can download the Parkmobile App to pay using your smartphone. Otherwise, the meters all accept coin payments.
Lot parking at some hotels and restaurants is free.
Doubletree by Hilton Wilmington Downtown offers on-site parking and can be booked through Expedia, Hotels, and Booking.
RV Parking and Campgrounds
Some of the best and safest RV campgrounds in Wilmington are Fox Point State Park, Winterset Farms, Compton Park, and Park Place Mobile Home Community LLC.
Do not forget to visit Riverwalk, Airlie Gardens, and museums before getting back on the road towards Baltimore, Maryland.
Check out our guide to romantic things to do in Delaware too.
Maryland For Food – 1.5 Days (70 Miles, 1-2 Hours from Wilmington)
Baltimore is a seaport city that will capture your heart with an epic music scene, several attractions, and award-winning restaurants.
Things to do in Baltimore
For some awe-inspiring history, head to the Edgar Allan Poe House and Museum.
This historical site is the original home of 1800s writer Edgar Allen Poe.
The museum contains all the stories and artifacts from his life, and you can read plenty of his poems and short stories that were written when he lived in Baltimore.
After all that sightseeing, you and your loved ones will indeed deserve a celebratory drink.
Try the craft beer brewery tour, which will take you through the hidden craft beer scene.
This way, you can gain tons of fun knowledge about all the delicious pairings with a mix of history.
Check out our whole list of great things to do in Baltimore for more inspiration.
Things to Eat in Baltimore
Baltimore is where you will find Oprah Winfrey's favorite crab cakes from Pappas.
In north downtown, you can see the original Washington Monument and a cultural center full of museums, bars, and the George Peabody Library.
If crab cakes are not enough, you can explore Lexington Market to find 66 different food vendors and experience all the tastes of Baltimore.
The best dishes to try are American classics, such as Cajun, BBQ, and more seafood under one roof.
Parking in Baltimore
Some of the city's best parking garages are St. Paul Place Garage, Baltimore Garage, and Guilford Avenue.
On Sundays and public holidays, you can also find free street parking in metered spaces.
Tru By Hilton Baltimore Harbor East has parking close by, with affordable overnight rates when reserved through the hotel.
Check out your vacation dates at Expedia, Hotels, and Booking.
RV Parking and Campgrounds
To park your RV, head to Orem's Trailer Park. The people are very friendly there, and they provide excellent on-site management.
You can have your RV on under shady trees, and the area feels more like a fun neighborhood.
If you prefer to skip the city, head to Ocean City for some beach action.
Washington D.C. For Free Museums – 2 Days (38 Miles, 1 Hour from Baltimore)
Next on your best road trip on the east coast should be the political capital of the United States, Washington, D.C.
This is where you may want to spend a couple of days visiting The White House, The Lincoln Memorial, and Capitol Hill.
It is a perfect break to rest from driving because you can explore everything by Metro or rental bikes.
You can walk the halls of the Smithsonian Museums or stand in front of the Lincoln Memorial and picture Martin Luther King Jr delivering his famous "I Have a Dream" speech in 1963. Then half a mile away, you can also visit his memorial.
This location is also called "America's Front Yard" because these monuments honor the presidents and founding fathers of American democracy.
At nighttime, you can hop aboard a trolley for a moonlight tour.
Try to time your visit for the peak of cherry blossoms in Washington DC in late March and early April; it's a stunning scene!
Things to Eat
Some of the most famous signature dishes in D.C. are blue crabs, Chesapeake oysters, Salvadoran pupusas, greasy burgers, chicken wings in Mumbo sauce, and the iconic half-smoked ground pork and beef sausages.
You can't miss Ben's Chili Bowl on U Street; it's one of our favorite things to do in Washington DC.
Parking in Washington DC
Washington D.C. has metered parking that you can pay for using cash and credit cards.
However, these are tricky to find near monuments, memorials, and the White House.
Therefore, you may want to leave your car at the hotel and use public transport for sightseeing.
RV Campgrounds
Rock Creek Park Grove and National Park Service East Potomac Yard are the best spots for RV parking with a secure family-friendly atmosphere.
Alternatively, you can also park a small RV rental at Union Station overnight, which is in the heart of the city.
Virginia For History 1 Day (5.3 Miles, 20 Minutes from Washington D.C.)
At this point on your east coast drive, you are heading south and will want to experience the famous "Southern Charm."
Therefore, Arlington in Virginia should be next on your east coast attractions road trip.
Virginia is home to Monticello and Mount Vernon, with the prettiest parks and most beautiful memorials.
You can visit Arlington National Cemetery, the National 9/11 Pentagon Memorial, and the U.S. Marine Corps War Memorial.
Arlington
Arlington National Cemetery is across the Potomac River and consists of 624 acres of land housing graves of soldiers who died since the American Civil War.
The United States Marine Corps War Memorial is a military monument dedicated to those killed since 1775 defending the country. This monument is also known as the "Iwo Jima Memorial."
Nature lovers can take a break from the east coast drive to embark on the Mount Vernon Trail, a 17-mile paved path running parallel to the Potomac River and George Washington Memorial Parkway.
This tour pass also allows you to beat the crowds.
You can take pictures of the Iwo Jima Memorial, watch the changing of the guards at Arlington Cemetery, and catch the eternal flame at John F. Kennedy's grave.
Check out even more day trips from DC if you can extend your stay longer.
Things to Eat
Some of Arlington's best restaurants are Yayla Bistro, Pupatella, Jaleo, Mele Bistro, Green Pig Bistro, and Big Buns Damn Good Burgers (Yes, we love this epic restaurant name too!).
Parking
Street parking lots and garages in Arlington are very affordable.
You can spend $5 per hour or $25 for the entire day (24 hours). By downloading the Arlington Customer Assessment and Payment Portal App (CAPP), you can pay for all your parking tickets online.
North Carolina For Scenic Drives – 1 Day (280 Miles, 5 Hours from Virginia)
Driving through North Carolina, you will want to experience the Linn Cove Viaduct on Blue Ridge Parkway, especially during the fall season with the stunning foliage.
Visiting in the summer instead? Here's our guide to the best family-friendly beaches in North Carolina.

Charlotte in North Carolina has a vibrant history. There is plenty of gorgeous architecture to make evening strolls extra special.
You can also visit the Charlotte Museum of History, the Carolinas Aviation Museum, and the North Carolina Transportation Museum.
Aside from museums, you can also check out the NASCAR All-Star Race and treat the kids to a fun afternoon at the Carowinds Amusement Park.
When you are exhausted from all the walking, you can go for the 90-minute electric cart sightseeing tour.
This will take you on an electric cart above the vibrant city of Charlotte for 1.5 hours. Your expert guide will tell you all about the history and local culture.
Check out our favorite things to do in Charlotte for even more ideas.
Don't miss our guide to the best national parks on the East Coast.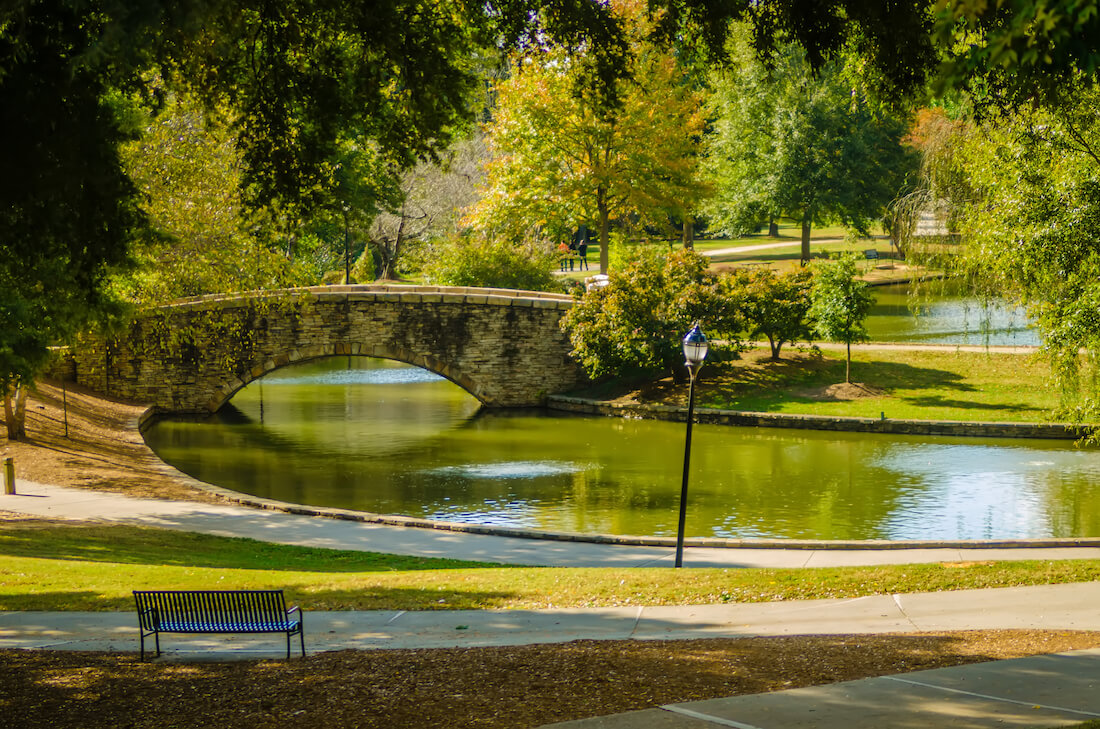 Things to Eat
Charlotte is famous for its southern barbecues. You can feast on the best barbecue chicken, pork, and lamb with a side of coleslaw, cornbread, spicy smoked sweet potatoes, beans, and jalapeno cheddar corn cakes.
If you have a sweet tooth, there are plenty of Krispy Kreme Doughnuts in this city to hit the right spot.
Parking
On weekends, you can find free metered parking. These are also free on weekdays between 6pm, and 7am. It should only cost you $1 an hour, or $28 for the whole day.
RV Campgrounds
Glenwood Acres RV Park is the best-rated campground for a no-frills family-friendly vibe.
You will also be near plenty of gas stations and picnic tables to enjoy this beautiful green and secure area.
Two days should be enough to visit both Virginia and North Carolina to appreciate the rich history before heading down to South Carolina and then Savannah, Georgia, for more Southern hospitality.
South Carolina For Nature – 1 Day (209 Miles, 3.4 Hours from Charlotte)
Charleston in South Carolina will pull you back in time again as you soak up the Spanish-mossed and brick-walked ambiance of downtown.
Learn about the city's history with locals at the Gullah Geechee Tour North Charleston Experience.
With plenty of walking tours, you can visit The Nathanial Russell House, McLeod Plantation (there's a tour recognizing the Gullah people in Lowcountry), Drayton Hall, and then head off to Charleston City Market for some food, drinks, and souvenirs.
One of the coolest souvenirs to purchase is the weaving baskets made by "basket ladies."
These are made from local palmetto leaves and sweetgrass, and the weaving craft has existed for centuries, being passed through generations since originating in West Africa.
Things to do in Charleston
See the Ravenel Bridge
Enjoy a ferry ride to Fort Sumter
Visit Charleston's Old City Jail
Join this haunted bar crawl
Be wowed at the Angel Oak Tree at Angel Oak Park (Johns Island)
Things to Eat in Charleston
Charleston is known for crab soup, shrimp and grits, cornbread, hush puppies, Frogmore stew, fried green tomatoes, and okra soup.
You can also try some Duck club with duck fat fries if you really want to indulge.
Here's our guide to where locals eat in Charleston.
Parking in Charleston
You can park on Queen Street for a flat rate of $7 after 3pm, then it reduces to $5 after 5pm.
Visitor's Center Garage also has the same prices.
Metered parking is free on Sundays and public holidays. Otherwise, you will need to pay between 9am and 6pm.
RV Campgrounds in South Carolina
The campground at James Island County Park has the best facilities for RV parking.
You can find extra spaces to store your belongings, clean bathrooms, free Wi-Fi, barbecue grills, and an activity center on this gorgeous 643-acre natural park.
Georgia For History – 1–2 Days (224 Miles, 3-4 Hours from Charleston)
Savannah, Georgia, oozes plenty of Southern charm and is one of the most family-friendly places to visit.
Tick off your east coast road trip attractions list by visiting Forsyth Park, a green and lush landscape with open-air concerts and farmer's markets.
There is a gorgeous fountain in the middle that is very Insta-worthy for epic photos.
An old-school hop-on hop-off trolley is the best way to go around Savannah's historic district.
This will also help you save a lot of time if you only want to spend a day in Georgia.
Some of the famous iconic sites you will see are the Cathedral of St. John the Baptist, the Sorrel Weed House, the Mansion of Forsyth Park, the Pirates House, the Mulberry Inn, and the Juliette Gordon Low Home.
Savannah also has a gorgeous waterfront. Here you can embark on a fun tour called riverboat cruise.
This cruise includes a live commentary about Savannah's history, and you will also get to hear the Old Fort Jackson cannons go off.
Things to do in Savannah
Shop on Broughton Street
Take a 2-hour riverboat cruise on the Savannah River
Visit the Ralph Mark Gilbert Civil Rights Museum
Do the hop-on/off trolley to Savannah's top attractions
Take a tour of the US's most haunted city
Explore Forsyth Park and Fragrant Garden
Visit the prettiest street in the US, Jones Street
Learn about the Gullah-Geechee culture at Pin Point Museum
You may also like our guide to free things to do in Savannah.
Things to Eat
The most popular foods to try in town are fried green tomatoes at Tubby's Seafood, shrimp and grits, and fresh pralines at candy kitchens when you visit the City Market.
Check out our article on where to eat in Savannah for full details.
Parking
In the Historic District north of Liberty Street, street parking is free on Sundays. After 8pm, it is also free on weekdays. Metered spaces can cost anywhere between $0.30 per hour to $1.00.
RV Campgrounds
Red Gate Campground & RV Resort has the best ratings in Georgia. It is surrounded by plenty of walking trails, fishponds.
Your family can also enjoy the outdoor pool on hot days, followed by a barbecue feast using the onsite grills.
Florida For Theme Parks & Beaches – 4 Days
Finally, the last stop on your east coast of America road trip will be the warm and sunshine state of Florida.
This is a perfect finish to wrap up the best road trip on east coast, and your family will be super excited to spend a few days at Walt Disney World.
For a quiet day, take an airboat tour through the Everglades and then spend a few hours in Jacksonville before you exhaust yourself at Orlando's Universal or Disney theme parks.
Here is where everyone gets to relive their childhood dreams by visiting Magic Kingdom Park, Epcot, Disneyland Park, Universal Studios, Hollywood Studios, Animal Kingdom, Disney Springs, and so much more.
This part of your east coast of America road trip may also be the most expensive, but it is worth generously spending because the magical adventure at Disney is unlike any other.
Depending on the season, you may need to purchase all your tickets in advance and regardless of the time of year, invest in time skip!
You can visit the Florida in fall and find lots of fun things to do.
For more time-saving and budget tips, check our guide to Orlando on a budget.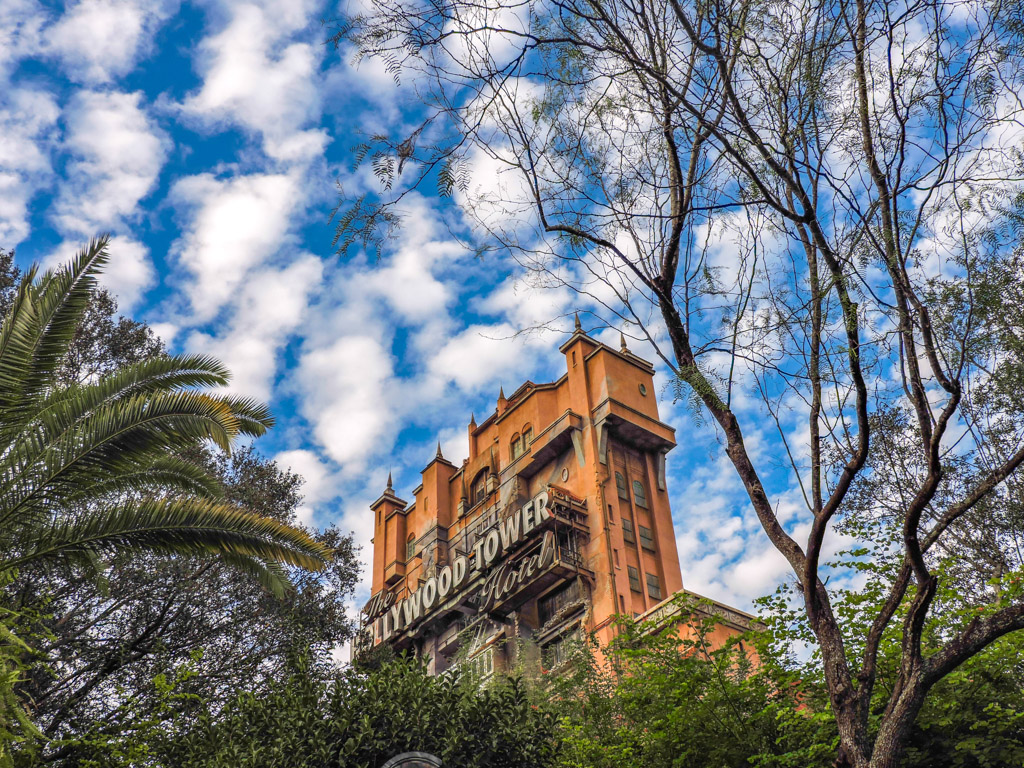 Orlando isn't just about the parks!
There are lots of attractions along the famous International Drive, such as a Ferris wheel and Ripley's Believe It or Not!
You can also take a day trip to Kennedy Space Center to visit the complex or have lunch with an astronaut.
You can even train to be one!
Our Orlando Travel Guides
Florida also has tons of pristine beaches, especially at Miami Beach, where you can also indulge in a cocktail and Cuban sandwich.
Miami Beach and City is famous for its incredible nightlife, shopping, distinct neighborhoods, and beautiful people!
Our Miami Guides
Miami By Neighborhood
Parking and RV Campgrounds
You can always find parking at all the major theme parks in Florida. It may cost up to $25 to $50 per day.
You can also leave your camper, trailer, or RV for $30 per day.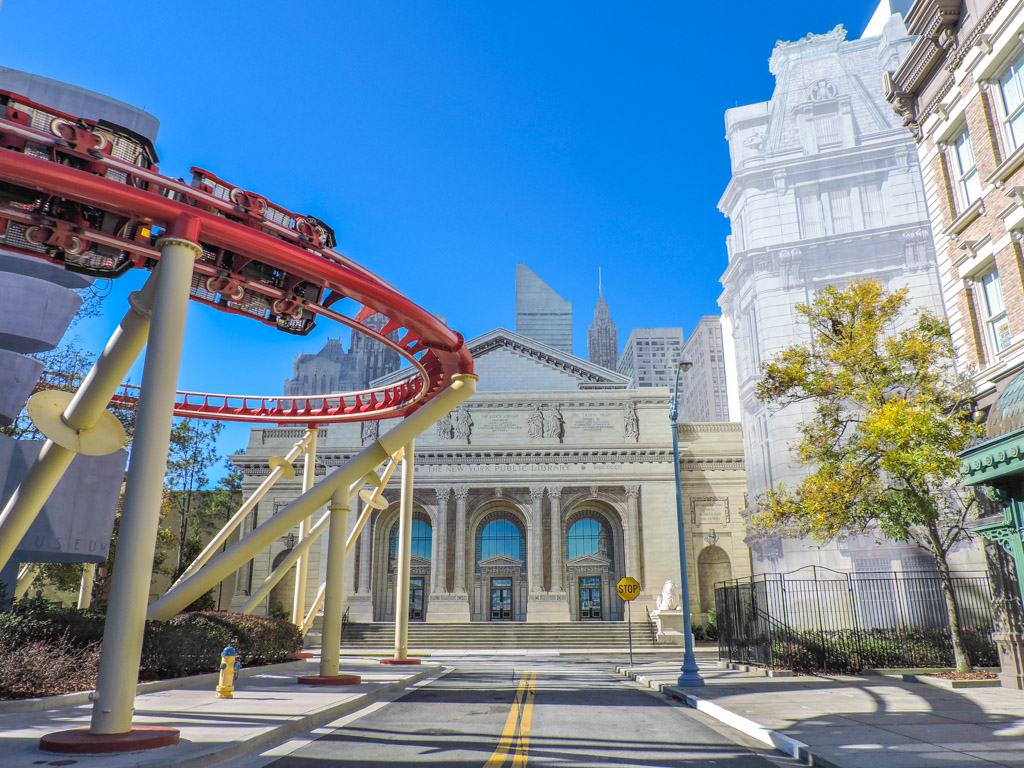 Why Take an East Coast Road Trip?
Instead of indulging in the same overcrowded tourist hot spots like everybody else, you are actively seeking your own unique experience to take the best photos ever.
The best road trip on East Coast will help build a myriad of incredible memories to last you a lifetime.
These are the kind of adventures that you will never realize from the comfort of catching flights all the time and spending several hours at airports getting all your liquids confiscated while being patted down by a TSA agent.
By cruising down all that natural greenery and fresh air, you will get a much-needed break to discover what makes you tick and what has been lost in all the busy hustle and bustle of daily life at home.
You can clear your mind by finding tons of inspiration in America's many wonders without sticking to the usual expensive meals, stylish areas, and luxury hotels.
An east coast drive is also a great way to reconnect with your love for exploration while meeting other like-minded travelers. There is no better way to feed and nurture the travel bug for a free-spirited soul like yours.
Do not hold back anymore. Get yourself and your loved ones out there with a great east coast itinerary to build your own personal library of amazing stories that no one will believe.
Make sure to bring that fully charged camera because we all live by the social media-crazed mantra of "pics or it didn't happen."
Trust that you will never need to add any filters because the natural beauty is visually breathtaking.
Although it is possible to do a quick 5-day east coast road trip and complete all these spots, you would want to aim for 1-2 weeks to get the most of everything there is to do.
This way, you will not be putting a lot of pressure and stress on yourself and your loved ones to rush from one place to another.
This is one of the best east coast RV trips for a large group because it is an easy drive on turnpikes or highways with tons of signs to help you stay on track.
Then you can focus more on playing "never have I ever" with the family or busting out those karaoke voices for some fun tunes.
Some of the most entertaining ones to sing along to where everybody knows the lyrics are "I'm Gonna Be" by the proclaimers and "America" by Simon & Garfunkel.
For a more profound feeling during those gorgeous sunset drives, nothing beats "Free Bird" by Lynard Skynard. Most modern RVs and rental cars have Bluetooth features to connect your Spotify playlist, or you can go old school and make a mix CD with all your favorite adventure-evoking hits.
When you have your rental car or RV, family and friends, packed luggage, and a sense of wanderlust ready, this is one of the best road trip east coast ideas that you should never miss.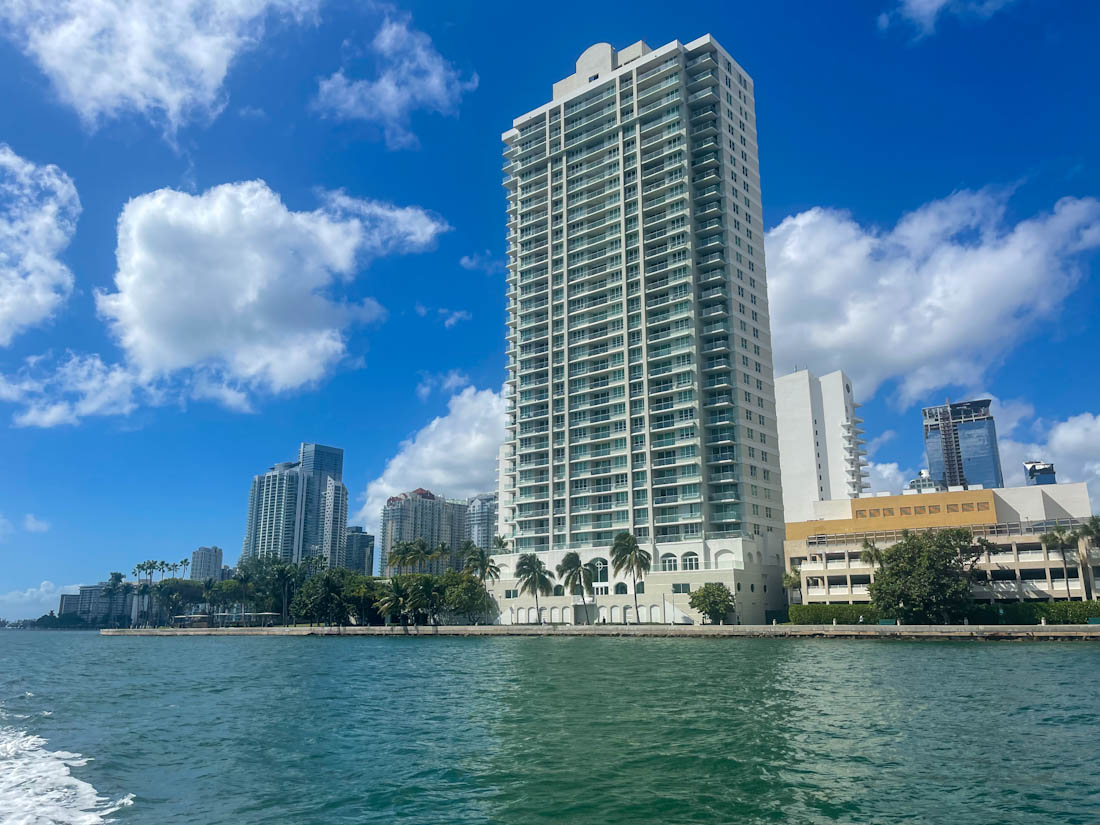 Final Comments
Everybody should experience this ultimate east coast road trip at least once in their lives. There is no better way to connect with family and friends than traveling through the great American roads.
Aside from all the open-air and catchy tunes, you can always find little random places on the way, such as quirky diners and local markets.
These would be difficult to reach if you only rely on flights and public transport.
Many families in America go on road trips every year, so there will always be plenty of parking options in all the locations mentioned above.
America is the land of the free, and the best way to embrace that freedom is by hitting the open road where you focus more on the journey rather than the destination.