This article has links to products and services we love, which we may make commission from.

It's time to wear your green and enjoy all the fun DC St. Patrick's Day events! With a wide variety of Irish pubs, events, and historical spots to check out, visitors and locals of all ages can enjoy the celebrations on this fun and festive day in the nation's capital.
In DC, you won't find the same large Irish-American community as in other East Coast cities like Boston, New York, or Savannah.
But you will find a multi-national community that's always ready to celebrate an international or cultural festival.
You might also like our guide to the best things to do in DC while you're here.
And you could get lucky with St. Patrick's Day coinciding with the cherry blossoms in DC — plan your visit to catch this stunning springtime display.
Things to Do on St. Patrick's Day in Washington DC
Stay in the city and enjoy these pubs, events, and cultural spots where you can celebrate all things Irish and Ireland.
Unfortunately, there is no St. Patrick's Day parade in DC anymore; Covid put a stop to that and the parade won't be returning.
There is another one nearby, however, which you can see in the next section below for events near DC.
Ireland at The Wharf
Celebrate St. Patrick's Day in DC with one of the biggest festivals: Ireland at The Wharf.
Enjoy the Guinness Beer Garden on District Pier, watch the pipers and drummers as well as the Irish dancers, learn about Gaelic football, eat some traditional Irish food, and watch the Six Nations rugby matches playing all day, too.
The Wharf is one of DC's newest cool spots along the water, so St. Patrick's Day is a perfect excuse to get over there if you haven't yet!
To get there via Metro, take the Green Line to Waterfront or get off at L'Enfant Plaza (Green, Orange, Blue, Yellow, or Silver Lines).
There is a free Southwest Shuttle available from there or you can walk about 8 minutes to The Wharf.
Kirwans on the Wharf
This local Irish favorite always knows how to celebrate — in fact, they're the host of the Ireland at The Wharf festival!
Whether it's on St. Paddy's Day itself or around it, Kirwan's on the Wharf (749 Wharf St SW) is always a fun time.
Enjoy Irish ales and whiskeys alongside traditional food like Shepherd's Pie or Bangers and Mash.
The menu is diverse and elevated and the setting feels like a classic Irish bar with dark wood interiors where everyone is welcome.
Take Your Dog on a St. Pawty's Day Bar Crawl
DC can be very dog-friendly, and the St. Pawty's Day event is a perfect example.
Head to Dacha Beer Garden in Navy Yard (79 Potomac Ave SE) to start the pawty with your pup, then walk to nearby bars with fellow dog lovers.
Don't worry, tickets are only needed for humans; dogs can join for free.
Get there via Metro on the Green Line to Navy Yard-Ballpark; it's about an 8-minute walk from there.
The Dubliner
A classic Irish pub in DC, head to The Dubliner (4 F St. NW) for all the dark-paneled wood fittings you'd expect in a traditional old-world bar.
On St. Patrick's Day, you can expect live music, plenty of beer, and lots of other folks there ready to party.
The Dubliner has been at this site since 1974 and is still family-owned and operated.
The pub is in the Phoenix Park Hotel, so you can make a whole weekend of it and stumble just upstairs.
Kelly's Irish Times
Just next door to The Dubliner, you'll find Kelly's Irish Times (14 F St. NW), another classic Irish bar that's been hosting fun times since 1978.
With a full menu, plenty of pints and Irish whiskey to choose from, plus a DJ, you can head to Kelly's for late-night fun all year-round, but especially on St. Paddy's Day!
Be sure to check out the famous Kelly's wall, which has a wide array of memorabilia and knick-knacks — it's always a good conversation starter!
Both The Dubliner and Kelly's are just across the street from Union Station (Red Line on the Metro).
Visit St. Patrick's Church in Washington DC
If we're celebrating the patron saint himself, then a stop at St. Patrick's Catholic Church (619 10th St NW) seems appropriate.
This is actually the oldest church in Washington DC; it was opened back in 1794.
Located in the popular Penn Quarter area, you can also enjoy a variety of excellent restaurants nearby.
Avoid the crowded Irish pubs for a nearby lunch of Mediterranean cuisine at Zaytinya or Spanish tapas at Jaleo; both restaurants are by the fabulous Chef José Andrés.
If you enjoy visiting historic churches, don't skip spending St. Patrick's Day in NYC, where you can visit the architectural gem of St. Patrick's Cathedral.
Take a Tour of the White House
Did you know the home of the United States President was designed by an Irish immigrant?
Take a tour of the White House to honor the legacy of James Hoban.
Touring the White House is one of the most popular things to do in Washington DC, but you can easily arrange a free visit through your Congressional Representative.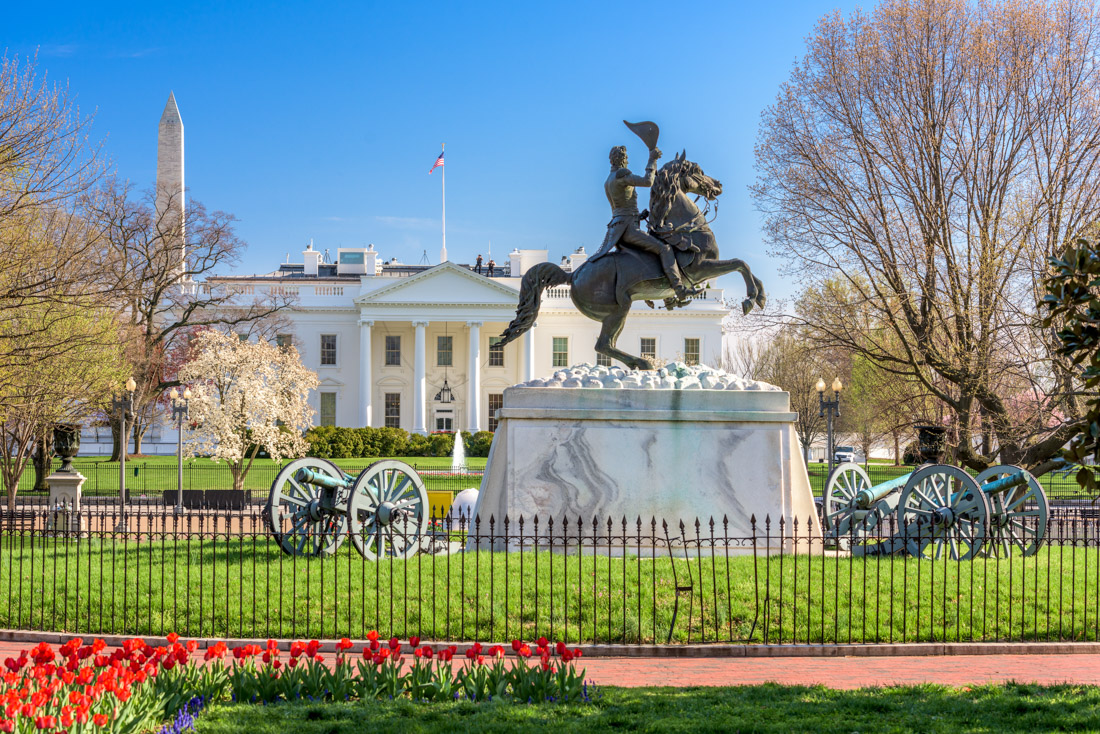 See a Show at the Kennedy Center
John F. Kennedy was the first Catholic president in the US, with strong Irish heritage on both sides of his family.
Head to the Kennedy Center to see a live performance; midday shows on the Millenium Stage are free, but you can certainly splash out and see a more prominent evening show instead.
Acts include ballet, comedy, opera, theater, and an incredible variety of music from symphony orchestras to hip-hop artists and more.
See what's on at the Kennedy Center and get your tickets on or around Paddy's Day.
To honor JFK, you should also plan to celebrate St. Patrick's Day in Boston some year.
Across the Pond
Across the Pond (1732 Connecticut Avenue NW) is a Dupont Circle Irish pub that you won't want to skip on St. Paddy's Day.
You're guaranteed a good time, with plenty of beers, good Irish grub, and even some Irish dancers and bagpipers making appearances during the celebrations.
If you're the Kegs and Eggs type, you can plan to start your day early at Across the Pond — they open up and start pulling pints first thing.
Do a St Paddy's Day Bar Crawl
Kiss Me, I'm Irish does a bar crawl in DC on St. Patrick's Day if you want to join up with tons of other partiers at specified bars.
It's organized by Barcrawlerz, which organizes bar crawls in cities all across the country.
The crawl starts at Sudhouse DC (1340 U St NW), where you register and get started with drink and food specials from 8 different bars.
Just be sure to check the times for specials at each location and keep your crawl moving to take advantage of them all!
Boundary Stone
There are plenty of reasons to love Boundary Stone (116 Rhode Island Ave NW), but their annual St. Baldrick's Day fundraiser might just top them all.
Typically held the weekend before St. Patrick's Day in DC, the fundraiser supports St. Baldrick's, a charity that funds pediatric cancer research.
Each year at Boundary Stone, folks line up to shave their heads (and beards) for a good cause; they've raised hundreds of thousands of dollars with this beloved annual event.
If you're only in DC for St. Paddy's Day weekend, Boundary Stone also plays all the Six Nations matches, so if you're eager to support the Irish, there's no better way than cheering on the national rugby team.
Enjoy a few beers and enjoy the games and fun vibes; you can also still donate to their fundraiser if you're there after the event itself.
St. Patrick's Day Events Near DC
Just outside city limits, you'll find plenty of other fun things to do on St. Patrick's Day around Washington DC.
Head to these spots in Maryland or Virginia — just don't forget to wear your green!
Drink a Pint of Guinness at the Source
If you're looking for something special to do on St. Patrick's Day in the DC area, take a day trip to the only Guinness brewery in the United States.
Located just up the road near Baltimore, you can't beat celebrating St. Paddy's Day at the Guinness Brewery (5001 Washington Blvd, Halethorpe, MD).
Special events are always on tap, with live music, Irish dancing, and — of course — plenty of pints of the black stuff.
You can tour the brewery, take a guided beer tasting, or just enjoy the beer garden and taproom.
The Guinness Brewery is one of our favorite day trips from DC at any time of year.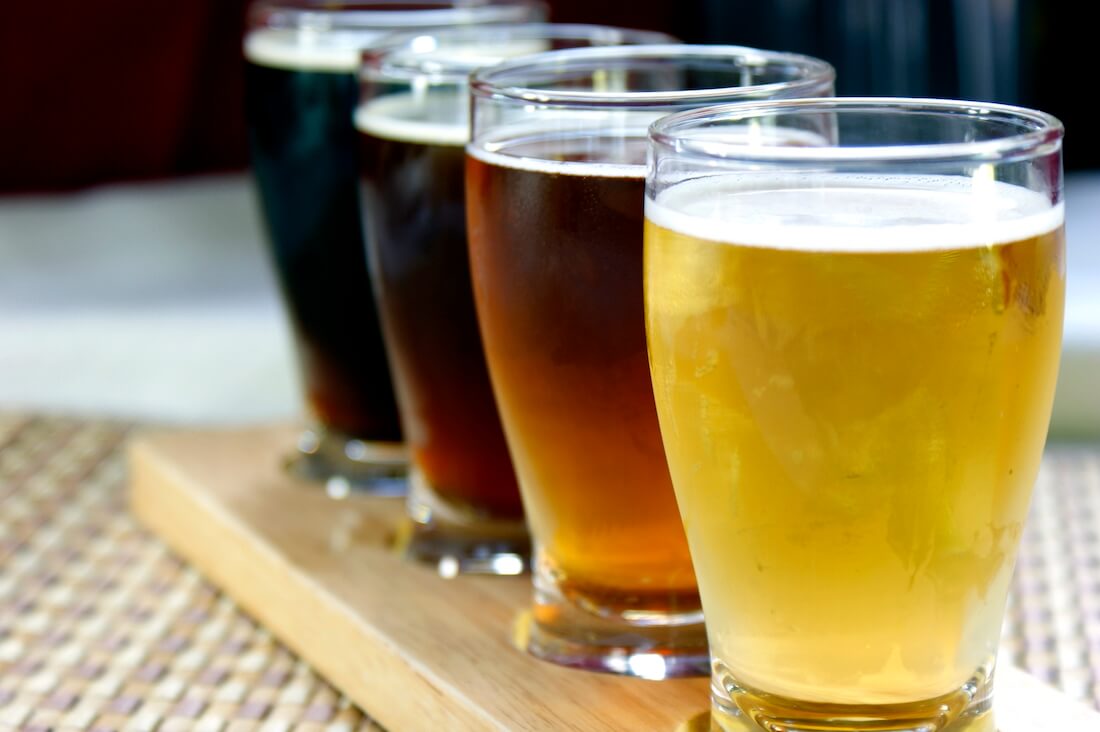 Take Part in a Leprechaun Hunt
For families, head to Colesville in Maryland for the annual Leprechaun Hunt.
Hosted by Maydale Nature Classroom (1638 Maydale Dr) in the Maydale Conservation Park, which is part of the Montgomery County parks system.
The Nature Classroom is a net-zero facility, complete with solar panels, greywater toilet systems, LED lighting, and more.
It's a perfect spot to take kids and talk about sustainability, with lots of fun activities around, too.
The Leprechaun Hunt offers kids an ideal way to get outdoors and celebrate the festivities over the St. Patrick's Day weekend.
Learn Some Leprechaun Science
Hidden Oaks Nature Center (7701 Royce St, Annandale, VA) hosts another great family-friendly option from DC on St. Patrick's Day.
Head out to Annandale (about a 35-minute drive from DC) and take the kids to learn some science that may just seem like leprechaun magic!
This is ideal for kids aged 5-12 years old; be sure to book in advance.
Take a Cooking Class
With easy access from DC, cross over the river into Arlington and head to Cookology (4238 Wilson Boulevard #3110) in Ballston Quarter for some Ireland-inspired cooking classes.
Learn to cook with Guinness, try your hand at some traditional Irish recipes, and enjoy some fun camaraderie without the typical debauchery.
Book your spot early for your choice of evening cooking classes or a Sunday brunch class.
Enjoy the St. Patrick's Beer Festival
Hosted by Shipgarten (7581 Colshire Dr), the St. Patrick's Beer Festival is out in McLean near Tyson's Corner (take the Silver Line if you're coming by Metro).
Over St. Paddy's Day weekend, you can enjoy events and activities including live music, lawn games, whiskey specials, traditional Irish fare, and even a breakfast of green eggs or the chance to drink green beer!
Shipgarten is a cool spot for good weather days out, with four unique dining options and an open space that's both dog- and kid-friendly.
Bring your whole crew and enjoy a fun, festive event!
St. Patrick's Day Parade in Alexandria
While there is no St. Patrick's Day Parade in Washington DC anymore, you can enjoy the early festivities in Alexandria, where a St. Paddy's Day parade is hosted annually on the first Saturday in March.
Note: It is not actually on St. Patrick's Day, so be sure to plan ahead!
Get there early for a good spot along the parade route, which is hosted by the Ballyshaners, a group dedicated to preserving Irish culture in the area since 1980.
The Ballyshaners host the annual St. Patrick's Day Parade as well as the annual Irish Festival in the summer.
You'll see bagpipers, marching bands, Irish dancers — and the parade also starts with the annual Fun Dog Show to see local pups dressed in their best green outfits!
Proceeds from the dog show go to the Animal Welfare League of Alexandria.
You can metro to King Street Station (Blue Line) if you're coming from DC and then walk about 10 minutes or hop onto the Old Town Trolley.
Join the Lucky's St. Patrick's Day Crawl in Alexandria
Go to Alexandria for the annual Lucky's St. Patrick's Day Crawl hosted by Crawl With US.
Join fellow green-clad revelers to multiple venues in Old Town Alexandria offering drink specials, waived cover fees, and plenty of extra fun to celebrate the holiday.
Make sure you get your ticket in advance and plan to take an Uber or Lyft or the Metro.
Murphy's Grand Irish Pub in Alexandria
While you're in Old Town Alexandria, you can't skip a stop at Murphy's Irish Pub (713 King St).
If you go to only one pub in Alexandria to celebrate the luck of the Irish, it has to be this one.
Since 1978, Murphy's has been attracting locals and visitors as a community hub offering good beer, traditional Irish food, and good craic.
Celebrate St. Paddy's Day at the heart of it all at Murphy's!
Final Words
Are you ready to wear all the green and shamrock-clad clothing you can find? We hope this guide helped you plan your DC St. Patrick's Day fun.
Share your favorite events and places to go in the comments below.
Our Washington DC Travel Guides