This article has links to products and services we love, which we may make commission from.

Visiting the nation's capital soon? Its strategic location makes it so easy to take a wide variety of fun and interesting day trips from Washington DC, so you can enjoy the city and get out to see even more! Whether you're looking for history, wineries, beautiful scenery, or just a great day out, there are options within easy reach of DC by car or public transportation.
DC boasts so many great things to do on its own, but anyone who has visited before or who lives in the area will definitely want to take advantage of these other locations.
And if you're planning more than just a few days in the city, you should definitely add one of these day trips near DC for a more well-rounded vacation.
Our guide starts in Virginia, then goes to Maryland, and then farther afield to Delaware, West Virginia, Pennsylvania, and even New York.
All of these areas are within reach for an adventure!
You might also want to check out our guide to visiting DC in the fall and don't miss the beautiful cherry blossoms in DC in the spring!
If you're looking for a romantic getaway, don't miss our favorite DC date ideas too.
Best Virginia Day Trips from Washington DC
Virginia offers a wide variety of places to day trip from DC, with many of them being accessible without a car.
Check out our favorite recommendations below!
Old Town Alexandria and Mount Vernon
Just within the Beltway, you'll find beautiful Old Town Alexandria looking across the Potomac River at National Harbor in Maryland.
The Old Town area offers an old-time classic feel with brick buildings lining the main street filled with independent shops and places to eat.
And this is certainly one of the best places to visit outside of DC because you can also add on a stop at Mount Vernon, the historic home of the first US President, George Washington.
Alexandria is accessible by Metro, so just leave your DC hotel in the morning and go into the closest Metro Station, get yourself onto the Yellow or Blue Line, and head to King Street in Alexandria.
There are tons of unique cafes in Alexandria, so start your day with some caffeine at a local spot like Misha's (917 King St) or St. Elmo's (529 Montgomery St in Old Town North).
Wander the Old Town area along the river for beautiful architecture and views.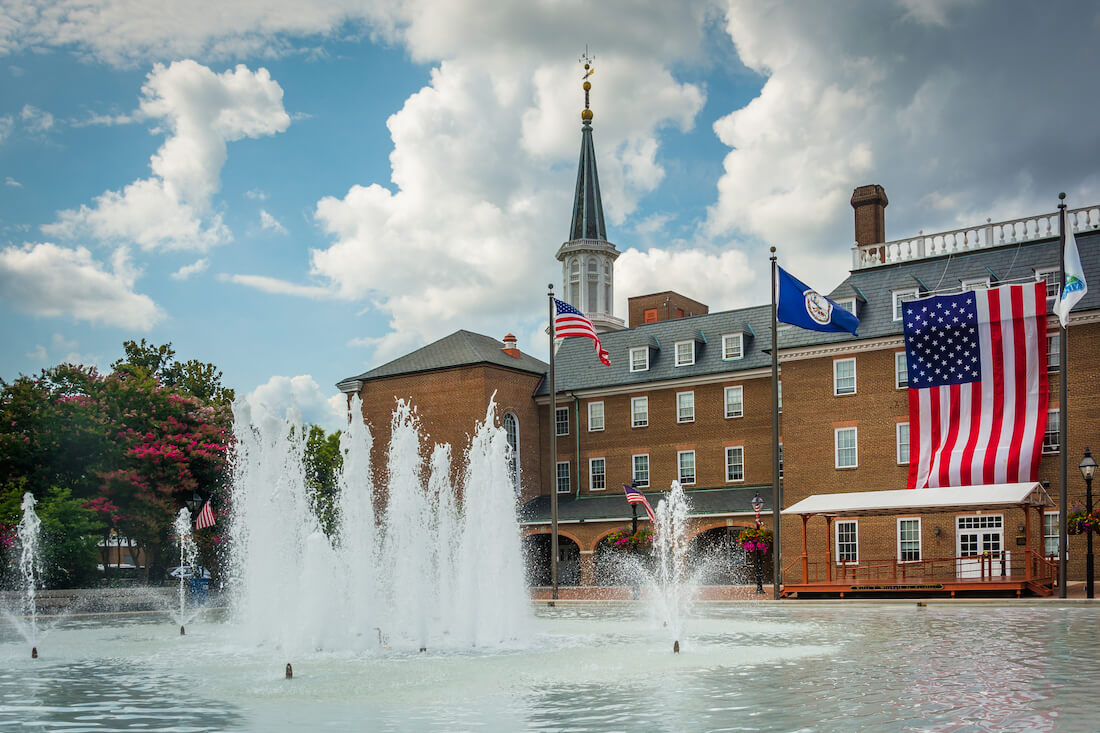 For a truly idyllic day out, do this bike and boat tour from Old Town Alexandria to Mount Vernon.
Pick up your bike in Old Town and cycle just 9 leisurely miles along the Mount Vernon Trail beside the Potomac River to reach Mount Vernon.
Once there, stroll around the historic estate, which has been preserved to reflect what it looked like when George and Martha Washington resided there.
The gardens and architecture are lovely, and the history inside the home is truly fascinating.
After spending a few hours at the estate, take a river cruise back to Old Town Alexandria to enjoy the rest of the afternoon and evening.
If biking doesn't appeal to you, consider this private tour of Mt Vernon instead, which includes an expert-led tour of Mount Vernon and a driving tour of Old Town Alexandria to learn the history of this significant location.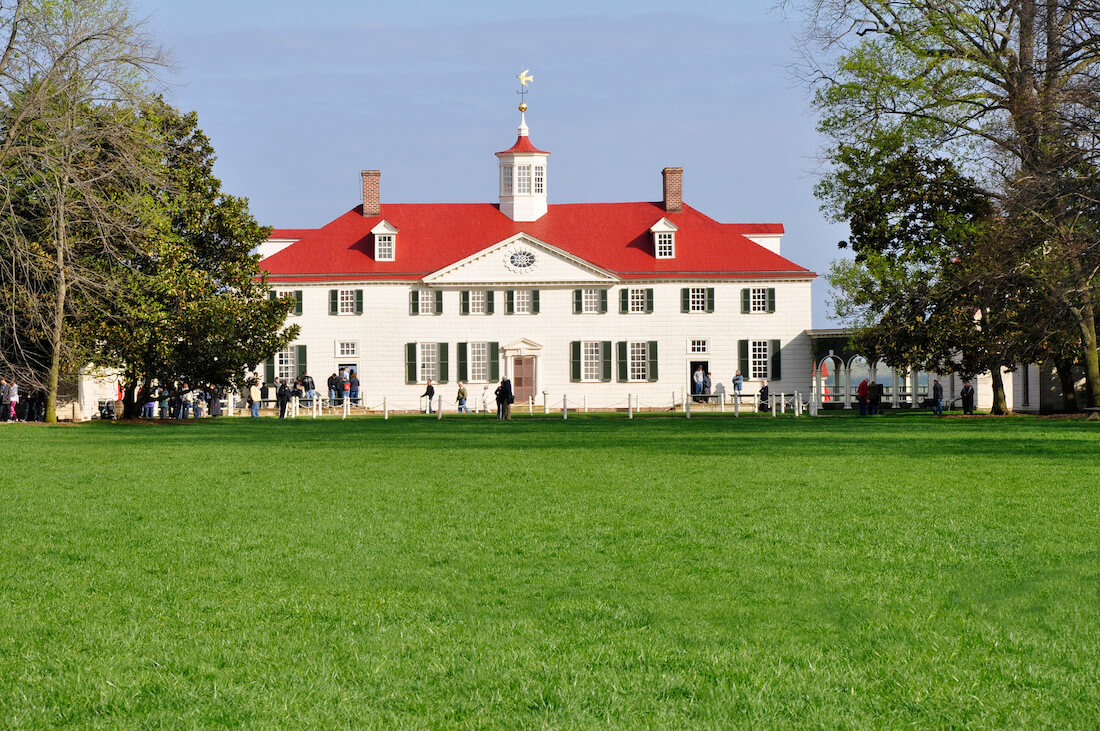 Tysons Corner
Ready for some retail therapy?
Tysons Corner is now fully accessible via the Metro (Silver Line) and offers an absurdly wide variety of shops and restaurants in a compact space.
From high-end designer shops like Gucci and Louis Vuitton to mainstream stores like Foot Locker, GAP, and Old Navy, Tyson's appeals to shoppers of all styles.
If you're taking the whole family, there are plenty of restaurants to choose from that appeal to all tastes, too!
Head to Founding Farmers to support a true farm-to-table initiative or Patsy's American for that classic Americana vibe.
At just a 35-minute Metro ride from Metro Center, you can spend as much or as little time as you'd like at Tyson's, making this one of the easier quick trips from DC.
Fredericksburg
About 50 miles south, Fredericksburg is one of the best day trips from Washington DC by train.
You could go by car if you'd prefer, especially because you'll be going against rush hour traffic.
It's around an hour in perfect conditions, but plan for up 1.5 hours based on typical traffic.
Downtown Fredericksburg boasts plenty of quaint shops and a classic Main Street vibe that visitors adore.
You'll find unique places to eat and drink alongside antique shops, tourist wares, and local artisan crafts.
For history buffs, Fredericksburg Battlefield is easily accessible in Downtown and tells the story of one of the most tragic Union defeats during the Civil War.
Be sure to visit the monument dedicated to the Angel of Marye's Heights — it's an inspirational story that survived an otherwise terrible day.
You should also take time to stroll through the beautiful campus of the University of Mary Washington with its brick walkways and Jeffersonian architecture (and my alma mater!).
Feeling bold? Take this self-guided ghost tour of the pretty downtown area with some spectral spaces…
Richmond
The Virginia state capital is a great one day trip from DC to go from capital to capital!
Richmond is known for its cool craft beer scene and quirky culture overall, so foodies and street art lovers will particularly love this day out.
Check out this fun arts district and food tour to dive deeper into the local scene.
Check out the Canal Walk murals along the James River and seek out the beautiful architectural gems throughout the city.
To learn the stories behind these places, take this downtown Richmond bike tour with a local expert.
Literary fans can't skip The Poe Museum (1914 E Main St) to pay homage to the famed writer.
It's about a 2-hour drive between DC and Richmond; just check traffic conditions as you plan your trip since that stretch of I-95 can get busy.
The train won't really save you any time, so you'd be better off driving for this day trip from DC so you can stop wherever you want along the way (Fredericksburg is en route along I-95).
Shenandoah National Park
Located in Virginia, Shenandoah National Park is a beautiful day trip from Washington DC.
With part of the Blue Ridge Mountains, you can expect Shenandoah to boast gorgeous views, excellent hiking trails, and plenty of natural beauty to enjoy — including several waterfalls!
Shenandoah NP is one of our favorite National Parks on the East Coast.
Hiking options range from the family-friendly Dark Hollow Falls trail to the more challenging Old Rag.
You can't skip the stunning 105-mile Skyline Drive, which boasts jaw-dropping views!
This makes for a fantastic fall day trip from DC; in fact, Shenandoah is one of our top recommendations for visiting DC in the fall.
Shenandoah is about 75 miles west of DC, and you'll need a car.
Get a car pass that's valid for a week — in case you can't get enough during just one day trip to Shenandoah from DC!
Best Day Trips from DC to Maryland
Head in the opposite direction and you'll get to explore some of Maryland's best cities within easy reach of DC.
There are lots of lovely places to visit in Maryland, but these are our favorites when we're taking day trips from DC.
Baltimore
Baltimore is one of the easiest day trips from Washington DC by public transport because you can opt for the train or bus with plenty of departure times due to the constant commuter traffic between these close cities.
It will take 30 minutes to an hour, depending on which mode of transport you take.
There are tons of great things to do in Baltimore, especially in good weather so you can enjoy the waterfront location!
History buffs have to visit Fort McHenry, the site of the battle that inspired Francis Scott Key to write The Star-Spangled Banner…which you might know more commonly as the national anthem.
Beer lovers: Did you know Baltimore is the only place in the United States where you'll find a Guinness brewery?
Grab a pint of the black stuff, or check out local craft breweries like Diamondback (1215 E Fort Ave) or Heavy Seas (4615 Hollins Ferry Rd).
If you plan your day out for mid-March, you can enjoy the special St. Patrick's Day celebrations at the brewery, too.
Tip: If you're going by train from DC to Baltimore, take the MARC and you can get off at the Halethorpe station to easily access Heavy Seas.
Alternatively, make things even easier and way more interesting by taking this craft brewery tour to enjoy 16 samples from local spots!
Check out more of our favorite things to do in Baltimore while you're there.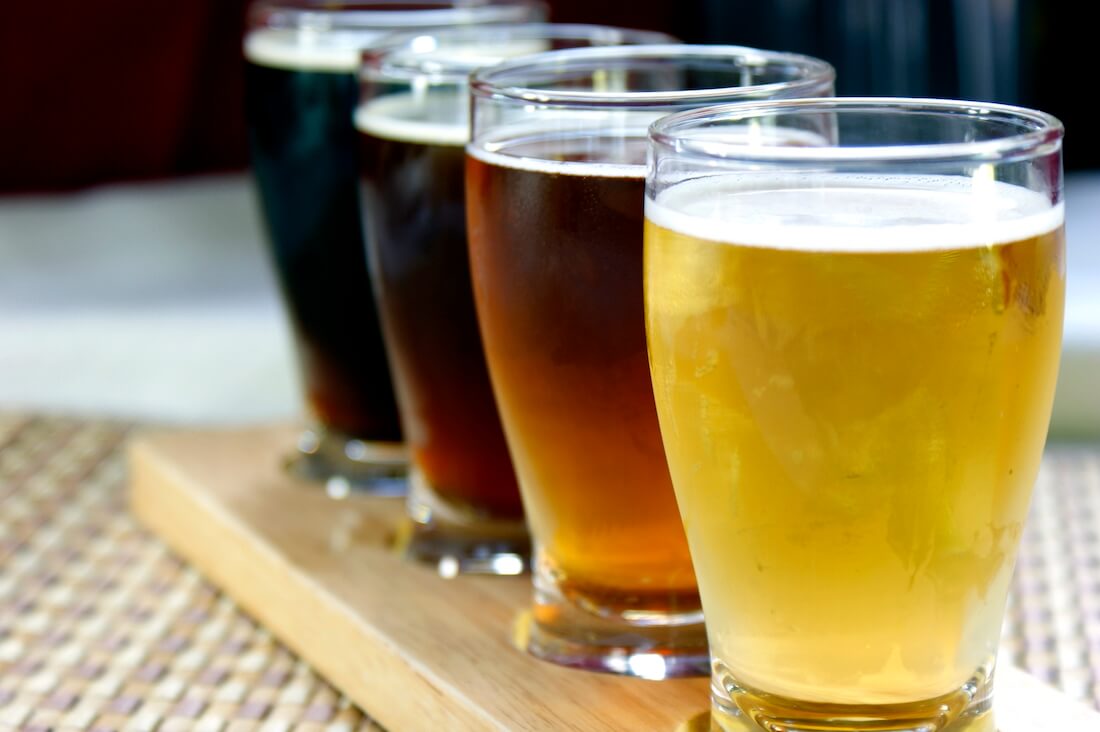 Foodies can't skip some of Maryland's famous crab!
Delve even deeper into local cuisine with this food and history tour based in the charming Fells Point neighborhood.
And, while you're in Baltimore, you have to take a boat cruise around Inner Harbor.
Go for this short sightseeing cruise or make an event of it with this 3-hour dinner cruise in the evening.
Whenever you're ready to head back to DC, grab the train or bus for the quick return journey.
Annapolis
Annapolis is where you'll find the United States Naval Academy based, so it's the perfect day trip from DC for all you boat enthusiasts!
Tour the Academy, but also take time to stroll along the dock to see the variety of vessels for all types of adventures.
You'll spot everything from small dingies to megayachts!
This is actually known as Ego Alley.
There are also several boat shows here, in case you want to time your visit for one of them.
Since Annapolis is the state capital, be sure to visit the Maryland State House, built in 1772.
And you can't skip the Banneker-Douglass Museum (84 Franklin St), Maryland's official state museum to document, educate, and promote African-American history and culture.
Want to visit both Baltimore and Annapolis?
This tour combines the two for a convenient — and super fun! — day out.
Or step it up a notch with this helicopter tour over both cities and the beautiful Chesapeake Bay below.
It's an unforgettable experience!
Check out the rest of our Maryland guides for helpful inspiration in the Old Line State…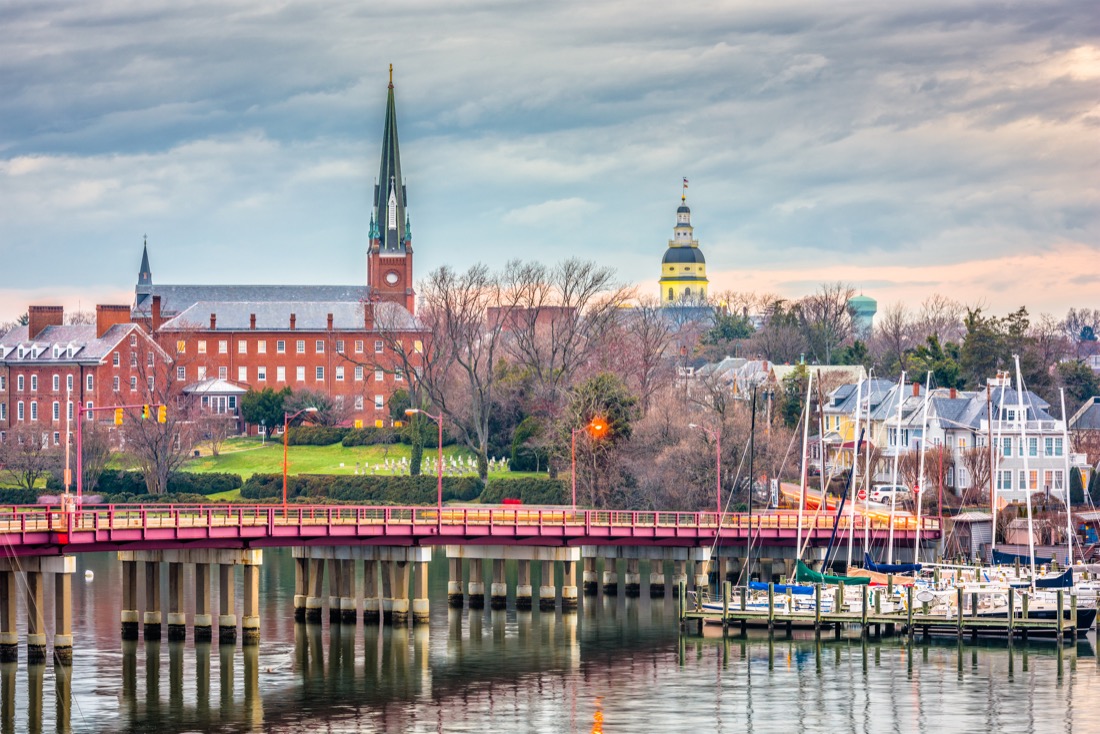 Other Great Day Trips from Washington DC
While Virginia and Maryland make for the shortest and easiest day trips from DC, there are plenty more places to explore if you plan ahead to go farther afield!
Delaware, West Virginia, Pennsylvania, and New York are all accessible on a day trip out of Washington DC, so check out our favorite options and hit the road.
Wilmington, Delaware
For one of the best winter day trips from DC, you have to head to Wilmington, Delaware.
There are lots of lovely festive things to do in Wilmington in the winter, including the Christmas Parade and Yuletide at Winterthur.
Seeing the historic mansions decked out for the holiday season makes for a delightful and romantic day trip from DC!
The drive is typically a little over 2 hours, depending on traffic.
Prefer to relax and avoid the car altogether?
Take the train instead and you'll get to Wilmington from DC in about 1.5 hours.
Whatever time of year you visit, there are tons of fun things to do in Wilmington.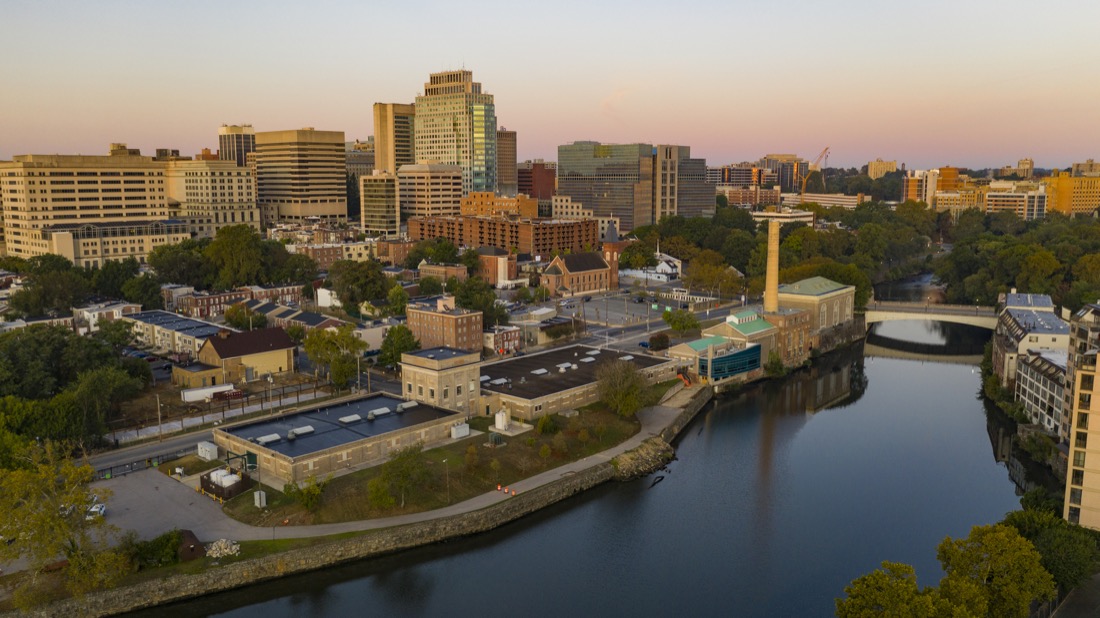 Harpers Ferry, West Virginia
Harpers Ferry sits at the intersection of Maryland, Virginia, and West Virginia, making it a unique place to explore.
This picturesque town is situated where the Potomac and Shenandoah Rivers meet and it's surrounded by the beautiful Blue Ridge mountains.
Wander the historic downtown area and admire the architecture and history — it was in Harpers Ferry that John Brown led his failed raid in 1859 to abolish slavery.
Stop by the Civil War museum and John Brown's Fort to learn more.
In good weather, this area is stunning, so be sure to stop by Shenandoah Falls and bask in the vista from Maryland Heights if you're up for a hike.
This is definitely a day trip from DC by car; Harpers Ferry is about 65 miles from the city and the drive typically takes around 1.5 hours, depending on traffic.
Gettysburg, Pennsylvania
A Gettysburg day trip from Washington DC is definitely doable and it's an excellent opportunity for history buffs to enjoy the nation's capital plus one of the most significant battlefields in US history.
The 3-day battle at Gettysburg defined the US Civil War, so it's truly a place for all Americans to visit to learn about this hallowed ground.
Even if history isn't your primary purpose, the old town of Gettysburg is quaint and well worth a visit, and the Gettysburg College campus offers a beautiful space to enjoy a walk.
Day trips from Washington DC to Gettysburg are best done by car so you can enjoy everything the area has to offer.
The drive is only about 2 hours, so just get an early start and plan for a full day!
Take this self-guided audio tour of the battlefield to learn more while you're there.
For a deep dive into the battlefield — and to avoid all the driving — this private tour takes you from DC to Gettysburg and back with a guided tour of the museum and battlefield upon arrival.
Philadelphia, Pennsylvania
Take a day trip from Washington DC to Philadelphia to witness more US history up close and personal!
See the Liberty Bell, stop by Independence Hall, and visit the National Constitution Center to dig into the Revolutionary War era and the founding of this country.
The drive is about 2 hours and 45 minutes between DC and Philly.
Alternatively, consider taking the train!
Philly is a great option for a day trip from DC by train — it's affordable (especially if you book in advance) and you'll have plenty of departure time options since this is a popular commuter journey.
It's also much faster than driving between the cities, due to typical traffic conditions.
The train journey is 2 hours or less.
NYC, New York
It's possible to do a day trip from Washington DC to New York City, but it will definitely be a very long day!
It's about a 4-hour drive between the cities, but you'll have to time your trip well to avoid rush-hour traffic as best you can.
If you leave really early in the morning, you could get to NYC by late morning to enjoy a full afternoon of attractions, shopping, eating, and sightseeing before hopping back into the car for the journey back to DC.
Enjoy Our NYC Travel Guides
NYC By Season
The good thing about this trip is it's really a straight shot: you'll pretty much get onto Interstate 95 and stay on it for the whole trip between DC and NYC.
Alternatively, take the train and don't worry about parking in NYC!
The Acela is the high-speed rail and takes less than 3 hours between DC and NYC.
The regional trains are still faster than driving; the journey is typically around 3.5 hours.
You'll go from Union Station in DC to Penn Station in NYC — it's convenient and allows you to spend more time being a tourist and less time stressing out about traffic and navigating.
A New York day trip from Washington DC can be done if you're stretched for time, but spending a few days in both cities is definitely a better idea!
Final Words
Has this guide helped you plan your next day trips from Washington DC? We hope so!
Share your favorite local adventures in the DMV area in the comments below.