This article has links to products and services we love, which we may make commission from.

Ready to start planning your day trips from Boston for some nearby fun? Whether you're looking for a day at the beach or a history lesson for the kids, hiking trails or fresh seafood, it's all within easy reach from Beantown.
While New England isn't famous for its extensive rail network, there are actually a number of awesome day trips you can take from Boston by train! We outline those in a separate section for easy reference below.
If you're looking for a longer trip, check out our weekend getaways from Boston in the winter (think: skiing, sledding, and cozy stays).
If you're looking for more ideas for the city itself, check out these kid-friendly things to do in Boston or our suggestions for free things to do in Boston.
Making it a romantic getaway? Take advantage of all our date ideas in Boston for easy planning.
Day Trips from Boston by Car
Hike in Blue Hills Reservation, Massachusetts
Just about a 15-minute drive from Boston in Milton, the Blue Hills Reservation (725 Hillside St) is a 7,000-acre green space perfect for hiking or hiding away from the bustle of the city.
There are more than 125 miles of trails to explore and so many views to take in throughout the reservation.
Park for free at the Houghton's Pond Recreation Area (840 Hillside St) and hike the Houghton's Pond Loop.
The Loop is a 0.75-mile well-marked trail around the pond, perfect for taking in the fall foliage.
After your hike, make sure you stop by the classic Italian restaurant, The Osteria Madre Bar (88 Wharf St).
You'll love the original Italian dishes, as well as the more unique dishes like Duck Confit Flatbread.
Experience history in Lexington and Concord, MA
Just a 20-minute drive from Boston, Lexington and Concord are small, adjacent towns in Massachusetts that are perfect for the history buff.
Spend a few hours in each town to place yourself at the start of the American Revolution for the perfect day trip in MA.
While there are some tours and trolleys that will take you around the sites, it can be even better to do a self-guided driving tour that will let you bring the epic battles of the revolution to life.
The storytelling and multi-media aspects of this tour, guiding you through the simple smartphone app, will help you visualize and experience the events of this historic time.
Walden Pond State Reservation (915 Walden St, Concord) is a perfect mix of history and nature—put yourself in Henry David Thoreau's shoes and check out a replica of his original home!
You'll love the family-friendly gentle hike around the woods near his dwelling, taking in the gorgeous sights of the pristine Walden Pond.
Not into history?
Just wander around Wilson Farm (10 Pleasant St, Lexington), picking your own flowers or fruit and browsing the fresh produce at the quaint market.
Stroll around Arnold Arboretum in Boston
For an exceptional day out in nature without even leaving the city of Boston, head to Arnold Arboretum of Harvard University (125 Arborway).
The arboretum spans more than 125 acres and it features an outdoor museum of some of the most unique trees and shrubs in the world.
Drive about 20 minutes to the gardens, and park along the road on Arborway.
From there, enjoy miles of paths and wooded areas that are perfect to stroll through, especially on a fall afternoon when the foliage is at its peak!
Locals love the Brassica Kitchen and Cafe (3710 Washington St), a full coffee bar by day and in the evenings, a locally-sourced restaurant and bar.
Try a made-from-scratch pastry or a savory sandwich after your adventures in the arboretum.
Make sure you check the website before you go; the restaurant isn't open every night.
This is one of our favorite free things to do in Boston; check out the guide for plenty of other recommendations!
Ferry over to Provincetown
Visiting Provincetown from Boston is always a great day out!
There are so many things to do in Provincetown, from lighthouses to art galleries to historic monuments, you can easily fill a day trip from Boston with activities!
Bring a swimsuit and check out any of the sandy beaches in Ptown, like Race Point Beach or Herring Cove.
In fact, Ptown has one of the best beaches in Massachusetts!
You can opt to take a ferry for the shortest and easiest day trip to Cape Cod from Boston; check out our complete guide to ferries to and from Provincetown for all the details.
Just note that none of the ferries take vehicles, so your trip will be car-free.
Alternatively, do the drive from Boston to the Cape to stop at any of the amazing beaches and enjoy all the fun seashore activities along the way,
Ptown is always one of the best day trips from Boston to Cape Cod!
Take an idyllic Martha's Vineyard day trip from Boston
Martha's Vineyard is a dreamy one-day trip from Boston!
Spend the day on the island and fill your adventure with tons of ocean activities.
There is a wide variety of beaches on Martha's Vineyard so you'll have plenty of options to choose from.
The trip should take about 2.5 hours by car and a short ferry.
Beach lovers could head straight to the Cape Poge Wildlife Refuge and South Beach, which is within the refuge.
The historians in the group will love going to check out the West Chop Lighthouse (Main St. and Minnesota St.) or the Martha's Vineyard Museum (151 Lagoon Pond Rd).
Craving more lighthouse pics?
Head to East Chop Lighthouse on Telegraph Hill is right in Oak Bluffs.
Don't feel like driving all day?
Opt for this round trip day tour to Martha's Vineyard from Boston, with an optional island tour.
You'll have 6 hours to explore the island, and you won't have to worry about navigation!
The fully narrated 3-hour tour is informative and fun, and you'll get to learn about Martha Vineyard's rich history.
Visit Kennebunkport Maine for mansions & lighthouses
The 1.5-hour trip to Kennebunkport is perfect for a fun day trip to Maine from Boston.
Gorgeous mansions, stately lighthouses, and the freshest seafood are all in store for you here!
The best part about Kennebunkport is that it's super pedestrian-friendly, meaning you can park your car and spend the day on foot without having to worry about traffic.
You'll love relaxing at Colony Beach or checking out Goat Island Light from the Cape Porpoise Pier.
Two of our favorite tours in Kennebunkport:
The Lunchtime Culinary Walking Tour, which is a special lobster-central tour across the town's eccentric culinary history, and the Kennebunkport Day Trip from Boston.
Relax on a minibus for a roundtrip to Maine, while you learn about the city's history and can shop and explore.
Want even more Maine lobster? Check out our guide to planning a Maine summer vacation!
Cycle around bustling Portsmouth, NH
Just about an hour's drive from Boston is the bustling town of Portsmouth, which is a perfect short trip from Boston to New Hampshire.
Make sure you check out Prescott Park during your trip.
Prescott is a totally free and public park, giving you full access to the sprawling gardens, the waterfront docks, and the elegant fountains.
If you're interested in the local history, stop by the Strawbery Banke Museum (14 Hancock St).
Transport through more than 300 years of history about the town, and bring your whole family along!
If you're traveling with an active and adventurous group, you should try the Islands and Harbor Guided Bicycle Tour.
You'll bike up to 12 miles through the city, exploring Portsmouth's colonial and seafaring past.
Whether you're an athlete or an architecture buff, there's something to enjoy on this tour for almost anyone.
Got a little extra time after you explore Portsmouth?
Check out all the best places to visit in New Hampshire!
See the mansions in Newport, Rhode Island
Just over an hour's drive away from Boston, Newport is a great day trip near Boston for architecture nerds.
Check out the mansions on the Newport Cliff Walk, a 3.5-mile path that leads you around all the best mansions and offers an amazing view of the sea.
Don't forget to stop at Newport Creamery (multiple locations) for a frappe or a creative ice cream treat!
There's no better way to enjoy the Newport shores than out on the water.
Hop aboard the Coastal Queen for the Scenic Narragansett Bay Cruise.
No matter the season, this cruise is perfect to learn about historic Newport sites and take in the views of the amazing harbor and shoreline.
Check out other destinations in Rhode Island in our helpful guide!
Drive the Kancamagus Scenic Byway in New Hampshire
This is by far one of the best fall day trips from Boston, but it's a long one!
Fall in New England is an unmatched experience, and you won't find a better place to watch the leaves turn from summer green to fire red than on the Kancamagus Highway in New Hampshire.
This 56.39-mile drive along New Hampshire Route 112 is some of the best 'leaf peeping' in the country.
It's one of the best things to do in the White Mountains and we highly recommend it!
You will have to travel close to 2.5 hours from Boston to get to 'the Kanc,' but if you leave early and head back in the late afternoon, you'll have plenty of time to check out some iconic stops along the byway.
Plan to travel through the entire highway in about 2-3 hours, including all the common stops and views.
There are no stores, gas stations, or restaurants along the length of 'the Kanc,' so make sure you plan ahead.
Lincoln, NH is on one side of the byway.
In Lincoln, you'll find one of the best hikes in NH at Mount Moosilauke, which offers jaw-dropping views from the summit at 4802 feet.
Conway, NH is on the other side of the byway.
Besides tons of hikes, ponds, and other nature experiences, you can't miss a visit to Moat Mountain Brewing Company (3378 White Mountain Hwy).
About a 15-minute drive from the end of the byway on the Conway side, grab a locally brewed beer and a hot sandwich from the smokehouse.
Want more info as you drive?
Take this self-driving audio tour for animated storytelling during the journey!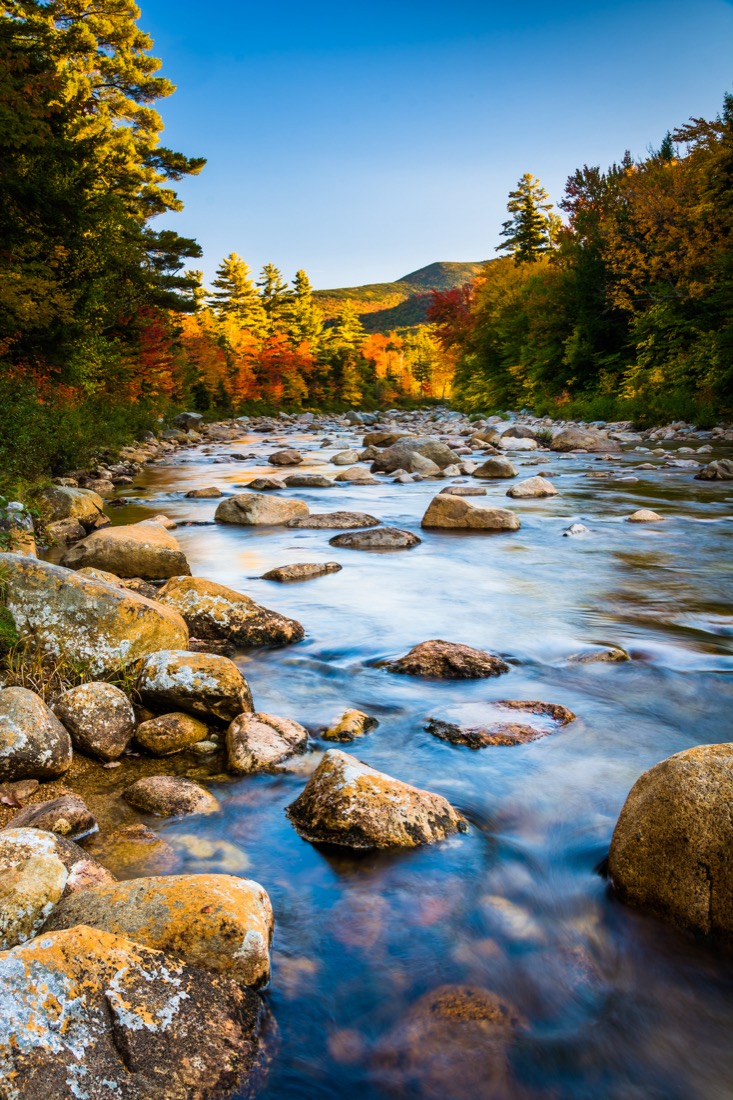 Head to quaint Woodstock, Vermont
For another idyllic New England fall foliage experience, visit Woodstock, VT.
Just two hours away by car, the journey to Woodstock is the perfect fall day trip from Boston.
Woodstock's official town website features lots of upcoming events, so make sure you check out the site before you go.
There are tons of trails and access points in Woodstock, which gives you a wide range of choices from easy strolls to more intense hikes.
The Eshqua Bog Natural Area (Garvin Hill Rd) is a small, handicap-accessible trail, featuring a mix of dirt, bridge, and boardwalk trails.
Venture among the changing leaves on this gentle path, or, for a more moderate hike, make sure you try the Marsh-Billings-Rockefeller National Historic Park (Old River Rd).
You'll get to see Woodstock from above so that it looks like the perfect New England village surrounded by red, yellow, and orange fall forests.
After your hike, stop by Sugarbush Farm for free maple products and homemade cheese samples or explore the quaint downtown area.
There are so many small shops, restaurants, and cafes located downtown that you'll never want to head back to the city!
Enjoy the beauty of Western Mass
Western Mass is a beautiful part of the state and the perfect region to explore on a long day trip!
About a 2-hour drive from Boston, but a straight shot down the Mass Pike, you'll reach the college town of Amherst and its surrounding towns and small cities.
The agricultural nature of this region makes for an especially pretty backdrop to the changing leaves each fall.
Plus, there are tons of opportunities for apple picking, corn mazes, hay rides, and more.
If you're looking for more fall activities, check our guide to things to do in Massachusetts in fall.
There are lots of fun things to do in Western Mass, whether you're just going for the day or you want to stay much longer.
Experience the Lower Connecticut River Valley, CT
A little more than a 2-hour drive from Boston, venturing to the Lower Connecticut River Valley is a perfect day trip to enjoy summertime picnics or fall foliage.
The leaves in Connecticut actually hang onto the trees for the longest time period in New England—you can still leaf peep well into November in the Connecticut River Valley!
The best place to go for leaf-peeping in Connecticut is Gillette Castle State Park (67 River Rd) in East Haddam, which features a network of woodland trails and the historic Gillette Castle.
Though the Castle is not usually open for tours during the fall, you can still appreciate its medieval-style construction from the outside.
During the summer, enjoy a picnic, go for a hike, tour the castle, or follow the interesting art trail.
Make sure you add a pit stop by the Pattaconk 1850 Bar & Grille (33 Main St) for a wide beer selection and delicious pub food.
Day Trips from Boston by Train
Don't worry, you can also take plenty of great day trips from Boston without a car!
While public transportation isn't generally stellar in New England, there are several excellent stops along the train routes that make for a fun day out.
Hop over to Cambridge for a short day trip
If you're really hoping to stay closer to home, try hopping on the MBTA Red Line to Cambridge for a day trip from Boston.
Less than 20 minutes on the T, leave from South Station (700 Atlantic Ave) heading northbound towards Alewife.
Get off the Porter stop, which will put you right in the middle of Harvard Square.
You can spend a whole day in the square, checking out shops and restaurants, as well as exploring the world-famous Harvard University campus.
To explore more, take a bike tour of Cambridge or rent Blue Bikes and strike out on your own!
See Salem for witches and ghosts
You will love a day trip to Salem from Boston, even if you don't have a car!
Take the Newburyport/Rockport Line from North Station, and land at the Salem train station (252 Bridge St) in less than 30 minutes.
Don't feel like taking the train?
Take the ferry from Boston to Salem instead for a unique perspective on the North Shore coastline.
For art lovers, the Peabody Essex Museum (161 Essex St) is a world-renowned art museum, at one time housing more than 840,000 works of art from every time period and corner of the globe.
For witchy activities, make sure you stop at the Howard Street Cemetery (29 Howard St), one of the three famous cemeteries from the Salem Witch Trials in 1692.
Stop by the historic House of the Seven Gables (115 Derby St), made famous by the Nathaniel Hawthorne novel.
If you didn't believe in ghosts before, you'll definitely be convinced once you complete the Ghosts of Salem Walking Tour.
Explore America's oldest cemetery, as well as some other iconic haunted destinations across the city.
This walking tour is family-friendly, though it might be a bit spooky for extra sensitive ears.
If you don't see anything that catches your eye here, make sure you check out our complete guide on things to do in Salem all year round!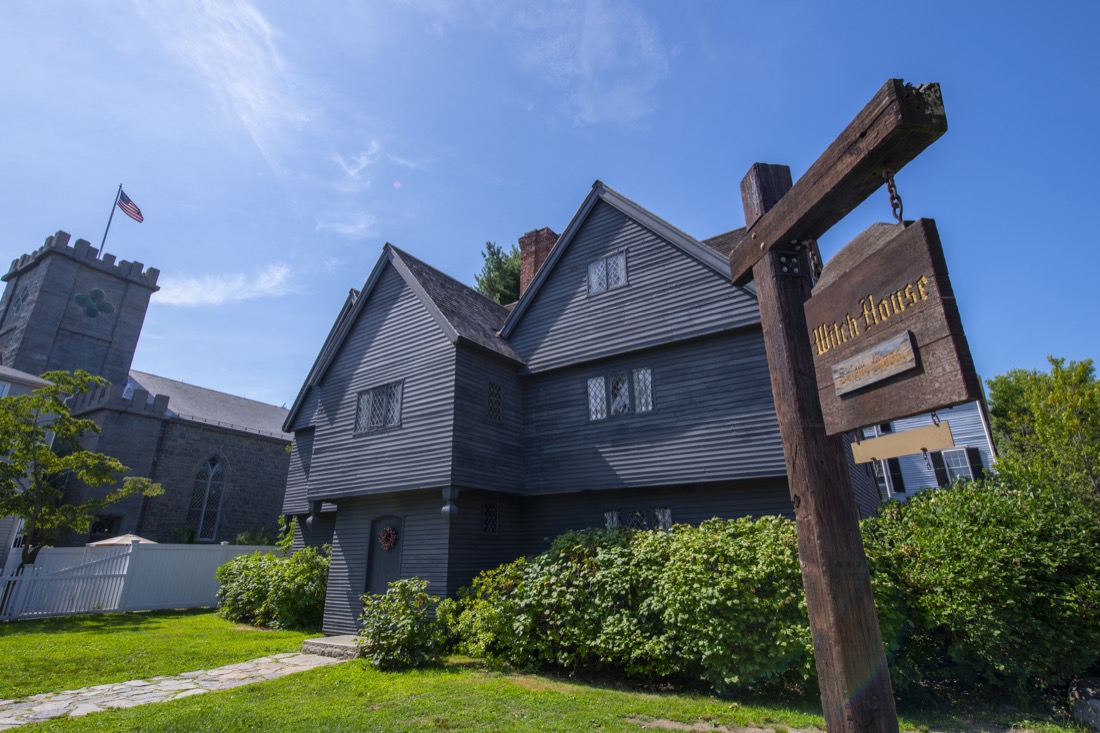 Train to Newburyport for classic New England charm
For a quaint, coastal dream town experience, all you have to do is hop on the train for a day trip from Boston to Newburyport.
Get on the commuter rail at North Station (135 Causeway St) heading outbound, and get off at the Newburyport stop (25 Boston Way).
Unfortunately, the train drops you off about a mile and a half away from downtown Newburyport, but you can grab the 54 Bus heading inbound, which runs for most of the day.
Ride 4 stops, or about 15 minutes, to the MVRTA Parking Garage and start exploring!
Grab a coffee at Plum Island Coffee (14 Market Square) or a specialty bagel breakfast sandwich at Abraham's Bagels (11 Liberty St).
Check out the historic Custom House Maritime Museum (25 Water St) before strolling along the scenic boardwalk overlooking the Merrimack River, which leads to the Atlantic.
Newburyport is a beautiful port town with a rich maritime history; wander the streets to find classic captain's mansions with widow's walk platforms on roofs, where wives would wait through the night to see ships coming in from their travels.
Grab a hearty tavern dinner at The Grog (13 Middle St) before ordering a scoop of homemade ice cream at Harbor Creamery (39 Pleasant St).
Check out all our recommendations for fun things to do in Newburyport.
Go to Gloucester for fresh seafood
Another port town you can get to by way of North Station: the seaside town of Gloucester is a perfect day trip from Boston.
Take the Newburyport/Rockport line from North Station outbound to Rockport.
After about an hour and 15 minutes, you can hop off the train at the Gloucester stop (75 Railroad Ave), which will put you right near Gloucester's downtown area.
Walk 0.7 miles, or about 15 minutes, on Washington St and Commercial St to Harbor Cove, a scenic inlet to appreciate the gorgeous water views.
Check out Half Moon and Cressy's sandy beaches at Stage Fort Park (Hough Ave) or catch the sun at Good Harbor Beach (Thatcher Rd).
Good Harbor Beach is a classic soft sand beach, featuring a concession stand, lifeguards on duty, and restaurants and showers.
Make sure you check out the Eastern Point Lighthouse (Eastern Point Blvd) near the Mass Audubon Eastern Point Wildlife Sanctuary.
For a classic waterfront seafood meal, head to Seaport Grille (6 Rowe St).
You'll love the freshest catches of the day, all served to you from a sea-viewing patio.
Salem, Newburyport, and Gloucester all feature in our guide to the North Shore of MA.
Explore Portland Maine for foodie fun
A fun day trip from Boston to Portland is a great option if you love coastal towns with tons of boutiques, shops, and restaurants.
The Amtrak Downeaster leaves from North Station and takes 2.5 hours to reach Portland.
Grab the first train out in the morning and enjoy breakfast on board, then spent the whole afternoon enjoying Portland!
Taste the best wines and spirits made locally at Sweetgrass Winery & Distillery (324 Fore St) or grab a cappuccino at the full espresso bar at Coffee by Design (1 Diamond St).
There are tons of cool shops, like the Blue Lobster Shop (117 Commercial St) or Edgecomb Potters (727 Boothbay Rd), to check out, as well.
If you fall in love with Portland's charm and spontaneously decide to stay the night, we've got you covered!
Check out this complete guide to accommodations in Portland; from the best neighborhoods to the best hotels.
Ready for a foodie's dream tour?
The Old Port Culinary Walking Tour is a 3-hour tour that features tons of classic seafood and interesting Old Port history.
Your knowledgeable tour guide will take you around to the best spots locals love, and you'll even get to take home some iconic Maine craft beer!
One day trip from Boston, MA might not be able to accommodate both of these tours, but one more amazing option: a 2-hour history tour highlighting 200 years of Portland's history.
You won't miss any of the most special landmarks of the city, and you'll be treated to something sweet at the end of the tour!
Portland is also our first recommended stop if you want to do a Boston to Maine road trip.
Visit Providence RI for art and culture
Parking can be a challenge in Providence so why not take the train for a day trip from Boston without a car?
Take the Providence/Stoughton Line from South Station, which will drop you off at the Providence stop (100 Gaspee St) in just over an hour.
There are so many things to do in Providence that you could definitely spend more than just a day here!
You can't miss the RISD Museum (20 North Main St), which features over 100,000 works of art and design from ancient times to the present day.
Make sure you stroll up and down Thayer St for unique shops, cafes, and restaurants.
For doughnut lovers, check out Knead Doughnuts (55 Cromwell St) for delicious and creative treats.
They also have vegan and gluten-free options daily.
If you're hoping to dive a bit deeper into the rich history of Providence, but hate when tours are too big and feel impersonal?
You'll love this small bus tour with a knowledgeable tour guide, highlighting amazing stories and cool landmarks.
Head to Westerly RI for coastal beauty
Just 90 minutes from Boston, the coastal town of Westerly is a hidden gem in Rhode Island.
Westerly is a small town locals love; head here if you're hoping to escape the vacation tourists.
Check out soft sand beaches, fresh seafood restaurants, and the iconic Watch Hill Light (14 Lighthouse Rd).
Watch Hill Beach (151 Bay St) is one of the beach public beaches in Westerly, tucked behind the antique Flying Horse Carousel.
The Carousel is the oldest continuously-operating carousel in the United States, beginning its operation in 1867.
Check the website before you go for ticket information and operation hours.
Don't forget to stop by The Cooked Goose (92 Watch Hill Rd) restaurant for fresh seafood and an incredible lobster roll.
For a classic Del's frozen lemonade and some freshly baked treats, visit Dusty's Ice Cream (662 Atlantic Ave).
There's nothing more refreshing than a frozen treat after a day at the beach!
Final Words
Did we cover all the best day trips from Boston? If you have a favorite we didn't mention, tell us in the comments below!
Our Boston Guides